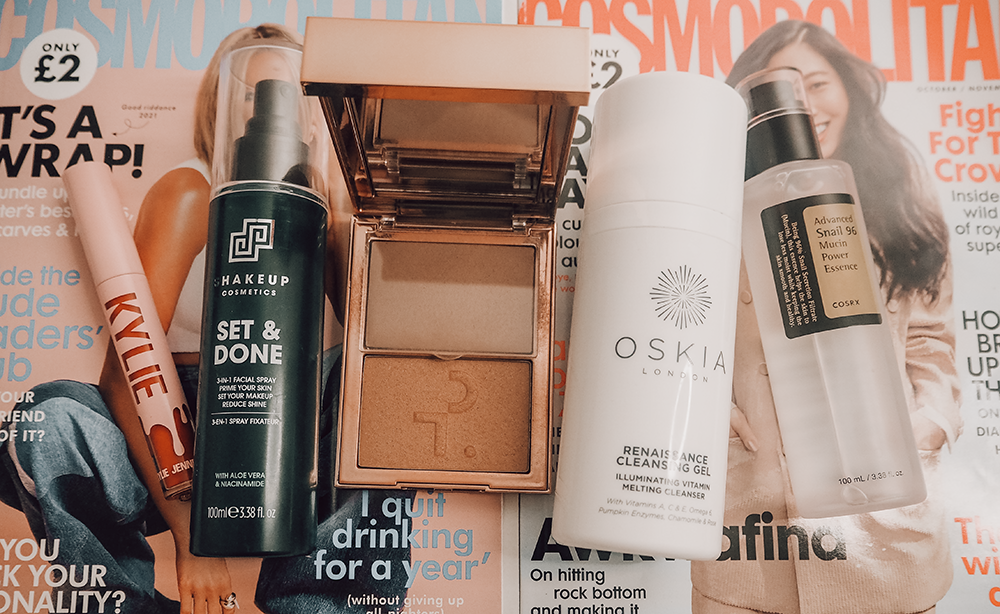 I was so excited to sit down and write my July 2022 beauty faves post, as I've tried tonnes of fantastic makeup and skincare products recently.
This month, I've got 5 brilliant products from Kylie Cosmetics, Shake Up Cosmetics, Patrick Ta, OSKIA, and COSRX. The 2 skincare products will make your skin feel hydrated and healthy, while the 3 makeup picks have luxurious formulae. If you want to expand your beauty collection, you might just find some of your holy grails in this post!
Keep reading to see which makeup and skincare products made the cut in my July 2022 beauty faves post.
* This post contains some affiliate links. This means at no extra cost to you, I earn some commission if you purchase a product through my link. All thoughts are my own, though, as always. If you want to find out more, visit my affiliate disclosure page **
1. Patrick Ta Major Sculpt Crème Contour & Powder Duo
£35
I totally get it. Patrick Ta Major Sculpt Crème Contour & Powder Duo 100% deserves all the hype.
The cream contour is the perfect cool-toned (but not ashy) shade for sculpting. It blends into the skin seamlessly, with no effort, and can be built up to your desired intensity. The luxe formula easily adds definition to your cheekbones, nose, jawline and temples.
The powder bronzer is a gorgeous warm shade that doesn't look orange. It adds a beautiful sunkissed glow to your skin and can be layered easily over the contour for added dimension.
The textures are high-end and while the contour and bronzer duo is expensive, it's totally worth it.
Rating: 5 stars
I'm obsessed with the way this duo emphasises my bone structure and adds healthy warmth to my skin. I can't recommend this product enough.
2. COSRX Advanced Snail 96 Mucin Power Essence*
£24 for 100ml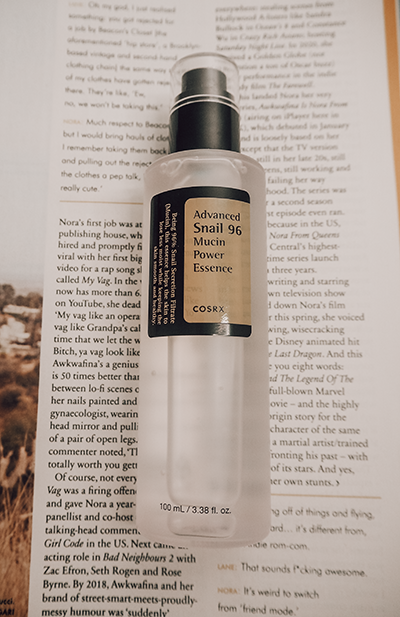 The COSRX Advanced Snail 96 Mucin Power Essence is another viral beauty product that deserves all the praise in the world.
This hydrating hero moisturises and plumps the skin while making it look dewy and radiant. If you're into the whole glass skin or clean girl aesthetic, this K-beauty essence is a must-have. As well as delivering intense hydration, it also helps to prevent moisture loss and improve elasticity.
For an in-depth look at the INCI list and my full review, check out this post.
Rating: 5 stars
The COSRX Advanced Snail 96 Mucin Power Essence is another Korean skincare fave that keeps skin hydrated and luminous all day.
3. Shake Up Cosmetics Set & Done 3-in-1 Facial Spray*
£22 for 100ml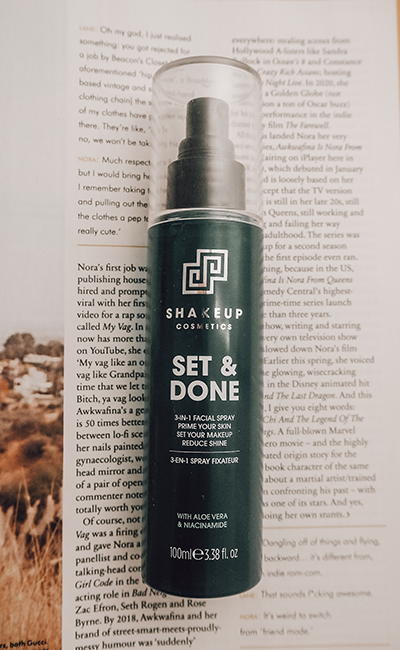 A lot of setting sprays genuinely don't do much. I think they're one of the most hit-and-miss products in the makeup industry. But the Shake Up Cosmetics Set & Done 3-in-1 Facial Spray truly works.
This setting spray really helps lock makeup in place and boosts the lasting power of your fave makeup looks. Although this isn't a dewy spray, it doesn't make your skin look flat or dry, despite offering a matte finish. I particularly opt for this setting spray when going for a glowy makeup look, as it stops my makeup from breaking down throughout the day #oilyskinproblems.
This is easily one of the best setting sprays I've tried. A full review of this setting spray can be found here.
Rating: 5 stars
I can't recommend this setting spray enough, especially for my fellow oily-skinned peeps!
4. OSKIA Renaissance Cleansing Gel
£16 for 35ml – £37 for 100ml – £54 for 200ml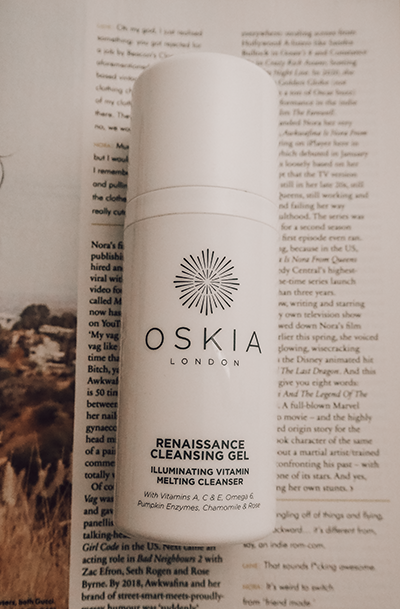 The OSKIA Renaissance Cleansing Gel is a melting cleanser that I'd been desperate to try for a long time. And I'm so glad I've got round to trying it!
Acting as a morning or second cleanse, this sumptuous cleanser is a smoothie for the skin. Not only does it help get rid of any grease or dirt that may be lingering on your skin, but it also makes the skin feel soft and smooth. It's very hydrating and doesn't strip my skin.
I still prefer a typical gel formula overall for my morning and second cleanses, but this rich formula is still amazing for soothed, healthy, and clean skin.
Rating: 4.5 stars
This melting cleanser is well worth trying if you want a gentle, moisturising treat for the skin.
5. Kylie Cosmetics Lip Shine Lacquer
£18 for 2.7g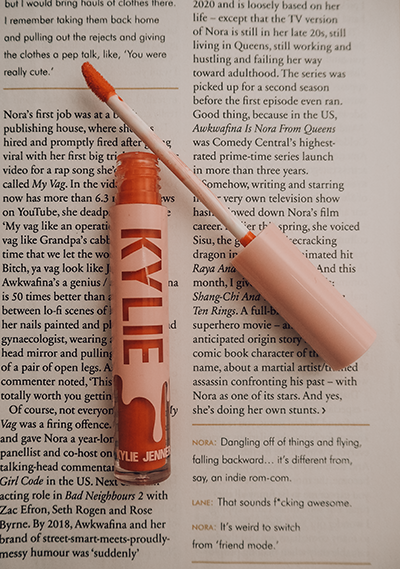 The Kylie Cosmetics Lip Shine Lacquer is a new release, and I absolutely love it!
This formula sits somewhere in between lipstick and lip gloss. It offers the juicy shine of a lip gloss and the colour and pigmentation of the lipstick, without being dry or sticky. I've got the shade Don't @ Me, which is a gorgeous pinky-red shade. The formula is super flattering, as it glides over your lips for an irresistible shine.
My only gripe is that this formula isn't long-wearing. It wears off quite quickly, so it's probably not one to wear if you're having a meal out, as the colour will smudge everywhere!
Rating: 4 stars
Even though it's not got great lasting power, I still love the finish of Kylie's new lip lacquers.
Final thoughts on my July beauty faves
I loved putting together this July beauty faves round-up, and I'm sure my August faves will be just as good, so stay tuned by subscribing to my email alerts below!
If I could only recommend 1 product from this post, it would have to be the Patrick Ta Major Sculpt Crème Contour & Powder Duo. The formula is insanely good and very flattering.
---
Are there any products from this post on your beauty wishlist?