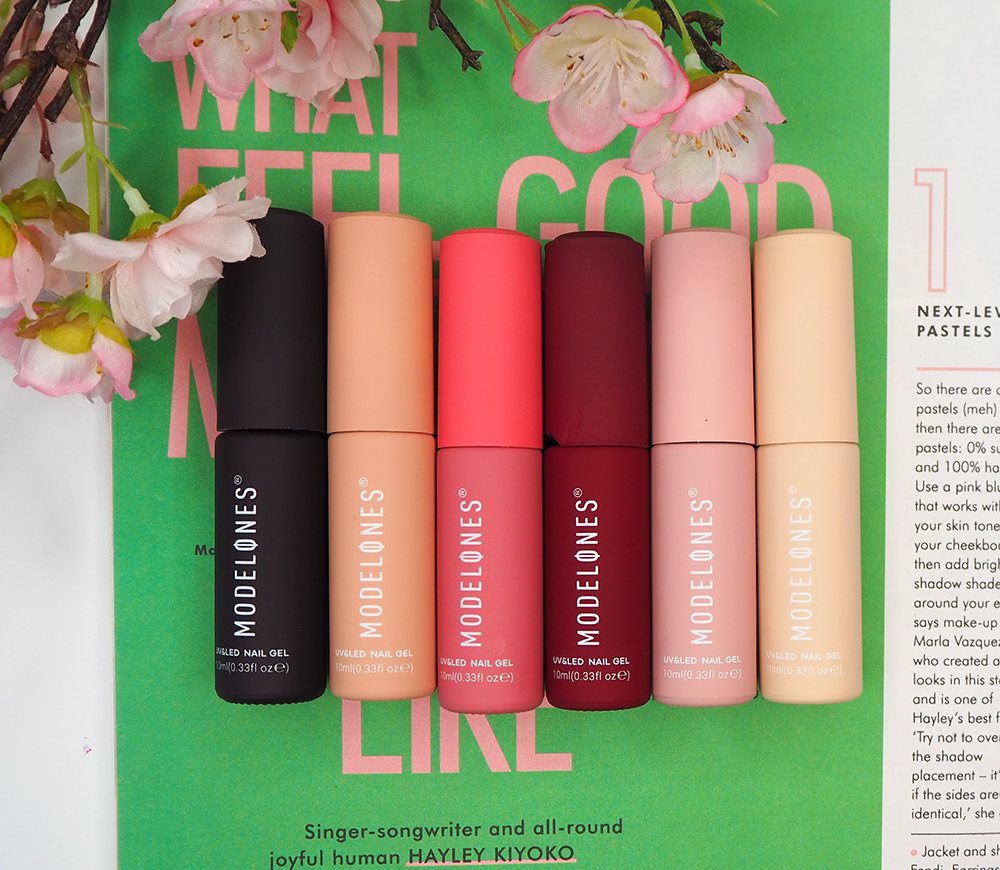 If you love pink nail polish and are looking for an affordable gel nail kit, then you need to check out the Modelones Pink Lipstick Series Starter Kit.
Costing around £32 and containing everything you need to create gel nails at home, this Modelones gel nail kit is a total steal. It's convenient, neatly packaged, and perfect for travelling due to its compact size.
In this blog post, I'm going to discuss what's included in theModelones Pink Lipstick Series Starter Kit, how to use the gel nail set, and my personal thoughts on the kit. Trust me, it's worth trying out!
What is Modelones?
Modelones is an affordable nail art brand for those seeking stylish nail design. It sells a wide range of dipping powders, poly gels, gel nail polishes, and acrylic powders, alongisde nail essentials like UV lamps, nail decorations, and nail clippers.
Modelones team always runs at the forefront of nail fashion and innovates our formulas, aimming to inspire confidence and courage in mani-artists through the power of color.

Modelones
The company ships internationally, including to the UK and USA.
What's included in the Modelones Pink Lipstick Series Starter Kit?
For just under £32 ($42.99), theModelones Pink Lipstick Series Starter Kit contains the following products:
1 top coat
1 base coat
2 mini nail files
1 6W mini LED light
1 nail brush
6 pink gel nail polishes
1 cuticle oil
4 sticker sheets
1 dual-ended nail brush and spatula
1 portable leather bag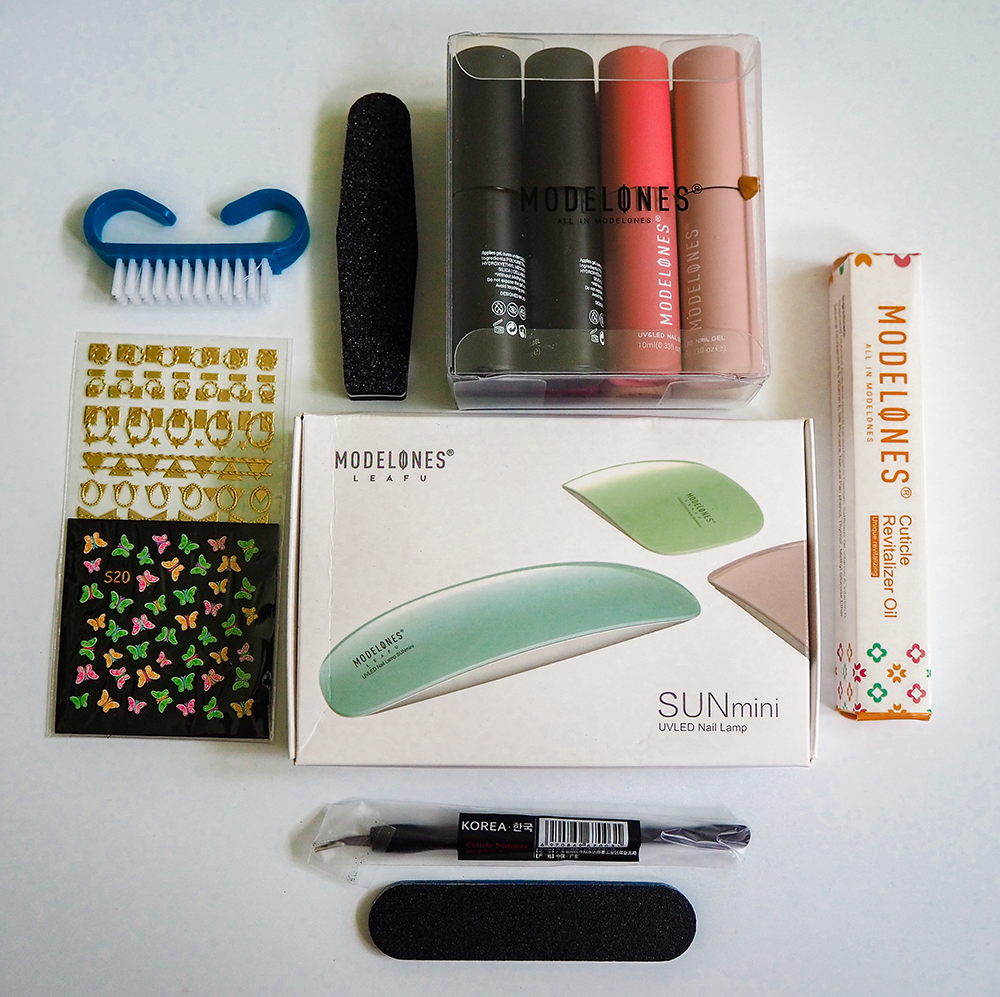 I honestly think this is such good value for money. Considering a lot of the UV LED nail lamps cost well over £40, this kit contains a mini LED lamp for £31.80. 6 gel nail varnishes for under £35 is also a very reasonable price, so combining all of these products together makes for an absolute bargain.
How do you use the gel nail starter kit?
After unpackaging your cute Modelones kit, here's how you apply the gel nail varnish from start to finish:
Trim your nails using a nail clipper and gently push cuticles back using the dual-ended brush and spatula.
Clean and dry your nails. You do this by filing the surface of your nails using one of the nail files and by using the brush to get rid of any dirt or oil. This step is very important to ensure the gel polish is long-lasting. You can also use rubbing alcohol after filing and brushing your nails to ensure they're thoroughly clean.
Shake the desired nail varnish to thoroughly mix the gel.
Apply a very thin base coat to the nail and cure under UV lamp for 1 minute.
Apply a thin layer of gel polish to the nail and cure under UV lamp for 2 minutes.
Repeat step 5 to get the opaqueness you want.
Apply a very thin layer of top coat to the nail and cure under UV lamp for 1 minute.
Add stickers (optional).
Remove any gel residue using a damp cotton bud.
Apply the cuticle oil to nourish the cuticles.
The whole process is simple and straightforward. You've got everything you need in the gel nail kit to do your own nails at home. The only item not included is rubbing alcohol, but this isn't an essential step. I personally skipped it.
My thoughts on the gel nail kit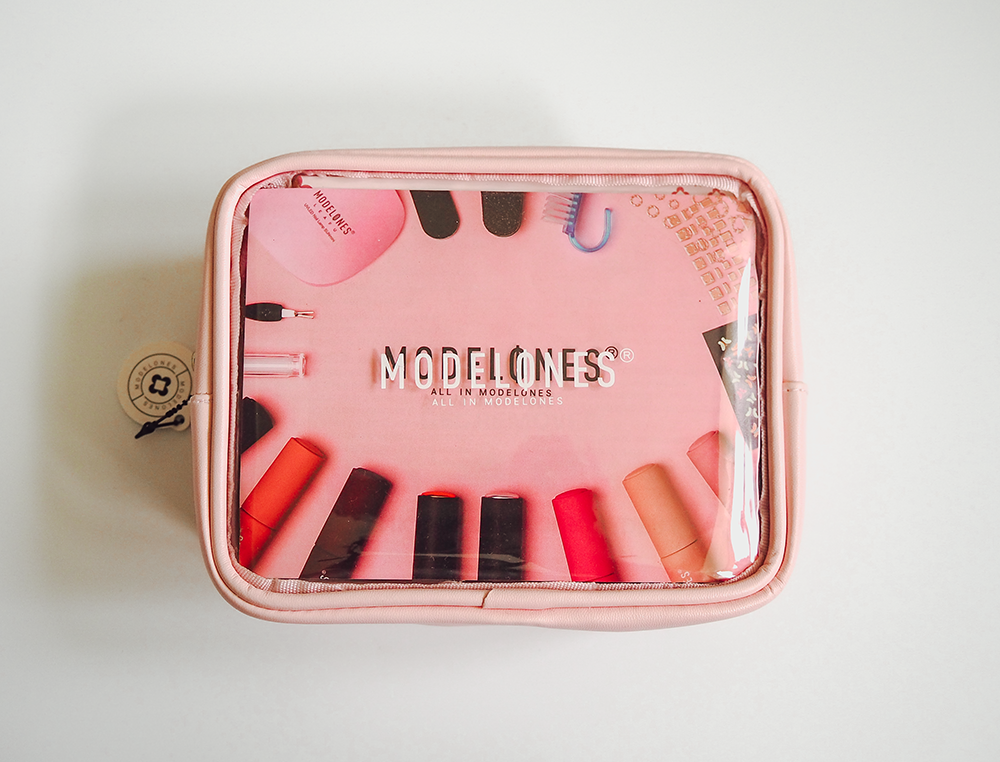 Below is my honest review of theModelones Pink Lipstick Series Starter Kit, including the shade range, quality of the products, how easy it is to use the products, affordability, and my favourite shade from the kit.
Shade range
There are 6 pink-toned gel nail polishes included in this starter kit. There are 3 light shades, 2 medium shades, and 1 dark shade. I tend to prefer lighter and medium shades, so this kit very much appeals to me. I don't see myself using the darkest shade, but the other 5 shades are all very me.
As this is a pink gel nail varnish kit, I think the shade range is great. 2 of the lighter shades are a bit too similar, in my opinion. A pinky-brown shade would've been a great addition to the set instead of one of the lighter shades.
If pink isn't your vibe, you could get the purple gel nail kit instead. Plus, Modelones sells a lot of different gel nail polishes, either in sets or as singles. The shades are stunning, and I'd love to pick up more colours. No 8 is really speaking to me!
Quality of the products
I genuinely think the products in this nail kit are of good quality. Sure, they're not luxurious or high-end, so the professional brands in nail salons are going to be better. However, I'm impressed with how well the products perform.
The nail varnishes are very pigmented. For the lighter shades, you're probably going to need 2 coats, but for the medium and deeper shades, just 1 coat is fine. The formula is quite thick – too thick to be honest – so just be mindful when applying the nail varnishes not to get too much product on the brush, else it will become messy. If you go in with a light hand and wipe some of the excess varnish back into the pot, you'll get wonderful results.
The nail file, LED lamp, base coat, top coat, nail brush, dual-ended spatula, and cuticle oil are all great. I've got no complaints with any of them. Even though the UV lamp is small, it's still powerful. I actually like that it's small, as it means travelling with it is more convenient and lightweight.
Ease of use
I found the kit easy to use. The instructions are clear, and the whole process took me about 20 minutes from start to finish. If you're good at painting nails, you'll definitely be able to get it done in about 10-15 minutes. I'm terrible at painting nails, so it takes me ages to neaten up the edges lol.
Lasting power
These gel nail varnishes are very long-lasting. In fact, this is the aspect that has most impressed me.
I painted my toenails about 3 weeks ago, and the gel hasn't chipped whatsoever. The colour hasn't faded or become discoloured, and my toenails still have that new, glossy sheen to them. Even during my time in hospital recently, the gel nail polish hasn't budged whatsoever. I'm very impressed with the lasting power!
Favourite shade from the gel nail kit
My favourite shade from the gel nail kit is the medium pink shade, which you can see on my toenails below: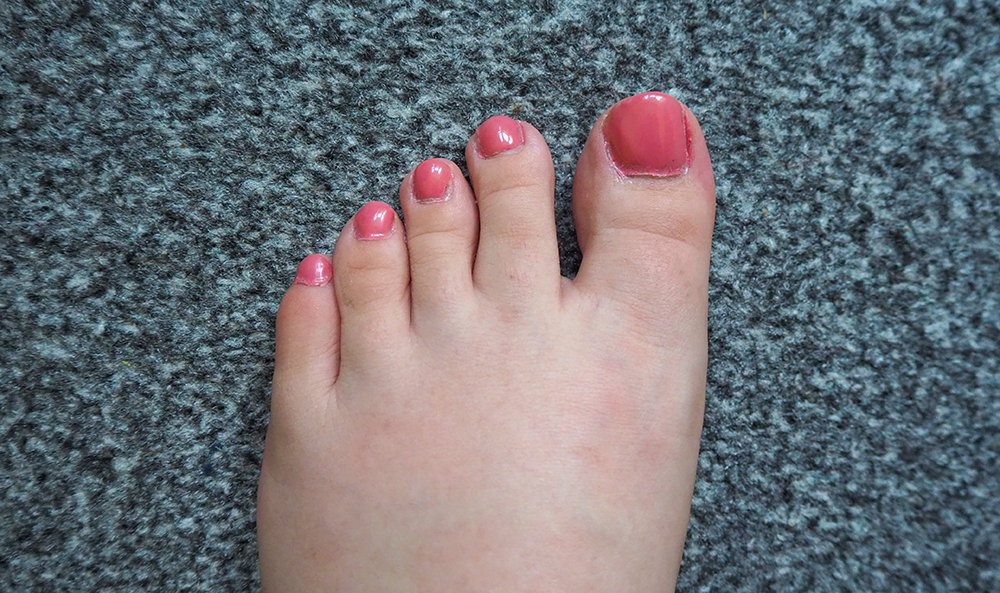 Isn't the shade stunning? I love this mid-toned pink. I think it would look just as good on fingernails too! Don't mind my messing painting lol. I told you I wasn't great at painting nails…
Affordability
At around £31.80 for the Modelones Pink Lipstick Series Starter Kit, you can't go wrong. This is such a great price for the number of products you get in the kit, as well as the performance of the products. It's ideal for people who want to do gel nails at home, but don't want to spend a fortune on products.
Where to buy
You can buy the Pink Lipstick Series Starter Kit from Modelones for £31.80 ($42.99). At the time of writing this post, the gel nail kit is currently on sale for £24.37 ($32.99), which is an incredible price.
Modelones ships internationally. If you're in the UK, shipping costs £9.60, or it's free on all orders over $40 (£30). I don't think spending £30 for free international shipping is a bad deal at all!
Do I recommend the Modelones Pink Lipstick Series Starter Kit?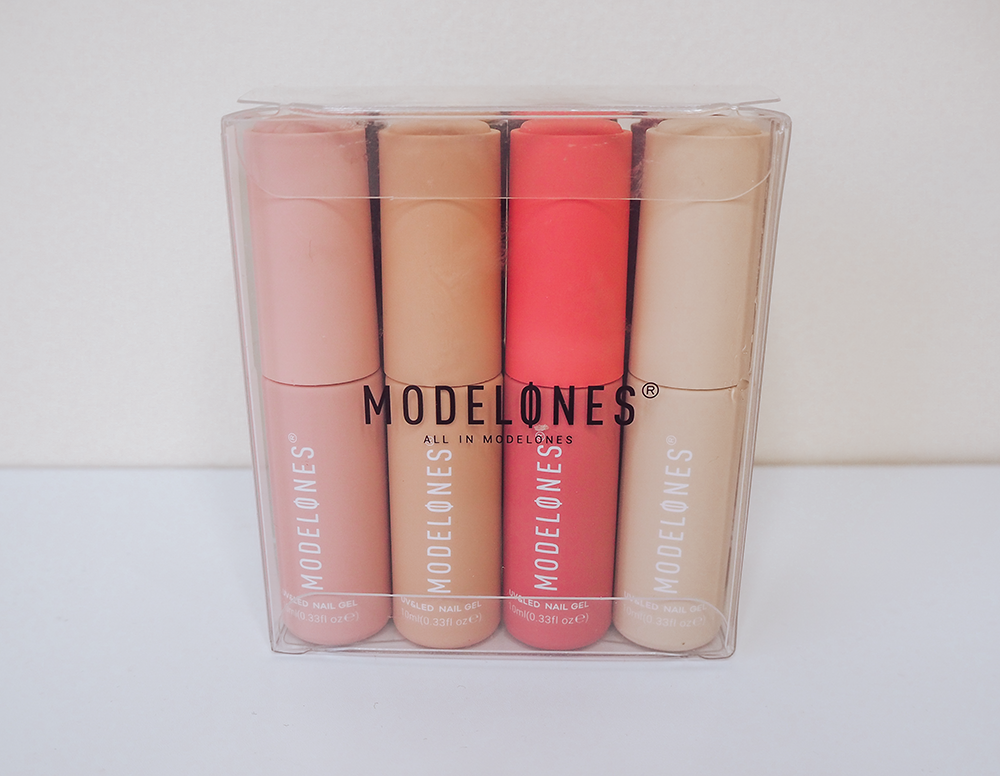 Absolutely! I'm very pleased with my Modelones gel nail kit, and I'm sure you will be too. This would make a great Christmas or birthday gift for anybody who loves doing their nails at home.
---
Will you be picking up this pink gel nail kit?