Last Updated on 23rd December 2022 by Sarah Sarsby
If you're looking for some gorgeous new gel nail polish that's super travel-friendly, the Modelones 21 Colors Vinyl Record Solid Cream Gel Polish needs to be in your life.
I've tried the Modelones and Pantone Color Institute gel nail kit and Modelones Pink Lipstick Series Starter Kit previously and loved both sets. The colours were rich and vibrant, easy to apply, and long lasting. So I couldn't wait to try the new Modelones Solid Cream Gel Polish line.
Prior to this collaboration, I'd never tried solid nail polish. The idea really intrigued me. I couldn't wait to see how well a solid yet creamy formula would work. I'm not good at painting my own nails at all, so if the solid formula was easier to use than a typical liquid varnish, that would be music to my ears!
But does the solid cream gel nail polish perform well, or is it a bit gimmicky? I'm going to spill the tea in this very honest review.
** This post contains some affiliate links. This means at no extra cost to you, I earn some commission if you purchase a product through my link. All thoughts are my own, though, as always. If you want to find out more, visit my affiliate disclosure page **
What is Modelones?
Modelones is an affordable nail art brand for those seeking stylish nail designs. It sells a wide range of dipping powders, gel nail polishes, acrylic powders, and nail essentials like UV lamps, nail decorations, and nail clippers.
Modelones team always runs at the forefront of nail fashion and innovates our formulas, aimming to inspire confidence and courage in mani-artists through the power of color.

Modelones
The company ships internationally, including to the UK and USA.
How does solid gel nail polish work?
Solid gel nail polish works just like regular nail varnish! Instead of a runny liquid formula, the texture of the solid varnish is like a thicker cream. Despite the thicker consistency, it's still very easy to manipulate the colour and get a precise application. The colours may look very solid in the pan, but they're actually very creamy when you pick them up with the brush.
How to use the Modelones 21 Colors Vinyl Record Solid Cream Gel Polish
Here's how to apply the Modelones 21 Colors Vinyl Record Solid Cream Gel Polish from start to finish:
Ensure any previous nail varnish is removed
Trim your nails using a nail clipper and gently push your cuticles back using a cuticle pusher
Clean and dry your nails. You do this by filing the surface of your nails using the nail buffer to get rid of any dirt or oil. This step is very important to ensure the gel polish is long lasting. You can also use rubbing alcohol after filing your nails to ensure they're thoroughly clean
Use a nail duster to get rid of any excess dust
Apply a thin layer of base coat and cure for 30 seconds to 1 minute under a UV lamp
Use the nail brush (which comes with the Modelones solid gel nail polish kit) to pick up a small amount of product. (When first using the brush, loosen the bristles with your fingertips and then run the bristles under warm water for a few minutes to ensure the bristles aren't stuck together)
Using the nail brush, apply a layer of your desired solid gel colour and cure for 30 seconds to 1 minute under a UV lamp
Repeat step 7 until you have achieved your desired opaqueness
Apply a thin layer of top coat and cure for 30 seconds to 1 minute under a UV lamp
Apply a cuticle oil to nourish the cuticles (optional)
It's a very straightforward and easy-to-follow process!
Modelones 21 Colors Vinyl Record Solid Cream Gel Polish in Cozy Wander review
Below is my honest review of the vegan and cruelty-free Modelones 21 Colors Vinyl Record Solid Cream Gel Polish. I got the colour story Cozy Wander, which contains a mix of neutrals, nudes, blue hues, pink hues, and shimmers for exquisite variety.
Shades
I think the shade Cozy Wander is a very pretty and modern colour palette. Although there are some neutrals and warm shades, the palette is ultimately quite cool-toned.
I really like the colour story. And there are 21 shades to choose from! There are mutiple greys, which are very chic and modern. I love nudes, and there are some stunning pink and peach nudes. The blues are very pretty, and the shimmers are exquisite. I don't typically wear dark shimmer shades, but some subtle line work using the dark shimmers would look amazing as part of a modern nail design.
As I get my nails done at a salon, I painted my toenails for the purpose of this review. In the photo below, I picked the lightest shade, which is a cool-toned off-white on the second row on the far left.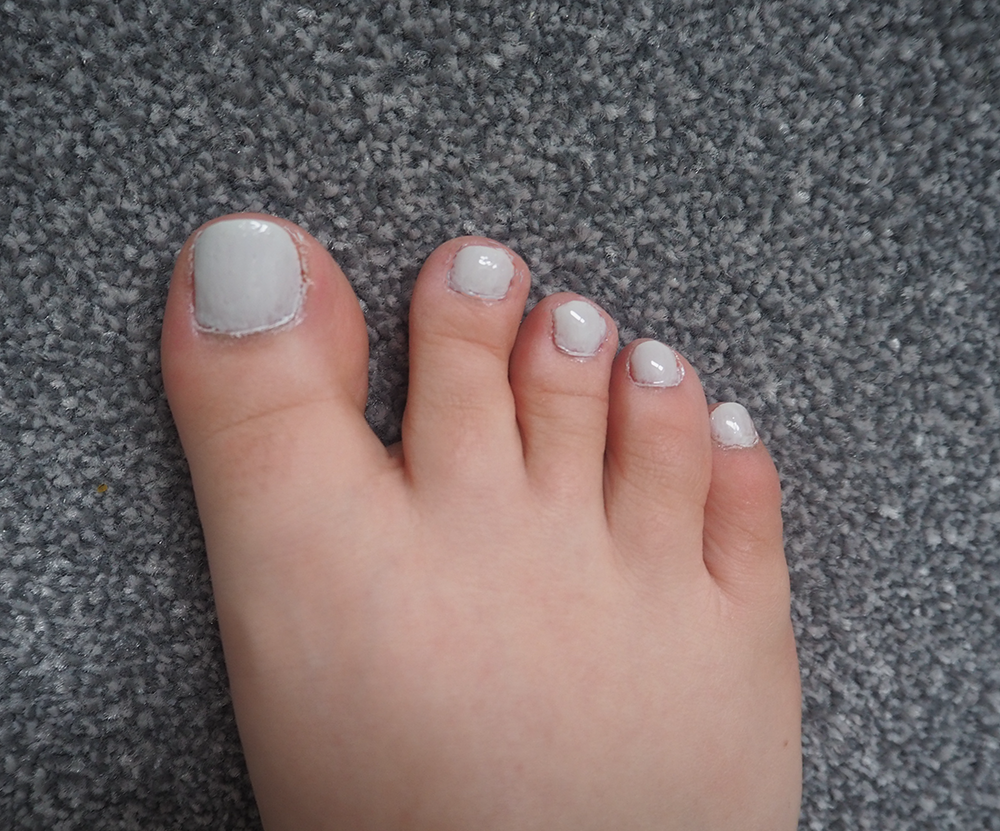 I'm still not great at painting nails (as you can see lol), but I think it turned out pretty well. I applied 4 coats of the shade to build the colour up. The colour is cute. It's not my favourite, but I wanted to go for something different. I think it looks nice!
I wish this colour was a bit more opaque, as it took time to layer. However, light colours tend to be quite sheer, so they take some building up for opaqueness.
Quality
The shades are very high quality. They're creamy and true to the colour in the pan. I found layering my solid polish effortless. The application wasn't patchy or streaky.
I think these shades are just as good as the traditional liquid gel varnishes I've tried from Modelones in the past. In fact, I think I prefer them! I'll explain more as to why in the "ease of use" section below.
Ease of use
I found the solid gel shades incredibly seamless to apply. Because the cream texture in the Modelones 21 Colors Vinyl Record Solid Cream Gel Polish is less runny than a standard liquid varnish, I had more control over the application. I made fewer mistakes and didn't have to worry about making a mess with a liquid consistency.
Also, I loved how easy it was to pick up and smooth the colour over my nails. The application was seamless using the small brush that comes with the vinyl. It's a foolproof process. As someone who is definitely not neat when it comes to painting nails, this was a very welcome surprise!
Lasting power
Honestly, I've only just applied the solid gel nail polish, so I can't comment on how long the varnish will last. However, all of my previous Modelones varnishes lasted for weeks without chipping, so I expect the 21 Colors Vinyl Record Solid Cream Gel Polish will be the same!
Convenience
The Modelones 21 Colors Vinyl Record Solid Cream Gel Polish is so convenient to use. 21 shades are neatly packed into a compact case for you to pick from whenever you fancy.
If you travel a lot, this solid cream nail varnish set would be perfect. It's very lightweight, gives you a tonne of shade options in 1 convenient location, and you don't need to worry about and spillages or leaks. The creamy consistencies will stay neatly in their pans until you're ready to use them!
All you'd need to take with you is a UV lamp, base coat, and top coat. Then you have 21 shades to pick from whenever you want while you're on the go!
Affordability
One of the best things about the Modelones 21 Colors Vinyl Record Solid Cream Gel Polish is that it's very affordable. It costs £24.84 for 21g of product (21 x 1g).
This is very purse-friendly when you think about how much money it would cost to purchase 21 separate varnishes. Sure, you might not get as much product in the pan compared to a liquid varnish, but this solid varnish set will honestly last for ages!
Where to buy
You can buy the 21 Colors Vinyl Record Solid Cream Gel Polish for £24.84 from Modelones.
There are 7 different modern and chic colour stories to choose from. Whether you want romantic neutrals, vibrant warm shades, or subtle cool tones, there is a colour palette for every desire!
Do I recommend the Modelones 21 Colors Vinyl Record Solid Cream Gel Polish?
Absolutely!
This solid cream gel nail polish set exceeded my expectations. I love the colours, the formula is fantastic and beginner friendly, and it's very convenient to use.
Rating: 4.5 stars
I rated this set 4.5 stars instead of 5 stars because I wish the pale shade was more opaque. However, I suspect a lot of the other shades won't need as much layering!
---
Have you ever tried solid nail varnish before? Does the idea appeal to you? I'd love to hear from you.