Last Updated on 23rd September 2023 by Sarah Sarsby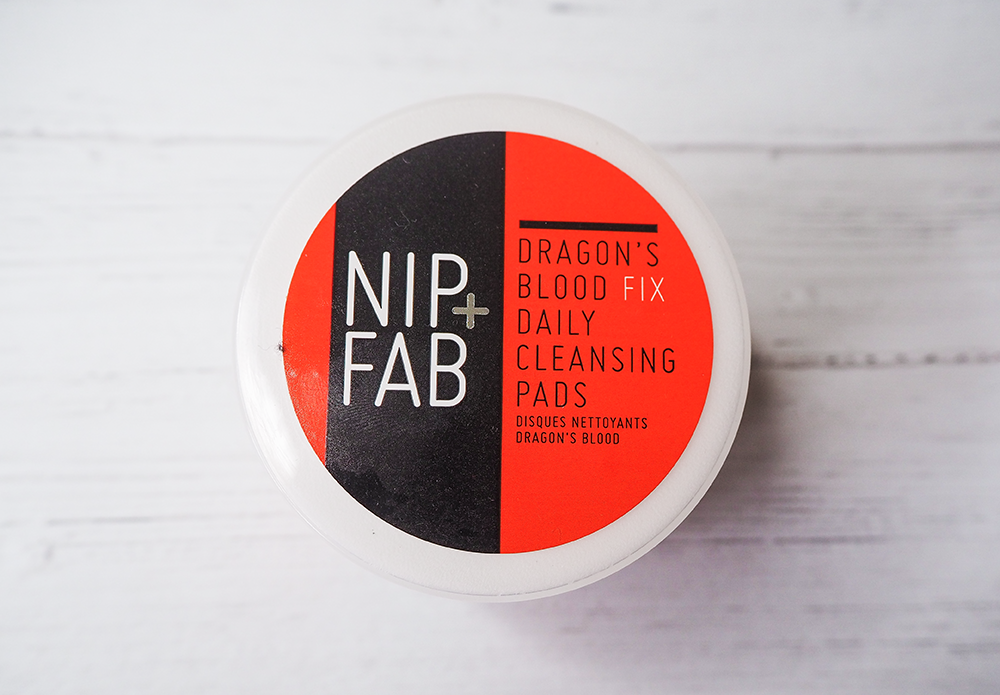 Today, I'm going to review the hydrating Dragon's Blood Fix Cleansing Pads from the popular skincare brand Nip + Fab.
Dragon's blood is a sappy resin that comes from the Croton Lechleri tree. It forms a protective film on the skin to protect against environmental aggressors, as well as soothe, hydrate and plump the skin. According to Nip + Fab, its Dragon's Blood Fix line is suitable for all skin types and is ideal for those suffering from dehydration, skin sensitivity or redness.
But just how well do the Dragon's Blood Fix Cleansing Pads perform? Do they deeply cleanse the skin and leave your skin feeling hydrated, or do they leave your skin wanting more? Please keep on reading for my honest review of this product.
** This post contains some affiliate links. This means at no extra cost to you, I earn some commission if you purchase a product through my link. All thoughts are my own, though, as always. If you want to find out more, visit my affiliate disclosure page **
What is Nip + Fab?
Nip + Fab is a well-known skincare brand that aims to provide innovative, results-driven and affordable solutions for all skin types. It offers a range of skincare lines, such as Salicylic Fix and Retinol Fix, to provide targeted fixes to smooth, firm, hydrate and tighten the skin. It claims to use "cutting-edge" ingredients to help create flawless and selfie-ready skin.
Nip + Fab Dragon's Blood Fix Cleansing Pads ingredients and claims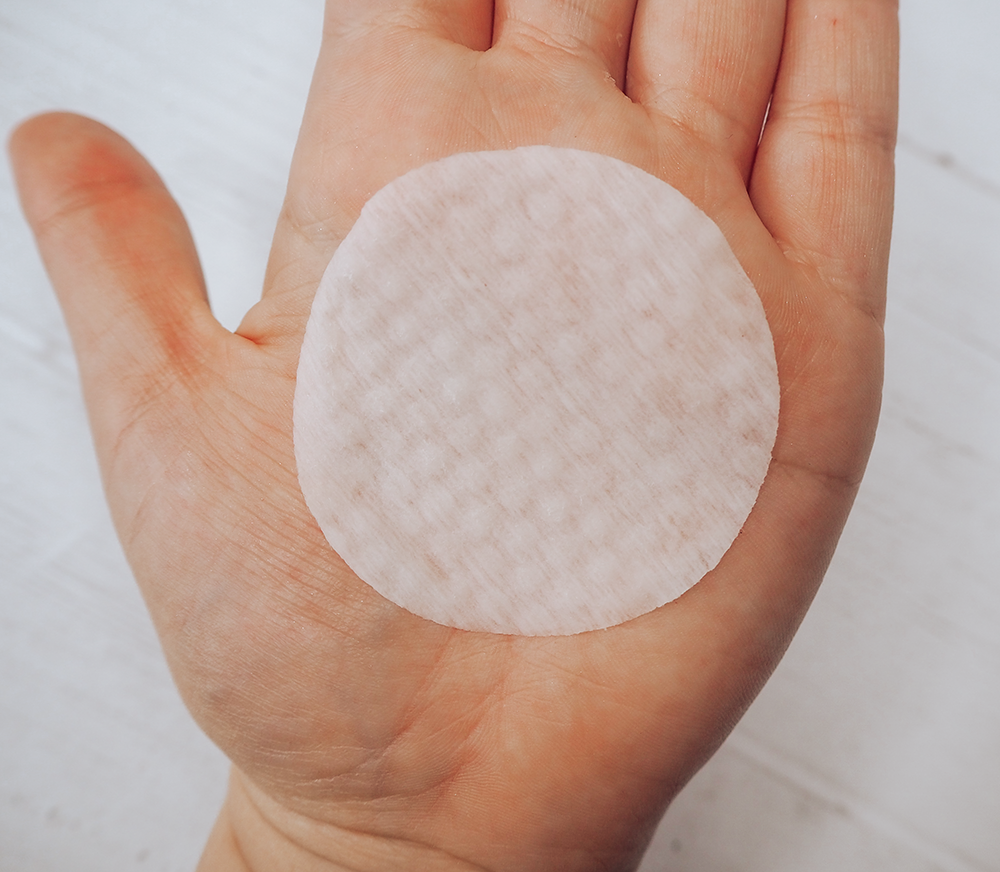 The Nip + Fab Dragon's Blood Fix Cleansing Pads promise to be lightweight, plumping and hydrating. They claim to be soft, gentle, refreshing and smoothing, while deeply cleaning your pores.
The witch hazel helps reduce the appearance of imperfections, leaving your complexion looking smoother and refreshed.

Nip + Fab
These dragon's blood cleansing pads aim to be easy to use, nourishing, and provide gentle exfoliation. There are 60 pads in the tub.
Key ingredients:
Excluding water, the top 5 ingredients in these cleansing pads are:
PEG-7 glyceryl cocoate: a cleansing agent that can be an emollient (softens and soothes the skin), emulsifier (prevents ingredients from separating), and surfactant (cleansing agent)
Witch hazel: a plant extract that can have potent antioxidant properties and some soothing properties. However, this ingredient is considered to be sensitising when used repeatedly
PEG-40 hydrogenated castor oil: an emollient
Glycerin: has hydrating properties
Phenoxyethanol: a safe and gentle synthetic preservative
See the full INCI list below:
Aqua (Water/Eau), PEG-7 Glyceryl Cocoate, Hamamelis Virginiana (Witch Hazel) Water, PEG-40 Hydrogenated Castor Oil, Glycerin, Phenoxyethanol, Alcohol Denat. (SD Alcohol 40-B), Benzyl Alcohol, Parfum (Fragrance), Disodium EDTA, Linalool, Dehydroacetic Acid, Salicylic Acid, Butylphenyl Methylpropional (Lilial), Sodium Hydroxide, Limonene, Benzyl Salicylate, Citronellol, Sodium Hyaluronate, Croton Lechleri Resin Extract, Geraniol, Potassium Sorbate, Sorbic Acid
How to use the dragon's blood cleansing pads
Wipe one pad over your entire face to cleanse your skin. The pads can be used as part of your morning or evening skincare routine.
Nip + Fab Dragon's Blood Fix Cleansing Pads review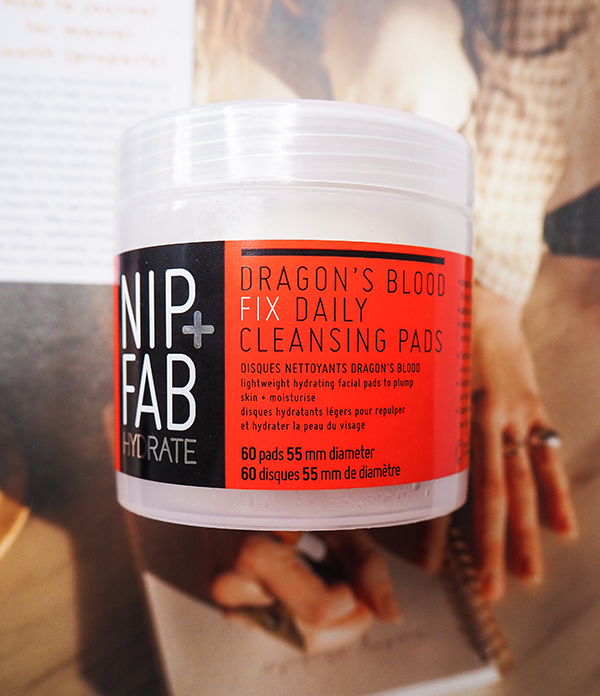 I think the Nip + Fab Dragon's Blood Fix Cleansing Pads are perfect for anyone who is on the go, pushed for time, or has just finished a workout and wants to quickly freshen up. These cleansing pads are incredibly convenient, and quickly cleanse and refresh the skin while on the go. For example, taking them on a flight would be great as you can simply wipe them over the skin, without the need for rinsing off a traditional gel cleanser. Whenever I do workouts, I love using these cleansing pads afterwards to quickly invigorate my skin and get rid of any sweat or dirt.
The cleansing pads are moist, without being soggy. They feel soft and nourishing on the skin, making your skin feel hydrated, plump and soothed. After using them, my skin feels lovely, protected and smooth.
Although they contain witch hazel, which can be sensitising, I find the pads very gentle on the skin. I've never had problems with witch hazel personally, but it's something to be aware of if you do find this ingredient aggravating.
I prefer using these cleansing pads as my second cleanse in the evening. I find the cleansing pads work well after using an oil or balm cleanser to get rid of makeup, dirt and SPF. This combination makes my skin feel clean and refreshed, without feeling stripped.
Honestly, I don't think these pads are the most cleansing product I've used. My skin feels more deeply cleansed when I use a traditional gel cleanser. I probably wouldn't use these pads for my morning cleanse for this reason. But, they're definitely fabulous for a second cleanse or when you're on the go and are in need of a refresh.
Overall, I've enjoyed using the Nip + Fab Dragon's Blood Fix Cleansing Pads and I think they're very useful. People with combination skin will particularly enjoy the lightweight yet hydrating benefits of this product.
Where to buy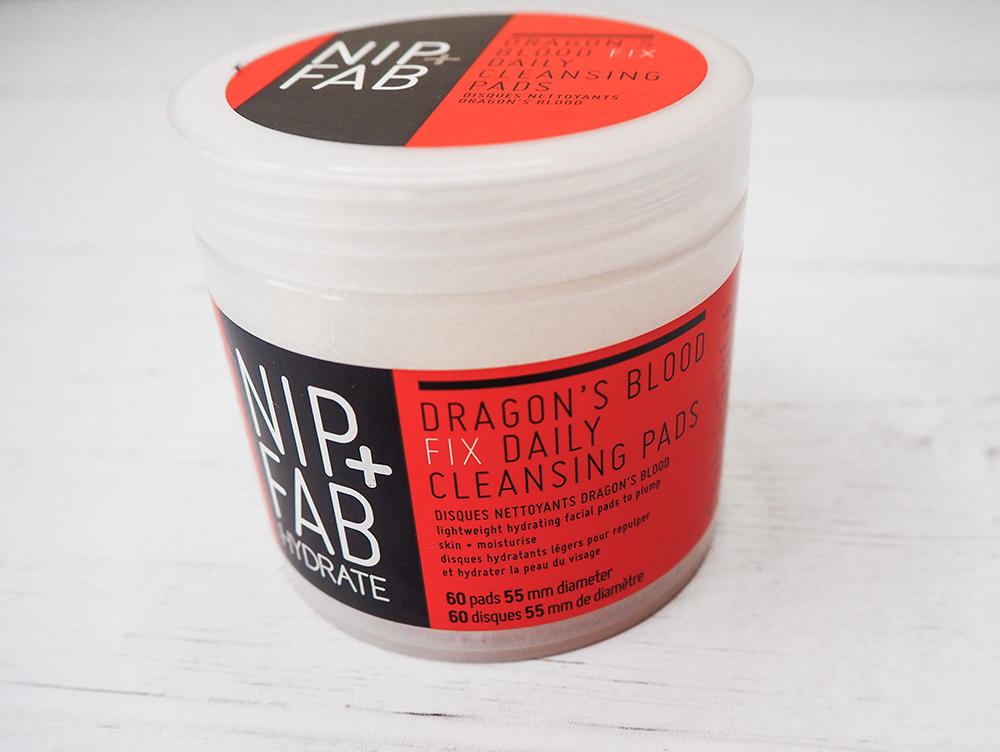 The Dragon's Blood Fix Cleansing Pads cost £14.95 for 60 pads and can be purchased from Nip + Fab. This equates to roughly 25p per pad, which I think is pretty affordable. 60 pads will last you for roughly 2 months if you used them every day.
Do I recommend the cleansing pads?
I recommend the Nip + Fab Dragon's Blood Fix Cleansing Pads for anyone looking for a simple, fast and effective way to cleanse their skin. They work best for when you're travelling, post-workout or as your second cleanse. They're pretty affordable too, which is always nice.
Rating: 4 stars
The cleansing pads are definitely worth trying! I think a lot of people will love this product.
---
Do these hydrating cleansing pads appeal to you? I'd love to hear your thoughts in the comments!