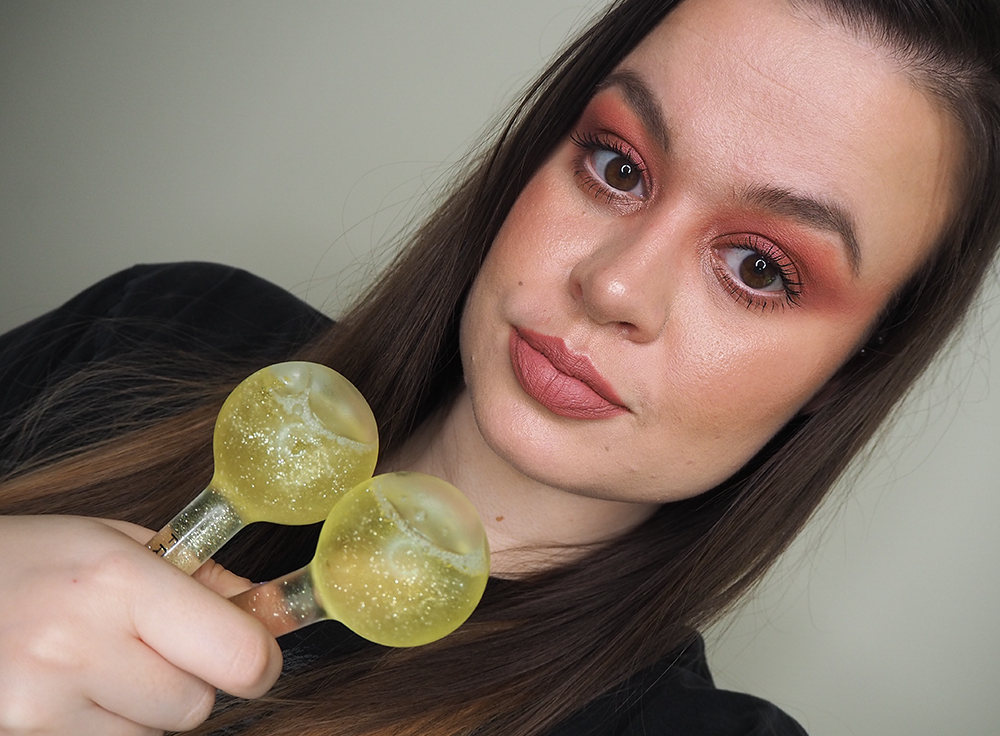 If you want to bring the relaxing spa experience to the comfort of your own home, then you need to check out the Fraîcheur Ice Globes.
I'm always very curious to try new skincare devices, but some of the tools on the market are gimmicky. They look great, but they're often overpriced and lacking in terms of performance. However, when skincare tools perform well, they're a joy to use and can really complement your skincare routine.
The Fraîcheur Ice Globes are far from being a gimmick, though, and they've seriously levelled up my skincare routine. If you're curious to hear more about some of the benefits these facial ice globes can give you and how I've incorporated them into my routine, then please keep on reading.
You can use my exclusive discount code 'SARAH10' to grab 10% off the Fraîcheur Ice Globes for some major savings!
** This post contains some affiliate links. This means at no extra cost to you, I earn some commission if you purchase a product through my link. All thoughts are my own, though, as always. If you want to find out more, visit my affiliate disclosure page **
What is Fraîcheur Paris?
Fraîcheur Paris is well known for its popular facial ice globes, which brings cold treatment therapy into an elegant, easy-to-use design for everyday use.
"After consulting and joining with beauty professionals, designing a sophisticated concept to marry grace with durability, and sourcing the highest-quality materials, we finally pioneered the first luxury ice globes for use at home." – Fraîcheur Paris
Now, the popular ice globes are sold in over 220 countries worldwide and are recognised by leading beauty magazines like Vogue, ELLE, Harper's BAZAAR, Glamour, and Cosmopolitan.
Fraîcheur Ice Globes claims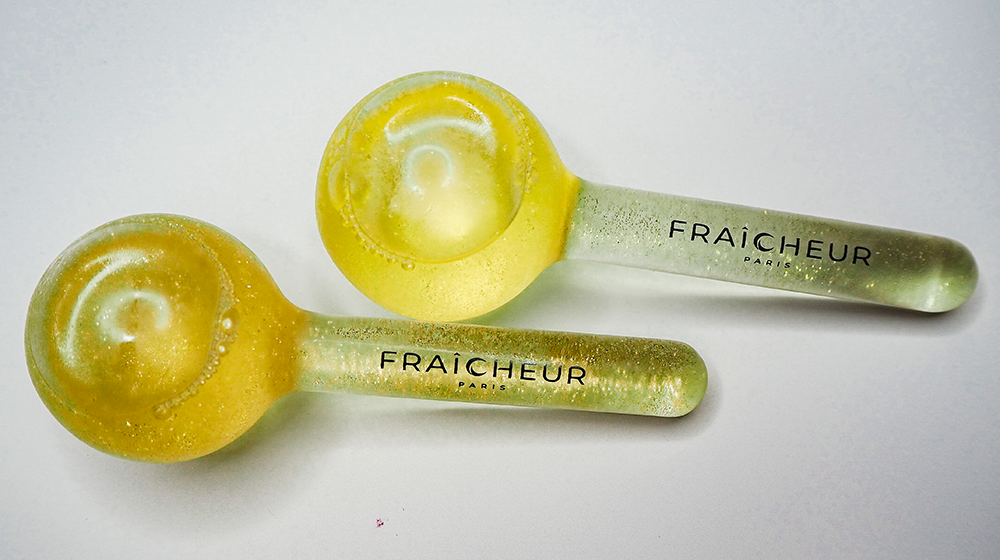 Promising a myriad of benefits, the Fraîcheur Ice Globes claim to deliver "astounding" results. By using the facial ice globes every morning and evening (if necessary), they claim to:
Reduce swelling and puffiness
Minimise pores
Give you smoother skin
Make the skin more radiant
Ease the mind
Calm and soothe the skin
Improve chronic skin conditions
The ice globes are hypoallergenic, cruelty-free, vegan and suitable for all skin types. They can be stored in the fridge or freezer.
How to use the facial ice globes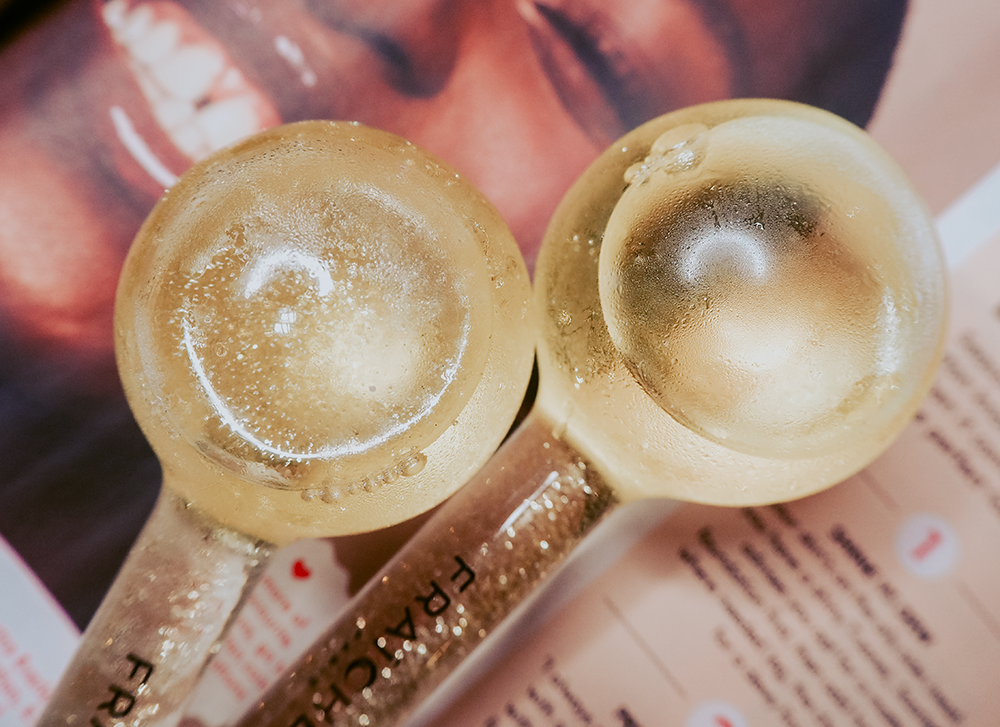 Using the Fraîcheur Ice Globes is simple and easy, all you need to do is the following steps:
Place the ice globes in the freezer for as little as 30 minutes or, ideally, overnight
Remove all makeup and cleanse your face
Go lightly on exfoliants (I'd advise using the facial ice globes on a day where you're not using exfoliants)
Apply a small amount of serum or oil to your face. You could even apply a face mask at this stage
Start rolling the ice globes over your brows, from the inner brow to the temples. Work upwards from the middle of the brow to the hairline and finish at the temples and perform circular, slow motions
You can also use the facial ice globes gently over your eyelids, under the eye area, and across your cheeks and chin in circular motions
Finish your skincare routine with a moisturiser and SPF (if it's in the daytime)
For more inspiration on how you can use these luxury ice globes, give Fraîcheur Paris a follow on Instagram to see video tutorials.
To clean the facial ice globes, simply wipe them down with a damp cloth after use.
My experience using the facial ice globes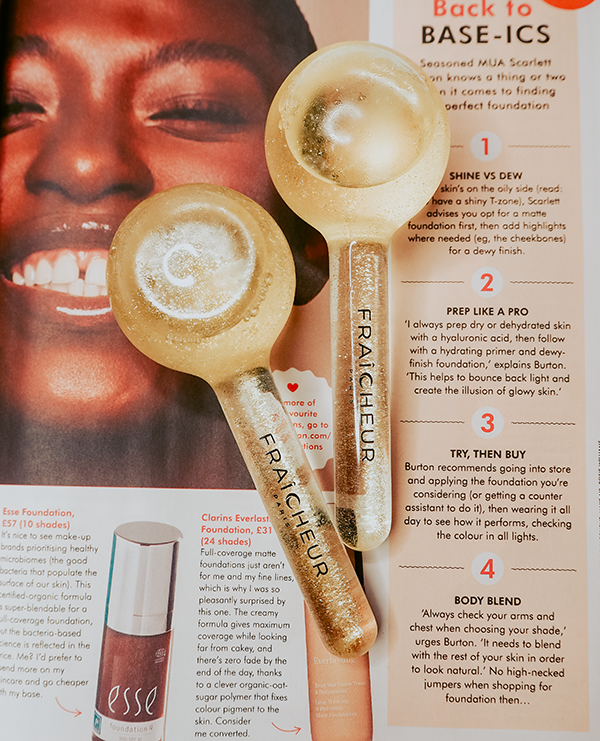 I genuinely love using the Fraîcheur Ice Globes and I've truly been surprised at the benefits they bring.
Firstly, the experience of using these facial ice globes is incredibly relaxing and therapeutic. The feeling of having the globes roll over your skin calms both your skin and mind. It brings that luxury spa experience to the comfort of your own home and I love that.
It goes without saying that placing the globes in the freezer makes for an icier experience. I prefer storing the globes in the freezer for this reason. They also stay colder for longer when you place them in the freezer, whereas putting them in the fridge means that the coldness decreases quicker when you roll the globes over your face.
Once you've rolled the globes over your skin, it immediately reduces puffiness, redness and any swelling. If your eyes are looking a bit tired, it instantly makes them look brighter and reduces puffiness. This is a lifesaver for those sleepless nights! The ice globes also work wonderfully on any rosacea areas you might have or if your skin feels aggravated.
The Fraîcheur Ice Globes further make your skin feel smoother and look more radiant. They give you that lovely healthy glow, like you've spent some time outside in the sun (with sunscreen on, of course).
I don't think the ice globes are amazing at reducing the appearance of pores. Using a dedicated serum or exfoliant would work best for this. However, the smoothing effect of the globes help improve the overall look and feel of the skin.
Overall, I'm totally obsessed with these facial ice globes, and I'm confident a lot of other people will feel the same.
Pros
Calm and soothe the skin
Relaxing and therapeutic experience
Ease the mind
Reduces redness, swelling and puffiness
Makes the skin smooth and glowy
Luxury spa experience at home
Cons
Pricey
Not as good at minimising the appearance of pores as other skincare products
Where to buy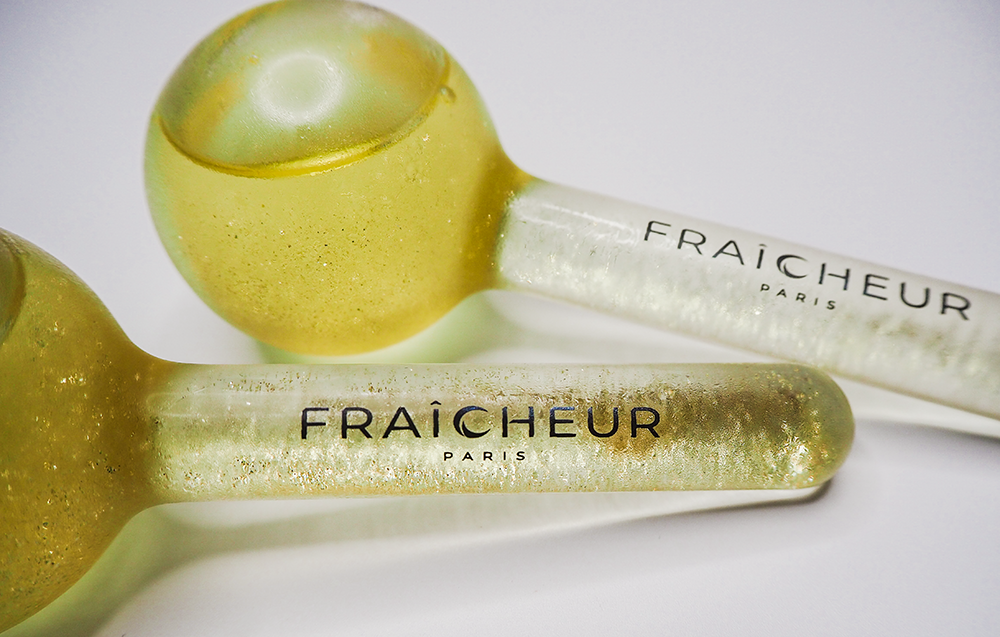 You can purchase the ice globes directly from Fraîcheur Paris. They start at £59.99 for the standard collection or £95 for the limited collection. I got the gold glittery ones, which cost £95.
However, you can use my exclusive discount code 'SARAH10' to grab 10% off the Fraîcheur Ice Globes for some major savings! This would bring the standard ice globes down to £50.99 and the limited ice globes down to £80.75.
Yes, these facial ice globes are pricey, but they're going to be a one-time purchase and last ages. They bring you many benefits and the experience is wonderful. I believe they're worth the price point. 100%.
Do I recommend the Fraîcheur Ice Globes?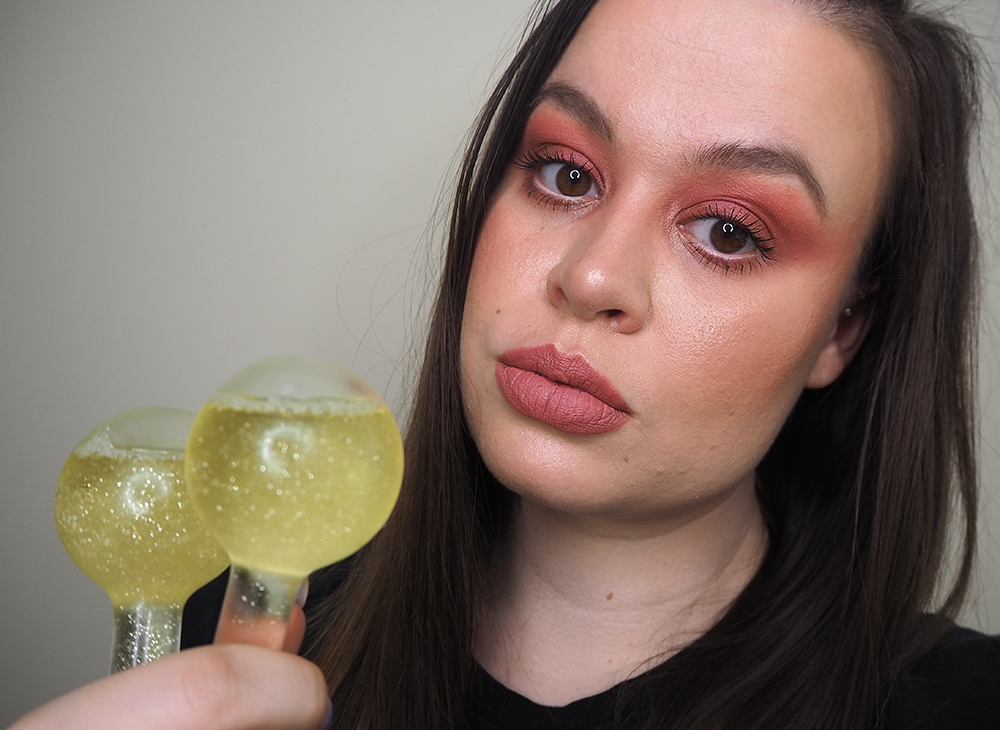 Absolutely. I can see a lot of people loving this skincare tool and finding the experience very calming. I truly believe people of all ages, genders and skin types would benefit from these luxury ice globes. They're such a joy to use and help improve the look and feel of your skin.
Rating: 5 stars
My only wish is that I'd discovered this skincare tool sooner.