Last Updated on 8th December 2023 by Sarah Sarsby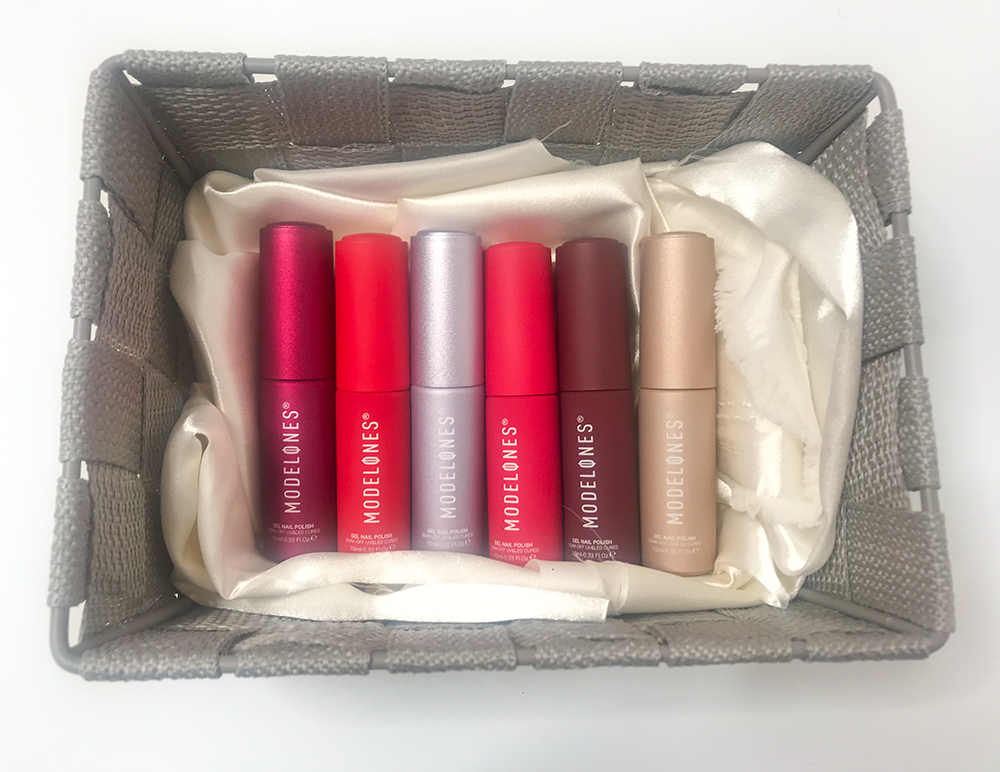 Today, I'm reviewing a stunning gel nail kit from an exciting new collaboration between Modelones and Pantone Color Institute.
This is the first time that globally recognised colour expert Pantone Color Institute has collaborated with a nail brand, so this is a very important launch for Modelones. I think this is such a cool idea. It marries together beautiful shades with excellent nail products. So it's a win-win situation.
I was lucky enough to try the Modelones Pink Lipstick Series Starter Kit a few months ago and was thoroughly impressed by how well the gel nail polishes performed and the inexpensive price point. So when Modelones asked if I'd like to try its latest collaboration with Pantone, I jumped at the opportunity.
The Fierce Gel Polish Kit features a beautiful and luxurious colour story: think rich maroons, bold reds, shimmery lavenders, and cool-toned golds. But do these gel polishes perform as well as my other Modelones varnishes or do they fall short? I'm going to thoroughly review this kit in my blog post below.
What is Modelones?
Modelones is an affordable nail art brand for those seeking stylish nail design. It sells a wide range of dipping powders, gel nail polishes, and acrylic powders, alongside nail essentials like UV lamps, nail decorations, and nail clippers.
Modelones team always runs at the forefront of nail fashion and innovates our formulas, aimming to inspire confidence and courage in mani-artists through the power of color.

Modelones
The company ships internationally, including to the UK and USA.
What is Pantone Color Institute?
Pantone Color Institute is a globally leading source of colour expertise, providing colour insights and solutions for clients to help them develop a visually dynamic brand.
The institute offers a range of color trend forecasting publications and educational color books which provide unique inspiration and insight.

Pantone
The institute helps companies with selecting colour palettes, creating custom colour solutions, predicting colour trends, and their brand colour development.
What's included in the Modelones x Pantone Fierce Gel Polish Kit?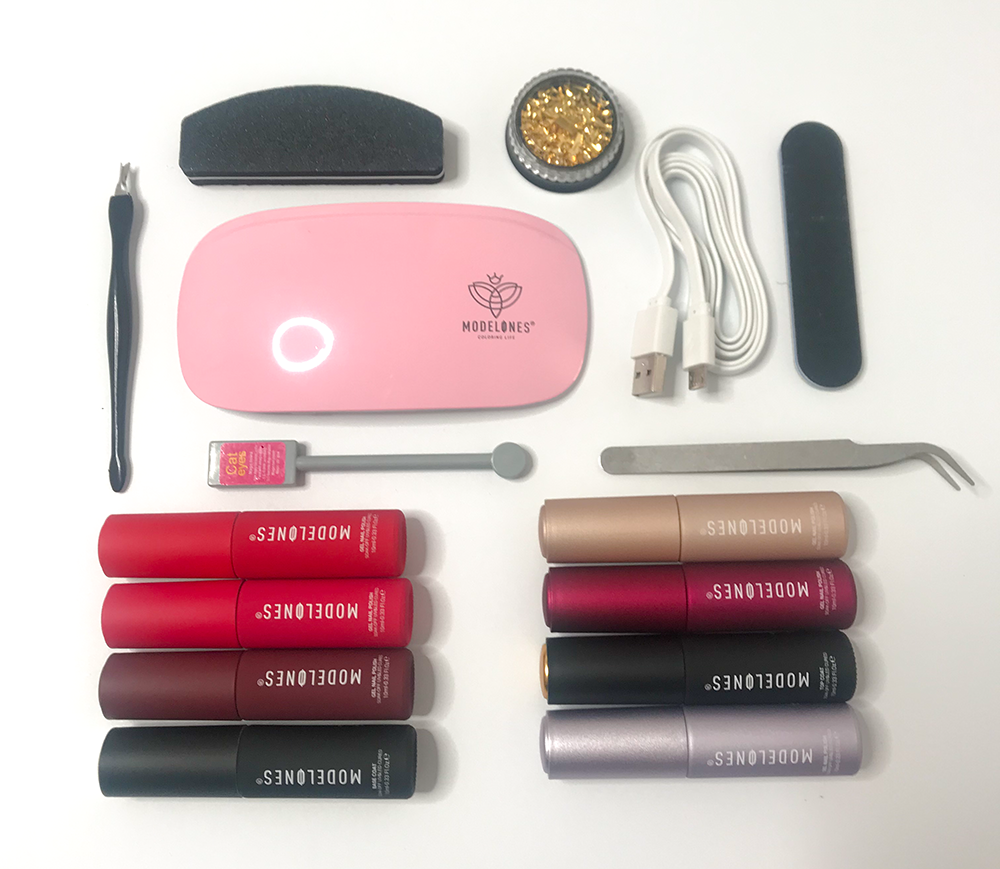 For $46.99 (£34.95), the Modelones x Pantone Fierce Gel Polish Kit contains the following products:
1 base coat
1 top coat
6 gel nail polishes
Gold nail art decoration pieces
1 Cat Eye Magnetic Stick
6W mini LED light
1 mini nail buffer
Curved tweezers
1 cuticle pusher
1 mini nail file
Co-branded postcard
Portable leather bag
I think this is great value for money, considering a lot of UV lights cost more than this alone. Gel nail polishes can also be pretty expensive, so when you combine all of the products together, this is excellent value for money.
How to use the gel nail kit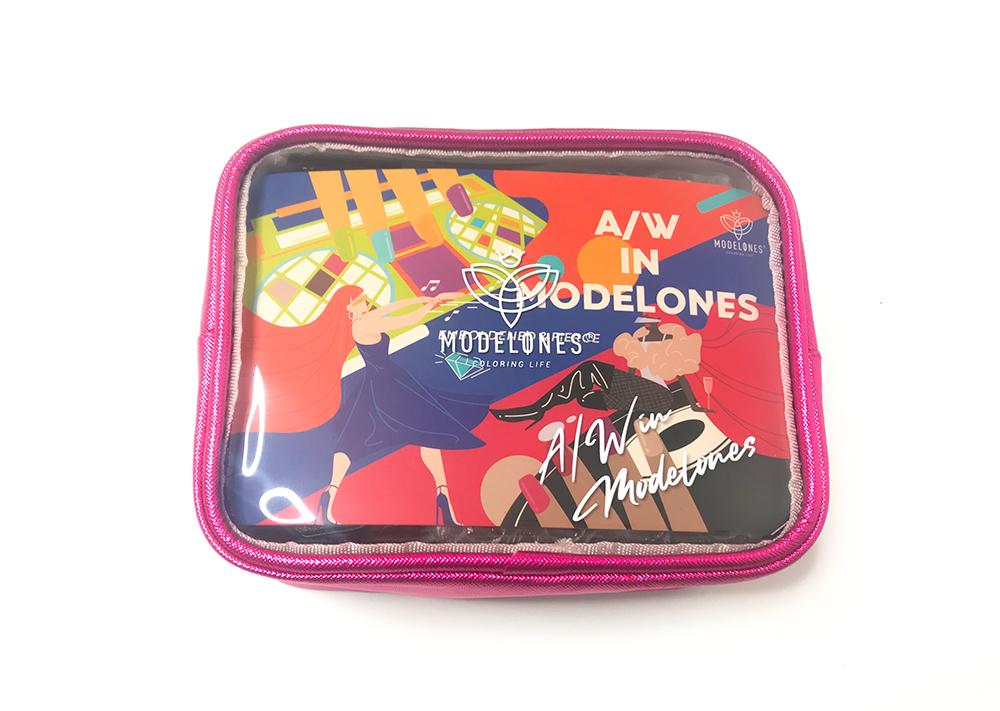 After unpackaging your cute Modelones x Pantone kit, here's how you apply the gel nail varnish from start to finish:
Trim your nails using a nail clipper and gently push your cuticles back using the cuticle pusher.
Clean and dry your nails. You do this by filing the surface of your nails using the nail buffer to get rid of any dirt or oil. This step is very important to ensure the gel polish is long lasting. You can also use rubbing alcohol after filing your nails to ensure they're thoroughly clean.
Shake the desired nail varnish to thoroughly mix the gel.
Apply a very thin base coat to the nail and cure under the UV lamp for 1 minute.
Apply a thin layer of gel polish to the nail and cure under the UV lamp for 2 minutes. (IMPORTANT: if you're going to use the Cat Eye Magnetic Stick, DO NOT cure your nails after applying a layer of gel polish. Instead hold the magnetic stick close to the gel polish – without pressing the stick onto your nails – for about 1 minute, and then cure under the UV lamp).
Repeat step 5 to get the opaqueness you want.
Add nail decorations using the tweezers (optional).
Apply a very thin layer of top coat to the nail and cure under the UV lamp for 1 minute.
Remove any gel residue using a damp cotton bud.
Apply a cuticle oil to nourish the cuticles (optional).
The whole process is simple and straightforward. You've got everything you need in the gel nail kit to do your own nails at home. The only item not included is rubbing alcohol, but this isn't an essential step. I personally skipped it.
My thoughts on the Modelones x Pantone Fierce Gel Polish Kit
Below is my honest review of the Modelones x Pantone Fierce Gel Polish Kit, including the shade range, quality of the products, how easy it is to use the products, affordability, and my favourite shade from the kit.
Shade range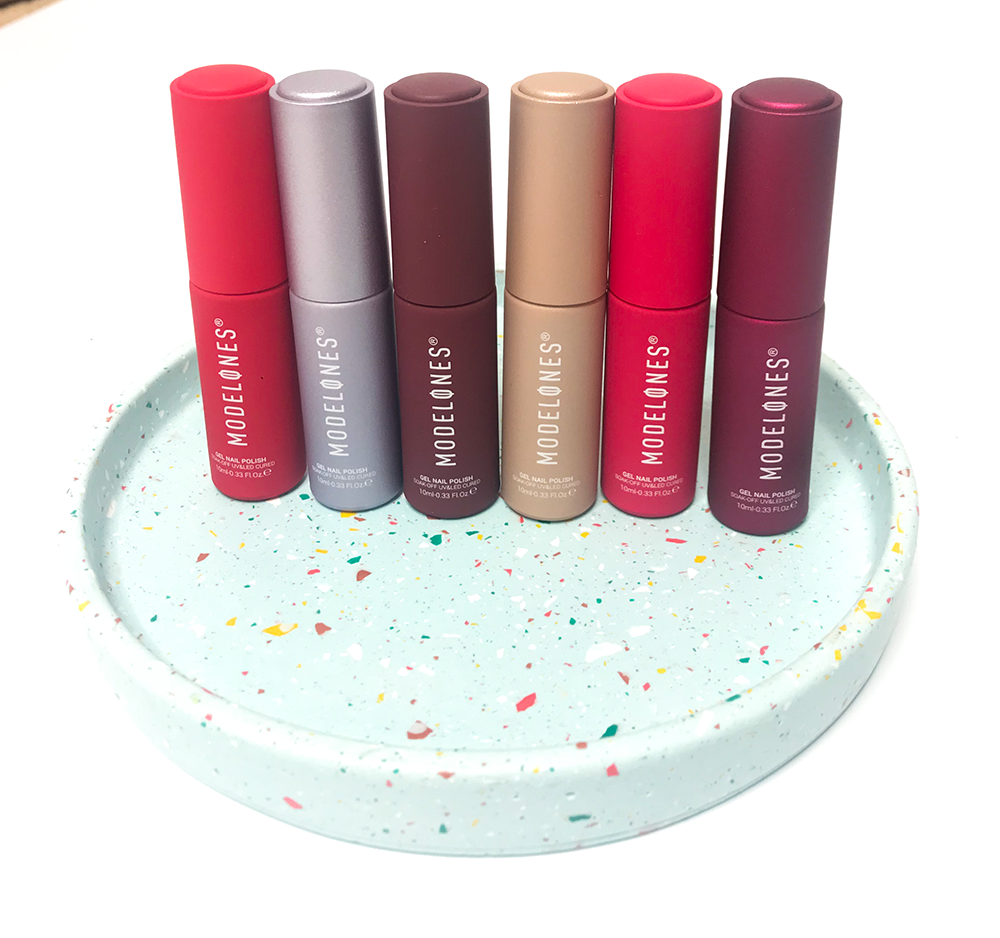 There are 6 amazing and sophisticated shades to choose from in this gel nail kit:
New Maroon: a rich wine red
Raspberry: a pretty vermillion hue
Satin Chemise: a soft and light pink-toned gold
Racing Red: a bold and dynamic crimson
Sterling Lavender: a light shimmery lilac
Sparkling Fuchsia: a jewel-like confident purple
There is a mix of warm and cool tones in this collection, and they all scream luxury and opulence. I think the colour story works well for a glamorous evening collection, which is exactly what Modelones intended with this launch. I'd personally wear every single shade in this collection.
Quality
Again, I think the gel nail polishes in this collection are high quality. I actually think they're better quality than the varnishes from the Modelones Pink Lipstick Series Starter Kit because the formula isn't quite as thick or gloopy. This makes it easier to apply a thin, even and smooth layer to your nails.
The lighter shades require a bit more building, especially Sterling Lavender and Satin Chemise as these are particularly light. However, after 2-3 layers, you easily get opaqueness, so this isn't an issue.
For a mini UV light, it sure is powerful. It cures nails really well, and I've had no problems with my polish chipping, smudging or not drying properly. All of the additional tools work really well too. I'm yet to try the Cat Eye Magnetic Stick or nail decorations, though.
I'm really impressed with the quality of the Modelones x Pantone Fierce kit.
Ease of use
This at-home gel nail set is very easy to use. The kit contains everything you need to do gel nails besides a nail clipper, and the instructions are clear and easy to follow. After I'd removed my previous gel nail polish, the whole process took me around 20 minutes, which included nail preparation.
The benefit of gel nail varnish is there is no drying time once you've cured the polish with a top coat under an LED lamp. Simply cure and go!
Lasting power
As with the nail varnishes in my previous Modelones review, these new ones have incredible lasting power. They don't chip, smudge or become dull over time. This aspect of the Modelones x Pantone collection is particularly comparable to nail salon polishes' lasting power.
Favourite shade
My favourite shade from the Modelones x Pantone collaboration is Satin Chemise, which you can see below: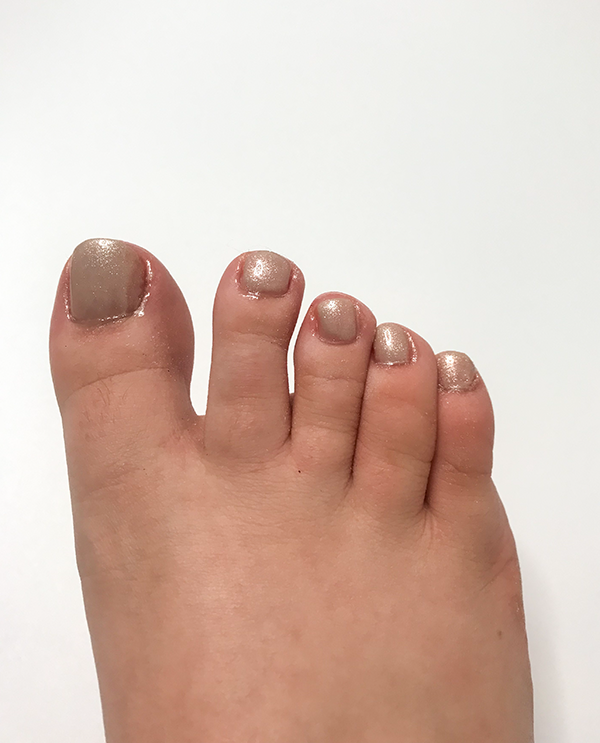 I love the gorgeous pinky-undertoned champagne shade. It's the perfect shade for the festive period too, with Christmas rapidly approaching. I actually think this is a really unique, chic and modern shade. It would look beautiful with the gold nail decorations included in the set too.
Convenience
One of this kit's best selling points is its convenience. With a portable leather bag and mini UV lamp, this set is travel-friendly, lightweight and easy to use on the go. It doesn't take up much space, and you can house all of your nail essentials in one place. If I wanted to do my nails abroad, this is 100% the kit I'd take with me.
Affordability
For $46.99 (£34.95), the Modelones x Pantone Fierce Gel Polish Kit is amazingly priced. It's a total bargain when you consider how many good-quality items you're getting to enable you to do gel nails at home. Going to a nail salon once would almost cost as much as buying this entire set, depending on where you go. So, this at-home kit could save you a lot of money in the long run, particularly if you get your nails done every month.
Where to buy
You can get the Modelones x Pantone Fierce Gel Polish Kit directly from Modelones for $46.99. Currently, this kit is only available to buy in the US, so I'm sorry to all of my fellow UK readers – or readers from any other part of the world – who are looking to get this. Hopefully, the gel nail kit will become available in more countries in the future.
Do I recommend the Modelones x Pantone Fierce Gel Polish Kit?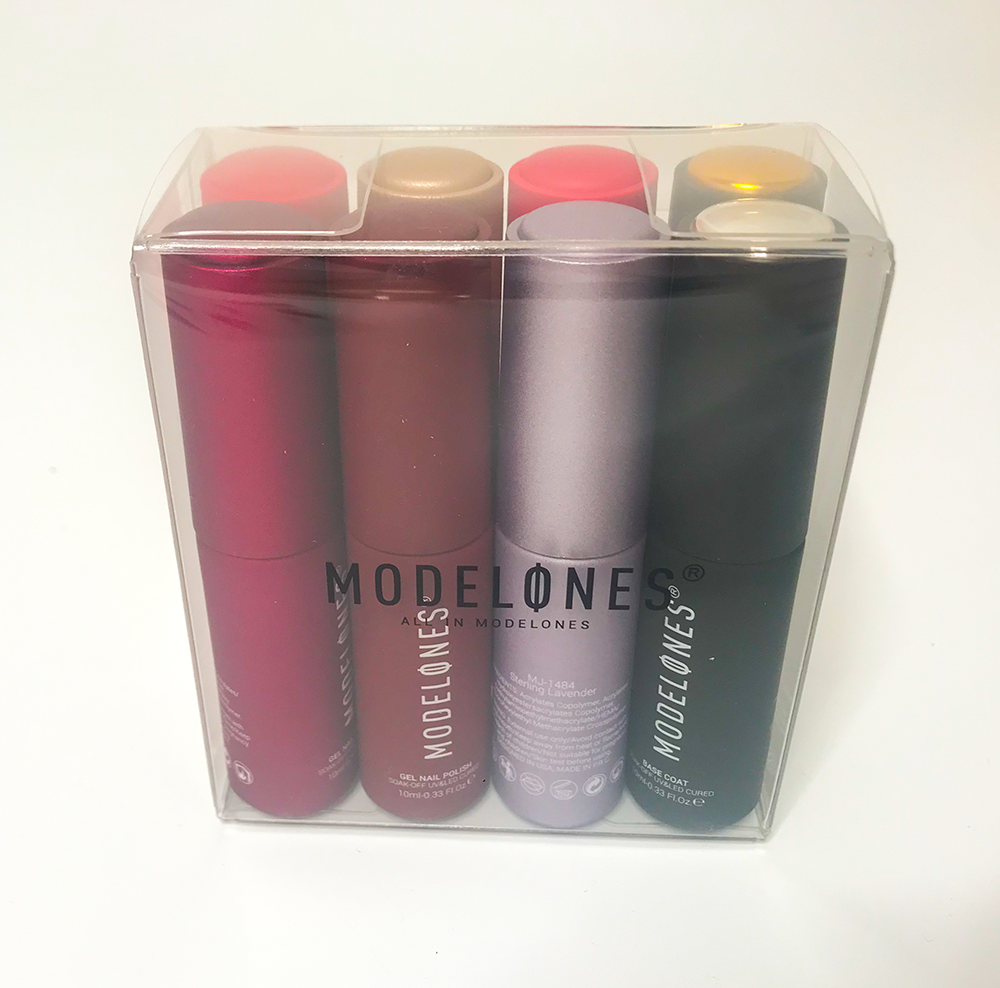 100% yes. It's a beautiful, modern and affordable gel nail kit that you won't be disappointed with. If you know somebody who loves doing their nails, this would make a stunning Christmas gift due to the red and gold shades.
---
Which shade most appeals to you from this collection? I'm curious to hear your comments below