Last Updated on 23rd September 2023 by Sarah Sarsby
Can you believe it's nearly June? The beginning of 2021 has flown by so quickly. I'm grateful, though, as things are finally starting to resemble some sort of normality now as shops, pubs, restaurants and event venues have reopened here in England.
In my May beauty faves, I've got some new skincare and makeup products to share with you, including 2 products from EM Cosmetics. I've been loving sheer, dewy and more natural-looking makeup in recent times, with a heavy focus on skincare-friendly ingredients. This marries together my love for skincare with the creativity of makeup perfectly. And, as the weather is heating up (finally), wearing a face of full-coverage makeup is not the one.
If you're curious to see my latest beauty faves, please keep on reading.
** This post contains some affiliate links. This means at no extra cost to you, I earn some commission if you purchase a product through my link. All thoughts are my own, though, as always. If you want to find out more, visit my affiliate disclosure page **
1. EM Cosmetics Color Drops Serum Blush in Pink Nectar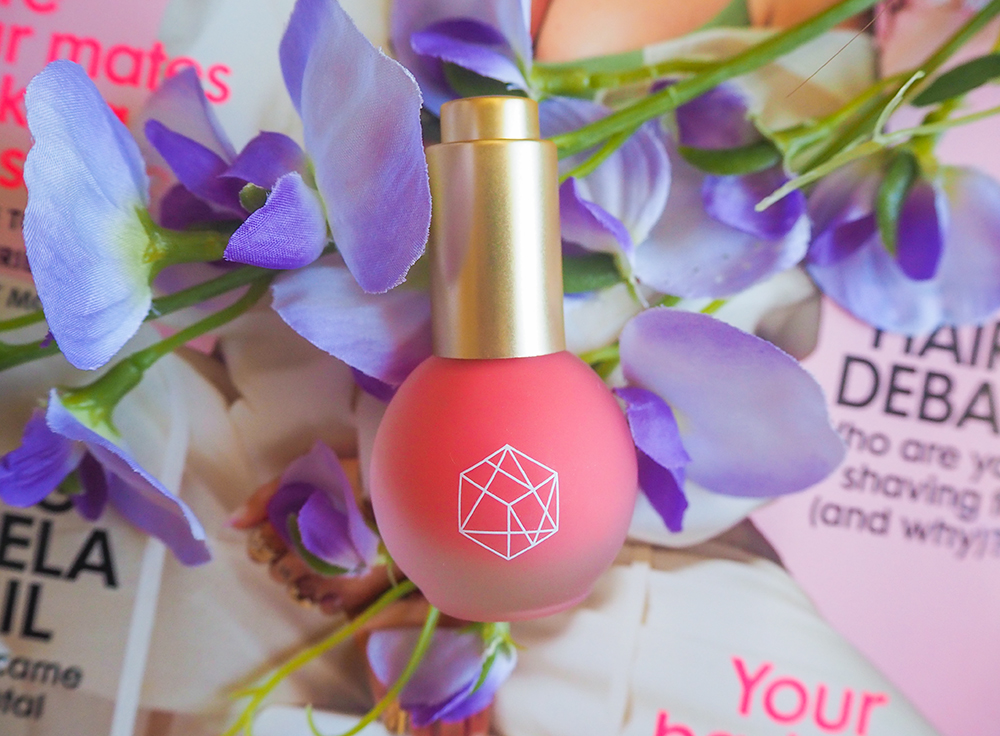 If you're into skincare-meets-makeup types of products, the EM Cosmetics Color Drops Serum Blush will be perfect for you.
This serum-like blush will instantly give your skin a flush of colour, while making you look healthy and radiant at the same time. It's really pigmented but sheers out on the skin seamlessly for a glass skin finish. This serum blush also feels lightweight, non-sticky and hydrating once applied.
I've got the shade Pink Nectar, which is a stunning watermelon pink. Although it looks bold and vibrant in the bottle, this pretty pink looks soft and youthful on the skin. Honestly, this blush is one of the best blushes I've ever used. It's unique, I'm obsessed with the shade, and it makes me feel amazing.
Where to buy
Retailing for $25 (£17.62) for 10ml, the Color Drops Serum Blush can be purchased directly from EM Cosmetics.
For my UK readers, EM Cosmetics currently doesn't ship here *cries*. I managed to snag this blush from my American brother-in-law, whose mum kindly shipped EM Cosmetics goodies over from America. However, for those who are able to get their hands on this product, I can't recommend it enough.
Rating: 5 stars
One of the best blushes ever. I'm in love with it.
2. Avant Skincare Advanced Bio Restorative Superfood Facial Oil
If you're into high-end skincare, you need to check out the Avant Skincare Advanced Bio Restorative Superfood Facial Oil.
This luxurious facial oil instantly nourishes, softens and soothes the skin with a mixture of replenishing oils including sweet almond oil, avocado oil, grapeseed oil and sunflower seed oil. Although this facial oil is moisturising, it doesn't feel heavy or greasy on the skin. Since using this facial oil, my skin looks healthier.
This skincare essential also plays well with other beauty products. So whether you're looking to integrate a new oil into your skincare routine or want a radiant makeup look, the Advanced Bio Restorative Superfood Facial Oil covers all bases.
You can read my full review of this product here
Where to buy
This superfood facial oil costs £84 for 30ml and can be purchased from Avant Skincare.
Rating: 5 stars
This facial oil is splendid and a joy to use.
3. Coola SPF30 Organic Classic Sunscreen Spray in Pina Colada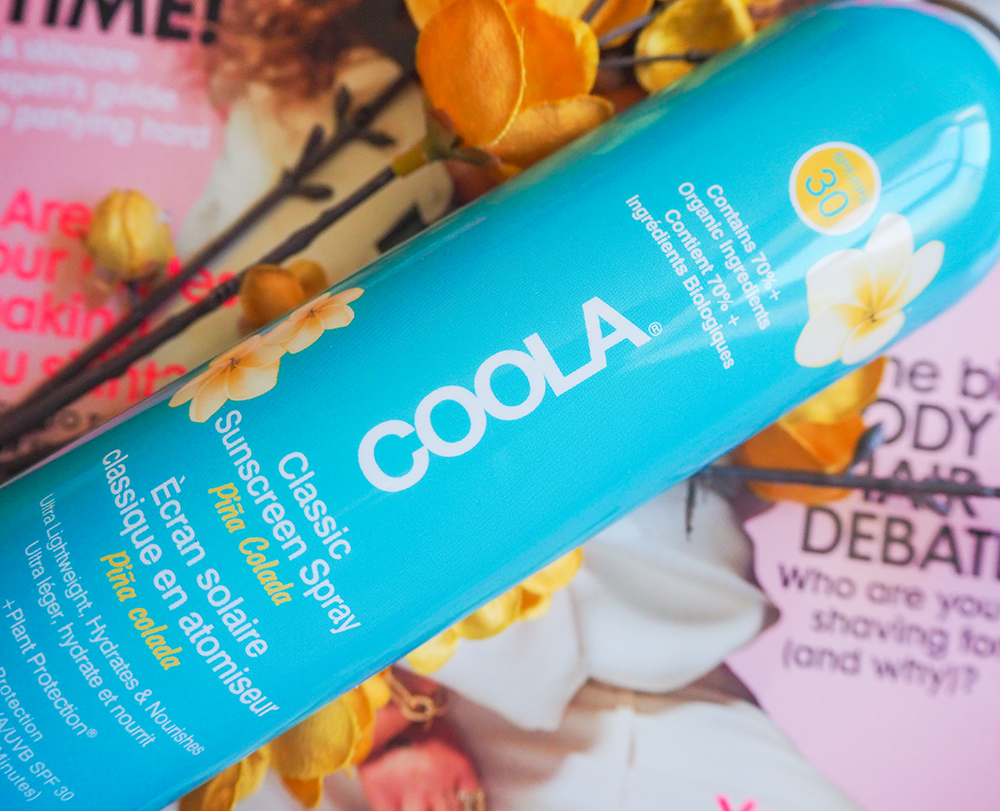 The Coola SPF30 Organic Classic Sunscreen Spray is a convenient spray sunscreen that is perfect for topping up your application throughout the day.
I wanted to get a spray SPF so I could easily reapply it over makeup throughout the day. When you're out and about with friends, you might forget to top up sunscreen but this spray bottle is so convenient that there really shouldn't be any excuses.
The Coola spray smells delicious – like a tropical drink – and is quite a fine mist, so you're not going to get an uneven application. It doesn't leave a chalky cast or feel sticky either, which would otherwise be incredibly off-putting. I actually enjoy using this sunscreen spray because the scent is divine and it's pretty refreshing when it's hot outside.
This SPF is a brilliant on-the-go investment, although factor 50 would be even better!
Remember, the sun's UV rays are damaging, so it's vital that we protect our skin to avoid skin cancer.
Where to buy
The Coola SPF30 Organic Classic Sunscreen Spray retails for £25 for 177ml and can be bought from Space NK. I know this is a pricier sunscreen but I love the tropical scent and how easy it is to use. Plus, if you're only applying this over the top of skincare or makeup, you're probably not going to go through it as quickly.
Rating: 4.5 stars
I love this SPF spray. The only thing that would improve it would be if it was SPF50 for some added reassurance and protection.
4. EM Cosmetics Daydream Cushion Tinted SPF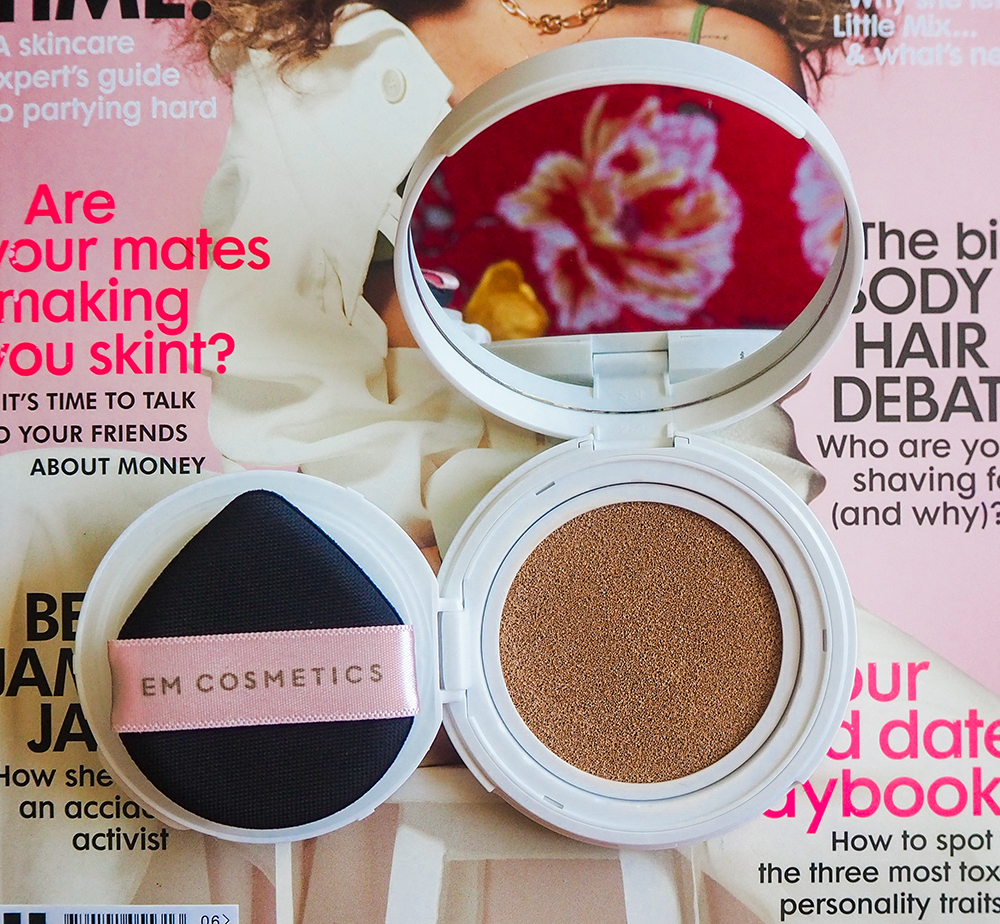 With summer just around the corner, having a lightweight foundation is a makeup essential which is why I'm loving the EM Cosmetics Daydream Cushion Tinted SPF.
This cushion foundation gives you that 'your skin but better' feel. It has a natural and dewy finish, feels incredibly lightweight – undetectable even – on the skin, and is comfortable to wear. Boasting an impressive SPF50, this foundation also gives decent sun protection. You should always wear a dedicated SPF, mind you, but the added protection in this cushion foundation is a welcome bonus.
What I love most about this foundation is that it evens out your skin tone and covers blemishes easily but it still looks like skin. Unlike full coverage foundations, it's quite difficult to tell you're wearing any makeup when you apply this cushion. For those that prefer a bit more coverage, you can build up to medium coverage easily with this product.
The teardrop-shaped sponge enables you to easily get foundation underneath your eyes as well, ensuring effortless application. It's incredibly flattering and just like the brand's serum blush, this foundation makes your skin look healthy.
Where to buy
The Daydream Cushion Tinted SPF costs $48 (£34) for 2x 12g of product and can be bought from EM Cosmetics. While this isn't the cheapest foundation, it comes with a refill so I actually think this works out to be a very good price.
Rating: 5 stars
This might just be my new favourite foundation, along with my Pat McGrath Labs Skin Fetish Foundation.
5. Votary Super Seed Cleansing Oil
Cleansing oils are a joy to use and the Votary Super Seed Cleansing Oil removes makeup, dirt and impurities quickly and hassle-free.
Enriched with plenty of nourishing oils – like chia seed, grapeseed, apricot kernel, sunflower seed, jojoba seed and pumpkin seed – this cleansing oil is kind to your skin. After applying it, your skin will feel super soft and smooth.
And although it's calming and hydrating, this product really is a powerhouse for breaking down stubborn makeup. In fact, it's one of the best cleansers I've used for effectively removing difficult eye makeup like heavy mascara and pigmented eyeshadow.
My only gripe is the price point. The Body Shop Camomile Camomile Cleansing Butter is literally a fifth of the price for about the same amount of product and does just as good a job. But, if you want to treat yourself to an effective and luxurious facial oil, splurging on this Votary one is a good place to start.
Where to buy
Costing £55 for 100ml, you can purchase the Super Seed Cleansing Oil from Space NK or Cult Beauty. Ultimately, this is expensive, particularly for a cleanser. While it's a pleasant experience using this cleanser, I wouldn't rush to repurchase it as there are plenty of great yet less expensive cleansers out there.
Rating: 4 stars
There is nothing wrong with this cleanser but it's pricey.
Final thoughts on my May beauty faves
I had a really good May beauty faves, with some wonderful new products. If I could only recommend one product from this round-up, it would have to be the EM Cosmetics Color Drops Serum Blush. The formula is totally unique and is a dream to apply, leaving you with a healthy flush of colour. With summer approaching quickly, this serum blush will be so fun to play around with.
---
Do you spot any of your holy grails in this list? Let me know in the comments below