Last Updated on 18th October 2023 by Sarah Sarsby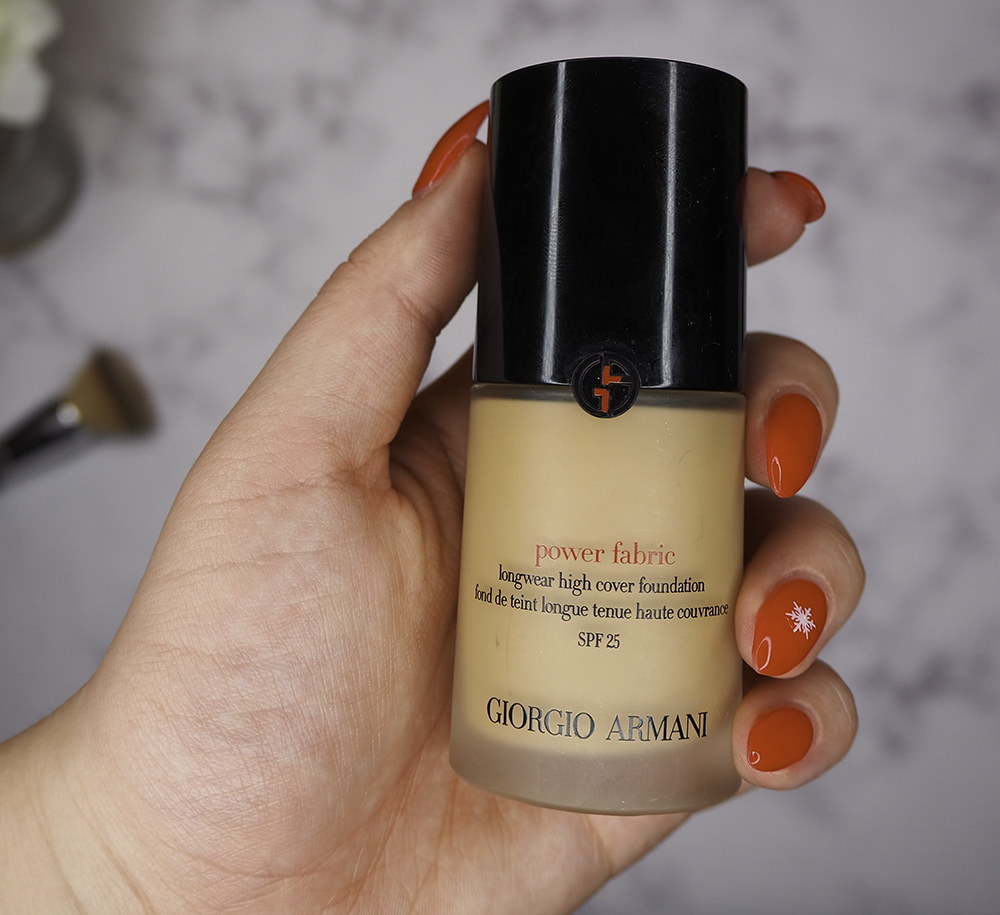 In this post, I review Giorgio Armani's Power Fabric foundation.
I purchased this foundation when I went to Birmingham for the James Charles x Morphe store opening event in January. I said to myself that I wouldn't buy any makeup in January, but the event was so rammed that I wasn't prepared to queue for hours to just get into the store. This, fatally, left me with time to roam around the shops…
I caved in. Birmingham has a Selfridges and it's literally the best place ever, so I roamed around all the makeup there. I ended up buying quite a lot of makeup, but the Power Fabric was a product I'd had my eyes on for a while.
** This post contains some affiliate links. This means at no extra cost to you, I earn some commission if you purchase a product through my link. All thoughts are my own, though, as always. If you want to find out more, visit my affiliate disclosure page **
What is Giorgio Armani?
Giorgio Armani is a high-end and very luxurious fashion and beauty brand, which sells a range of iconic products. Some of its most popular beauty products include the Sì perfume, Armani Code, Luminous Silk Foundation and Lip Maestro.
Product claims
Boasting SPF25, the Giorgio Armani Power Fabric claims to be long-wearing, lightweight with a velvet matte finish.
Power Fabric is a long-lasting liquid foundation offering a beautiful, velvet matte finish. The high pigment concentration provides high coverage in a thin, lightweight texture, as if you are not wearing makeup at all.

Giorgio Armani
According to Giorgio Armani, the foundation can be used as a colour corrector as well as to cover blemishes.
First impressions
When I got to the Giorgio Armani counter in Selfridges and tried the Power Fabric out on the back of my hand it was so soft. Like, ridiculously soft. I knew it would feel lightweight on my face because even on my hand it was incredibly smooth.
After requesting to be matched to a specific shade, I turned out to be shade 4.5, which had some yellow undertones and matched my skin nicely.
When she put the foundation on a patch of my skin, it looked very natural and flattering. It gave a medium coverage, but my skin didn't look cakey at all. So far, I was impressed.
But that didn't mean it would control my oil well, especially on the nose area where I get the most oil build-up. So I needed to give it a proper test all over my skin…
Before and after
To show how it looks on my skin, I took some before and after shots.
Before: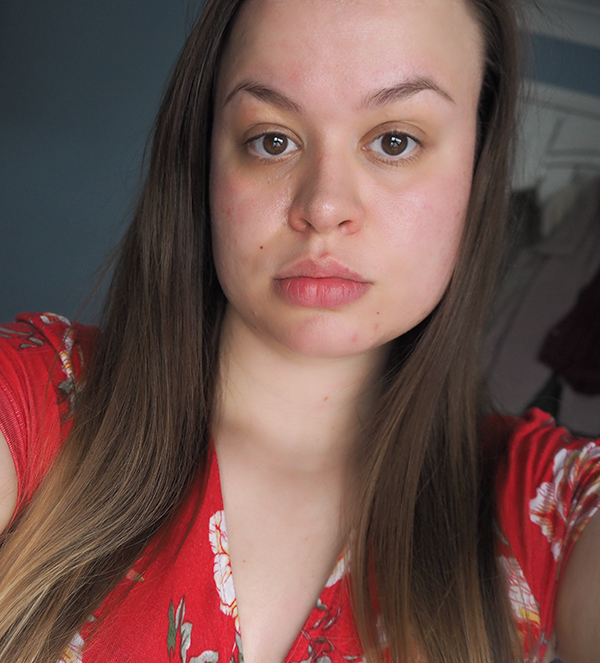 Here's how it looks after: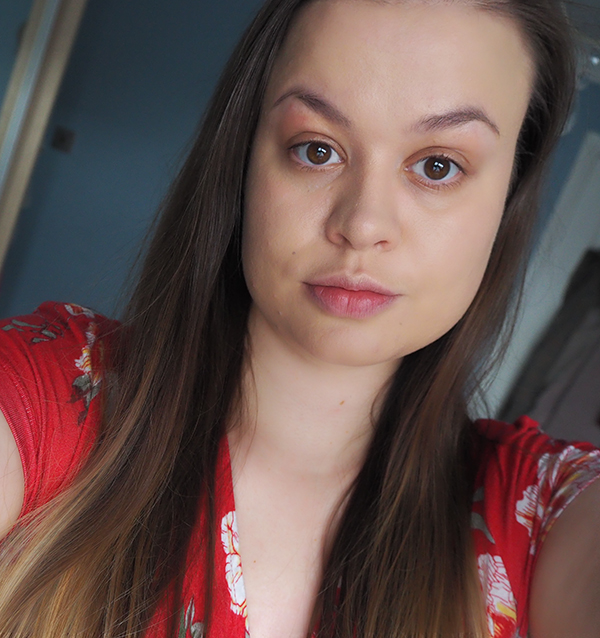 Admittedly, it does look pretty weird with just the foundation on my skin and no bronzer, blusher, highlighter etc. But I love the smooth effect it gives.
My thoughts on the Giorgio Armani Power Fabric foundation
The foundation glides effortlessly over my skin and doesn't sink into my pores, which is something I've experienced with other foundations previously and hate. It also doesn't look patchy or dry in any parts.
In my opinion, Power Fabric offers medium coverage: enough to cover any blemishes, but not too much that it looks unnatural or cakey. I personally love the velvet matte finish too as it doesn't make my skin look flat but instead offers a gorgeous, poreless finish.
However, my favourite thing about this foundation is how lightweight it feels on my skin. For a foundation that offers medium coverage, it seriously feels like I'm just wearing a tinted moisturiser. This makes it very wearable.
Overall, I love this foundation. But how well does it last? I did a wear test for you guys and share the results below.
Longevity
I put this foundation on at 11am and didn't take it off until about 11pm. This was a good length of time to really test out the Power Fabric's longevity.
And you know what? I'm impressed.
Sure, my skin went a bit oily in parts, especially over my nose and cheeks, but it wasn't bad at all and a little bit of setting powder would easily fix that. I'd be surprised if I ever tried a foundation where I didn't break out in any points at all.
It also didn't wear off much. It isn't a foundation that you'd need to keep topping up throughout the day.
All in all, it lasted really well and I was very pleased with it.
Where to buy
Giorgio Armani's Power Fabric Foundation retails for £45, which you'd definitely class as a luxurious foundation.
You can purchase this foundation from Giorgio Armani and Harvey Nichols.
I really love this foundation but appreciate this is a lot of money. It's by far the most expensive foundation I own, so people on a budget should look elsewhere.
Final thoughts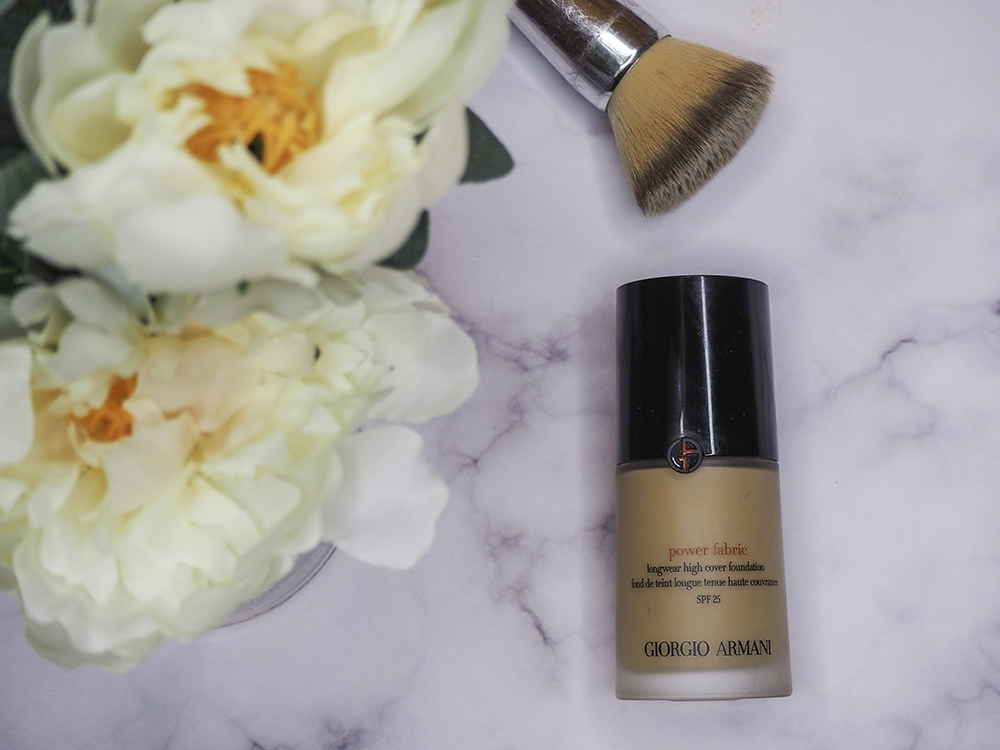 I'm over the moon with this foundation, from how well it lasts, to the flawless coverage. I actually think it might have overtaken Fenty Beauty's PRO FILT'R Soft Matte Longwear Foundation as my new favourite foundation.
Rating: 4.5 stars
The only reason I didn't give Power Fabric 5 stars is because of the price. If you're on a budget, I don't think you can really justify the price.
However, I can because I'm not sensible when it comes to spending money on makeup and will pretty much splurge on anything if it's a good product and I really want it.
Overall, I'm so happy with my Giorgio Armani Power Fabric foundation and I can't wait to keep using it! I'd recommend this foundation to anyone, particularly if you have oily skin.
---
What do you guys think to the look of the foundation? Do you think it's worth the price or is it too expensive? Let me know in the comments down below!