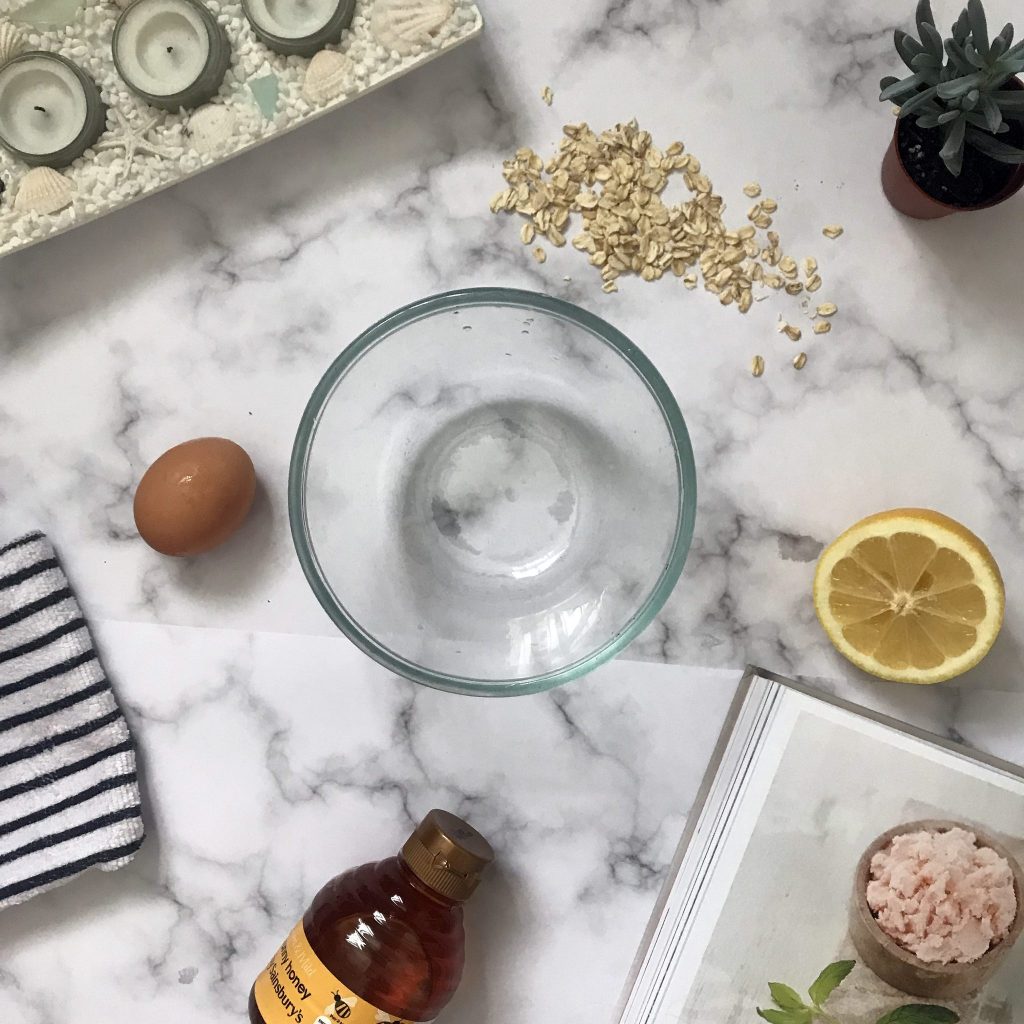 DIY face masks. I've seen a lot of recipes but have always been pretty sceptical as to how well they'd work. Especially the ones containing only a couple of ingredients, like seriously, how's that going to do anything for my skin?
However, making your own stuff is fun, cheap and if it works, it's so satisfying. I've seen a massive increase in the number of self-care posts in the blogosphere recently, so I wanted to try out some homemade face masks. Mostly to see whether they'd actually do anything for my skin.
I'm a huge fan of face masks and I've tried loads, from Sephora sheet masks to Lush's entire fresh face mask collection. They're great to give your skin a bit of a boost and if you're suffering from a certain skin problem, you can buy masks to target this issue quickly. I use face masks in my routine every week without fail.
To decide what face mask recipes to try out, I posted a poll on Twitter to see what type of face masks people wanted me to look into.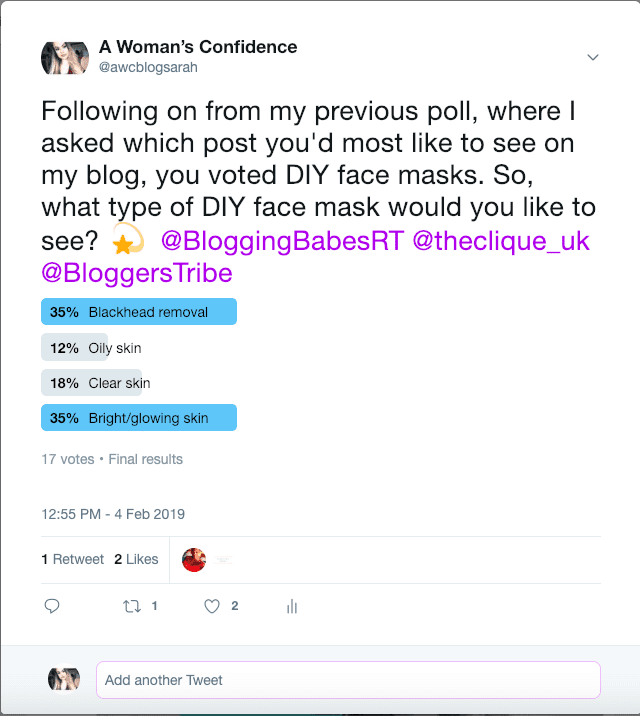 And you guys wanted to see blackhead removal and bright/glowing skin face masks, so these are the recipes I went with.
Blackhead removal
Eugh, blackheads. Everyone hates them and they're ridiculously stubborn. Pore strips are really satisfying for a quick fix, but for a long-term solution, I've always struggled to keep the blackheads away.
I've been using Kiehl's Nightly Refining Micro-Peel Concentrate for a while now, though, and this has been very effective of getting rid of a lot of my blackheads for the long-term. In fact, this has been the only product I've ever tried that has effectively reduced the number of blackheads I have, so I'd definitely recommend this to anyone suffering from blackheads.
However, I still have some blackheads, so there's work to be done.
The recipe
For my DIY blackhead removal face mask, I tried the second recipe from Stylecraze's 10 Best DIY Blackhead Removal Face Masks.
The recipe stated that you mix together the egg whites from 1 egg with 1 tablespoon of lemon juice. You then put this mixture on your face with a brush for 10-15 minutes, before rinsing it off.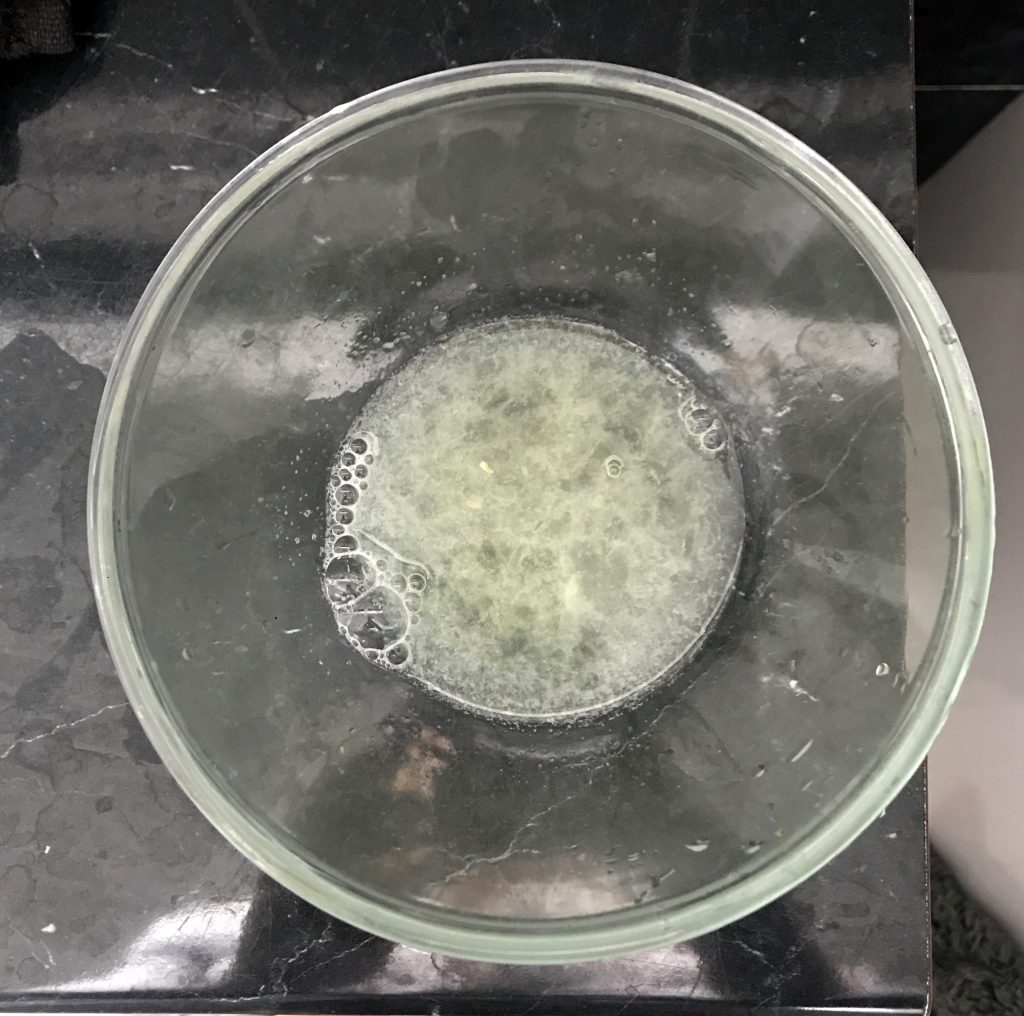 Why it's supposed to work
According to Stylecraze, this is how it works: "[Egg whites are] a natural astringent and works great as a toning agent. It shrinks your pores, making your skin look visibly clear and spot-free. Mixing it with lemon juice (a natural bleaching agent) brightens your skin."
My thoughts
The mixture of the egg whites and lemon felt very cool, soothing and refreshing on my face. It was a bit gloopy at the start, but it quickly dried onto my face. I think it was meant to turn into a peel-off mask, but I just found that it went dry.
There wasn't any point of me taking a photo of me with the face mask on because it was transparent with just a little shine.
So, did it remove my blackheads? Absolutely not.
I was right to be sceptical about the face mask.
But my skin did feel tighter, refreshed and looked a bit brighter as well (however, not enough for me to be impressed).
I also found the mask quite drying, which wasn't a problem for me and my oily skin, but for people with dry skin, this face mask is a definite no-go. You must moisturise straight afterwards too.
All in all, I wasn't excited by the face mask, it didn't remove my blackheads and I wouldn't try it again. I don't feel mad about it, though, because it only cost me 1 egg and 1 lemon.
Bright/glowing skin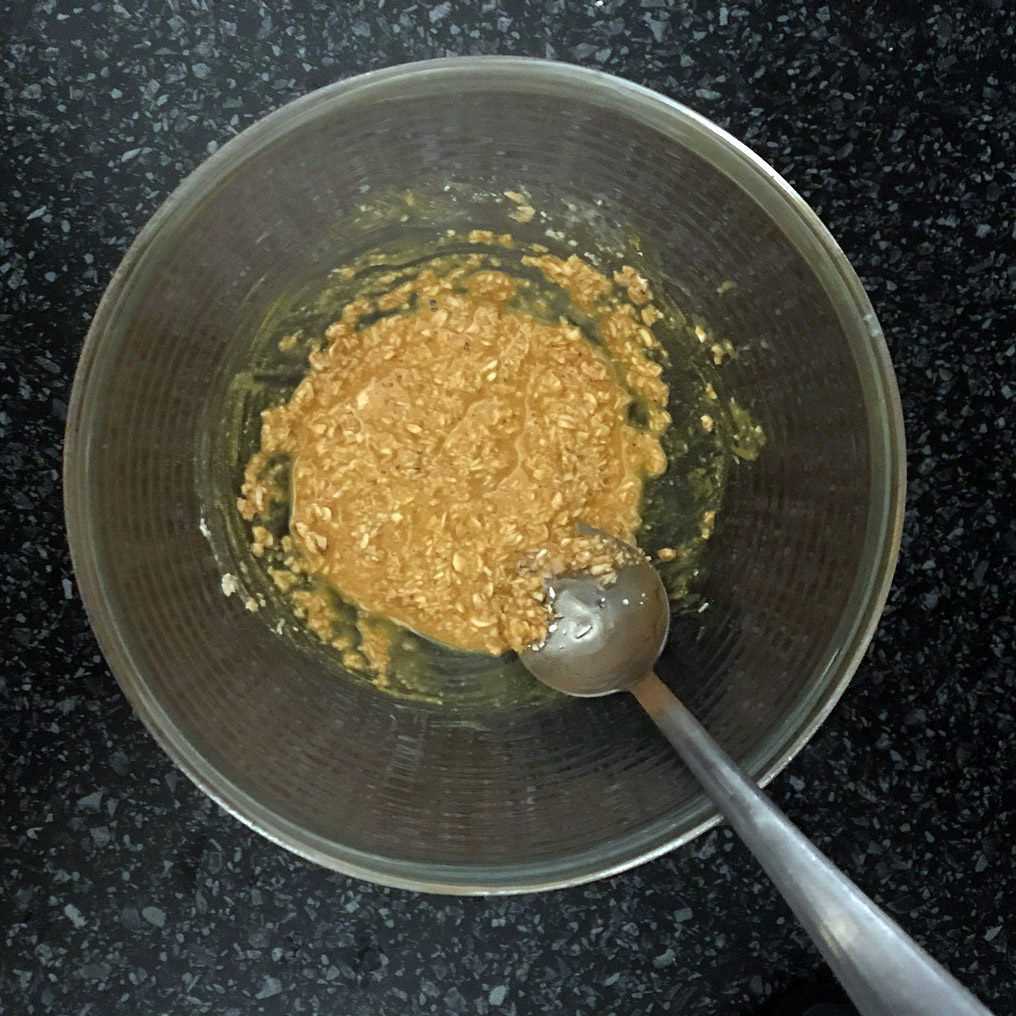 After being unimpressed with the DIY blackhead removal face mask, I was really hoping that the DIY brightening mask would change my mind about homemade face masks. This face mask is for a pick-me-up and aims to leave your skin looking bright and radiant, so I was curious to try this out.
The recipe
I took the recipe from The Glowing Fridge called "brightening turmeric + lemon diy face mask".
This DIY face mask contained a combination of 3 tbsp of ground oats (ground in a food processor), 1 tbsp honey, 1/2 tsp turmeric and a squeeze of lemon juice. You apply this onto your face for 15-20 minutes, before rinsing it off.
Warning: The turmeric can leave your skin with a yellow stain, so you might need to wash it a few times. I used an exfoliator and then my normal cleanser in the shower and this seemed to do the job just fine.
Why it's supposed to work
Honey is supposed to be anti-bacterial, helps to moisturise the skin and is a natural exfoliator. Turmeric is renowned for its anti-inflammatory properties, along with helping to reduce redness and treating breakouts. Lemon is known for its brightening properties as it is high in Vitamin C. The oats are meant to be moisturising and softening.
All in all, this mask should, with the descriptions above, be a skincare holy grail and provide many benefits to the skin.
My thoughts
I actually liked the look and feel of this face mask on my skin. It was bright and vibrant because of the yellow from turmeric and felt soft and comfortable on top of my skin.
The mixture was pretty messy and the oats kept falling into the sink, but I did find that it stuck to my face well overall and once it started to dry, it didn't flake at all.
It smelled kind of weird because of the turmeric and lemon, almost a bit bitter, but this didn't bother me.
While it was on my face, I felt positive about the results of this face mask.
Here's how it looks on: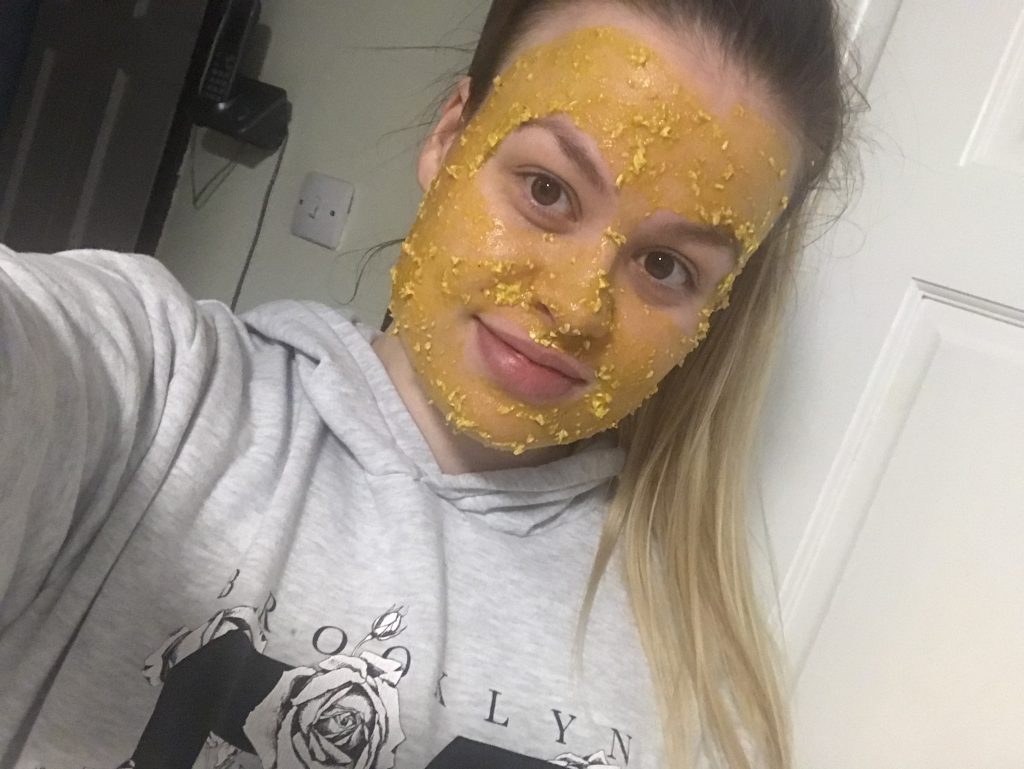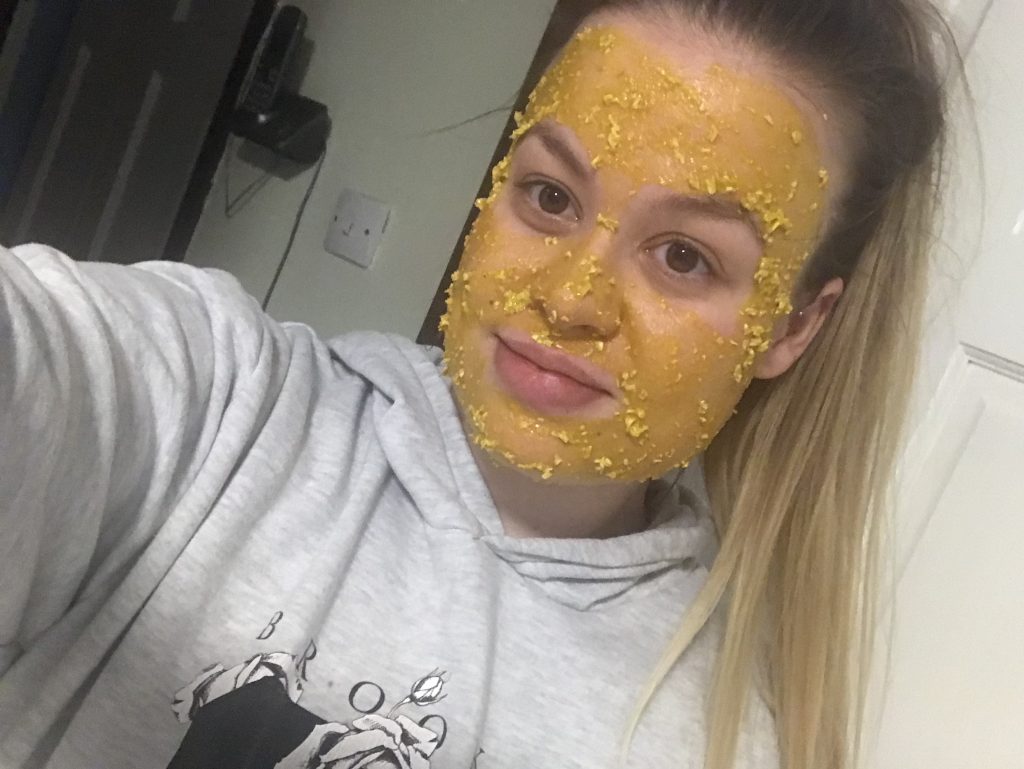 You know what, this face mask actually did make my skin look brighter, more radiant and gave it a natural glow. Similar to that yoga skin trend that's been buzzing around on Instagram recently.
Was I blown away by this mask? No.
Would I try it again? Yes, I probably would.
While I've certainly used face masks I like more, this was simple and cheap to put together and I did like the boost it gave to my skin. It also made my skin appear brighter, which was the overall aim of the face mask, so I was happy that I tried it out.
I think I'll go back to my Lush fresh face masks for now, but I'd consider making this DIY mask again in the future.
Final thoughts
I had a 50% success rate with the DIY face masks I'd tried. I'm sure there are plenty of other good ones out there, but I'd be really surprised if they're as good as some of the face masks you can buy on the market.
For now, I'm going to keep trying face masks that are already pre-made and sold by companies because, on the whole, I've personally experienced much better results with them. But, DIY face masks are something I'd like to return in the future.
However, I'm always open to trying new products and ideas out, so if anyone knows of any good DIY face masks, send them my way because I'd be curious to see the results.
---
What are your thoughts on homemade face masks? Have you got on with them? Or do you think they're just a fad? I'd love to hear from you all.