The Dior Addict Lip Glow Oil is one of the most viral lip products. This luxury lip oil features in every other TikTok video and Instagram reel. It's such a pretty product and makes lips look juicy and feel hydrated.
But at £32, it's very expensive. And do you really need to spend over £30 on a lip oil for high-quality results?
The answer is no!
I've found the perfect dupe for the Dior lip oil that performs just as well and is a fraction of the price.
The Saem Eco Soul Lip Oil only costs £7 and delivers the same results as its high-end counterpart. Once applied, you can't tell the difference between the 2 lip oils. But your bank will definitely be able to tell the difference.
Find out why this Dior lip oil dupe is the perfect option for hydrated, shiny, and juicy lips without any stickiness in this detailed comparison post.
Use my code CONFIDENCE10 for up to 5% off YesStyle. For new customers, use the code YESSTYLE for 10% off with a minimum £28.70 ($35 USD) purchase. Buy the £7 Dior lip oil dupe here.
** This post contains some affiliate links. This means at no extra cost to you, I earn some commission if you purchase a product through my link. All thoughts are my own, though, as always. If you want to find out more, visit my affiliate disclosure page **
About the Dior Addict Lip Glow Oil in 001 Pink
The Dior Addict Lip Glow Oil is a glossy lip oil that deeply protects and nourishes the lips. It enhances the natural colour of your lips. Infused with cherry oil, this lip product softens and revitalises the lips with a high-shine finish. The formula is non-greasy and non-sticky. It can be worn on its own, as a primer under lipstick, or as a top coat for volumising shine.
001 Pink is a light, sheer pink that provides a subtle touch of colour. It has a mint scent.
About The Saem Eco Soul Lip Oil in #02 Berry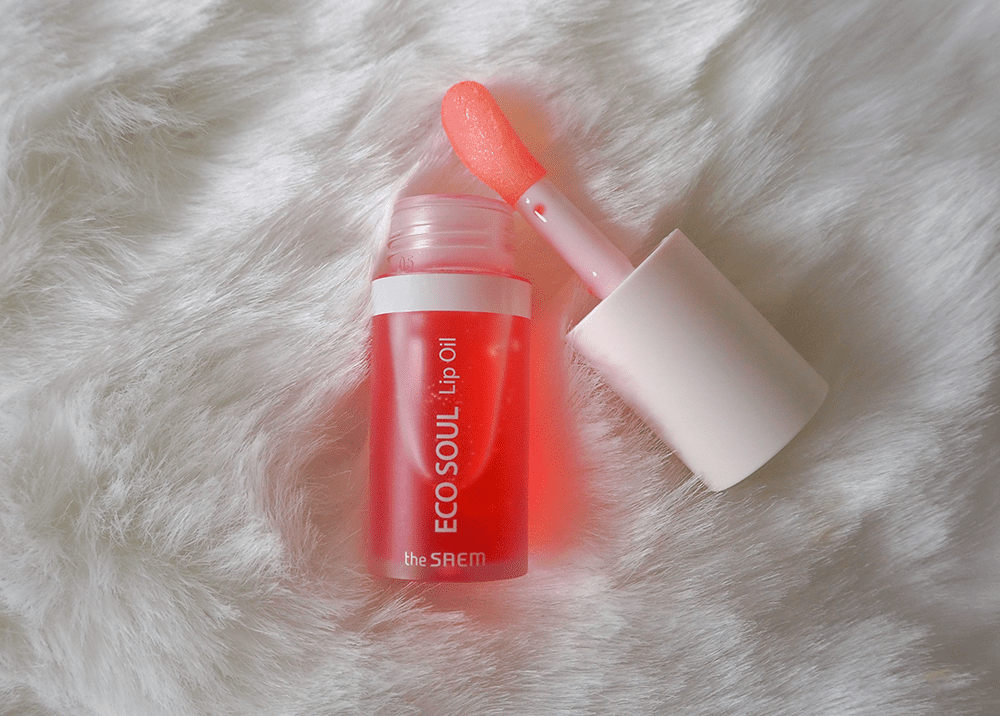 The Saem Eco Soul Lip Oil is a nourishing oil that delivers lasting moisture. It makes lips look plump and juicy while feeling soft and supple. The non-sticky formula makes lips look healthy and soothes any dryness or chapping. It can be worn alone for glossy hydration or as a lip mask at night to condition your lips while you sleep.
#02 Berry is a soft, sheer berry that provides a hint of colour. It has a light berry scent.
The comparison
Price
Of course, The Saem wins on price. It only costs £7.07 for 6ml. And YesStyle often runs discounts, so you can pick this up for even less!
The Dior Addict Lip Glow Oil is more than 4 times the price. It costs £32 for 3.5g. I think there's actually a bit more product in The Saem, so you get more for your money.
Packaging
Honestly, I think Dior wins on packaging. Just. It looks expensive with the silver lid and writing on the front. Plus, the completely transparent packaging means you can see the pretty pink oil inside. And it's aesthetically pleasing with a look at the juicy oil inside.
The Saem has a contrasting white lid and transparent packaging that houses the berry lip oil. There's slight frosting on the lip gloss packaging, so you don't get as good a look at the lip oil inside compared to Dior. But it's still pretty.
Both come with pretty big doe foot applicators. This makes it easy to coat your lips in the oil. The Saem has a slightly bigger applicator, but they're very similar.  
Ingredients
The Saem has a longer INCI list than Dior. Both lip oils contain the emollients ethylhexyl palmitate and diisostearyl malate, and the antioxidant vitamin E tocopherol. Ultimately, outside of colouring agents, these lip oils don't share many of the same ingredients.
The Dior lip oil contains the emollients tridecyl trimellitate and phytosteryl/octyldodecyl lauroyl glutamate, glossing agent polybutene, moisturising pentaerythrityl tetraisostearate, skin-replenishing caprylic/capric triglyceride, skin-conditioning polyglyceryl 2 triisostearate, and many more.
The Saem lip oil is enriched with the emollients polyglyceryl-2 isostearate/​dimer dilinoleate copolymer, olive fruit oil, sunflower seed oil, and camellia japonica seed oil. It also features soothing and hydrating jojoba seed oil, the antioxidants vitamin E tocopheryl acetate and green tea seed oil, and many more.
Texture
These lip oils offer similar textures. But as far as differences go, Dior is a bit thinner, a little stickier, and feels lighter on the lips. The Saem is thicker, not sticky at all, and coats the lips with a more nourishing oil consistency. I think The Saem is closer to a gloss, as it coats the lips with a juicier and richer texture.
Pigmentation
The Dior Addict Lip Glow Oil in 001 Pink offers a bit more pigmentation than The Saem Eco Soul Lip Oil in #02 Berry, despite the dupe looking deeper in the packaging.
Dior offers a light pink tint of colour. The Saem has a very slight berry tint, but it's barely noticeable. Although, neither of these lip oils are supposed to be pigmented, as they opt for moisture and shine over colour. The effect is natural and soft.
Shade range
Dior has a wider shade range, offering 8 different colours in cherry, clear, coral, berry, mahogany, pink, raspberry, and rosewood.
The Saem has 3 shades on offer: berry, honey, and grapefruit.
Swatches
To show you how these lip oils compare to one another, I swatched them. These were done on my bare arm, without primer.
As you can see, these lip oils are very similar in terms of colour, texture, and shine.
Dior, on the top, offers a little more pigmentation and is pinker. It's also a bit cooler. The Saem, on the bottom, is a warmer berry tone. But the colour is more sheer than Dior. They both look and feel thick, non-sticky, and smooth.
On the lips
And now for the real test: how does The Saem lip oil compare to the Dior lip oil on the lips? Without looking at the caption, can you tell which side is which?!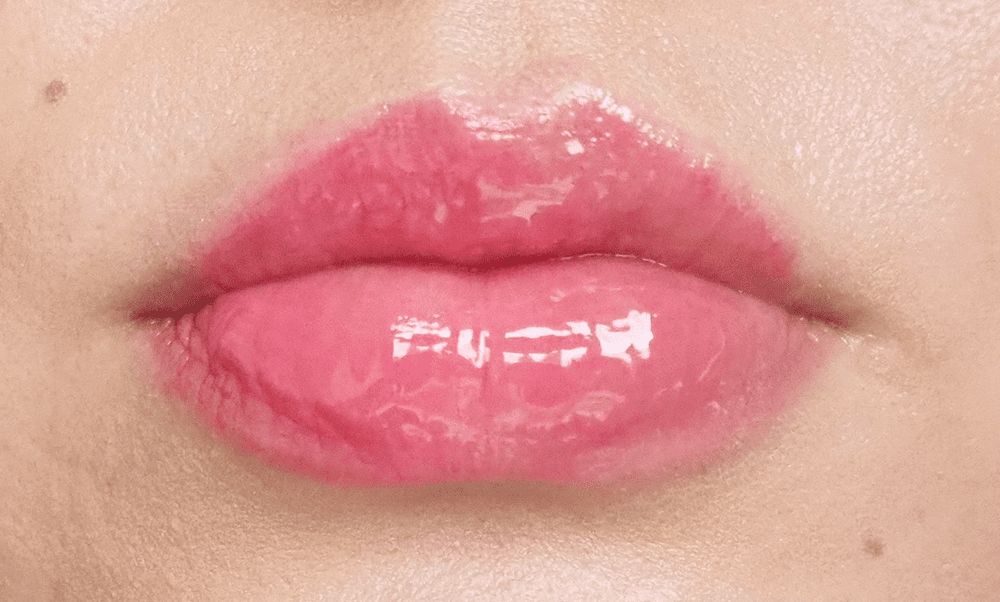 They look pretty much identical!
On the right-hand side of my lips, Dior is a bit more pigmented and has more of a pink tone. While The Saem, on the left-hand side, is more transparent and has a softer berry tone. But without knowing, you wouldn't be able to tell that I'm wearing 2 different lip oils.
As for how they feel on the lips, they're also very similar. In fact, I even prefer The Saem's texture, as it's a bit richer and feels more nourishing. Both sides feel very lightweight and hydrating. And the lip oils offer the same, addictive mirror-like shine. They're so glossy and look amazing.
Longevity
As you can expect, lip oils aren't the most long-lasting due to their glossy finish, which is notorious for wearing off. After 3 hours of wear, which included eating and drinking, both lip oils had worn off significantly. The shine had almost completely disappeared and most of the product had come off.
However, there was a bit more product on the Dior side compared to The Saem. But the Dior side also felt a bit sticky, whereas The Saem left no stickiness whatsoever.
Despite most of the product wearing off within a few hours, my lips on both sides were left more hydrated, soft, and nourished. They also felt soothed and relieved of any dryness or soreness. So while the glossy finish will wear off, the hydrating and soothing benefits won't.
Honest thoughts on the Dior lip oil dupe
The Saem Eco Soul Lip Oil is an excellent dupe for the popular Dior Addict Lip Glow Oil.
It costs 4 times less while offering the same juicy shine, hydrating benefits, and sheer tint as the high-end version. In fact, The Saem lip oil is even more nourishing and conditioning than the Dior one, so I genuinely prefer it.
On the lips, there's hardly any difference in the way these lip oils look and feel. So why spend £32 when you can spend £7 for the same results and even more product? The Saem is the clear winner!
Use my code CONFIDENCE10 for up to 5% off YesStyle. For new customers, use the code YESSTYLE for 10% off with a minimum £28.70 ($35 USD) purchase. Buy the £7 Dior lip oil dupe here.