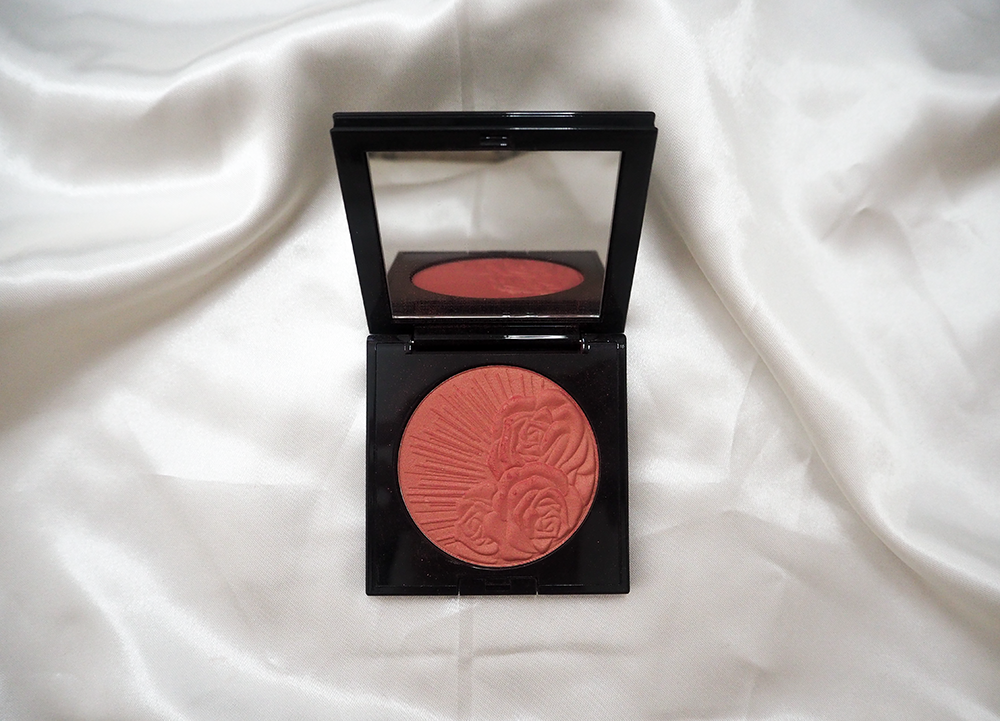 Pat McGrath Labs is one of my fave makeup brands of all time. Every product I've tried is exceptional. Expensive, yes, but totally worth the price for the quality and experience.
The Pat McGrath Labs Skin Fetish: Divine Blush has been out for a while. After seeing the shade Nymphette – a gorgeous soft warm pink with subtle golden pearl – I knew I had to try it. I hate really shimmery blushes, but this one just adds a subtle glow to your skin. I was sold immediately.
But is the Pat McGrath Labs Divine Blush as incredible as other Pat products? Keep reading for my honest review, Nymphette swatch, and makeup look to find out!
** This post contains some affiliate links. This means, at no extra cost to you, I earn some commission if you purchase a product through my link. All thoughts are my own, as always. If you want to find out more, visit my affiliate disclosure page **
What is Pat McGrath Labs?
Pat McGrath Labs is a high-end makeup brand founded by legendary makeup artist Pat McGrath Labs. She is widely recognised as one of the most influential makeup artists in the world, with her makeup collection being just as iconic and creative as her.
The brand has some of my favourite formulae, including the Skin Fetish: Sublime Perfection Foundation and Rose Decadence Eyeshadow Palette.
Pat McGrath Labs Skin Fetish: Divine Blush claims
The Pat McGrath Labs Skin Fetish: Divine Blush promises to be luxurious and layerable, with a soft touch, lightweight feel, and silky finish. It promises to be buildable, super easy to apply, and with vivid colour purity. Nymphette, the shade I have, offers a satin pearl finish.
The blush also claims to be long wearing in a superfine powder formula, with all of the shades suitable for different skin tones.
Pat McGrath Divine Blush Nymphette swatch
To give you an indication of the colour, texture, and pigmentation of the Pat McGrath Labs Skin Fetish: Divine Blush, I swatched the shade Nymphette. This swatch was done without primer. As always, swatches indicate a product's performance, but the true test is trying the product as suggested.
I think the swatch is a very good representation of the colour and formula. It's absolutely divine.
I have light skin with warm undertones, and this is such an ideal match for my complexion. The texture of the powder is also very soft and silky.
Makeup look using the blush
No makeup review would be complete without showing you what the product looks like on my face! To show you what the Pat McGrath Labs Skin Fetish: Divine Blush looks like, I created a simple makeup look. I deliberately kept my makeup relatively light and simple to showcase the blush at its best.
How stunning is the blush?! The only other cheek product I applied was a touch of contour. I think it looks so pretty. The sheen is quite subtle but creates a sultry glow when the blush catches the light. The soft warm pink shade is so flattering too and doesn't look like a rosacea flare-up. Love, love, love.
Honest review
The Pat McGrath Labs Skin Fetish: Divine Blush is to die for.
I love everything about the blush, from the stunning packaging and pressed rose embossing, to the foolproof application and shade. It's simply perfect.
The packaging is luxe and heavy. It clasps shut, and the container feels like high-quality plastic. I think the blush would be very difficult to break in this sturdy packaging, which is always a concern if you're on the go.
The beautiful rose press within the blush itself speaks for itself. It's s beautiful. I felt bad swiping my brush into this product actually, as I didn't want to ruin the design.
I use a fluffy brush to lightly sweep the blush across my cheeks. The application is 100% mistake-proof, buildable, and blendable. It applies like a silky dream. You can buff the product into the skin without any effort.
With one swipe, you get a sheer and natural flush of colour, but you can make the shade more intense with layering. Powder products can emphasise texture, particularly for those with dry skin, but this one glides over the skin for a seamless, soft-focus effect.
I'm not normally one for shimmer blushes, but the Pat McGrath Labs Skin Fetish: Divine Blush is different! The shimmer is understated and looks healthy. Other shimmer blushes can make your skin look like a horrible mess of colour and shimmer, but this one makes your skin beautifully radiant. It also means I can skip highlighter, which is fab if I'm in a hurry.
The shade Nymphette is also gorgeous. Soft. Pink. Natural. If you like a warm-toned pink blush, but don't want to look sunburnt, this is the shade to get!
I can't fault this blush at all. It's easily my fave powder blush of all time.
Where to buy
Retailing for £30 for 9.7g, you can purchase the Divine Blush from Pat McGrath Labs. As far as Pat McGrath Labs pricing goes, this is on the cheaper side! I think £30 for a product of this quality is actually a steal. It's such a beautiful formula.
Do I recommend the Pat McGrath blush?
Yes. You won't regret purchasing the Pat McGrath Labs Skin Fetish: Divine Blush if you're a blush lover!
---
What's your fave Pat McGrath Labs product?