Last Updated on 24th November 2023 by Sarah Sarsby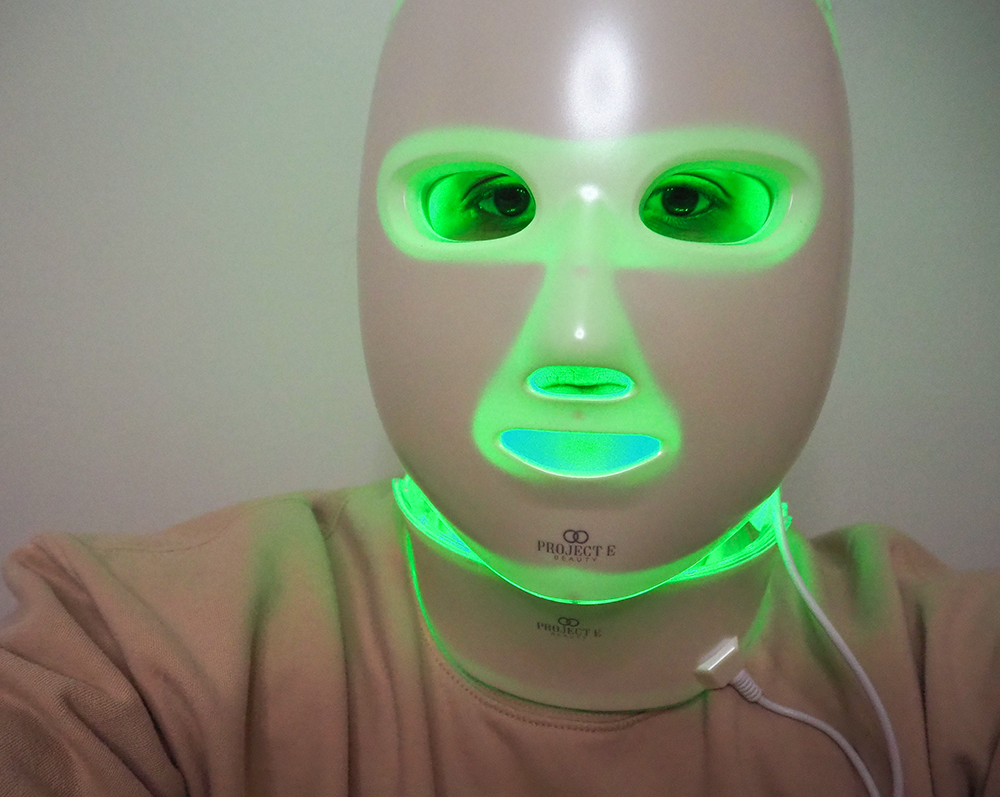 If you're looking for an at-home LED light therapy device that offers excellent value for money and a wide range of treatment options, you might just need the Project E Beauty Photon Skin Rejuvenation Face & Neck Mask.
LED light therapy used to only be accessible in professional salons. But as more and more at-home devices are released, it's giving people the chance to try this treatment from the comfort of their own homes and for a much more affordable price. Although LED light therapy devices aren't as powerful as the treatments offered in salons, they can still be highly effective, especially when used consistently.
The Project E Beauty Photon Skin Rejuvenation Face & Neck Mask is one of the most affordable and function-packed LED light therapy gadgets on the market. But how well does it perform?
In this blog post, I delve into what LED light therapy is, how to use the Project E Beauty device, wavelength specifications, and my first impressions of the mask.
What is Project E Beauty?
Project E Beauty is a global skincare company selling a wide range of devices and products that are designed for all genders. It aims to provide trustworthy and effective skincare products to suit a wide range of needs. Some of the devices available from Project E Beauty include LED light therapy treatments, laser hair removal gadgets, cleansing brushes, and derma rollers.
What is LED light therapy?
LED light therapy is a skincare treatment that uses varying wavelengths of light, such as red, yellow and blue, to target different skin concerns. When used consistently, this treatment type can help improve the look and feel of your skin.
It's becoming increasingly popular in the skincare world. Depending on which colour light you use, LED light therapy can help treat a range of conditions and concerns including reducing acne, treating hyperpigmentation, and decreasing signs of ageing.
Getting a professional treatment from an aesthetician, while fantastic, can be expensive, so more people are turning to at-home LED light therapy devices.
Photon Skin Rejuvenation Face & Neck Mask claims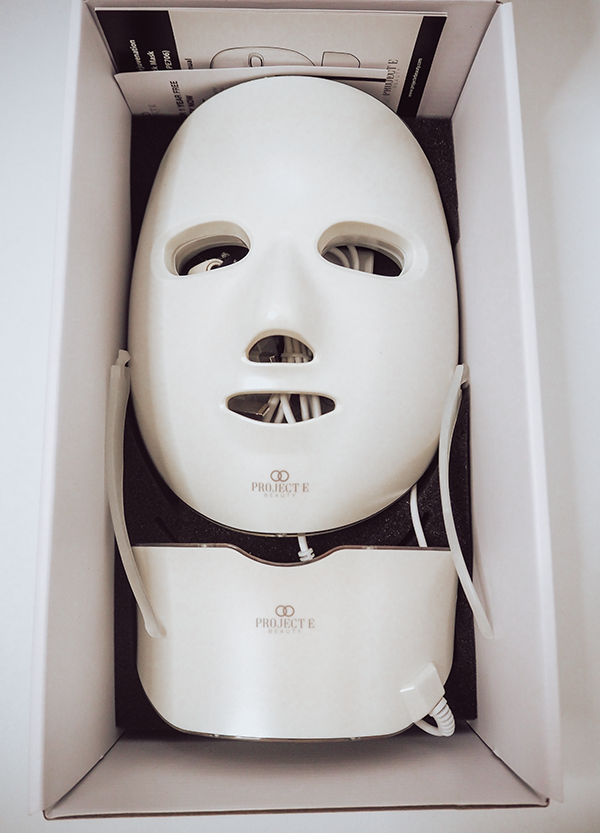 With 7 different LED light colours to choose from (red, blue, green, purple, cyan, yellow or white), the Project E Beauty Photon Skin Rejuvenation Face & Neck Mask aims to treat a myriad of skin concerns. By using this mask, you will have clear skin with a youthful glow and lasting effects, according to the device specialist.
Below is what each of the LED light colours claim to deliver in terms of skin benefits and treatment:
Red light: can help aid collagen production, reduce wrinkles, and make skin feel elastic and smooth
Blue light: is optimised for use with rashes and suitable for sensitive or constantly oily skin. It can also help reduce acne, tighten skin, and reduce inflammation
Green light: is suitable for combination skin and helps brighten the skin. It can help with mental stress relief too
Purple light: improves blood circulation, can strengthen protein fibre tissue, and reduce the appearance of pores, wrinkles and acne
Cyan light: provides gentle acne treatment and mitigates skin inflammation
Yellow light: revitalises lymphatic and nervous systems, balances sensitive skin, and helps fade blemishes and dark spots
White light: helps to reverse signs of skin ageing for younger-looking and healthier skin
"Our light therapy face mask uses the latest in light irradiation technology and quality materials making it safe, comfortable, natural, and reusable."

Project E Beauty
This LED light mask is also wireless, which promises to be lightweight and convenient for use anywhere.
How to use the Project E Beauty Photon Skin Rejuvenation Face & Neck Mask
Before you begin using your Project E Beauty Photon Skin Rejuvenation Face & Neck Mask, you're advised to do a light sensitivity test. I can't recommend doing one of these enough, as it determines whether you're sensitive to this type of treatment and avoids possible pain and discomfort.
You do a light sensitivity test by choosing a less sensitive area of skin, like your forearm, and placing the device in contact with your skin for a 3-minute treatment cycle. Repeat by doing another 3-minute treatment on the same area of skin. Wait for 24 hours.
You should not experience any adverse reaction in this timeframe. If you do experience an adverse reaction, then you shouldn't use the LED light mask.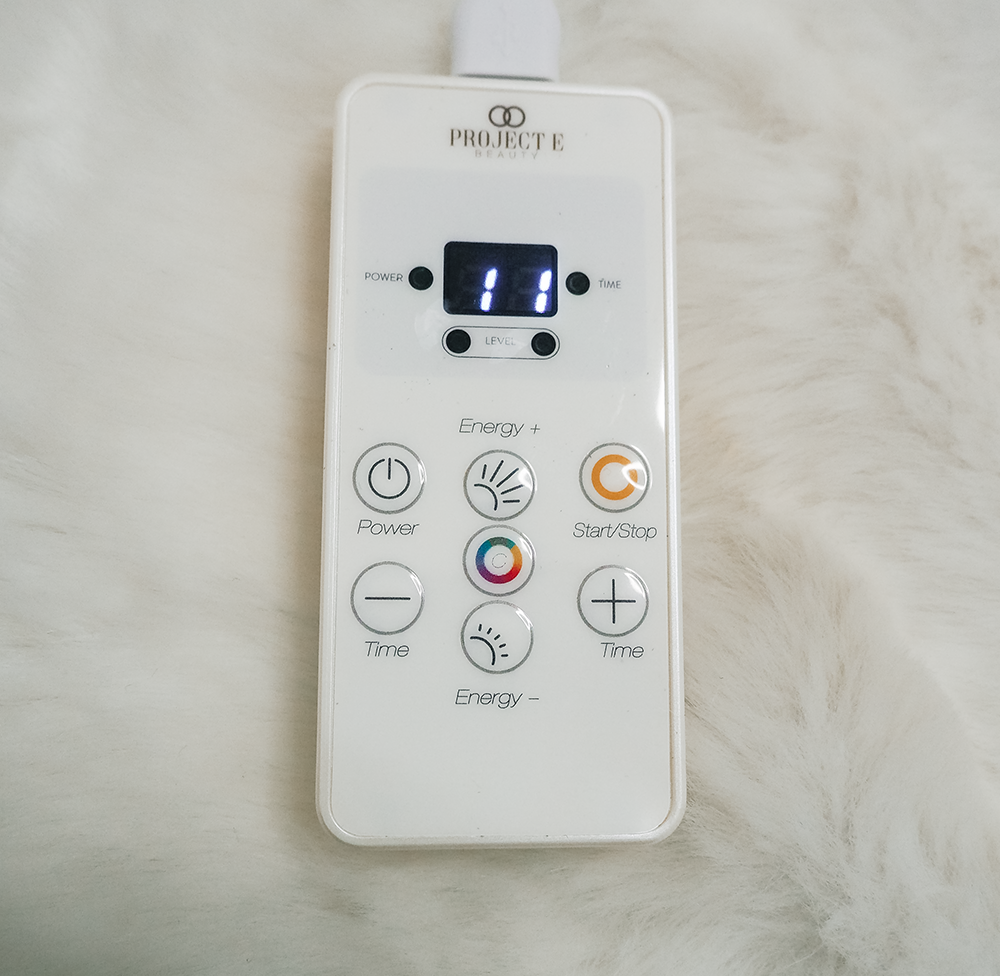 If you don't experience any pain or discomfort during the light sensitivity test, here's how to use the Project E Beauty Photon Skin Rejuvenation Face & Neck Mask:
Charge the device. You never plug the light mask directly into the mains, but instead you charge the control box that comes with the device. Once the control box is fully charged, you plug the mask into it, and get started
Make sure your skin is fully cleansed and dried before putting on the mask
Apply a serum, ion gel, essence or cream before putting on the mask to elevate the results
Clip the temple pieces on the mask and put on the face and neck masks, adjusting the straps accordingly. Don't put the mask too tightly on your face
Turn on the device and choose your colour therapy mode
Select a power level. There are 5 intensities to choose from, with 5 being the highest. When you're first using the device, you're advised to select a lower intensity (1 or 2), as your skin gets used to LED light therapy
Select session duration. 60 minutes is the highest duration. When you're first using the device, you're advised to choose a lower treatment time (10-15 minutes), as your skin gets used to this type of treatment
Chill out and wait until your light therapy session is done, and then turn off the control box
Project E Beauty advises that you don't use the light therapy mask for more than 20 minutes at a time. It recommends using the device 4 times a week for 10 minutes when starting out. After you've achieved your initial skin goals, you can drop down to using the device 2 times a week.
You don't need to wear protective eyewear when using this skincare device either, as the design of the mask does not cover the eye area, Project E Beauty says.
Wavelength information
Here are the wavelength specifications for each LED light colour mode:
Red light: 630nm
Blue light: 415nm
Green light: 525nm
Purple light: 390nm
Cyan light: 490nm
Yellow light: 590nm
White light: mix
First impressions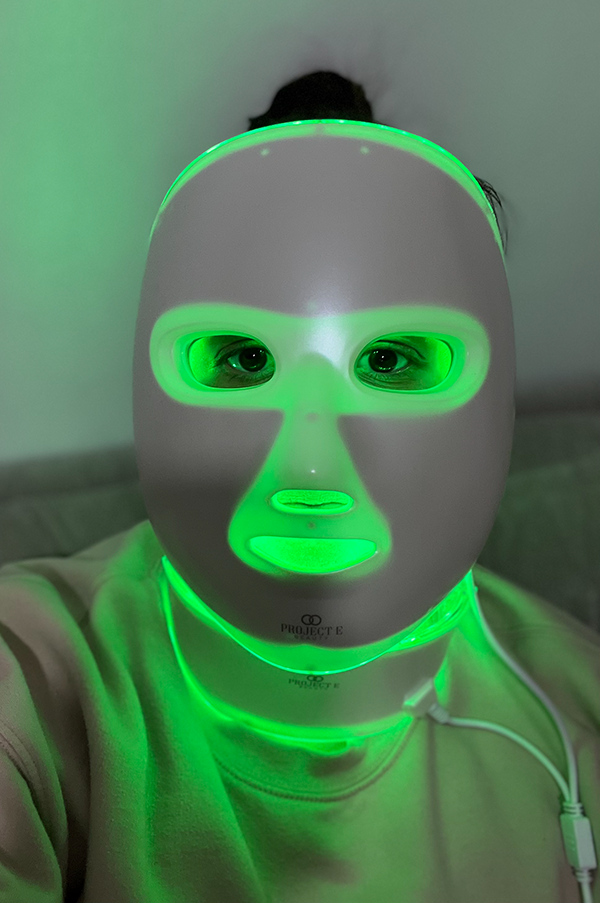 Firstly, I love the luxurious feel of the Project E Beauty Photon Skin Rejuvenation Face & Neck Mask. It feels well made. It's a bit on the heavy side, but that's less noticeable and much more comfortable when I lay down. When I stayed sitting up during the treatment, it left some small indentation marks on my face, so this is a mask to use when you've got some time to lay down and chill out.
The wireless aspect is fantastic. It means I can move around freely with the LED light mask on, without being restricted to staying near a plug socket.
Although I've tried LED light therapy devices in the past, they were all handheld devices, and I had to wear protective goggles during the process. Having a full face and neck mask where I can simply put it on, lay down, and relax, without having to hold a device to my face for 10 minutes, is a blessing. No more arm ache! Plus, I could still see what I was doing, which is always good lol. This additional convenience makes this type of LED light therapy device more appealing to use.
It's also cool that there's a face and neck mask included. I've only ever seen face masks, so the neck mask is a welcome bonus too.
The Project E Beauty Photon Skin Rejuvenation Face & Neck Mask has 7 different light modes. All the others I've seen tend to have 4 or less, so this is more bang for your buck and gives you more fun treatment options to try. For example, if the blue light isn't working for you, the white light might make a big difference to the look and feel of your skin.
I tried the green therapy light option on intensity 2 for 10 minutes for my first go. Green light is meant to help with brightening the skin, which I'm always up for trying! The intensity options were noticeably different to one another (I flicked between each one), so you can play around with the intensities to discover what works for your skin.
My first impression of this device is promising. I think it's going to work wonders on my skin with continued use. With the convenience and wireless aspects, wide variety of light colours and intensities available, and the fact there is a face and neck mask, I think the Project E Beauty Photon Skin Rejuvenation Face & Neck Mask is a great investment.
I'm looking forward to seeing my results in the coming months.
Where to buy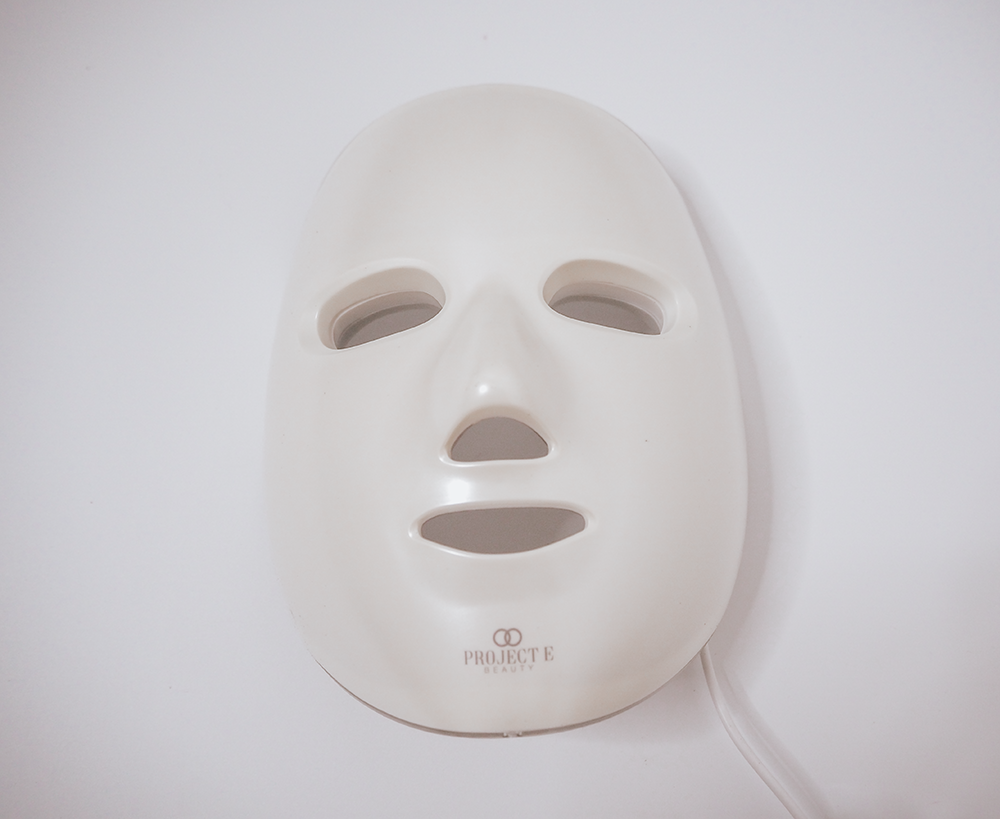 Retailing for £199.99/$249.90, you can purchase the Photon Skin Rejuvenation Face & Neck Mask from Project E Beauty or Amazon. At the time of writing this blog post, the face and neck mask is available for just £151.98/$199.90 from Project E Beauty. What a steal!
Considering the different functionalities available, I think this is a great price. Some of the other LED light therapy devices on the market cost more than double this price! Plus, you get 7 fun colour modes to play around with – something I've not seen elsewhere.
---
Check out my latest blog posts: