Last Updated on 23rd January 2023 by Sarah Sarsby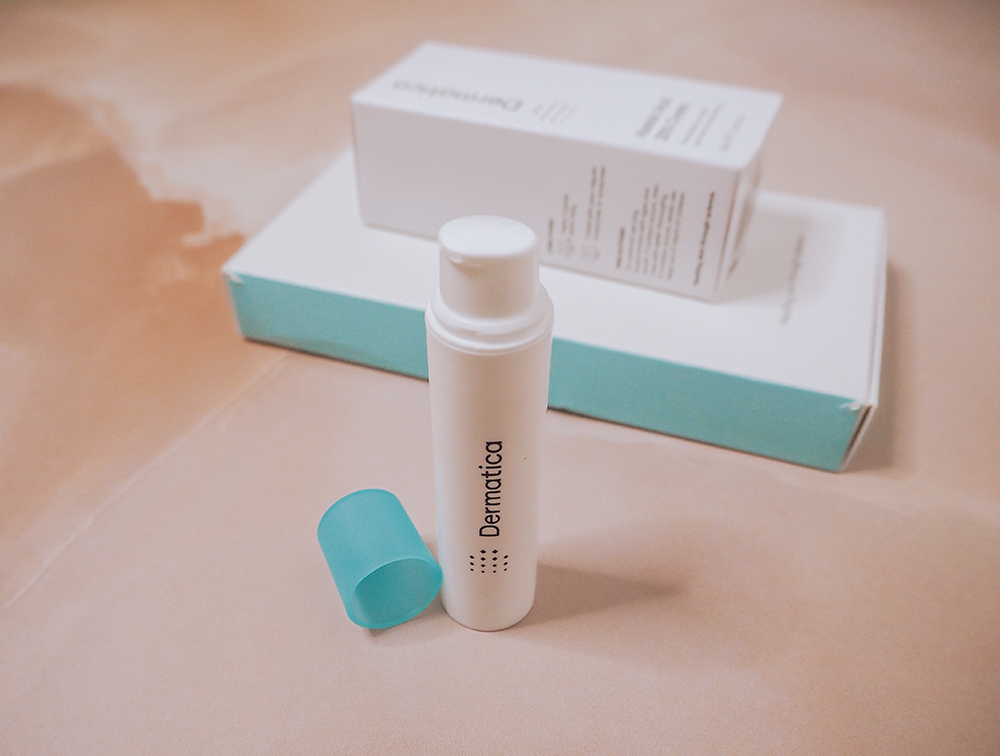 If you're a skincare enthusiast, you'll likely have heard of Dermatica. It's an online dermatology service that creates custom prescriptions based on your skin's needs and personal skin goals. This innovative dermatology service has gained considerable popularity in the last few years. People are drawn to the concept of an easily accessible, personalised skincare prescription.
I've been using my Dermatica rosacea treatment for about 6 weeks, and I'm here to tell you just how effective my prescription is. Does Dermatica deserve its popularity, or is it an overhyped skincare service?
In this blog post, I'm going to talk about what Dermatica is, how it works, what's in my rosacea treatment, how my skin has tolerated it, whether there's been any progress after 6 weeks, and if I recommend Dermatica. I'm also sharing an insightful before and after photo to show you my genuine results as well as an exclusive discount code for big savings on your very own skincare prescription.
** This post contains some affiliate links. This means, at no extra cost to you, I earn some commission if you purchase a product through my link. All thoughts are my own, as always. If you want to find out more, visit my affiliate disclosure page **
What is Dermatica?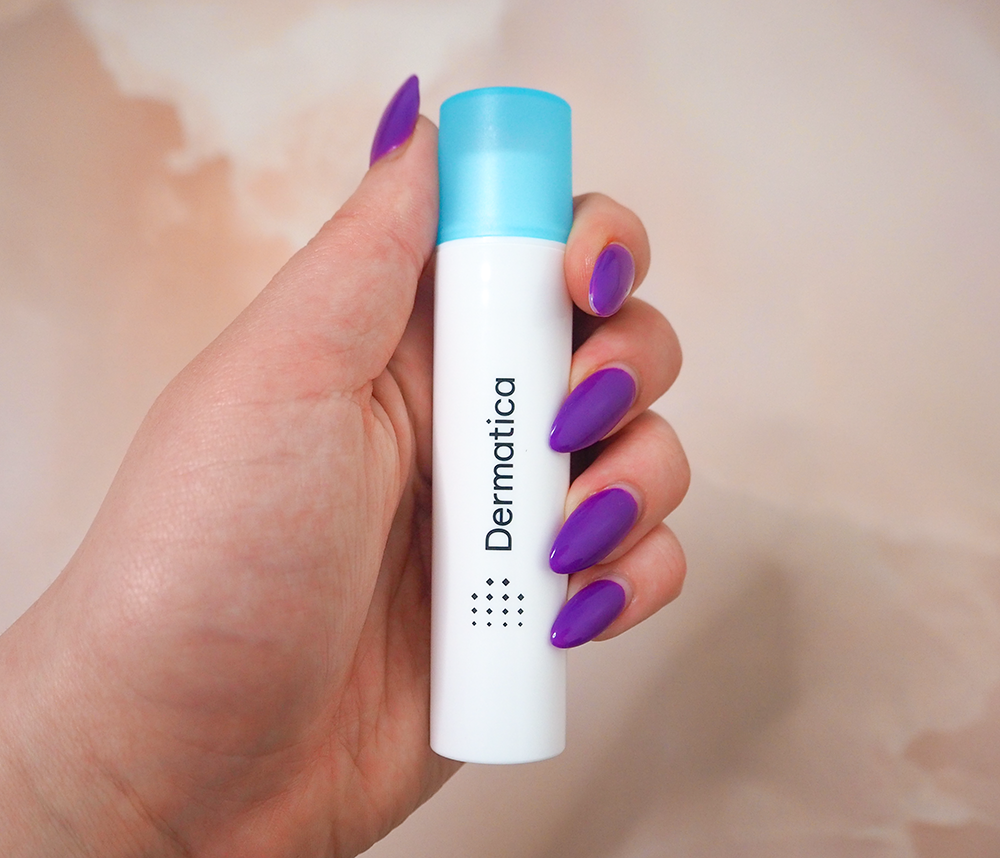 Founded in 2018 by Dwayne D'Souza, Dermatica is an online dermatology service that creates bespoke skincare prescriptions based on your skin's needs. Dwayne felt that high-quality, dermatology-recommended, and evidence-based prescription skincare was out of reach for the vast majority of the population. He created Dermatica to change this.
Dermatica is the fusion of a multidisciplinary team encompassing consultant dermatologists, pharmacists specialising in dermatology, GPs, clinical researchers and formulation scientists.

Dermatica
All prescriptions are created uniquely for the individual. Prescriptions are continually personalised, based on the prescriber's skin as it changes over time.
How does Dermatica work?
Head over to Dermatica and choose your skin concern. There are treatments for acne, anti-ageing, hyperpigmentation, melasma, skin glow, and rosacea.
After you select what treatment you'd like, you answer a questionnaire about yourself and your skin. It includes questions about medical conditions, age, ingredient allergies, and more. At this stage, you also upload 3 clear and high-quality pictures of your skin, without makeup, for Dermatica's dermatology team to assess. You take 1 photo of the right side of your face, 1 photo for the left side of your face, and 1 photo of the front of your face.
Then, Dermatica's dermatology team assesses all of the information you've provided, along with your photos, to determine what unique blend of ingredients will be best for your skin.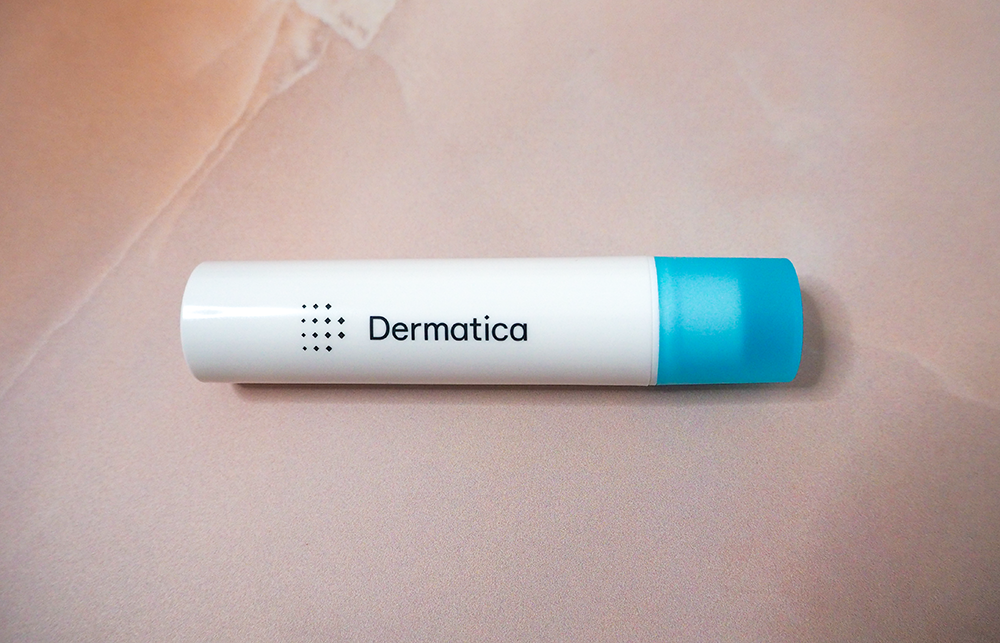 After the dermatology team has created your skincare prescription, you simply wait for it to arrive. Each bottle is designed to last for about 1 month, and a new prescription arrives every 28 days.
And that's it! You can contact a dermatologist with any skincare questions or concerns you have at any point throughout your journey. Help is always at hand, even after your prescription arrives.
My experience getting my Dermatica prescription
I found getting my Dermatica prescription so easy. All of the steps were clear and easy to follow. The website is user-friendly and easy to navigate.
After selecting the rosacea treatment option, I filled out the questionnaire. I like that all of the questions had a purpose; Dermatica gives reasons as to why it's asking you certain questions, so everything is clear.
Dermatica describes rosacea as: "Rosacea is a cause of persistent redness around the cheeks, chin, nose and forehead, affecting around 10% of people."
Once I'd gone through the questionnaire and uploaded my photos, I waited for my prescription to arrive. Dermatica informed me of what was happening behind the scenes while I waited, including sending me my virtual prescription document. I read this thoroughly before my prescription arrived so I could get started right away.
My prescription arrived within about a week of me submitting my answers, which I thought was fantastic considering everything is personalised.
What's in my personalised rosacea treatment?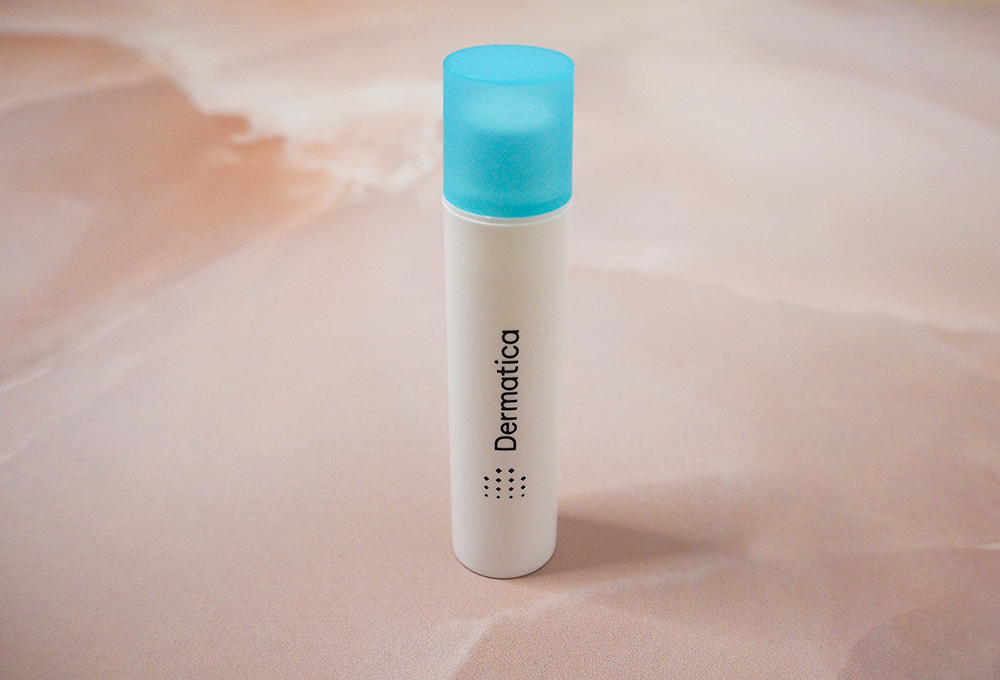 My custom blend of ingredients is 0.1% adapalene, 4% niacinamide, and 4% azelaic acid.
Adapalene, azelaic acid, and niacinamide have a powerful anti-inflammatory effect, reducing the redness and spots associated with rosacea. In addition, they combine to provide anti-ageing effects, improving the appearance of fine lines, wrinkles and pigmentation.
Skincare steps and expectations during treatment
Dermatica strongly recommends sticking to a basic skincare regime. This is to avoid possible skin irritation, particularly as you develop a tolerance to the prescription in the earlier days, and allow the treatment to do its job.
Dermatica's simple skincare steps are:
Cleanse your skin thoroughly to remove any dirt or makeup. Dermatica advises not using a washcloth or any exfoliating cleanser to avoid irritation
Pat your skin until it's completely dry – do not rub
Apply the treatment (avoiding eyes and mouth) and allow it to absorb completely. This usually takes around 3-5 minutes, and 1-2 pumps should cover your entire face
Follow with a moisturiser (and SPF for the daytime)
Dermatica says that when you first start a rosacea treatment, it's normal to experience dryness. It says that if you don't experience any dryness, this doesn't mean your treatment isn't working, so bear this in mind.
You're supposed to use the prescription every morning and night. However, if you're finding the treatment too drying or uncomfortable, you can drop this to every night or even every other day. If the dryness is particularly uncomfortable, Dermatica advises applying your moisturiser first, waiting for this to absorb for 3-5 minutes. Then, you can apply the prescription to your skin.
You might see improvements within a few weeks, according to Dermatica, but it could take up to 3 months of regular use before you see any difference.
Dermatica's advice for reducing rosacea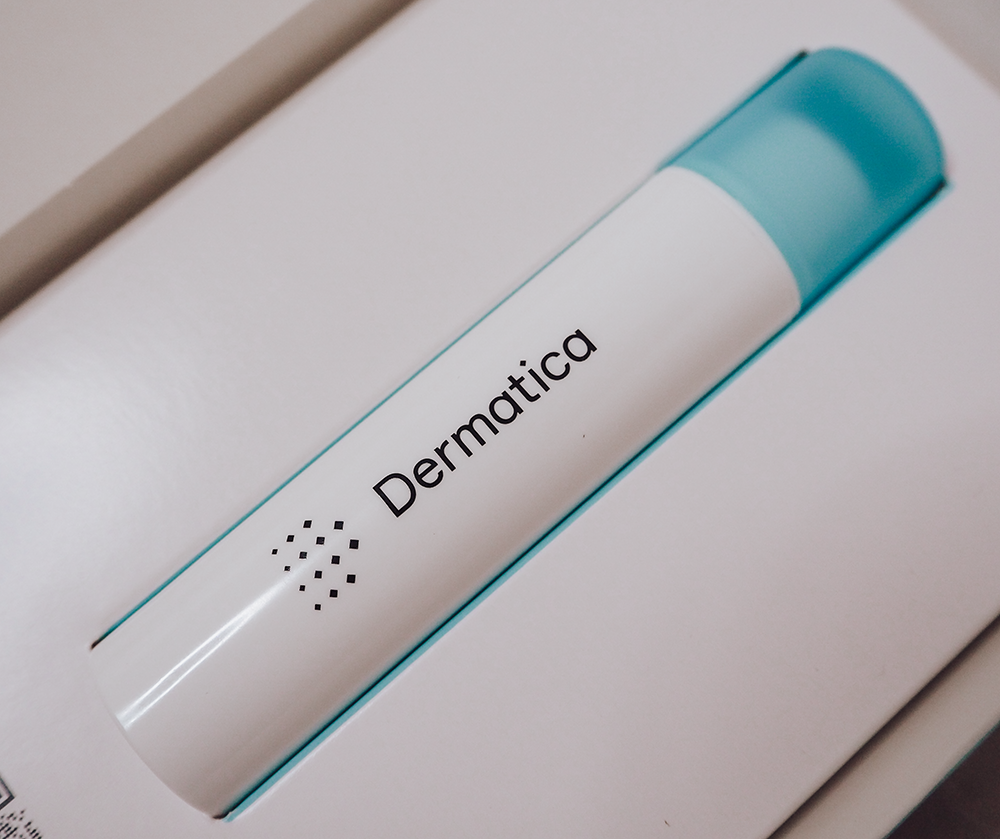 Dermatica strongly recommends minimising the following common triggers that lead to rosacea flare-ups:
Excessive sun exposure
Excessive exercise
Hot drinks
Alcohol
Cffeine
Spicy food
Extreme temperatures (hot and cold)
The dermatology service also recommends avoiding the following skincare products/ingredients (unless advised otherwise by the dermatology team):
Abrasive products like scrubs, peels and exoliants
Salicylic acid
Glycolic acid
Benzoyl peroxide
Initial experience using my rosacea treatment
To begin, I started using my Dermatica rosacea prescription in the morning and the evening, as recommended. However, after a few weeks, I was finding that my skin was very dry and also quite sore, sensitive, and much redder than usual in certain areas. The actual cream itself feels very drying on application.
As my skin was dry and sore about 1 week in, I decided to stop using the prescription for about 3 days to let my skin recover. My skin is more on the oily side, so I don't typically experience dryness. It felt really uncomfortable at this point. Once my skin had recovered, I only applied the prescription at night and every other day to allow my skin to build more tolerance.
This did the trick. My skin tolerated this perfectly fine, and I worked my way up to using the prescription every night.
It took about 3 weeks for me to notice any difference in my skin. I'm going to be sharing my 6-week progress check below.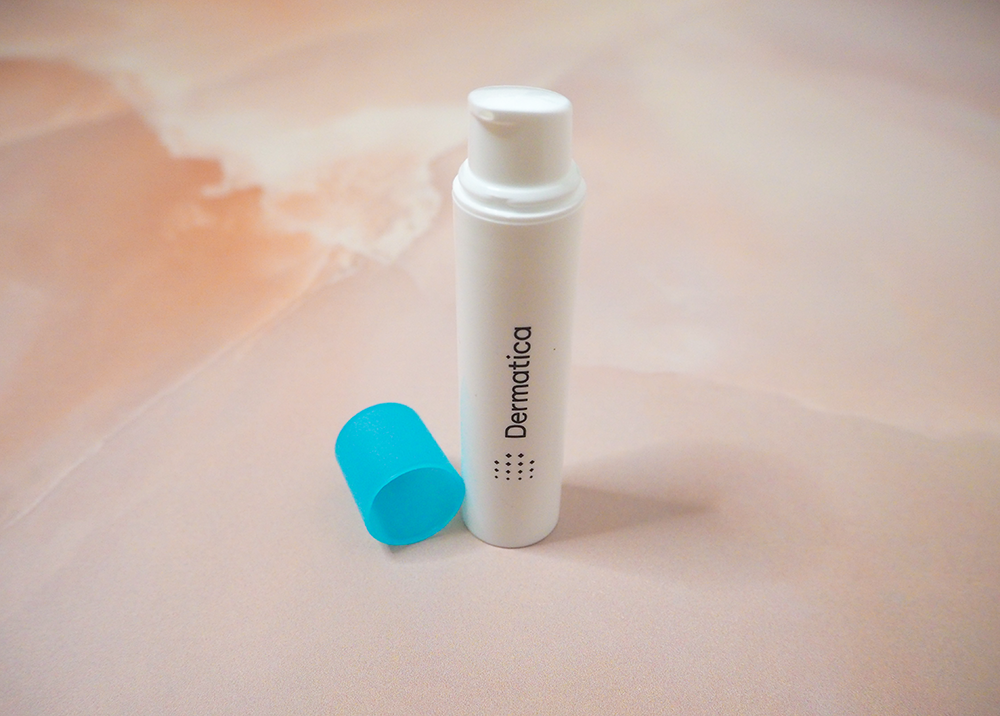 How I'm currently using my Dermatica rosacea prescription
At the moment, I'm using my rosacea prescription every night. I stick to a basic routine at night, as Dermatica suggests, but I do sometimes apply a facial oil over my night cream, as it helps with any dryness from the prescription.
In the mornings, I sometimes use my rosacea treatment, but I mostly go with my usual morning skincare routine: cleanser, hydrating toner (sometimes), eye cream, serum, vitamin C serum/oil, moisturiser, and SPF. I partly don't stick to Dermatica's basic skincare routine recommendation in the morning because I'm a beauty blogger and need to test new products. But it's also partly down to the fact that I love skincare products, and I wouldn't be without a hydrating serum or vitamin C product in my routine.
6-week progress check
I've been using my Dermatica rosacea prescription every night consistently for roughly 6 weeks. I'm pleased to share that I've seen considerable results with my skin.
My rosacea is less noticeable now. Prior to using the prescription, I particularly had some persistent redness on my cheeks, and this area is considerably less red. Although I've got mild rosacea, the redness can be really annoying. However, my rosacea prescription has 100% helped.
As well as my everyday redness being reduced, I've also noticed that my rosacea flare-ups are both less frequent and less noticeable when they happen. My rosacea tends to flare up when my skin gets warm. Now I'm finding that my rosacea doesn't get triggered so easily. But when my skin does flare up, the redness is less obvious now and tends to go away much faster.
This is great because I'd sometimes get a rosacea flare-up when putting on makeup. My skin would get warm while I was applying products, which led to unwanted extra redness. I'd have to apply extra foundation or concealer to cover the additional redness for an even base. Now, this redness is far less noticeable and goes away faster. It means I'm using less makeup to compensate for any skin redness.
Before and after photo
This progress check wouldn't be complete without a before and after photo to show you my Dermatica results. Below shows a before and after shot of my skin before using my prescription and then 6 weeks after using the treatment: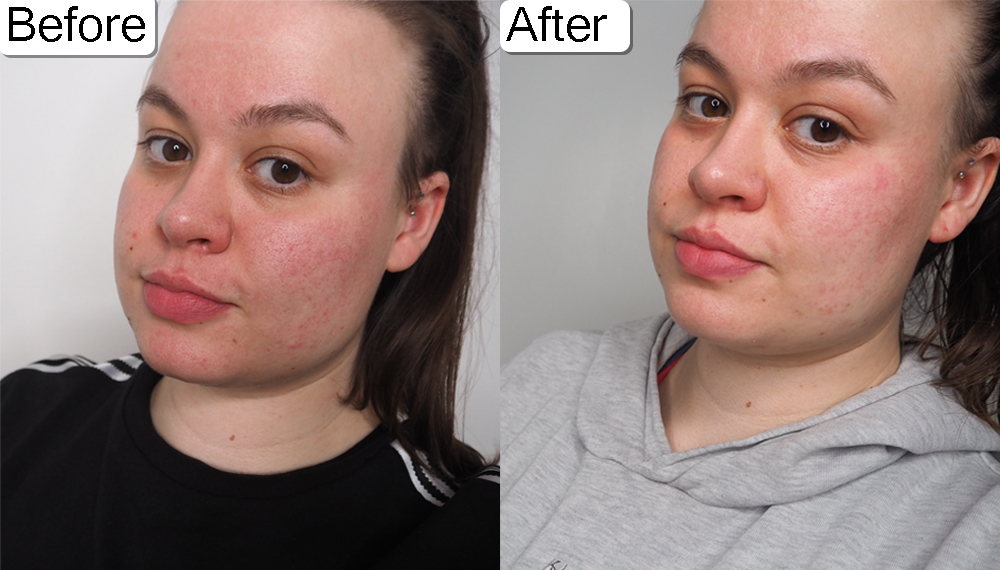 As you can see, the redness is much less noticeable in the after photo, particularly around my cheeks and chin. Considering that I don't use the prescription in the morning and evening, I think the results are phenomenal.
I also haven't been using the prescription for that long. These sorts of treatments can take around 3 months for you to see any results, so to see such big improvements after 6 weeks is very encouraging.
I'm thrilled with the results from my Dermatica rosacea prescription 6 weeks in. I can't wait to see what my skin looks like in another 6 weeks!
How to get your very own Dermatica prescription + exclusive offer
Head over to Dermatica to get started with your very own skincare prescription. It costs £19.99/$24.99 per month.
For this price, you get unlimited access to dermatologists if you have any questions about your skin, your prescription, or Dermatica. And, of course, you get your prescription every month too. There are also free online consultations with Dermatica's dermatology team to discuss your skin and prescription as time goes on.
For money off, use my exclusive discount code SARAHDERM to get your Dermatica treatment for just £2.90 the first month and 10% off the second month. To get your own custom treatment, click here for UK prescription and here for US prescription.
This is a great deal for such a fantastic and effective dermatology service. Put it this way: you'd be paying far more to see a dermatologist privately or face incredibly long waiting times. You also get regular updates from Dermatica and access to dermatology advice quickly and easily, so your skin is always in great hands.
Do I recommend Dermatica for effectively treating rosacea?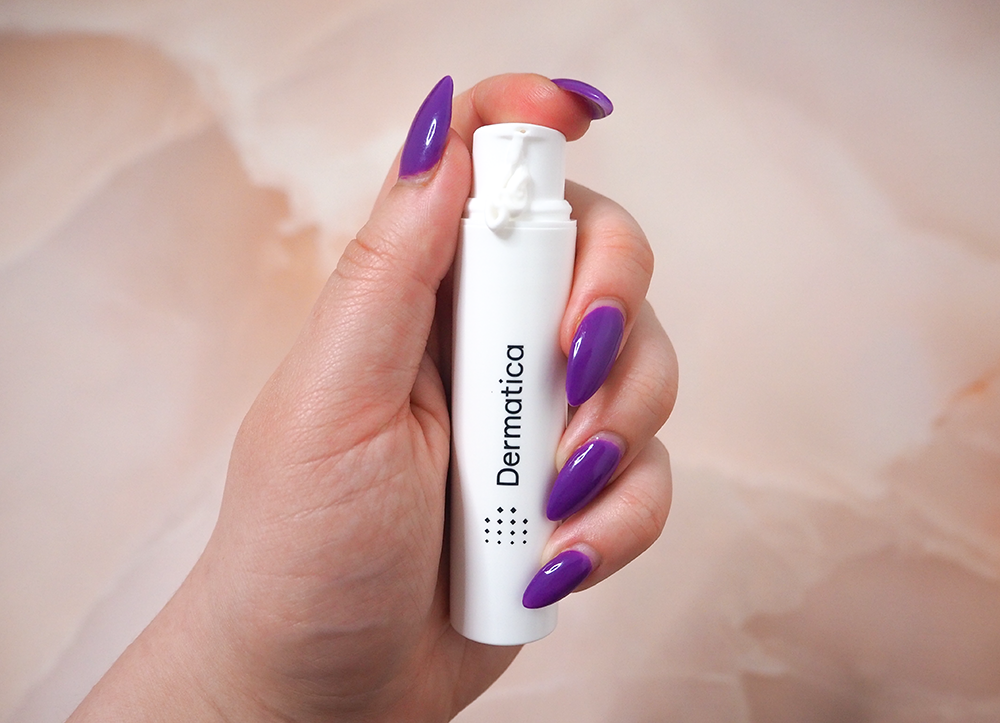 1,000 times yes. My Dermatica rosacea has already been highly effective after just 6 weeks. The service is excellent and easy to access, and you get tailored advice and a personalised skincare prescription to meet your skin's unique needs.
I can't recommend Dermatica enough. I will be sharing another rosacea update in the coming weeks, so stay tuned by subscribing to my email alerts below!