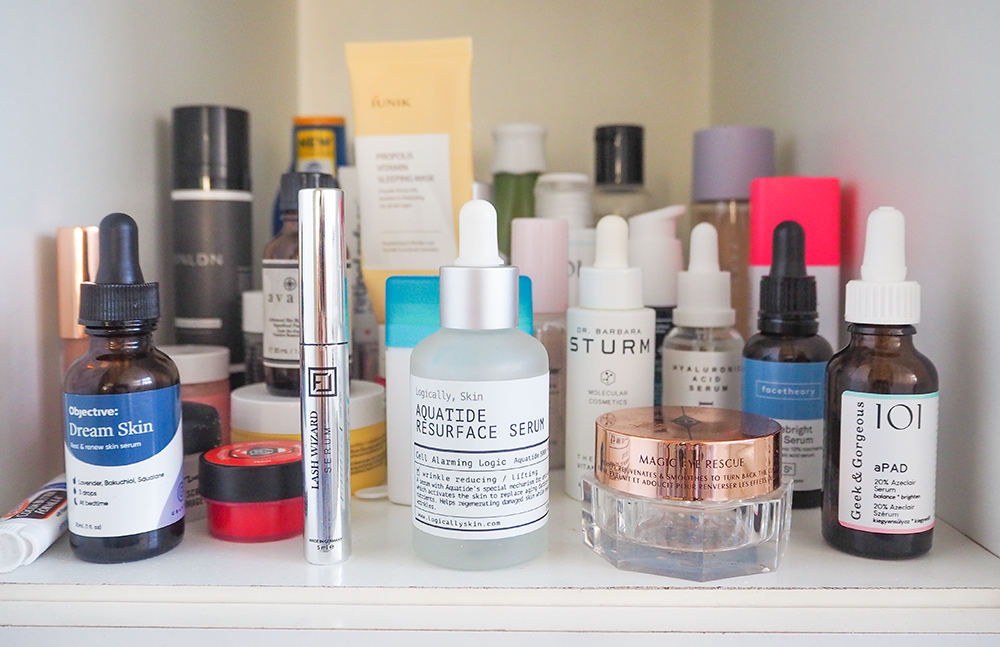 A Woman's Confidence has been named one of the top 20 UK skincare blogs by Feedspot, and I'm absolutely over the moon.
According to Feedspot, this list of the best UK skincare websites is ranked by traffic, social media followers, domain authority and freshness from thousands of blogs on the internet. This post is a bit of a shameless self-plug, but I'm not always great at celebrating my own successes, so I wanted to share this amazing blog achievement with you all.
I've somehow managed to get my blog on the same list as legendary aesthetician Caroline Hirons, who is 100% my favourite person in the skincare space. Caroline and her blog have inspired me – and so many others – to learn more about my own skin, different ingredients, and different products. This is a major 'pinch me' moment. Like, am I dreaming?!
Since I launched A Woman's Confidence over 3 years ago, so many awesome things have happened. I've managed to connect with lots of other beauty bloggers, who are just as passionate about writing and makeup and skincare as me. It's been wonderful e-meeting lots of other like-minded people, who have the same goals as me.
I've also had the pleasure of working with 50 different brands too, so I've been lucky enough to get lots of gifted products in exchange for honest reviews. For me, this is incredible because it's introduced me to loads of new brands that I might not have otherwise shared on my blog. It also means I can share my newfound holy grails with all of my wonderful readers, who love beauty products just as much as I do.
In 2021 and 2022, I've also written some sponsored content for brands that love my work. This means I've earned some money from my passion, which inspires me to keep going with my blog even more.
As a perk of running my own beauty and lifestyle blog, I manage to secure some pretty awesome exclusive discount codes, so you can get money off your next haul. Check out all of my exclusive discount codes here for money off some of your favourite brands like Ciaté London, Stylevana, Kosame Beauty, Fraîcheur Paris, and more.
Some of my favourite skincare posts that I've written are:
But my favourite part of running my own skincare and makeup blog is marrying together my two passions in one creative space. I've always liked writing right from a young age, and I didn't want to lose this creative part of myself as I grew up. Thankfully, I haven't! In my day-to-day role, I'm a magazine editor and cover news in the healthcare sector. My blog is far more personal and has a very different style of writing from my 9-5 role. I love this variation, and it ensures I keep up good writing habits inside and outside work.
And of course, I love all things makeup and skincare. Whenever I open a new product, whether it's a glow-giving vitamin C serum, aromatic cleansing balm, classic red lipstick, or seamless foundation, I'm always excited to see how they work on my face. So starting a beauty and lifestyle blog felt like a very obvious choice for me. And I find it very easy to keep motivated to write 2 blog posts each week, as I genuinely love what I do.
In the future, I hope to be able to earn enough money to make blogging a full-time career. I want to create more advisory skincare content, such as how to use exfoliants, how much SPF you should apply, and 5 steps to glowing skin. In 2022, I intend to create some more listical posts too, like rounding up my favourite vitamin C products, best moisturisers for dry skin, and 15 affordable skincare products for under £10. These types of posts have done well on my blog in the past, so I want to make sure I continue to create that you truly want to read.
Anyway, thank you Feedspot for including me in your top 20 UK skincare blogs post. I hope you all love reading my blog, as much as I enjoy writing it!
P.S. If you like my content, don't forget to subscribe to my email alerts below to ensure you stay up to date with the latest skincare and makeup content each week.
---
Are there are any skincare posts you'd like to see from me? I'm always happy to receive post suggestions, so hit me up with any ideas you have in the comments below