Last Updated on 3rd December 2023 by Sarah Sarsby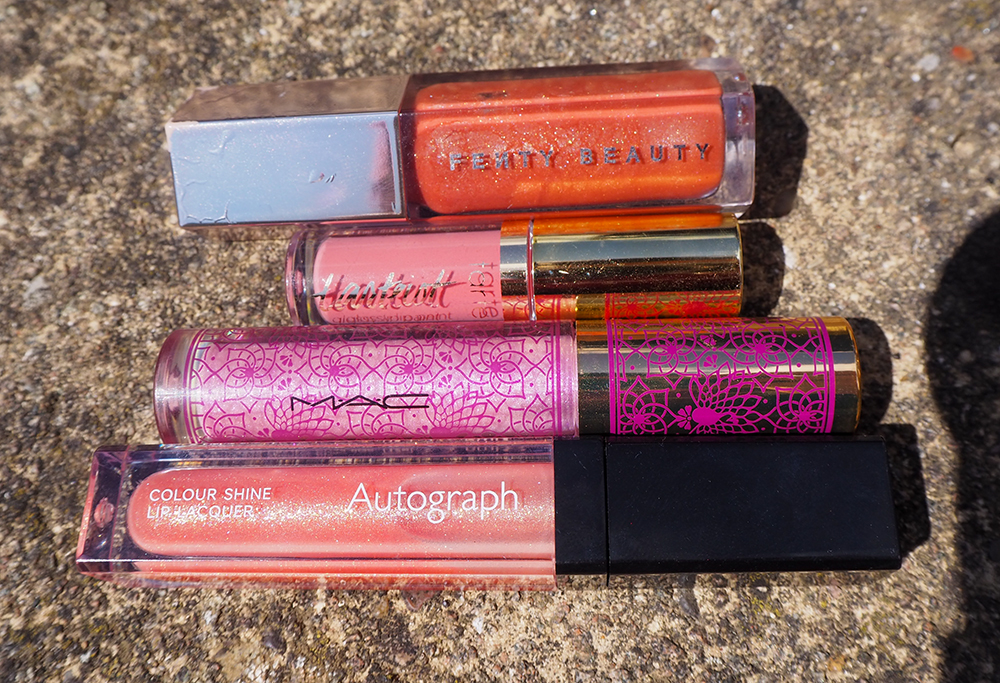 In today's blog post, I'm going to be sharing 4 super cute lip glosses that are perfect for summer to keep your lips looking healthy and glowy.
Lip glosses and summer go together like hot chocolates and cold winter nights, florals during the spring, and berry lipstick in autumn.
I'm obsessed with lip gloss at the moment. I tend to prefer bold eyeshadow and a soft lip over a bold lip and soft eyes, so toning down strong eyeshadow looks with lip gloss is perfect.
These 4 lip glosses are simply divine. Whether you're looking for something versatile, romantic, unique or shimmery, this post has it covered. Want to learn more about the 4 perfect summer lip glosses? Keep on reading.
The glosses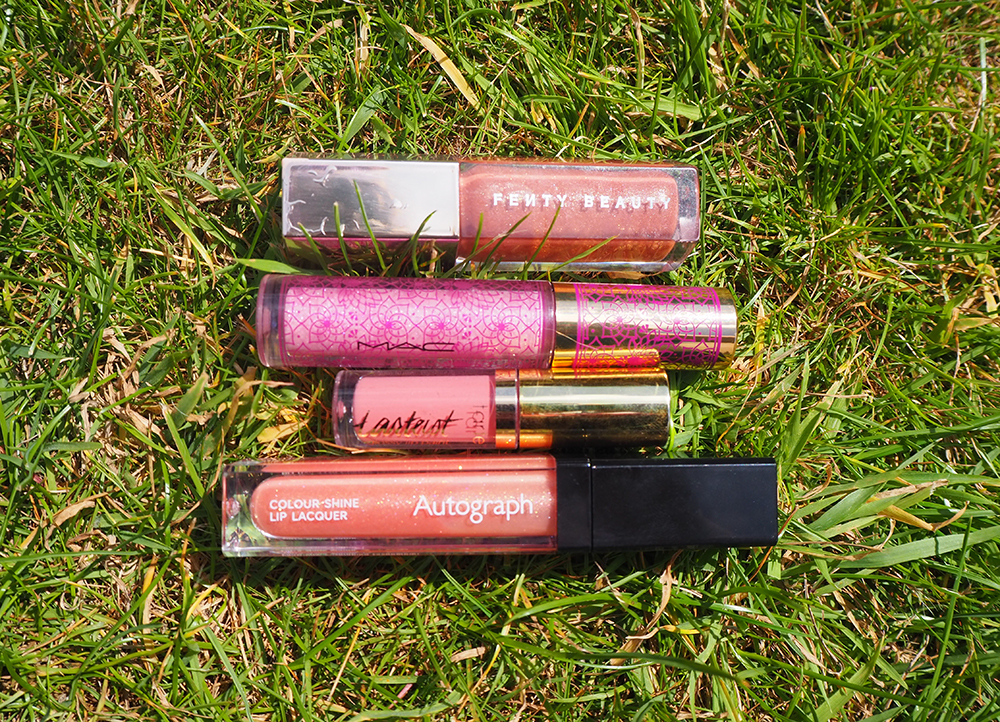 I've chosen 4 different lip glosses from Fenty Beauty, MAC, Tarte and Autograph.
The versatile one
Fenty Beauty Gloss Bomb Universal Lip Luminizer in Fenty Glow
The Fenty Beauty Gloss Bomb is such an icon. It's the product that really set off the trend for lip glosses over the past year. They've always been about, but these wearable glosses from Fenty Beauty have catapulted the huge lip gloss trend recently.
I have the shade Fenty Glow, which is described as a shimmering rose nude. I think this lip gloss is the most 'your lips but better', which makes it very versatile. It pairs with all makeup looks, never feels sticky and gives your lips a glossy finish.
Rihanna killed it with this formula and there are 7 pretty shades to choose from. I'd love to own them all lol.
The romantic one
Tarteist Glossy Lip Paint in Goals
The Tarteist Glossy Lip Paint in Goals isn't shimmery but instead leaves a subtle, pink and glossy sheen across your lips. I love how soft this gloss looks on your lips.
As it's not shimmery, I think this is the most romantic gloss of the 4 as it gives you a very fresh and radiant glow. This rosy nude shade is ideal for pairing up with sultry eyeshadow looks or no-makeup makeup looks for the ultimate soft glam look.
Plus, this lip gloss is the most long-lasting of the bunch, which is an added bonus.
The unique one
MAC The Disney Aladdin Collection Lipglass in Magic Carpet Ride
This MAC x Disney Aladdin Lipglass was limited edition, so the range has been discontinued, but this lip gloss is so gorgeous that I just had to include it.
On application, the lip gloss appears a soft, light baby pink, but when you look closely, the flecks of glitter are duo-chrome, with flecks of purple and pink. The effect is simply stunning.
You can see it in my makeup look here:
I've never seen anything like it.
I love how this lip gloss is cool-toned too because most glosses I've seen are warm, which makes it a brilliant addition to my makeup collection. My best friend did a great job of getting me this for my birthday last year!
The shimmery one
Autograph Colour Shine Lip Lacquer in Sorbet
Now onto the final perfect lip gloss for summer – the Autograph Colour Shine Lip Lacquer in Sorbet.
This lip gloss is the most shimmery (and cheapest) of the bunch and it's so pretty. A peachy gloss with gold glitter? Yes, please. It seriously glistens in the sun and I think it would be perfect for doing 'wet look' makeup during the summer.
Also, it smells delicious, like cocoa butter. This does feel a little sticky on the lips and wears off a bit faster than the other glosses in the round-up, but the lower price point makes repurchasing it very tempting.
Swatches
I took advantage of the sunshine last weekend to take some pictures of these lip glosses to show you how stunning they look in the sun.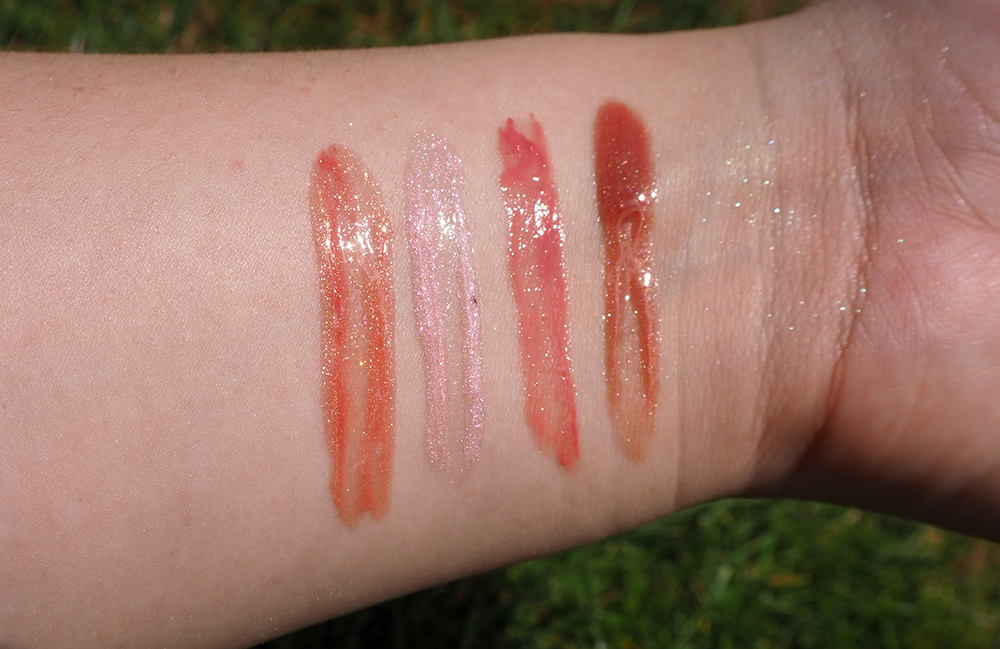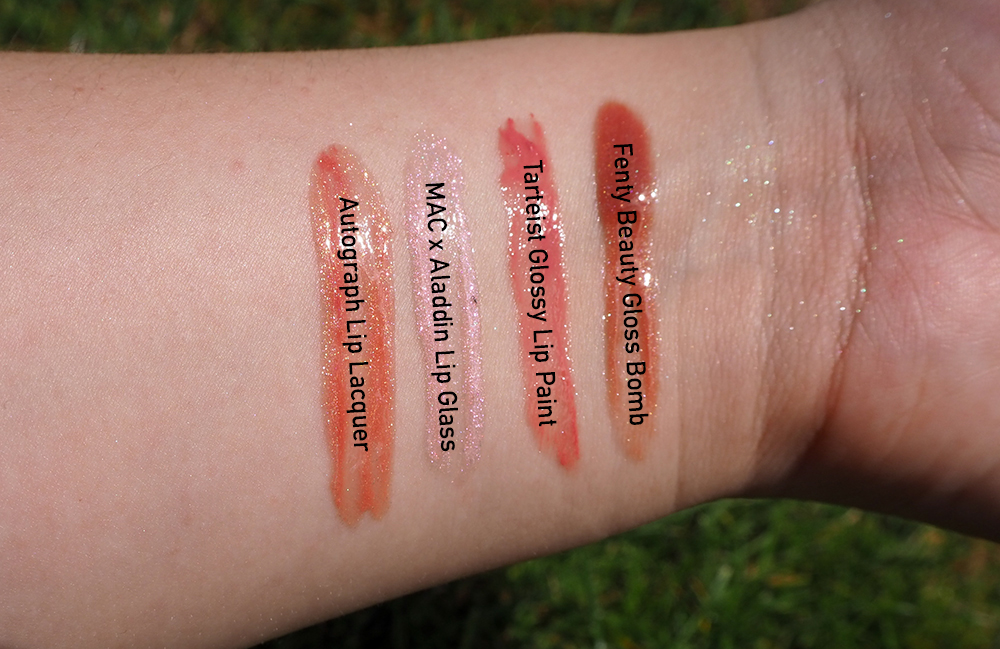 I genuinely love all of them.
Final thoughts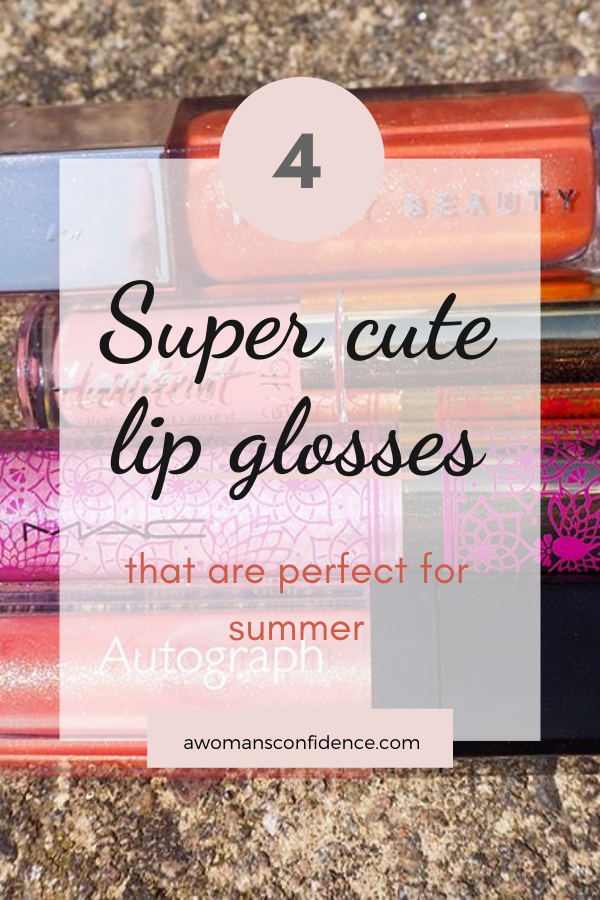 I hope you enjoyed reading my post about 4 cute lip glosses that are perfect for summer. All 4 are amazing and I couldn't recommend them enough.
What's your favourite lip gloss from this blog post? Let me know in the comments below!