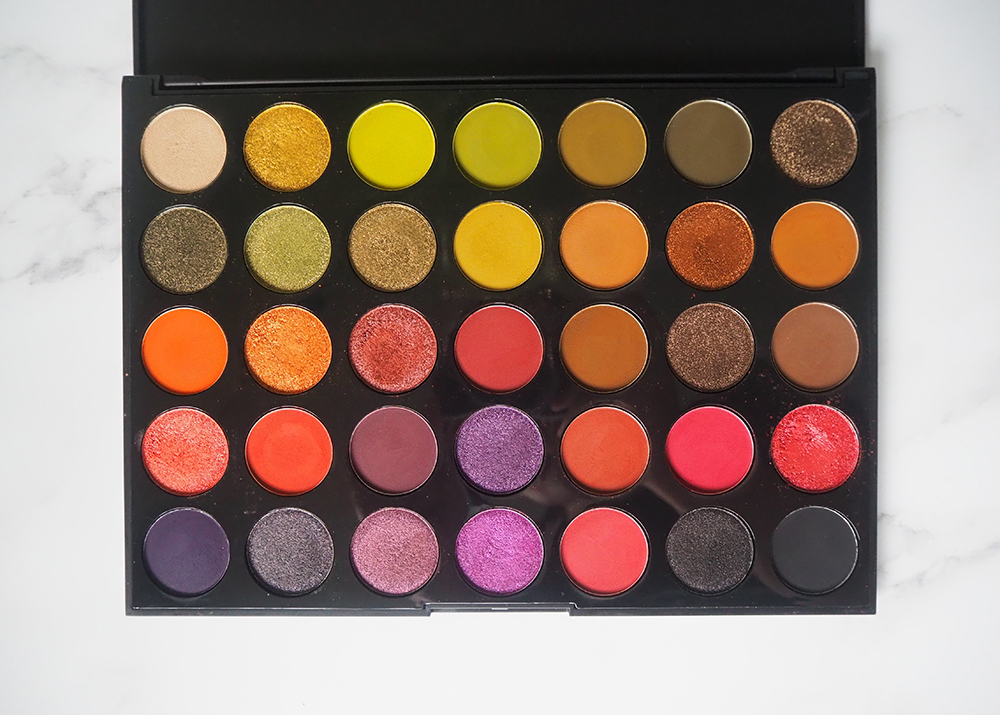 Here I am with yet another eyeshadow palette, but one I felt I couldn't resist.
I bought the Morphe 35M Boss Mood Artistry Palette and the Morphe 25D Oh Boy Artistry Palette for £20 in Morphe's 60 Shades of Slay deal. Considering the Boss Mood Palette is normally £23 on its own, I thought this was a total steal.
I was intrigued by the Morphe 35M Palette because it had some interesting shades that I haven't seen in many other palettes before, particularly the green shades.
I'd also seen some amazing makeup looks on YouTube with this palette. They weren't ones I'd normally do on myself, so I thought purchasing the Boss Mood Palette would allow me to try out some bright and fun new looks.
But how would it perform?
Morphe is known for its incredible and cheap palettes, but that doesn't necessarily mean that every palette, or eyeshadow, will be amazing. If you'd like to hear whether the Boss Mood Palette is a worthy investment, keep on reading.
What is Morphe?
Founded in 2008, Morphe is a popular US-based makeup brand, known for being colourful, high-quality and affordable.
Our bold, badass roots started with professional-yet-affordable brushes but didn't stop there. Color was calling. So, we answered with eyeshadow palettes, lip colors, and more.

Morphe
Morphe is best known for its eyeshadow palettes and makeup brushes, but also offers a range of foundations, highlighters, setting sprays, false lashes, lipsticks and more.
Boss Mood Palette claims
This 35-pan eyeshadow palette contains a mixture of mattes and metallic shades, from purples and reds, through to greens and oranges.
Ready to show the world who's the boss? We thought so. This amped up color palette of multidimensional metallics and crazy-creamy mattes will help ya live large and take charge.

Morphe
First impressions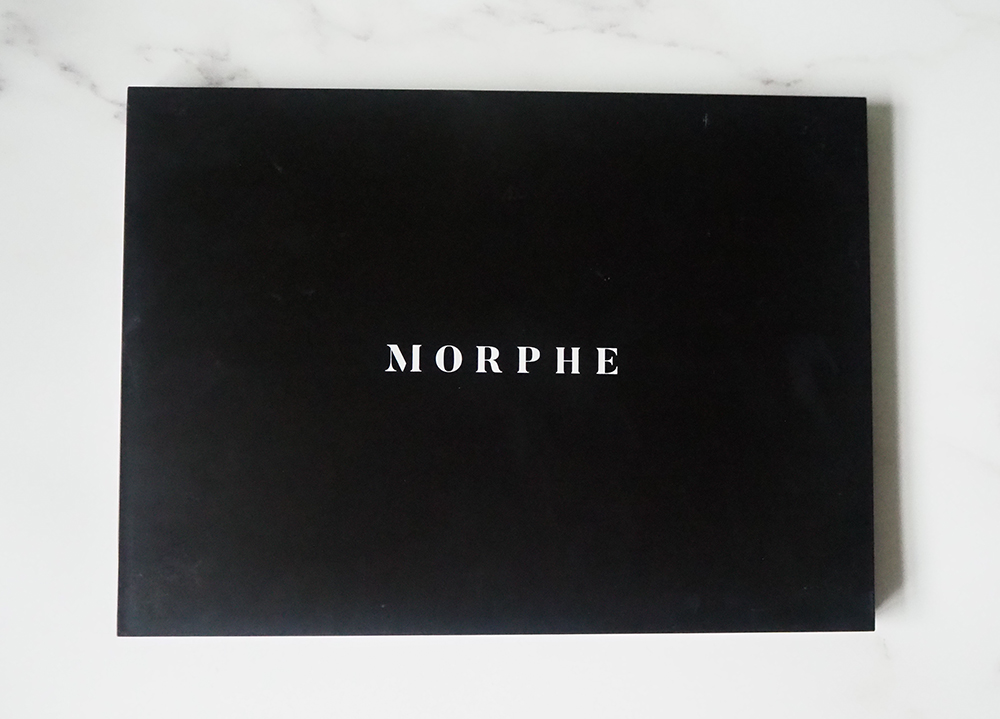 As with pretty much any of the Morphe eyeshadow palettes, you can expect the packaging to be a rectangular black case with the word 'Morphe' written across it. I like this minimal look and enjoy the consistent branding across Morphe's products.
When you open the palette up, you get a plastic cover sheet to protect the eyeshadows on the inside, but also to tell you what the shade names are.
It looks like this: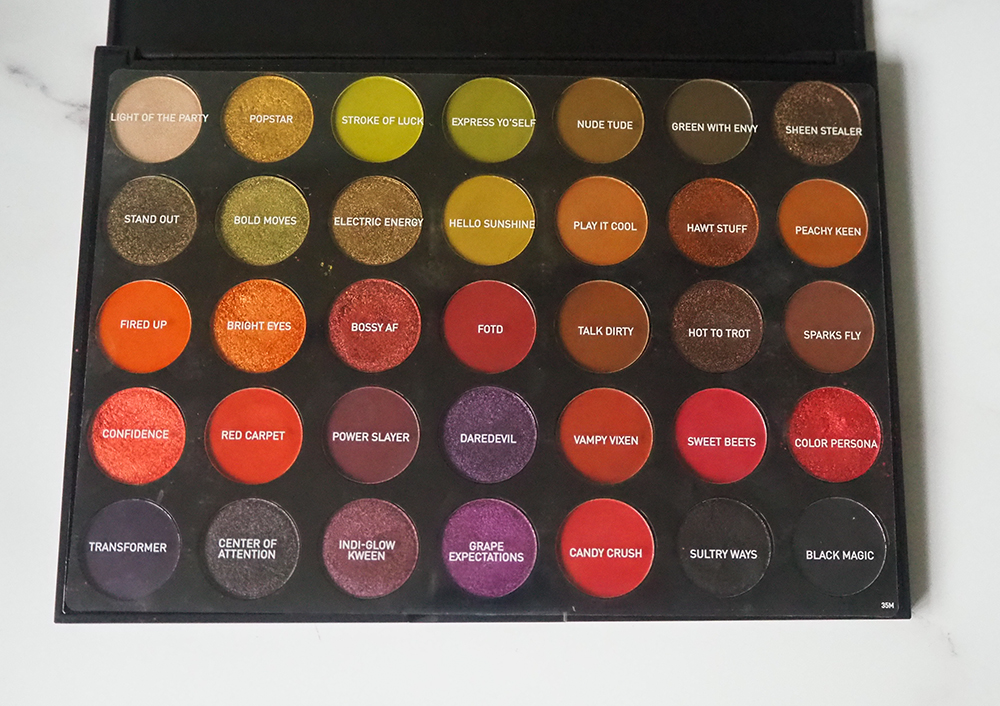 You get 35 eyeshadow shades in the 35M Boss Mood Palette (hence the '35M'). This is fantastic considering the palette costs £23 – that's less than £1 per shade!
At a glance, there were a lot of shades that appealed to me. I loved the reds, oranges, purples and greens as they're colourful and fun. I enjoyed the more neutral brown shades too as they allow you to add more depth to your eyeshadow looks.
However, there were also some shades I didn't like and would never use. Some of the darker shades on the bottom row are too dull for my taste and never look good on me. Especially black eyeshadow. Sure, you can use it as eyeliner, but I'm happy with liquid liner.
I also felt that a gold shade was missing from the Boos Mood Palette. I love golds, so I'm pretty biased, but I felt that including a gold would've added more diversity to the palette. Even a silver or bronze would've made a neat addition.
My first impressions were a bit of a mixed bag, but mostly very promising.
Swatches
Then, I went on to swatching the Morphe Boss Mood Palette.
I find swatching helpful as it gives me an indication of how well each shade will work on my eyes, what the pigmentation and formula are like, and whether the colours look the same on my skin as they do in the pan.
Here are my swatches:
Row 1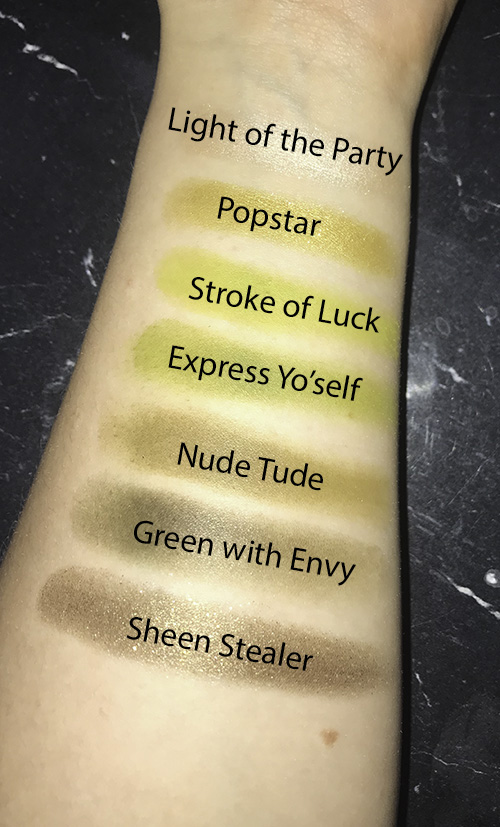 Row 2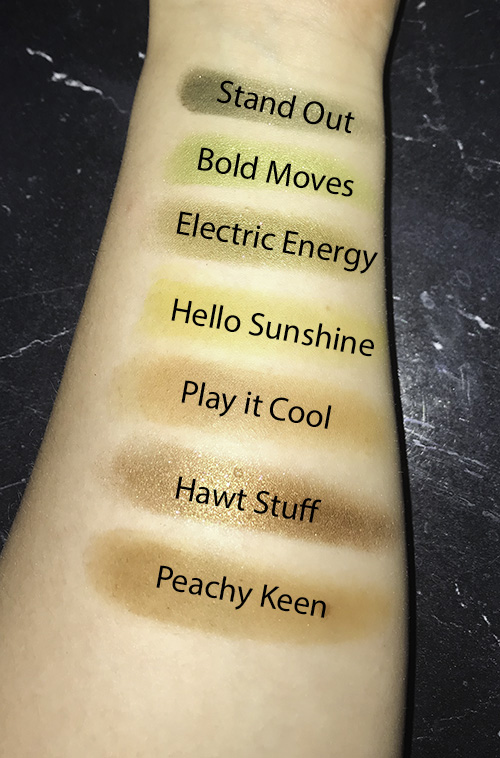 Row 3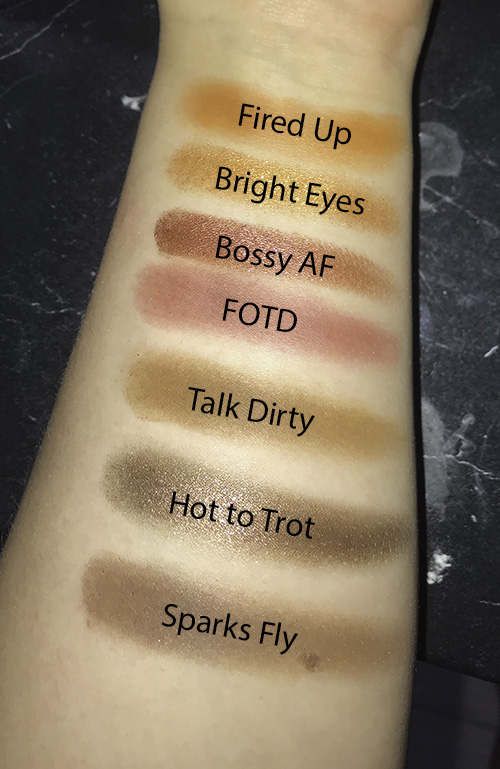 Row 4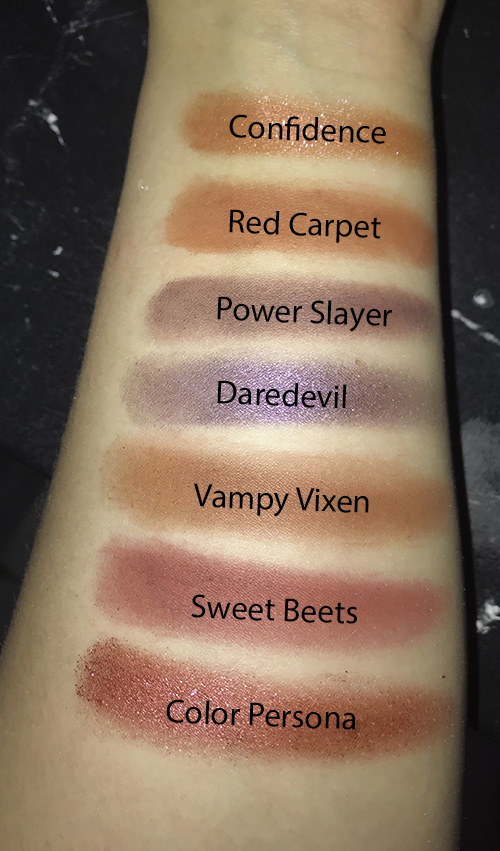 Row 5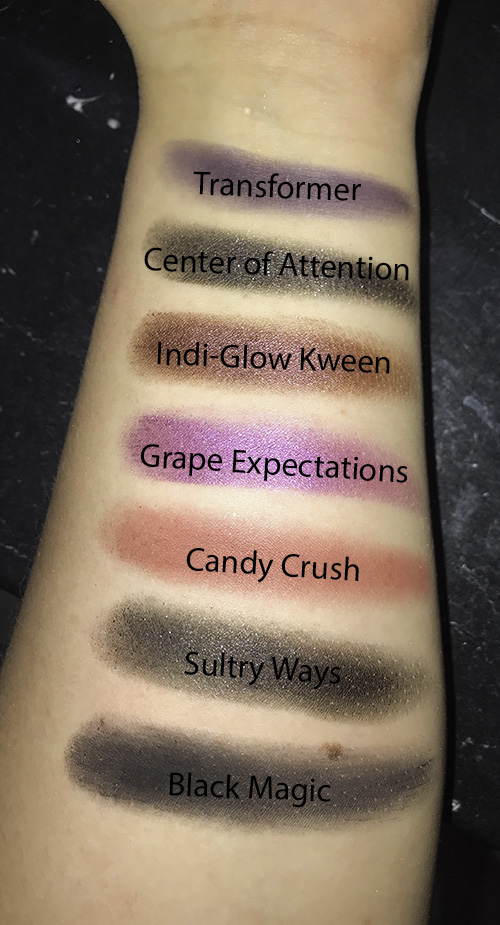 The shimmers in the Boss Mood Palette were faultless. They were easily some of the best shimmer eyeshadows I've ever swatched. Rich, buttery, pigmented.
In comparison, the matte shades were less consistent. Whilst they mostly performed well, some of them were chalkier and less pigmented, such as Vampy Vixen, Play it Cool and Sparks Fly. They weren't bad, they just needed some more work to get the pigmentation.
Weirdly, though, I found some of the red and purple mattes to be really good. In most palettes I've used, the red and purple matte shades seem to have pretty poor pigmentation, but the Boss Mood Palette mostly delivered on these colours.
So, whilst the mattes weren't as outstanding as the shimmers, I was ecstatic that the red and purple shades seemed great.
Fave shades so far:
Popstar
Fired Up
Confidence
Sweet Beets
Colour Persona
Grape Expectations (bonus points for the pun lol)
The look
Then, it was onto creating a look with the Morphe 35M Boss Mood Artistry Palette – my favourite part!
I followed this look from Tiana Lauren:
She uses a lot of the shades from the 35M Palette and creates a stunning, vibrant makeup look. I wanted to try this look, in particular, because of the orange, pinks, greens and reds she incorporated, as it allowed me to try out a lot of colours in one go.
Although mine is nowhere near as good as hers, I was really happy with the finished look: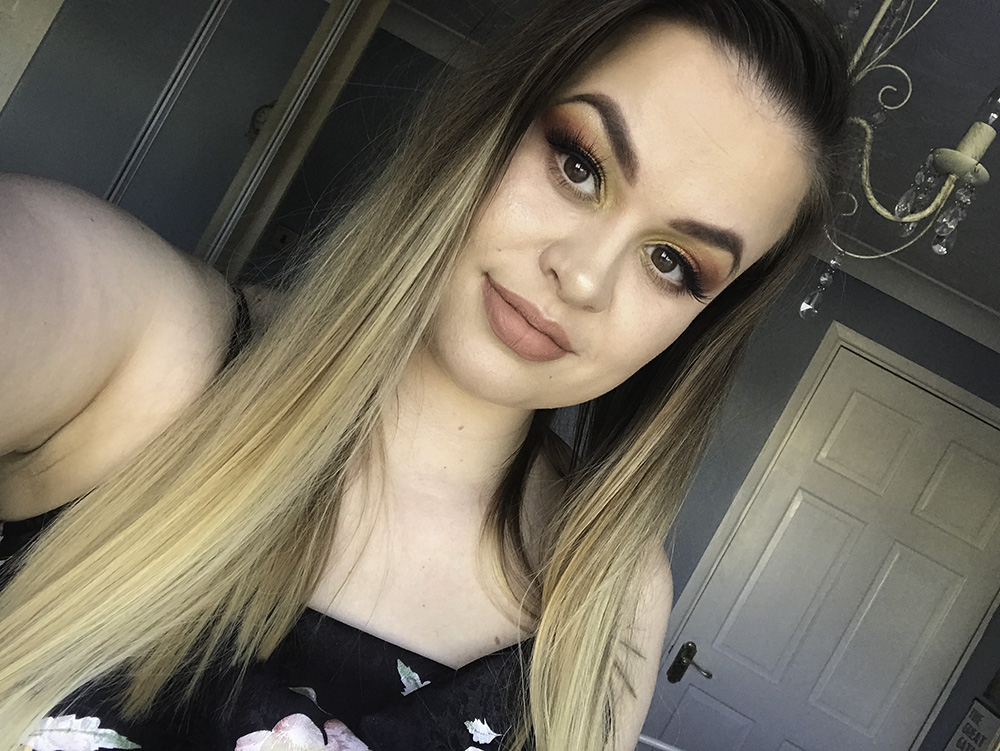 It's a very different look for me. It was also far less dramatic than I was expecting. I'd still never wear this as a daytime look, but I reckon I could rock it in the evening.
Using the shades from the Boss Mood Palette was such a dream.
The colours were rich, pigmented, buildable and blended out to perfection. Even some of the mattes that I'd originally swatched performed much better on my eyes.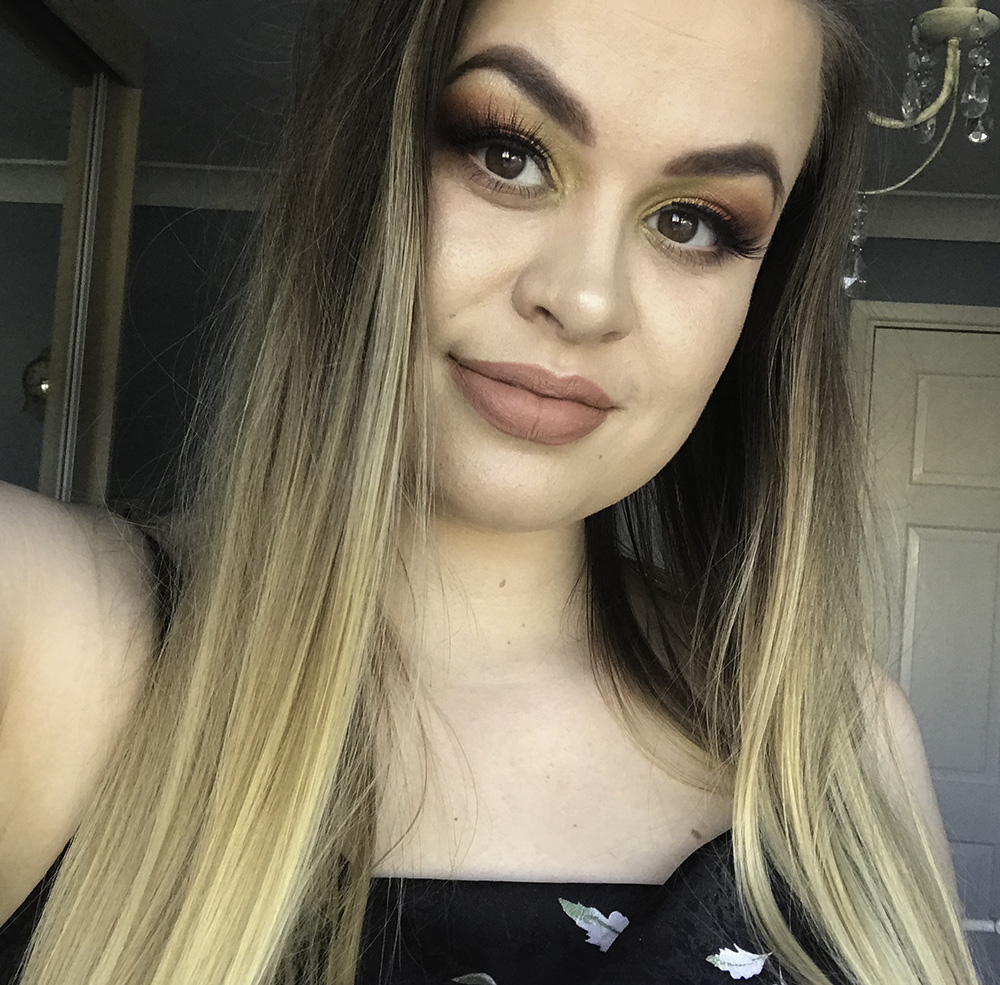 All in all, I was very impressed with the shades I tried; they allowed me to create a look I was proud of.
If you like this makeup look, be sure to check out some of my other makeup looks:
Longevity
Now, you know how well these shades performed, but how long would they last?
Well, you'll be happy to hear that these eyeshadows lasted all day with very minimal creasing. This didn't surprise me, though, as one of the main things I've found with my other Morphe eyeshadow palettes is that the longevity is exceptional.
Where to buy
You can buy the Morphe 35M Boss Mood Palette directly from Morphe's website or from Cult Beauty. Both sites retail the eyeshadow palette for £23 and have pretty speedy delivery.
Final thoughts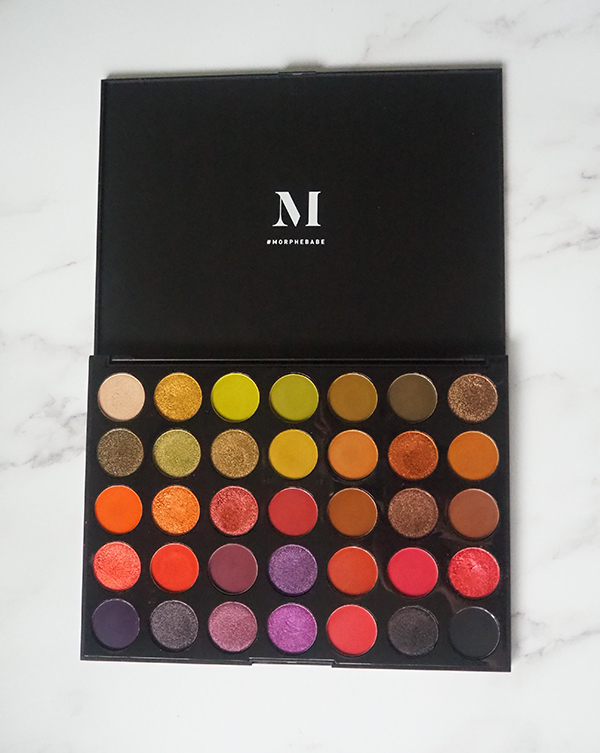 Another affordable, fun and fab purchase from Morphe.
The pros
The Boss Mood Palette offers something new and exciting to a lot of the eyeshadow palettes out there on the market, with bold, bright and vibrant colours mixed with some neutral browns and dark shades.
The shimmers were exceptional and the mattes performed better on my eyes than in the swatches.
I loved how easy the colours were to work with: they were buildable, easy to blend, buttery, rich, pigmented and lasted all day.
It's only £23. What a bargain.
The cons
There are still some shades in the 35M Palette that I don't care for, particularly the bottom row where there are some very dark colours. Although, in fairness, eyeshadow palettes need to cater to different skin tones and preferences, so I completely get it. They're just not shades I like on myself.
I also would've loved to have seen a gold shade in the palette. Call me biased, but I think gold is beautiful and versatile, and I feel it would've added to the Morphe Boss Mood Palette.
Rating: 4 stars
The Boss Mood Palette is definitely worth purchasing. Especially for you creatives out there. It's a wonderful eyeshadow palette for budding or experienced makeup artists and the price point is excellent.
It's just not one of my fave eyeshadow palettes.
---
I hope you liked my Boss Mood Palette review and enjoyed the makeup look I created with the eyeshadows. What's your favourite eyeshadow palette? Let me know in the comments down below