Last Updated on 13th November 2023 by Sarah Sarsby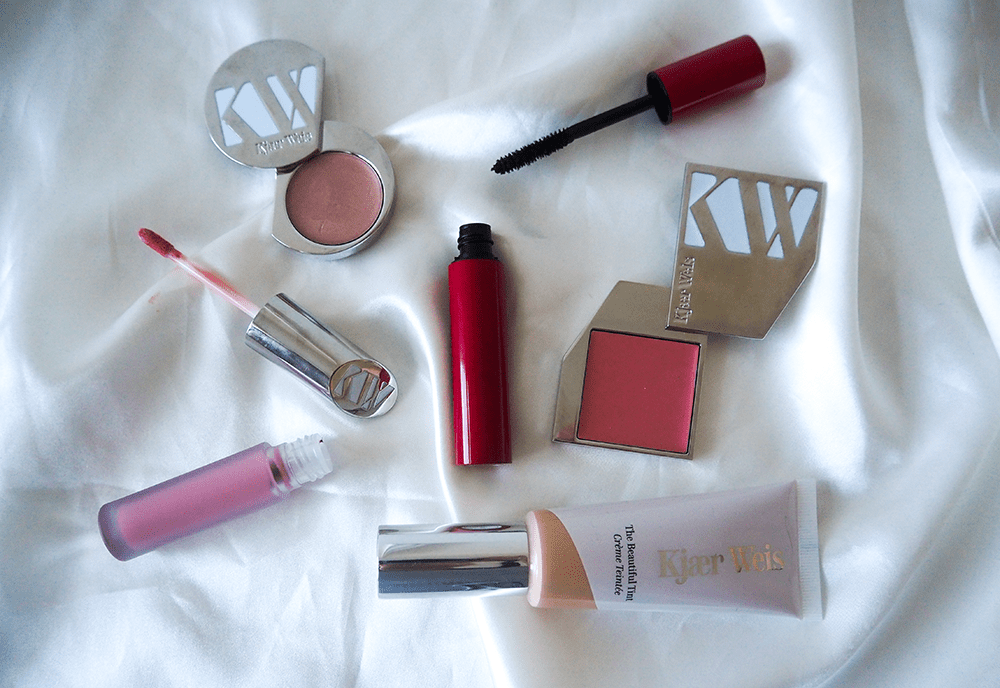 I'm a luxury makeup lover. While the drugstore offers some amazing makeup products, most of my holy grail items come from high-end brands. I tend to prefer their textures, colour payoff, finishes, and shade ranges.
Although, honestly, a lot of high-end makeup products simply aren't worth the price. You can find more affordable alternatives that perform just as well if not better.
Kjaer Weis is a luxury makeup brand with a minimal, chic aesthetic. The products revolve around being more sustainable, with refillable and recyclable packaging. It's all about promoting natural beauty with skin-loving formulas.
But there's no denying that Kjaer Weis is expensive. Are the makeup products worth the costly price tags, or are there better and more affordable products available? I tried over £180 worth of Kjaer Weis products and share my honest thoughts on their quality, ease of use, shade range, textures, and finishes in this post.
* This post contains some affiliate links. This means at no extra cost to you, I earn some commission if you purchase a product through my link. All thoughts are my own, though, as always. If you want to find out more, visit my affiliate disclosure page **
Products in this review
I'm reviewing the following 5 Kjaer Weis products in this review:
I share my honest thoughts, swatches, and ratings for each product below before moving on to my overall review of Kjaer Weis makeup, including a makeup look using all 5 products.
1. Kjaer Weis Cream Blush in Blossoming
£46 for 3ml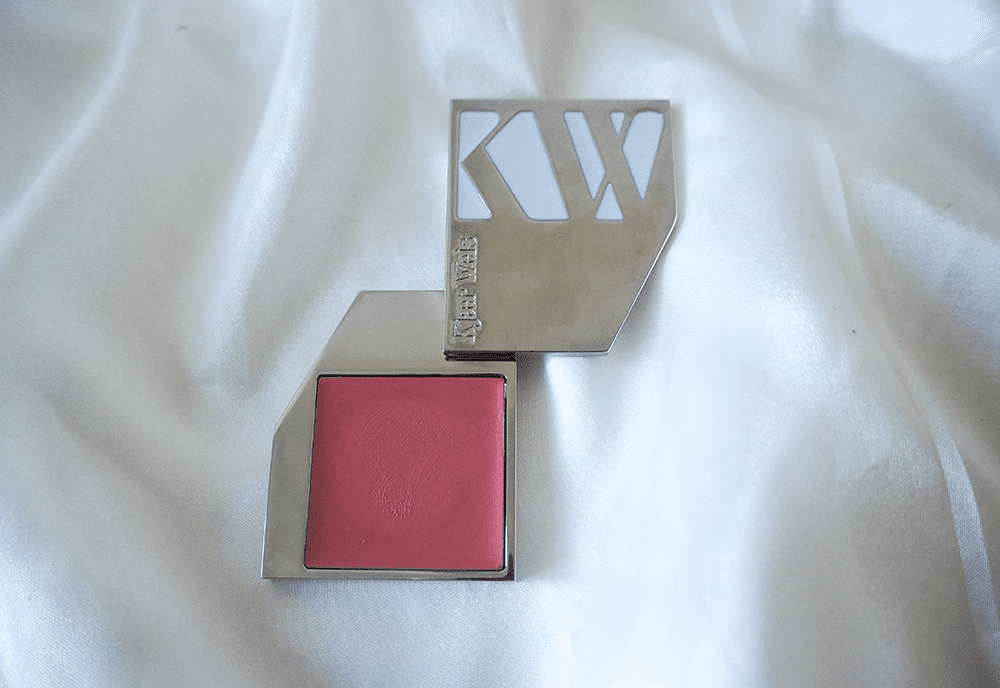 I got the Kjaer Weis Cream Blush in the shade Blossoming, which is described as a soft, warm pink with a rosy hue.
This is advertised as a dewy blush, but I actually think the finish is more matte. It offers a skin-like finish with a subtle sheen, but I wouldn't say it's "glowy". But I like the formula and finish of this blush, as it melts into the skin effortlessly and looks very natural.
The consistency is super blendable and easy to build. It's seamless to layer the blush, without it going patchy or disturbing base products underneath. It starts off with light coverage but can be built up to medium-full. I find that this formula works best with fingers to blend, as this method delivers the most pigmentation.
I love the shade Blossoming. It delivers a natural flush of pink on the cheeks. It'd work with pretty much any makeup look and is very flattering. It gives a fresh look.
The blush feels comfortable on the skin. It didn't break down or become greasy after 6 hours of wear. It faded a little during this time, but the colour was still visible.
However, this isn't my fave blush. I prefer more luminous blushes. It's also pricey for the amount of product you get. I own blushes that deliver more pigmentation, blend just as well, and are better value for money.
Rating: 4 stars
I like this blush, but it didn't blow me away. However, I appreciate how wearable this formula and shade is.
2. Kjaer Weis Im-Possible Mascara
£30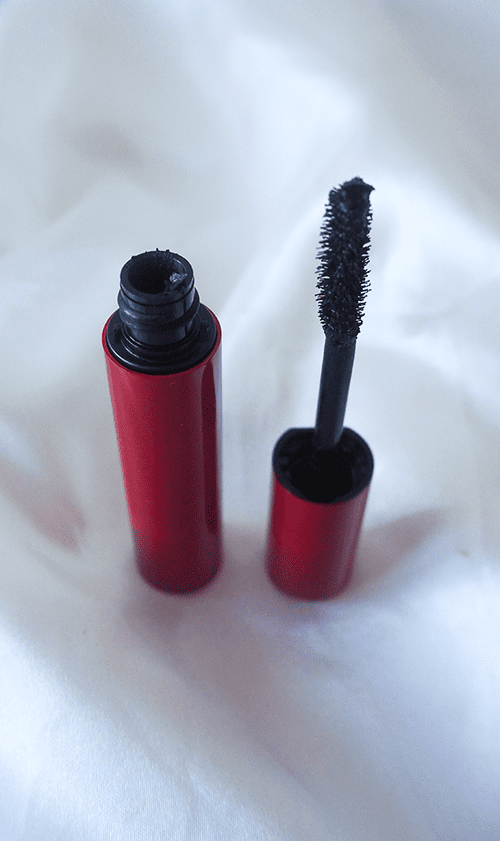 I really like the Kjaer Weis Im-Possible Mascara. This black mascara adds length, volume, and definition to my lashes. It's not clumpy or flaky.
The consistency is fab. It's not too wet or dry, which means I can easily comb the product through my lashes and separate them, without smudging or needing to go in with loads of layers to actually coat the lashes.
The wand is quite small and has 2 sides. 1 side is flat, which is used to separate and define lashes, and 1 side is curved to add volume. I like both sides of the mascara wand. They work really well. The flat side made it so easy to separate my lashes.
I'd call this an everyday mascara. This won't make your lashes look crazy bold or dark, but it's very foolproof and definitely enhances your natural lashes.
This mascara does transfer a little bit throughout the day. It's minimal, but I did notice a bit of smudging by the end of the day. Again, it's pricey, and I've used drugstore mascaras that I like just as much as this.
Rating: 4 stars
I think this mascara is nice, especially for daily wear.
3. Kjaer Weis Tinted Moisturizer in Fair 4
£40 for 45ml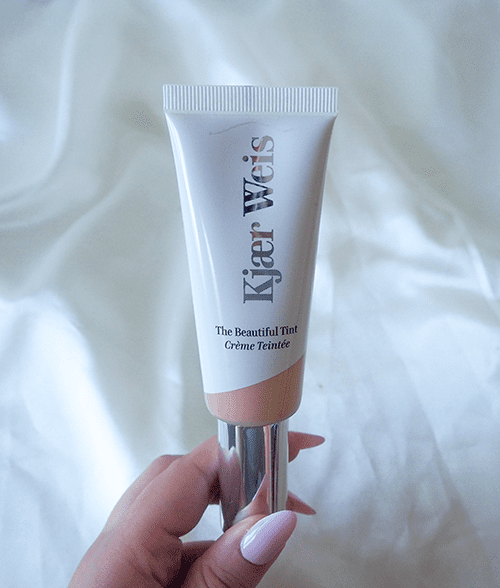 I got the Kjaer Weis Tinted Moisturizer in the shade Fair 4, which is for light, neutral tones. When I swatched this, I was worried that it might be a little too orange for my complexion. But once I blended this in, it was a perfect match.
This tinted moisturiser is described as luminous. But, like the blush, I feel like this has a satin second-skin finish. This is very much a 'your skin but better' kind of vibe. The coverage is sheer, but it helps to even out and smooth my complexion.
I think this product is for good skin days. The coverage can't be built up much beyond light, as it's a very lightweight formula. So if you've got a few spots, this won't be the best for covering them.
This formula applies best with fingertips. The formula went a bit patchy and streaky when I used a brush, but it melted into my skin beautifully with my fingertips.
The tinted moisturiser is super comfortable and hydrating. It has a smooth, soft, and almost airy consistency. Once applied, it's almost undetectable, both visually and texturally. It marries with my own skin seamlessly and is incredibly lightweight. I love how this feels on my skin.
It also wears brilliantly. After 6 hours of wear, it stayed put. No patchiness, no oiliness, and no fading.
It's also not as expensive as the other Kjaer Weis products in this review for how much product you get.
Rating: 4.5 stars
I can see myself reaching for this tinted moisturiser often.
4. Kjaer Weis Matte, Naturally Liquid Lipstick in Honor
£20 for 3.5ml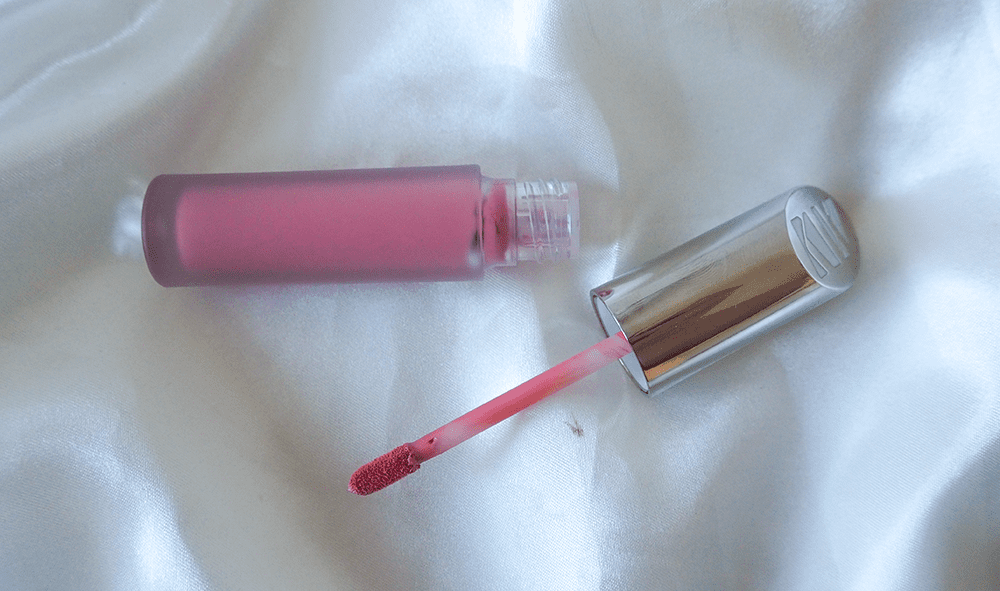 I don't tend to wear liquid lipstick nowadays. So I thought I'd try the Kjaer Weis Matte, Naturally Liquid Lipstick in Honor, which is described as a pale pink nude.
This liquid lipstick has a soft, airy, and almost weightless texture. It's super velvety.
However, I think this lipstick is on the dry side, which is very common in liquid lipsticks. It's not flaky or crumbly like some liquid lipsticks I've tried, but it's not the most comfortable or hydrating formula. I'd personally wear a lip oil or gloss on top to add some moisture and shine. In fact, I added gloss on top of this after taking photos of my makeup look, and I think it elevated the liquid lipstick.
I'm not into the shade. I thought I'd go for a different colour than usual, especially as the brand says the shades are "universally flattering", but I think the pale pink washes me out. There's no way I could wear the shade Honor without lip liner. I think I'd look ill!
Unsurprisingly, the liquid lipstick has excellent lasting power. After 6 hours of wear, it hardly budged. It's probably because of the drier formula that clings to the lips, so it doesn't transfer. If you struggle with lipstick coming off, this would be a great option.
Rating: 3.5 stars
Ultimately, this formula reminded me why I'm not into liquid lipstick nowadays. It felt a bit dry, and I was itching to add some moisture to my lips with an oil or gloss.
5. Kjaer Weis Cream Eye Shadow in Illuminated
£23 for 1.4ml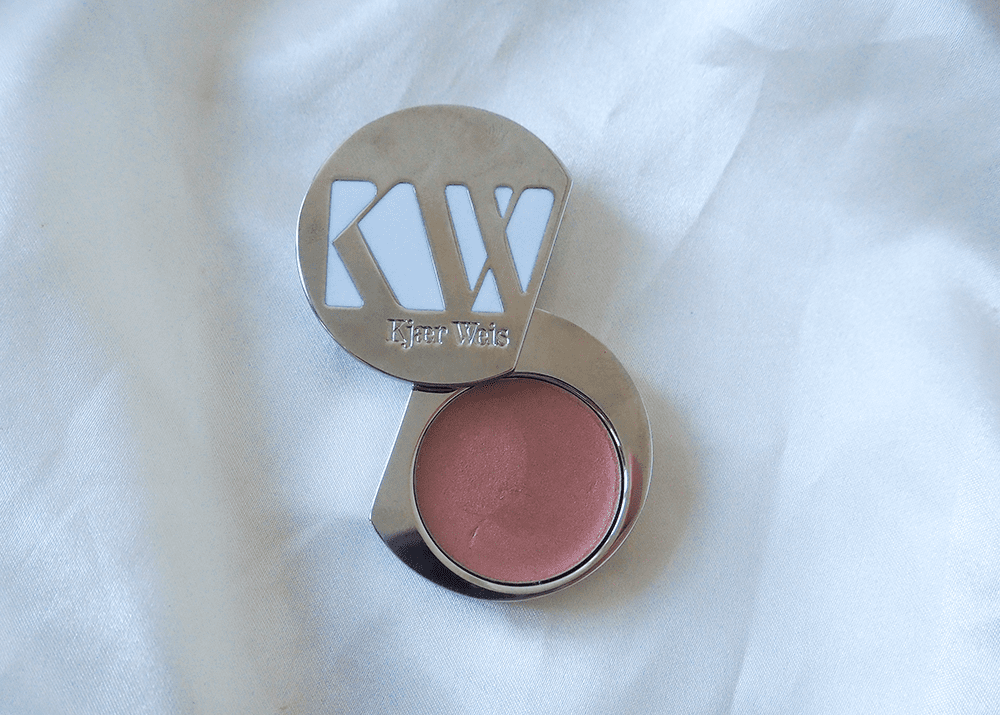 I tried the Kjaer Weis Cream Eye Shadow in Illuminated, which is described as an iridescent rose gold.
I wanted to love this cream eyeshadow, but it left me feeling quite disappointed.
Firstly, the shade is more like a neutral pink than a rose gold – it hardly has any gold in it. And, at least on my lids, this hardly gave anything. I'm all for a natural makeup look, but this was barely noticeable. The colour is very close to my lid shade, so it didn't show up much, and there's very little shimmer. In the swatch, it looks shimmery, but it's hardly reflective on the lids. Even after 4 layers, there was just very little colour payoff or shimmer, which was a shame.
Despite being a cream, the formula isn't that creamy and is actually fairly dry and firm. But it blends easily and is a swipe-and-go product.
I thought with a firmer consistency that this eyeshadow might be crease-proof. Yet, it creased almost instantly on application, despite applying eyeshadow primer. It also completely disappeared from my eyelid crease by the end of the day.
Rating: 3 stars
I don't think this eyeshadow is worth the money. I'm not impressed with its performance.
Kjaer Weis makeup look
To show you what these products look like, I created a makeup look using all 5.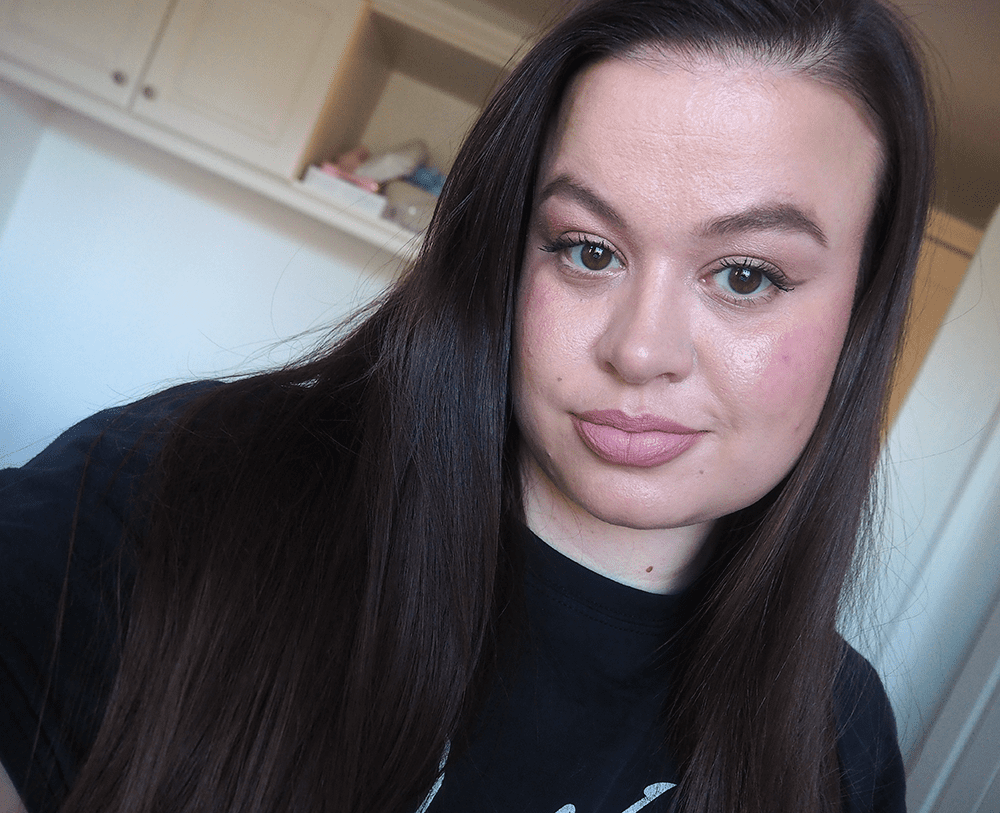 I really like how my base looks. My skin looks very smooth and even without being cakey or thick. I love the colour of the blush and think it looks natural. The mascara has helped define and lift my lashes.
I actually don't mind the lip colour, but it's not my usual pick. And you can see here that the eyeshadow just doesn't show up.
Overall, I'm happy with how my makeup turned out and particularly love how the tinted moisturiser makes my skin look soft and almost blurred.
Is Kjaer Weis worth it? Honest review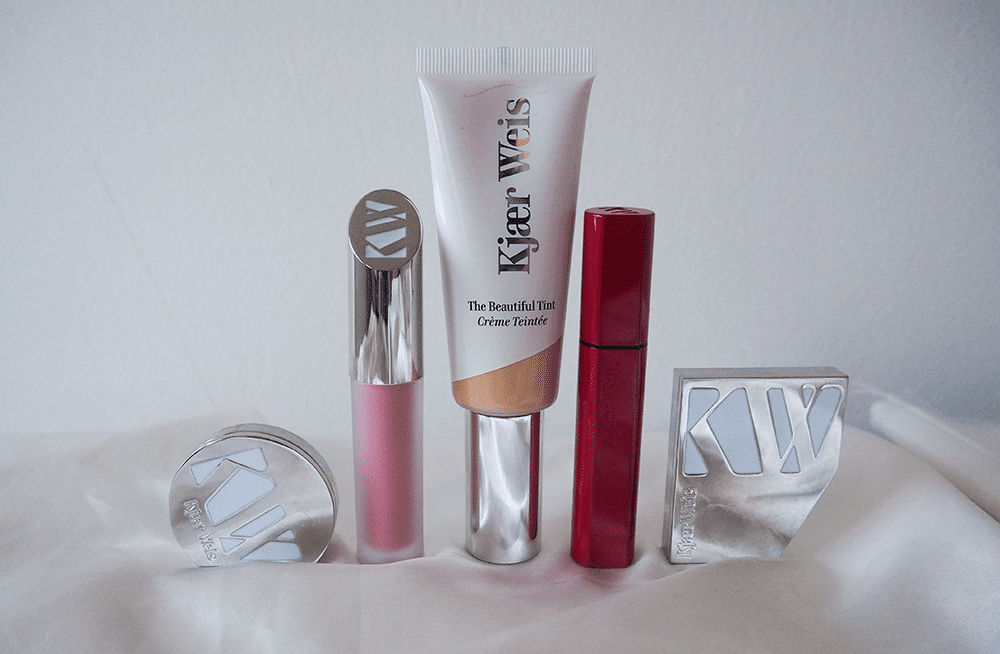 Overall, Kjaer Weis has some decent makeup products. I love how easy all of the products are to use. I don't think all of them are worth the price, but there are some good picks.
The tinted moisturiser is my fave product from the brand. It gives luxurious vibes and performs like a high-end product. This product blends like a dream, is velvety smooth, and offers a lovely second-skin finish. I'll definitely get a lot of use out of it and think it's worth the price point.
The mascara and blush are nice. The blush is expensive for the amount of product you get, but I love the shade, and it blends seamlessly. I think the mascara is a lovely everyday product. It's easy to use and is very natural.
I don't love the liquid lipstick, as it's a bit dry. But it's very long-wearing. The cream eyeshadow isn't worth it, in my opinion. I don't feel like the formula performs like a high-end eyeshadow.