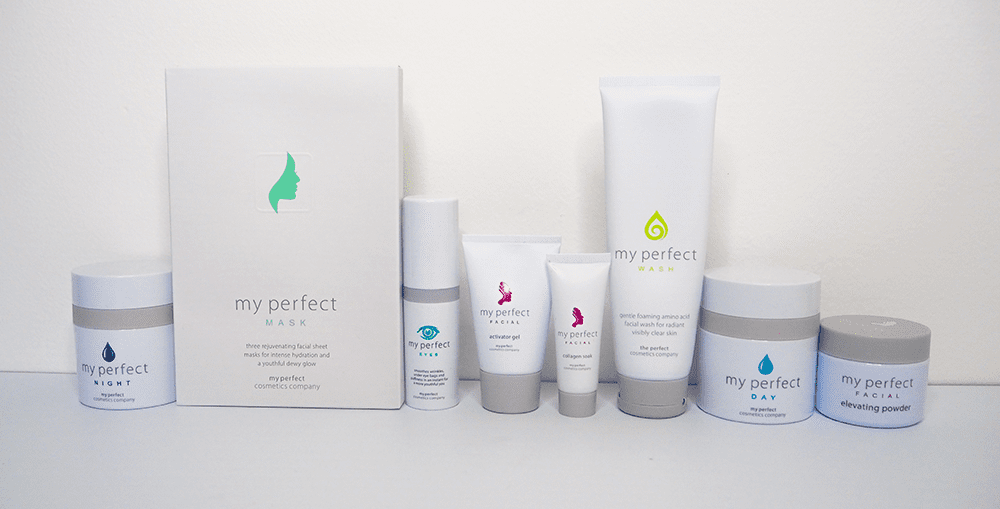 In a world of constant new skincare releases, it can be hard to know which brands and products are worth your attention.
I've been testing The Perfect Cosmetics Company skincare products for a few months and wanted to share my honest brand review. This post will tell you everything you need to know about this skincare brand, which products are the best, and whether it stands out in the skincare world.
Get 10% off The Perfect Cosmetics Company with my exclusive code AWC10.
What is The Perfect Cosmetics Company?
The Perfect Cosmetics Company was founded in 2004 by Penny Lane. The brand strives to offer effective, science-backed skincare and makeup products that deliver visible results.
Bridging the gap between the salon and department store, we are committed to combating issues from the first signs of ageing to correcting imbalances, like fine lines, wrinkles and dark spots, to creating a flawless finish.

The Perfect Cosmetics Company
The brand's bestsellers are My Perfect Eyes, a cosmetic concealer, and My Perfect Facial, an instant at-home facelift treatment. Each product is backed up with results from either clinical or consumer trials.
Which The Perfect Cosmetics Company products have I tried?
I've tried the following 6 products:
My Perfect Eyes
My Perfect Night Cream
My Perfect Wash
My Perfect Facial
My Perfect Day Cream
My Perfect Sheet Mask
Below, I share my honest thoughts on each product before providing an overall The Perfect Cosmetics Company brand review.
1. My Perfect Eyes
£29.99 for 10ml or £59.99 for 20ml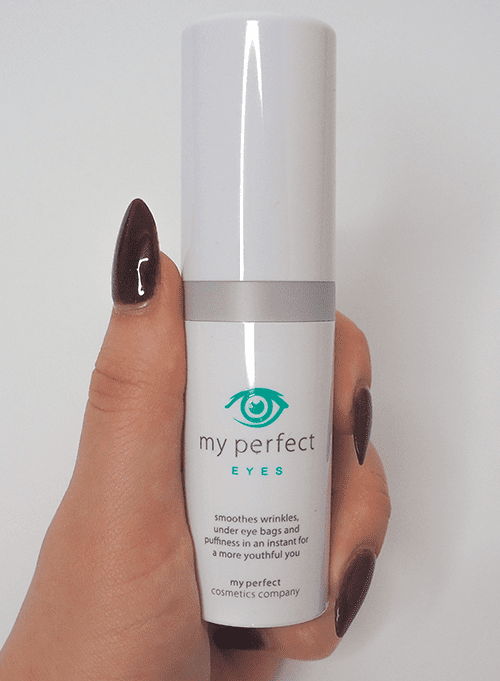 My Perfect Eyes is more of a makeup product than skincare, but it sits somewhere in between the 2.
This is essentially a concealer, but it's super unique. It works by forming a very thin and undetectable film under your eyes to conceal dark circles and bags, smooth wrinkles and fine lines, and reduce puffiness.
You take a pea-sized amount (which is ample for both eyes) and apply it under your eyes. Start at the inside corner of your eye and sweep outwards in a long, firm, and smooth motion. Wait for 2 minutes for the product to dry, and that's it!
This is one of the only products I've ever used that genuinely covers dark circles. It instantly revitalises my under-eye area and gives the illusion that I get enough sleep. Because of the film it forms, you can't see any fine lines or wrinkles, and it helps to reduce puffiness.
It's such an awesome product. The concealing effect will last for up to 8 hours before you wash it off! Of course, it's only a temporary fix, but this baby performs! Check out my before and after photos here.
The only downside is that this product is a bit finicky to use. You can't use any oil-based products on top of the concealer, as it will dissolve the film and render it useless. You can't apply any eye creams beneath, as it prevents My Perfect Eyes from working. And if you apply too much product, the film will appear white rather than invisible.
Rating: 5 stars
This product is fantastic and truly innovative. It's my go-to for when my dark circles are particularly prevalent or I'm going out somewhere and want a bright effect.
2. My Perfect Night Cream
£49.99 for 50ml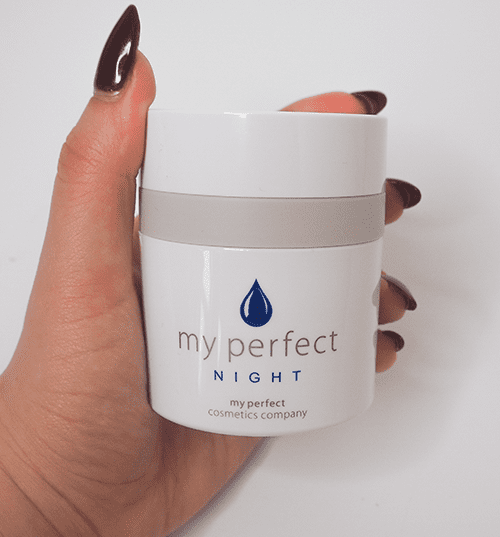 My Perfect Night Cream is enriched with hydrating squalane, isopropyl myristate, glycerin, and propylene glycol, among other nourishing ingredients.
This night cream is supposed to have anti-ageing properties. But, honestly, at 28, I don't really have many fine lines or wrinkles, and they're definitely not prominent, so I can't give a truly fair assessment of how well this cream works for reducing fine lines or wrinkles.
I've only ever found retinol serums or at-home skincare devices have improved the appearance of fine lines at my age. This is not necessarily a reflection of the efficacy of other anti-ageing products but rather an account of my own experiences.
But back to the night cream.
This is a lovely product. It's rich and nourishing without making my skin feel oily or heavy. It absorbs easily. In the morning, my skin feels soft, smooth, and hydrated.
I also love the push-down dispenser. It's giving luxury Drunk Elephant vibes and is super hygienic. You get the perfect amount of product every time.
However, I think it's on the pricey side. I've used more affordable night creams that offer the same benefits. I wouldn't describe this as a "must-have", but it's effective.
Rating: 4 stars
At £49.99, this night cream didn't blow me away, but it's a nice product that provides lightweight nourishment.
3. My Perfect Wash
£29.99 for 125ml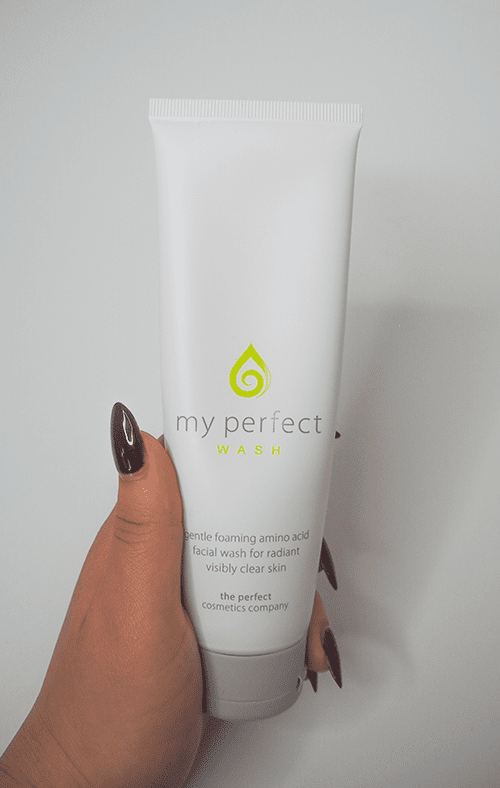 My Perfect Wash features gentle and non-drying cleansing agents like sodium cocoyl glycinate, cocamidopropyl betaine, peg-150 distearate, and sodium lauroyl glutamate.
This cleanser is fab. It has a lightweight, creamy texture that works into a soft lather when activated with water. A little bit goes a long way too. After using the cleanser, my skin feels hydrated, clean, and smooth. It doesn't leave my skin feeling tight, dry, or stripped, making it perfect for my rosacea.
This works best as a morning or second cleanse, as it doesn't break down makeup, SPF, oil, dirt, or grease as well as a typical cleansing balm or oil but works beautifully to remove any lingering product.
Although, if you're sensitive to fragrance, this cleanser contains perfume, so that's something to be mindful of. But fragrance in cleansers is more acceptable than in other skincare products if that's something you're concerned about, as you wash the product off your face, meaning less chance of sensitivity in the long term.
I think the price is reasonable, sitting at a mid-range price point. It's more affordable than other products from The Perfect Cosmetics Company, which are comparatively at higher price points.
Rating: 4.5 stars
A great cleanser that delivers on all of its claims.
4. My Perfect Facial
£49.99 for 5 treatments or £79.99 for 10 treatments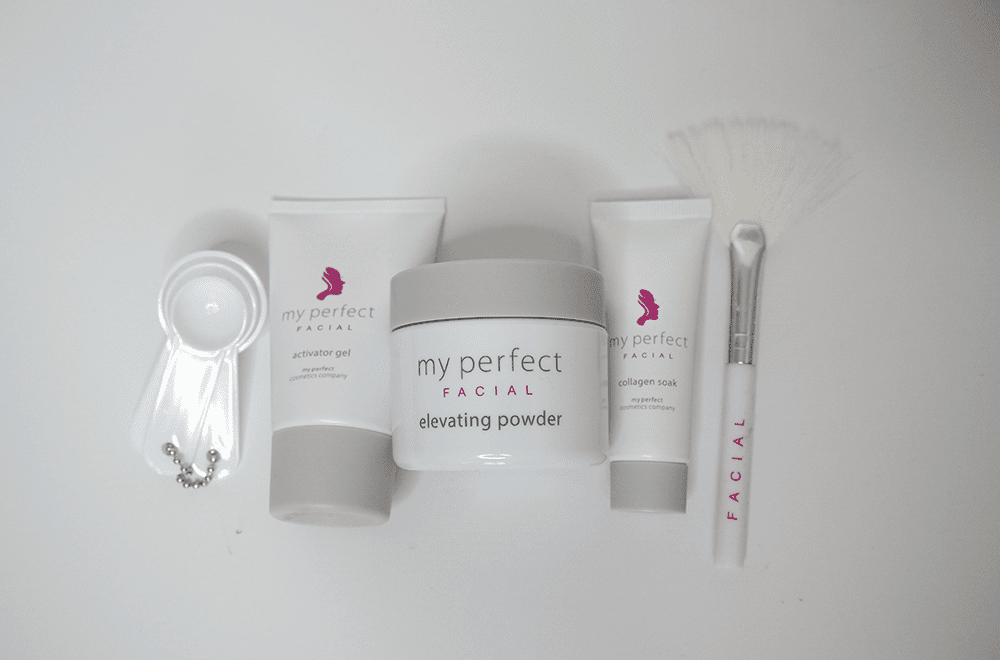 My Perfect Facial is a 3-stage system that's designed to give a full facial contouring treatment that lifts, tones, and firms the skin; softens lines and wrinkles; and smooths the face, neck, and décolletage. It promises salon-grade results at home in 20-30 minutes.
The kit consists of an Activator Gel, Elevating Powder, Collagen Soak, 3 differently-sized spoons, and a fan brush. You essentially mix the Activator Gel and Elevating Powder together to form a milky paste, apply this to the skin using the brush, and it on for 20-30 minutes. Then, you rinse it off with a damp cloth and apply the Collagen Soak to finish.
This was one of the products I was most excited to try, but it's the one that disappointed me the most.
Unfortunately, this triggered a rosacea flare-up for me. It dries down to quite a hard consistency, which is difficult to remove and requires a lot of scrubbing. A gentle approach simply won't remove the mask after 30 minutes. This harsh scrubbing made my skin red, irritated, and warm. Luckily, the redness and irritation subsided after a few hours, but it wasn't a pleasant experience.
While I think this facial treatment does have some toning and firming effects, these were totally overshadowed by how uncomfortable my skin felt. However, the Collagen Soak after provided some relief and felt very nourishing.
If you've got rosacea or sensitive skin, I'd avoid this treatment, as you may find it aggravating.
Rating: 2 stars
My skin really didn't get on with My Perfect Facial, which is a shame.
5. My Perfect Day Cream
£49.99 for 50ml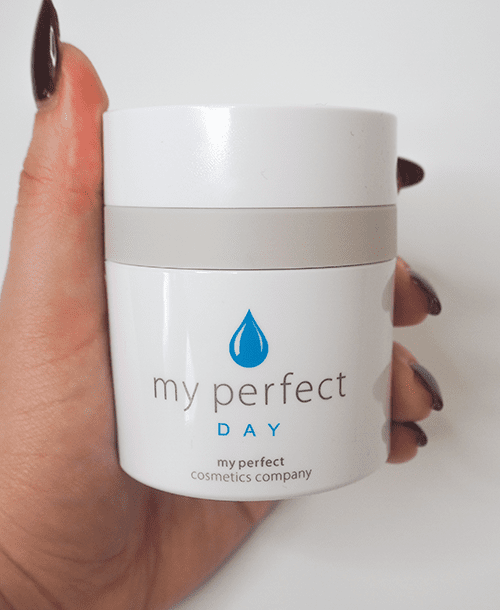 My Perfect Day Cream is formulated with the emollients cetyl ethylhexanoate, isopropyl myristate, squalane, and isononyl isononanoate, alongside hydrating propylene glycol and glycerin.
It has the same packaging and push-down pump dispenser as My Perfect Night Cream. I'd describe the day cream as the night cream's younger, less rich, and more absorbent sister.
This moisturiser is lightweight, absorbent, hydrating, and nourishing. It layers beautifully on top of other skincare products, like toners, essences, and serums, without any pilling. The texture is non-greasy and glides effortlessly over the skin.
Like the night cream, the day cream promises anti-ageing benefits. I've not noticed any specific improvements in this regard for the same reasons I mentioned for the night cream.
I slightly prefer the night cream, as it's a bit richer yet still super absorbent, which offers that extra bit of nourishment. But I really enjoy both moisturisers.
I also think the daytime moisturiser is on the pricey side. Again, I've used cheaper moisturisers that deliver the same benefits, so it's not a holy grail product.
Rating: 4 stars
A nice moisturiser that keeps my skin hydrated all day but is quite expensive.
6. My Perfect Sheet Mask
£39.99 for 3 sheets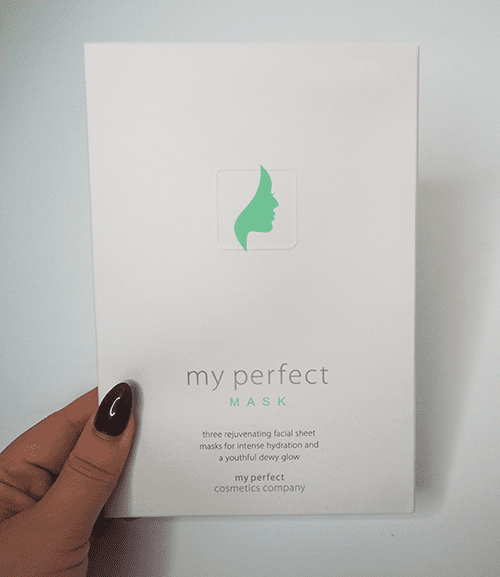 My Perfect Sheet Mask incorporates hydrating glycerin, dewy propanediol, the humectant biosaccharide gum-1, and soothing propolis extract.
You apply a sheet mask for 20 minutes and are left with hydrated, smooth, and glowing skin. I personally found the sheet masks a little flimsy, and they'd be easy to accidentally rip, so be gentle when getting them out of the packet and applying them.
In all honesty, I think these sheet masks are very overpriced. I'm not the biggest sheet mask fan anyway, as the results are temporary and never deliver any standout results in my experience. I never buy them and much prefer clay masks.
These ones from The Perfect Cosmetics Company cost around £13 per sheet. Considering you can pick up sheet masks for a few pounds from Boots or Superdrug, these are very expensive.
Don't get me wrong, the sheet mask felt nice on my skin and definitely delivered a plump, dewy effect. But I could achieve the same results from a hydrating serum or oil, which I'd get more uses from and would deliver longer-term results. The results weren't spectacular either; I've used sheet masks for a quarter of the price that deliver the same benefits.
Rating: 3 stars
There's nothing wrong with the sheet mask. I just think they're too expensive for the results you get.
Overall The Perfect Cosmetics Company brand review
Get 10% off The Perfect Cosmetics Company with my exclusive code AWC10.
I think The Perfect Cosmetics Company is a decent skincare brand. The products offer solid INCI lists, provide evidence to their claims with either consumer or clinical trials, and integrate well into my skincare routine.
The best products are the cleanser and My Perfect Eyes.
My Perfect Wash is gentle and effective. It makes my skin feel hydrated and clean after use. It's reasonably priced at £29.99 for 125ml and worked perfectly for my rosacea. My Perfect Eyes is a genuinely innovative product that is a cheat code to smooth under-eyes with no dark circles, puffiness, fine lines, or wrinkles. The powerful results make the concealer addictive.
The day and night creams are effective with good INCI lists. However, they're on the more expensive side, and you could definitely get the same results for less money. They're nice but not transformative. Having said that, I really enjoy both moisturisers, and I don't think you'd be disappointed if you purchased either. If you've got more mature skin, you'd likely get more benefits from the moisturisers.
I wouldn't recommend the sheet masks or the facial treatment. My Perfect Facial aggravated my rosacea and made my skin feel uncomfortable. The sheet masks are too expensive for the results they deliver IMO.
Overall, I recommend The Perfect Cosmetics Company.
Is this a standout brand? Probably not. But it performs. I love that the brand carries out consumer and clinical trials for its products, and My Perfect Eyes is now a non-negotiable product in my life. I'd purchase this with my own money without hesitation.
Fave product
---
If you enjoyed this post, why not check out some of my other skincare brand reviews or skincare product reviews?