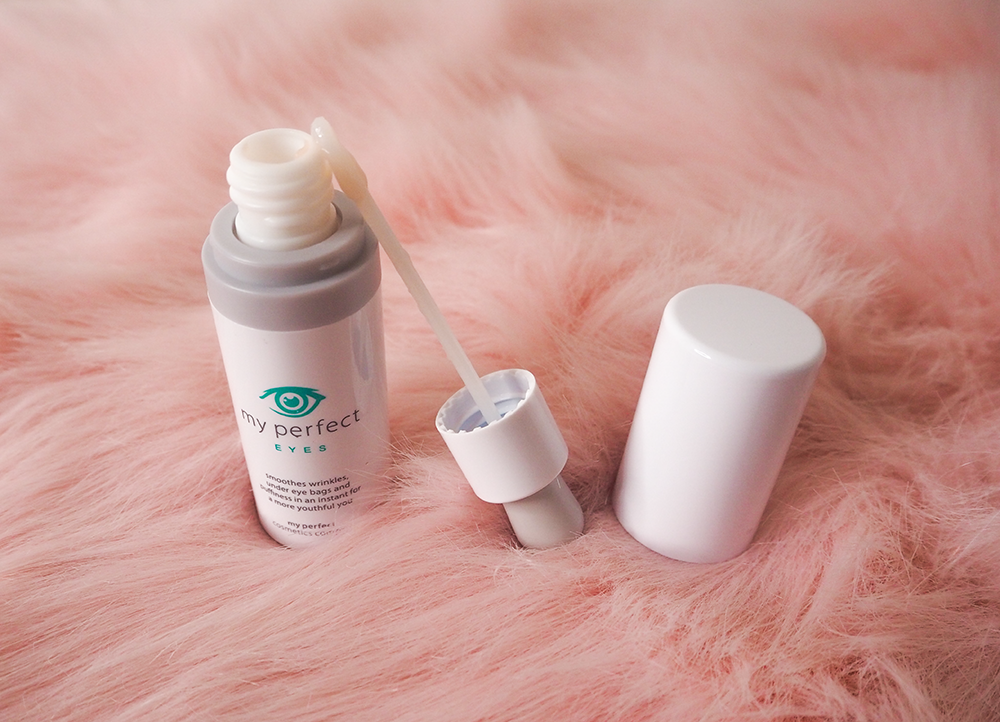 Fine lines, wrinkles, puffiness, and dark circles around the eyes are inescapable. You can normally tell when somebody's not had enough sleep because dark circles and puffiness will be apparent around their eyes. It's something I'm very familiar with. And, as we age, fine lines and wrinkles become more prevalent around the eyes, as the skin begins to thin.
Beyond cosmetic or surgical procedures, the best way to camouflage these areas is through concealers. These won't conceal fine lines, wrinkles, dark circles, and puffiness in the long term, but the good ones provide temporary, effortless, and immediate coverage. But concealers vary a lot in terms of quality and performance.
Enter My Perfect Eyes from The Perfect Cosmetics Company. This cosmetic concealer is designed to make eyes look visibly smoother, brighter, and more even in a matter of minutes.
But just how well does My Perfect Eyes work? This honest review tells you everything you need to know about this concealer with before and after photos.
Get 10% off The Perfect Cosmetics Company with my exclusive code AWC10.
** This post contains some affiliate links. This means at no extra cost to you, I earn some commission if you purchase a product through my link. All thoughts are my own, though, as always. If you want to find out more, visit my affiliate disclosure page **
What is The Perfect Cosmetics Company?
The Perfect Cosmetics Company was founded in 2004 by Penny Lane. The brand strives to offer effective, science-backed skincare and makeup products that deliver visible results.
Bridging the gap between the salon and department store, we are committed to combating issues from the first signs of ageing to correcting imbalances, like fine lines, wrinkles and dark spots, to creating a flawless finish.

The Perfect Cosmetics Company
The brand's bestsellers are My Perfect Eyes, a cosmetic concealer, and My Perfect Facial, an instant at-home facelift treatment. Other products in the range include hydrating day and night creams, an amino acid cleanser, re-energising sheet masks, a moisturising serum, and a matte velvet foundation with an accompanying brush.
What is My Perfect Eyes?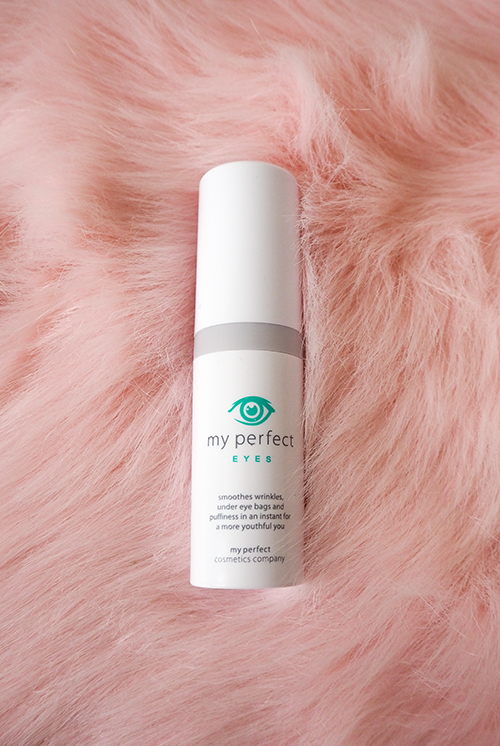 Product description claims
My Perfect Eyes is a cosmetic concealer that's designed to instantly hide fine lines, wrinkles, dark circles, and puffiness for up to 8 hours. The results claim to be immediate, impressive, and visible. The brand describes this concealer as revolutionary and magic.
Although the results are noticeable, the product itself claims to be transparent, so that it looks like your skin but better. It's supposed to be a non-invasive quick-fix solution for smoother, brighter, and more even eyes.
Ingredients
Excluding water, the ingredients are:
Sodium silicate: creates a clear, thin veil over the skin, which contracts as it dries, temporarily lifting the skin and diminishing wrinkles, and compressing puffiness – according to The Perfect Cosmetics Company
Magnesium aluminium silicate: helps with oil control and can deliver mattifying absorbent properties
Propylene glycol: a humectant (retains or preserves moisture)
Propylparaben: a preservative
Methylparaben: a preservative
Iron oxide: colouring agent/pigment
See the full INCI list below:
Water, Sodium Silicate, Magnesium Aluminium Silicate, Propylene Glycol, Propylparaben, Methylparaben, Iron Oxide (CI 77491)
How it works
When applied, My Perfect Eyes creates an invisible, thin, and delicate veil. As the product dries, it compresses puffiness, flattening and covering any fine lines and wrinkles. The product is light-reflective and acts as a non-colour concealer that will cover dark circles.
As the concealer dries, there's a tingling sensation that lasts a few minutes. However, the product is flexible and moves with your skin, so it does not pull or stretch.
Texture
To give you an indication of the look and consistency of the concealer, I applied some to the back of my hand. This product was applied without any other products on the back of my hand.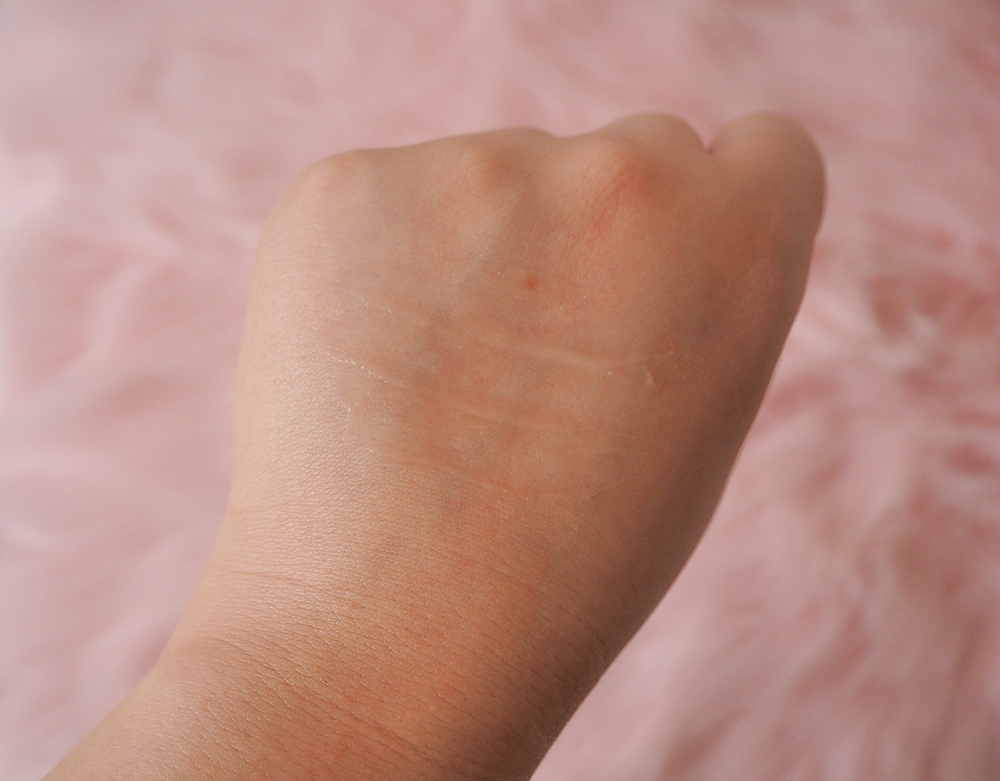 As you can see, the product is hardly noticeable and almost transparent. It feels lightweight, hydrating, and cooling. Despite being a makeup product in many ways, this really feels like a traditional eye cream.
How to use
First, ensure your skin is freshly cleansed and dry. The area should be free from any product, including makeup, eye creams, moisturiser, and cleanser residue.
Then take a very small amount of product from the spatula onto the back of your hand – about half a pea for each eye – and, using your ring finger, gently pat under your eye area, working from the inner corner and moving outwards. Sweep directly under the lashline before feathering the product downwards and outwards to your cheeks.
Leave to dry for 1-2 minutes. The brand advises staying as still as possible while the product dries for optimal results. A tingling sensation will occur during this process, which is normal.
And then it's done.
This product is a bit fussy, so here are some dos and don'ts when applying it:
Don't apply any eye cream before applying this concealer – it must go onto clean, dry skin.
Do ensure the eye area is thoroughly cleansed for a smooth canvas.
Do make sure that any other makeup or skincare you apply around the eyes is oil-free. Otherwise, it will lift the veil effect of the concealer.
Don't apply too much product. Less is more. If the product looks a bit white in any areas, this is an indication you've applied too much.
Consumer trials
In a consumer trial of 24 Caucasian women between 39 and 71 years – conducted by Ozderm Skin Testing and Dermatology Studies, NSW, Australia – the following results were reported after one application of My Perfect Eyes:
100% saw an immediate reduction in the appearance of fine lines and wrinkles.
96% reported a dramatic reduction in the appearance of puffiness.
100% said there was no irritation.
Before and after photos
To show you how well My Perfect Eyes works, I took some before and after photos. These photos were both taken within minutes of each other in the same lighting. I ensured my skin was thoroughly cleansed and dry, so there was no trace of skincare or makeup on my skin.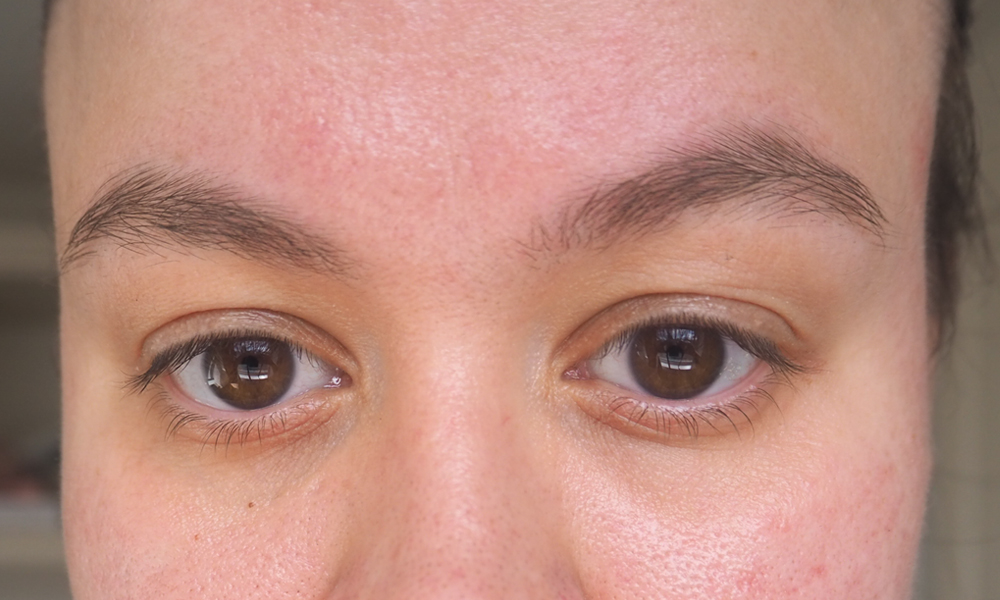 You can tell in the 'after' photo that my under-eye area is brighter, particularly in the hollows of my eyes where dark circles are more prevalent, as my complexion looks more even and smoother. My skin also appears plumper, with fine lines slightly reduced.
My under-eye area isn't particularly wrinkly, so I think the fine line-reducing aspect of this concealer would be more visible on more mature skin.
Honest My Perfect Eyes review
I genuinely think My Perfect Eyes is a great product. While it's probably not quite as magical as the brand would have you believe, I've not used a product like it. This concealer does the best job of creating a thin, transparent veil that hides dark circles, puffiness, and fine lines in a very natural way.
It's lightweight, absorbent, dries quickly, and feels undetectable once the tingly sensation has disappeared. I love that the concealer quickly conceals dark circles and puffiness and overall brightens my under-eye area. While I don't personally use this for fine line-reducing properties, I can see this apsect coming in clutch as I get older.
One thing I'd like to note is this concealer works well on my fair skin. I'm not sure whether the veil would be visible on deeper complexions. It's pretty transparent, but I'm unsure whether a slight white film would be noticeable.
Overall, I'm very impressed with this product and feel it meets its claims. It's become my go-to when my dark circles are more obvious than usual or I'm going somewhere nice and want a brightening effect.
Where to buy
My Perfect Eyes costs £29.99 for 10ml or £49.99 for 20ml and can be purchased from The Perfect Cosmetics Company website. This is quite pricey, but if you use this for special occasions or want a very effective way to conceal dark circles, puffiness, wrinkles, or fine lines, it's a must. I can truly vouch for its efficacy. Having said that, you get 100 uses out of the £29.99 bottle, so each application is only 29p.
Get 10% off The Perfect Cosmetics Company with my exclusive code AWC10.
Do I recommend My Perfect Eyes?
I absolutely recommend My Perfect Eyes. This product meets its claims and works quickly and effectively for a bright, smooth under-eye area. I love seeing the transformation when I apply this!
Rating: 5 stars
---
Does this product appeal to you? I'd love to hear in the comments.