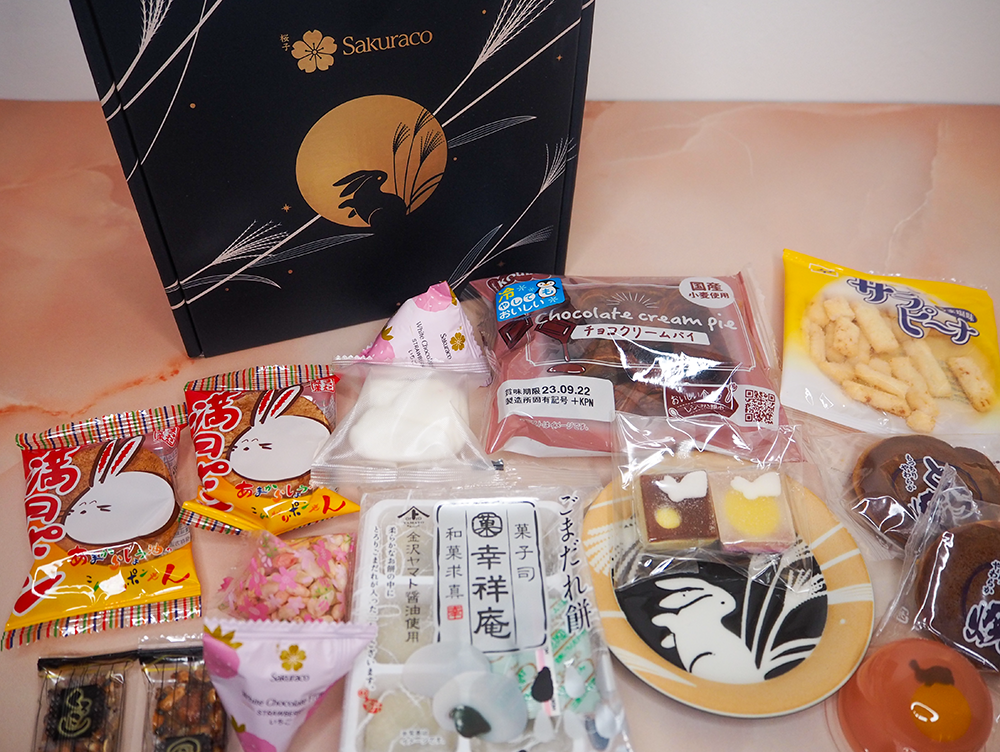 Japanese snacks are unique and very different compared to the treats we have here in the UK. Their distinctive flavours, varying textures, and cute packaging make them intriguing to many people in the Western world. I've always wanted to try Japanese snacks, as they're worlds apart from anything I've tried before.
That's where Sakuraco comes in. Have you ever wondered what black sesame mochi tastes like? What is peanut arare? How are strawberry jam-filled marshmallows made? This convenient snack box offers the chance to explore and experience the authentic flavours, traditions, and culture of Japan in your own home.
This review takes a look at the Sakuraco Japanese snack box, the unique flavours and treats, and whether it's worth checking out. Keep reading for my honest thoughts.
* This post contains some affiliate links. This means at no extra cost to you, I earn some commission if you purchase a product through my link. All thoughts are my own, though, as always. If you want to find out more, visit my affiliate disclosure page **
What is Sakuraco?
Sakuraco is a monthly Japanese snack box subscription that allows you to try a range of authentic sweet and savoury treats. Alongside food and teas, there are traditional handcrafted home goods, like small ceramics and saucers, to immerse yourself in Japanese culture.
Each box comes with a guide that takes you through all of the snacks, their origins, the local makers, and stories from Japan for a truly captivating experience. The boxes have a seasonal or cultural theme.
What's in the September 2023 Sakurco Japanese snack box?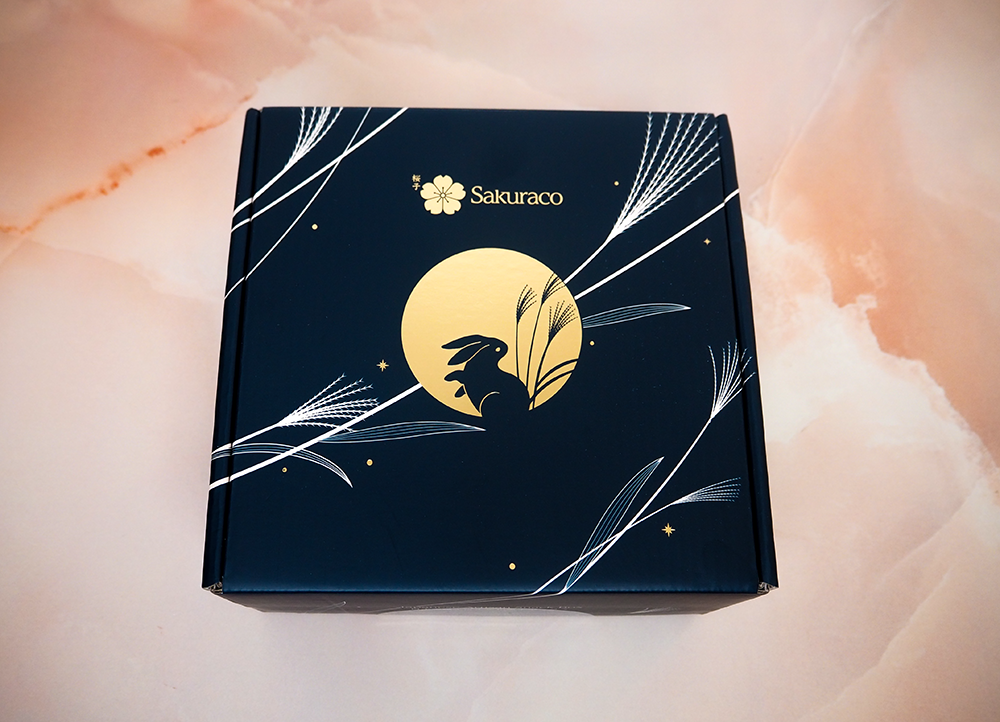 The Sakuraco September 2023 box has the theme autumn moon festival. This 1,500-year-old Japanese tradition, tsukimi, is all about viewing and embracing the serene beauty of the autumn moon. Interwoven in tsukimi traditions is the Japanese folktale Tsuki no Usagi, or Moon Rabbit, and this inspires many rabbit-themed delicacies and goods, the guide explains.
Inside the September 2023 box are 13 goods:
Hatomugi tea – made by Zenyakuno (Tottori)
Full moon cookie – made by Itokawaya (Mie)
Full moon soft chew – made by Midori Conefectionary (Osaka)
Tsukimi dish – made by Bloom (Gifu)
Peanut arare – made by Naniwaya Confectionary (Niigata)
Black okoshi – made by Nissindo Confectionary (Nara)
Usagi pon senbei – made by Matsuoka Confectionary (Osaka)
Usagi marshmallow – made by Yachiyodo (Osaka)
Chocolate cream Danish – made by KOUBO Corporation (Nagano)
White chocolate fruit: strawberry – made by Sakuraco Originals
Black sesame mochi – made by Maruto Co. (Ishikawa)
Anko dorayaki – made by Ichiei (Aichi)
Peach jelly – made by Igar (Kyoto)
Below, I'll share my thoughts on each Japanese snack, their distinctive flavours and textures, and which ones were my faves!
The Japanese snacks
Let's start off with 2 of my faves: the Usagi marshmallow and full moon soft chews.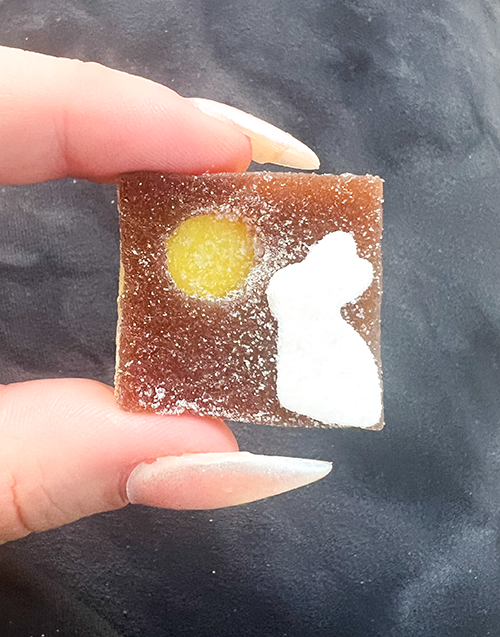 The full moon soft chews are delicious. They have a light gelatinous texture and sweet flavour. They're quite fruity – I got strong notes of pear. And the rabbit gazing up at the moon design on the front is so adorable. They're sweet without being sickly so are easy to eat. I could eat one after another!
The Usagi marshmallow is also scrumptious. It's light, fluffy, and sweet. Unlike marshmallows you'd typically get in UK supermarkets, this one is less chewy, not as sickly, and super light. Plus, the rich strawberry jam filling is such a nice surprise! Again, the cute rabbit design makes it even more special.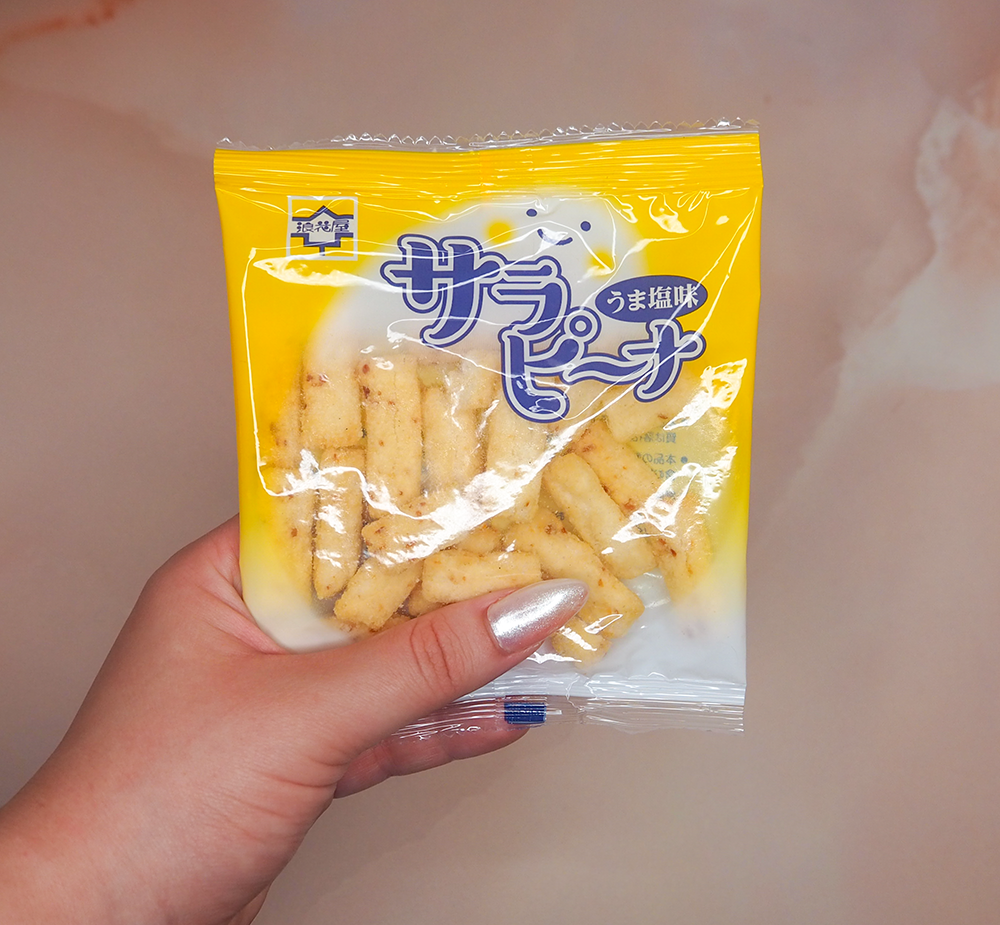 Peanut arare was pretty interesting. These savoury snacks remind me of salted crisps, with a hint of nutty flavour. They're crispy and very light with a lightly salted finish. Not my fave, but they were still nice.
The chocolate cream Danish surprised me. I thought it would have a doughy bread/cake texture, but it was actually pastry. The texture was quite similar to a croissant but not as flaky. I thoroughly enjoyed this sweet chocolate treat. The dough was super soft, the creamy chocolate filling was rich, and it had a beautiful buttery finish. Yum!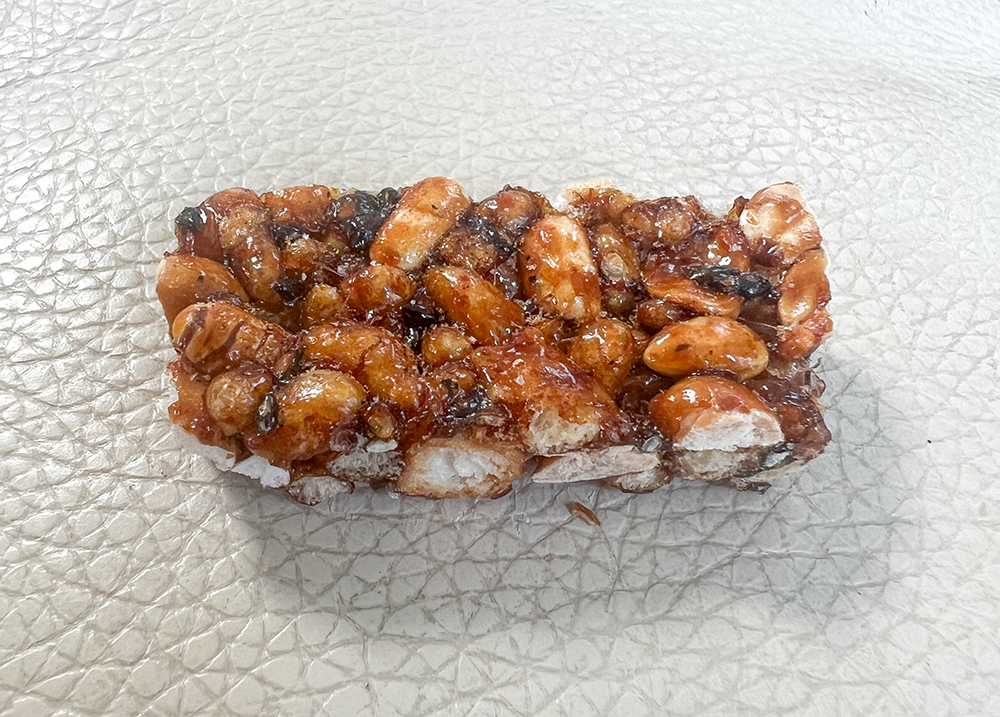 The white chocolate strawberries are so cool. The strawberries are soaked in white chocolate for a sweet and fruity flavour. White chocolate can be quite sickly, but when it's paired with the tartness of the fruit, it's a match made in heaven. These mini treats are so addictive!
Black okoshi is the perfect marriage of sweet and savoury. Peanuts, karinto, and black sesame seeds are coated with brown sugar, so these little bars of delight are simultaneously nutty and treacly. I love nutty snacks, so this is right up my street.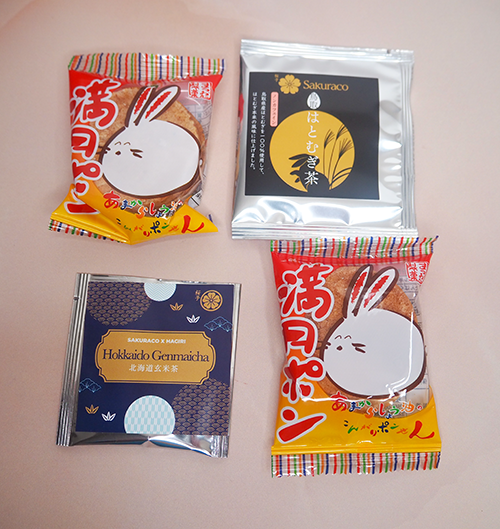 Hatumogi tea and usagi pon senbei were my 2 least faves.
Hatumogi, or pearl barley, is a caffeine-free tea that's supposed to have a mellow, refreshing, and fragrant flavour. Pearl barley is supposed to be great for the skin. I prefer teas with a strong herbal or fruit flavour, like peppermint, chamomile, and green. I found the hatumogi tea to be too mild and slightly bitter for my liking. Nothing wrong with it, but it's not my cup of tea. Pardon the pun.
Usagi pon senbei had quite an unusual flavour. I thought it'd be more of savoury and salty, but it wasn't particularly salty, despite having 6 types of soy sauce in it. I found the flavour a bit bland and not umami enough for my pallette.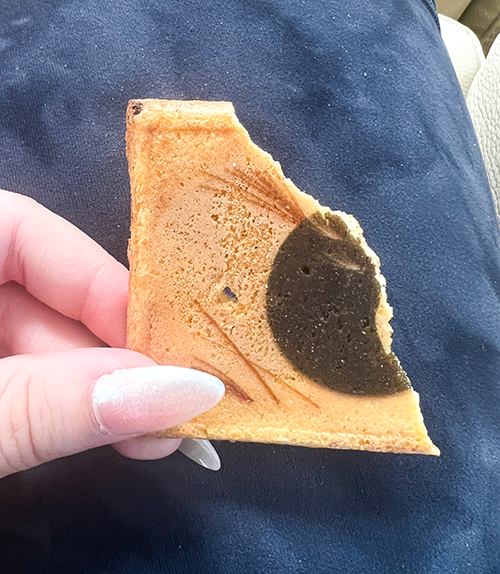 The full moon cookie was delicious. It's more like a wafer than a cookie, but it's sweet and light. As the texture is delicate, mine was snapped when I opened the box, but the actual design is so cute – it showcases a rabbit and a full moon.
I quite liked the black sesame mochi. If you've never had a mochi snack before, there are 2 types. Mochi, typically, is a sweet fried dough ball filled with delicious ice cream. The other type of mochi, like the one in this Sakuraco box, is a sweet dough ball that usually has some sort of paste-like filling. This one had a black sesame filling. I thought the filling would be more savoury, but it was actually mildly sweet and nutty. The dough itself reminds me of raw bread dough, as it's very sticky. It was quite chewy and sweet. I've tried other mochi that I prefer, but it was still good.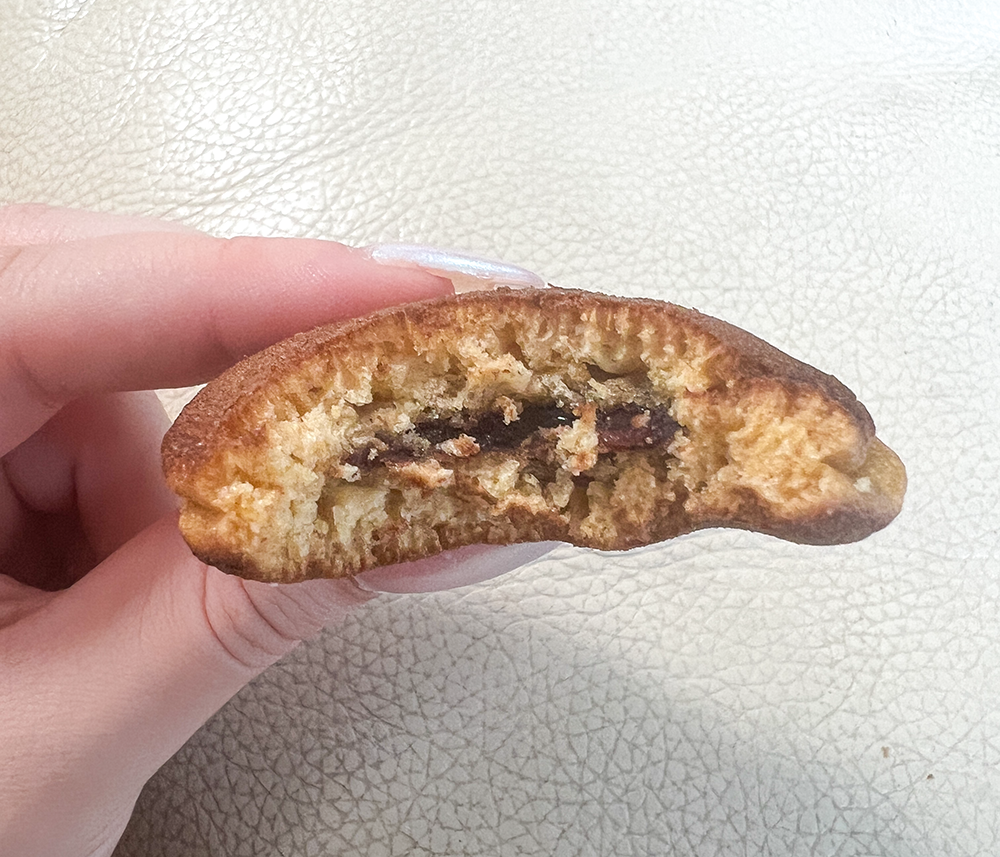 The final Japanese snacks were the anko dorayaki and peach jelly. My box also came with these crispy puffs, which were really nice. Think Rice Krispies but less sweet and mildly nutty.
I loved the peach jelly. It was sweet, juicy, and light. Plus, it distinctly tasted of peach, which was lovely. The tsukimi design was super adorable. I could've eaten loads of those little pots!
Finally, I tried anko dorayaki, which was one of my fave items in the Sakuraco snack box. This had a cake-like consistency, which was soft, chewy, and light. It was filled with velvety sweet red bean paste filling, which is a popular flavour in Asia. I love red bean paste, as it's mildly nutty and sweet. The consistency is similar to miso paste.
My 3 fave Japanese snacks were the full moon soft chews, usagi marshmallow, and anko dorayaki.
Sakuraco cost and delivery
Sakuraco ships internationally. There are various subscription plans available:
12 months: $32.50/£25.52 per month ($390/£306.27 billed annually)
6 months: $33.50/£26.31 per month ($201/£157.85 billed bi-annually)
3 months: $35.50/£27.88 per month ($106.50/£83.63 billed quarterly)
1 month: $37.50/£29.45 per month (billed monthly)
As with any subscription plan, paying annually works out to be the most cost-effective.
Do I recommend the Sakuraco box?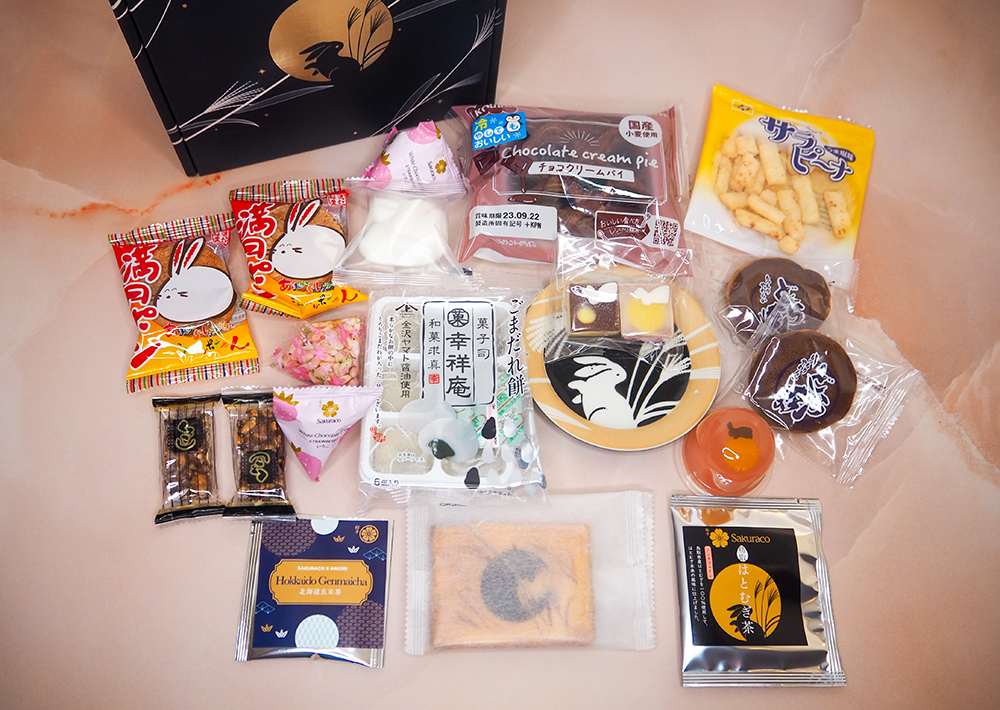 I absolutely recommend the Sakuraco Japanese snack box. It's a great way to experience authentic and traditional flavours and culture from Japan. The box is thoughtfully curated and supports local artisans. I love the September 2023 autumn moon festival theme; the designs are beautiful and the stories are engaging.
This Japanese snack box is good value for money, especially if you're somebody who loves trying new, unique, and delicious flavours. I loved trying these different and diverse treats! I'd happily purchase a Sakuraco subscription with my own money.
---
Which Japanese snacks from this box would you love to try? Let me know in the comments below!