Raise your hand if you're a victim of fine, oily hair that loses volume quickly *raises hand*. Trust me, I know the struggle. I've got super straight and sleek hair that goes greasy fast.
I've spent years trying to find good shampoos and conditioners that help make my hair stay oil-free for as long as possible and give it some much-needed volume too. Unfortunately, most are unsuccessful.
But Vegamour and The Body Shop have really come through with amazing shampoos and conditioners for my fine, oily hair. They've been key to giving my hair more volume and stopping my hair from going greasy within 24 hours.
Keep reading to find out why these 4 hair care products are a must if you've got hair like mine. Plus, I've even got a 20% off code for you!
** This post contains some affiliate links. This means at no extra cost to you, I earn some commission if you purchase a product through my link. All thoughts are my own, though, as always. If you want to find out more, visit my affiliate disclosure page **
1. Vegamour GRO Revitalizing Shampoo
$48/£40 for 256ml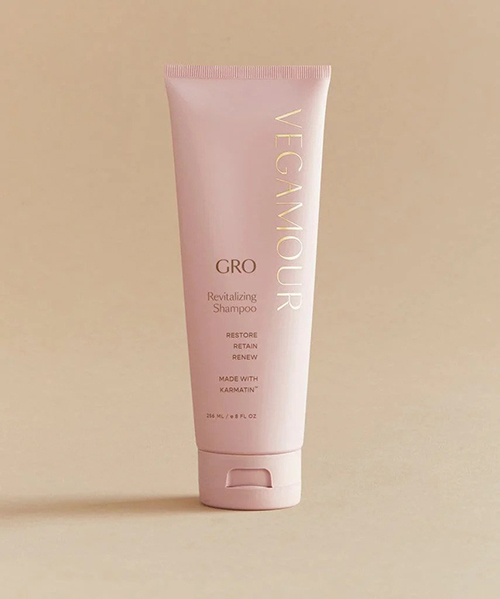 Vegamour GRO Revitalizing Shampoo has been a game-changer for my hair. It's easily the best shampoo I've ever used.
This silky shampoo works to make hair noticeably thicker and more voluminous, while giving it more texture. After using this, my hair looks and feels thicker with a less slippery texture. Yet, it's still soft and smooth.
Because of this added volume and less oily feel, it keeps greasiness at bay for way longer than usual. My hair normally goes greasy the day after I've washed it. This shampoo helps it to remain oil-free for a good few days. Plus, it smells incredible – like sweet sherbert!
2. Vegamour GRO Revitalizing Conditioner
$48/£40 for 256ml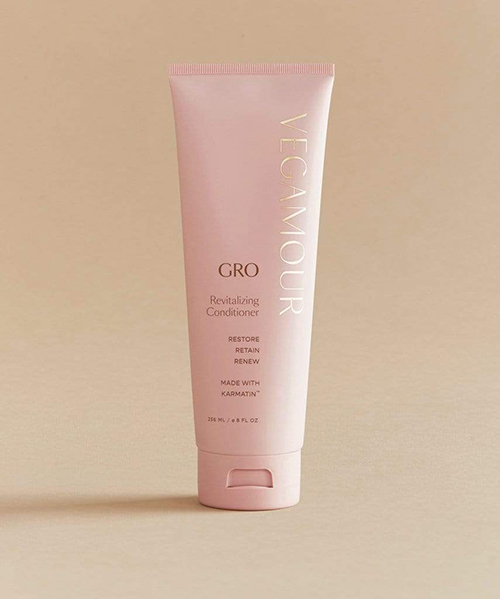 And to complement the Vegamour is the Vegamour GRO Revitalizing Conditioner. This is probably the only conditioner I can use on my scalp that doesn't completely weigh down my hair and make it mad greasy.
This, just like the shampoo, makes my hair soft and smooth with the added benefit of extra volume and a gripper texture overall. It feels very luxe and helps stop my hair from becoming greasy while still giving it the nutrients and care it needs. It's also the best conditioner I've ever tried.
Since using both the shampoo and conditioner, my hair has more texture and volume in the long term. These are hair care products with lasting benefits that have helped the condition of my hair beyond simply when I wash my hair.
I know they're expensive, but I can't recommend the Vegamour shampoo and conditioner enough to my fellow oily-scalped readers.
3. The Body Shop Tea Tree Purifying & Balancing Shampoo
£10 for 250ml or £16 for 400ml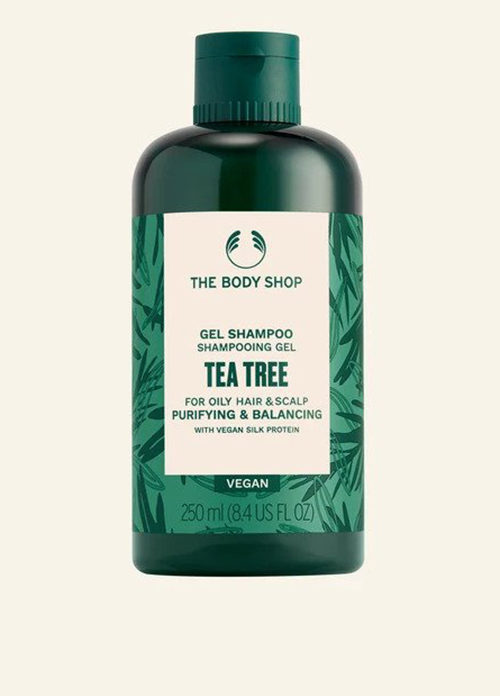 Get 20% off The Body Shop with the code 14315. Shop now.
For a real purifying and clean sensation, The Body Shop Tea Tree Purifying & Balancing Shampoo is my go-to. Tea tree oil is known for its cleansing and rebalancing properties, so this shampoo helps to reset oily scalps.
It goes without saying that this has a strong tea tree oil scent. I actually quite like the smell as it's very invigorating and herbal, but just be mindful if you hate the smell as it's quite potent.
What I like about this shampoo is after I've used it, my hair instantly feels fresher and looks glossy. It also stops my hair from getting greasy as quickly, as my scalp feels less oily overall. Despite the deep cleansing sensation, my hair never feels stripped.
This is a solid choice for people with oily hair.
4. The Body Shop Tea Tree Purifying & Balancing Conditioner
£10 for 250ml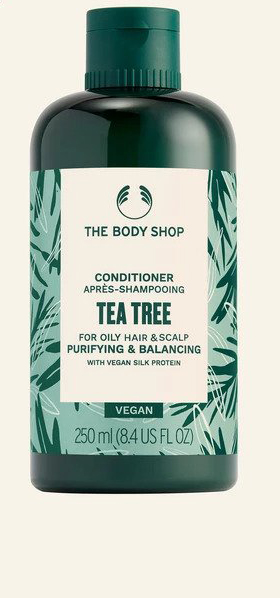 Get 20% off The Body Shop with the code 14315. Shop now.
To match the tea tree oil shampoo is The Body Shop Tea Tree Purifying & Balancing Conditioner. What I love about this conditioner is that it feels very light, so it doesn't weigh my hair down, which then doesn't lead to a greasy feel. Instead, it's refreshing and provides some light moisture that's perfect for my fine oily hair.
Again, this has great rebalancing properties and gives my hair a clean feeling. It feels like a true reset when I use the tea tree oil duo. Plus, the conditioner gives my hair a glossy shine, so it looks and feels healthy.