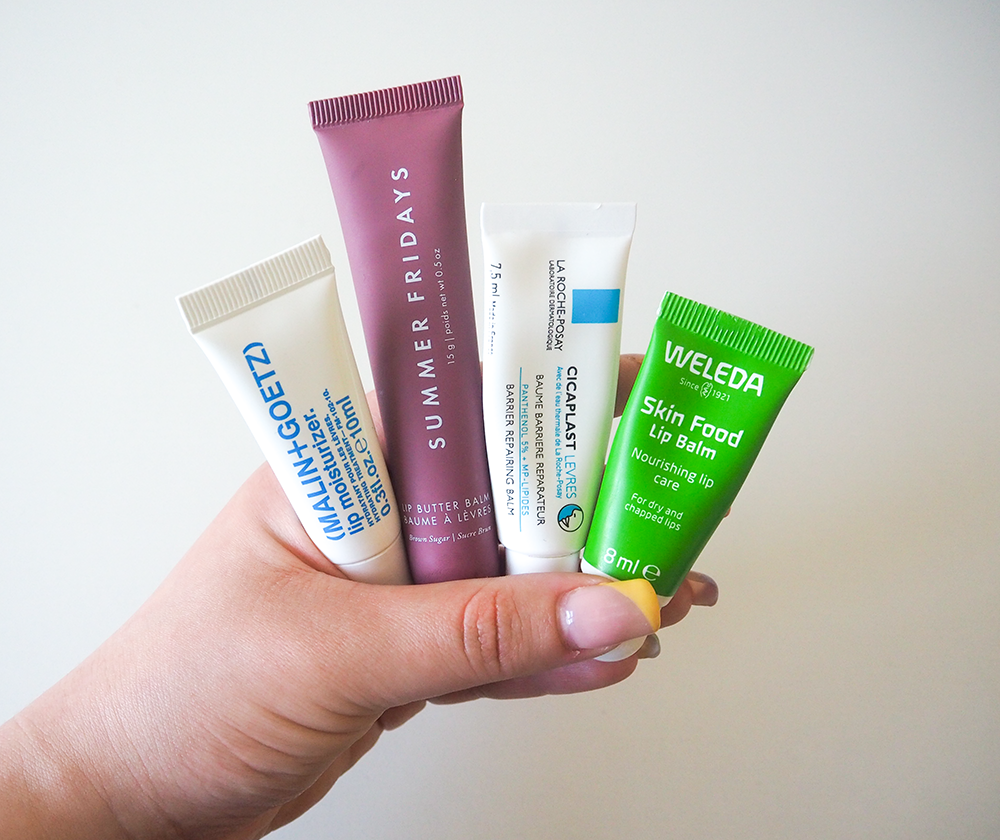 Anyone that knows me knows that I'm always using lip balm. My lips always feel dry, so I apply lip balm at least 4 times daily. It means I rinse through lip balms quickly and have tried plenty over the years.
Recently, I picked up 4 lip balms from Cult Beauty, and they're some of the best lip treatments I've ever tried. They've helped keep my lips hydrated, soothed, and soft all day. Plus, 1 of the treatments has quickly become a lip care holy grail.
Keep reading to learn more about 4 of the best lip balms that are sure to keep your lips nourished, comfortable, and smooth for hours.

* This post contains some affiliate links. This means at no extra cost to you, I earn some commission if you purchase a product through my link. All thoughts are my own, though, as always. If you want to find out more, visit my affiliate disclosure page **
1. La Roche-Posay Cicaplast Baume Lips
£8 for 7.5ml

Best for: Soothing lips
If your lips are feeling sore and chapped, La Roche-Posay Cicaplast Baume Lips is the perfect choice. This lip balm does an excellent job of restoring the skin barrier, so your skin feels calm and comfortable.
This lip balm is enriched with nourishing ingredients like beeswax, shea butter, and caprylic/capric triglyceride to ensure lasting hydration.
It has a cooling and almost gel texture. It smooths over lips effortlessly and lasts for hours. The treatment is completely transparent with a subtle shine.
The lip balm feels pretty light, but there is a little stickiness to it. I've used lip balms that feel a bit more comfortable and undetectable on the lips, but it's definitely tolerable.
2. Summer Fridays Lip Butter Balm
£23 for 15g

Best for: Juicy luxury
Summer Fridays Lip Butter Balm has easily become a staple of mine. It's one of the best lip balms ever and my fave on this list.
Not only is this lip balm very nourishing and softening, but it also delivers a juicy shine and gives expensive vibes. It makes your lips look plump and smooth and relieves soreness. Plus, your lips feel moisturised all day.
I've got the flavour Brown Sugar, which smells divine – sweet like chocolate! It's a beautiful rich brown shade that delivers subtle, wearable colour too.
It's enriched with hydrating ingredients like shea butter, diisostearyl malate, and sodium hyaluronate.
I'm obsessed with this lip balm. It relieves any dryness and makes my lips look great in the process.
3. Malin + Goetz Lip Moisturiser
£13 for 8.5g

Best for: Lightweight texture
If you want an undetectable, fuss-free lip balm that delivers serious moisture, the Malin + Goetz Lip Moisturiser is a fab choice. This lip balm is very lightweight, transparent with a subtle shine, and doesn't feel sticky.
With a short INCI list, this is also a great option for sensitive skin, as there are fewer potentially sensitising ingredients. And, if you do happen to get any irritation, it's much easier to decipher what ingredient or ingredients might have caused the sensitivity with a short ingredient list.
Like the other lip balms in this post, it's enriched with moisturising ingredients like hydrogenated polyisobutene, ethylhexyl palmitate, and tricaprylin. Your lips will stay nourished all day. This is perhaps the lip balm that delivers the longest-lasting hydration in this post.
This is an everyday lip balm that gets rid of any dryness and always feels comfortable. I reach for this whenever I want a quick hydration boost.
4. Weleda Skin Food Lip Butter
£7.75 for 8ml

Best for: Affordability
And if you want a good, moisturising, and quite thick lip balm that won't break the bank, Weleda Skin Food Lip Butter is a great choice. This lip balm is a bit stickier and thicker than the others in this post, so you can feel it once you've applied it, but it does a great job at moisturising lips.
What I like most about this moisturiser is that because the formula is thick, it's very protective. It grips your lips for hours and won't disappear from your lips.
It's packed with nourishing ingredients like glycerin, sunflower seed oil, and lanolin. Plus, this is a great lip balm for banishing dryness and promoting soft lips.