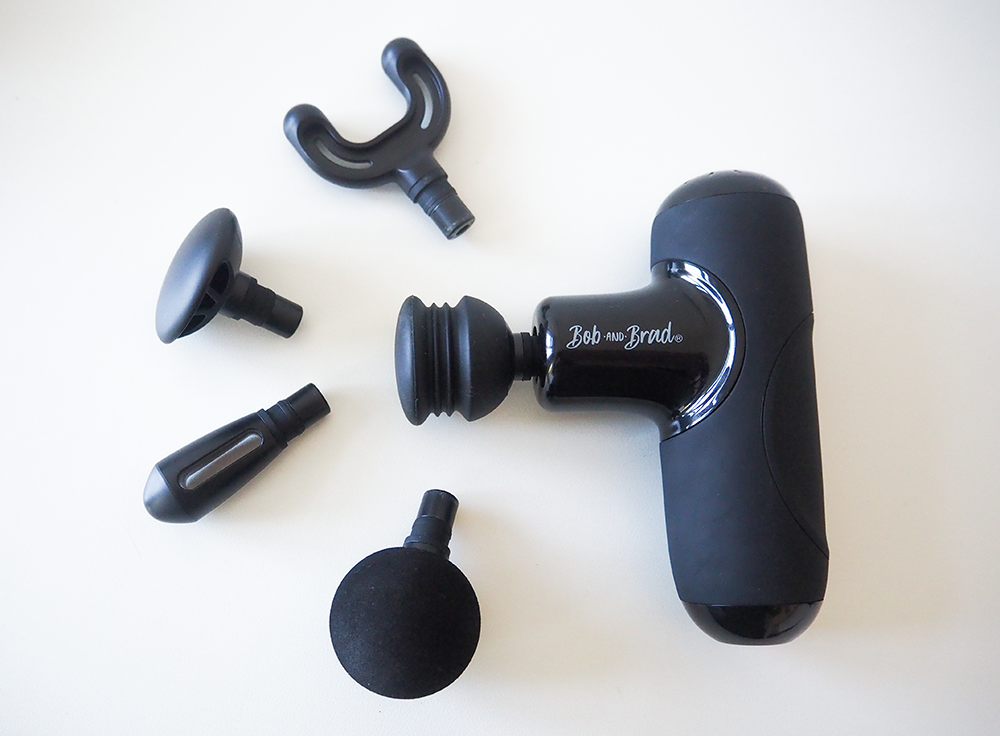 At-home massage guns are an item I've always been interested in but have never bitten the bullet and purchased. I've often wondered if they're a bit gimmicky. I've also been sceptical as to how well they'd work and whether they'd be powerful enough to massage muscle tissue deeply.
So when I got the opportunity to try Bob and Brad Q2 Mini massage gun, I couldn't wait to see if it would put my scepticism to rest.
Is the device easy to use? Is it worth the price? And does it truly offer immediate pain relief? I'll answer all of these questions in this comprehensive review.
What is Bob and Brad?
Bob and Brad was created by physical therapists Bob Schrupp and Brad Heineck. Although Bob and Brand now sells a range of massage guns, the physical therapists started out by educating people online about how to get fit and stay healthy.
With over 4 million YouTube subscribers, Bob and Brad have helped millions of people of all ages navigate physical challenges and enjoy better health. The Bob and Brad website also offers tailored programmes for different concerns like sciatica relief, back pain relief, knee pain relief, and self-massage.
What is the Bob and Brad Q2 Mini?

The Bob and Brad Q2 Mini is a massage gun designed for speeding up the body's repair process after an injury or workout.
Product claims
The massage gun promises to provide intense vibrations that offer immediate pain relief and wake up muscles throughout the body, triggering a myofascial release and enhancing the body's ability to regenerate cells and repair itself.
It claims to provide high-quality muscle treatment, being compact yet powerful for ultimate portability. Bob and Brad says you can use the massage gun on the go.
The massage gun has maximum speeds of up to 3000rpm and vibration amplitude of 7mm. Q2 MINI further claims to break up knots and relax tight muscles, digging deep and relieving hard-to-reach muscle groups.
How to use the massage gun
Bob and Brad Q2 Mini uses a USB-C charger. After fully charging the device, which takes about 3.5 hours, the battery life is around 4 hours.
There are 5 adjustable speeds to choose from (1800, 2100, 2400, 2700, and 3000 percussions per minute). Simply use the massage gun on the desired muscle for about 2 minutes to relieve pain and speed up the repair process. The device can't be used on areas that are bony, such as the ribcage, tops of feet, or spine.

Honest Bob and Brad Q2 Mini
Packaging and set up
Bob and Brad Q2 Mini is packaged very neatly. The case itself is very light with a sleek, modern look. It'd be easy to take this massage gun on the go. There's no worry about the device breaking either, as the casing is sturdy, and the inside material is strong with specific slots for each component to stay in place.
The device is completely hassle free to set up. After charging the device fully, you can start using it immediately. I get impatient with devices that are a clat to set up, but this was super straightforward, which is a big win.
Instructions
The massage gun, thankfully, has easy-to-follow instructions. The instruction manual isn't unnecessarily long and is simple to read through.
Importantly, the instructions have clear written explanations and diagrams explaining how to use the massage gun for different areas of the body. The instructions tell you how long to use the massage gun on each area of the body and in what direction to move the device over your skin.
I love that you don't have to read page after page of unnecessary information with long-winded cautions, and it's easy to find out how to use the device according to your needs.
Attachments
One area that could be better explained is the use of the different attachments. The massage gun comes with 5 attachments, but the instructions don't explain what the different attachments are for. I have no idea when and why I should use the different attachments or the benefits of them.
So far, I've only used the ball attachment, as that's the main attachment that's displayed throughout the instructions and in Q2 Mini marketing. I'd love to know when to use some of the other attachments, but I feel a bit clueless.

Noise levels
The massage gun is fairly noisy, as the vibrations are intense. It's not loud from a sound the device makes itself but just from the vibrations.
I don't think the noise levels are bad. The noise is bearable. You wouldn't hear the massage gun if you were in another room. But it's worth mentioning, as you'd have to have the TV on fairly loud if you used the massage gun while catching up on your favourite show.
Ease of use
Bob and Brad Q2 Mini is very easy to use. You just hold the device in your hand and guide it over your skin. The device isn't too heavy, so you won't get arm ache from lifting it for an extended period of time.
I had to use a fair amount of pressure when moving the device over my muscles to ensure the ball got deep into my muscles. As the device vibrates so intensely, you'll need a bit of grip strength to control it and apply an appropriate amount of pressure. This is something to bear in mind if you have limited dexterity.
Performance
I think this massage gun is fantastic. It 100% exceeded my expectations and meets all of its claims.
I used the massage gun with the ball attachment a day after I'd done a pretty intense workout, and I was aching so much. My muscles felt very sore.
As soon as I used the massage gun for a few minutes on each sore muscle, I felt immediate pain relief. The pain significantly subsided and became a dull ache. And that pain wasn't just dull for a bit where it returned a few hours later, the pain relief lasted.
I actually found the process of moving the massage gun over my painful muscles really therapeutic and oddly soothing. Although I wouldn't describe it as a relaxing process, it was so satisfying to feel the soreness melt away.

Affordability
Bob and Brad Q2 Mini costs £79.99 and can be purchased from Amazon. This is fairly pricey, but it's a one-off payment for such a quality product. I firmly believe this is 100% worth the price, especially if you workout a lot and crave muscle relief frequently.
Rating: 5 stars
I can't believe how effective this massage gun is at easing muscle pain. For a device that's so small, it's deceptively powerful. The only improvement would be a better explanation of the different attachments, but that's no reflection on the device's quality.
Do I recommend the Honest Bob and Brad Q2 Mini?

I absolutely recommend Bob and Brad Q2 Mini. It's effective, easy to use, simple to set up, and eases muscle pain immediately. I just know I'm going to get a tonne of use out of this compact massage gun!
---
Would you ever try a massage gun?