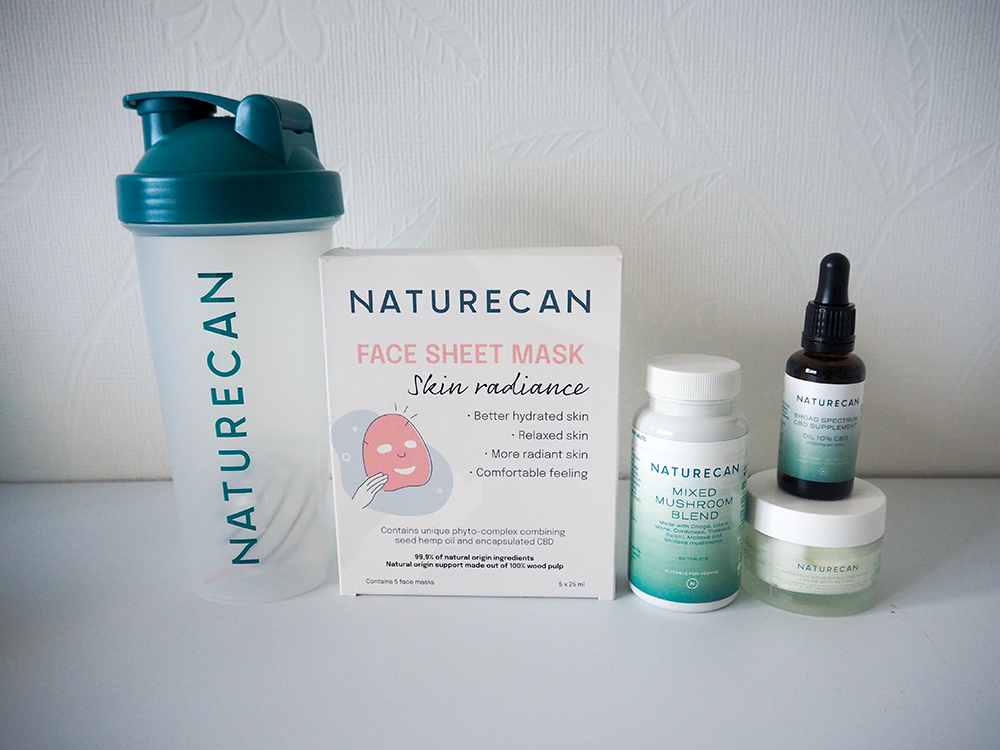 Over the last few years, CBD products have had a huge surge in popularity. CBD is known for its ability to calm anxiety and stress, help with insomnia, and even ease chronic pain and inflammation. It's no wonder that this compound is adored by many people.
Naturecan is among the best UK stockists of high-quality CBD products. It sells a wide range of CBD oils, gummies, capsules, skincare, balms, and even snacks. Whether you're looking to take CBD orally, incorporate it into your skincare routine, or apply it topically to problem areas, Naturecan has got your needs covered.
I've been trying Naturecan's CBD range for a few weeks, and I share my honest review of the products in this post. Keep reading to find out more about CBD, Naturecan's products, and my top product recommendations.
* This post contains some affiliate links. This means at no extra cost to you, I earn some commission if you purchase a product through my link. All thoughts are my own, though, as always. If you want to find out more, visit my affiliate disclosure page **
What is CBD?
Cannabidiol (CBD) is one of about 140 cannabinoids found in the hemp plant (cannabis sativa). It is the main active ingredient in hemp-based products. Unlike tetrahydrocannabinol (THC), which is the controlled cannabinoid that causes intoxication, CBD is non-intoxicating, so it does not make the user 'high' or cause addiction, making it completely safe for consumption.
CBD can help ease stress and anxiety, reduce inflammation and pain, and even help improve and regulate sleeping patterns. In skincare, CBD has been shown to be great at calming and soothing skin, including reducing redness and inflammation.
What is Naturecan?
Founded in 2019, Naturecan is a global wellness brand focused on offering safe, effective and premium hemp-derived CBD products as well as additional supplements. Its primary goal is to create products that help people to lead happier and healthier lives.
Some of Naturecan's best sellers are the 10% CBD Oil, Mushroom Complex Tablets, Hydrolysed Collagen, and Grass-Fed Whey Protein.
What Naturecan products did I receive?
I received the following 4 Naturecan products to review:
I also received a cute water bottle. I won't be reviewing that, as it's just a standard water bottle, but you can see it in the featured image.
Below, I'm going to share my honest thoughts on each product, looking at the product claims and my experience, before moving on to an overall Naturecan review.
1. Naturecan 10% CBD Oil
£54.99 for 10ml or £129.99 for 30ml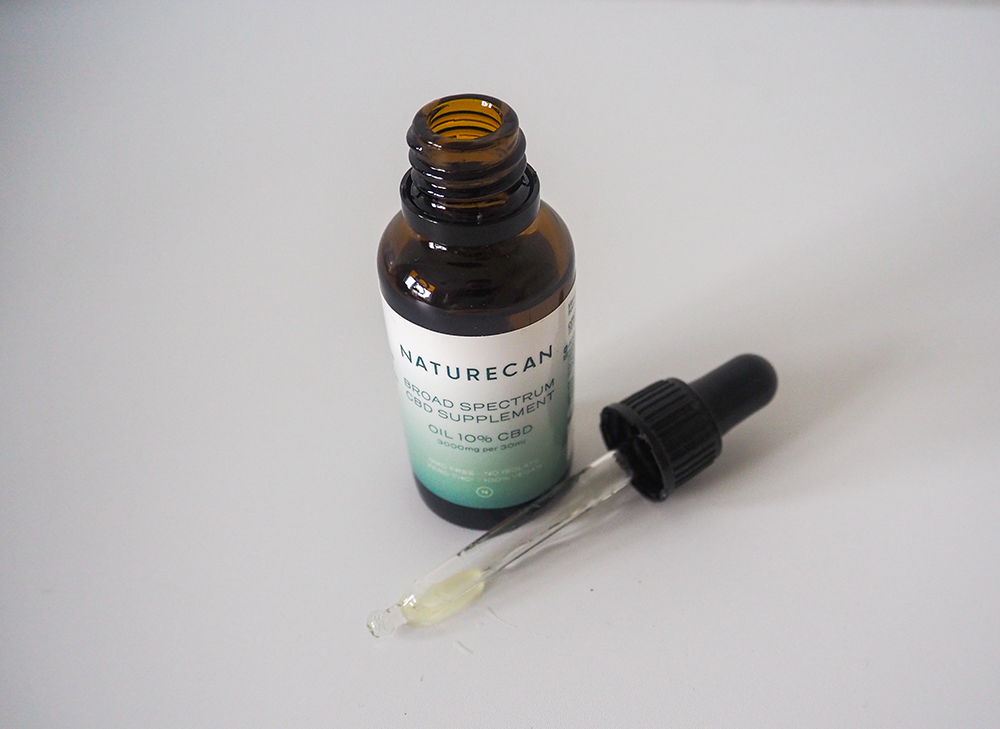 Product claims
Naturecan 10% CBD Oil is designed to be ingested orally by anyone looking to reap the benefits of CBD. See the "What is CBD?" section above for an overview of CBD's benefits.
Our 10% CBD Oil is broad-spectrum cannabidiol oil (CBD) extracted from certified organic hemp combined with only pure organic MCT carrier oil – a great choice for anyone looking to harness the power of this all-natural extract.

Naturecan
How to use
Squeeze the pipette and place the desired number of drops underneath your tongue. A drop is not the entire pipette, but a single droplet of liquid. Leave the CBD oil for about 1 minute before swallowing it for maximum effectiveness.
You're supposed to start with 4 drops of the CBD oil and slowly increase your dosage over time. The maximum number of drops you can take per day is 16. It can take anywhere between 15 minutes to 1 hour to start feeling the effects. On average, the effects of CBD oil will last 2-6 hours. 
You can take it at any time during the day. If you're struggling with sleep, it's best to take the oil just before bedtime.
Review
I wasn't sure how well this CBD oil would work, as I've only ever used CBD in skincare. However, I've been really pleased with the results.
Anyone that knows me wouldn't describe me as laidback. I'm quite a stressy person and find it hard to switch off if I feel like I've got a big 'to do' list. I love being task-focused, but I can admit that sometimes I need to just chill.
I started off using 4 drops per day and have slowly increased my dosage to about 8 drops per day. When I use it, I feel more chilled and less stressed within about half an hour. It's often a very noticeable difference, especially on days when I'm stressing out.
Even though I take the CBD oil in the afternoon, I've noticed that I'm sleeping better since using it. My sleep is less patchy, and I fall asleep quicker with less on my mind. For that alone, the CBD oil has been a great addition to my life.
It has an earthy, almost herbal, taste. It's not too strong though, so it's easy to take. It also smells quite herby, as you'd expect from the hemp plant extract.
Rating: 5 stars
I'm thrilled with the CBD oil. It's definitely contributed to improved sleep and wellness.
2. Naturecan Intensely Nourishing CBD Night Cream with Retinol
£34.99 for 50ml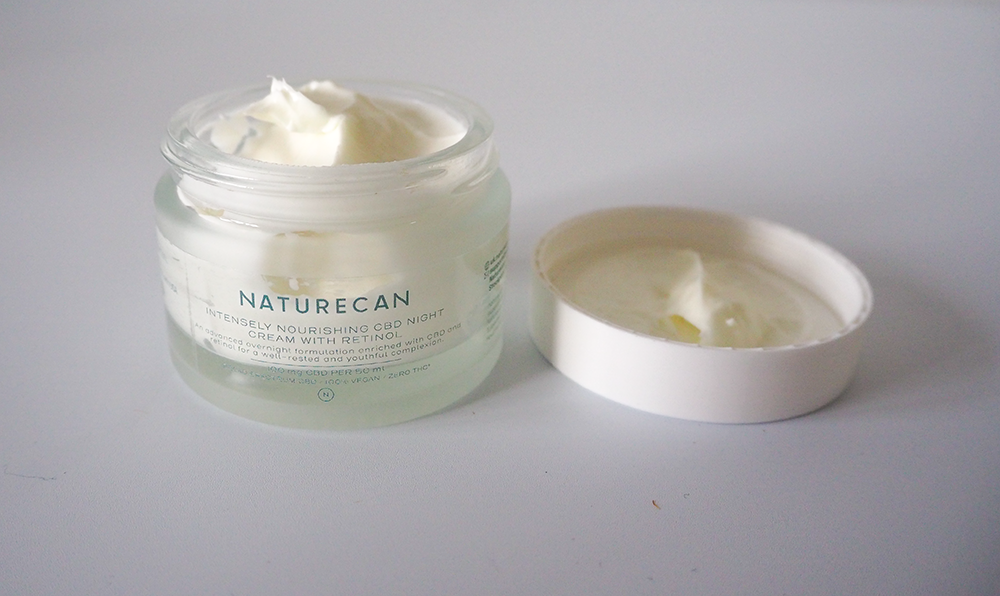 Product claims
Naturecan Intensely Nourishing CBD Night Cream with Retinol is designed to fight signs of skin ageing. It's supposed to repair and replenish the skin during a good night's sleep.
Infused with a rich blend of natural oils, our moisturising CBD face cream is made with topical retinol (also known as vitamin A) to stimulate collagen production, reducing the appearance of fine lines, wrinkles and age spots and evening out skin tone.

Naturecan
The vegan formula also claims to leave the skin feeling smooth, hydrated, and renewed, while protecting it from pollution and oxidative stress.
Key ingredients
Excluding water, the top 5 ingredients on the INCI list are:
Caprylic/capric triglyceride: an emollient (softens or soothes skin)
Glyceryl stearate: an emollient
Ceteareth-20: a surfactant (cleansing agent) or thickener
Phenoxyethanol: a gentle preservative
Polysorbate 20: a mild surfactant
See the full INCI list below:
Aqua (Water), Caprylic/Capric Triglyceride, Glyceryl Stearate, Ceteareth-20, Phenoxyethanol, Polysorbate 20, Methylparaben, Imidazolidinyl Urea, Melaleuca Alternifolia (Tea Tree) Essential Oil, Tocopheryl Acetate, Carbomer, Sodium Hydroxide, Retinyl Palmitate, Cannabidiol Oil, Lavandula Angustifolia (Lavender) Oil, Citrus Aurantium (Bergamot) Bergamia Oil, Butylparaben, Ethylparaben, Propylparaben, Citral, Citronellol, Geraniol, Limonene, Linalool
Review
This CBD retinol night cream is lovely. It's very moisturising, soothing, and refreshing. By morning, my skin feels noticeably softer and more nourished with a subtle glow.
Night creams that contain retinoids – in this case retinyl palmitate – are typically gentler than using retinoid serums, as the concentration of the retinoid tends to be weaker. Plus, night creams feature more moisturising ingredients, which can act as a buffer for retinoids. This means you can often use retinoid night creams more frequently than serums, as they're more tolerable.
I use this night cream most nights because it's non-irritating, so my skin tolerates it well. Although I've not noticed a difference in fine lines and wrinkles, the retinyl palmitate has contributed to smoother skin.
With the addition of cannabidiol oil, this night cream is calming. If my rosacea has flared up, this night cream helps reduce any redness and feels cooling.
The texture is quite thick, but it's still lightweight and absorbent.
My only criticism is that this contains multiple essential oils and fragrances that could be irritating. If you dislike perfumed skincare or are sensitive to fragrance (natural or synthetic), this night cream probably isn't for you.
Rating: 4.5 stars
I'm impressed with the night cream.
3. Naturecan Mushroom Complex Tablets
£24.99 for 90 tablets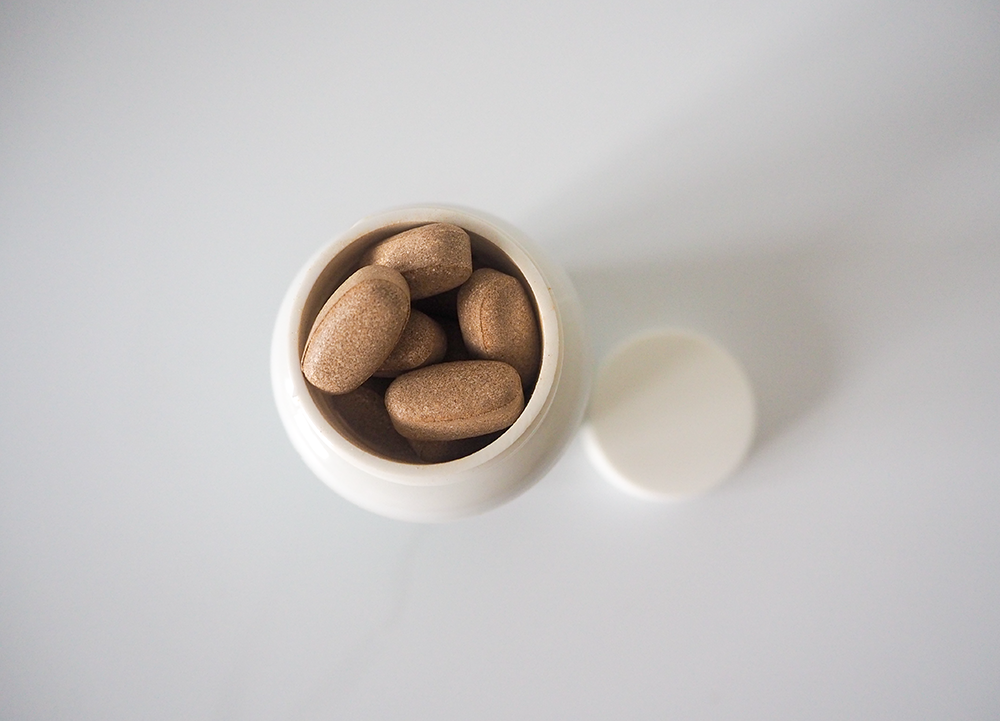 Product claims
Naturecan Mushroom Complex Tablets claim to be good for improving overall wellbeing. The supplements contain 7 natural mushrooms: lion's mane, reishi, chaga, cordyceps, maitake, tremella, and shiitake. Some of the benefits, taken from each mushroom, include antioxidant and immune support, energy for cellular processes in the body, neuroprotective effects, and more.
How to use
You're supposed to take 3 tablets every day, ideally with a meal.
Review
These mushroom supplements are the only product in this post that doesn't contain CBD. It's more of a wellness product.
I'm just going to be completely honest here and say that these supplements taste bad. They have a very earthy and bitter taste. I dislike mushrooms anyway, so I expected not to like the taste. While they don't have a strong mushroom flavour, you can still taste it.
They're also very chewy, so when you're eating them, it's grainy and dry. I can stomach things like this fine and will just wash away the bad taste with a lot of water afterwards. But this is something to be mindful of if you can't manage supplements that taste bad.
I've not noticed any benefits since taking these supplements. But then, how am I supposed to measure benefits like immune support and neuroprotective effects? Maybe these supplements are improving my overall health behind the scenes, but I can't report any noticeable improvements since taking the supplements.
Don't get me wrong, I'm not saying these supplements don't work at all or that they're bad for your health. I just haven't experienced any benefits that I can measure.
But in all truthfulness, I've not really taken any supplements where I've seen drastic improvements. I find myself having to trust that they're doing good work, rather than experiencing it myself.
Rating: 3 stars
I wouldn't buy these myself.
4. Naturecan CBD Face Sheet Mask
£19.99 for 5 sheets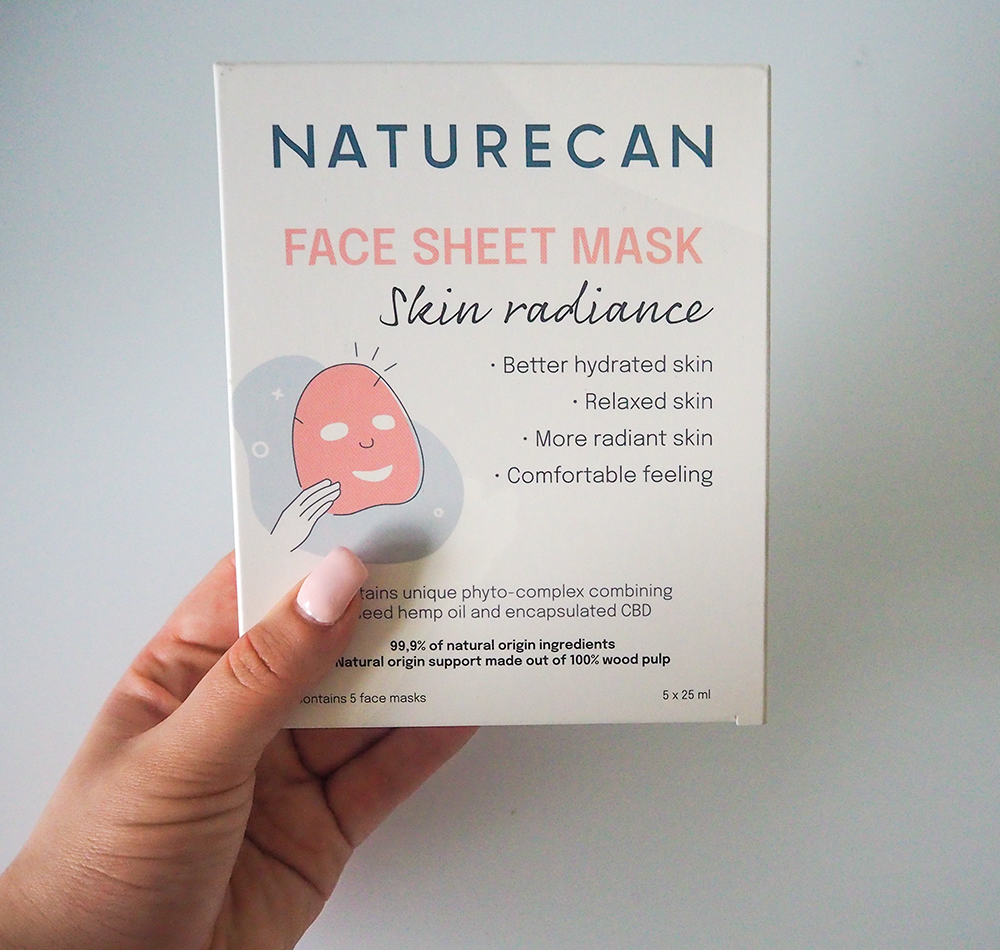 Product claims
Naturecan CBD Face Sheet Mask claims to be ultra-relaxing, gentle, and rejuvenating. It promises to keep skin hydrated with added radiance while removing excess oil and dirt.
Cleanse your skin before unfolding and placing the CBD Face Mask onto your face for 15-20 minutes. After this time remove the face sheet mask but do not rinse to reap the natural, skin-nourishing benefits – applying any excess serum to your neck and hands.

Naturecan
Key ingredients
Excluding water, the top 5 ingredients on the INCI list are:
Glycerin: hydrates the skin
Propanediol: an emollient that can result in a smooth, dewy finish
Pentylene glycol: a humectant (retains or preserves moisture)
C14-22 alcohols: an emulsifier that helps mix oil and water-based ingredients
Caprylic/capric triglyceride: an emollient
See the full INCI list below:
Aqua (water), Glycerin, Propanediol, Pentylene glycol, C14-22 alcohols, Caprylic/capric triglyceride, Coco-caprylate/caprate, Saccharide isomerate, Glyceryl caprylate, C12-20 alkyl glucoside, Maltodextrin, Lysolecithin, Sclerotium gum, Pullulan, Xanthan gum, Alcohol, Sodium phytate, Cannabis sativa seed oil, Tocopherol, Biosaccharide gum-1, Parfum (fragrance), Glucose, Glycine soja (soybean) oil, Lecithin, Silica, Citric acid, Sodium citrate, Cannabis sativa leaf extract, Pinus cembra wood extract, Helianthus annuus (sunflower) seed oil 
Review
Sheet masks aren't my fave skincare product. I prefer typical clay masks that you rinse off. However, this Naturecan one is really nice.
Each sheet is very wet, meaning it's saturated in lovely hydrating ingredients. The actual sheet mask itself is easy to manipulate. Because it's made from a thicker material than those cheap £1 sheet masks, it doesn't tear easily, meaning you can place it so it fits on your face perfectly.
After I'd worn the mask for 15-20 minutes, I rubbed the excess liquid into my face and décolletage. Just like a serum! My skin felt wonderfully nourished, soothed, and hydrated. It also had visible luminosity.
I don't think this helps get rid of excess oil or dirt. That's what a cleanser is for! However, as a nice hydration boost, I'd highly recommend these sheet masks.
Rating: 4 stars
I'm enjoying using these sheet masks.
Overall Naturecan review
Naturecan has been a winner for me. The CBD skincare is lovely with some very noticeable soothing, glowy, and hydrating properties, and the CBD oil has become a must in my wellness routine. I'm not in love with the supplements, but some of that is down to personal choice.
I think the prices are reasonable. Pure CBD is expensive. While the oil might seem pricey, it's definitely worth it for a high-quality and excellent product. The supplements are very affordable, considering that many supplements are around the £40 mark. And the CBD skincare products are very reasonable, particularly because retinoids are pricey to formulate.
For me, the CBD oil is the star of the show. It's noticeably helped make me feel less stressed and improved my sleeping pattern. Whenever my head feels full, the CBD oil helps calm me down. And I get to sleep easier than I used to and have noticed that my sleep is less patchy than before. These reasons alone make the oil a more-than-worthy investment.
I'd 100% recommend Naturecan to anyone looking to try CBD, whether that's orally or topically.
Fave product