Last Updated on 28th January 2023 by Sarah Sarsby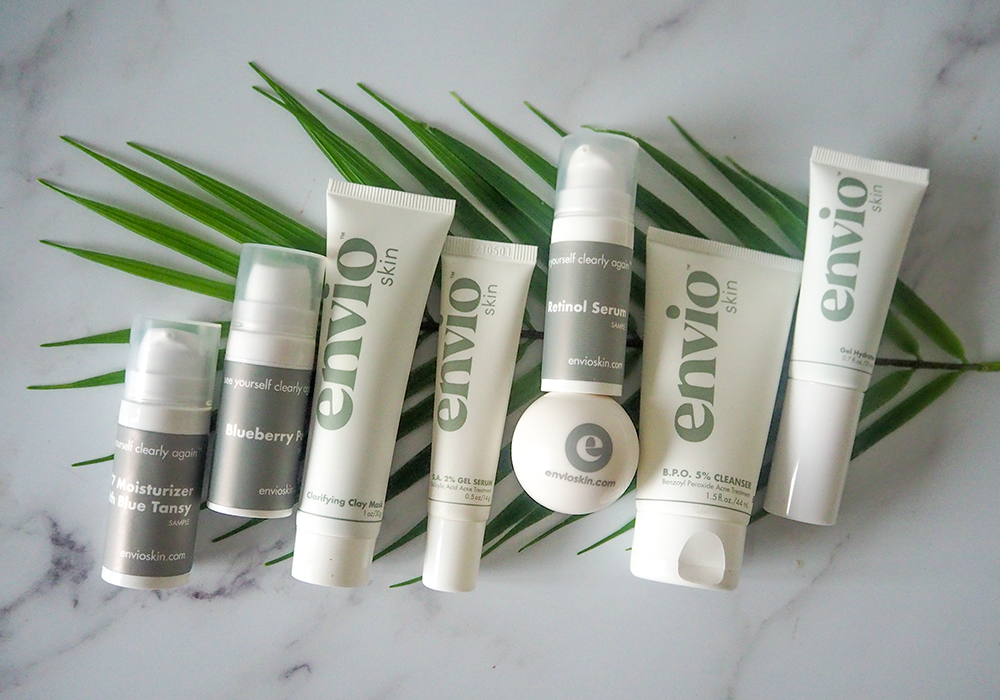 As an oily-skinned girl, I know all too well how annoying it is when you get a breakout. And the frustrating thing is there's no singular cause of breakouts! If I've eaten a lot of sugar, obviously, I'm likely to get breakouts. But sometimes, they come out of nowhere with seemingly no reason. Then I'm left to deal with a spot that's irritated and sometimes quite sore.
And, honestly, some dedicated acne skincare lines can do more harm than good, as they're built on the myths that spots need drying out or that harsh cleansers remove excess oil to prevent breakouts. The problem? You're left with dry, aggravated skin that's not only uncomfortable but also where the acne hasn't disappeared.
Enter Envio Skin.
This vegan, fragrance-free, and cruelty-free skincare line is dedicated to treating breakouts. The medical-grade products are designed to quickly and effectively get rid of spots for smooth, clear skin.
I couldn't wait to see how well Envio Skin would work when I got breakouts. And I've been trying the line for over 1 month now to truly test whether they've made a difference.
But just how well does this acne skincare line work? Is it a must-have for people looking to treat acne or another ineffective range? Keep reading for my honest thoughts.
** This post contains some affiliate links. This means at no extra cost to you, I earn some commission if you purchase a product through my link. All thoughts are my own, though, as always. If you want to find out more, visit my affiliate disclosure page **
What is Envio Skin?
Envio Skin was founded by a mother-daughter team, Jan and Carol, who wanted to create simplified and modernised skincare for acne-prone skin. Using prescription-strength ingredients, Envio Skin's range is designed to be effective and convenient for treating acne on the go.
All products are free from cruelty, fragrance, nuts, parabens, SLS/SLES, and phthalate. Each product is vegan.
Envio's kit is medical- grade, FDA regulated, and includes two of the most safe & effective acne fighting ingredients.

Evio Skin
The range is based on 2 core products: a benzoyl peroxide cleanser and a 2% salicylic acid serum. Then the other products – such as the blueberry peel, blue tansy moisturiser, and a clarifying clay mask – are designed to work in tangent with the core products for a complete acne treatment.
Which Envio Skin products did I receive?
I received the following Envio Skin products to review:
B.P.O 5% Cleanser
S.A. 2% Gel Serum
Gel Hydrator
Clarifying Clay Mask
Retinol Serum
Blueberry Peel
24/7 Moisturizer with Blue Tansy
Vanilla Lip Balm
Below, I'm going to review each Envio Skin product in detail and let you know honestly whether they've done anything for my skin.
Important: I wanted to give a full disclaimer about my skin type for a completely transparent review. I have mild acne, oily skin, and rosacea. Because of my oily skin, I'm prone to breakouts (acne). My skin is never sore from acne nor do I get a lot of breakouts in one go. But I do get the odd breakout here and there.
1. Envio Skin B.P.O 5% Cleanser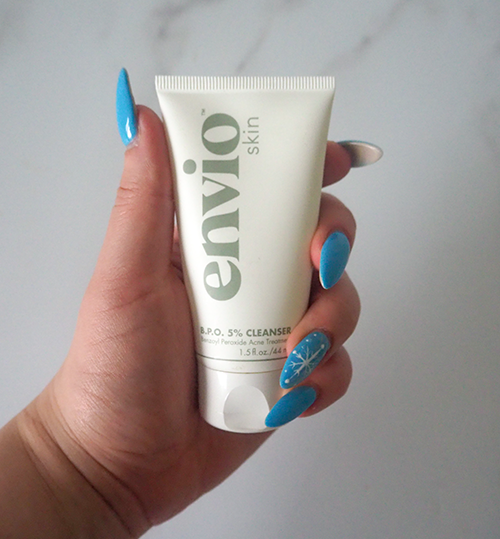 The Envio Skin B.P.O 5% Cleanser contains 5% benzoyl peroxide, which is one of the best and most effective ingredients for treating acne. Benzoyl peroxide gets to the root of the problem by absorbing directly into the pore and clearing out acne-causing agents.
Envio Skin recommends applying a dime-sized amount into the palm of your hand and gently massaging it over your face. For best results, you're supposed to let it on your skin for at least 2 minutes before washing it off completely with warm water. The cleanser can be used twice a day.
Envio Skin warns that skin irritation may occur when using this cleanser and advises people with very sensitive skin not to use it. Skin irritation can be reduced by using it less frequently or in smaller quantities.
Unfortunately, my skin doesn't like the cleanser. It became very irritated, red, and sore after using it. I tried the cleanser twice on separate occasions to give it a fair chance, and it was aggravated both times.
Even though I can tell the cleanser would do wonders for acne-prone skin, my rosacea is more of an issue than my acne, so I don't want to overdo it. The cleanser made my rosacea flare up badly, so I stopped using it.
You may recall that I've got a custom Dermatica rosacea prescription. This prescription also made my skin sore and dry, due to the high concentration of medical-grade ingredients. However, it took time to build up this skin irritation (about 5 days of continual use), and it quickly subsided after I stopped using it.
Comparatively, Envio Skin's B.P.O 5% Cleanser aggravated my skin more than my Dermatica prescription did after just 1 wash. And it's not even a treatment that you leave on your skin all day, as you wash it off after a couple of minutes.
Rating: 3 stars
I can tell this is a highly effective cleanser, but it just isn't right for my skin.
2. Envio Skin S.A. 2% Gel Serum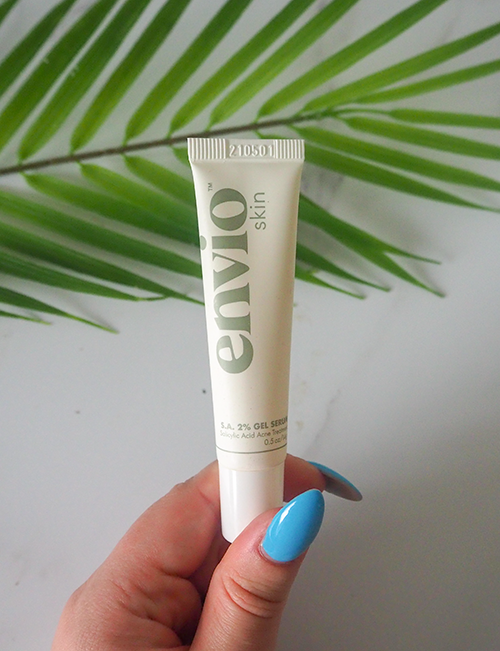 The Envio Skin S.A. 2% Gel Serum features 2% salicylic acid, which is a well-known excellent chemical exfoliant for oilier skins. It works by penetrating deep inside the skin's pores, helping to unclog any excess oil and impurities to prevent breakouts and blackheads.
Envio Skin says to apply this treatment to clean, dry skin directly to the areas where you're having breakouts. I personally like using salicylic acid (BHA) as part of my evening skincare routine, as exfoliants can make your skin a bit more sensitive to UV rays. I like letting the treatment work overnight, uninterrupted.
To truly test this BHA treatment, I needed to wait for some breakouts to occur. Sure enough, they did. I had a couple of spots appear on my cheek randomly one day. That evening, I applied the salicylic acid treatment to the spots and let the treatment work overnight.
Unsurprisingly, this treatment worked very well. Although my spots hadn't completely gone by the morning, they had visibly and significantly reduced, were less red, and the whiteheads had disappeared. I applied this treatment a second night in a row, and the spots had completely disappeared in the morning.
The salicylic acid treatment definitely cleared up my breakouts faster than usual.
Rating: 4.5 stars
This is another effective product.
3. Envio Skin Gel Hydrator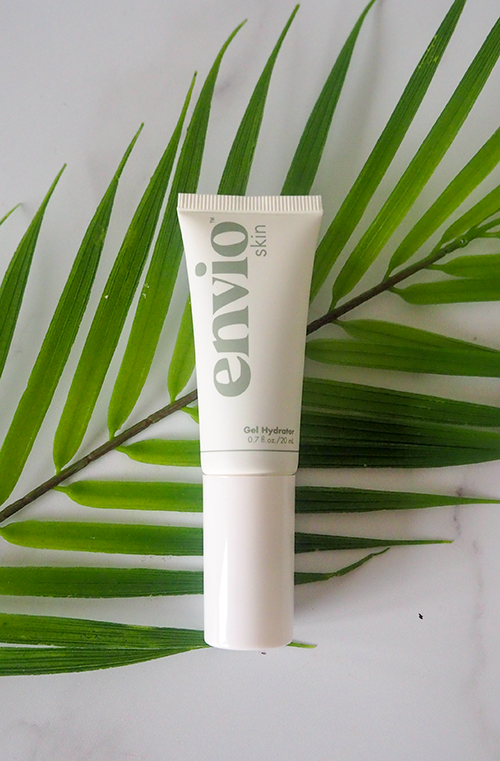 The Envio Skin Gel Hydrator is formulated specifically for acne-prone skin. It's lightweight and non-greasy, meaning it won't clog your pores. Plus, it's supposed to reduce redness and soothe and moisturise the skin.
Envio Skin recommends applying this once or twice daily after any of the other treatments.
This is a decent gel moisturiser. It's incredibly lightweight and absorbent, leaving no residue or oiliness, which is ideal for acne-prone skin. I love that it feels cooling on the skin too. For days when my rosacea is flaring up or if my skin is oilier than usual, I'd opt for this moisturiser.
I don't think this moisturiser helps to reduce redness, but it soothes irritation.
Although my skin is on the oily side, I still typically prefer cream formulae. I tend to find thicker moisturisers keep my skin hydrated for longer. And there are plenty of oily-skin-friendly cream moisturisers out there.
But there's no denying that for people struggling with moderate-severe acne or have particularly oily skin, a gel formula is the way to go.
Rating: 4 stars
A good moisturiser that does its job.
4. Envio Skin Clarifying Clay Mask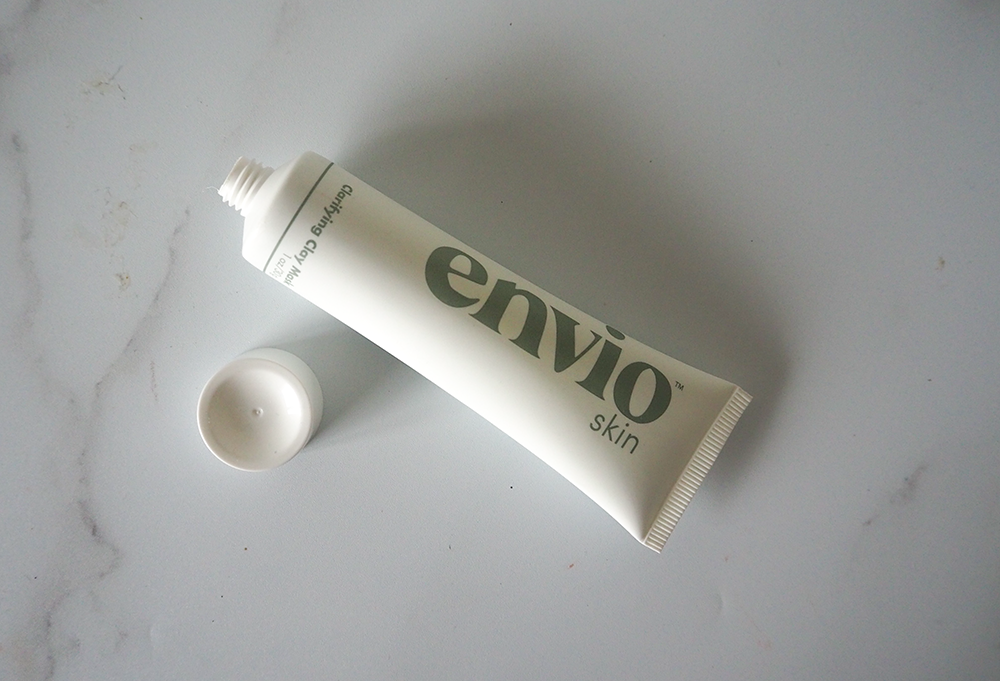 The Envio Skin Clarifying Clay Mask promises to deeply clean and remove dead skills, absorb excess oil, and leave skin feeling smooth and refreshed.
You're supposed to apply a thin layer over your entire face. Leave it on for 15-20 minutes and then rinse off with warm water. Envio Skin recommends using this 2-3 times per week.
This cranberry clay mask smells lovely and fruity. Even though there's no added fragrance to this product, the subtle sweet smell is a welcome addition for pampering vibes.
I really like this clay mask. A lot of clay masks can be quite functional and, to be honest, boring. Clay masks can also be very drying. You don't want a clay mask that completely strips your skin of its oils, as that can weirdly lead to oilier skin, as your skin then starts to produce more oil to compensate for the loss of oils.
Envio Skin's Clarifying Clay Mask isn't drying, sensitising, or stripping. Instead, after washing the mask off, my skin felt noticeably softer, smoother, and refreshed. My skin felt less oily after using the mask but not to the extent where my skin was dry.
Rating: 4.5 stars
I'll definitely use the Clarifying Clay Mask when my skin needs a bit of extra help.
5. Envio Skin Retinol Serum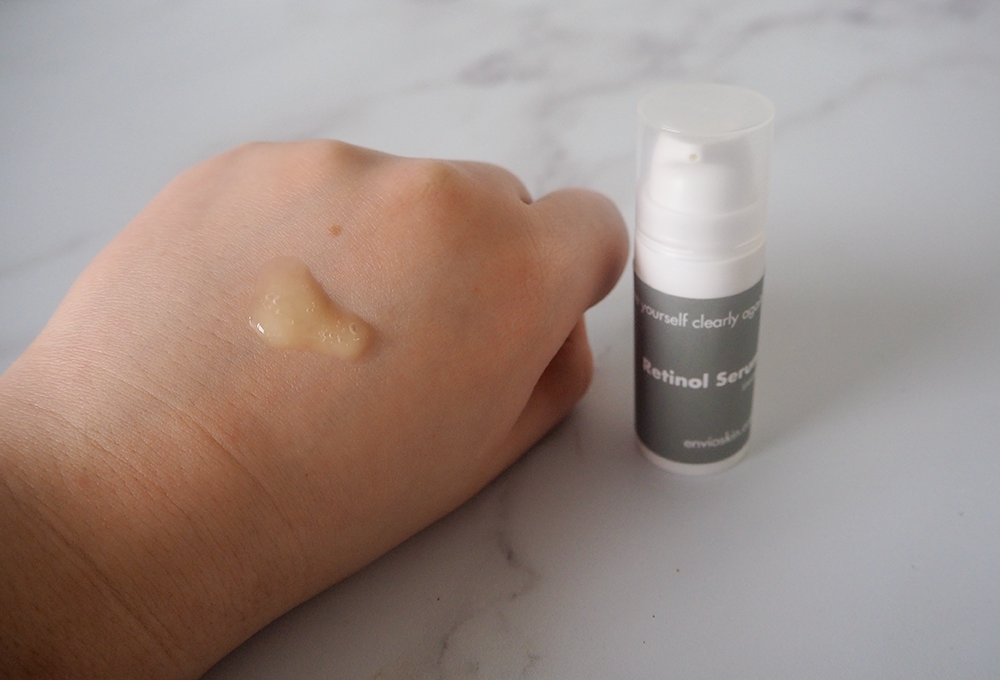 The Envio Skin Retinol Serum contains 3 different types of retinol/retinoids – retinyl palmitate, retinol, and hydroxypinacolone retinoate – to really target the skin. Although vitamin A is well known for its potent ability to reduce wrinkles and fine lines, it's also an excellent ingredient for acne, thanks to its pore-refining and skin-smoothing properties.
Envio Skin advises applying a pea-sized amount of product to clean, dry skin as part of your night-time routine. You're supposed to allow 5 minutes for the product to absorb completely before applying other products, such as a night cream or facial oil.
I like to leave retinol on my skin for at least 20 minutes to really allow it to penetrate deeply. I've been using retinol twice weekly for well over a year now, so my skin can tolerate this. However, if you're new to retinol, take it steady and build up tolerance – 5 minutes would be ample.
Envio Skin's Retinol Serum is great. It's non-irritating and very absorbent. Although retinol takes time to show results, normally at least 1 month and more likely 3 months, I can tell that this retinol is effective. It's helped my skin feel a bit firmer, plumper, and smoother already.
I've not noticed any reduction in fine lines yet, but this takes time to show results with consistent use. And I'm very confident it'll help reduce any fine lines I have in the next couple of months.
Rating: 4.5 stars
A great targeted vitamin A serum.
6. Envio Skin Blueberry Peel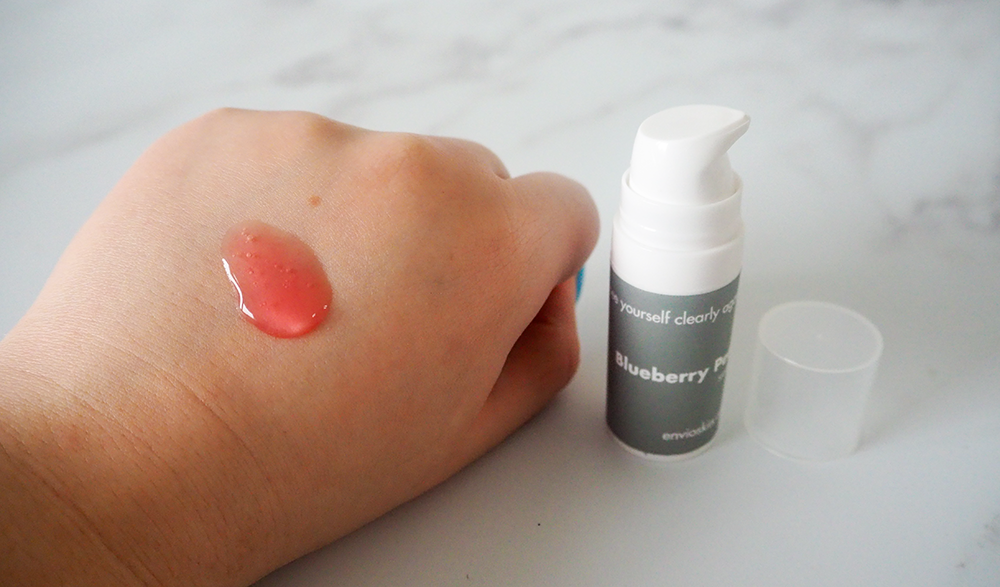 The Envio Skin Blueberry Peel contains skin-conditioning blueberry seed, soothing aloe vera leaf juice, AHA mandelic acid, and exfoliating pineapple fruit extract to deliver effective exfoliation. It claims to energise dull skin, encourage an even-toned complexion, and promote cellular regeneration.
Envio Skin recommends applying this peel to clean, dry skin across the entire face and neck. Leave it on the skin for up to 10 minutes before removing the peel with a damp cloth. You're recommended to use the peel twice weekly.
I love the Blueberry Peel. Despite this being a product with a lot of active exfoliants, I didn't find this irritating or too strong for my rosacea at all. I've used peels before that can feel uncomfortable on the skin and kind of sting. In my experience, these peels are too harsh for my skin. However, the Blueberry Peel was very comfortable.
I absolutely love the purplish colour of the peel! It's so pretty. It feels cooling on the skin too.
Honestly, after using the peel, I noticed dramatic results. My skin was instantly much softer and completely smooth. It looked visibly glowy and bright.
I was worried that even though I experienced no sensitivity during the treatment time, my rosacea might flare up the following day due to using multiple powerful actives in one treatment. However, my skin was absolutely fine the following day and continued to feel very smooth and even.
Rating: 5 stars
This is one of my fave exfoliants because of the short- and long-term results!
7. Envio Skin 24/7 Moisturizer with Blue Tansy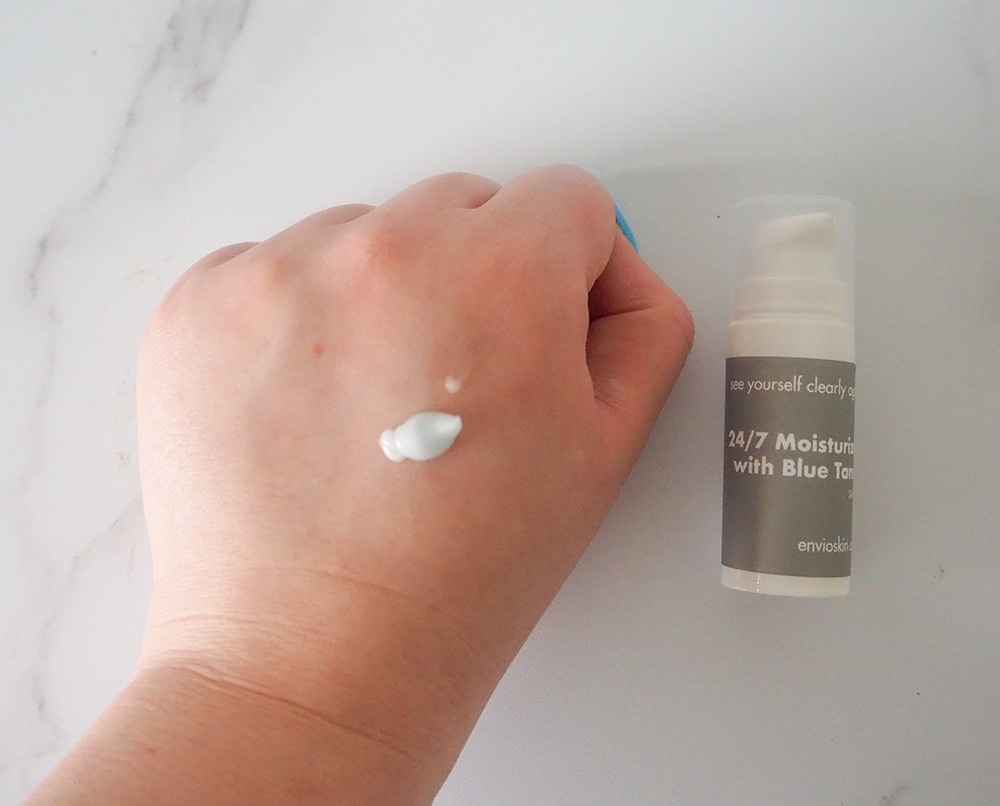 The Envio Skin 24/7 Moisturizer with Blue Tansy is enriched with skin-conditioning blue tansy oil, along with nourishing jojoba seed oil and hydrating squalane. It promises to be balmy, lightweight, nourishing, and soothing.
Envio Skin recommends applying this once or twice daily after any of the other treatments.
Out of the two moisturisers in this Envio Skin review, the 24/7 Moisturizer with Blue Tansy is definitely my favourite. The creamy moisturiser hydrates and nourishes my skin all day with a lovely dewy finish. Despite it being richer than the Gel Hydrator, it's still lightweight and absorbent. In fact, it's one of the more lightweight and non-greasy cream moisturisers I've tried.
My skin becomes a little drier during these colder months due to being exposed to central heating, which my rosacea hates. The 24/7 Moisturizer with Blue Tansy has been doing a great job at protecting my skin from central heating and keeping it hydrated and calm throughout the day.
Rating: 4.5 stars
This is a great moisturiser that's perfect for my skin type.
8. Envio Skin Vanilla Lip Balm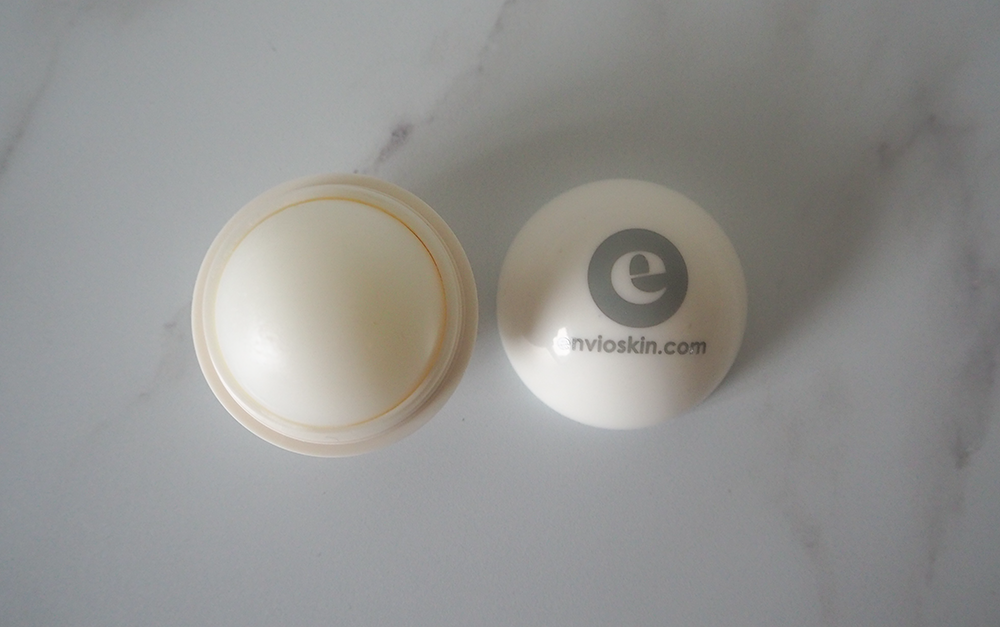 I'm a sucker for a good lip balm, and the Envio Skin Vanilla Lip Balm hits all the right spots. It smells absolutely divine with a soft sweet vanilla scent. Vanilla is one of my favourite scents, so this was already a winner in my eyes.
This is so convenient to apply. You simply roll the ball shape over your lips for instant relief. The lip balm is instantly hydrating and softening.
While I wouldn't describe this as particularly soothing compared to other lip balms I've tried, the texture is gorgeous. Some lip balms leave a weird film/residue on your lips, where it feels like the product is just sitting on top of your lips rather than melting in and actually nourishing your skin. The Envio Skin Vanilla Lip Balm absorbs quickly and is very moisturising and protective.
My lips always get so dry at this time of year, and this lip balm truly helps relieve some of that dryness and makes my lips feel much more comfortable.
Rating: 5 stars
I'm in love with this lip balm.
Overall Envio Skin review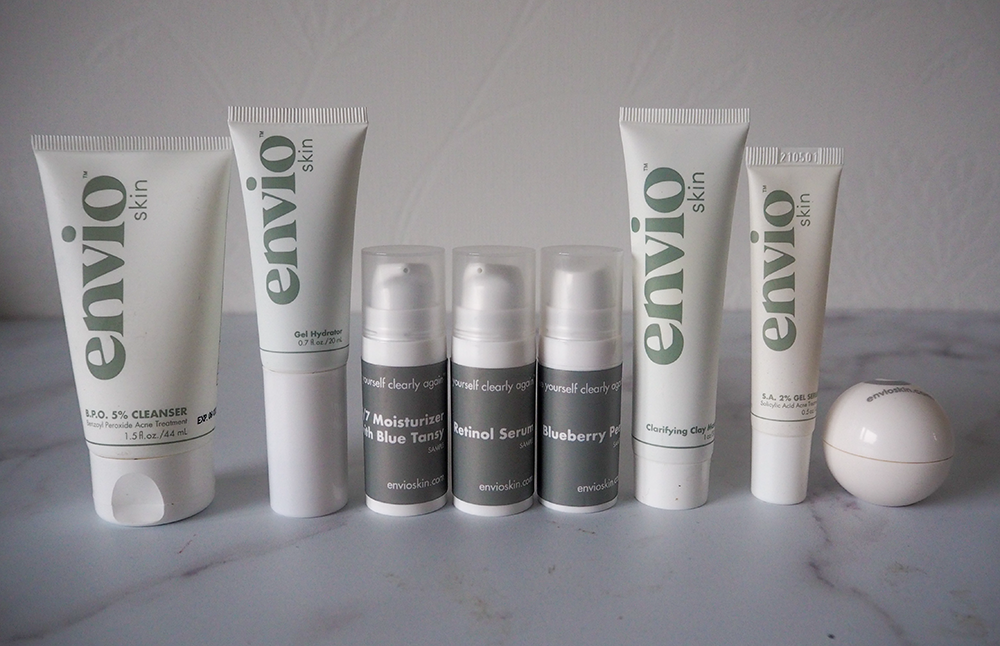 I'm very impressed with Envio Skin overall. This is 100% an effective product range for acne-prone skin. I can tell that a lot of thought and knowledge has gone into the creation of these products to provide a dedicated acne line that's simple, effective, and convenient.
Particular standout products to me are the Vanilla Lip Balm, Blueberry Peel, and 24/7 Moisturizer with Blue Tansy. They make a noticeable difference to the condition of my skin, and these are the products I'm reaching for the most.
While the packaging is simple, it just works. It's easy to dispense the products from the pump, and all of the product textures are foolproof to work with.
The treatments that are designed to reduce breakouts work very well. While my skin doesn't agree with cleanser, the salicylic acid spot treatment is a fab way to help clear up breakouts quickly in a way that won't aggravate or dry out your skin.
This is definitely a line worth checking out. Of course, acne-prone skins will appreciate this line, but I actually think people with oily skin will appreciate Envio Skin, particularly the lightweight moisturisers, chemical peel, and salicylic acid spot treatment.
I'm impressed with Envio Skin and will continue using the products.
How to buy the products
You may have noticed that I've not included prices or links to specific products in this Envio Skin review. That's because you can't buy all of the products individually; they mostly come in kits. And some of the products aren't even on the website.
This would be my only criticism of Envio Skin: I think the website should include links to all of the products and allow people to purchase products individually.
Plus, there aren't INCI lists for the products online or any specific details about the products. This is a flaw, as people wanting to learn more about the products on the Envio Skin website won't be able to find out everything they need to know. It also could cause concerns for people who are sensitive to particular ingredients, as they can't check the INCI lists for each product.
It would be great if Envio Skin added all of the products individually on its website with detailed descriptions and INCI lists to give consumers all of the information they need.
Fave product?
The Envio Skin Blueberry Peel.