In an effort to become a more conscious consumer and reduce the size of my makeup collection, I'm embarking on a makeup no-buy/low-buy this year.
A makeup no-buy/low-buy is where you set out rules for categories of products that you're not allowed to purchase for a set period of time. For example, you could challenge yourself not to buy lipstick for 3 months.
I'm setting my makeup no-buy/low-buy for the entirety of 2022. It's more challenging this way, and it also ties in nicely with my project pan 2022. I'm hoping that by doing both of these initiatives, I can get through the makeup products I own and don't accumulate products that will inevitably expire.
This no-buy/low-buy doesn't include products that I'm gifted as part of a blog collaboration, or products that are purchased for me. Also, if I run out of an entire category of makeup items, such as mascaras, I would then buy a new one. The point is to reduce my makeup collection, not to go without products altogether.
If you'd like to see which products I'm including in this year's no-buy/low-buy, then keep reading.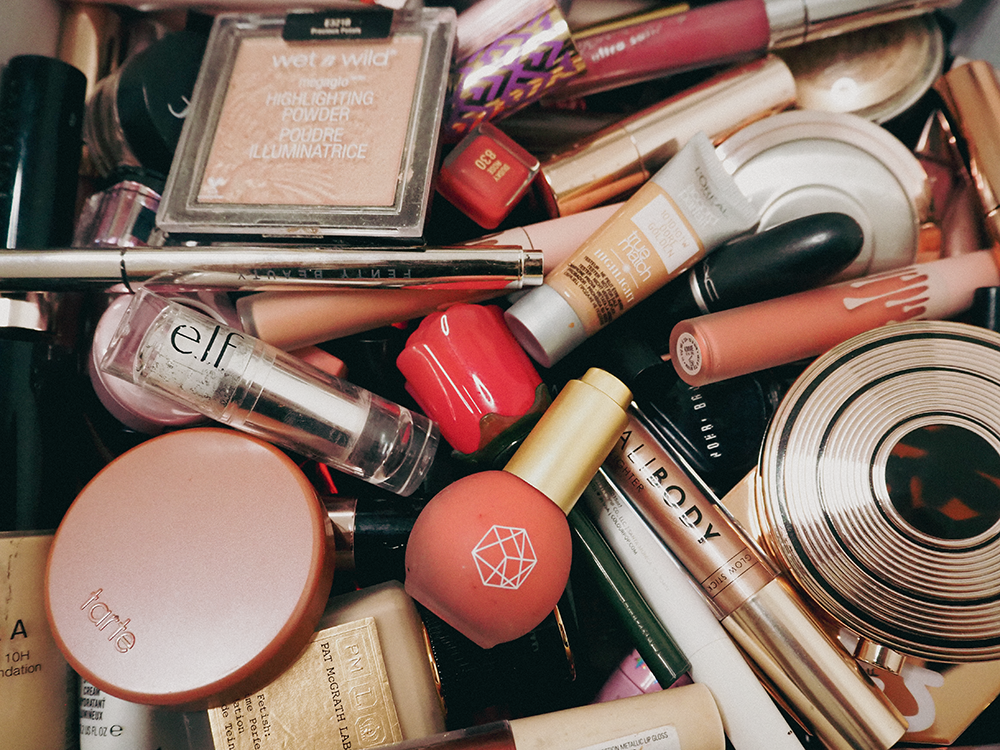 ** This post contains some affiliate links. This means at no extra cost to you, I earn some commission if you purchase a product through my link. All thoughts are my own, though, as always. If you want to find out more, visit my affiliate disclosure page **
No-buy
Foundation: I have multiple foundations that I really like, so I don't need anymore. I also don't see myself getting through more than 2 foundations a year, so it becomes wasteful when I keep buying new ones.
Concealer: I've even got some back-up concealers for when my current ones are finished, so buying new concealers would be pointless.
Setting spray: Although my ICONIC London Prep-Set-Glow Spray is almost finished as part of my project pan 2022, I've got a very full Urban Decay All Nighter Setting Spray waiting to be used after.
Setting powder: I own about 4 great setting powders. 3 of them haven't been used that much, so I don't need to purchase more anytime soon.
Cream blusher: I own quite a lot of cream blushers now. It's time for me to stop.
Bronzer: I need to focus on finishing my Soleil Tan de Chanel bronzer in this year's project pan.
Highlighter: I own a lot of liquid and powder highlighters. There are some real holy grails in my collection too, so there's no need for me to purchase more.
Eyeshadows: I love eyeshadow palettes, so I've amassed a large collection. There are only so many eyeshaodws that I can wear, though, so it's time for a break from buying them.
Eyeliner: Since getting 4 Flawless Eyeliners from Flawless Lashes by Loreta and already owning multiple eyeliners, I don't need more.
Mascara: Owning too many is pointless as they just dry out.
False lashes: I randomly own loads of false lashes, but I don't wear them frequently.
Lipstick: The number of lipsticks I own is ridiculous. I could probably go without buying lipsticks for years and still have loads.
Lip glosses: I've got all the lip glosses I need right now.
Brow products: Since recently buying the Benefit Cosmetics Jingle Brows – Christmas Gift Set, I don't need to get more brow products this year.
Low-buy
Primer: I wouldn't mind getting one more dewy primer, as I only own one glow-boosting primer, and it's a pretty small bottle. VIEVE Skin Nova is on my radar.
Contour: I'd love to get another cream contour product. Any suggestions would be very welcome! I'm considering the Clinique Chubby Stick Sculpting Contour.
Lip liner: This is one category of makeup products I actually don't own much of. I'd like some new lip liners, particularly a brown-red shade, a light pinky-nude shade, and a deeper berry shade.
Eyeshadow primer: I only own one eyeshadow primer, so I wouldn't be mad if I got another one. Although, my current eyeshadow primer does take ages to get through, so this would probably be a purchase for later in the year.
Powder blusher: I'd love to get a pink powder blusher. I own several peachy powder blushers, but no pink ones. The Charlotte Tilbury Cheek to Chic in Pillow Talk Original is the one I've got my eye on.
Final thoughts on my makeup no-buy/low-buy 2022
Going back through this list has made me feel really great about what my makeup collection is going to look like at the end of the year. I'm going to set my sights on using makeup products and decluttering my collection too. I love so many of the products I own, so I only want to add to my collection in areas that are lacking. I'll probably ask for some of the low-buy products for my birthday or Christmas anyway.