Last Updated on 23rd September 2023 by Sarah Sarsby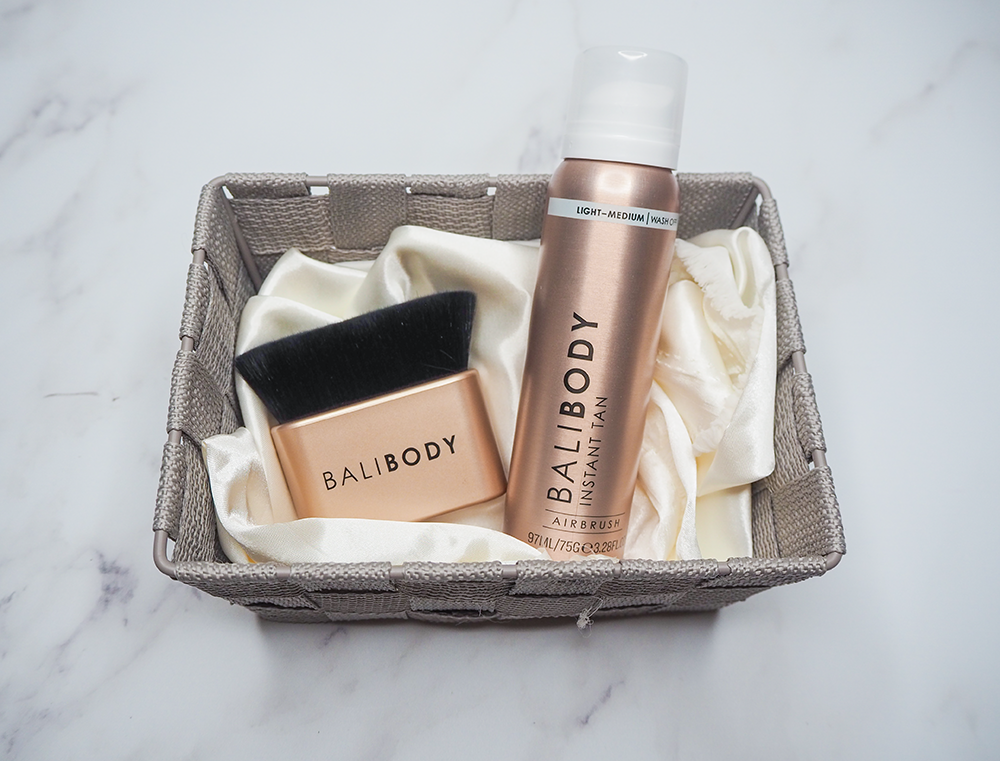 Popular fake tanning brand Bali Body is back with 2 exciting new products – Instant Tan and Body Blending Brush – which I will be reviewing in this blog post.
Bali Body is well known for providing an effortless, glowy and natural-looking tan in seconds with its broad range of products. The products give you bronzed, smooth and streak-free skin without any harsh scrubbing. If you're into fake tanning, Bali Body is 100% the brand to check out.
Bali Body released its brand-new Instant Tan yesterday, which claims to give you bronzed and airbrushed skin in seconds. The accompanying Body Blending Brush is supposed to buff the Instant Tan into every contour of the body flawlessly.
Sounds amazing, right? But how well do these products perform, and are they worth the money? Let's dive into my honest review.
What is Bali Body?
Bali Body is an Australian, vegan-friendly beauty company that creates products that are nourishing and beneficial to the skin. The company is famous for its tanning products, but it also does a nice range of skincare, makeup and suncare products.
Product claims
Before I dive into my Bali Body review, let's look at what the Instant Tan and Body Blush claim to deliver.
Bali Body Instant Tan claims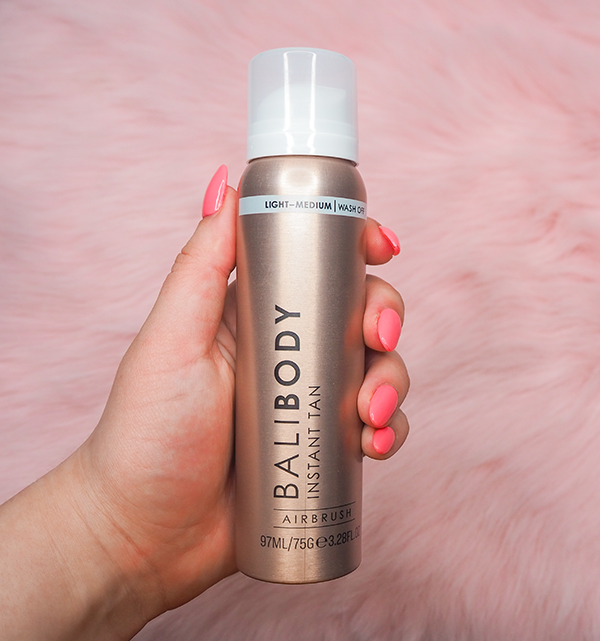 Zero-transfer instant tan
Instagram filter in a bottle
Flawless bronzed skin in seconds
Airbrushed and smooth skin
Fast-drying
Evens skin tone, blurs blemishes and covers imperfections
Perfect for last-minute tanning
Bali Body Body Blending Brush claims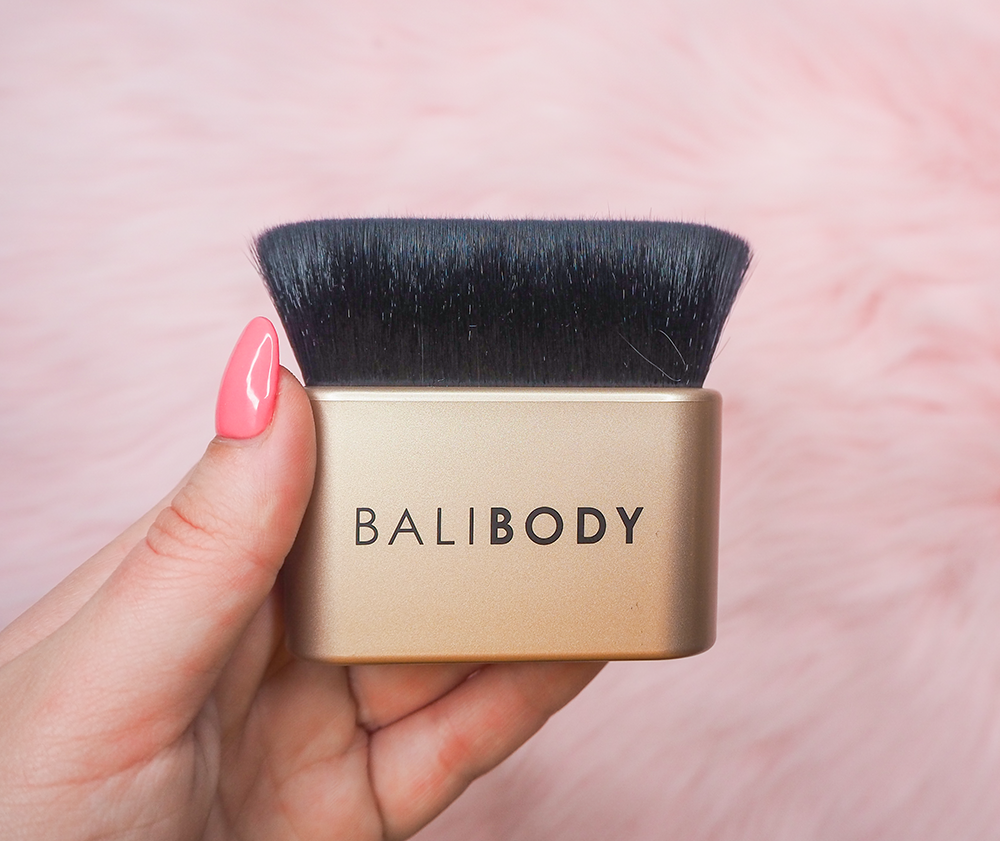 Buffs fake tan into every contour of the body flawlessly
Reusable
Vegan body brush
Ensures streak-free and smooth application
Keeps hands tan-free
How to use the Bali Body Instant Tan with the Body Blending Brush
Shake can well before use
Moisturise skin using a body lotion, butter or oil for more even application (my personal recommendation)
Hold can 15cm away from the skin, and spray directly onto desired area
Blend into the skin in long, sweeping motions using the Bali Body Blending Brush
Bali Body says the Instant Tan will be touch-dry and non-transferable within 30 seconds.
Before and after
The Instant Tan provides immediate results. It's not designed to be gradual, but it is rather aimed at people looking for bronzed skin quickly.
Below are some before and after photos using the Bali Body Instant Tan in the shade Light to Medium with the Body Blending Brush. I applied a body oil prior to application for a more even finish.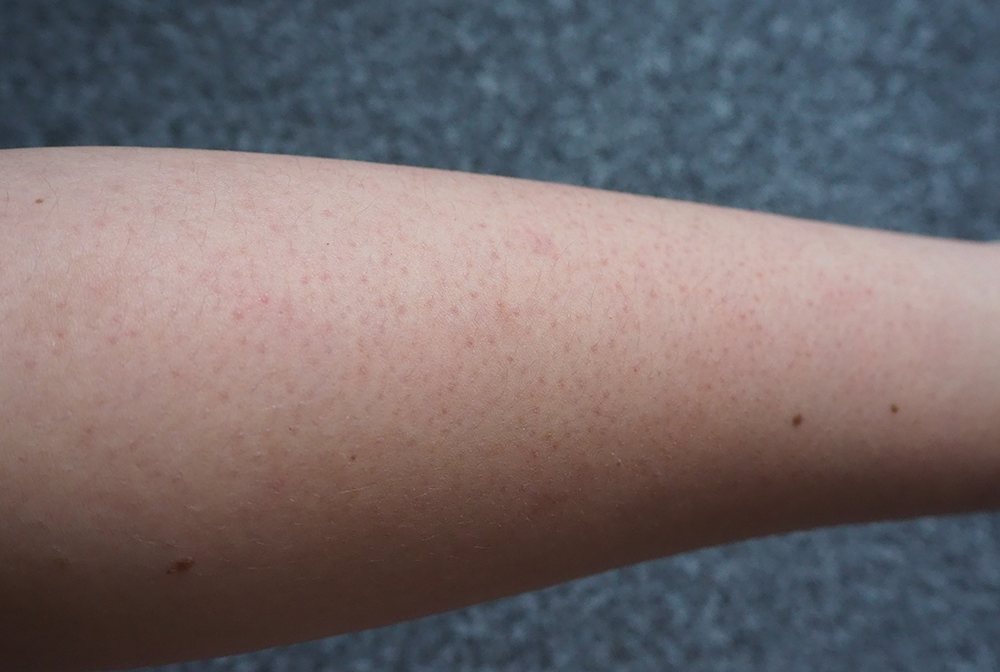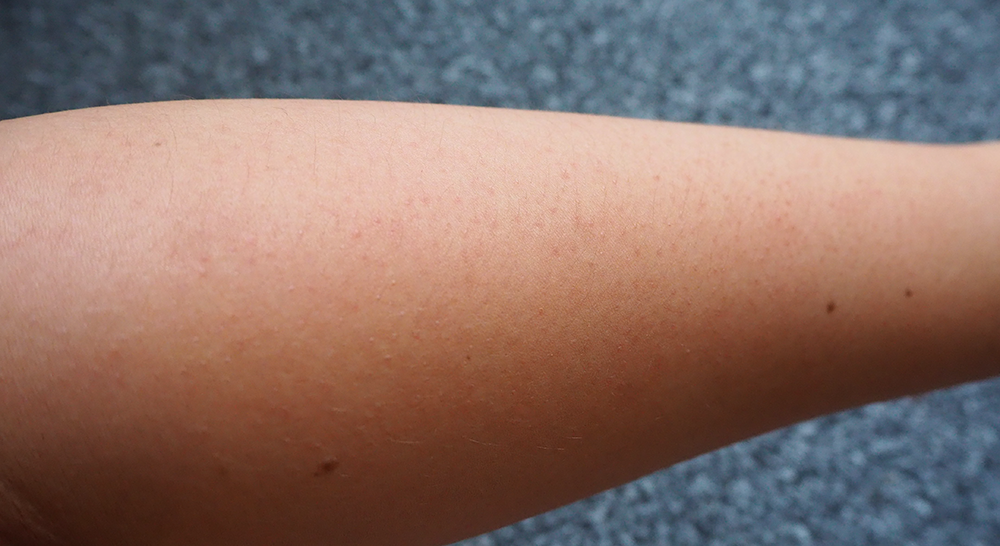 As you can see, the self-tanner instantly made my skin more bronzed. I'd say that the Instant Tan provides more of a medium tan if you have quite fair skin like me. The difference is noticeable. So if you're looking for an instantaneous self-tanner, you'll love the Instant Tan.
In the next section, I'm going to review the fake tan and blending brush; were the products easy to use, or did they lead to a patchy application?
Overall Bali Body Instant Tan and Body Blending Brush review
When I first applied this spray tan to my body, my first thought was wow that's dark. Compared to the Bali Body Self Tanning Mousse (which is my favourite self-tanner of all time), the Instant Tan is immediately much darker. I personally wouldn't describe the shade as 'Light to Medium'; I'd say that for fairer skin this is a medium tanner. Not that this is a bad thing, but it does leave more room for error.
So, as this is a spray tan, the application is not as even as what you'd get from a mousse or oil. When I first sprayed the bottle, I was concerned as the fake tan looked quite blotchy. It does blend out, but you're definitely better off holding the can far away from your skin and pressing the nozzle very lightly for a more even, controlled application.
For this reason, I'd 100% recommend creaming or oiling your skin before using the Bali Body Instant Tan. It ensures the product doesn't cling to any dry patches and allows for a more seamless finish.
After spraying my arm, I used the Body Blending Brush in quick, sweeping and circular motions to rub in the Instant Tan. You have to work quickly when using this product, as it dries within a minute. While this might seem like a positive, I actually dislike it. You have to rush to blend the product in, and this wasn't the easiest thing to do in my experience. I had to apply a lot of pressure with the brush to ensure the tan didn't look streaky, patchy or uneven.
On the plus side, after about a minute, this spray tan is completely transfer-proof. I love this as I'm quite a careless person, so I don't have to worry about getting fake tan on my clothes or on the sofa lol.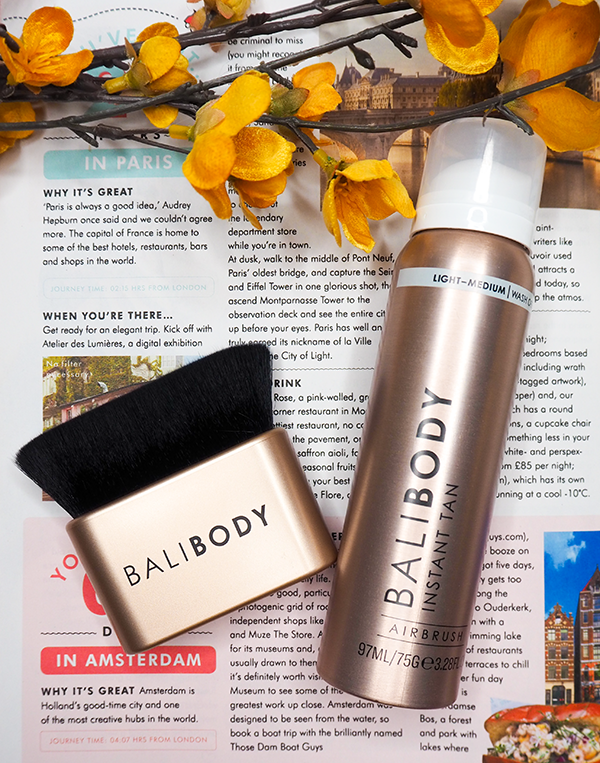 I wish the Body Blending Brush had softer and bendier bristles. They're quite firm and on the rough side. I think gentler bristles would aid the tanning process. I definitely prefer Bali Body's Luxe Tanning Mitt over the new blending brush, which is absolutely perfect for a seamless tan.
I like the shade. Although it is a bit more on the orange side than the Self Tanning Mousse, it gives a rich medium tan. It looks as though I've spent a month in Barbados when I apply it (jokes, I'd never achieve a natural tan due to my rigorous sunscreen use). I do think it has an airbrushed quality as well, as it makes my skin look very smooth. Would I say this product "blurs blemishes and covers imperfections"? No, I wouldn't. But it does even out your skin tone because the result is streak-free.
It doesn't have that horrible potent fake tan smell either. You can smell it a bit, but it's very faint and doesn't linger on the skin. Once it's dried down, I don't think you're going to have issues with the fake tan coming off easily either.
Note: I used a towel when spraying the tan to avoid getting fake tan in the carpet or on furniture. The spray mechanism is naturally a messier application, so be mindful when you're using the Instant Tan.
Where to buy
Both the Instant Tan and Body Blending Brush can be purchased from Bali Body. The prices are:
I think these prices are very comparable with other popular fake tanning brands.
Do I recommend Bali Body's latest fake tanner and blending brush?
Yes, but not for everyone. I think Bali Body's latest release is ideal for people looking for a very fast tan and for people who like a tan that 'shows up'. If you're more of a natural tan kinda person, you'll probably find this self-tanner a bit too intense if you've got fairer skin. It's also only for people who can work quickly, else the product will dry down before you've had a chance to blend it in.
Rating: 3.5 stars
As much as I like the Instant Tan and Body Blending Brush, there's room for improvement. They're just not my favourite self-tanning products, although I admit I love the convenience.
I prefer the Bali Body Self Tanning Mousse and Luxe Tanning Mitt. The mousse and mitt allow for more foolproof application, I prefer the softer and less intense results, and the mitt is gentler on the skin.
---
Have you ever tried Bali Body in the past?