Last Updated on 31st October 2023 by Sarah Sarsby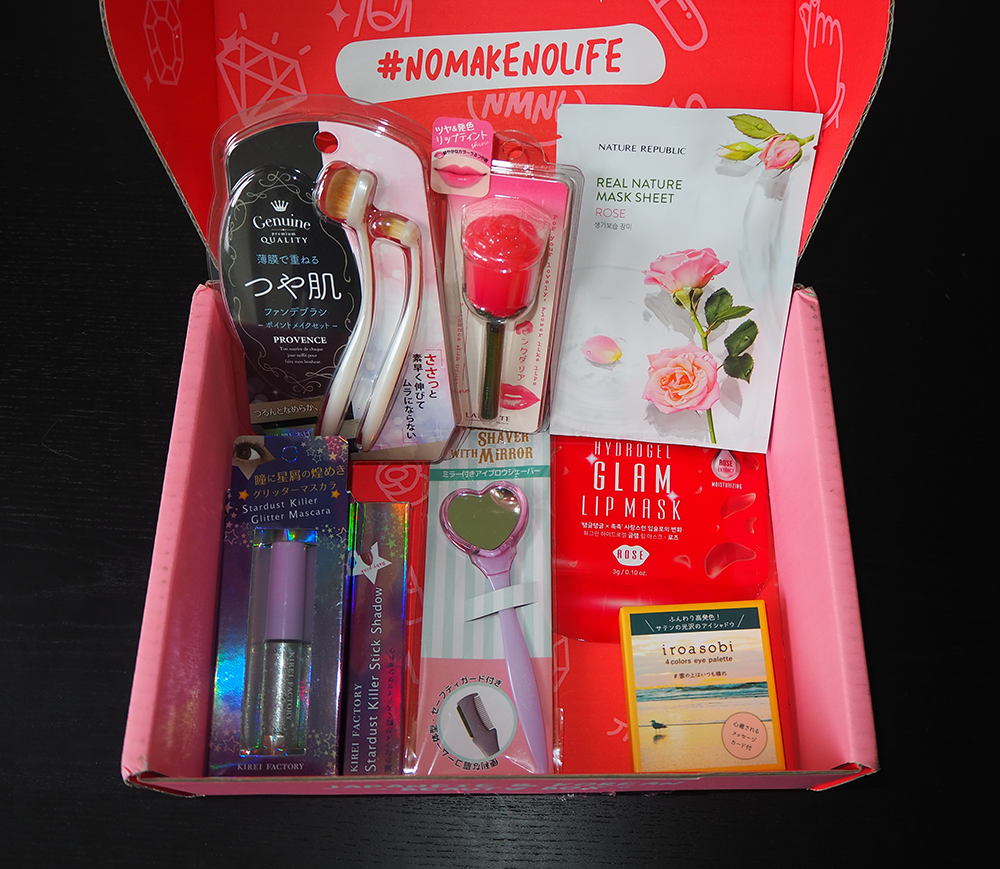 If you've ever wondered what's inside a Japanese and Korean beauty box, then you'll love reading my nomakenolife September 2021 Beauty Box review.
Although I don't personally have a subscription to any beauty boxes, they're a fantastic way to try out new and popular beauty products. They enable you to discover new brands and holy grail items. So when nomakenolife gifted me the September 2021 Beauty Box to review, I was beyond excited.
I didn't really know what to expect from the nomakenolife beauty box. I've become quite familiar with Korean skincare brands like Isntree and iUNIK, but I've not really tried many Korean makeup brands or Japanese beauty products. Because of this, I knew the box would be full of surprises.
Curious to see what was in my September box and how I got with all of the products inside? Keep on reading for my honest review.
** This post contains some affiliate links. This means at no extra cost to you, I earn some commission if you purchase a product through my link. All thoughts are my own, though, as always. If you want to find out more, visit my affiliate disclosure page **
What's nomakenolife?
Founded in 2016, nomakenolife is a beauty box subscription service that brings Japanese and Korean beauty products to customers. The makeup and skincare products promise to be unique, adventurous and playful.
How does it work?
nomakenolife beauty boxes are shipped worldwide. You get a new box every month with a different theme. The September 2021 Beauty Box theme is Floral n' Fabulous.
There are different pricing options available, depending on how frequently you want to pay for your box. If you pay monthly, it's $35/£25. There are roughly 8 items per box, which I think is great value for money!
What did I receive in the nomakenolfie September 2021 Beauty Box?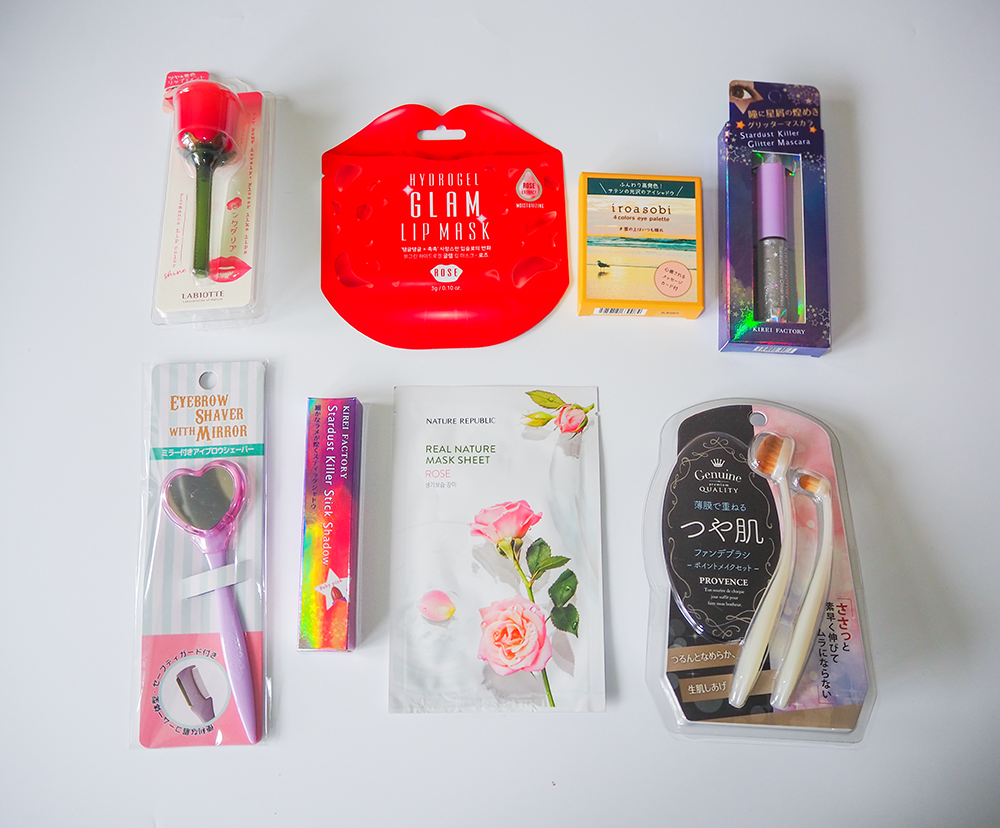 I got 8 Japanese and Korean products in the beauty box this month, which are as follows:
Kirei Factory Glitter Mascara
Kirei Factory Stardust Killer Stick Shadow
Iroasobi 4-color Eye Palette in It's Always Sunny Above the Clouds
Tsuyuhada Foundation Brush (Point Makeup Set)
Eyebrow Shaper with Heart Mirror
Labiotte Flomance Lip Color Shine
Hydrogel Glam Lip Mask
Nature Republic Real Nature Sheet Mask
I'd never heard of any of the brands in this box. A lot of them looked and sounded very unique and interesting. The glitter mascara, eyeshadow stick and lip mask appealed to me the most. Keep on reading for my impressions of each item below.
nomakenolife individual product first impressions
1. Kirei Factory Glitter Mascara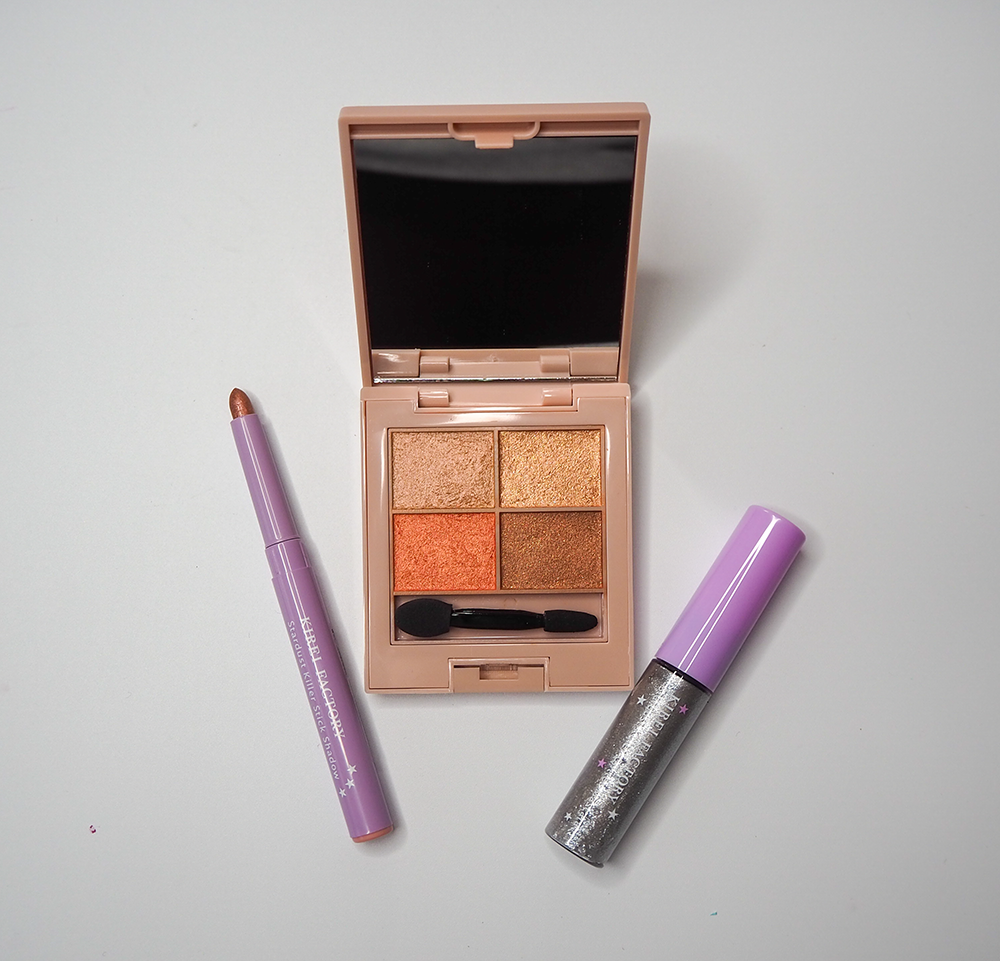 The Kirei Factory Glitter Mascara is a silver glitter mascara that promises to be long-lasting and make your eyes sparkle. It's got a clear base and contains small glitter pieces. The glitter is quite sparse, so it doesn't make your eyelashes ridiculously sparkly.
I applied this glitter mascara over my usual black mascara and found that it applied a small amount of glitter. It wasn't super noticeable, but I could see some glitter when my eyes caught the light. I'm glad it wasn't overly heavy, as I think that would look tacky. However, just a bit more glitter would've been preferable for more impact.
2. Kirei Factory Stardust Killer Stick Shadow in Rose Madder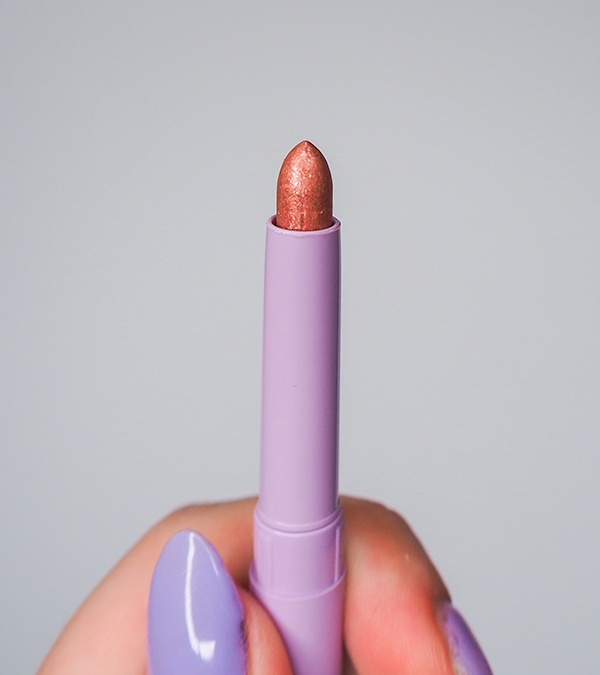 The Kirei Factory Stardust Killer Stick Shadow in Rose Madder is a shimmery eyeshadow stick that claims to imitate stardust. I got the shade Rose Madder, which is a shimmery copper shade.
I thought this would be more of a rosy pink shade, but it's actually more of a muted copper. It's not super pigmented and requires layering, so I think this eyeshadow works well as a quick 'throw on' shade.
I love the light silver glitter within this eyeshadow stick! It makes your eyes sparkle. However, this eyeshadow is prone to creasing more than other formulae in my makeup collection. After a couple of hours, you will notice it creasing, which is a shame. I still like it and will use it for simple makeup days.
3. Iroasobi 4-color Eye Palette in It's Always Sunny Above the Clouds
The Iroasobi 4-color Eye Palette in It's Always Sunny Above the Clouds is a stunning warm-toned eyeshadow palette. It's a full shimmer palette, which I love in these sort of coppery/gold tones. The colour story makes sense and I think the eyeshadows would all work perfectly together.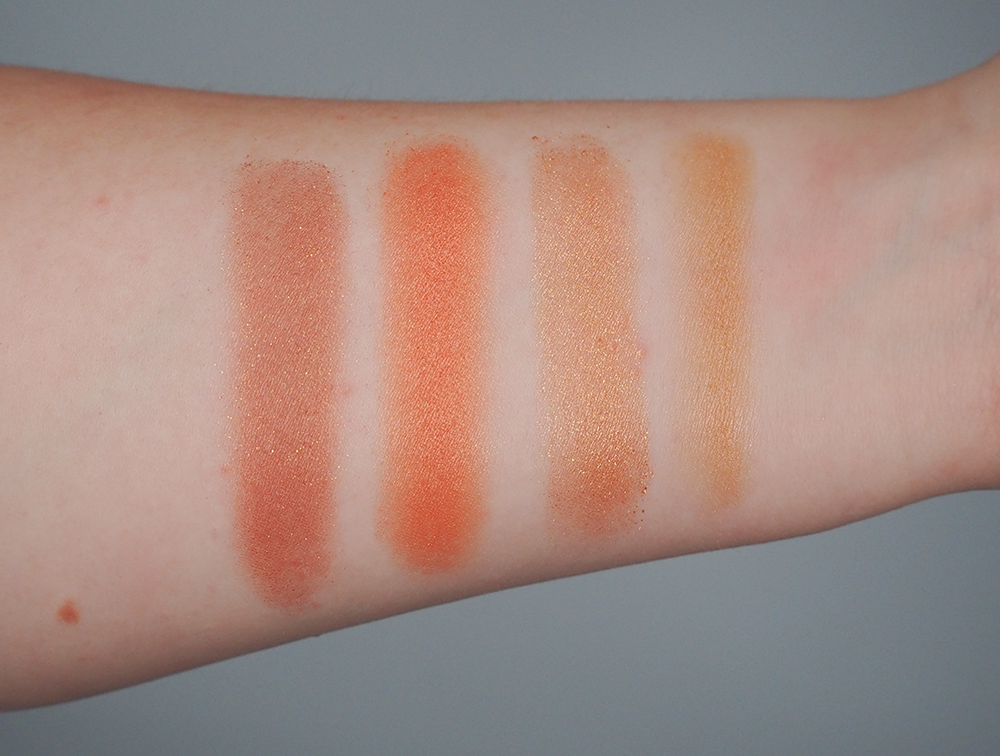 I don't personally find that the shadows swatched equally. The top left-hand shade in the quad wasn't as pigmented or as buttery as the other shadows. And the bottom-right hand eyeshadow was a little chalkier than the other shades and required more layers for the same colour payoff.
I'm yet to try this eyeshadow quad on my eyes, but my initial thoughts are: I like this palette and will create some cute looks with it, but it's not my favourite. Again, I think this is more of an everyday staple than a holy grail makeup product.
4. Tsuyuhada Foundation Brush (Point Makeup Set)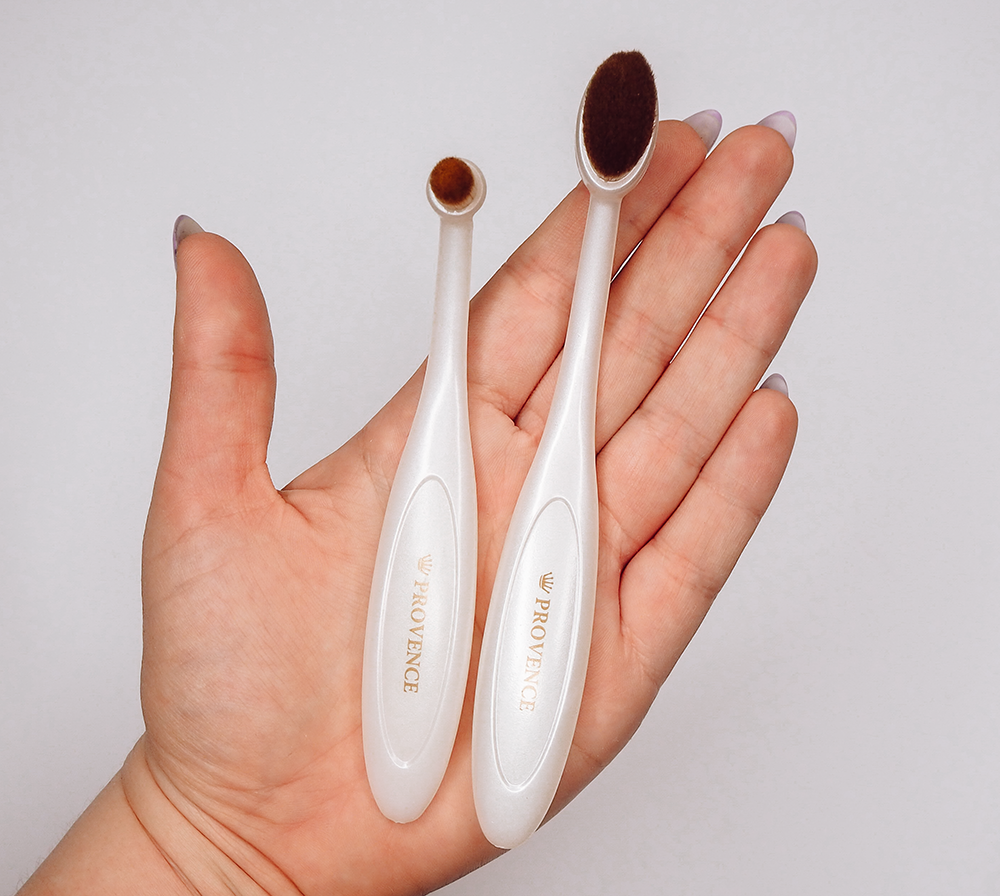 Foundation brushes are crucial for ensuring your foundation blends seamlessly and evenly into the skin. The Tsuyuhada Foundation Brush (Point Makeup Set) contains two densley packed foundation brushes with super soft bristles. I'd personally use the smaller brush for concealer, but the larger brush is ideal for foundation application.
I've only used the larger brush but I'm so impressed! Buffing foundation into the skin was hassle-free and the application wasn't patchy whatsoever. As the brush is very dense, a little product goes a long way and there's next to no waste. Brushes that aren't as dense can sometimes trap a load of foundation – meaning less applies to your face – and it requires more product usage for an even base. This brush ensures all the foundation goes on your skin and doesn't get stuck in the bristles.
The bristles are also very soft and flexible, so the brush feels smooth on the skin. It's one of the best foundation brushes I've tried.
5. Eyebrow Shaper with Heart Mirror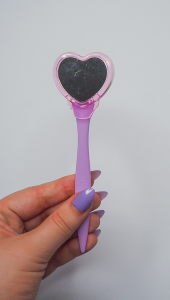 This cute eyebrow shaper comes with its own mirror and safety guard for last-minute eyebrow adjustments on the go. Honestly, this product is very adorable and convenient. I've not used it yet but can already tell that it will work fantastically as the blade looks incredibly sharp.
I'm always a bit scared to use these dermaplaning tools for my eyebrows, but I got on really well with the Hollywood Browzer, so I can't wait to give this one a try soon.
6. Labiotte Flomance Lip Color Shine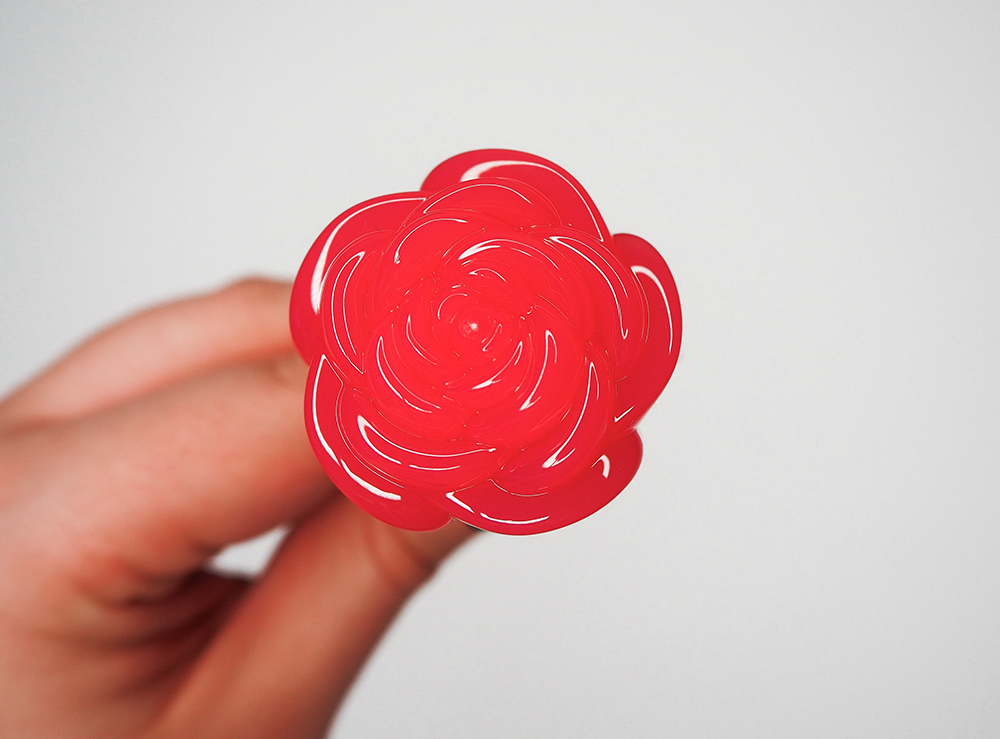 The Labiotte Flomance Lip Color Shine is a highly pigmented lip tint in a vibrant pink shade. Honestly, I wasn't expecting this lip tint to pack a punch, but it's richly pigmented. It stained my arm for several days after swatching it!
The formula sits somewhere in between a liquid lipstick and a lip gloss, which means you get the intense colour payoff with a juicy shine. I've not yet worn this shade on my lips, as I've not found the right occasion yet. It's very bold! I wouldn't usually opt for this sort of colour, but I think it would pair nicely with a champagne eyeshadow.
7. Hydrogel Glam Lip Mask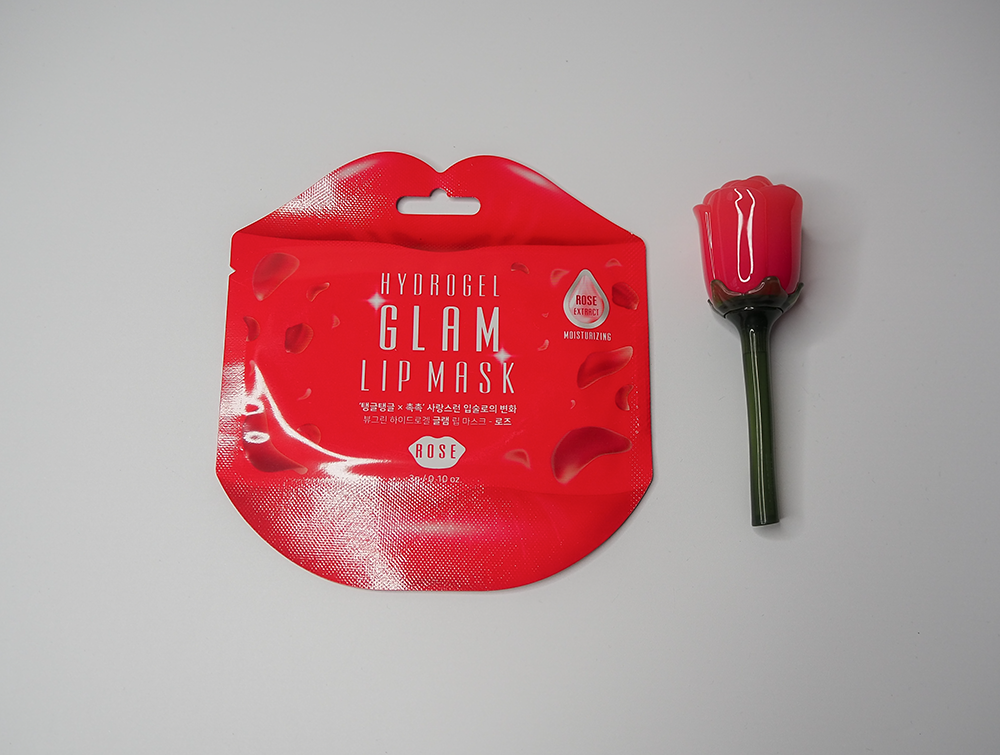 In the past, lip masks have always disappointed me. They haven't been very hydrating and the lip masks never stuck to my lips for longer than a couple of minutes. However, the Hydrogel Glam Lip Mask pleasantly surprised me.
This lip mask is clingy, without feeling uncomfortable, so it doesn't slide off your lips. It smells like strawberries, which I love too. After using it, my lips felt softer, more hydrated and smoother. The actual lip mask is pretty large, so it's suitable for people with fuller lips. I often find lip masks are cut quite small, and some of the ones I've tried weren't big enough to fully cover my lips.
8. Nature Republic Real Nature Sheet Mask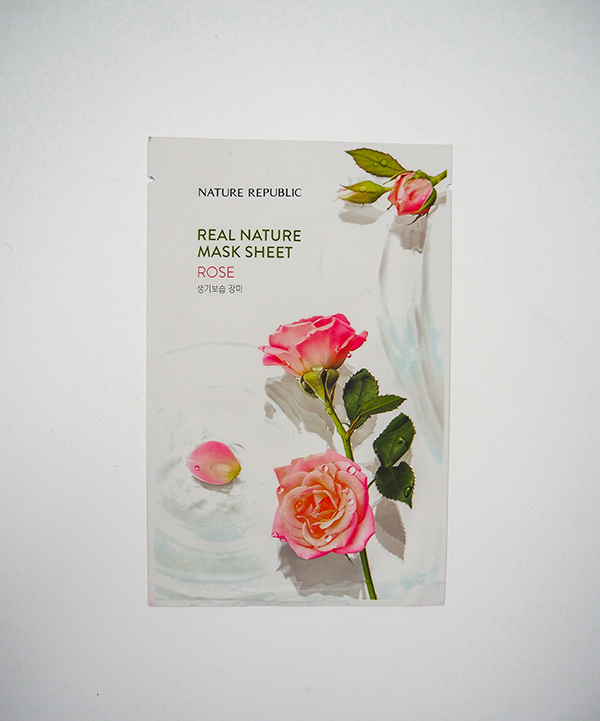 The Nature Republic Real Nature Sheet Mask is very nourishing and soothing. It's quite a wet sheet mask, so you get loads of serum-like product leftover, which you can simply pat into your skin for additional hydration.
The mask sat really well on my face. Once I pressed it down, it stayed in place. I hate sheet masks that don't actually stay put. Seriously, what's the point of them?
This Nature Republic one stays in place perfectly, though. After using it, my skin felt pampered, moisturised and hydrated. It's the best sheet mask I've used, but I admittedly don't use them often. I'd much rather use a clay mask or hydrating serum.
Makeup look using some of the products
To help me review the performance of some of the products in the nomakenolife September 2021 Beauty Box, I created a makeup look. For the below look, I used the Kirei Factory Glitter Mascara, Kirei Factory Stardust Killer and Tsuyuhada Foundation Brush (Point Makeup Set). These were the products that most appealed to me, particularly the mascara and eyeshadow stick.
Here's how it turned out: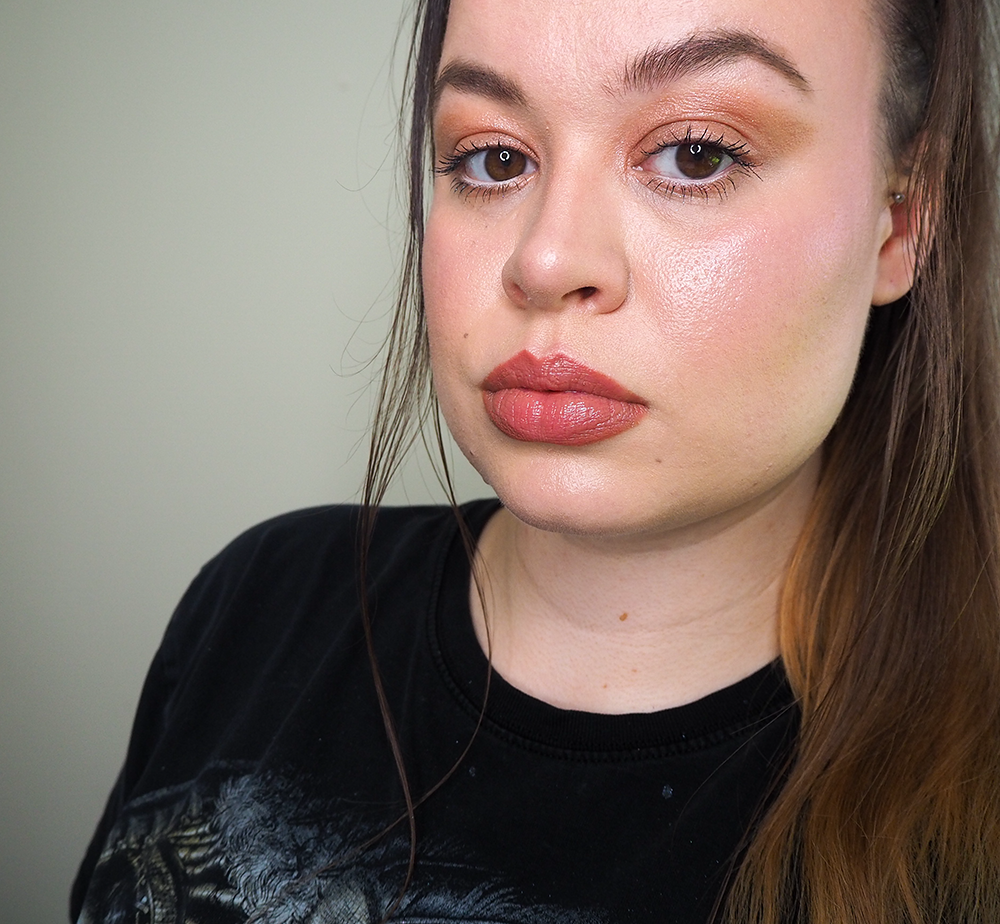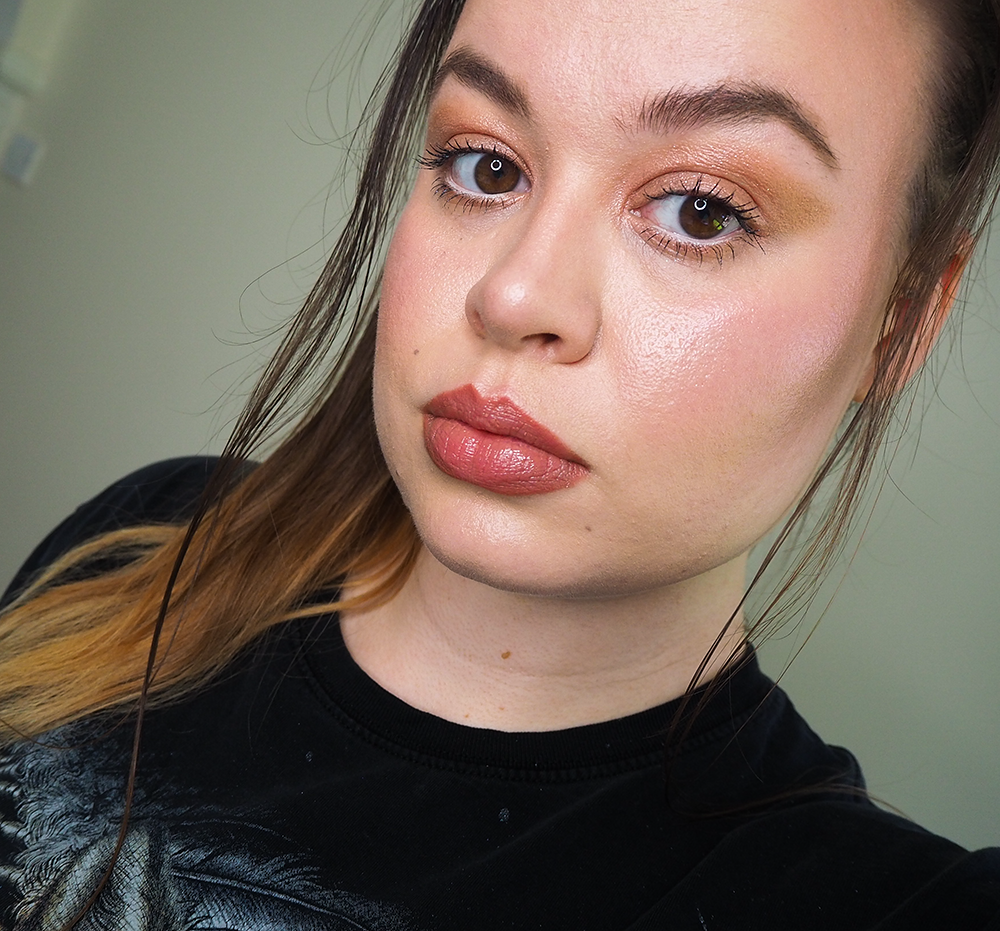 The shadow stick took some layering and blending to reach this effect, but I love how it looks on the eyes. It's a shame that it wears off quite quickly, but I love this coppery shade. Although it's warm-toned, I think it would work well with most lipsticks. The shimmer is subtle, so it's suitable for daytime wear.
Unfortunately, the glitter mascara didn't show up as well as I'd hoped. In some ways, I quite like that it's incredibly subtle. I think very glittery lashes look quite childish. But I do wish the silver glitter would show up just a touch more; I think it would bring the shimmery eyeshadow to life.
I loved using the foundation brush to apply my foundation. The application was seamless and I could buff the product into my skin easily, without it looking streaky or patchy. This is the product that most impressed me of the 3 products I used to create this makeup look.
Overall nomakenolife review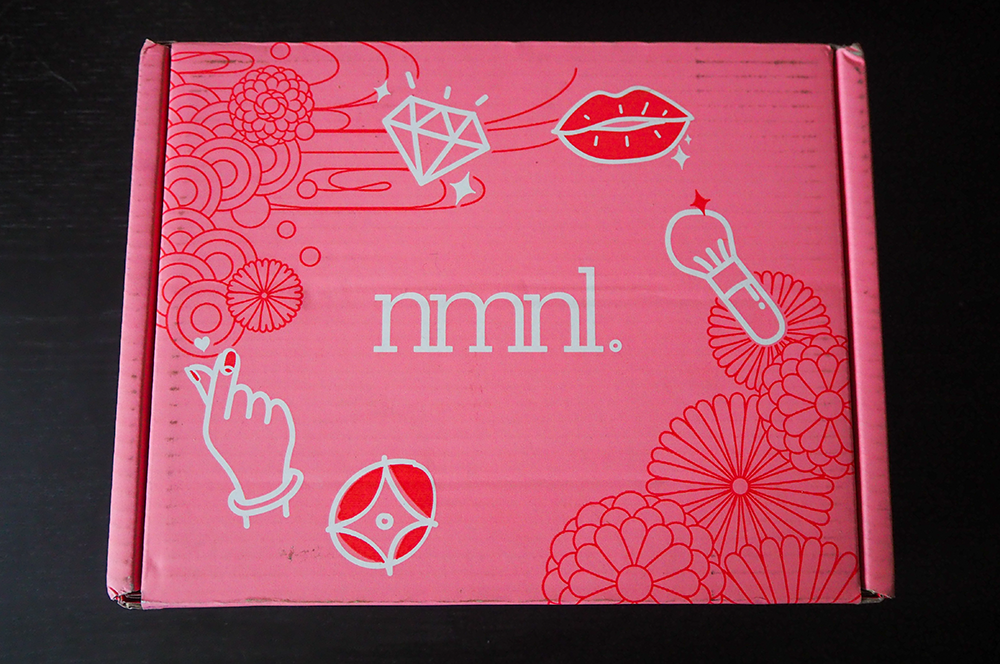 I'm impressed with the nomakenolife September 2021 Beauty Box. The selection of beauty products was different and they're probably not items I'd have purchased with my own money, so it introduced me to new brands.
None of the products blew me away, but they did excite me. I'm very impressed with the foundation brushes, and I love the eye products I received. Some extra glitter in the mascara and longevity in the shadow stick would've been better, though, in my opinion.
The sheet mask and lip mask were very fun to use. People that love sheet masks would honestly adore both of these items. I don't typically use either much, so I'm happy I received these in the nomakenolife box.
I'm also looking forward to wearing the eyeshadow quad and lip tint this weekend! I'm convinced the eyeshadow quad will be my favourite product from the box, since the swatches are so pretty.
Do I recommend subscribing to nomakenolife?
Yes! It's a great way to discover some new, unique Japanese and Korean beauty brands that you might not be able to get your hands on elsewhere. I think the box is great value for money, and each month, the products are very different from one another. You're not going to end up with lots of duplicate items, which can be a problem with other beauty boxes on the market.
I'm very happy with my September box and I think other beauty lovers would enjoy discovering the unusual products in the nomakenolife boxes.
---
Which product from the nomakenolife September 2021 Beauty Box grabs your attention the most? Would you ever subscribe to a beauty box like this? I'm intrigued to hear your thoughts!