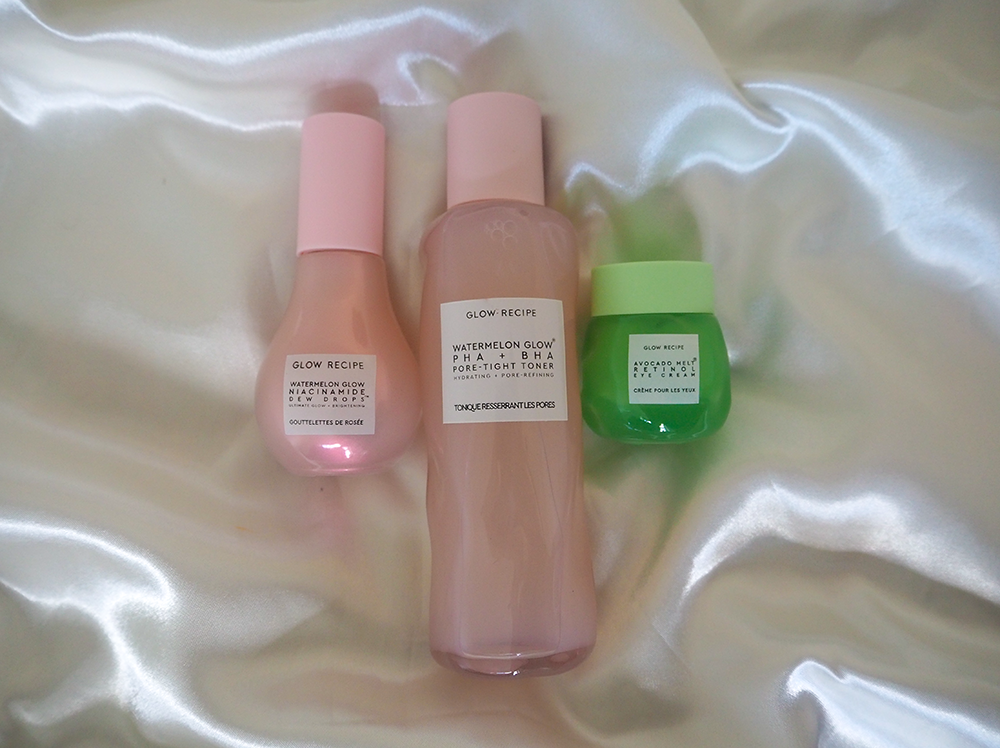 For people wanting to achieve flawless glass skin (*cough cough* everyone), I'm going to talk to you about 3 amazing Glow Recipe products for the dewiest skin ever.
If you're not familiar with glass skin, it's a Korean skincare trend where the skin looks dewy and radiant like glass reflecting light. The goal is super hydrated, smooth, and luminous skin. And there's no better brand to achieve glass skin than K-beauty superhero Glow Recipe.
In this review, I'm going to discuss 3 smoothing and hydrating Glow Recipe products, whether you need them on your skincare shelf, and how to achieve glass skin effortlessly.
* This post contains some affiliate links. This means at no extra cost to you, I earn some commission if you purchase a product through my link. All thoughts are my own, though, as always. If you want to find out more, visit my affiliate disclosure page **
What is Glow Recipe?
Glow Recipe is a popular Korean skincare brand that focuses on effective products that deliver clinical results. Its philosophy is inclusivity, individuality, and sustainability. The brand's products are rich in fruit antioxidants with many fruit-themed ranges, such as watermelon, banana, and avocado. All of Glow Recipe's products are vegan and cruelty-free.
Some of the brand's best-selling products are the Watermelon Glow Niacinamide Dew Drops, Plum Plump Hyaluronic Cream, and Papaya Sorbet Enzyme Cleansing Balm.
What Glow Recipe Skincare products did I receive?
I received the following 3 Glow Recipe products to review:
Below, I'm going to deep dive into the individual product claims and ingredients and give an honest rating. Keep reading to learn more about the products.
1. Glow Recipe Watermelon Glow Niacinamide Dew Drops
$34/£31 for 40ml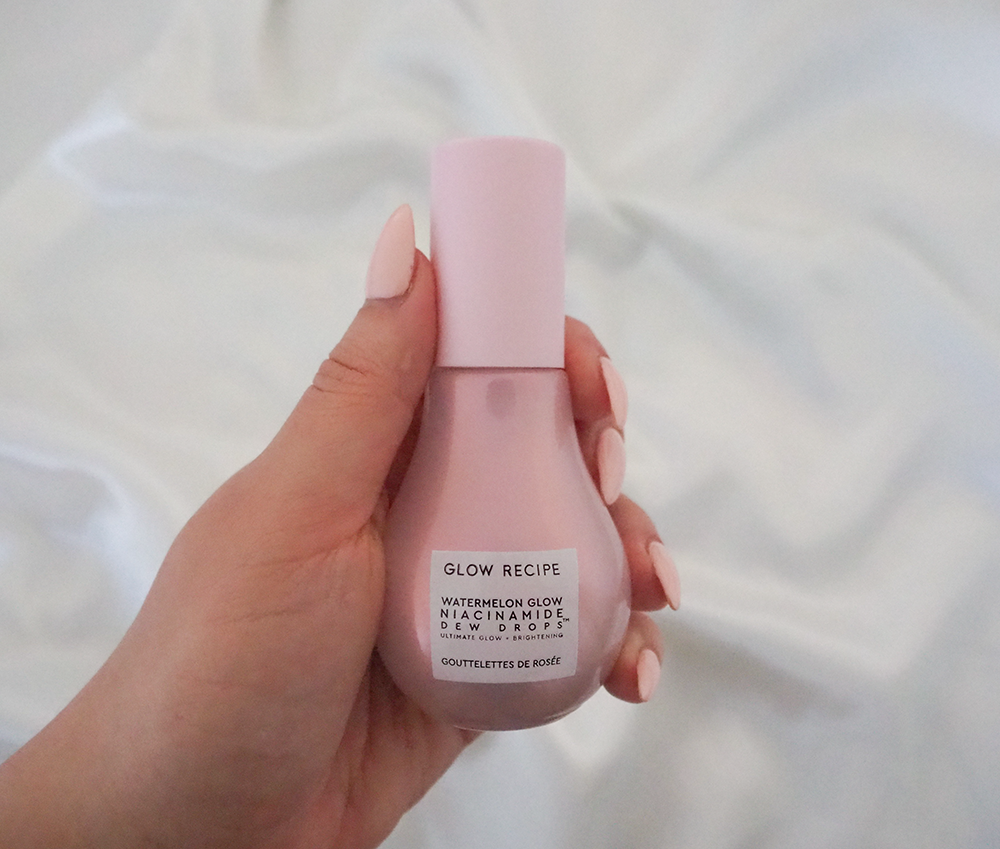 Product claims
The Glow Recipe Watermelon Glow Niacinamide Dew Drops promise to deliver a dewy glow both immediately and in the long term. Infused with niacinamide, this glowy serum promises to highlight skin without mica, glitter, or pearls. This makeup-skincare hybrid also claims to visibly brighten skin while improving hyperpigmentation without leaving a grey cast.
Glow Recipe says the serum is lightweight, buildable, and absorbent. You can use this serum before moisturiser or as the final step in your skincare routine for glossy luminosity.
Key ingredients
Excluding water, the top 5 ingredients on the INCI list are:
Propanediol: moisturises the skin with a smooth, dewy finish
Glycereth-26: a glycerin-based ingredient that hydrates the skin
Glycerin: has hydrating properties
Niacinamide: a skincare powerhouse that offers a myriad of benefits including minimising the appearance of pores, improving dull and uneven skin tone, helping control excess oil, and boosting skin's barrier strength and hydration
2,3-Butanediol: moisturises the skin
See the full INCI list:
Aqua/Water/Eau, Propanediol, Glycereth-26, Glycerin, Niacinamide, 2,3-Butanediol, 1,2-Hexanediol, Cetyl Ethylhexanoate, Citrullus Lanatus Fruit Extract, Sodium Hyaluronate, Eclipta Prostrata Extract, Melia Azadirachta Leaf Extract, Polyglyceryl-3 Methylglucose Distearate, Tromethamine, Glyceryl Stearate, Carbomer, Acrylates/C10-30 Alkyl Acrylate Crosspolymer, Ethylhexylglycerin, Xanthan Gum, Polyquaternium-51, Moringa Oleifera Seed Oil, Fragrance/Parfum, Benzyl Benzoate.
Review
Predictably, I adore the Watermelon Glow Niacinamide Dew Drops. It's healthy, bright, and radiant skin in a bottle.
What I love most about these dew drops is the glow it gives your skin is so natural. There's no shimmer or glitter, but it's your skin on its healthiest day. If my skin looks dull or lacklustre, these dewy drops instantly cheat more awake skin. Plus, the serum is super buildable and absorbent, so I can amp up the glow if I want to without the serum feeling heavy or looking OTT.
The Watermelon Glow Niacinamide Dew Drops are also lightweight. They work really well with the rest of my skincare routine. I typically add a few drops to my moisturiser for instant dewiness.
Plus, the serum actually feels good for my skin. It's hydrating, and the niacinamide helps improve my skin tone and control my oiliness throughout the day. And that's thanks to an impressive INCI list with niacinamide listed in the top 5 ingredients.
I prefer the Glow Recipe Watermelon Glow Niacinamide Dew Drops to the famous Glossier Futuredew. The formula is more lightweight, absorbent, and less oily. Plus, the dewiness is more natural and gives me a lit-from-within glow.
Rating: 5 stars
I'm obsessed with these dew drops. I'm reaching for them daily.
2. Glow Recipe Avocado Melt Retinol Eye Cream
$42/£38 for 15ml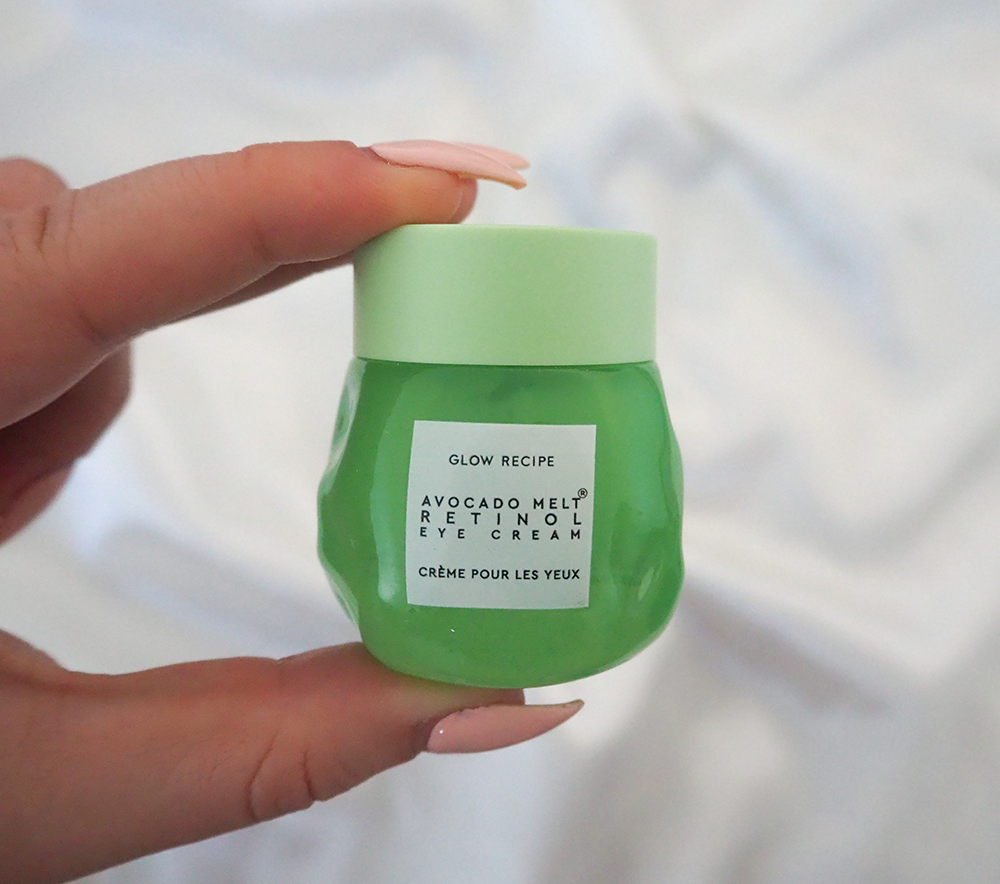 Product claims
The Glow Recipe Avocado Melt Retinol Eye Cream claims to gently release retinol over time to effectively smooth fine lines and firm the eye area. Enriched with a cocktail of nourishing ingredients, this creamy product promises to moisturise, depuff, and brighten the eyes by morning.
In a clinical study of 33 subjects, after 4 weeks 97% of subjects saw a significant improvement in fine lines and wrinkles, according to Glow Recipe.
Key ingredients
Excluding water, the top 5 ingredients on the INCI list are:
Glycerin: has hydrating properties
Propanediol: moisturises the skin with a smooth, dewy finish
Glyceryl stearate: an emollient (softens or soothes skin)
Cetearyl alcohol: an emollient
Avocado oil: an emollient that's rich in skin-replenishing fatty acids. It helps preserve skin moisture and prevent moisture loss
See the full INCI list below:
Aqua/Water/Eau, Glycerin, Propanediol, Glyceryl Stearate, Cetearyl Alcohol, Persea Gratissima (Avocado) Oil, C9-12 Alkane, Sodium Lauroyl Glutamate, Stearic Acid, Persea Gratissima (Avocado) Fruit Extract, Squalane, Niacinamide, Ethylhexylglycerin, Hexylresorcinol, Oryza Sativa (Rice) Extract, Tocopheryl Acetate, Aloe Barbadensis Leaf Juice, Coffea Arabica (Coffee) Fruit Extract, Hyaluronic Acid, Ethylhexyl Palmitate, Sodium Hyaluronate, Retinol, PEI-10, Hydrated Silica, Sodium Chloride, Fructan, Maltodextrin, Spirulina Maxima Extract, Curcumin, Butyrospermum Parkii (Shea) Butter, Potassium Chloride, Potassium Phosphate, Butylene Glycol, Sodium Phosphate, Hydrogenated Starch Hydrolysate, Maltooligosyl Glucoside, Arginine, Silica Dimethyl Silylate, Sodium Dilauramidoglutamide Lysine, Sodium Hydroxide, Citric Acid, Caprylyl Glycol, Kaolin, Carthamus Tinctorius (Safflower) Seed Extract, Lavandula Angustifolia (Lavender) Flower/Leaf/Stem Extract, Malachite Extract, Rosmarinus Officinalis (Rosemary) Leaf Extract, PPG-3 Benzyl Ether Myristate, Polyisobutene, PVP, C13-15 Alkane, Acrylates/C10-30 Alkyl Acrylate
Review
Although I've not used many dedicated retinol eye creams, the Avocado Melt Retinol Eye Cream is by far my favourite.
Even after a few weeks of usage, I can already see some improvement in the fine lines under my eyes. At 27, I can't say my under-eyes are particularly wrinkly, but the eye cream has helped reduce some of the fine lines I had.
I notice that when I apply this eye cream, my eyes appear a bit brighter in the morning. I'm definitely someone who has noticeably tired eyes when I've had a lack of sleep, so I'll take any support I get.
As with all Glow Recipe skincare, the avocado eye cream also makes my eyes feel nourished and hydrated. Retinol products can be drying, especially when they're strong, so I appreciate that this eye cream has a moisturising formula to counter any dryness.
I'm impressed with the results after 3 weeks of using the Avocado Melt Retinol Eye Cream, so I can't wait to see further improvements in the coming weeks.
Rating: 4.5 stars
This is a beautiful eye cream, but it's not my absolute number 1!
3. Glow Recipe Watermelon Glow PHA+BHA Pore-Tight Toner
$34/£31 for 150ml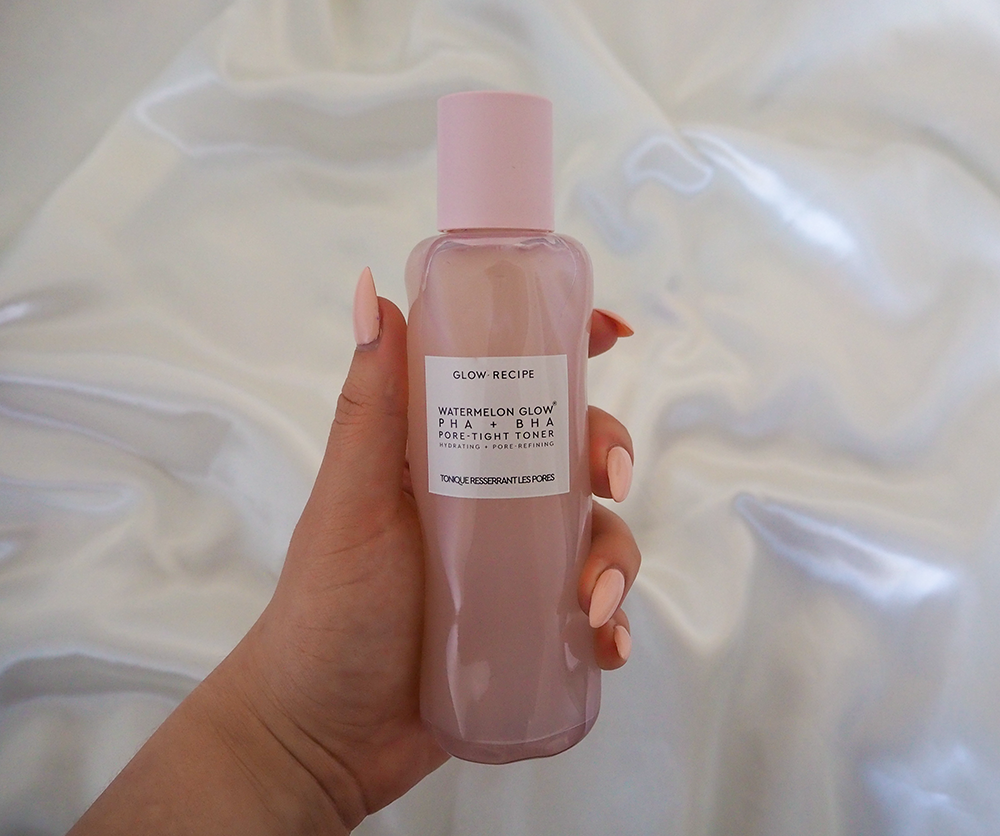 Product claims
The Glow Recipe Watermelon Glow PHA+BHA Pore-Tight Toner promises to hydrate skin and tighten pores simultaneously in an ultra-gentle formula. This exfoliating toner claims to make skin smooth, supple, and plump while reducing the appearance of pores. The result? Hydrated, smooth, and glowy skin.
Key ingredients
The top 5 ingredients on the INCI list are:
Cactus extract: helps replenish and hydrate skin
Watermelon fruit extract: a hydrating antioxidant
Glycerin: hydrates the skin
Hyaluronic acid: a hydrating hero
Gluconolactone: a PHA, which is a great exfoliant for more sensitive skin types
See the full INCI list below:
Opuntia Ficus-Indica (Cactus) Extract, Citrullus Lanatus (Watermelon) Fruit Extract, Glycerin, Hyaluronic Acid, Gluconolactone, Sodium Polyglutamate, Betaine Salicylate, Salix Alba (Willow) Bark Extract, Melaleuca Alternifolia (Tea Tree) Extract, Hibiscus Sabdariffa Flower Extract, Lactobacillus/Watermelon Fruit Ferment Extract, Cucumis Sativus (Cucumber) Fruit Extract, Saccharum Officinarum (Sugarcane) Extract, Glycyrrhiza Glabra (Licorice) Root Extract, Scutellaria Baicalensis Root Extract, Paeonia Suffruticosa Root Extract, Brassica Oleracea Capitata (Cabbage) Leaf Extract, Ipomoea Batatas Root Extract, Sorbitan Oleate, Levulinic Acid, Sodium Levulinate, Fragrance/Parfum
Review
The Glow Recipe Watermelon Glow PHA+BHA Pore-Tight Toner is one of my fave exfoliants ever.
I love using an exfoliant in a toner form as opposed to a serum, so this one is right up my street. My absolute fave thing about this exfoliant is that it's so gentle but still makes a difference to my skin. I could honestly use this exfoliant every day without it feeling too harsh. The cocktail of hydrating ingredients alongside the PHA + BHA means my skin tolerates the formula really well.
Since using this watermelon toner for a few weeks, my skin is smoother and looks glowier. When I use the Watermelon Glow PHA+BHA Pore-Tight Toner, my pores appear a bit smaller, which is great for an oily-skinned girl like me.
I've had some great results with this toner without ever overdoing it. Plus, the fact that this exfoliant makes my skin radiant and hydrated is a major bonus.
Rating: 5 stars
I can see why this is one of Glow Recipe's best-selling products because it's very special.
Glass skin goals
Using the wonderful Glow Recipe products, I created an ultimate glass skin look. The only product I didn't use for this glazed doughnut look was the Avocado Melt Retinol Eye Cream. Retinol is a night-time product, so I don't wear eye cream during the day.
As well as the exfoliating toner and dew drops, I used the Glow Recipe Watermelon Glow Pink Juice Moisturizer along with a few other skincare products for this glass skin look. I purchased this moisturiser with my own money, and it seriously contributes to the overall dewy vibes.
I loveeee the luminosity. Honestly, what brand can give you this dewy skin better than Glow Recipe? I'll wait…
Overall Glow Recipe review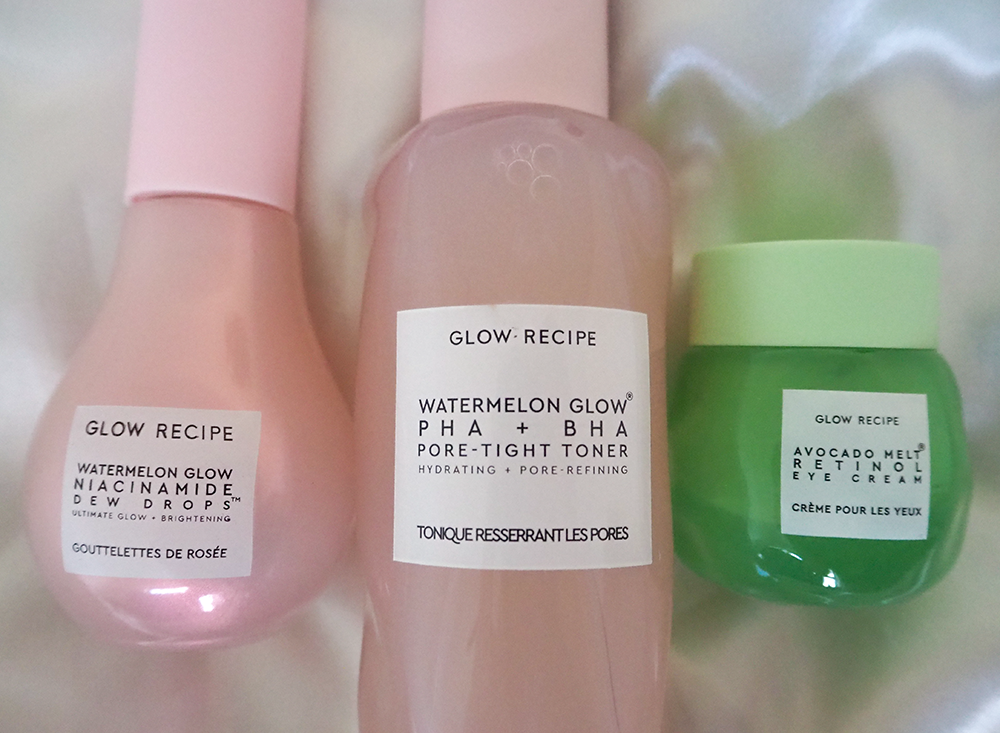 Predictably, I love Glow Recipe.
All 3 products in this post are wonderful. They're hydrating, glow-boosting, smoothing, and gentle. I've noticed an improvement in my skin since using all of them.
Of course, the packaging is super cute. Glow Recipe is all over Insta because of the instantly identifiable packaging. So many bottles are shaped like fruit or have fruit-coloured packaging. They look beautiful on my shelf, which adds to the whole luxurious vibes.
What I love most is how these moisturising products give me glass skin. They are ultra-moisturising and illuminating and simply smooth over the skin.
I know that Glow Recipe isn't the cheapest of brands, but I believe the products are worth it. Each product has an excellent and high-quality INCI list. If the bottle lists an active ingredient, it's going to feature high up the INCI list or will be a quality ingredient. So you get what you're paying for. There's nothing worse than a brand promoting a niacinamide serum when niacinamide is listed right at the bottom of the INCI list. Glow Recipe isn't about that.
All in all, I adore Glow Recipe and can't wait to try more products from the brand.
Fave product?
The Glow Recipe Watermelon Glow Niacinamide Dew Drops.
---
Have you tried glow Recipe yet?