In this Illamasqua review, I'm going to be talking about 4 amazing products, including a new launch, and how you can get 25% off!
Illamasqua is home to unique, creative, and beautiful makeup products. Although this is my first time trying the well-known brand, the makeup products in this review have fast become some of my holy grails.
If it's not already very obvious, I'm a little obsessed with makeup. So I couldn't wait to play with my Illamasqua to create some brand-new looks!
If you're looking to purchase some new makeup products, want to treat yourself, or simply want to play around with innovative textures and colours, this comprehensive Illamasqua review will help you decide which items to purchase right now (*cough cough* all of them!).
Keep reading to find out more about the brand, see unreal swatches, how the products look on, and my overall thoughts on Illamasqua.
DISCOUNT: Use code ILLAM25 for 25% off Illamasqua
* This post contains some affiliate links. This means at no extra cost to you, I earn some commission if you purchase a product through my link. All thoughts are my own, though, as always. If you want to find out more, visit my affiliate disclosure page **
What is Illamasqua?
Illamasqua is a makeup brand that's revolved around helping people to express themselves, giving people confidence, and encouraging unlimited creativity. The brand promises to deliver unrivalled pigmentation for intense colour payoffs to inspire makeup artists and enthusiasts worldwide.
Illamasqua is 100% cruelty-free, as recognised by PETA. It also offers many vegan products (although not every product is vegan).
Some of the brand's best-selling makeup products include the Skin Base Foundation, Beyond Powder, and Hydra Veil Primer.
What Illamasqua makeup products did I receive?
I received the following Illamasqua makeup products to review:
Below, I'm going to share my thoughts on each product, give individual ratings, and provide swatches for each item, so keep reading!
1. Illamasqua Skin Base Foundation
£33 for 30ml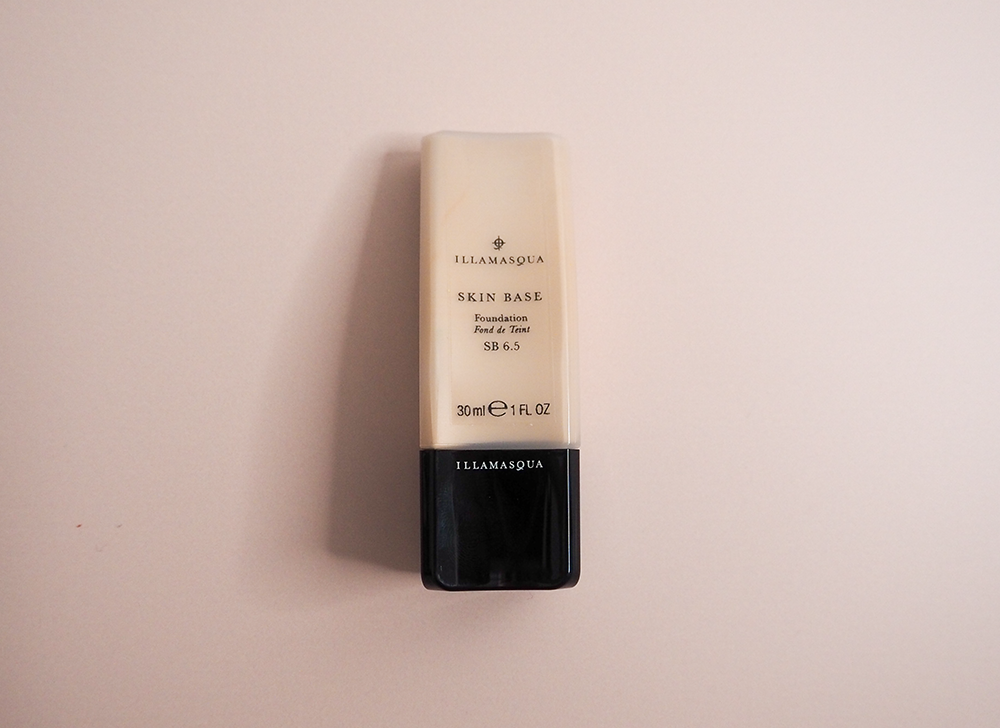 Product claims
The Illamasqua Skin Base Foundation promises to provide a flawless matte complexion and a realistic skin-like finish.
This lightweight, easily blendable foundation smooths, softens and conditions your skin and is suitable for most skin types.

Illamasqua
This popular foundation also claims to be buildable and adaptable for a fresh-faced look. You can achieve sheer or full coverage, depending on how you use the foundation, according to the brand.
Swatch
I swatched the Illamasqua Skin Base Foundation to give you an indication of the texture and colour. This was done on my bare arm without primer. I've got the shade SB 6.5. Swatches should be used to indicate a product's performance and not the sole decider of whether you purchase a product. Products can sometimes perform differently on the intended area of use.
Here's my swatch: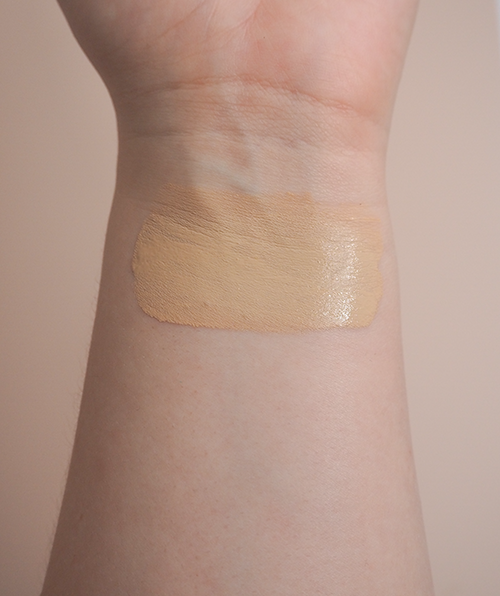 The skin on my arms is lighter than my face, so that's why the shade looks significantly darker on my arm. Even on my face, SB 6.5 is a little darker than my skin tone, but it's nothing a bit of concealer, setting powder, and cheek products can't fix!
The foundation was super creamy when I swatched it with a thicker consistency than many other foundations in my collection.
Review
I really wish I'd tried the Illamasqua Skin Base Foundation sooner because it's incredible.
Firstly, the texture is lovely. It's creamy but doesn't feel greasy or sticky. Although this isn't as weightless as some of the other foundations in my collection, it doesn't heavy. When I wear this foundation, it does get a little oily throughout the day, as it's creamy. But it's nothing a bit of powder can't sort out!
I wouldn't describe this as a matte foundation, as it has a subtle sheen. To me, this is a satin foundation with a skin-like finish. I absolutely love the finish of the foundation, as it makes my skin look super healthy without being flat.
But my favourite thing about this foundation is how it buffs into the skin. The creamy consistency means the product smooths over the skin easily. Blending this foundation is effortless. It's buildable too. I'd describe this as a medium-coverage foundation with the flexibility to build up to full coverage.
IMO this isn't a sheer foundation. Even if you went in with a tiny amount of product and blended it with a beauty blender, the thicker formula wouldn't give sheer coverage.
Overall, I love this beautiful foundation. It's super flattering and makes my skin look poreless and even.
Rating: 4.5 stars
I only didn't give this 5 stars because it's not my all-time fave, but it's a fab foundation that I'd happily buy with my own money.
2. Illamasqua Eye Paint Longwear Liquid Shadow
£19 for 5.5ml
Product claims
The Illamasqua Eye Paint Longwear Liquid Shadow is a brand-new launch from the brand and claims to be super pigmented and deliver up to 12 hours of waterproof, transfer-proof colour.
One stroke of Eye Paint gives an intensely pigmented matte colour or it can be blended out for a softer application.

Illamasqua
These eyeshadows can be worn alone or as an eye base, the brand says.
Swatch
I received 4 of the Illamasqua Eye Paint Longwear Liquid Shadows in the shades Darjeeling Ink, Ginger Mocha, Lavender Brew, and Rose Latte. The swatches of each shade were done on my bare arm without primer.
Here are my swatches:
Each shade was super creamy, intensely pigmented, and glided on my skin effortlessly. Although they're matte, these eye paints weren't flat and offered vivid colour payoff.
Review
I'm genuinely addicted to the Illamasqua Eye Paint Longwear Liquid Shadows.
These long-wear liquid eyeshadows are some of the best products I've ever used. Each shade is super pigmented but still very easy to use. You can blend, buff, build, and diffuse colours effortlessly. Whether I want a sheer wash of colour on my lids or a bold statement eye, I can do this easily with the eye paints.
Speaking of colours, they're beautiful. Each shade I received is gorgeous. I particularly adore Lavender Brew and Rose Latte, but I'm a sucker for pinks and purples. All of the shades pack the same vivid colour payoff and perform equally as well as one another.
The texture of the Illamasqua Eye Paints is to die for. They're super creamy and rich, so they glide over the eyelids easily without tugging. They don't dry down too quickly either, which means you can manipulate the shades exactly where you want them to go without rushing. I love that the eye paints dry matte but never look dull.
The lasting power of these eyeshadows is also fab. They'll wear for 8 hours without fading, budging, or smudging. I've not had any issues with the shadows creasing either.
Rating: 5 stars
I honestly love playing with the Illamasqua Eye Paints. I'm obsessed with the colours, and I can create so many different eye looks with these quickly and easily. This is a faultless formula.
3. Illamasqua Beyond Powder
£34 for 7g
Product claims
The Illamasqua Beyond Powder promises to provide a natural and radiant glow.
A baked highlighter containing finely-milled shimmer pigments to add a radiant glow to both the face and body.

Illamasqua
It claims to be versatile and buildable, offering a soft, healthy-looking glow in a lightweight formula. The brand says there's a shade for every skin tone in the range.
Swatch
To give you an idea of the colour and texture, I swatched the Illamasqua Beyond Powder. This swatch was done on my bare arm without primer. I've got the shade OMG, which is a timeless champagne shimmer.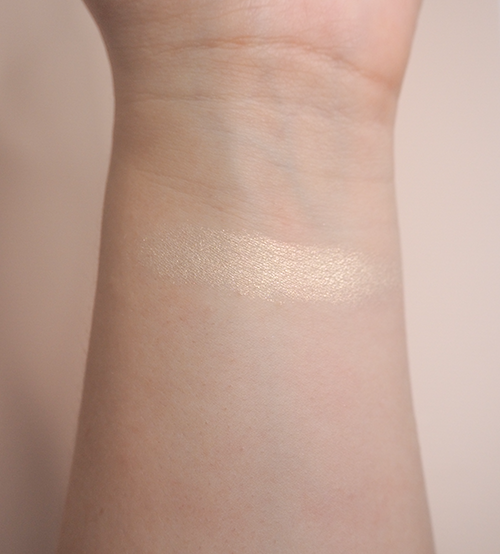 How gorgeous is the swatch?! The shimmer is so soft and subtle, and the formula was ridiculously soft and weightless.
Review
The Illamasqua Beyond Powder is now one of my fave highlighters.
This powder highlighter is the softest and most lightweight formula I've ever tried. It's super buttery and smooth, so the powder literally glides over the skin. The finely milled formula means the highlighter doesn't feel dry and the glow is subtle.
I'm obsessed with the flattering champagne shimmer. It's not too warm or too cool, so it matches my complexion. I think this shade would look incredible on so many complexions! This highlighter works with any makeup look, from a vampy lip to a monochromatic peach moment.
The Illamasqua Beyond Powder is 100% buildable. A light application will give you subtle radiance, but you can build this up to super intense shine using a densely packed brush, multiple layers, or your fingertips. Even when built up, the powder still blends so easily and doesn't emphasise texture.
In fact, that's probably my favourite thing about the highlighting powder – the lack of skin texture. Powder highlighters can really emphasise skin texture, but this one still manages to give a poreless effect. If my skin isn't at its best, I'd use this highlighter as it's very flattering.
Rating: 5 stars
This is now one of my all-time fave highlighters. It's incredible.
4. Illamasqua Gel Sculpt
£25 for 8g
Product claims
The Illamasqua Gel Sculpt promises to provide subtle definition to your complexion without any hassle.
Gel Sculpt is a unique contouring gel that offers subtle definition to cheeks with minimal effort.

Illamasqua
This gel contour stick claims to be perfect for light skin tones, offer a flawless soft shadow, and effortless blending with no harsh lines.
Swatch
To give you an indication of the shade and opaqueness of the Illamasqua Gel Sculpt, I swatched it. This swatch was done on my bare arm without primer. I've got the shade Silhouette, which is the medium shade of the 3 available.
Here's the swatch:
The colour is nice and quite sheer! It's a little warmer than many contour shades out there, but it's still pretty neutral. This contour stick offers light intensity.
Review
The Illamasqua Gel Sculpt is a truly one-of-a-kind formula.
Firstly, the shade is interesting. In the stick, the colour looks really dark. Almost black. But when applied to the skin, it's actually fairly light. So don't be deceived by the contour's colour appearance, as it's very different once applied! I really like the shade Silhouette; it's neutral with slightly warm undertones.
The formula is so unique. It's got this lovely cooling sensation and gel texture that simply smooths over the skin. The contour very easy to blend, build, and buff into the skin. I personally enjoy buffing this contour into the skin with a brush; using a beauty blender can become messy.
The coverage is quite light, so if you want a really sculpted look, you'd need to build this up in quite a few layers. Ultimately, Gel Sculpt is all about subtle definition rather than a very angled look. I love how natural the contour looks, and the way it sits on the skin is very natural. This is perfect as an everyday contour product.
Rating: 4 stars
I like this gel contour a lot, especially for days when I want a more natural complexion.
2 makeup looks using the Illamasqua products
I couldn't do a makeup review without showing you a makeup look, right?! So I created 2 Illamasqua makeup looks. In both looks, I used all of the base products. I essentially just used different shades of the Eye Paints with different techniques for some variety.
Graphic liner
The first look I created was a modern and fresh graphic liner look. I kept the base light and dewy with a little contour, medium foundation, and a soft sweeping of highlighter.
To create the graphic liner wing, I first traced an outline using a brown kohl pencil. After I was happy with the shape, and they looked even on both eyes, I then took the Eye Paint in Lavender Brew and lightly filled in the inside of the wing. I started with a little product at the bottom of my lids and buffed this upwards for a softer shade of purple.
I absolutely love how this makeup look turned out. How stunning are the products? I love how my base looks because it's smooth and luminous without looking greasy. The highlighter catches the light so perfectly and softly.
I'm particularly obsessed with the dusty purple eyeshadow. It's the most perfect shade, and it was so easy to work with. I manipulated the colour and intensity effortlessly, and I'm by no means a makeup pro!
Earthy tones
For the second look, I wanted to play around with the sandy beige Eye Paint in Darjeeling Ink and the beautiful warm terracotta Eye Paint in Ginger Mocha. So I went for an earthy tones eye makeup look.
I went in with more foundation this time and opted for more contour and bronzer to warm things up. To create the eyeshadow base, I used Darjeeling Ink on the inner third of my eyelid and blended that out. Then, I took Ginger Mocha over my entire lid, blending it over Darjeeling Ink for a gradient eyeshadow effect. I buffed the colour out more than the graphic liner look for a softer wash of colour.
I'm also really pleased with this look. My base didn't turn out as well as my in graphic liner look, but I think that's down to skin prep. I should've layered the hydration and moisture like usual, but I didn't this time, and it shows. It's nothing to do with the makeup products!
Again, the Illamasqua makeup products were so fun to play around with and worked so well. I love how earthy and warm my eyes look – this is the perfect look for autumn!
Overall Illamasqua review
My overall Illamasqua review is that this brand is amazing, completely underrated, and so worth the money.
All of the products I received are super easy to work with. Whether you're a beginner or an experienced makeup artist, these products are effortless, buildable, and versatile, so you can create whatever look you want without any hassle. The blending is seamless too.
I love the black packaging across the entire line. It's giving luxurious and chic vibes. The products photographed beautifully for this reason! #InstaGoals
My fave thing about all of these products is the shades and textures. Each product has a unique and weightless texture. The formulae are buttery soft, and the Gel Sculpt even has a refreshing cooling sensation. They're some of the best textures I've ever worked with.
As for the shades, they're simply out of this world. The colours are beautiful and different to many other products out there, particularly the Beyond Powder in OMG and Eye Paint in Lavender Brew. They're truly special.
Illamasqua offers mid-range price points for products. And they're totally worth it! I love working with all of the products in this review because they're genuinely high quality. Plus, with 25% off, these products are incredible value for money.
DISCOUNT: Use code ILLAM25 for 25% off Illamasqua
My only regret is not trying Illamasqua sooner!
These are products I'm going to reach for time and time again. You'll definitely be spotting some of the products in this post in my monthly beauty faves series in the coming months. I'm addicted.
Fave product?
This was such a hard choice, but I'll have to choose the Eye Paints because of how easy they are to work with. I've not tried eyeshadows like this before, and I'm obsessed!
Products I'd like to try in the future
---
Which makeup look from this post do you prefer? Are you #TeamGraphicLiner or #TeamEarthyTones? Let me know in the comments!