Last Updated on 23rd September 2023 by Sarah Sarsby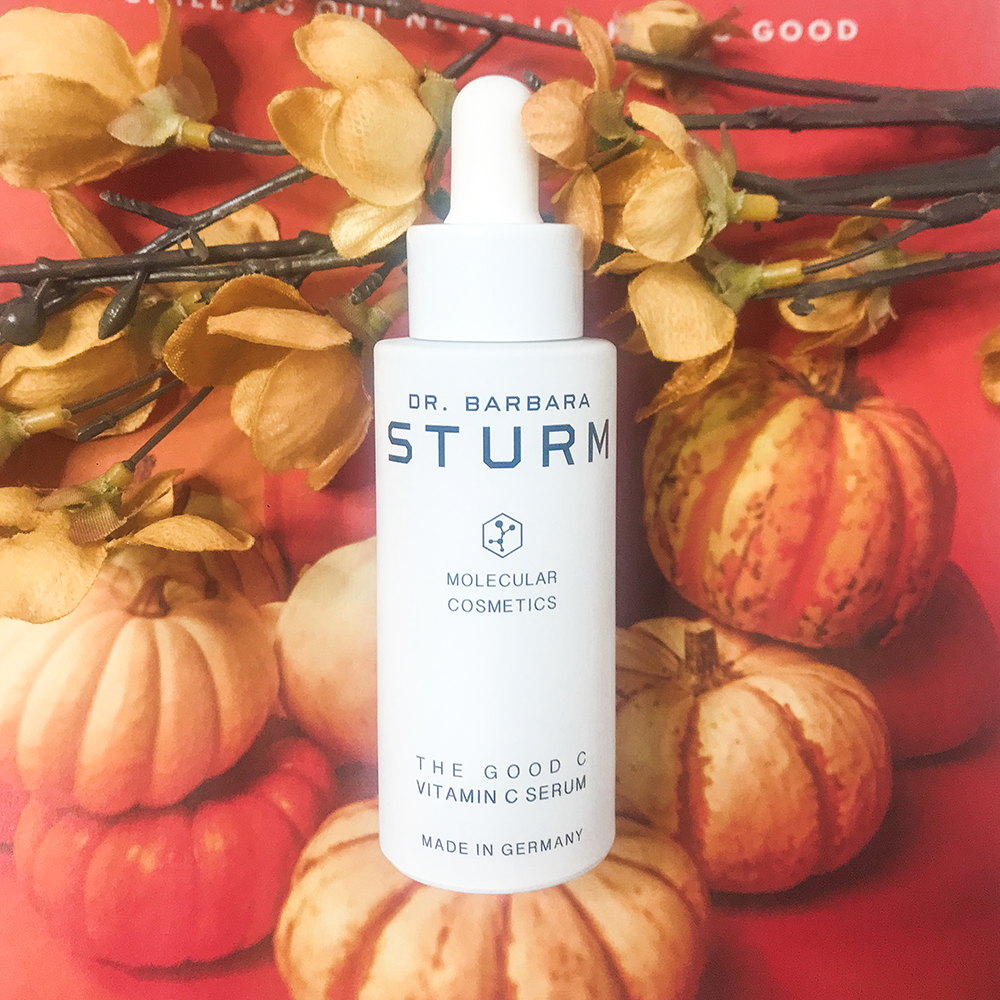 In this blog post, I'm going to review the high-end and popular Dr. Barbara Sturm The Good C Vitamin C Serum.
This £110 serum was kindly gifted to me by luxury skincare retailer Skinstation. Vitamin C is one of my favourite skincare ingredients, so I was super excited to try this serum out. I love the radiance and brightness that this antioxidant gives my skin. Plus, the fact that this serum is from the highly-regarded brand Dr. Barbara Sturm (a brand I hadn't tried prior to this serum) had me even more excited.
However, £110 is a lot of money to spend on a serum, so it really needs to work and offer something more than drugstore serums that are a fraction of the price.
Which brings me to this review: Is the Dr. Barbara Sturm The Good C Vitamin C Serum a must-try or do cheaper alternatives do the trick? Keep on reading for a thorough analysis of this product to help you decide whether you should try it or not.
** This post contains some affiliate links. This means at no extra cost to you, I earn some commission if you purchase a product through my link. All thoughts are my own, though, as always. If you want to find out more, visit my affiliate disclosure page **
What is Skinstation?
Skinstation is an online store selling a wide range of high-end skincare products at the most competitive prices. The retailer is passionate about improving skin concerns across the UK with these clinically proven skincare systems.
With over 60 years combined experience in dermatology and cosmetic medicine, we will work with you to help achieve your goals.

Skinstation
Some of the popular luxury skincare brands on Skinstation include Dr. Barbara Sturm, SkinCeuticals, Dr. Dennis Gross, and MZ Skin.
Dr. Barbara Sturm The Good C Vitamin C Serum ingredients and claims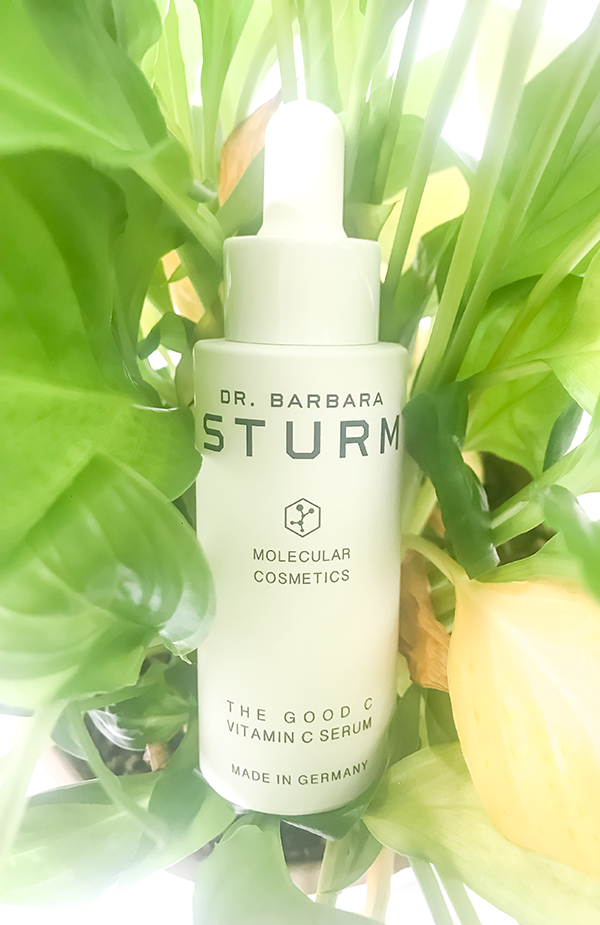 The Dr. Barbara Sturm The Good C Vitamin C Serum contains 3 forms of vitamin C in a stabilised form that promises to be quickly absorbed, safe and gentle on the skin. It claims to be innovative and skin-friendly.
With continued use, this serum promises to reduce the formation of new age spots and the appearance of existing pigmentation. It claims to make your skin look brighter and more radiant. Alongside potent antioxidant properties, this high-end serum contains aloe vera and hyaluronic acid for intensive moisture and hydration.
Key ingredients
The top 5 ingredients in the INCI list are:
Vitamin C THD: a highly stable form of vitamin C that helps preserve's skin collagen
Kakadu plum: supposed to be the most concenrated natural form of vitamin C on earth
Vitamin C glucoside: helps make skin look brighter and smoother, with long-lasting benefits
Olive leaf extract: rejuvenates and hydrates the skin
Zinc: antioxidant and soothing agent
See the full INCI list below:
Vitamin C THD, Kakadu Plum, Vitamin C Glucoside, Olive Leaf Extract, Zinc, Aloe Vera, Purslane Extract, Apricot Kernel Oil, Hyaluronic Acid, Glycerin, Sunflower Oil, Vitamin E
How to use the Dr. Barbara Sturm serum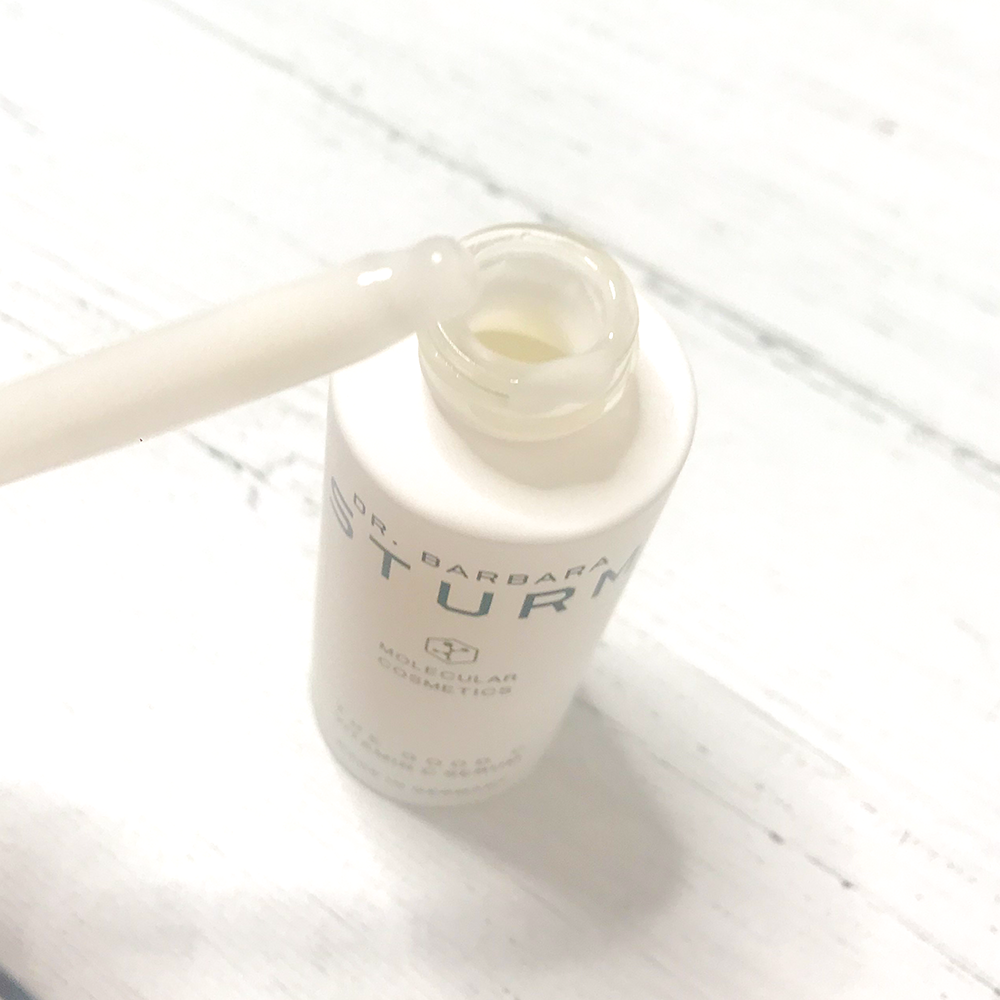 To apply the Dr. Barbara Sturm vitamin C serum, place one pipette length into the palm of your hand and distribute over the face using gentle tapping motions. You should wait for about a minute before applying other skincare products to ensure it's fully absorbed. It can be used in the morning or evening. If using in the daytime, always apply SPF afterward.
My thoughts on the Dr. Barbara Sturm The Good C Vitamin C Serum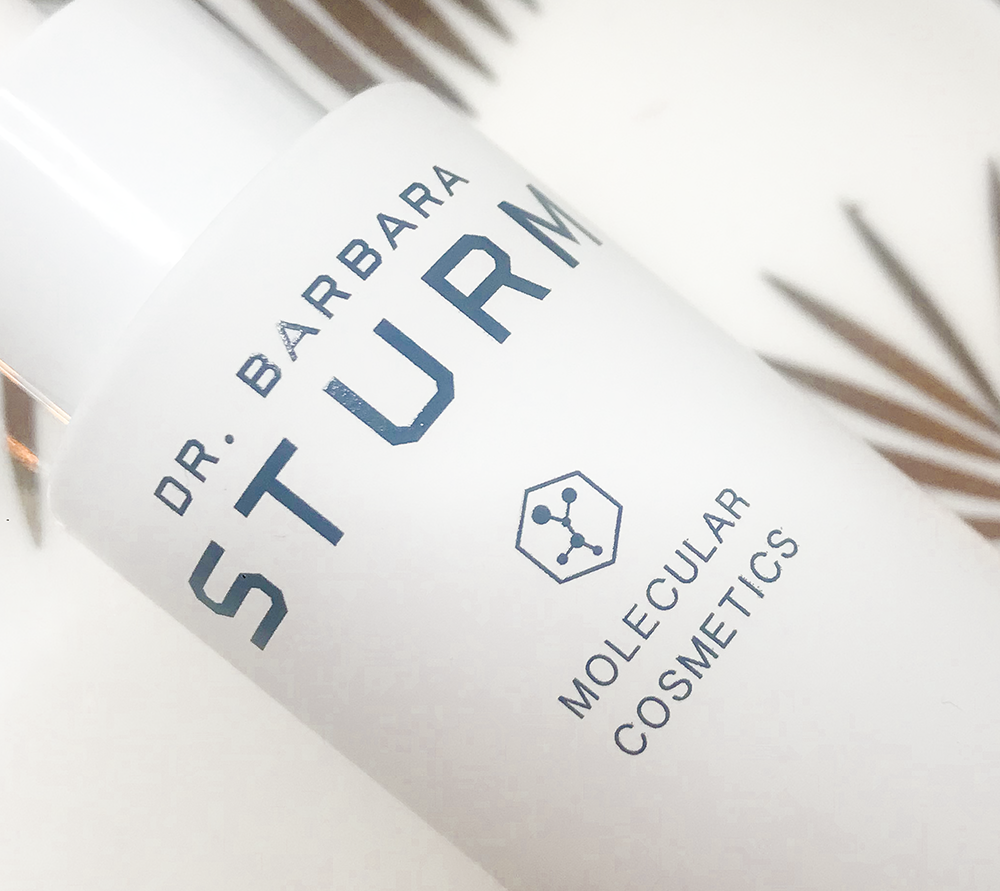 Firstly, I love the sleek packaging. It's minimal, looks high-end, and slots in nicely on my skincare shelf. The actual bottle itself feels weighty and pricey. I'm not 100% sure if it's glass, but it definitely feels like it! There's nothing worse than getting an expensive product in cheap packaging, so I'm glad this Dr. Barbara Sturm product feels luxurious.
In terms of consistency, the Dr. Barbara Sturm The Good C Vitamin C Serum doesn't feel like a traditional serum. It's got quite a milky texture and isn't watery or runny. If you've ever tried the Indeed Labs Vitamin C Brightening Drops, the texture reminds me of that. I personally prefer watery serums, however, this one is surprisingly lightweight and absorbent. Despite being thick, it sinks quickly into the skin and doesn't pill. Having products pill is the worst feeling!
On application, this vitamin C serum feels moisturising, soothing and hydrating. Besides the targeted vitamin C treatment, I do feel like this serum packs in some additional nourishing benefits. People with drier skin would particularly appreciate this serum, alongside people with sensitive skin, as the hyaluronic acid, glycerin and aloe vera will help buffer some of the active ingredients.
You can see the texture in the photo below: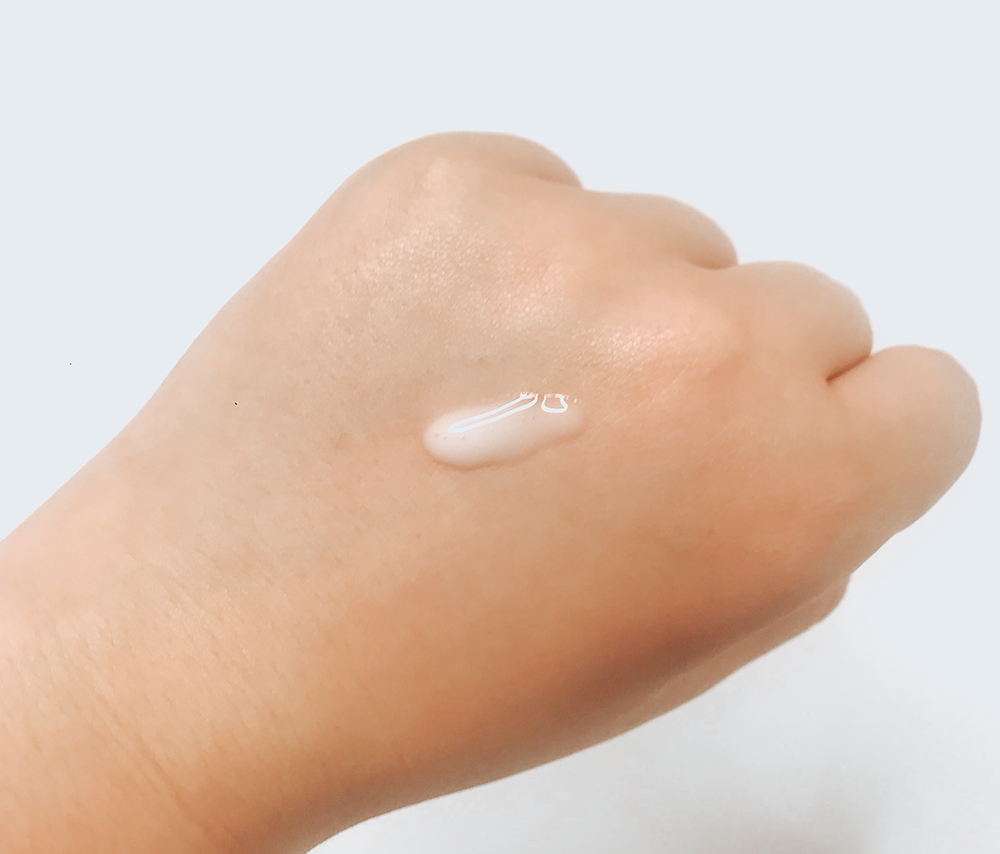 For reference, I've got normal/oily skin.
If I'm being honest, this serum hasn't blown me away. While it makes my skin feel softer and imparts some radiance, it's not super noticeable. I wish this vitamin C serum made my skin look glowier, after all, that's why I love vitamin C. I've used cheaper serums or facial oils that contain vitamin C that make my skin look way more illuminated.
The Dr. Barbara Sturm The Good C Vitamin C Serum makes my skin look a bit brighter, but, again, there's no major change. I've not noticed my skin tone looking more even yet, but this can take time. I've been using the serum for several weeks, so it could take a few more weeks to achieve a more even complexion.
Overall, I think this is a good serum but nothing amazing. I think it's overpriced too. I've used other vitamin C serums for a fraction of the price that deliver similar – and sometimes better – results.
Pros
Moisturising and hydrating
Lightweight
Absorbent
Feels expensive
Great INCI list that isn't overly lengthy
Great option for people with dry or sensitive skin
Cons
Overpriced
Could make the skin look brighter and glowier
Doesn't deliver really noticeable results (in my experience)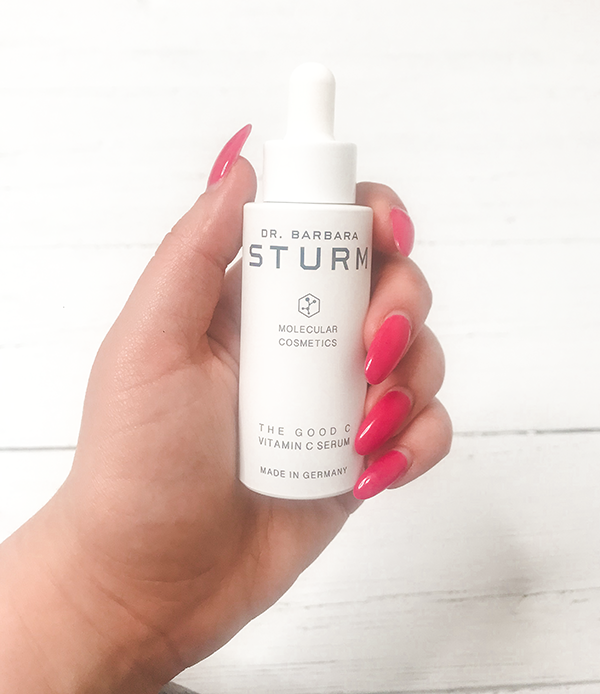 Where to buy
The Dr. Barbara Sturm The Good C Vitamin C Serum costs £110 for 30ml and can be purchased from Skinstation.
Do I recommend this vitamin C serum?
If you've got dry or sensitive skin and love luxury skincare products, I think you'd enjoy this vitamin C serum. I've seen some very positive reviews about this product from people with this skin type.
Ultimately, though, I wouldn't describe this as a "must-try" product. I wouldn't purchase this with my own money either due to preferring other vitamin C products on the market. But I'm very grateful to have been able to try this high-end serum.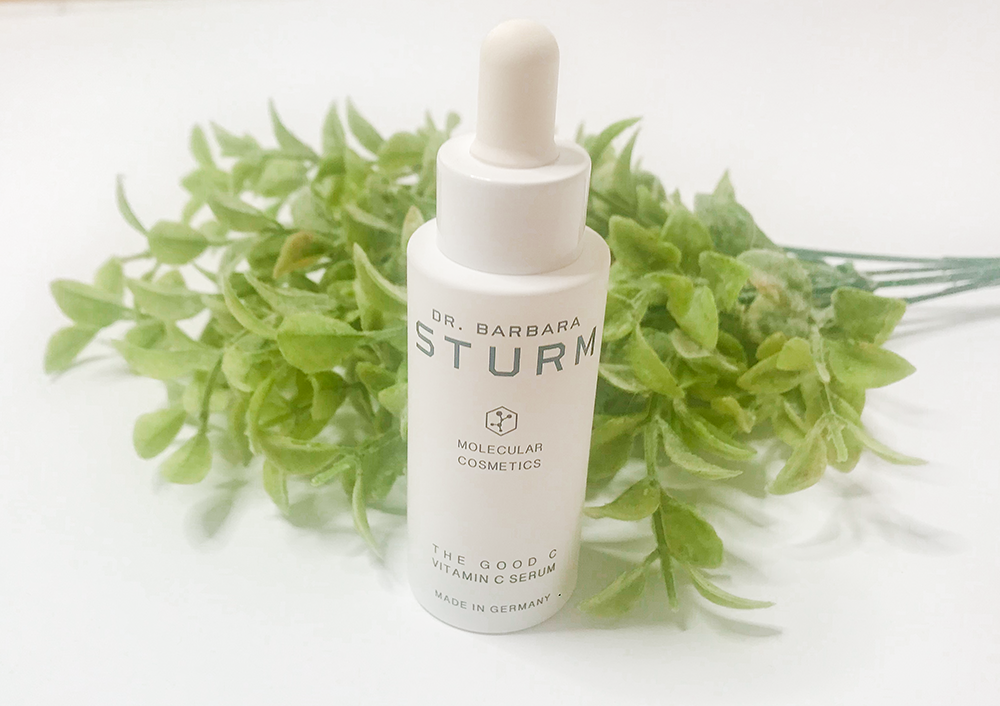 Rating: 3.5 stars
I would 100% recommend purchasing from Skinstation, even if you don't decide to pick up this serum. The product range is great and the retailer offers the best prices on the market. Plus the team is super knowledgeable, experienced and friendly.