Last Updated on 15th June 2022 by Sarah Sarsby
AD: This is a paid content placement
If you're stuck on what to give friends, family or co-workers at your next big milestone or special gift-giving occasion, be it for Christmas, Valentine's Day, Mother's Day, or a wedding, consider a personalized photo gift with a twist!
Photo gifts: everyone loves them, but they've been done to death, am I right? Consider upgrading from the standard "been-there-done-that" framed photo gift to something far more special, unique and sentimental this year.
Based in Tampa, Florida and 100% made in USA, CrystalClearMemories.com turns any 2D digital photo into a high-quality, sparkling, 3D photo in just a few clicks – making for a stunning memorial gift sure to impress even the person who has everything. US shipping is free and happiness is guaranteed. What more can we ask?
Just upload your photo, select options and preview the final, customized product before paying to make sure it's perfect. Once you're happy, submit your order and Crystal Clear Memories gets to work on creating the best 3D photo crystal just for you! The end result: your image, brought to life, suspended elegantly in a high-quality, sparkling glass crystal, in the shape of your choosing (heart, rectangle, prism, and more).
Engrave your photo crystal with a special date, name, or caption, and/or add a light-up base to really bring the 3D image to life. Voila! You have the perfect memorial keepsake sure to touch the hearts of all those who receive it. The whole thing arrives safely packaged in an elegant, gift-ready, satin-lined box that completes the experience of giving something that feels truly special to all who receive it.
Best of all, the purchasing process is super simple, intuitive and informative and there's something for every budget level.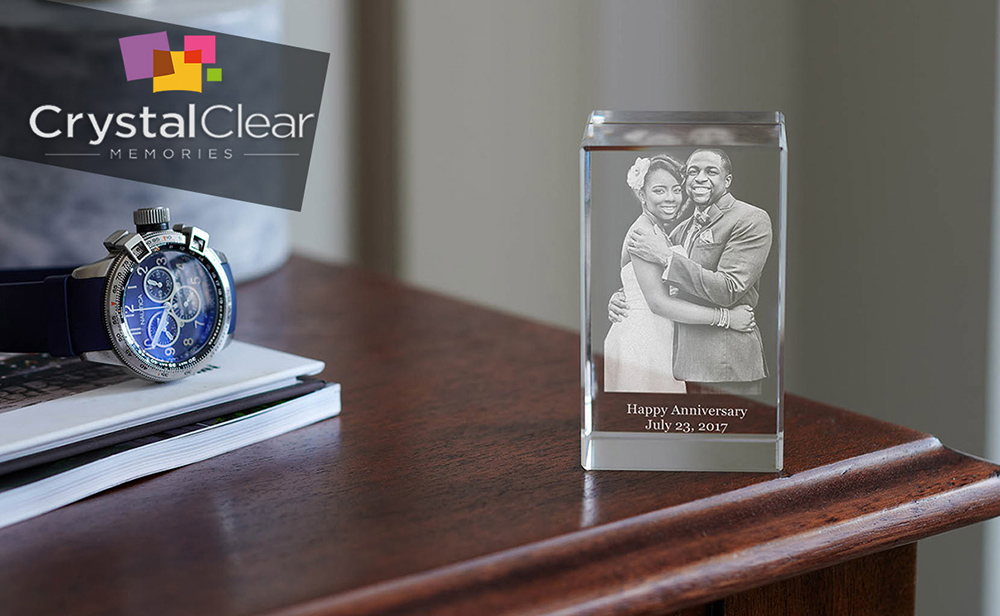 If you're looking for a stunning keepsake gift that makes eyes light up and hearts melt, CrystalClearMemories.com's 3D laser engraving technology is here make sure your photo gift is a clear winner at the next gift exchange, whether for Christmas, Valentine's Day, birthdays, Mother's Day or any special. I love its free shipping policy on all orders, along with its commitment to customer service and satisfaction that truly sets it apart from other companies offering a similar product and service. More on that below.
Save 15% on any crystal today, with code CONFIDENCE! Create your unique photo gift now, at CrystalClearMemories.com
CrystalClearMemories.com's unique, made-to-order gifts are perfect for any occasion. Whether a heart-warming crystal for Mother's Day, a lifelike photo from your honeymoon, or a Christmas present for your best friend, family member or other loved one, there are endless unique personalization options available.
My personal experience with CrystalClearMemories.com (and what I love about my 3D photo crystal and light-up base)
I was lucky enough to be gifted one of these stunning 3D photo crystals, and an accompanying light-up base from Crystal Clear Memories. So I want to talk about that in case you're looking for real reviews of CrystalClearMemories.com, its 3D photo crystals, and/or its service.
First, here's my honest review of the crystal itself. I chose a picture of me and my boyfriend, and I'm absolutely in love with the results! It's better than I expected; the photos on the website (while nice), simply do not do this product justice. I do wish the website had better product photos, but the end result is superb and that's the most important thing. My interactions with the company have been nothing short of friendly and professional, which is a major plus too. No bots, no programmed responses. It's a small family business that treats customers with respect.
The engraving in the crystal creates an incredibly realistic photo display. As it's 3D, whatever angle you look at, the image looks lifelike – as if the people in the photo (in this case, my boyfriend and I) are right in front of you. No lie! Complemented by high-quality glass for incredibly clear viewing (along with a complementary microfibre cleaning cloth to keep it free of dust and fingerprints), my crystal looks like a truly special décor piece on my bedside table. It doesn't like cheap, but it instead really adds to the look of my room. This is a high-end and magnificent product that makes me smile each time I see it.
See the beautiful personalized 3D photo crystal that I got for myself below: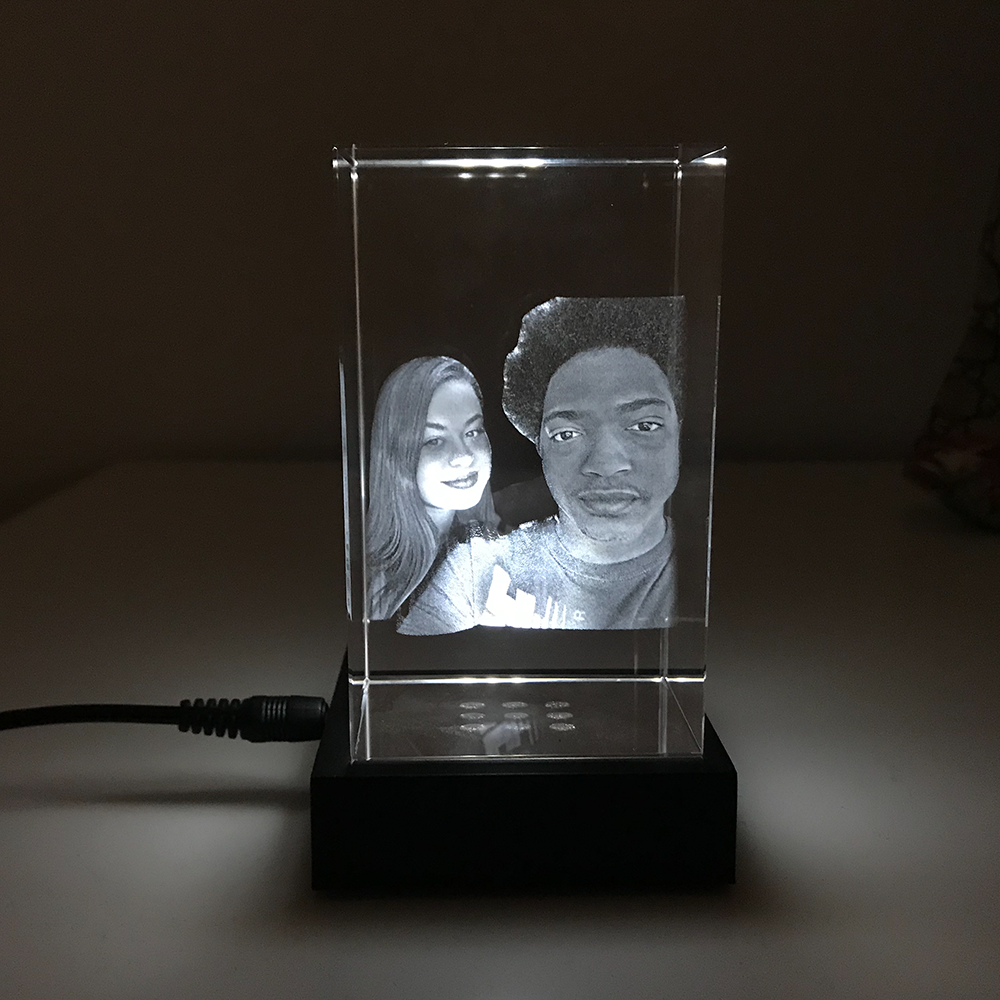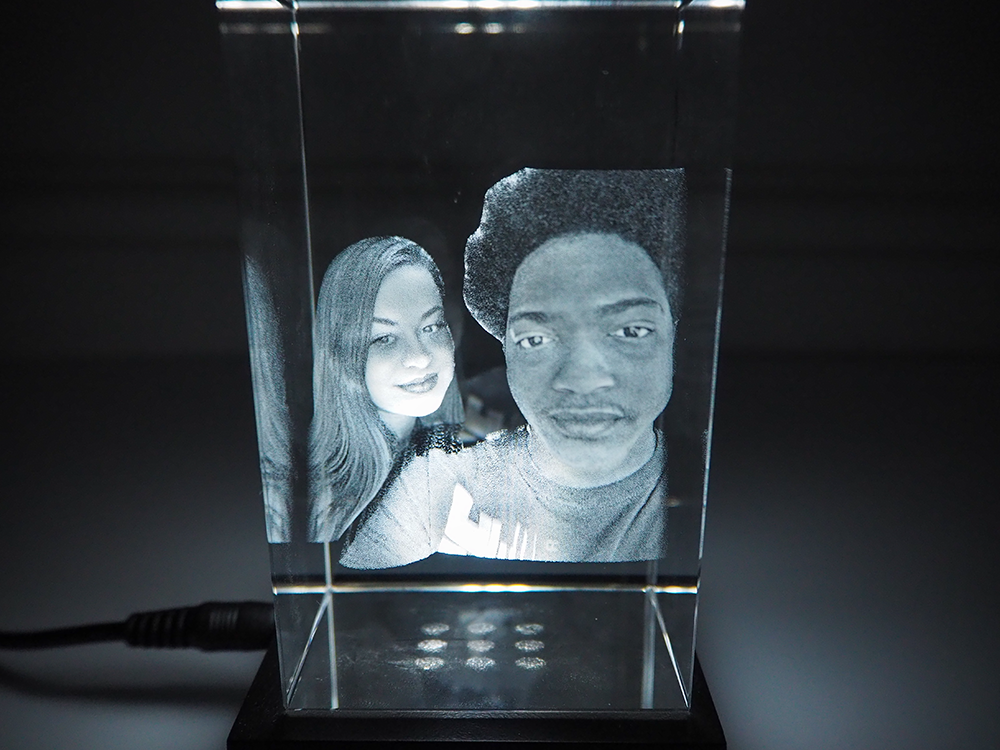 Next, the packaging is lovely. The photo crystal comes in its own special satin-lined black box (as mentioned above) that not only protects the crystal during shipping, but it also really adds to the whole unboxing process. This upgrades the entire shopping experience and would make the gift-giving aspect even more remarkable.
Although I didn't get an engraving myself, you can add an engraving to your crystal for even more personalization. If you're getting one of the crystals as a gift for someone important, this would be a beautiful addition to the crystal. Engraving your wedding date, a pet's name, personalized messages like "Happy birthday Charlotte", or reflective memorial messages are all fab keepsake options.
I also got an accompanying Basic Black LED Base, which is an absolute must-have, particularly at only $20. There is a more classic mahogany look option if you prefer that. Either way, these light-up bases bring your 3D engravings to life and make your crystal look even more stunning when the lights are off. I love the look of my illuminated crystal in the evening, and it makes the photo of me and my boyfriend look magical. This would make an excellent wedding or anniversary gift to say the least.
Want to buy your very own 3D photo crystal? See the super simple step-by-step details below or watch the short video beneath for a closer look at these breathtaking crystals.
How to order your own 3D photo crystal
When you head over to the Crystal Clear Memories website, you'll be prompted to select a photo of your choice to get started. This could be of your pet, family, friendship group, wedding day, awards evening, architectural wonders, memorials, holidays, etc.
After, Crystal Clear Memories will ask you how many subjects are in your photo. This is so the company can recommend the best options for photo crystal shape and size. This is a fantastic feature because there are loads of different crystal shapes and sizes available, so it takes all of the guesswork out!
Next, you choose your crystal style. Choose from the following shapes: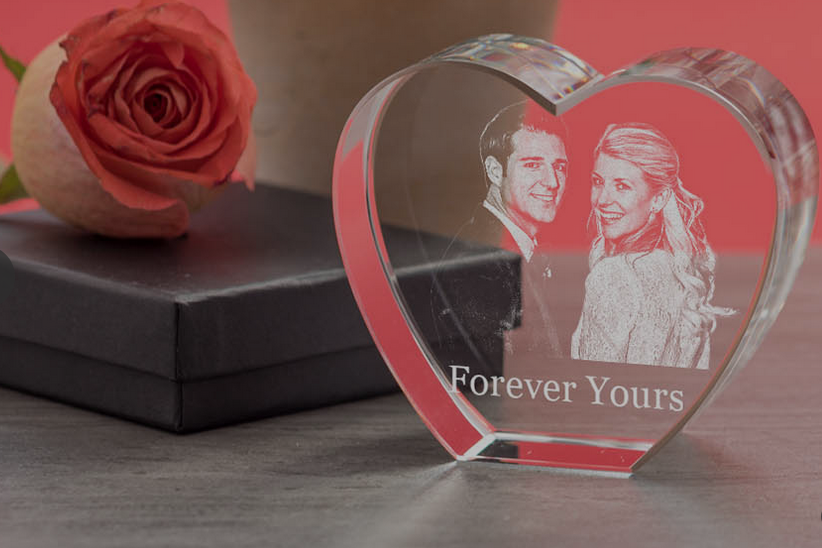 After you've selected your photo and crystal size and shape, you're taken to the live preview stage. This part is so helpful because you get to see a live rendering of what your fabulous 3D crystal will look like. The tech Crystal Clear Memories has used here is fantastic. It's not clunky or slow, so you can easily rotate the image of what your crystal will look like in real-time. The 360-degree rotation aspect means you get a close look at your crystal from all angles. You won't get any nasty surprises with the live preview, so you know you'll absolutely love your crystal when it arrives for total confidence.
You can also choose any engravings you'd like to add at this point. The best bit is, you can see what your engraving would like on your crystal before you buy one!
After this, select whether you'd like to buy an accompanying LED light-up base. My recommendation is that you absolutely should get one, as it really enhances crystal engravings and looks great at night when the lights are dim or off. You won't regret it!
Finally, check out and get your stunning new photo crystal delivered directly to your house. It's quick and simple.
Pricing options and shipping details
Prices vary, depending on the crystal shape and size you pick. The smallest crystal starts at $49, and the largest crystal costs $269. But you can't really put a price on timeless memories, can you? LED light-up bases start at $20.
For those looking for a less expensive option, Crystal Clear Memories also offers an Engraved Crystal Keychain with LED Light for $35. This is a great option, regardless of price, because you can be reminded of a special memory wherever you are. It's also a great way to show off special people in your life – like a new child, new pets, or your family – on the go.
International shipping is unfortunately not available at this time but shipping is free within the United States or to Canada for a fee. I hope it plans to ship internationally very soon and will keep you posted!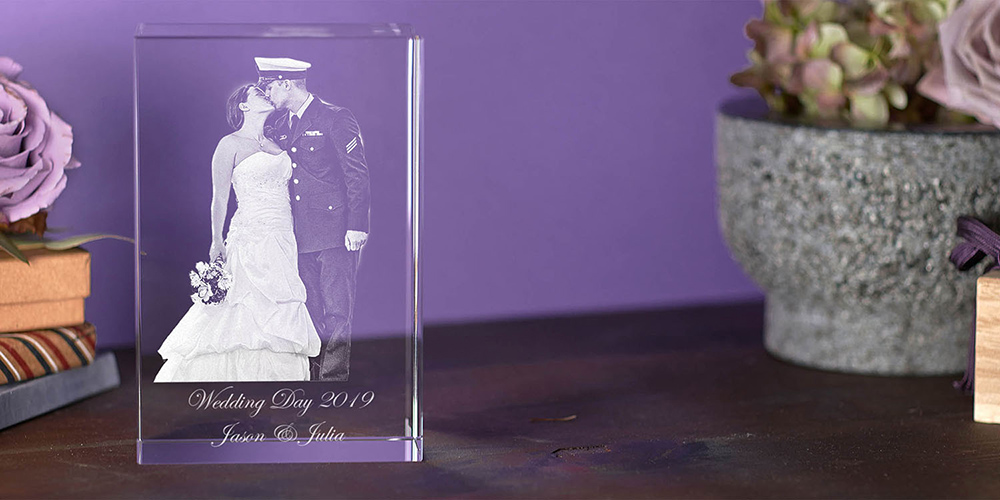 Why buy from Crystal Clear Memories?
All Crystal Clear Memories photo crystals are hand-crafted, and the company's unique engraving process ensures your engraving shines brighter and more defined than any other crystal company.
Crystal Clear Memories also has the best customer service guarantee. If customers don't like their crystal (which is highly unlikely due to the fantastic live preview option), the company will happily refund their orders. Plus, if you happen to accidentally break your glass crystal, the company offers a big discount on replacement crystals of the same image and text used with the original order.
All in all, Crystal Clear Memories offers breath-taking photo crystals, which make the most incredible gifts for loved ones, or even just for yourself! The shopping experience is stress-free, and the company's customer service is second to none.
Head over to crystalclearmemories.com to order your 3D photo crystal now. If you're ordering in the US, these are amazing Christmas gifts, so get your orders in ASAP to ensure they arrive on time.
Remember to save 15% with code CONFIDENCE at checkout when you shop through my link! Click here to customize your crystal now.
Have you shopped at CrystalClearMemories.com? Feel free to leave us your experience in the comments below.