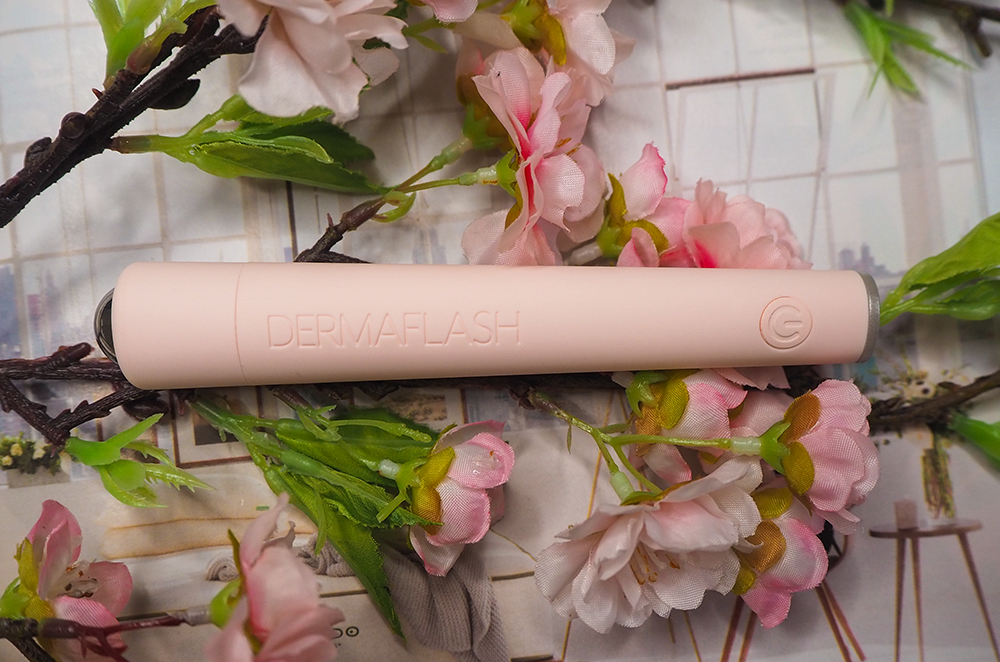 Ever thought about trying at-home dermaplaning but worried about wasting your coin? In this post, I honestly review the DERMAFLASH Mini Precision Peach Fuzz Removal Device to let you know whether it's worth the price point.
Dermaplaning is becoming increasingly popular, particularly during the pandemic where salons have been shut for extended periods of time and people have turned to at-home tools. The allure of smooth and glowing skin is pretty irresistible. However, all of this buzz can lead to people asking the question: Are these tools gimmicky?
CurrentBody kindly reached out to me and asked if I'd liked to try the DERMAFLASH Mini. And I leaped at the opportunity. Anything that makes my skin feel smooth and improves makeup application grabs my attention.
This review will cover my experience with using the DERMAFLASH Mini, before and after pics so that you can judge the results for yourself, and whether I think it's worth £59.99. Keep on reading if you'd like to hear more about this at-home dermaplaning gadget and for an EXCLUSIVE discount code.
** This post contains some affiliate links. This means at no extra cost to you, I earn some commission if you purchase a product through my link. All thoughts are my own, though, as always. If you want to find out more, visit my affiliate disclosure page **
What is CurrentBody?
CurrentBody is a large retailer of beauty and wellness devices that mimic the on-site gadgets used by professionals in salons, spas, and clinics.
CurrentBody became official online stockists of L'Oreal's Clarisonic after a stringent selection process and continue to strategically partner some of the biggest names in beauty.

Current Body
Some of the best-selling products on CurrentBody include the NuFACE Mini Facial Toner, SmoothSkin Bare+ Ultrafast IPL Hair Removal Device, CurrentBody Skin LED Light Therapy Mask and FOREO LUNA 3 Sonic Facial Cleanser and Anti-Ageing Massager.
DERMAFLASH Mini Precision Peach Fuzz Removal Device claims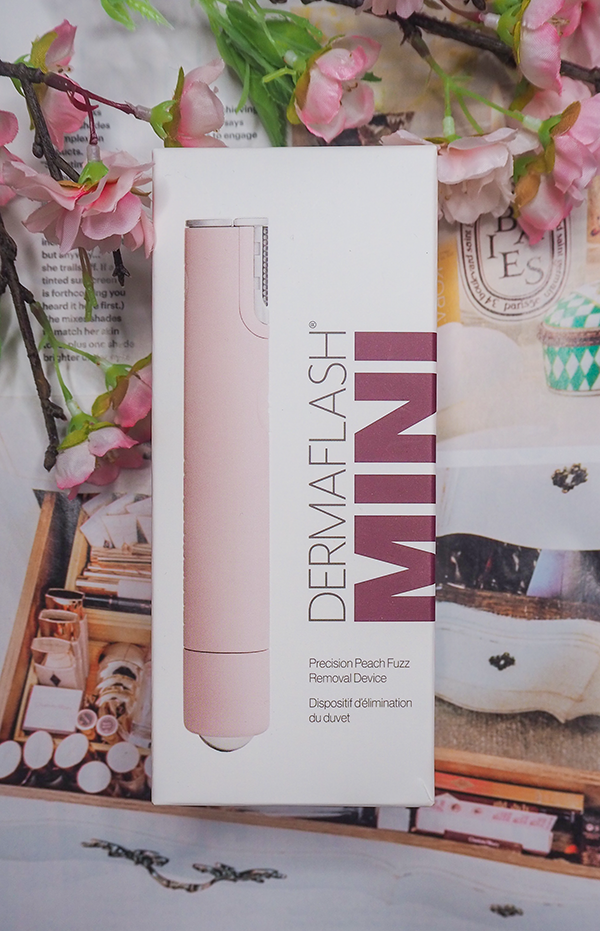 The DERMAFLASH Mini promises to remove peach fuzz in seconds. It claims to be pain-free to exfoliate and remove stubborn hairs in tight spaces on your face while revealing smoother and brighter skin.
The device's Sonic Edge Technology uses vibrations to trim hairs and exfoliate at the same time for a glowing finish.

CurrentBody
DERMAFLASH also says the mini at-home dermaplaning device is suitable for all skin types and the built-in rollerball will send eye bags packing. The device furthee promises to instantly reveal younger-looking skin and improve its texture. According to the brand, it's clinically proven that hair will not grow back thicker or faster.
How to use DERMAFLASH Mini
To use the dermaplaning gadget, first, cleanse your skin as usual and pat dry. Then, hold your skin taut with a finger from the opposite hand. Using short, feathery strokes, glide the device over your entire face avoiding the surface of lips, eyelids, and nose. DERMAFLASH says you should always hold the device at a 45° angle.
You're advised to use the device once a week for optimal results.
DERMAFLASH Mini review: Is it worth it?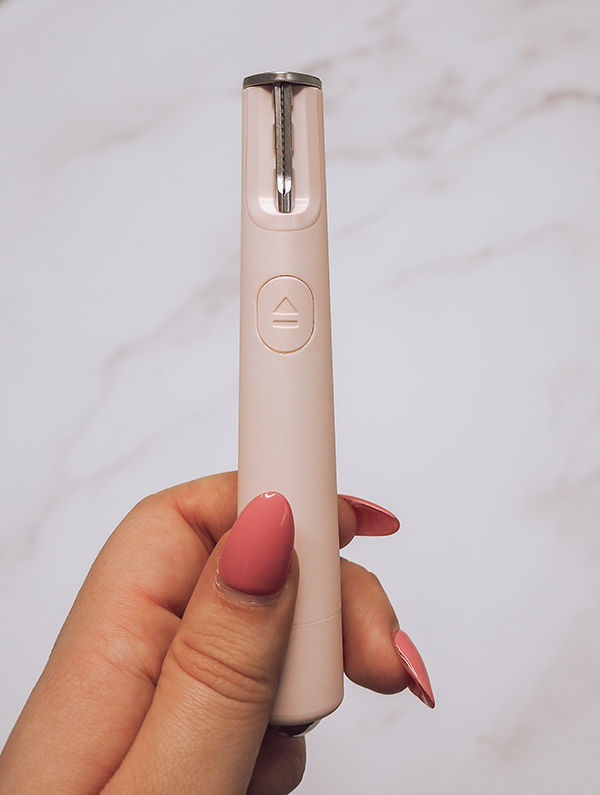 The DERMAFLASH Mini Precision Peach Fuzz Removal Device is easily the best at-home dermaplaning device I've tried. I was worried that it would be easy to cut yourself with this device or that it would be too harsh on the skin. However, it smooths over the skin effortlessly, doesn't leave your skin feeling rough and is very intuitive to use.
The device is lightweight and slender, which makes holding it and getting it into tight spaces on your face very easy. I found it effortless to remove hair around my upper lip and peach fuzz around my cheeks. It vibrates lightly too and I felt this helped with the shaving process.
After using the device, my skin looked a bit brighter and clearer. It also felt smoother. I'm not very hairy, admittedly, so I didn't shave much hair or peach fuzz off my face. For this reason, I don't think it made my application much different, except perhaps marginally around my upper lip area.
Honestly, the built-in rollerball didn't make any difference to my eyes. I think using a dedicated eye cream does a much better job.
For people with more hair and peach fuzz on their face, this dermaplaning tool is honestly such a brilliant investment. It's quick and easy to use and you can remove unwanted hair in minutes.
Before and after pics
To show you how well the DERMAFLASH Mini works, I took some before and after photos. I used the device on my arm for the purpose of these photos, as I really don't have much hair on my face.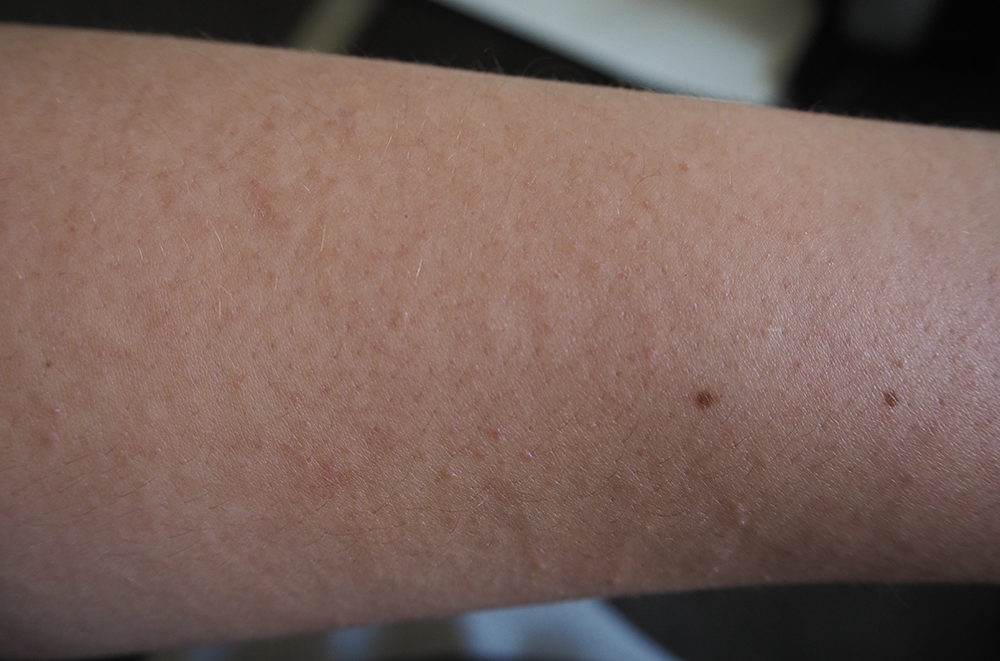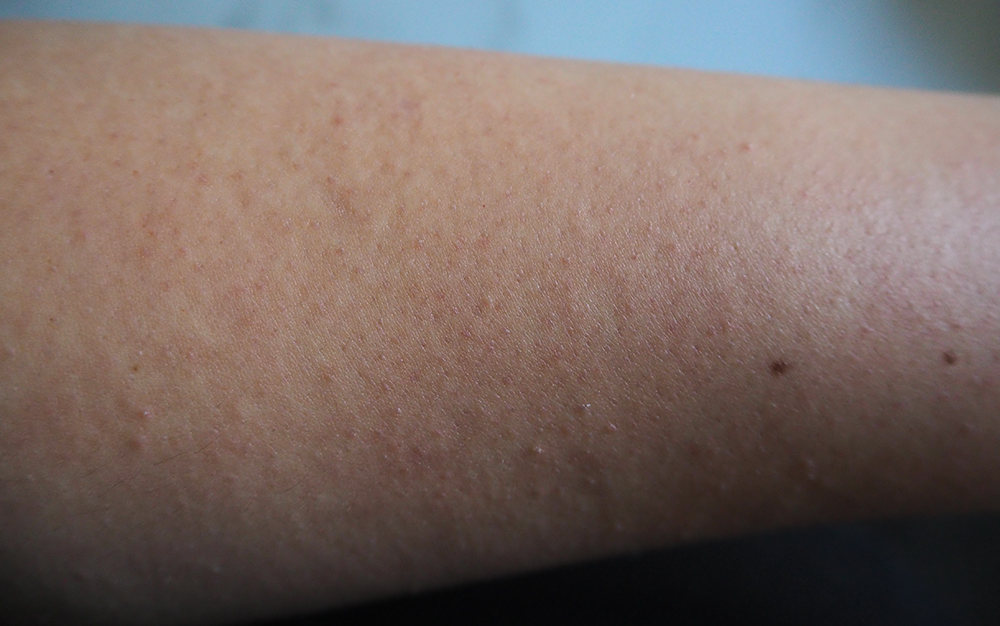 As you can see, the device removed the hair easily. Any areas where there is still a bit of hair showing will be down to me missing the hair with the device, as it worked so well. I'm thoroughly impressed with the results.
The hair on my arms isn't growing back thicker or faster either, so I believe the device meets its claims.
Where to buy + exclusive discount code
You can purchase the DERMAFLASH Mini Precision Peach Fuzz Removal Device from CurrentBody for £59.99. Alongside the device, you also get 1 AAA battery and 3 Precision MINI Edge blades. For a device that works as well as this and will last you for a long time, I think this is a worthwhile investment.
You can also use my exclusive discount code 'CBSARAH' to get a free CurrentBody Skin Hyaluronic Acid Serum with any DERMAFLASH devices (excluding the replenishment kit). Who doesn't love a good freebie?
Final thoughts on this dermaplaning tool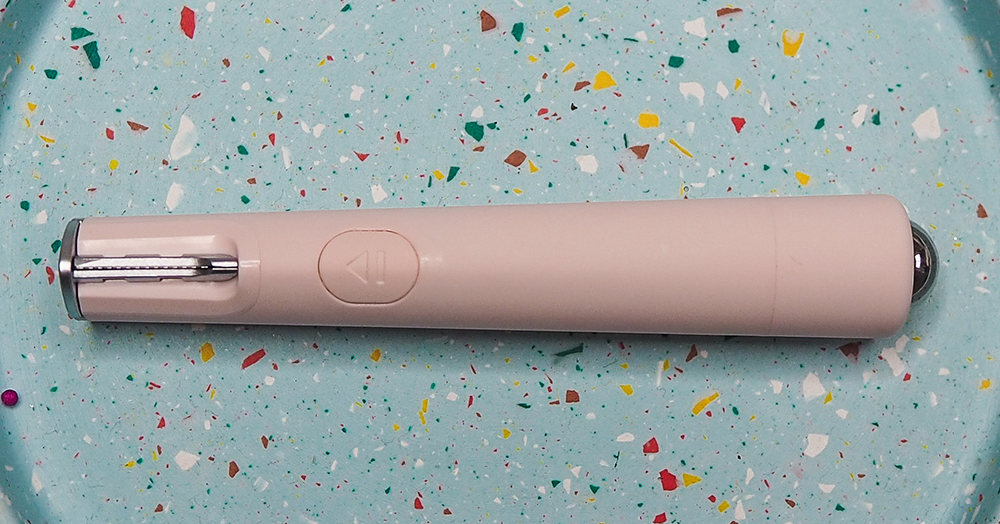 The DERMAFLASH Mini is easily the best dermaplaning device I've used. It's simple, quick, painless and intuitive. I'd definitely recommend this device to anyone looking to try dermaplaning.
Rating: 5 stars
---
Would you ever try at-home dermaplaning?