Last Updated on 17th September 2023 by Sarah Sarsby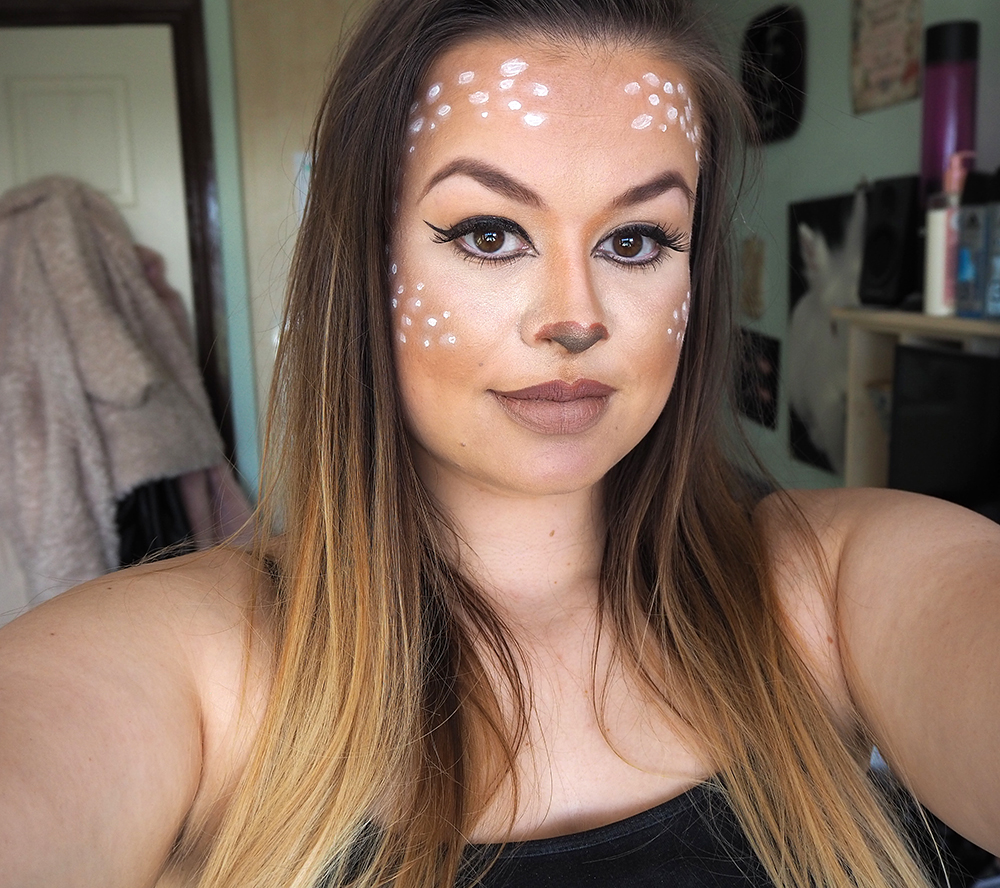 A simple Halloween makeup look
With Halloween just around the corner, I wanted to share this cute and simple deer makeup look with you all.
I love dressing up for Halloween and seeing the heaps of creative looks and costumes on the internet. In recent years, I feel like Halloween has moved away from just scary looks and is now a time for makeup artists and makeup enthusiasts to show off their incredible skills.
Whilst I'm no makeup artist, I love playing around with makeup, so this year, I decided to try out a deer makeup look.
I followed TheMakeupChair's Easy Deer Makeup Tutorial to achieve this look:
And here's how I got on…
Base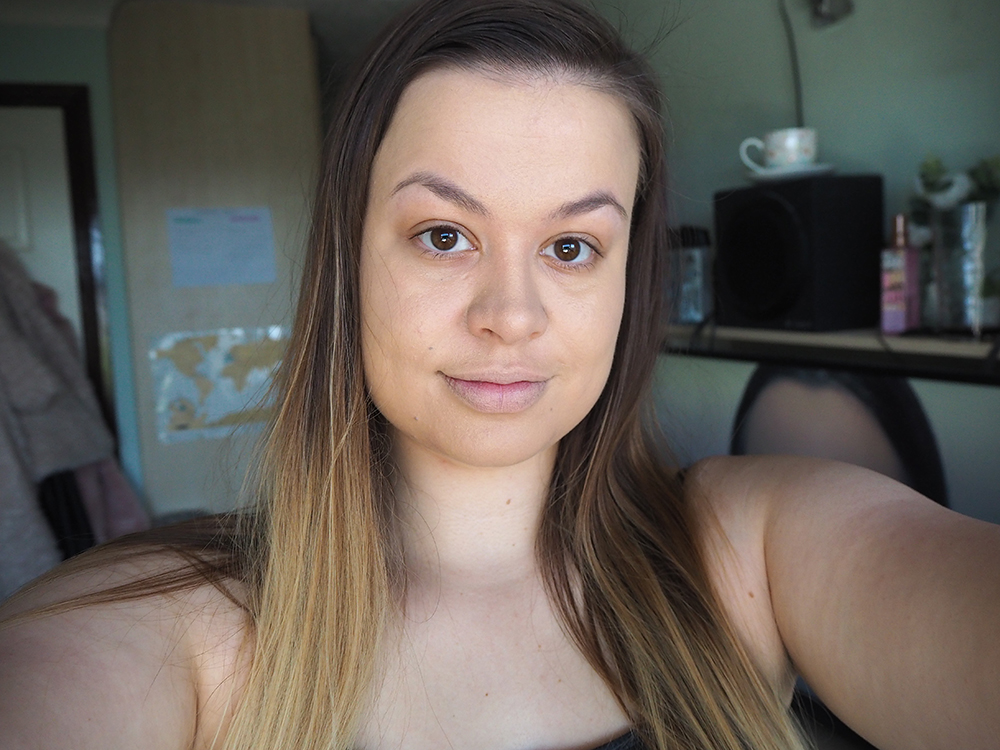 To begin, I applied e.l.f. Cosmetics' Poreless Putty Primer and the Giorgio Armani Power Fabric foundation in the shade 4.5 all over my face. I love the Power Fabric foundation as it gives such a beautiful and flawless coverage.
Highlight and contour
In the makeup tutorial, TheMakeupChair used a lot of highlight and contour to mimic a deer's face.
I applied a light concealer – Colourpop No Filter Matte Concealer in Fair 08 – in an elongated triangle shape from my nose, under my eyes and up to my eyebrows, as well as under my nose and down the sides of my nose.
I set the concealer with the RCMA No-Color Powder and used the white highlighter from the Soph x Revolution Highlighter Palette to highlight these areas.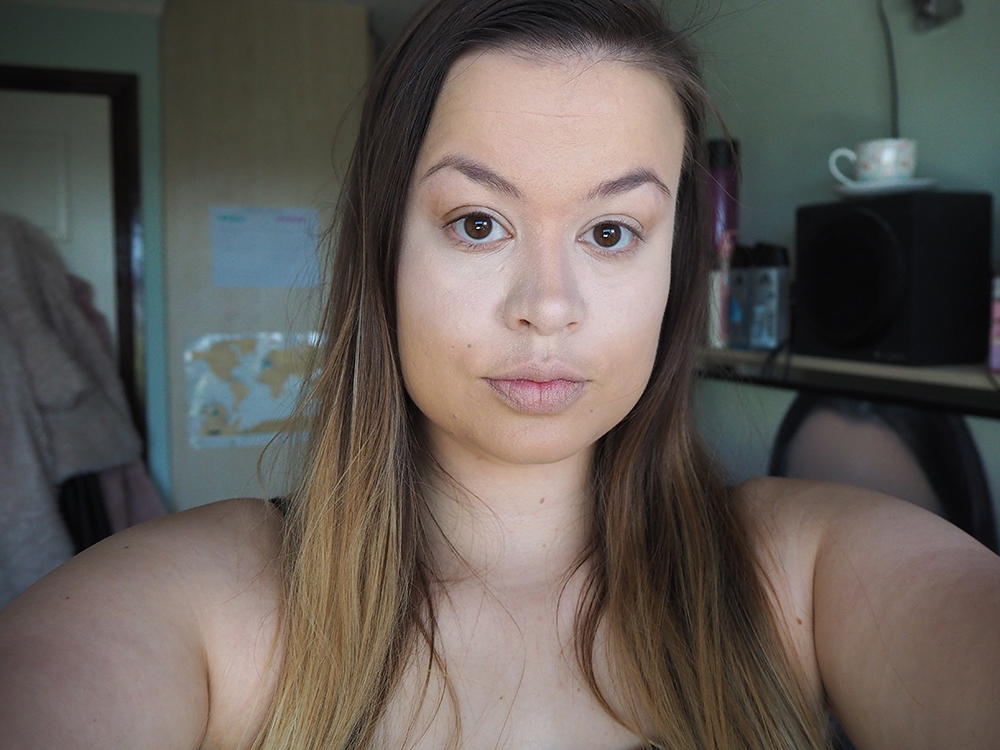 Then, it was time to contour and bronze.
I mixed The Body Shop's Honey Bronze Drops of Sun with the Giorgio Armani Power Fabric foundation on the back of my hand and applied it high up on my cheeks, around the sides of my face and on my forehead.
I also applied these bronzing drops straight onto my face in the same areas to add more bronze and depth. Next, to soften and blend, I applied the Soleil Tan de Chanel bronzer over the bronzed areas.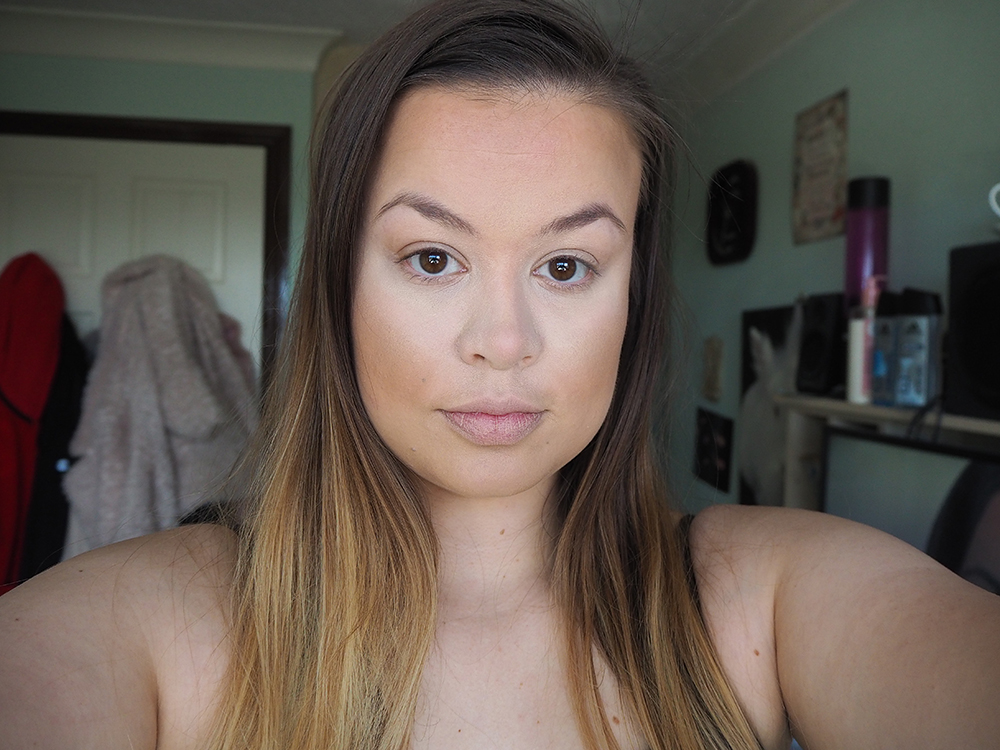 I then took a clean beauty blender sponge across the highlighted and contoured areas to smooth everything out.
Eyebrows
After finishing the highlighting and contouring, I did my eyebrows. I didn't do anything different with my brows for this deer makeup look, so I just used the Anastasia Beverly Hills Dipbrow Gel as per usual.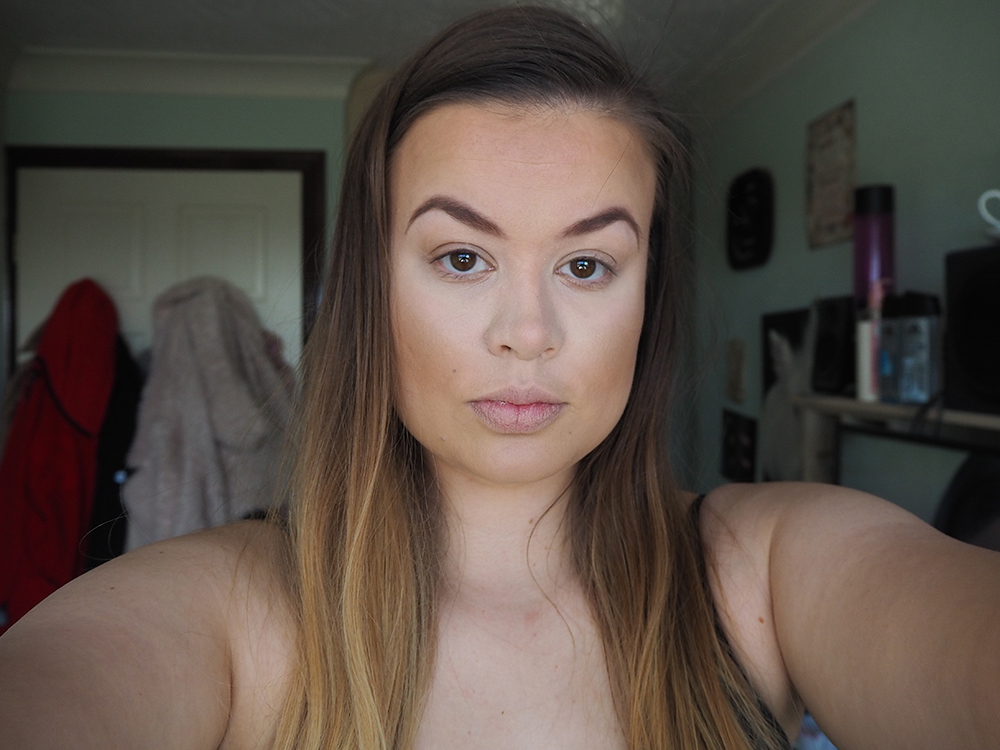 Eyes
For the eyes, I applied the shade Bare Necessity from the Beauty Bay Bright Matte 42 Colour Palette across my lids.
Then, I used the Kat Von D Tattoo Liner Liquid Eyeliner in Trooper to create a wing. I also applied this eyeliner under my eyes and made sure I pulled the liner further into my inner corners to add to the deer-like look.
Where I'd applied the liquid liner, I went over it with the brown eyeshadow Preppy Pecan from the Beauty Bay Bright Palette. I used the Maybelline Lasting Drama Light Eyeliner Pencil in 'White Luster' on my waterline to brighten my eyes too.
Before applying my fake lashes, I used the L'Oreal Paris Telescopic Mascara in Carbon Black on my eyelashes. Then, I applied the Morphe Sunset Blvd eyelashes to add drama and accentuate my eyes. This was my first time trying out these false lashes and I love them – they add great length and were easy to apply.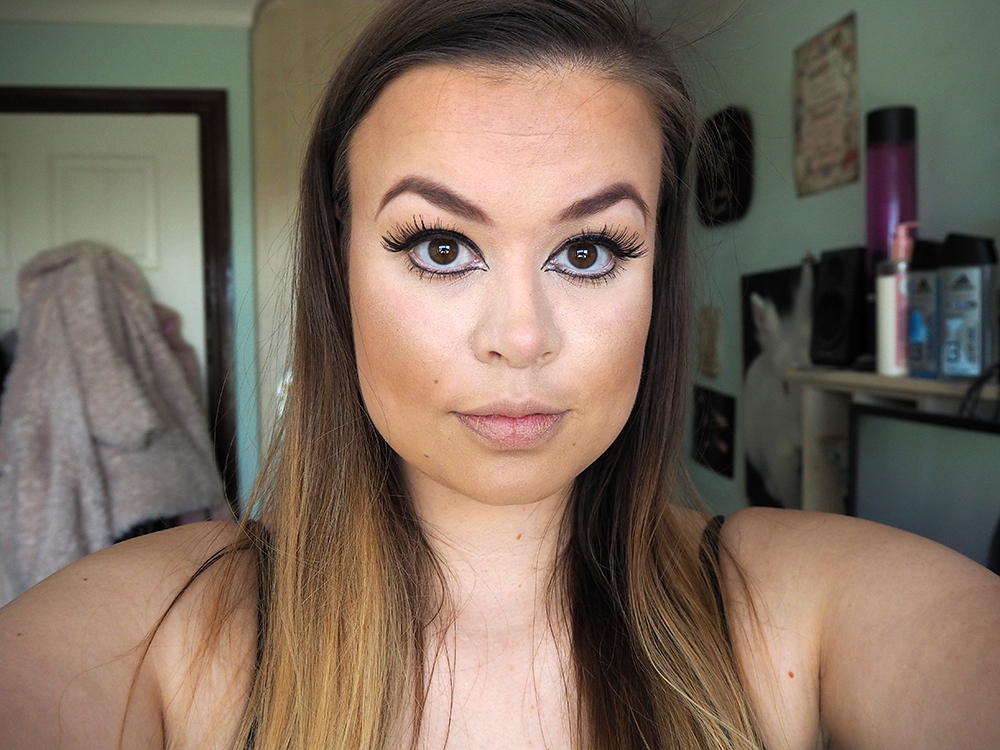 Nose and lips
Next, it was onto the nose and lips; the part of the makeup look that actually starts to turn me into a deer.
For the nose, I mixed three different lip liners together to create the colour: the Lottie London Slay All Day Long Wear Lip Liner in Werk It, the Milani Color Statement Lipliner in Spice, and the M.A.C. Cosmetics Lip Pencil in Whirl.
I initially coloured my nose in from nostril to nostril and down the centre of my nose with the lip liner blend. Then I created an elongated 'm' shape above this area and filled that in to create the deer nose.
Following the same pattern as above, I used the Charlotte Tilbury Rock 'n' Kohl liner in Bedroom Black but just in a smaller area. This added depth and dimension to the nose. After, I applied the same white highlighter from the Soph x Revolution palette on my deer nose to make it look "wet".
As well as the deer nose, I contoured my nose using the Physician's Formula Butter Bronzer in Light to create a deer snout.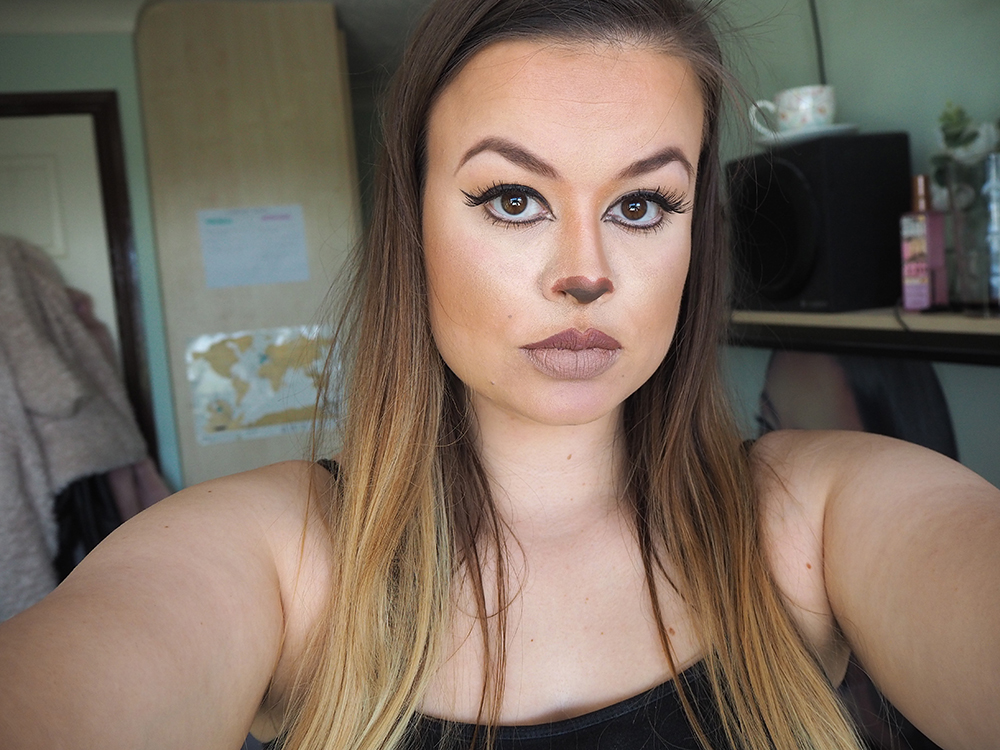 I used the Colourpop concealer and RCMA translucent powder along with the e.l.f. Cosmetics Beautifully Bare Satin Lipstick in Touch of Nude on my bottom lip. This created a soft nude that blended in with the rest of my face.
For my top lip, I used the same blend of three brown lip liners to match my nose.
Finishing touches
To make myself look like a deer, I added some white spots to the bronzed areas of my face.
Then, I used the Collection Fast Stroke Eyeliner in White to create the dots, making them bigger towards my hairline and on my forehead. I didn't create these dots particularly neatly or symmetrically because deer's coats aren't "perfect".
I then went over the spots in the white eyeshadow White Lies from the Beauty Bay Bright Palette to blend them out and make them look less painted on. This made the makeup look more deer-like.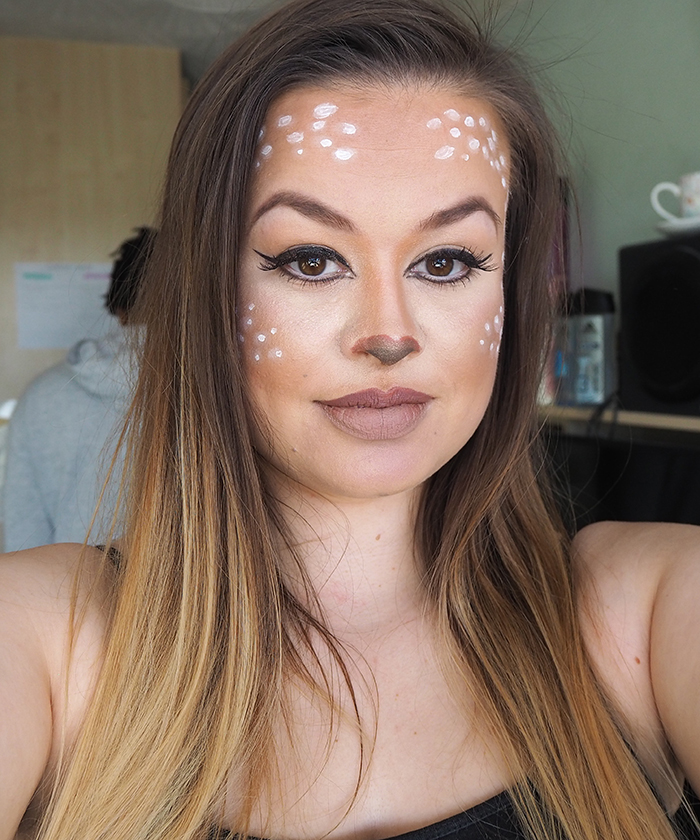 Conclusion
And that's my finished deer makeup look for Halloween 2019.
It was pretty easy to create this look. Sure, it took me a couple of hours, but it wasn't really intricate or difficult, yet created a wonderful effect. I loved doing this deer makeup look and it was a new look for me to try out again.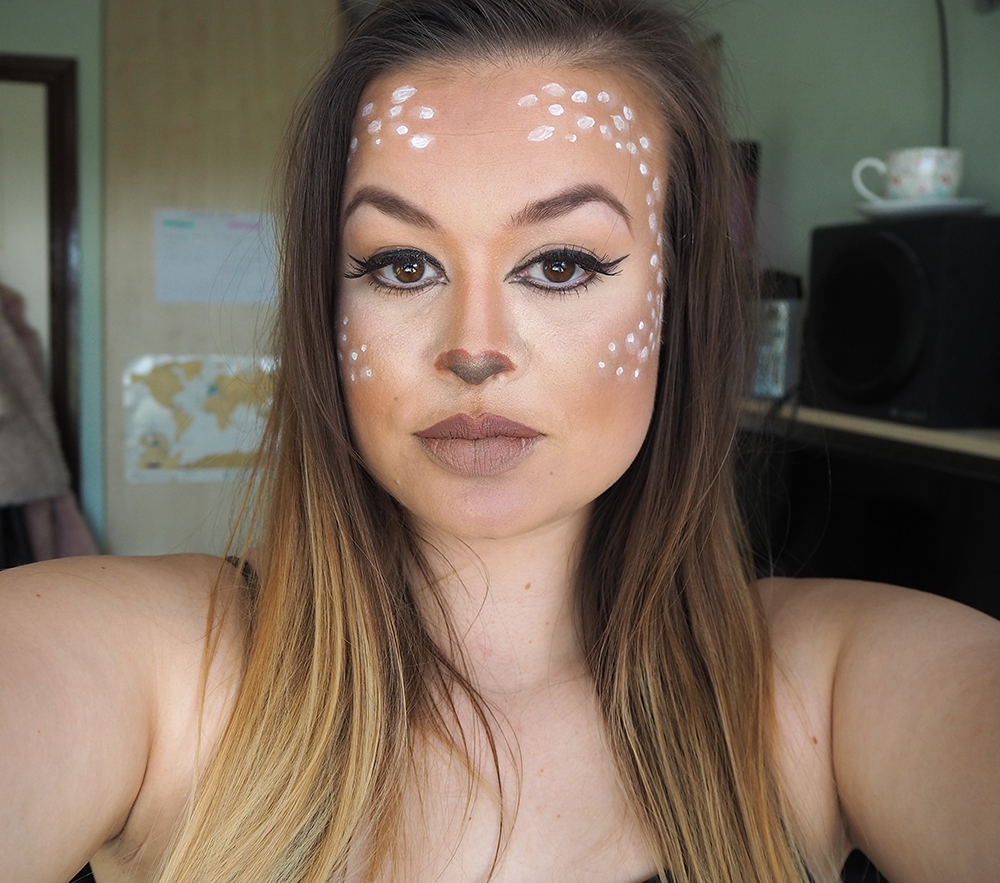 ---
What do you think of this simple deer makeup look? Is it a look you'd try out? Let me know in the comments below