Last Updated on 17th September 2023 by Sarah Sarsby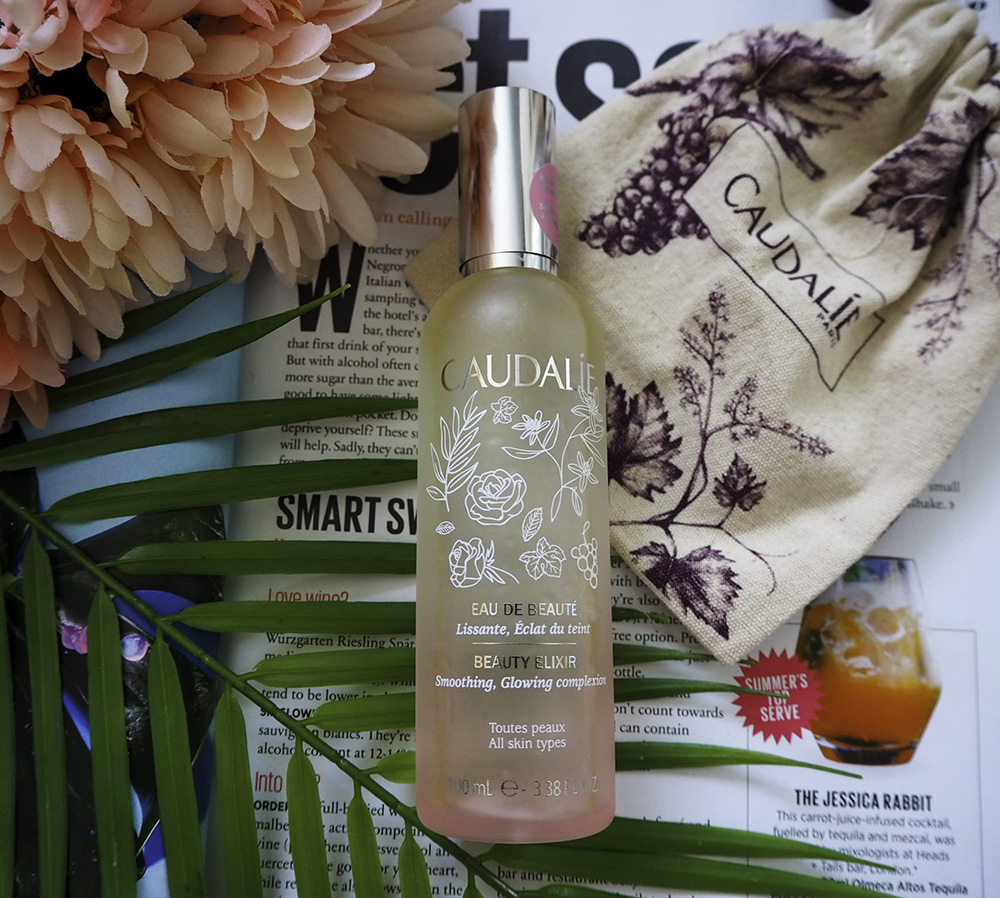 In today's post, I'll be reviewing Caudalie's infamous Beauty Elixir, but with the beautiful summer edition bottle.
Caudalie is a popular French skincare brand that offers a range of products from moisturisers to cleansers to serums, which all have beautiful packaging. I'm currently using the Instant Foaming Cleanser from Caudalie and it's gentle on my skin whilst still feeling like I've thoroughly cleaned my face.
I'd been wanting the Beauty Elixir for a while (shock, what don't I want) and when I saw the beautiful pink floral summer edition bottle I decided to take the plunge and buy it. Plus, it's summer, so we need to keep our skin refreshed and hydrated, right?
I've heard great things about the Caudalie Beauty Elixir, but would it turn out to be worth the hype?
The claims
A versatile facial spritz that can be used to set makeup, as a toner or as a revitalising spray throughout the day, the Beauty Elixir claims to provide an instant radiance boost on application.
It's supposed to invigorate tired and dehydrated skin, smooth pores, reduce the appearance of fine lines and wrinkles, and be calming for both the mind and senses.
The facial mist's key ingredients are: green grape for moisture and radiance; peppermint essential oil to tone and awaken skin; rose essential oil for glow and anti-shine; rosemary essential oil for its anti-bacterial and anti-inflammatory properties; and myrrhe oil to tone.
First impressions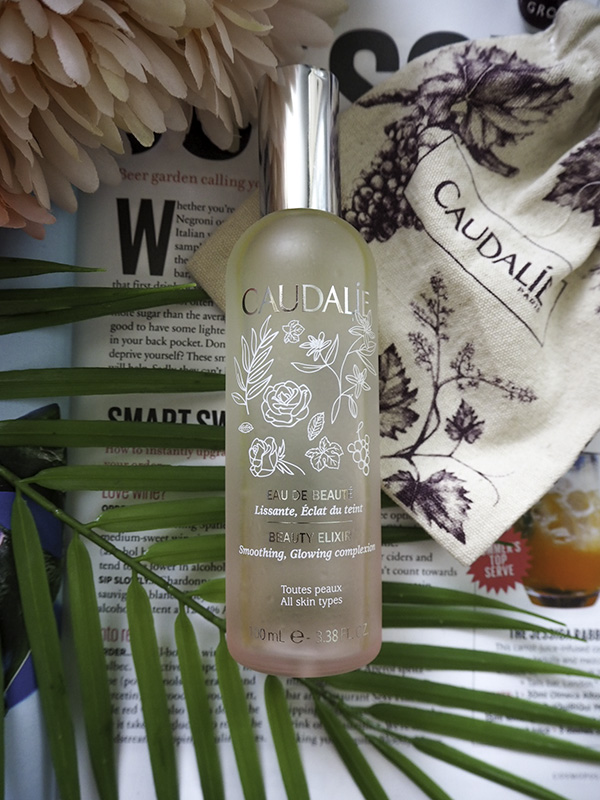 As I've mentioned before, I think the packaging is stunning. I love pink and floral patterns and the Beauty Elixir seamlessly combines the two. Very millennial, I know, but I'm here for it.
In the past, I never really understood facial sprays. They didn't seem any different to spraying water on your face – and water is free! So the prices always felt wayyy off.
But this might just be one of the most pleasing skincare products I've ever used on my skin.
It has a lovely fresh and floral fragrance which is light and refreshing. I found it perfect after a long day at work or if I'd been out in the sun where my skin had got hot. The actual mist is very cooling and my skin immediately felt invigorated when I used it.
I could tell there were a range of ingredients in the Beauty Elixir, whereas facial sprays I've used in the past have left me wondering if there's anything besides water in them.
My first impressions were positive.
A few weeks in
I've been using the Caudalie Beauty Elixir for a couple of weeks now and I've really enjoyed using the product. It's been amazing at cooling my skin down after a workout, in particular, so I'm very grateful.
I find myself looking forward to using the floral spritz if my skin feels parched because it gives it a quick boost.
In terms of its claims, it definitely invigorates the skin, as well as gives it more radiance. I don't really have fine lines or wrinkles (yet), so I couldn't comment on that part, and as for the smoothing of pores, I feel I'd need to use the Elixir a little longer to see the results.
I haven't used it as a setting spray for makeup yet, but I can see it working (but not as well as the Urban Decay All Nighter setting spray).
However, I'm not totally convinced this product is worth £32. It's lovely, refreshing and energising, but I'd price this product at around £15-£20 because it hasn't transformed my skin. It just gives my skin a welcome boost and some added glow.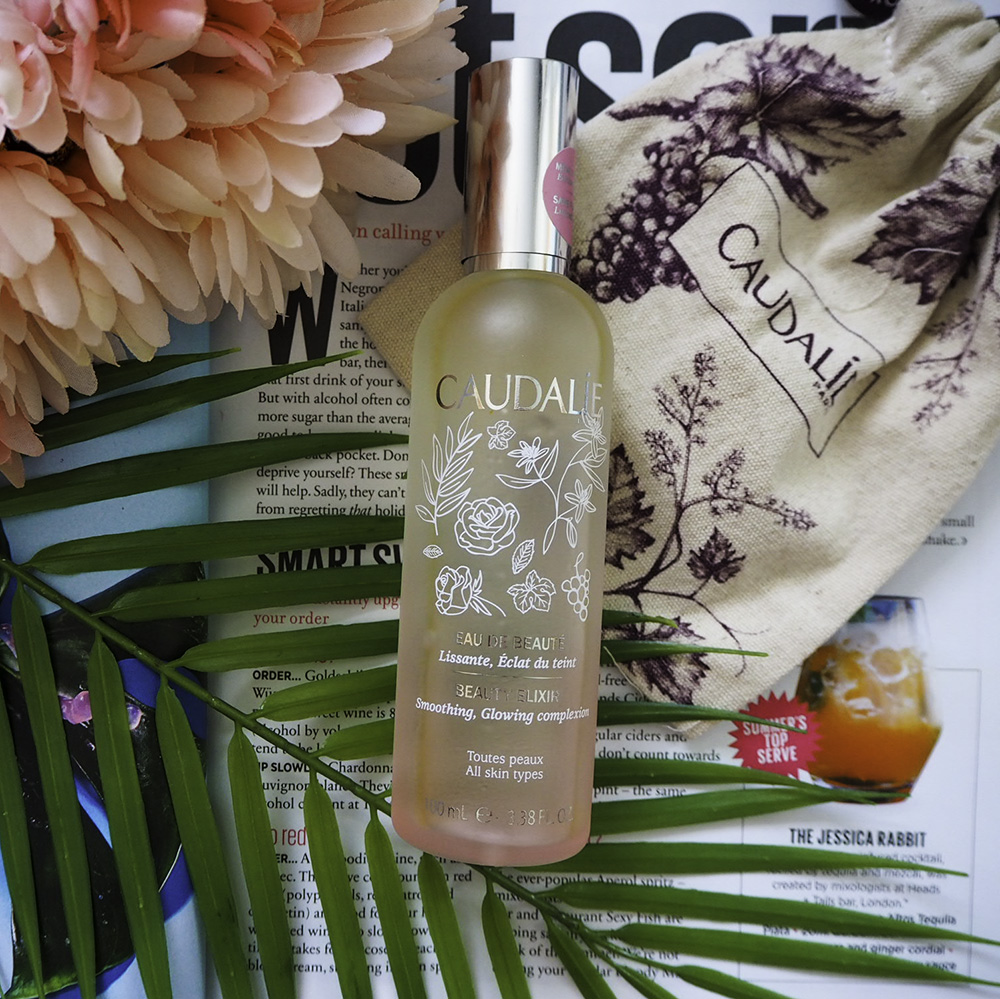 Is it worth the hustle?
I think so. Just about.
The Beauty Elixir is pricey for what it is, in my opinion, but you'll definitely be pleased with the results. Your skin will look more radiant while feeling refreshed and energised, which is ideal for the summer or for when you go on holiday.
It's very pleasing on the skin and the scent picks you up, which we all need after a long day.
Rating: 4 stars
If the Elixir knocked off another £10-£15, I'd probably give it 5 stars.
It's funny because I think the rest of Caudalie's prices are very reasonable, but this little mist seems a bit steep.
---
What do you think of facial mists? Do you think they're worth investing in? Let me know in the comments below!