Last Updated on 25th September 2023 by Sarah Sarsby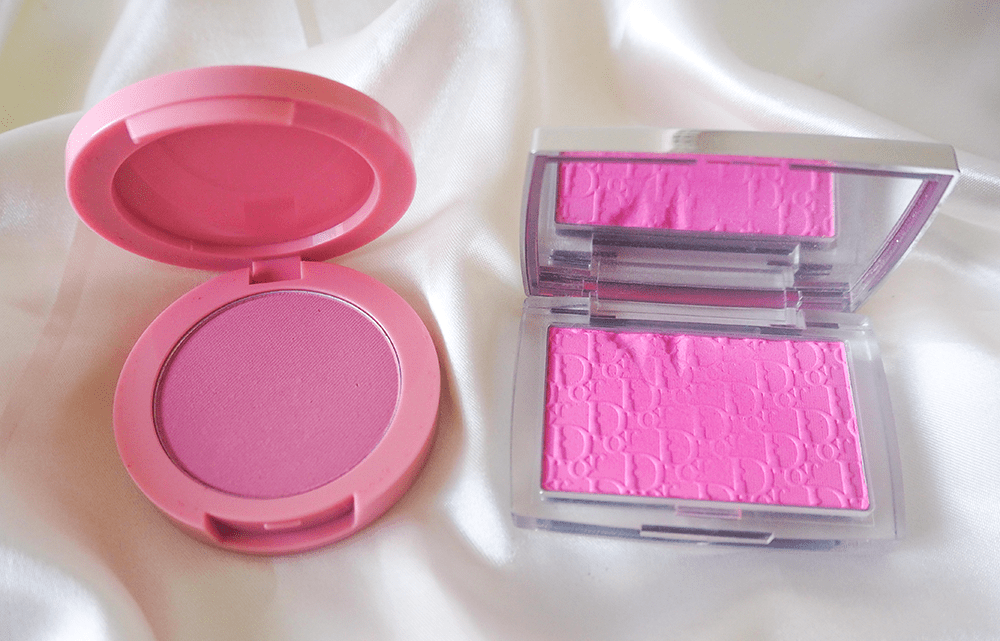 The DIOR Backstage Rosy Glow blush in 001 Pink went viral on Instagram. You couldn't scroll for more than a couple of seconds without seeing the vivid pink blush. I still see it loads even now, with so many people hailing it as their holy grail.
But at £36 for 4.4g, it's expensive, despite being really pretty. So we need a good dupe.
Enter The Saem Saemmul Single Blusher. This K-beauty blush only costs £6.13 and promises to be a dupe for the famous DIOR blush.
But just how similar are these products? This honest comparison post tells you everything you need to know about the affordable dupe, including what the blushes look like side by side, and whether it lives up to its expensive counterpart.
Use my code CONFIDENCE10 for up to 5% off YesStyle. For new customers, use the code YESSTYLE for 10% off with a minimum £28.70 ($35 USD) purchase. Get your £6 Dior blush dupe here!
** This post contains some affiliate links. This means at no extra cost to you, I earn some commission if you purchase a product through my link. All thoughts are my own, though, as always. If you want to find out more, visit my affiliate disclosure page **
About DIOR Backstage Rosy Glow in 001 Pink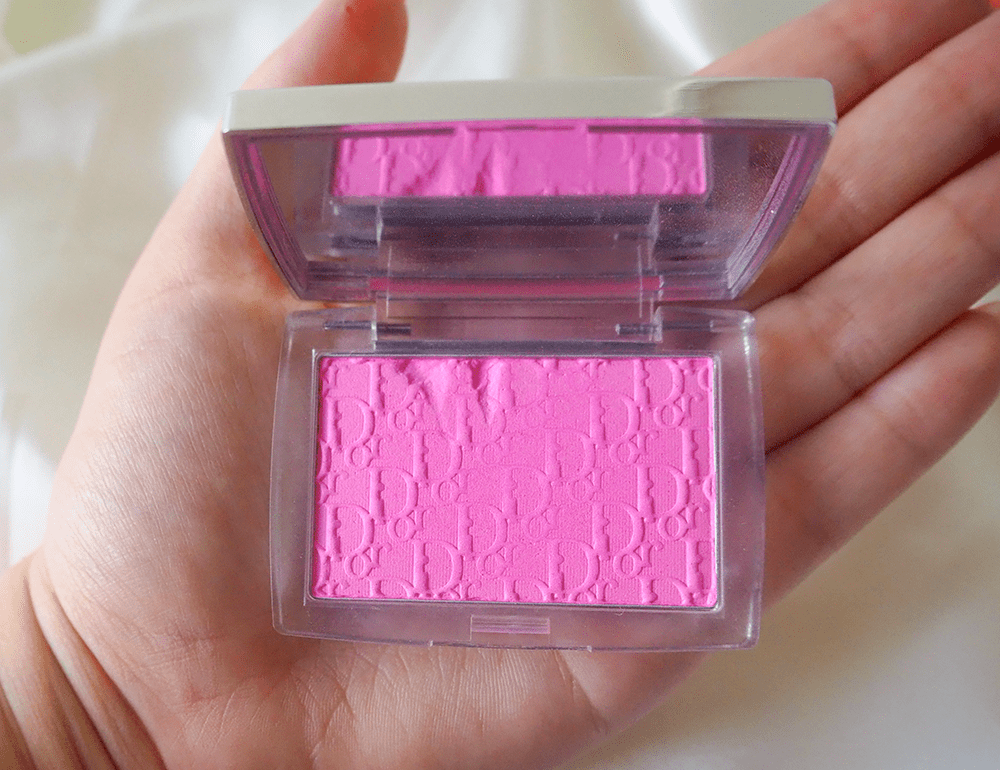 The DIOR Backstage Rosy Glow blush in 001 Pink is a luxury cool-toned bubblegum pink blush that had social media going wild. It's designed to give a soft glow to your cheeks while adapting to your skin's pH for a custom flush of colour. It claims to be long-wearing, buildable, and lightweight for a second skin feeling.
About The Saem Saemmul Single Blusher in #PP04 Blueberry Milk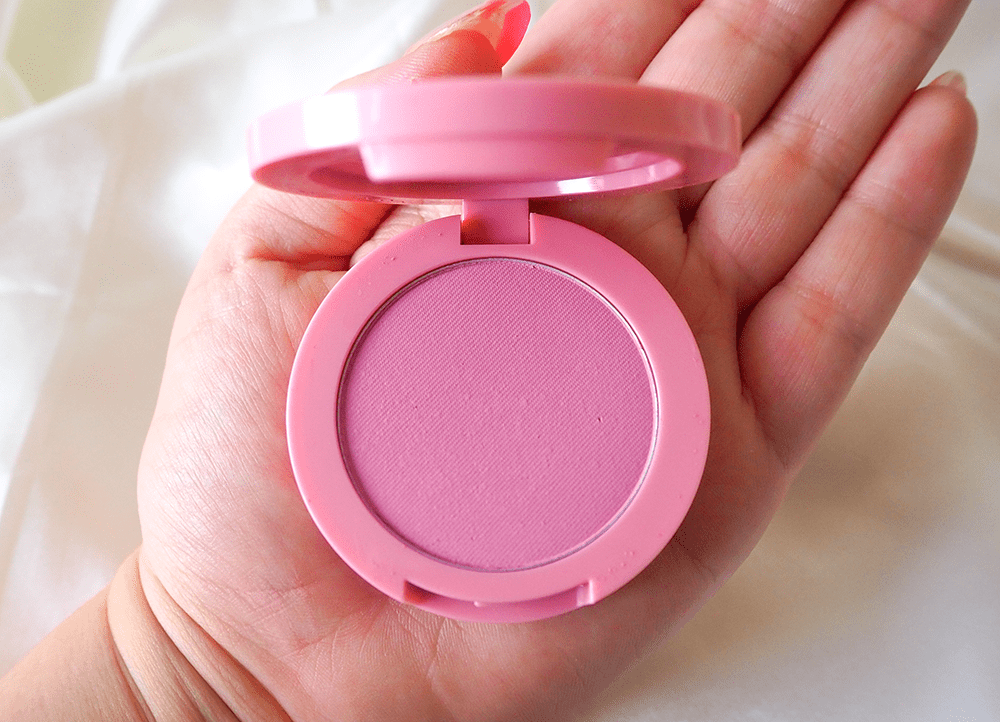 The Saem Saemmul Single Blusher in #PP04 Blueberry Milk is a Korean pastel pink powder blush with blue undertones. It provides a soft, silky, and matte finish. It's very pigmented, finely milled, and contains sebum control properties to prevent makeup from going greasy. The blush provides a natural flush of colour.
The comparison
Price
The Saem easily wins on price. It only costs £6.13 for 5g, whereas Dior costs £36 for 4.4g. This means Dior costs almost 6 times as much for even less product, making The Saem a much more affordable alternative.
Packaging
The packaging for both products is somewhat different, although both are plastic.
Dior is rectangular, features a mirror on the inside of the compact, and has fancy "Dior" embossing on the blush itself. It also features silver around the outside of the packaging and for the "Dior" wording on the front.
The Saem is circular, doesn't have a mirror, and has a simpler design. There's no embossing on the blush or different coloured accents on the packaging.
They both feel pretty equal in terms of weight. The Saem is slightly larger overall.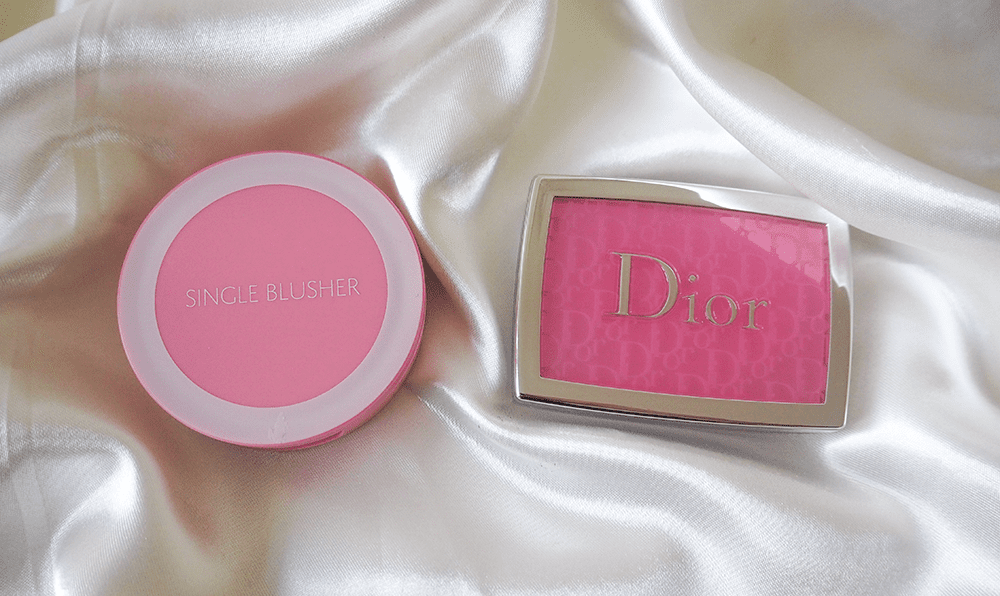 Ingredients
The INCI lists quite a few of the same ingredients, but The Saem's is much longer than DIOR's.
Both contain skin-softening dimethicone, the absorbent powder silica, glow-giving mica, skin-softening ethylhexylglycerin, the emollient stearic acid, and conditioning caprylyl glycol.
DIOR features absorbent boron nitride, skin-softening lauroyl lysine, and vitamin E tocopherol. The Saem incorporates absorbent talc, hydrating diisostearyl malate, and skin-conditioning safflower flower extract, among many other ingredients.
Texture
When it comes to texture, the blushes are like sisters but not identical twins. Both have a powdery and almost chalky texture.
However, DIOR's blush is smoother but chalkier, while The Saem is silkier but more powdery. The Saem has a fair bit of fallout when you dip your brush into the powder. However, you have to dip your brush into DIOR multiple times to pick up enough product to brush over your cheeks. The Saem offers more saturated colour.
Shade range
The Saem wins on shade range with a phenomenal 37 shades. Whether you're looking for cool contour tones, warm bronzer tones, bright highlighting shades, pastel pinks, nudes, muted tones, wearable oranges and reds, or even yellow, this K-beauty brand has it.
DIOR recently expanded its Backstage Rosy Glow range to 6 shades. Expect bubblegum pink, wearable coral, bold cherry, deep berry, rosy nude, and rich mahogany.
Swatches
To show you what these blushes look like next to one another, I swatched them. These were done on my bare arm without primer. Without looking at the captions, can you tell which one is which?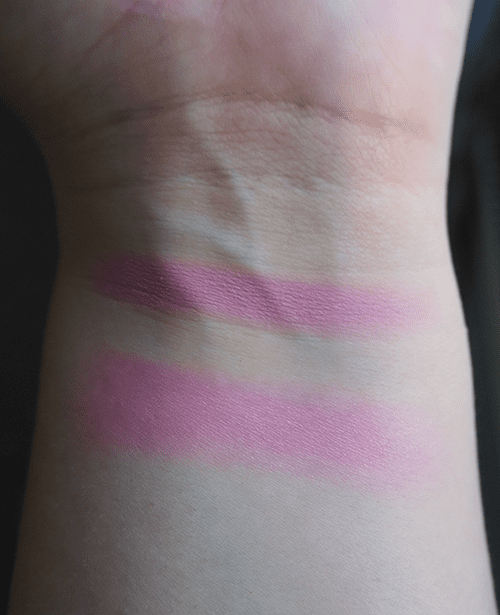 These blushes look so similar in the swatches. DIOR has a bit more glow and is perhaps cooler-toned, while The Saem is more matte and a touch warmer.
On the cheeks
And now for the real test: what do these blushes look like side by side on the cheeks? I kept the rest of my makeup the same and simply applied 1 blush on 1 side of my face and the other blush on the other side.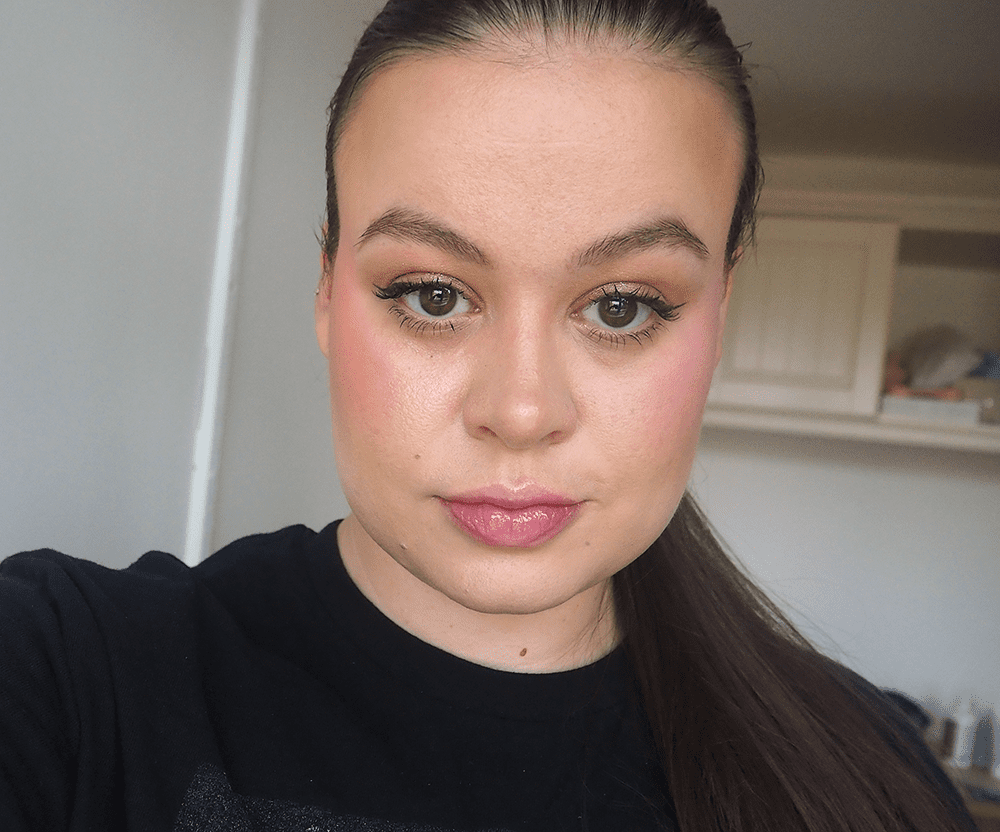 Interestingly, there is more of a visible difference between these blushes when they're on my cheeks.
On the right-hand side of my face is DIOR Backstage Rosy Glow blush in 001 Pink. While it looks quite cool-toned in the swatch, on my cheeks this blush looks much warmer. It offers more radiance than The Saem and melts in with the rest of my makeup. However, to achieve this level of pigmentation with DIOR, I had to swirl my brush in the blush 3 times.
On the left-hand side of my face is The Saem Saemmul Single Blusher in #PP04 Blueberry Milk. This colour truer to the swatch: pastel pink with blue undertones. Compared to DIOR, this blush is more matte and brighter. But this blush is far more pigmented than DIOR. I only had to tap my brush into the blush once to get this much colour payoff.
It's worth noting that because the DIOR blush adjusts to the pH of your skin, it looks different on everyone. I've seen a blog post where these 2 blushes look almost identical on the reviewer's face. In that same post, the DIOR blush also looked cooler on their cheeks than it does on mine.
Longevity
These blushes have the same lasting powder. After 8 hours of wear, both stayed on really well and had barely faded. No patchiness was detected! I tend to find that powder formulas last longer on my oily skin, as they're less prone to breaking down and becoming greasy. I experienced no greasiness with either, and they were still clearly visible by the end of the day.
Honest thoughts on the DIOR Backstage Rosy Glow blush dupe
The Saem Saemmul Single Blusher in #PP04 Blueberry Milk is pretty similar to the viral DIOR blush, but there are some differences.
On me, the £6 dupe is cooler and a bit brighter. It's also got a matte finish. The texture is more powdery, and there is some fallout when you apply The Saem blush. However, it's way more pigmented than DIOR, so as well as being far more bank account-friendly, it will also last longer, as a little bit of product will deliver serious colour payoff.
DIOR has a unique natural glowy finish and looks warmer on my cheeks. I think it blends in with my makeup a bit better and perhaps looks a touch smoother overall. However, with way less colour payoff than The Saem, I don't think DIOR is worth 6 times the price.
Despite some differences, I think The Saem is a pretty good dupe for the DIOR rosy blush. It's also a great affordable blush in its own right. It's absolutely worth checking out, especially with the incredible shade range.
Use my code CONFIDENCE10 for up to 5% off YesStyle. For new customers, use the code YESSTYLE for 10% off with a minimum £28.70 ($35 USD) purchase. Get your £6 Dior blush dupe here!