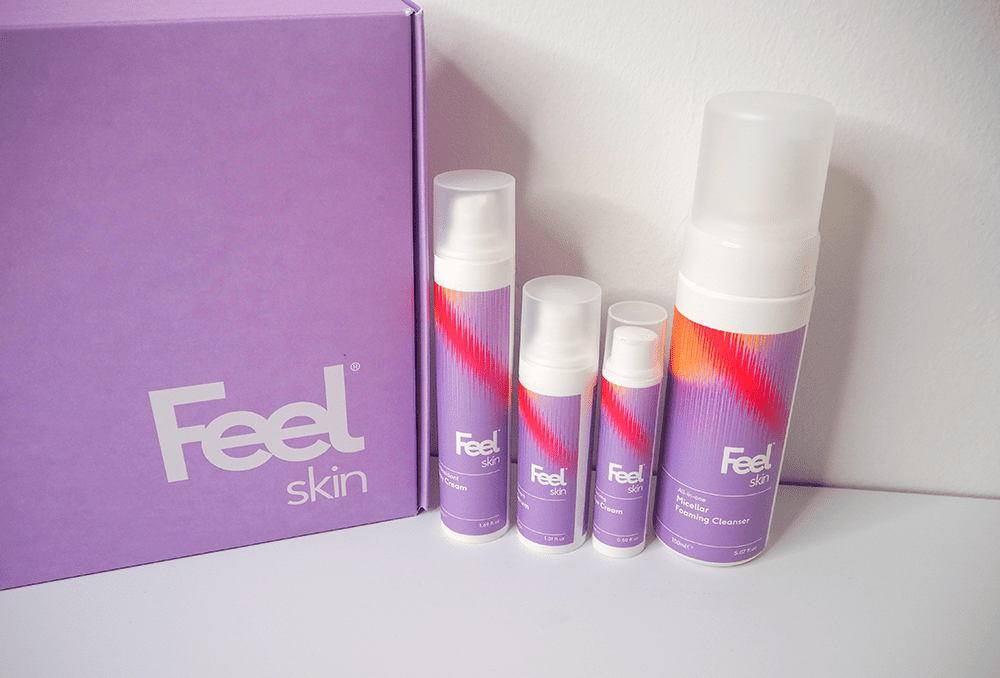 If you're looking for a new vegan and cruelty-free skincare brand to try or need to stock up on some products, this Feel review is for you.
In a world where new skincare brands are constantly cropping up, it can be hard to know which ones are worth your time and money. In my honest review, I'm going to share whether Feel stands out in the crowded industry and which products are my faves.
Get 20% off Feel (excluding bundles) with my exclusive code SARAHS20. Shop now!
** This post contains some affiliate links. This means at no extra cost to you, I earn some commission if you purchase a product through my link. All thoughts are my own, though, as always. If you want to find out more, visit my affiliate disclosure page **
What is Feel?
Feel is a vegan and cruelty-free wellness, nutrition, and skincare brand. It strives to create premium, science-backed products that promote better health and wellness.
From responsibly sourcing our ingredients to implementing eco-friendly packaging solutions, we strive to reduce our carbon footprint and promote a more sustainable future.

Feel
The brand offers a wide range of products, including collagen powders, multivitamins, probiotics, skincare, and much more.
What's inside the Feel Skin Complete Collection?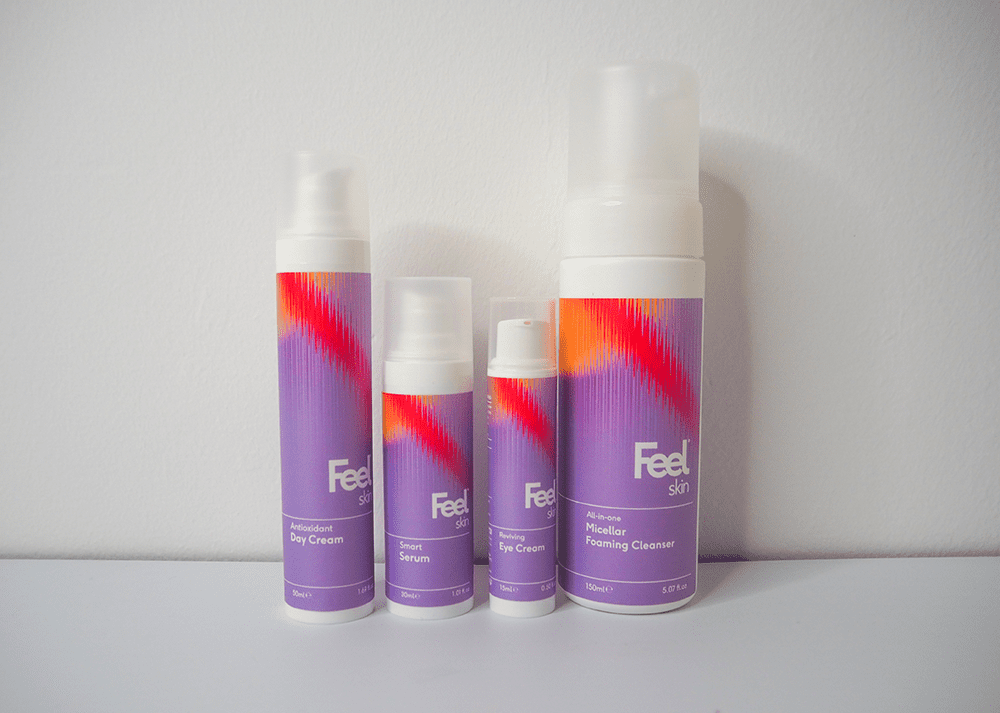 The Feel Skin Complete Collection contains the brand's full range of skincare products:
Micellar Foaming Cleanser
Reviving Eye Cream
Smart Serum
Antioxidant Day Cream
It costs £97.44 for the bundle. If purchased individually, the products ordinarily total £121.80, meaning a saving of over £20.
I've been trying these products for a couple of weeks, and I'm going to share my honest thoughts on each product below. The INCI lists are also included for your information.
1. Feel Micellar Foaming Cleanser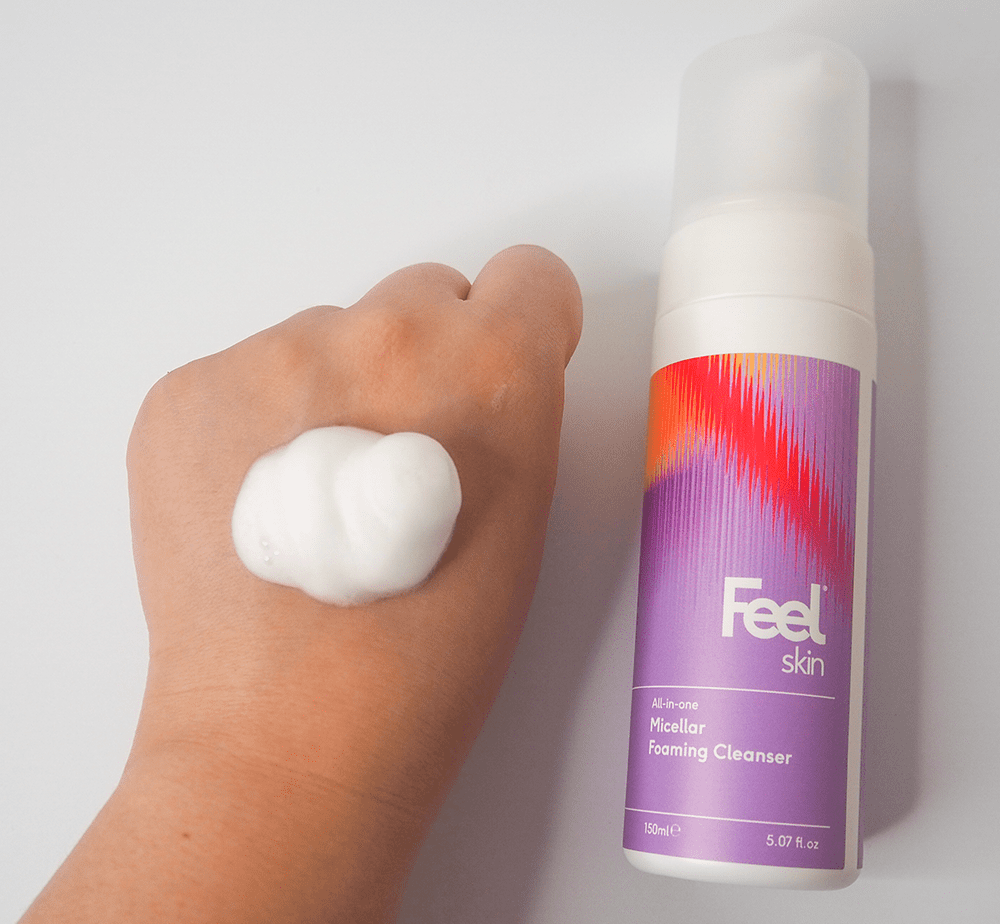 Product claims
The Feel Micellar Foaming Cleanser claims to be a game-changer that's suitable for sensitive skin. It promises to be effective and gentle, removing makeup, dirt, oil, and SPF effortlessly without irritating or stripping the skin. The formula is supposed to be non-drying and able to mattify oily skin.
In a consumer trial of 22 female adult volunteers over a 21-day period, 100% of users felt that their skin was perfectly cleansed and free of remaining makeup; 95% of users said their skin felt soothed, soft, balanced, and comfortable; and 91% of users felt the balance of their skin was maintained.
Key ingredients
Excluding water, the top 5 ingredients on the INCI list are:
Glycerin: hydrating
Coco-glucoside: a gentle cleansing agent that's derived from coconut oil and the sugar glucose
Erythritol: moisturising
Coco-betaine: a gentle cleansing agent that's derived from coconut oil
Polyglyceryl-4 caprate: a solubiliser (helps blend oils into water-based products)
See the full INCI list below:
Aqua, Glycerin**, Coco-Glucoside, Erythritol, Coco-Betaine, Polyglyceryl-4 Caprate, Parfum, Sodium Benzoate, Citric Acid, Potassium Sorbate, Aloe Barbadensis Leaf Juice Powder*, Crataegus Monogyna Flower Extract*, Sambucus Nigra Fruit Extract*.
Review
I like the Micellar Foaming Cleanser, but it wasn't the game-changer Feel said it would be.
This cleanser is lightweight and has a soft, airy texture. It's quite heavily fragranced – it smells quite sweet – so that's just something to be mindful of if you don't like perfumed skincare. I love the scent!
This works best as a morning or second cleanser. I tried using it as the first step in my double-cleansing routine. While it did remove makeup, dirt, and SPF, it took more work than my usual cleaning balm or oil. I had to really work the foam into my skin to lift my makeup, whereas an oil or balm would melt makeup away effortlessly. It also made my eyes sting quite badly, so it's not suitable for use around the eyes. Other products that I use as my first cleanse don't sting my eyes at all.
However, this works as a second cleanse. It's light and refreshing, leaving my skin feeling clean. As it's free from SLS, which is often found in foaming cleansers and is known to be stripping, this formula wasn't drying or irritating at all. I've used cleansers with SLS that leave my skin feeling super tight – I didn't experience this with Feel's cleanser.
While this cleanser does clean my skin, I find it a bit lacklustre beyond the cleanse. It doesn't make my skin feel particularly hydrated or give it a nice glow like some of my other cleansers. I wish was more moisturising for extra skin benefits.
Rating: 3.5 stars
A basic cleanser that gets the job done.
2. Feel Reviving Eye Cream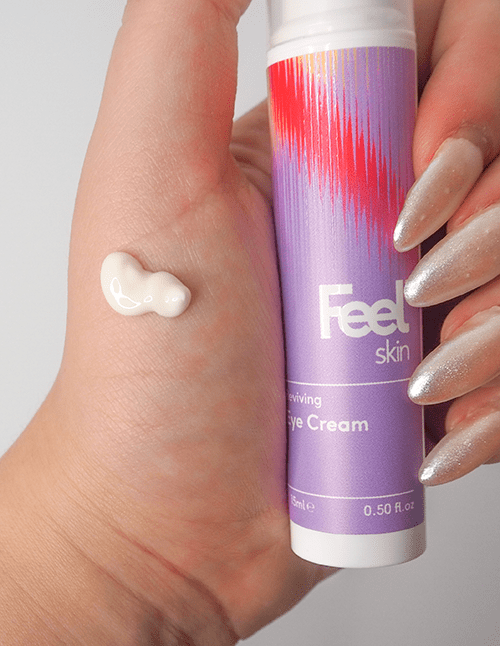 Product claims
The Feel Reviving Eye Cream promises to be deeply hydrating, leaving the under-eyes looking plump and dewy. It's supposed to be brightening while helping to reduce signs of ageing with antioxidants.
Key ingredients
Excluding water, the top 5 ingredients on the INCI list are:
Coco caprylate/caprate: an emollient (softens or soothes skin)
Caprylic/capric triglyceride: an emollient and skin-replenishing ingredient that helps skin resist moisture loss
Glycerin: hydrating
Glyceryl stearate SE: an emulsifier (prevents the separation of ingredients in a product)
Propanediol: makes skin look dewy
See the full INCI list below:
Aqua, Coco-Caprylate/Caprate, Caprylic/Capric Triglyceride, Glycerin, Glyceryl Stearate SE, Propanediol, Bentonite, Butyrospermum Parkii Butter*, Cetyl Alcohol, Lauroyl Lysine, Sodium Levulinate, Sodium Stearoyl Glutamate, Prunus Amygdalus Dulcis Oil, Parfum, Levulinic Acid, Sodium Anisate, Sodium Benzoate, Sodium Hyaluronate, Xanthan Gum, Aloe Barbadensis Leaf Juice Powder*, Potassium Sorbate, Vitis Vinifera Leaf Extract*, Phytic Acid, Punica Granatum Fruit Extract*, Tocopherol, Adansonia Digitata Fruit Extract, Hibiscus Sabdariffa Flower Extract, Citronellol, Geraniol, Calendula Officinalis Flower Extract*, Cucumis Sativus Fruit Extract*, Helianthus Annuus Seed Oil, Limonene, Sodium Hydroxide, Citric Acid.
Review
In my experience, eye creams are frequently disappointing. They're often overpriced moisturisers that don't meet their claims. I particularly find that eye creams that claim they reduce the appearance of dark circles are letdowns; I've only used a couple of eye creams that genuinely help conceal dark circles.
Thankfully, Feel's eye cream doesn't make bold claims about vanishing dark circles. Instead, it happily works to hydrate the under-eye area. It has a lightweight and absorbent consistency that makes my eyes look a bit more radiant than usual.
My under-eye area isn't wrinkly, so I can't make a fair judgement on whether this eye cream reduces fine lines and wrinkles. But this is a nice nourishing eye cream that's not irritating and adds moisture.
Rating: 4 stars
This eye cream keeps my under-eyes hydrated all day.
3. Feel Smart Serum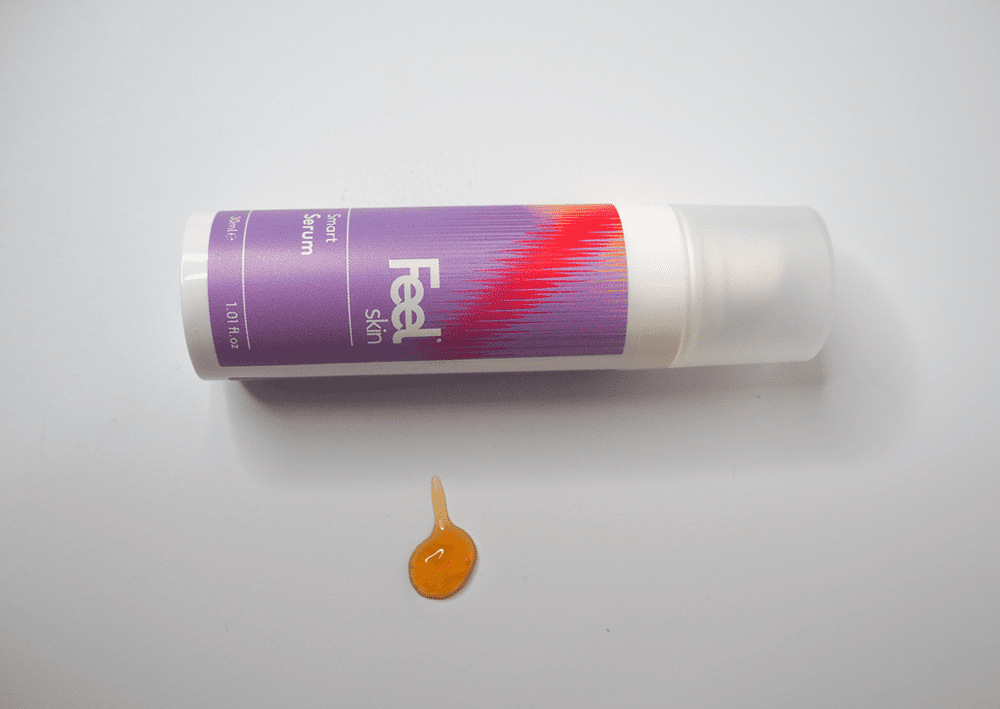 Product claims
The Feel Smart Serum promises to make skin look and feel ultra-hydrated, renewed, and radiant. It claims to reduce the appearance of fine lines, promote collagen production, and brighten and even the complexion. Feel says this serum is suitable for sensitive skin.
In a consumer trial of 21 female adult volunteers over a 28-day period, 67% of participants said dark spots were visibly reduced; 95% of participants said their skin appeared brighter and more radiant; and 86% felt that skin was visibly replumped. On day 28 of testing on 9 adult volunteers, 100% noticed visibly reinforced hydration in the skin.
Key ingredients
Excluding water, the top 5 ingredients on the INCI list are:
Glycerin: hydrating
Erythritol: moisturising
Propanediol: makes skin look dewy
Ascorbyl glucoside: a stable form of vitamin C that functions as an antioxidant
Sodium PCA: a humectant (retains or preserves moisture)
See the full INCI list below:
Aqua, Glycerin, Erythritol, Propanediol, Ascorbyl Glucoside, Sodium PCA, Sodium Levulinate, Xanthan Gum, Ectoin, Sclerotium Gum, Sodium Hydroxide, Sodium Anisate, Sodium Benzoate, Cichorium Intybus Root Extract, Sodium Dehydroacetate, Aloe Barbadensis Leaf Juice Powder*, Maltodextrin, Padina Pavonica Thallus Extract, Physalis Alkekengi Fruit Extract.
Review
I think this serum is nice. It does a good job of hydrating my skin and feels quite soothing. I was concerned that it would pill because the texture is fairly gloopy and thick, but it's surprisingly lightweight and absorbent with no pilling.
The serum adds a bit of radiance, but it's definitely not super glowy. I don't think it makes much of a visible difference. However, it's not mattifying at all and doesn't feel too heavy for my oily skin.
I don't have wrinkles or fine lines on my face really, so I can't fairly comment on this serum's anti-ageing claims. It's not evened out my complexion yet, although my skin tone is much more even than it used to be, so I don't really see dramatic differences in that aspect anymore.
Rating: 4 stars
A good hydrating serum that slots in easily with my skincare routine.
4. Feel Antioxidant Day Cream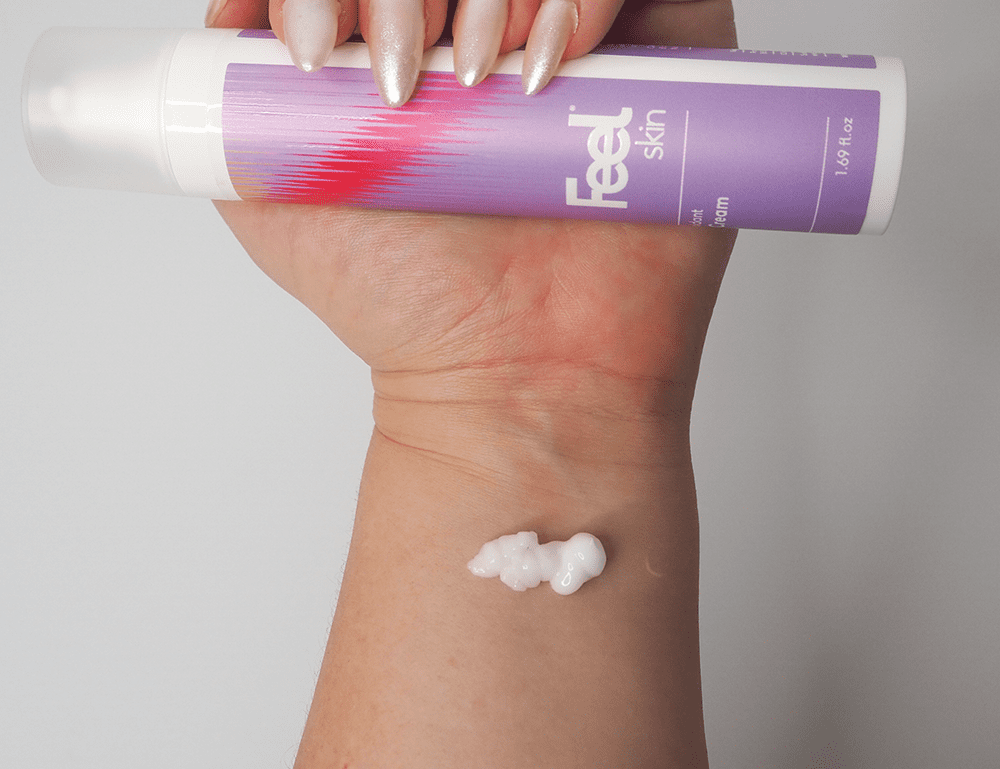 Product claims
The Feel Antioxidant Day Cream promises to be a luxurious lightweight cream that diminishes signs of dryness and dullness. It claims to be enriched with ingredients that offer "remarkable" anti-ageing properties and make skin look healthy and luminous.
The cream is designed to deliver a smooth base after applying other creams, oils, or serums. It can be layered or worn alone as a day or night cream. Feel says it's suitable for all skin types.
In a consumer trial of 22 female adult volunteers over a 21-day period, 90% of users noticed skin had regained its freshness and appeared lifted and glowing; 95% said they saw an improvement in signs of stress and fatigue, such as dull, dry skin; and 95% noted that the cream helped to reinforce their natural skin barrier.
Key ingredients
Excluding water, the top 5 ingredients on the INCI list are:
Dicaprylyl carbonate: an emollient
Dicaprylyl ether: a non-greasy emollient
Glycerin: hydrating
Sodium polyacrylate: a stabiliser, emollient, and thickening agent
Arachidyl alcohol: an emollient and thickening agent
See the full INCI list below:
Aqua, Dicaprylyl Carbonate, Dicaprylyl Ether, Glycerin, Sodium Polyacrylate, Arachidyl Alcohol, Argania Spinosa Kernel Oil, Melissa Officinalis Flower/Leaf/Stem Water, Phenoxyethanol, Behenyl Alcohol, Camellia Oleifera Seed Oil, Ethylhexylglycerin, Helianthus Annuus Seed Oil, Arachidyl Glucoside, Caprylyl Glycol, Disodium EDTA, Parfum, Sodium Salicylate, Arctium Lappa Root Extract, Equisetum Arvense Extract, Padina Pavonica Thallus Extract, Tocopherol, Carica Papaya Fruit Extract.
Review
This moisturiser is my fave product from the Feel Skin Complete Collection.
It's very lightweight, absorbent, and non-greasy. It works into my oily skin effortlessly without ever feeling too heavy or slippery. I love how hydrating and smoothing it feels when I apply it.
The moisturiser never pills and works beautifully with other skincare products. It makes my base feel even and nourished. It's not the most nourishing moisturiser I've ever tried. I'd typically pick a thicker formula as base prep for makeup, as I find complexion products smooth over rich creams better. But it still works well as a light moisturiser under makeup.
It also adds some glow to my skin. Nothing crazy but just subtle and healthy radiance. I use this as a daytime moisturiser, as its light texture lends itself well to layering it with other serums. I prefer thicker and richer night creams to really lock in moisture.
Again, I can't vouch for its anti-ageing claims.
Rating: 4 stars
This is a nice moisturiser. It's not my fave and didn't blow me away, but I enjoy using it.
Do I recommend the Feel Skin Complete Collection?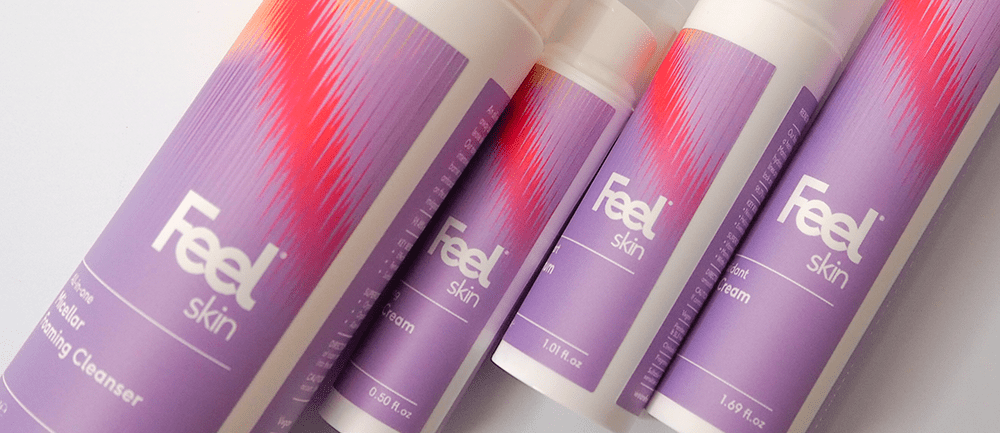 I think the Feel Skin Complete Collection is pretty good. The results weren't game-changing, but they're basic, reliable products that work for my skin. I don't mean "basic" in a bad way either – the products do what they're supposed to do.
I love that the brand is cruelty-free and vegan. The INCI lists are good overall. While there weren't many participants in the consumer trials, it's still a positive step that many skincare brands don't take.
It'd be great if Feel came out with a cleansing balm/oil and, of course, SPF to make it a truly complete skincare collection. This way, people could have a one-and-done skincare routine.
It works out at around £24.36 for the price per product in this bundle, sitting at a mid-range price point. If I compare this to other products I've tried at similar or cheaper price points, I think this is a little overpriced. The products didn't deliver anything special, and I've tried more affordable options that have blown me away.
Overall rating: 4 stars
While I wouldn't describe Feel as a must-try brand, I don't think you'd be disappointed if you purchased this collection. I'm enjoying using the products and would definitely recommend the Antioxidant Day Cream in particular to people, especially those with oily skin.