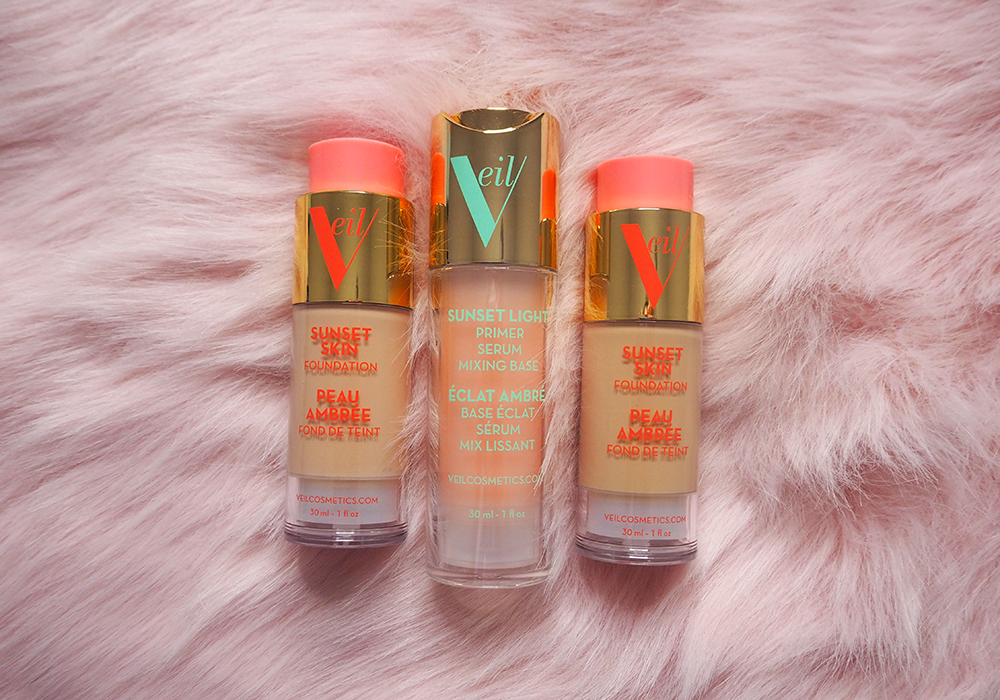 If you're looking to treat yourself to a new skin-loving primer and foundation, you'll want to read my Veil Cosmetics review.
Over the years, I've really come to appreciate a good primer. They improve how smooth and perfect your base looks and help your skin stay hydrated and non-oily throughout the day. I wouldn't just put a foundation on top of my skincare now! Primer, always.
And you already know I love foundation. A beautiful foundation is essential for the rest of your makeup look to be amazing. A patchy foundation can seriously ruin a makeup look.
So, I couldn't wait to use Veil Cosmetics' Sunset Light Primer Serum Mixing Base and Sunset Skin Liquid Foundation. Do they truly help renew my complexion for a natural and healthy skin-like finish, or are they average products? Keep reading for the honest answer!
* This post contains some affiliate links. This means at no extra cost to you, I earn some commission if you purchase a product through my link. All thoughts are my own, though, as always. If you want to find out more, visit my affiliate disclosure page **
What is Veil Cosmetics?
Veil Cosmetics is centred around the philosophy of weightless and airy textures that help blur imperfections without masking your skin. Product application promises to be effortless. The makeup products are all about elevating your complexion in a natural way – no cakiness or heaviness! Veil Cosmetics is vegan and cruelty-free.
What Veil Cosmetics products did I receive?
I'm reviewing the following 2 Veil Cosmetics products in this post:
Below, I'm going to share my thoughts on each product individually, explain whether they live up to the product claims, and rate them. Keep reading for my honest thoughts on the primer and foundation.
1. Veil Cosmetics Sunset Light Primer Serum Mixing Base
$48.95/£39.89 for 30ml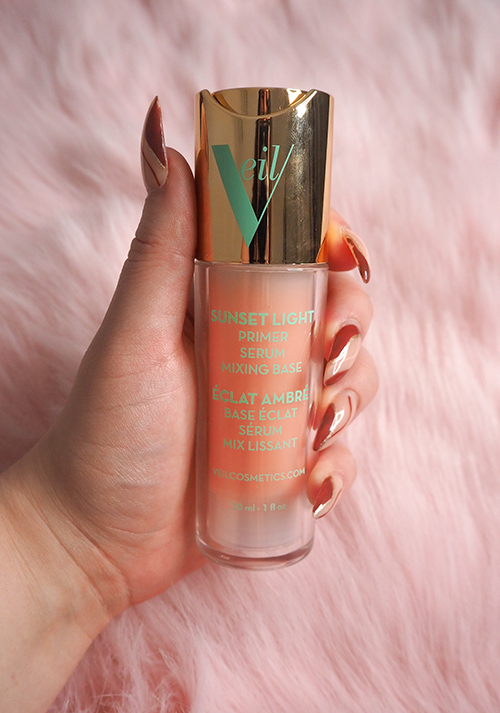 Product claims
The Veil Cosmetics Sunset Light Primer Serum Mixing Base claims to be a 3-in-1 primer, serum, and mixing base. Using this oil-free formula will give you bright, hydrated, and smooth skin, according to Veil Cosmetics.
As a serum, this product features soothing white lily and hydrating hyaluronic acid for instantly nourished and calm skin.
Used as a primer, this water-based formula promises to deliver long-wearing makeup and radiant skin.
Veil Cosmetics says you can also use the formula as a mixing base to customise the look of makeup products for longer wear.
Review
I've only used the Sunset Light Primer Serum Mixing Base as a primer so far, and it's honestly fantastic.
As the primer is water based, it's so weightless and hydrating. It feels like a hyaluronic acid serum because it instantly moisturises the skin with a lovely smoothing effect. I love how the primer just melts into my skin effortlessly. Once applied, you can't feel any residue, but just more hydrated and slightly more radiant skin!
I can see how this would work as a serum. The formula is slightly thicker than a typical serum but just as absorbent. I'm going to try it in place of my usual hyaluronic acid serum to see how that works as a skincare product alone.
Going back to working as a primer, it's fantastic. It smooths over the skin immediately for an even and untextured base. While it doesn't have the same pore-blurring effect as a typical mattifying primer, it definitely feels more comfortable on the skin. It gives my skin a subtle glow too, which I love.
The Sunset Light Primer Serum Mixing Base helps makeup last longer. I don't think it has the same lasting power as some of my other primers, but it does a great job nonetheless.
I'm really intrigued to use this product as a mixing base. I want to try mixing it with a liquid blush or highlighter to see whether it boosts the smoothness, luminosity, or lasting power.
Rating: 4.5 stars
Overall, I'm absolutely loving the Veil Cosmetics Sunset Light Primer Serum Mixing Base for a super-comfortable and natural base.
2. Veil Cosmetics Sunset Skin Liquid Foundation
$49.95/£40.70 for 30ml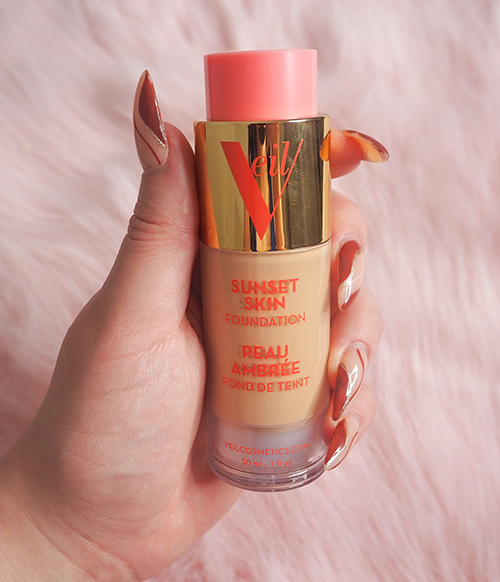 Product claims
The Veil Cosmetics Sunset Skin Liquid Foundation promises to feel conditioning and weightless. Offering sheer-to-medium coverage, the foundation is supposed to be buildable. As it's free from oil, Veil Cosmetics says you don't need to set your skin with powder. It claims to work for all skin types for a revived and renewed complexion.
Swatches
I received 2 shades of the Sunset Skin Liquid Foundation to ensure a perfect match – 1G and 2N. The swatches are below.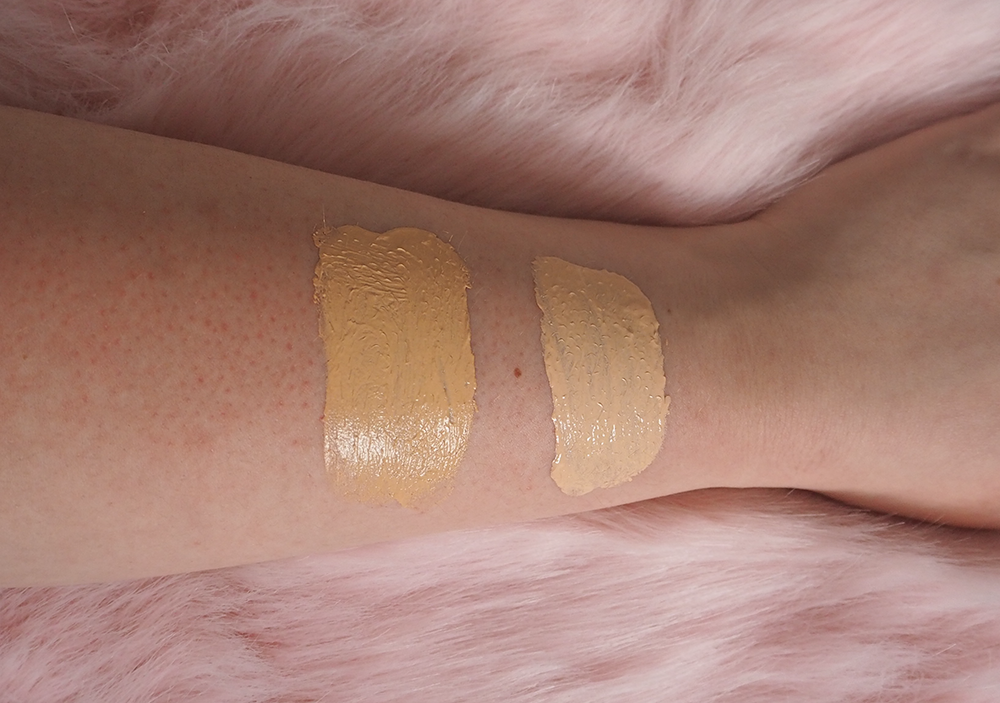 In the swatch, 2N looks quite orange. However, once buffed into the skin, it doesn't look orange at all, but it does have quite warm undertones.
Review
The Veil Cosmetics Sunset Skin Liquid Foundation is beautiful!
When I first applied this foundation, I forgot that the coverage is sheer, as the formula is thick. In my experience, light-coverage foundations are normally on the runny side, but this is definitely a sheer formula. With 1 pump, I had a more seamless complexion, but some small blemishes still crept through.
With 2-3 pumps, I built the foundation up to medium coverage very effortlessly. The blending was seamless with no patchiness or cakiness. I blended the formula out with a beauty blender, which worked perfectly. Although I'm normally a brush girl, the thick formula felt like it would work wonders with a beauty blender. I was right!
Veil Cosmetics doesn't state what sort of finish the Sunset Skin Liquid Foundation is, but I'd describe it as natural. It's very skin-like – it's not matte but it's not particularly glowy either. It's honestly perfect for a no-makeup makeup look or an everyday makeup vibe.
This foundation also lasts very well. It didn't break down on my skin much at all throughout the day. In fact, in terms of controlling oil, this is one of the best foundations I've tried! Even after 8 full hours of wear, I only went a little oily in my t-zone. I was so impressed.
This lovely foundation never feels heavy or greasy. It also doesn't cling to texture. This could be down to using the primer as well, though. The pair are a perfect match!
Rating: 4.5 stars
I love this foundation. A lot.
Veil Cosmetics makeup look
To show you what the Veil Cosmetic foundation looks like on top of makeup, I did a makeup look! For this look, I actually went for the shade 2N. Although it looks way too dark on my arm in the swatch, my face is not as pale as my arm, and as this is a sheer formula, I knew it would work.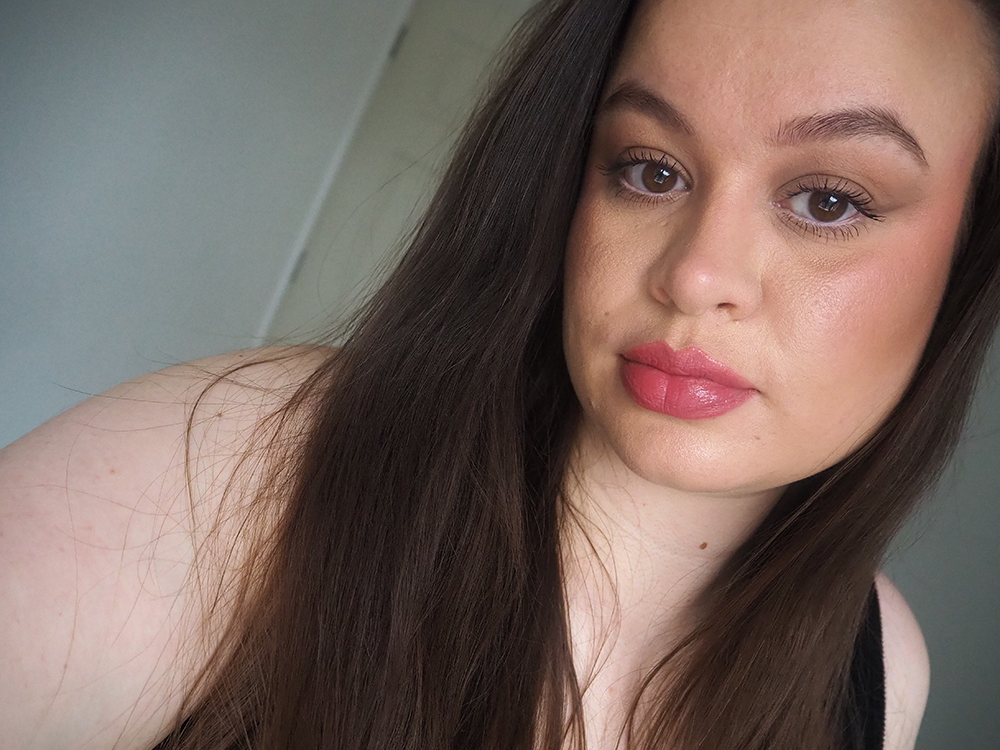 For this makeup look, I did set my under-eyes with powder and very lightly dusted my t-zone with powder. I think my skin looks a bit textured underneath the eyes because I used too much powder but nothing else!
The shade 2N is a touch too dark for me but definitely nothing outrageous. If I went for sheer coverage, I think the shade match would be perfect.
I love how it looks, though. It's so natural!
Overall Veil Cosmetics review
I think Veil Cosmetics is onto a winner with these cloud-like, airy, and hydrating base products. As someone with oily skin, heavy or greasy products feel horrible. They make my skin so shiny, and not in a good way. But the foundation and primer are some of the most weightless textures I've tried. I love how they buff into the skin seamlessly.
These products will be my holy grails for when I need to do my makeup in a rush because I know they won't let me down. Some foundations and primers take time to buff into the skin or need rigorous blending, which isn't good when you're pushed for time. But the Sunset Light Primer Serum Mixing Base and Sunset Skin Liquid Foundation blend out immediately with no effort.
I think people with combination or oily skin will particularly fall in love with these products, as they are some of the most non-greasy products I've tried. They're so comfortable. It doesn't feel like I need to blot my face every 5 minutes!
The foundation and primer are on the pricier side at around £40 for 30ml. However, I can tell that these are high-quality products enriched with skincare ingredients, so they are very kind to your skin. I believe they are worth the money.
All of the products meet their claims and definitely helped my complexion to look and feel renewed. I'd recommend Veil Cosmetics to anyone who loves natural-looking and easy-to-do makeup products.
Fave product?
The Sunset Light Primer Serum Mixing Base.
---
Have you ever tried Veil Cosmetics? I'd love to hear from you in the comments!