Last Updated on 19th January 2023 by Sarah Sarsby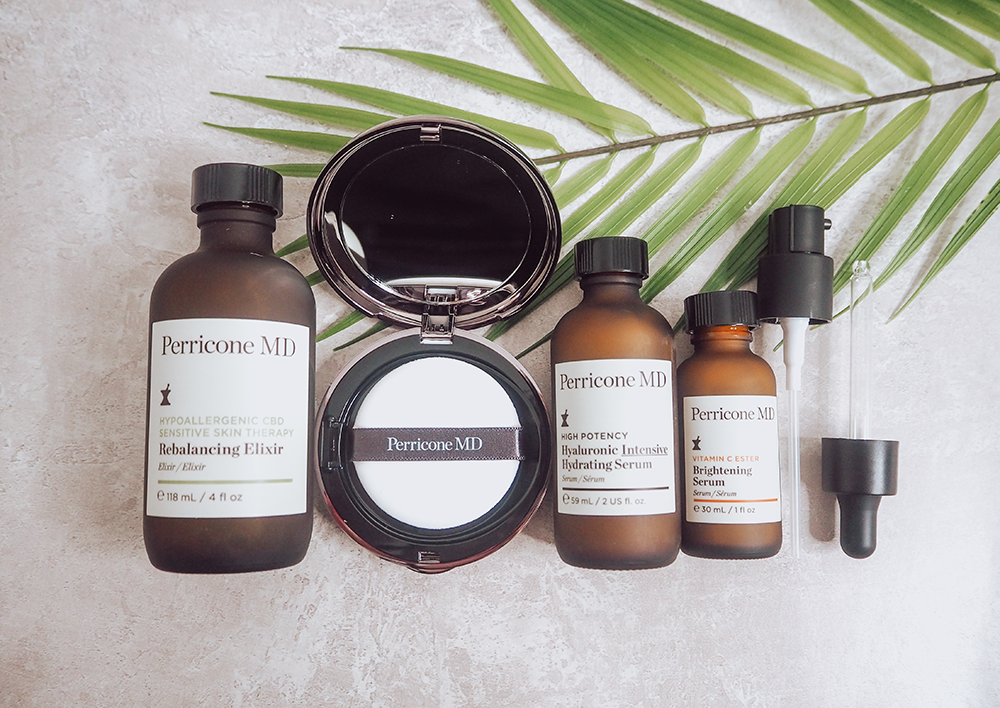 Perricone MD had been on my radar for a long time, and I finally got the chance to try some makeup and skincare products from this respected and luxurious brand. You need to know whether these products are worth the price point, and I'm here to help.
Spoiler alert: the products are good. Like, really good.
In this Perricone MD review, I share my honest thoughts on 4 products worth over £250, including the brand-new High Potency Hyaluronic Intensive Hydrating Serum, which has joined the brand's best-selling High Potency range. I've been using these products for about 2 weeks.
Keep reading to find out more about Perricone MD, the products I was gifted, my honest thoughts on each product, and which ones you should add to your basket right now.
DISCOUNT: Use the code PMDM20 for 20% off Perricone MD!
** This post contains some affiliate links. This means at no extra cost to you, I earn some commission if you purchase a product through my link. All thoughts are my own, though, as always. If you want to find out more, visit my affiliate disclosure page **
What is Perricone MD?
Perricone MD is a holistic beauty brand offering a wide range of high-quality makeup, skincare and supplement products. Each product is backed by powerful ingredients, cutting-edge research, and extensive clinical and consumer studies.
"Perricone MD was created by Dr. Nicholas Perricone, world-renowned author of New York Times bestseller, The Wrinkle Cure. Dr. Perricone's seminal work challenged the prevailing norms of the skincare industry with its visionary approach to aging and introduction to the advantages of a healthy lifestyle."

Perricone MD
Some of Perricone MD's bestsellers are the High Potency Classics Growth Factor Firming & Lifting Eye Serum, Cold Plasma Plus+ Advanced Serum Concentrate, and Vitamin C Ester Photo-Brightening Moisturizer Broad Spectrum SPF30.
Perricone MD products I received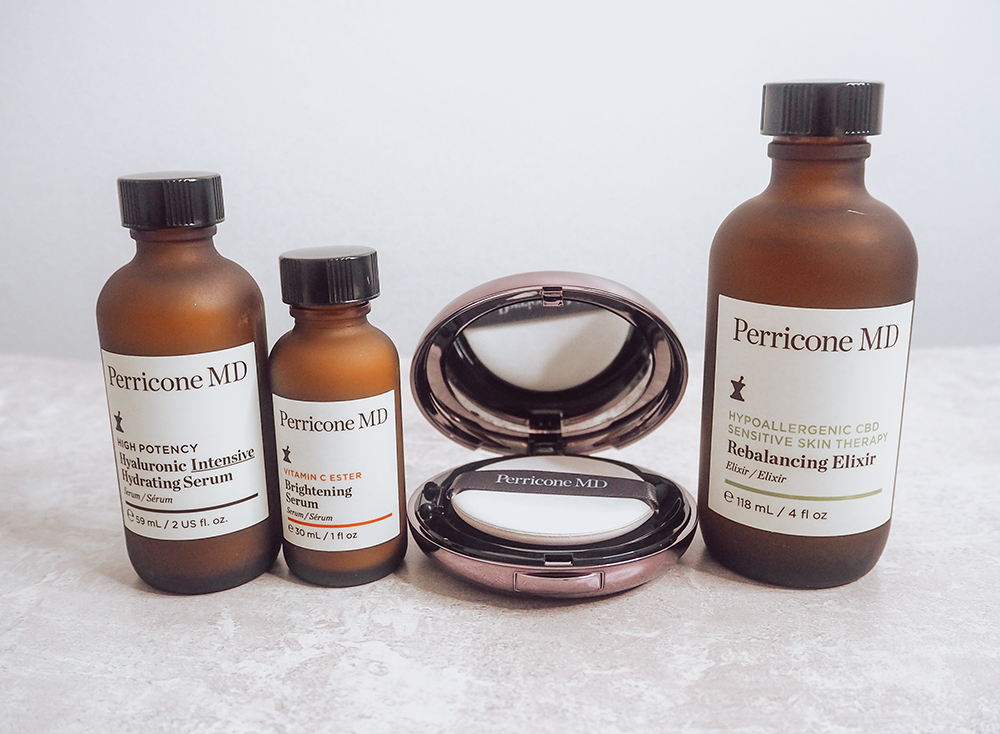 I received the following 4 products from Perricone MD to review:
Below, I will spill the tea on each product, so you know which ones are worth the coin.
DISCOUNT: Use the code PMDM20 for 20% off Perricone MD!
1. High Potency Hyaluronic Intensive Hydrating Serum
£79 for 59ml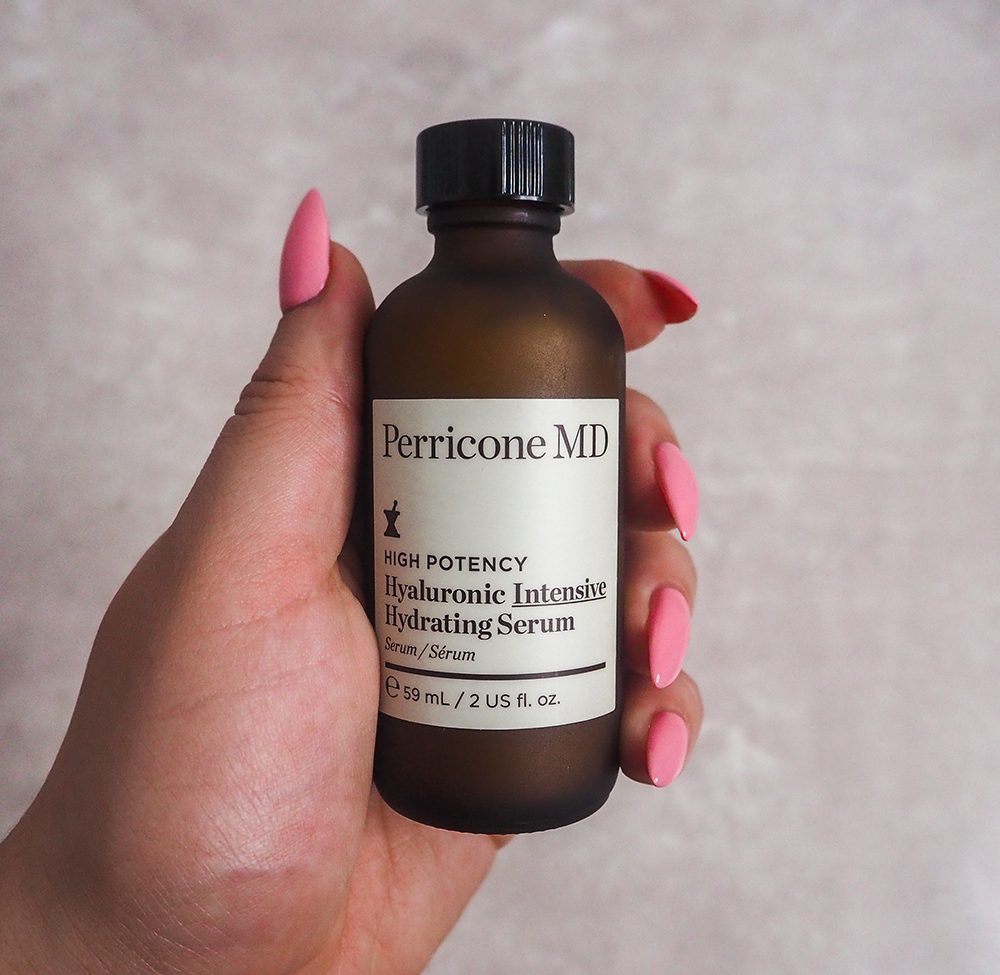 Product claims
This serum promises to intensely and immediately hydrate, plump and smooth the skin. The High Potency Hyaluronic Intensive Hydrating Serum is designed with 4 forms and 2 natural building blocks of hyaluronic acid to instantly replenish with essential moisture. It claims to be fast-absorbing and lightweight.
Perricone MD says the serum will also strengthen the skin's moisture barrier, and reduce the appearance of fine lines and wrinkles for a healthy, youthful-looking appearance. Skin is supposed to feel soft, supple and rejuvenated after use.
This serum is designed for those with dehydrated, dry, lacklustre, or fine lines and wrinkles. Perricone MD says to apply this to damp skin for ultimate moisture benefits.
Key ingredients
Excluding water, the top 5 ingredients on the INCI list are:
Dimethicone: a non-greasy emollient (softens or soothes skin)
Butylene glycol: a humectant (retains or preserves moisture), texture enhancer and penetration booster
Niacinamide: a powerhouse ingredient offering a raft of skin benefits, including reducing the appearance of enlarged pores, improving dull and uneven skin tones, and boosting the skin barrier's strength and hydration
Acetyl glucosamine: an antioxidant that helps even skin tone when paired with niacinamide
Squalane: an emollient that helps strengthen the skin's barrier
See the full INCI list below:
Water/Aqua/Eau, Dimethicone, Butylene Glycol, Niacinamide, Acetyl Glucosamine, Squalane, Sodium Acrylate/Sodium Acryloyldimethyl Taurate Copolymer, Polysilicone-11, Cetearyl Olivate, HDI/Trimethylol Hexyllactone Crosspolymer, Polyisobutene, Sorbitan Olivate, Dimethyl Isosorbide, Polysorbate 20, 1,2-Hexanediol, Caprylyl Glycol, Dimethyl MEA, Hydroxyacetophenone, Citric Acid, Ceramide NP, Caprylyl/Capryl Glucoside, Sorbitan Oleate, Sodium Gluconate, Spermidine, Silica, Sodium Acetylated Hyaluronate, Sodium Hyaluronate, Phenoxyethanol, Phytosphingosine, Sodium Hyaluronate Crosspolymer, Hyaluronic Acid, Ethylhexylglycerin, Acetyl Tetrapeptide-11, Acetyl Tetrapeptide-9, Glycerin, Disodium Acetyl Glucosamine Phosphate, Sodium Glucuronate, Magnesium Sulfate
Clinical results
In a clinical study of 35 women, 97% showed improvement in skin hydration for 72 hours, and 80% showed improvement in skin barrier function after 8 weeks.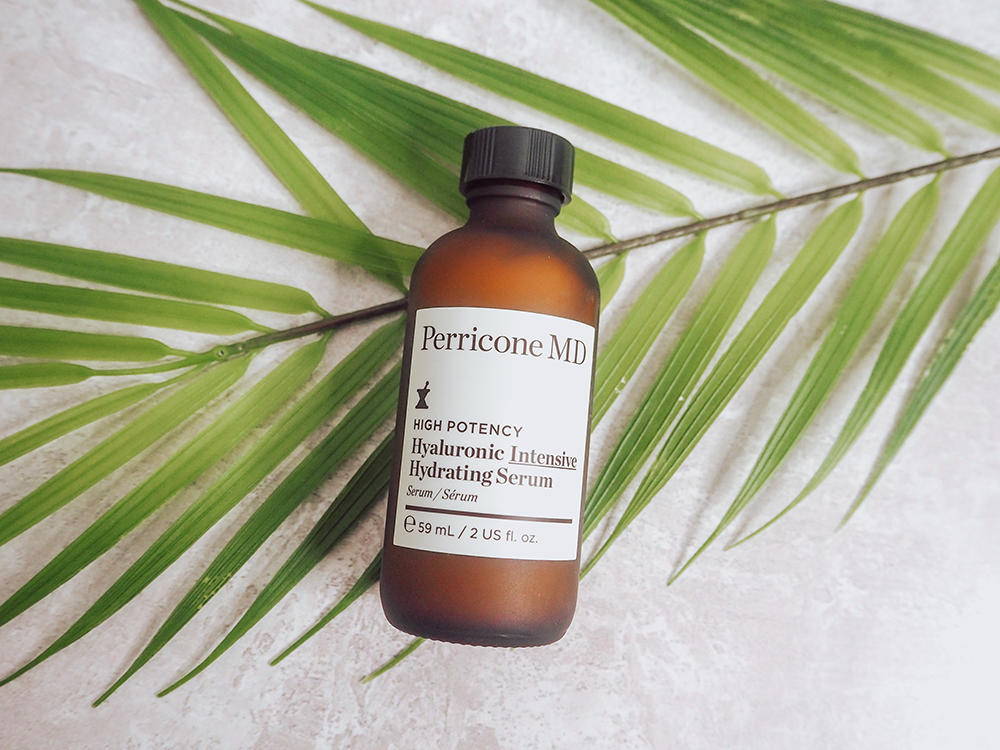 Review
The Perricone MD High Potency Hyaluronic Intensive Hydrating Serum is simply fantastic.
Now, I'm obsessed with hyaluronic acid. That's no secret. My skin loves this ingredient, as it helps my skin stay hydrated and plump all day. And this brand-new Perricone MD serum is seriously incredible.
This is one of those serums where your skin instantly feels refreshed and hydrated. On application, where the serum absorbs super quickly and feels lightweight, I get an intense moisture boost.
Although I've been using this daily, my skin particularly loves this potent hyaluronic acid when my skin is dehydrated. Which has been a lot during the past few weeks due to my room being insufferably humid and stuffy and having the fan on constantly.
As well as immediate hydration, my skin generally feels more hydrated and looks plumper since using this serum. If I'm wearing makeup, I incorporate this serum as a must for a smooth canvas. It just makes my skin look and feel healthier. And I'm here for it.
Rating: 5 stars
This is easily one of the best hyaluronic acid serums I've used. It meets all its claims, and my personal experience with this product is backed by the clinical study too, so a double win!
2. Hypoallergenic CBD Sensitive Skin Therapy Rebalancing Elixir
£82 for 118ml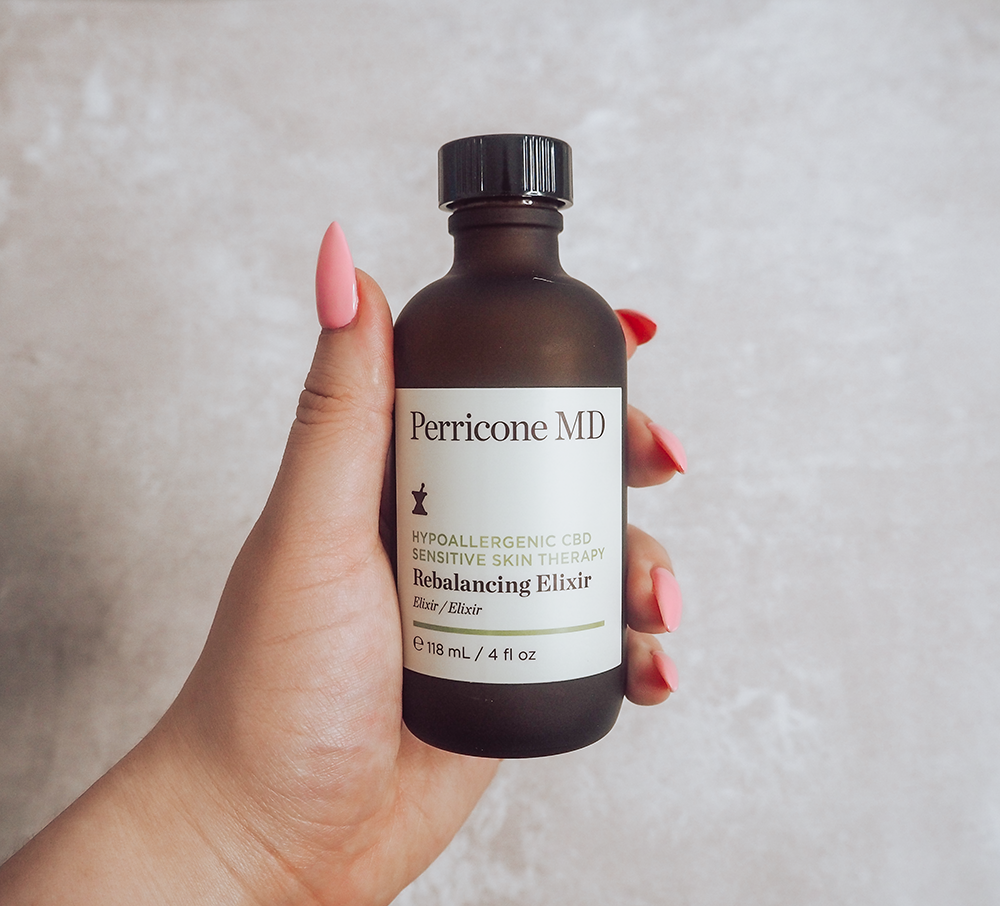 Product claims
This elixir promises to be gentle and soothing with 99% pure cannabidiol for moisture and smooth, glowing skin. It's designed to visibly hydrate, smooth texture and even skin tone for supple, refreshed and radiant skin. The Hypoallergenic CBD Sensitive Skin Therapy Rebalancing Elixir also claims to be lightweight and reset skin to its ideal pH level.
Vegan and cruelty-free, this elixir is designed for sensitive skin but can be used by anyone wanting a moisturised, smooth and glowy complexion.
Key ingredients
Excluding water, the top 5 ingredients on the INCI list are:
1,2-Hexanediol: a preservative and humectant
Sodium PCA: a hydrating and skin-replenishing agent
Triethyl citrate: perfumes products
Propanediol: offers moisturising properties with a dewy, smooth finish
Capryloyl glycine: helps protect skin's surface from water loss
See the full INCI list below:
Water/Aqua/Eau, 1,2-Hexanediol, Sodium PCA, Triethyl Citrate, Pro- panediol, Capryloyl Glycine, Glycerin, Annona Cherimola Fruit Extract, Cannabidiol, Ganoderma Lucidum (Mushroom) Stem Extract, Grifola Frondosa Fruiting Body Extract, Sodium Bicarbonate, Caprylhydrox- amic Acid, Sodium Hydroxide, Citric Acid, Cannabis Sativa Seed Oil Glycereth-8 Esters, Acrylates/C10-30 Alkyl Acrylate Crosspolymer, Sodium Citrate, Lentinus Edodes Mycelium Extract, Sodium Dehydroacetate, Phenylpropanol
Consumer results
In a consumer study on 105 people over 25 days, 95% agreed elixir absorbed quickly and refreshed the skin. 94% felt the elixir made their skin soft and smooth, and 91% noticed skin was calmed.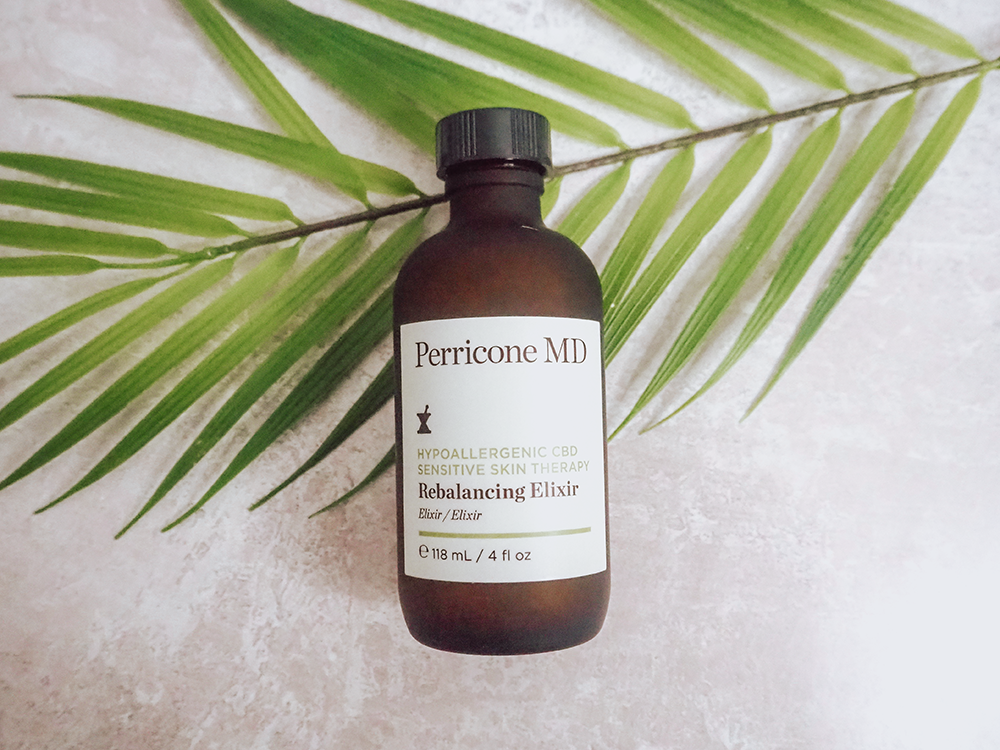 Review
The Perricone MD Hypoallergenic CBD Sensitive Skin Therapy Rebalancing Elixir is perfect for an instant skin refresh and moisture boost. With just a couple of shakes of the bottle, my skin feels hydrated and soothed.
For some of the claims – smoother skin texture and a more even complexion – I think I'd need to use this for a longer period. This product contains a low concentration of citric acid, which helps exfoliate the skin. I've always found with products that mildly exfoliate my skin that they take longer than 2 weeks to work, so stay tuned for further results.
I don't think this is the glowiest of products, but it's definitely refreshing and soothing. If my skin feels parched and I quickly want a moisture surge, this elixir sorts my skin right out. However, the High Potency Hyaluronic Intensive Hydrating Serum provides greater hydration than the elixir, in my experience.
Rating: 4 stars
A lovely, calming and hydrating elixir. I can't wait to see what my skin is like after using this for a few more weeks.
3. Vitamin C Ester Brightening Serum
£61 for 30ml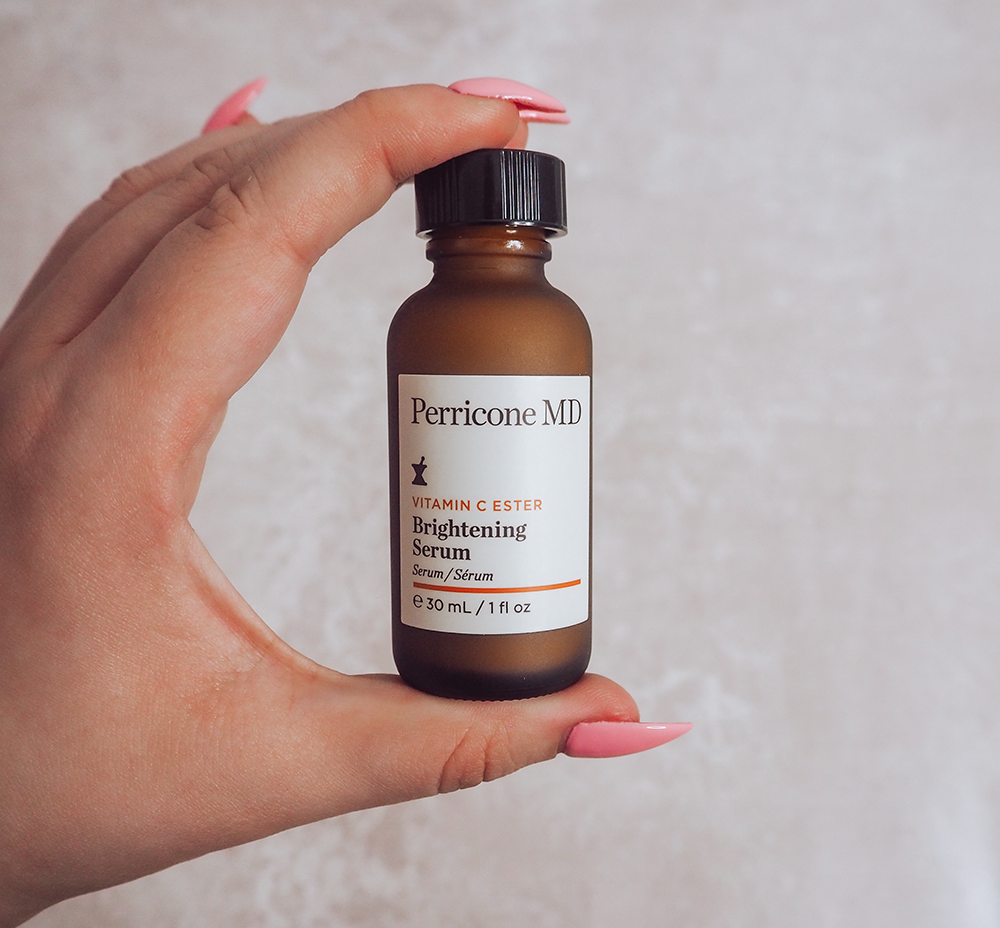 Product claims
The Perricone MD Vitamin C Ester Brightening Serum promises to smooth, brighten, moisturise, and refresh the skin. Ultra-lightweight, the serum claims to minimise the appearance of discolouration and dark spots over time, while dramatically resurfacing the skin's texture.
With a light herbal-citrus fragrance, Perricone MD says this formula can improve the appearance of crow's feet and vertical lines around the lips. It also immediately boosts radiance, according to the brand. It's cruelty-free and 100% vegan.
Key ingredients
Excluding water, the top 5 ingredients on the INCI list are:
Tetrahexyldecyl ascorbate: a more stable form of vitamin C that brightens the skin, fades dark spots, and evens skin texture
Caprylyl methicone: helps prevent moisture loss
Hydrogenated lecithin: a skin-conditioning emollient
Behenyl alcohol: a non-drying thickening agent
Benzyl alcohol: primarily functions as a preservative
See the full INCI list below:
Water/Aqua/Eau,Tetrahexyldecyl Ascorbate, Caprylyl Methicone, Hydrogenated Lecithin, Behenyl Alcohol, Benzyl Alcohol, Squalane, Rosmarinus Officinalis (Rosemary) Leaf Extract, Ferulic Acid, Simmondsia Chinensis (Jojoba) Seed Oil, Sodium Hyaluronate, Polysorbate 20, Xanthan Gum, Beta-Glucan, Fragrance/Parfum, Sorbitol, Limonene, Stearyl Glycyrrhetinate, Disodium EDTA, Elaeis Guineensis (Palm) Oil, Tocotrienols, Linalool, Tocopherol, Citral, Citronellol
Clinical results
In a clinical study of 34 women after 4 weeks, 91% showed a significant improvement in lines and wrinkles, and 71% showed a significant improvement in skin brightness.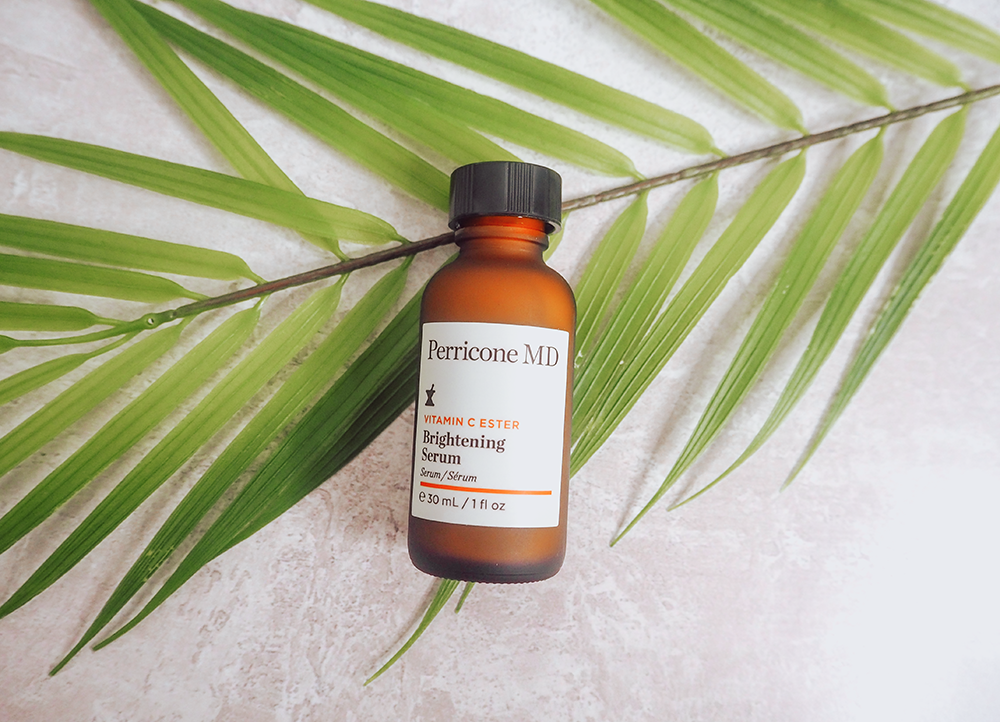 Review
Predictably, I really like the Perricone MD Vitamin C Ester Brightening Serum. This is one of the more nourishing vitamin C serums I've tried and has a thicker texture than a traditional serum. Despite the richer formula, it's still very lightweight and absorbent.
Although I've only been using this for 2 weeks, I've noticed some slight improvement in the fine lines under my eyes. I expect to see further results over the coming weeks too, but I can already see smoother under eyes.
This vitamin C serum certainly makes my skin luminous. It gives that 'lit from within' vibe and would be perfect for skin prep for a dewy skin makeup look dew to the serum's brightening and glowy properties. Although it's not the most obviously radiance-boosting vitamin C product I've tried, the glow it gives looks subtler and more natural than others. It's my skin but better. It's healthy skin in a bottle! It couldn't be simpler.
I actually think this serum is a great 2-in-1 option for those looking for brighter, radiant, and more hydrated skin. Above the luminosity, this serum is very emollient and smoothing. It makes my skin look and feel great.
Rating: 4.5 stars
This is a wonderful serum. I can't wait to see further results with continued use.
4. No Makeup Instant Blur Primer Vitamin E
£45 for 10g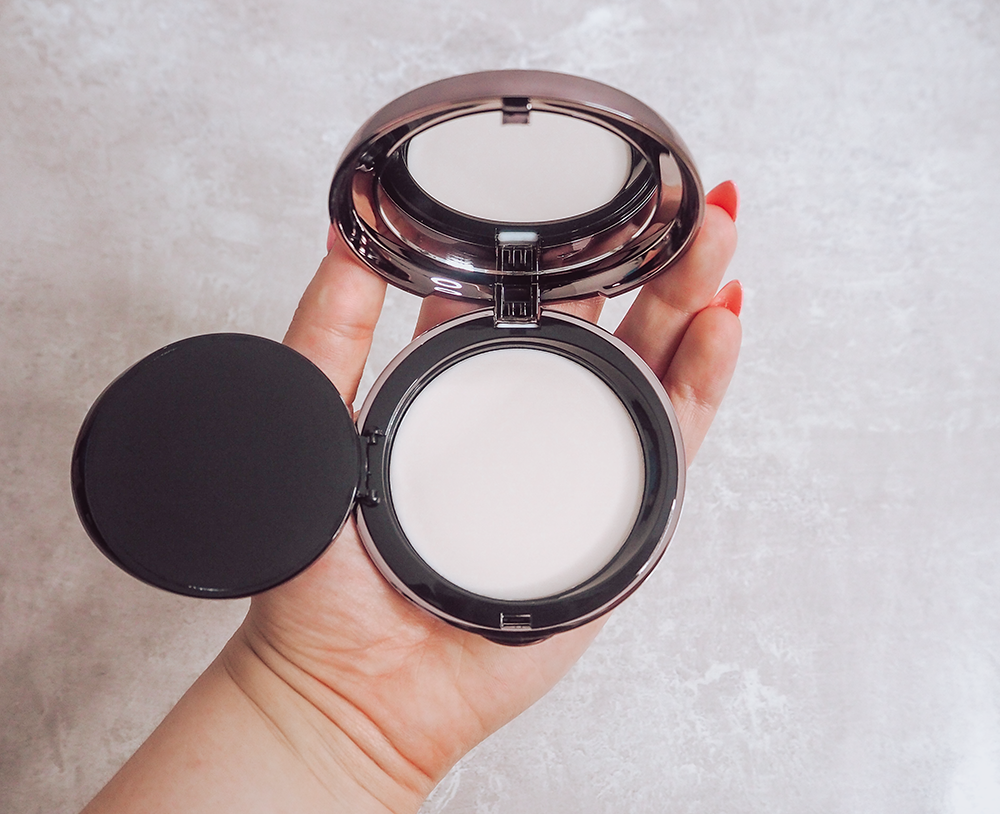 Product claims
The Perricone MD No Makeup Instant Blur Primer Vitamin E claims to be an invisible primer and complexion perfector that improves the appearance of pores, redness, wrinkles and fine lines both instantly and over time. It promises to create a soft-focus effect and satin finish, blurring imperfections and uneven skin tone.
It can be worn alone to improve the appearance of the skin or as a primer for a smooth canvas and makeup that lasts all day, Perricone MD says. The primer also promises to minimise shine and balance excess oil throughout the day.
Review
This blurring, invisible primer is the definition of "no makeup makeup". When I apply it, I literally can't even feel it on my skin. It melts into the skin seamlessly for an undetectable finish. I've never tried a primer that feels like this on the skin. I really like this because it doesn't feel slippery or like you're slathering a load of product into your skin.
The primer does a great job at smoothing over my pores and creating a perfectly smooth canvas for makeup application. It's excellent at minimising shine and excess oil throughout the day too. On the occasions I've used this, my makeup has stayed put better than when I prime with the e.l.f. Poreless Putty Primer.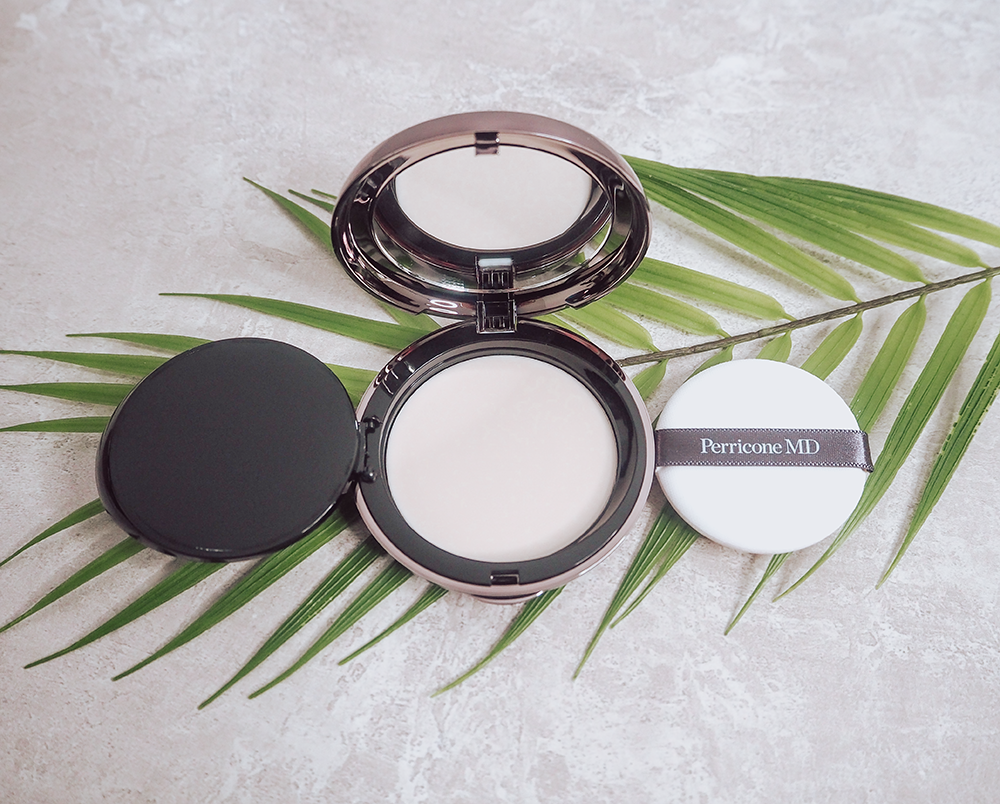 Although I don't think this primer helps with redness, fine lines, or wrinkles, it's a fantastic and undetectable primer. It's pricey, but I've not experienced the same texture in a drugstore option, and it's got better lasting power.
Rating: 4 stars
I like how this primer feels on my skin. I want to continue trying this with different base products to see how it works with various formulae, such as a lightweight tinted moisturiser or dewy full-coverage foundation.
DISCOUNT: Use the code PMDM20 for 20% off Perricone MD!
Overall Perricone MD review
Seriously, I wish I'd tried this high-performance skincare and makeup line sooner. All of the products are luxe, perform well, and feel great on my skin. None of the products feel heavy, sticky or greasy.
Across all the skincare products, they're refreshing, hydrating, smoothing, and moisturising. They're all lightweight and absorbent and have improved the overall look and feel of my skin.
I absolutely love that Perricone MD does clinical and consumer studies for its skincare products. This not only proves their efficacy, but it shows the brand's commitment to quality skincare that works. Clinical studies aren't cheap, so I'm not surprised the products are expensive, as you're paying for high-performance skincare that's backed up by scientific results.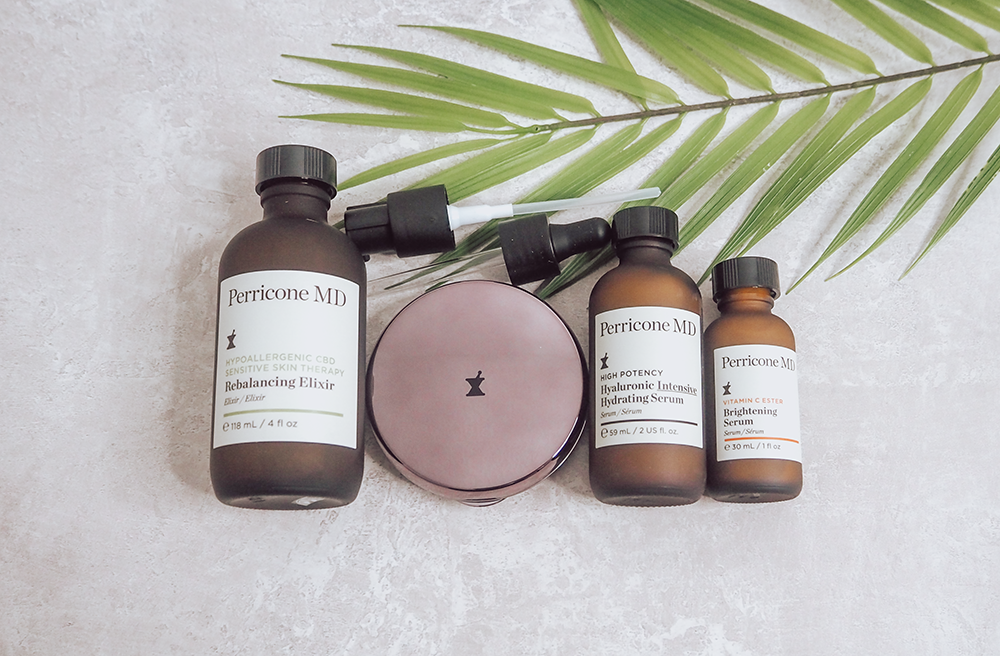 As for the primer, the sensory experience is unlike anything I've experienced before. It makes my skin more even and smooths over my pores, but I can't tell I've applied any product! It's an unusual experience, and I almost felt like I wasn't using it correctly at first due to not feeling it on my skin, but it works.
Yes, this brand is expensive. But you're paying for proven skincare, high-quality INCI lists, and wonderful skincare-meets-makeup hybrids. While I think all the products in the post are great (you won't be disappointed – trust me!), the serums are standouts from this Perricone MD review, especially as they both have clinical backing.
I'm very impressed with the Perricone MD makeup and skincare products I've tried. I can't wait to explore more products in the future!
Favourite product?
The High Potency Hyaluronic Intensive Hydrating Serum.
DISCOUNT: Use the code PMDM20 for 20% off Perricone MD!