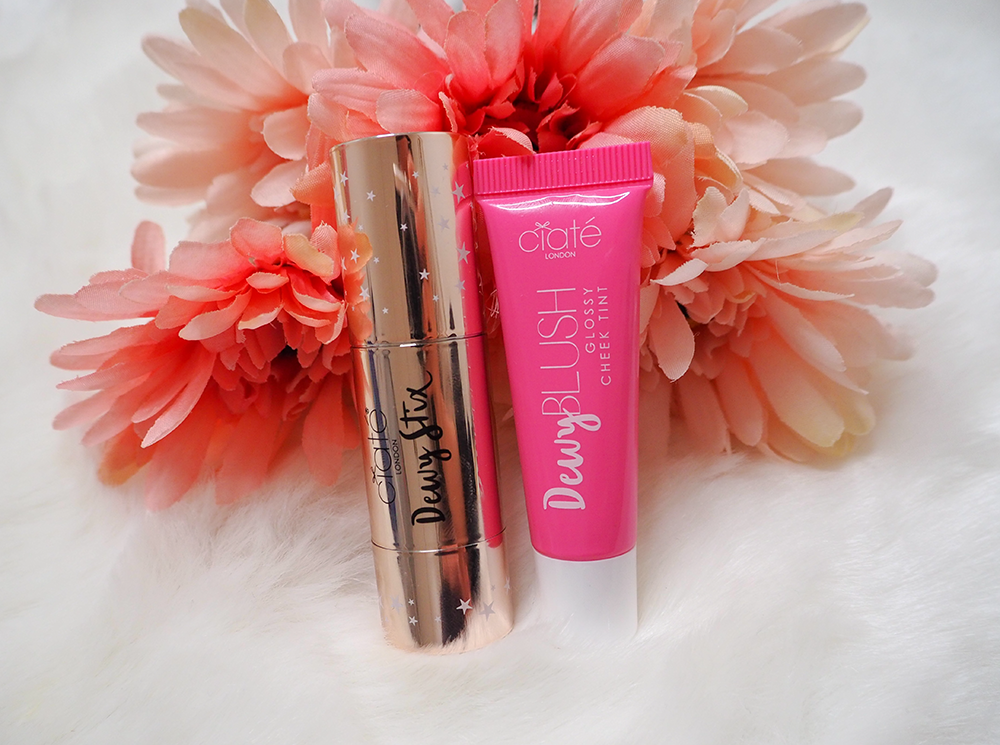 If you're looking for some new dewy cheek products to add to your makeup collection, then you'll love reading myCiaté London review.
The popular makeup and nail brand recently gifted me the Dewy Stix Highlighter and Dewy Blush to try in exchange for an honest review. I couldn't wait to try these dewy cheek products, as I've been loving a radiant base for the past few years. I've definitely transitioned from being a matte girl to a dewy girl, so these products are right up my street.
If you'd like to hear how I got on with these dewy cheek products as well as see some swatches and a makeup look using the products before you buy them, then please keep on reading.
And if you just can't wait to get your Ciaté London haul on (I don't blame you), then you can use my exclusive discount code 'CONFIDENCE15' for 15% off Ciaté London. The brand recently launched the stunning Curated by Lisa Snowdown edit, which contains the beauty guru's hand-picked top beauty must-haves to allow others to recreate her iconic looks. My code works with this beautiful makeup edit, so shop now to get a dewy makeup kit for effortless daytime looks through to evening glam looks.
** This post contains affiliate links. This means at no extra cost to you, I earn some commission if you purchase a product through my link. All thoughts are my own, though, as always. If you want to find out more, visit my affiliate disclosure page **
What is Ciaté London?
Founded in 2009 by Celebrity Nail Technician Charlotte Knight,Ciaté London quickly became known for pushing the boundaries with innovative formulations and iconic nail products. The brand's products are designed to help people explore their individual styles through getting creative and pushing boundaries.
Since expanding into makeup, we have remained pioneers in the industry.

Ciaté London
It's a UK-based and cruelty-free beauty brand. Some of Ciaté London's best-sellers are the Watermelon Burst Hydrating Primer, Plant Pots nail polish in Iced Frappe, Marbled Metals Metallic-Glitter Shadows, and Dewy Skin Glass Glow Tint.
1. Ciaté London Dewy Stix Highlighter
£22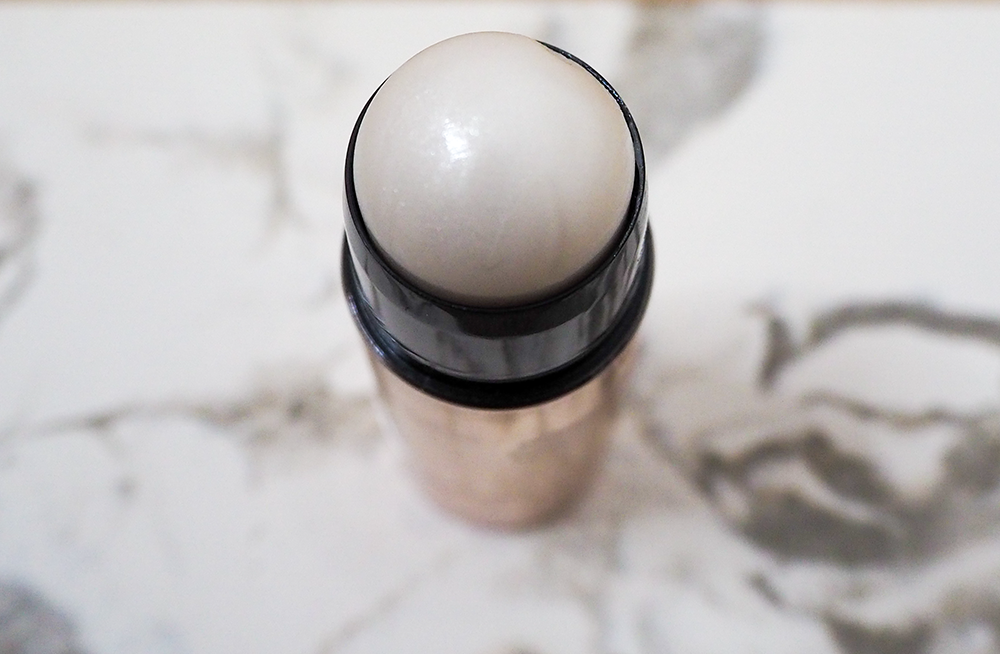 Product claims
TheDewy Stix Highlighter promises to give you an instant lit-from-within look. Formulated without heavy pearls or shimmer, this vegan balmy highlighter claims to give you a natural-looking glow with a second-skin finish.
How to use
Glide theDewy Stix Highlighter over the points of your face that would naturally catch the light, such as your brow bone, cheekbones, and cupid's bow. For best results when layering over makeup, roll your fingers across the highlighter stick and gently pat the product into your skin.
Swatch
This highlighter only comes in one shade, which claims to be universal. You can see my swatch below for an indication of texture and shade: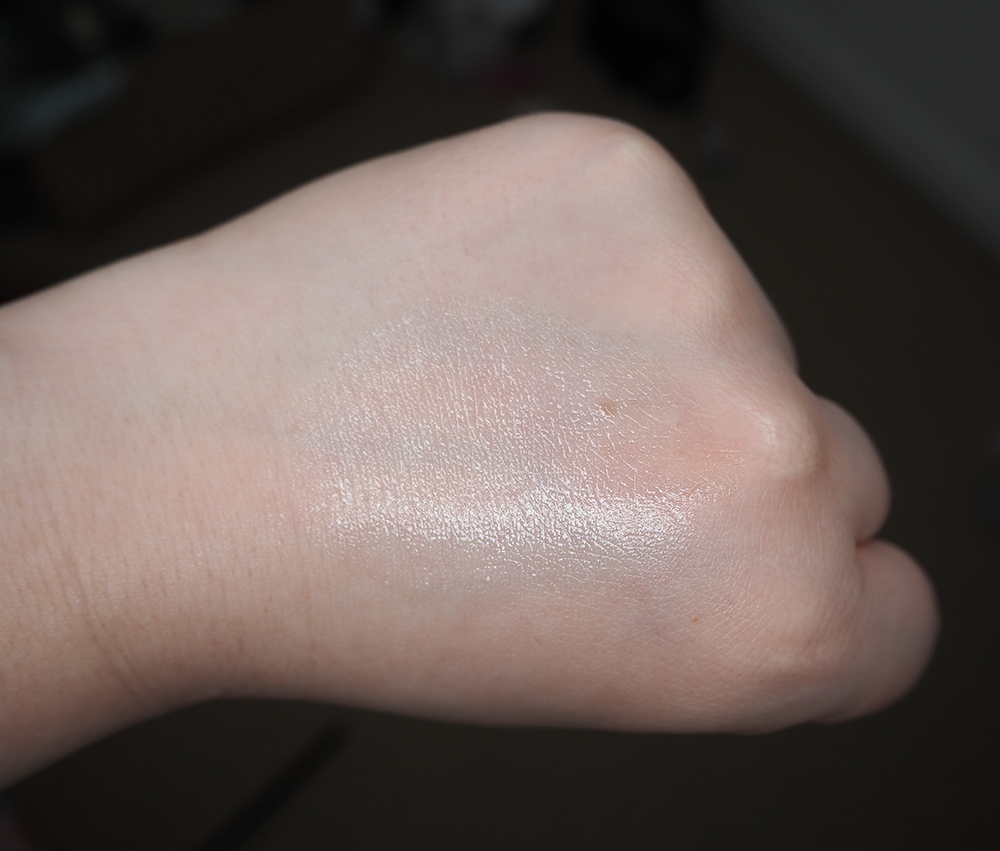 As you can see, this has a very balmy consistency and luminous finish, without it being shimmery or glittery. The shade is fairly translucent with slight silvery undertones for a brightening effect.
Review
Highlighters are one of my favourite steps in any makeup look I do. They bring your face to life and complete any makeup look, so I couldn't wait to try this balmy highlighter. In fact, I'd never tried a balmy highlighter prior to the Ciaté London Dewy Stix Highlighter, so I couldn't wait to see how this one performed.
The consistency of this highlighter is very similar to Vaseline. It's very slippery and somewhat sticky. The product glides effortlessly across the skin. I prefer rolling my fingers across the highlighter instead of applying it directly to my skin because a) you get a more precise application this way, and b) it stops the actual highlighter from getting very messy.
It's super easy to pat this highlighter into place due to the balmy consistency. I love how it melts into the skin effortlessly. On the more negative side, though, it never fully dries down and always has a fairly tacky texture on the skin. People with oily skin or those who hate a sticky feeling on their skin will probably not get on well with theDewy Stix Highlighter. If your hair blows onto your face in the wind, it will stick to the highlighter, which is annoying.
However, I'm okay with a sticky makeup product if the results are amazing, and I love how this balmy highlighter looks on the skin. It gives a very natural lit-from-within look and your skin shines effortlessly in the light. As it's not shimmery or glittery, it's very wearable because it doesn't look heavy on the skin. This truly is a very dewy highlighter, and it looks fantastic over makeup. Be sure to go in with a light hand, otherwise, you could accidentally rub off any base makeup you're wearing when applying this highlighter.
I think this is an amazing highlighter for anyone who loves a 'wet look' sort of highlighter like me. It's giving me editorial glossy vibes.
Rating: 4 stars
Although I'm totally in love with how healthy and luminous this highlighter makes my skin look, it would be better if it didn't wasn't so oily on the skin.
2. Ciaté London Dewy Blush
£19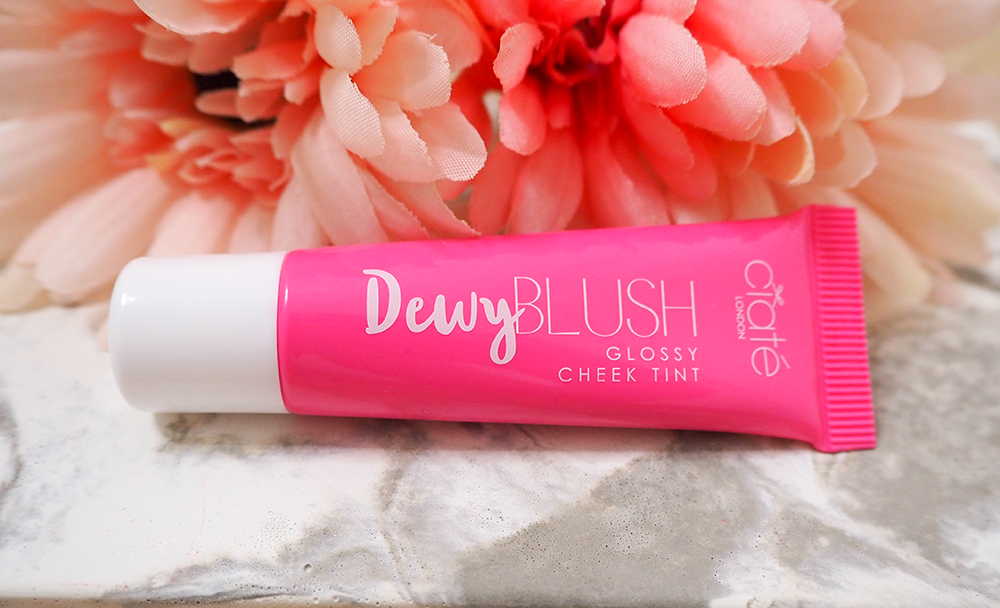 Product claims
The Ciaté London Dewy Blush claims to be a next-gen, gel-balm tint blush that leaves a subtle hint of colour on your cheeks. It promises to be ultra-lightweight and blend effortlessly into the skin for a modern glass-like sheen. Formulated with natural extracts of yuzu and dragon fruit, Ciaté London says the blush brightens your base, leaving the skin with an even and healthy flush of colour.
This vegan blush is available in 4 shades to complement all skin tones: Papaya (peach/pink), Watermelon (fuchsia), Coconut, (bronze/nude) and Pomegranate (berry).
How to use
For an instant complexion refresh, apply two to three small dots onto the apples of the cheeks, and blend upwards and into the skin. As this is quite a glossy formula, you're probably better off blending this product with your fingers as opposed to using a brush or sponge.
Swatch
I got the shade Watermelon, which is a bright pink shade.You can see my swatch below for an indication of texture and shade: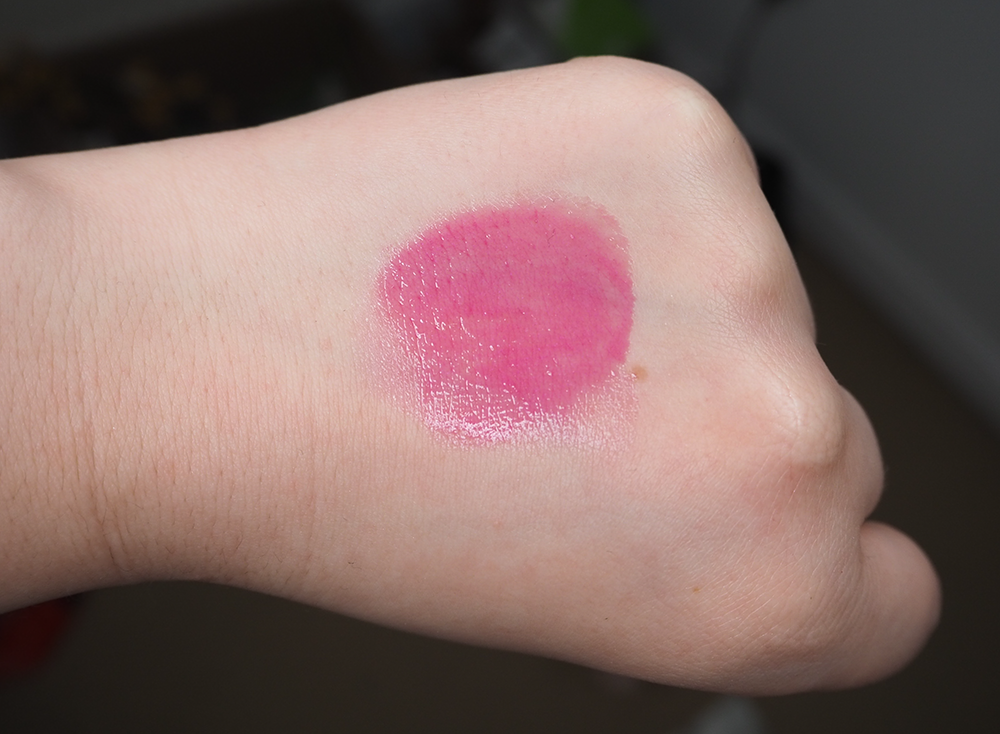 As you can see, this liquid blush also has a very radiant finish, and the colour is bright. Of course, when you blend this out, the colour is not as intense. This is a bright, fun and fresh shade.
Review
Like a lot of people, blush has quickly become an obsession of mine over the past few years, so I couldn't wait to use theDewy Blush.
This gel blush is ultra-pigmented, so one drop goes a long way. It has a glossy finish, so I look dewy and healthy when I wear it and not flat. I like to start with one drop of colour and build up slowly to my desired intensity. One thing I love about this blush is that it's buildable. Some cream formulae don't always layer well, but it's effortless to keep blending and building this product, which I appreciate. I use my index and middle fingers to gently tap this blush into my skin.
Watermelon looks great when worn alone, especially if you're wearing a complementary glossy lip and/or glossy eye look. The fuschia shade is super fresh, and I think it would work very well with coral tones, such as paired with the Huda Beauty Coral Obsessions Eyeshadow Palette.
However, due to the bright pink shade and glossy finish, I don't think this blusher would pair well with bronzer. I think it would probably overpower the bronzer, or I think the shades could clash. That's perhaps more of a preference than anything though, but in my opinion, this is a cheek product to wear without bronzer.
I like this product a lot, and the shade is quite different for me. It's not my favourite blusher shade, but I really like how this product applies and looks on the skin. People who love a radiant blusher and pop of colour will love this product.
Rating: 4.5 stars
This is a fantastic blusher for a modern dewy look. I prefer a more subtle pink or peachy shade personally.
DON'T FORGET: Use my exclusive discount code 'CONFIDENCE15' for 15% off Ciaté London.
Makeup look using the dewy cheek products
To show you how these dewyCiaté London products look on my skin, I created a simple makeup look below: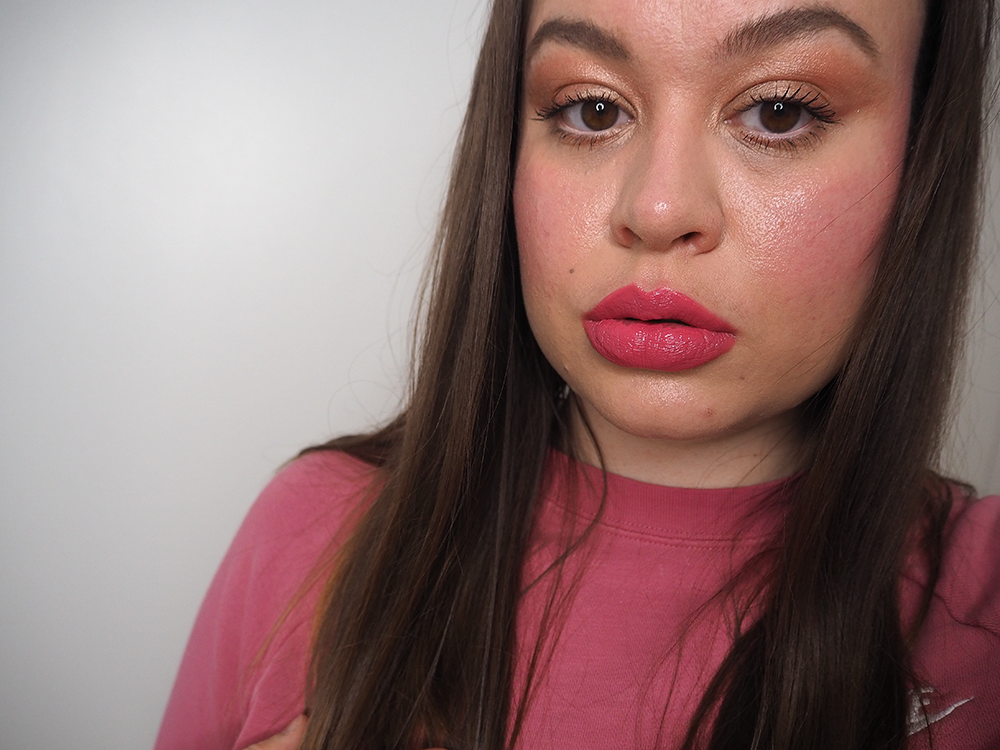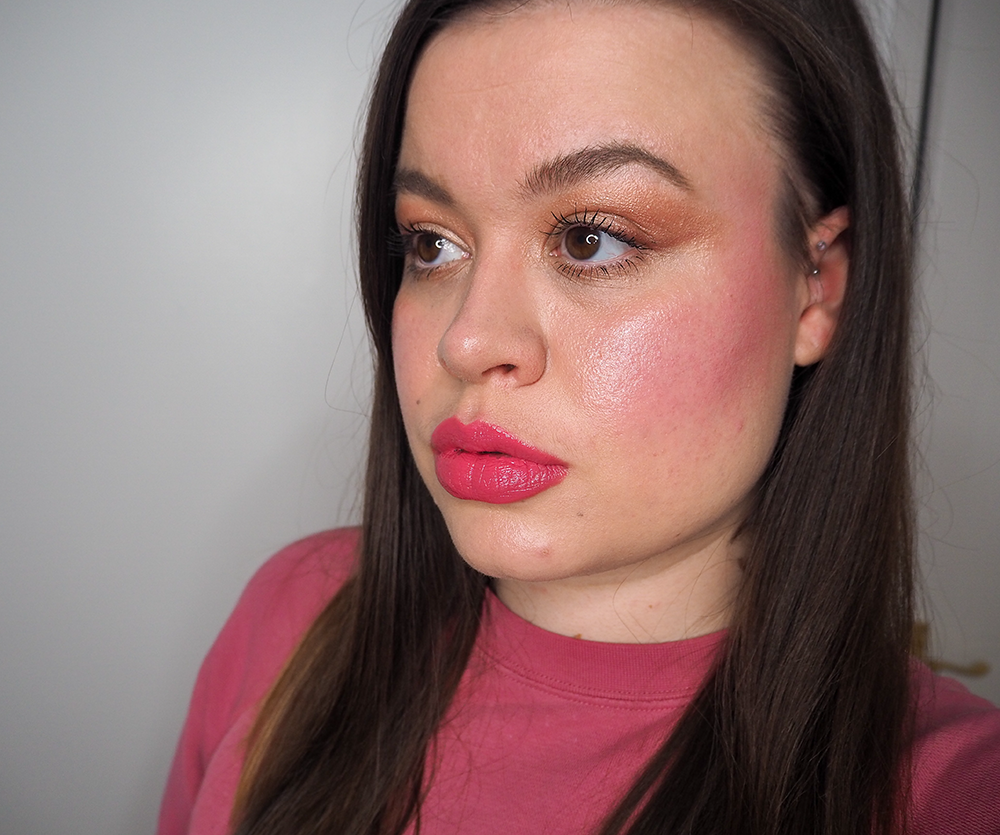 As you can tell, both products are very dewy, and the blush is super pigmented. I built the colour up a lot for this look to give my cheeks a real pop of colour. I used around 2 drops of the blusher per cheek.
The highlighter and blusher catch the light in the most beautiful way. These products are very much in line with the current dewy skin makeup trend. The highlighter stayed put all day, but I noticed my skin did get more oily than usual after about 3 hours, probably due to the balmy texture. The blusher stayed pigmented for about 4 hours before it started to wear off.
All in all, I'm pleased with this makeup look, and it was very easy to create.
Overall thoughts on these Ciaté London products
I really like both the Dewy Stix Highlighter and Dewy Blush. They work well together and make me look healthy and glowy. Sitting at around the £20 mark for both products, I think they are reasonably priced. It would take you a while to get through the blusher due to the intense colour payoff. The highlighter, on the other hand, might finish faster as balmy textures tend to get used at a faster rate.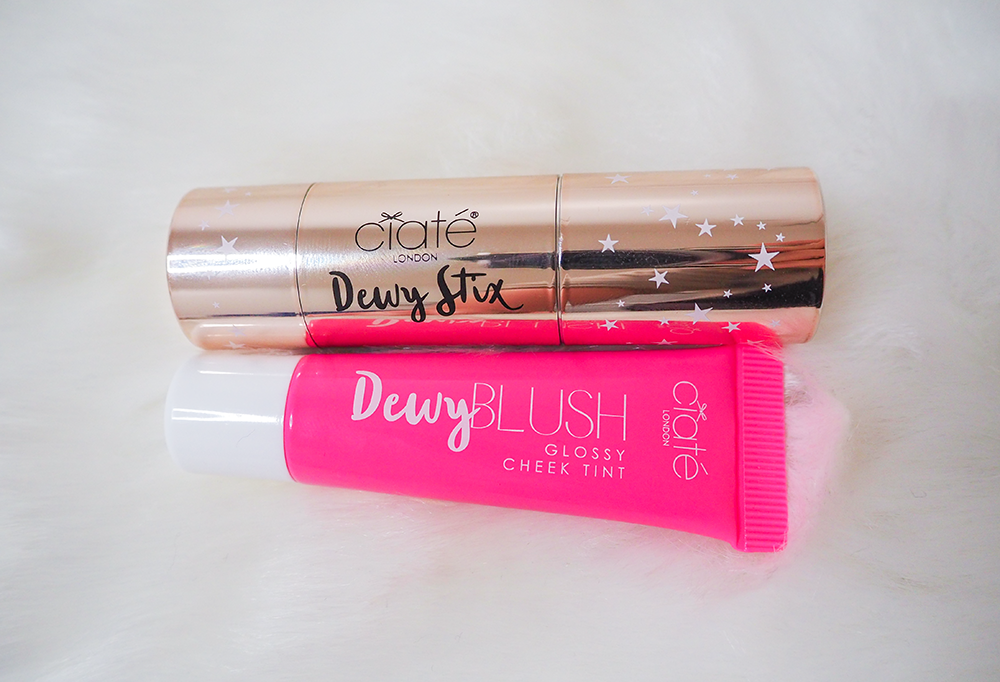 This was my first time tryingCiaté London, and I'd love to try some more makeup products from the brand, particularly from the dewy line. If I'd purchased either of the dewy cheek products from this post with my own money, I'd certainly be a happy customer.
People with oily skin might find both of these products a little bit too oily. But if you're a glow-fanatic and don't mind a slightly tacky sensation on the skin, these makeup products need to enter your collection immediately.
DON'T FORGET: Use my exclusive discount code 'CONFIDENCE15' for 15% off Ciaté London.
Favourite product?
Even though I rated theDewy Stix Highlighter lower than the blusher, this is still my favourite product of the 2. Objectively, I ranked it lower due to the sticky feeling that lingers on the skin, and it could be impractical/annoying to wear on a windy day as your hair will most likely stick to the highlighter. But I simply love the wet look finish of this balmy highlighter. It's a product I'll reach for time and time again.
---
Have you ever tried Ciaté London? Which products from Ciaté London are your holy grails? I'd love to hear from you in the comments below.