Last Updated on 28th December 2021 by Sarah Sarsby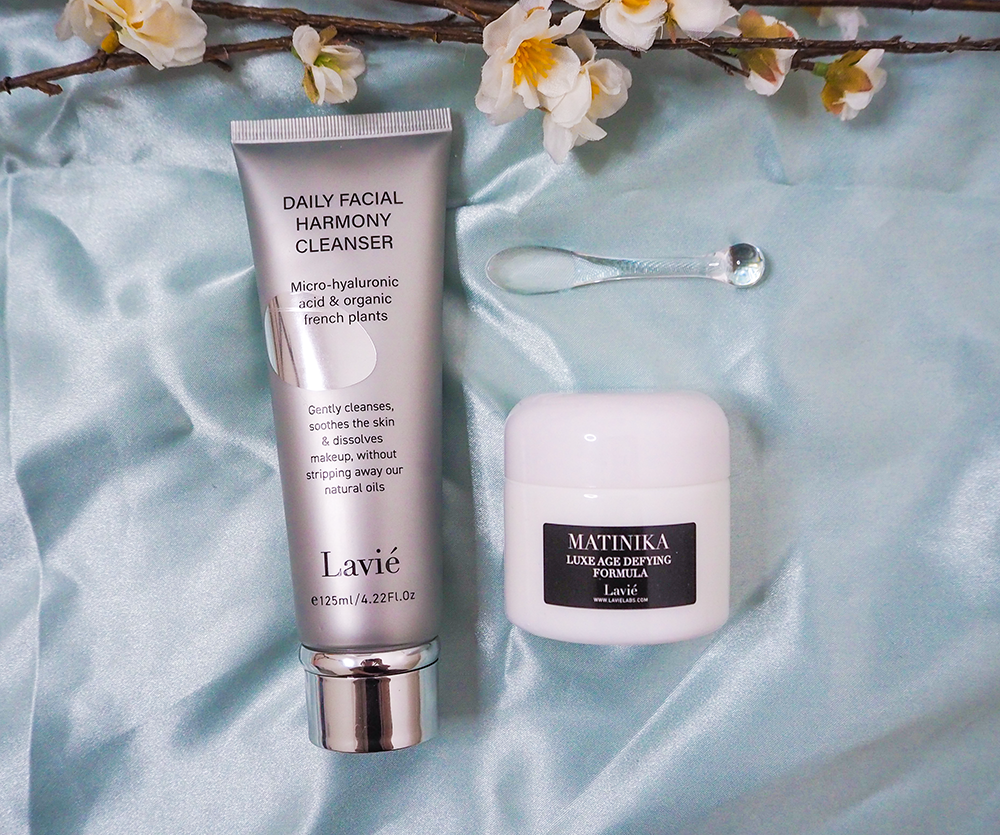 In this review, I'm going to be discussing 2 divine skincare products from Lavié Labs that have made my skin soft, hydrated and nourished.
I recently got my hands on Lavié Labs' brand-new Daily Facial Harmony Cleanser, which made it into my 2021 beauty faves product list, so you just know this cleanser is going to be amazing. I was also gifted the Matinika Age Defying Cream to review, which is the brand's best-selling daytime and nighttime moisturiser.
Luxurious skincare products always get me excited, so I couldn't wait to write this review. Keep on reading to find out more about Lavié Labs, the high-end products, and my overall thoughts on the brand.
What is Lavié Labs?
Lavié Labs is a premium skincare brand offering effective and innovative products. The founder, Sarah, was a biotechnology student who is fascinated by the skin's ability to heal itself. She wanted to create a brand that combines science and technology, making more affordable but supreme products.
Even when Sarah knows that she has a winning formula, as a perfectionist, before she releases it to the world, it undergoes extensive clinical trials.

Lavié Labs
The skincare brand is cruelty-free, and the products are designed to suit all skin types.
1. Lavié Labs Daily Facial Harmony Cleanser
$41/£30.54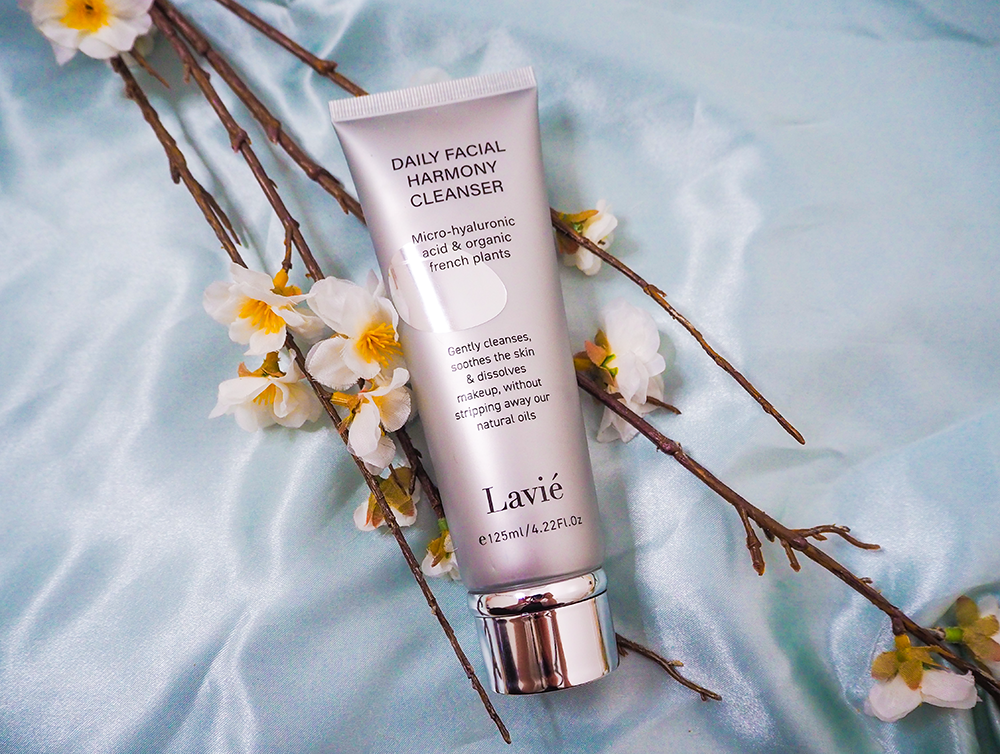 Product claims
The Lavié Labs Daily Facial Harmony Cleanser promises to have a unique, thick texture that soothes and moisturises the skin. It claims to help maintain normal pH levels. Lavié Labs says this newly-launched cleanser will melt away dirt, grime and makeup. It can be used safely around the eyes, according to the brand, and won't strip your skin of its natural oils.
Key ingredients
I can't see the ingredients list on the cleanser's packaging or the website.
Review
Whatever ingredients are in the Lavié Labs Daily Facial Harmony Cleanser, I absolutely love it! This cleanser feels sumptuous and deluxe. The consistency of the cleanser is like a thick cream (see pic below).
It plays really nicely with water, as it works into a creamy – but not foamy – lather. I personally like my cleansers to react with water, as I find this process really satisfying. As it lathers up into a beautiful creamy texture, a little bit goes a long way. You only need about the size of a grape for the cleanser to cover your face and neck.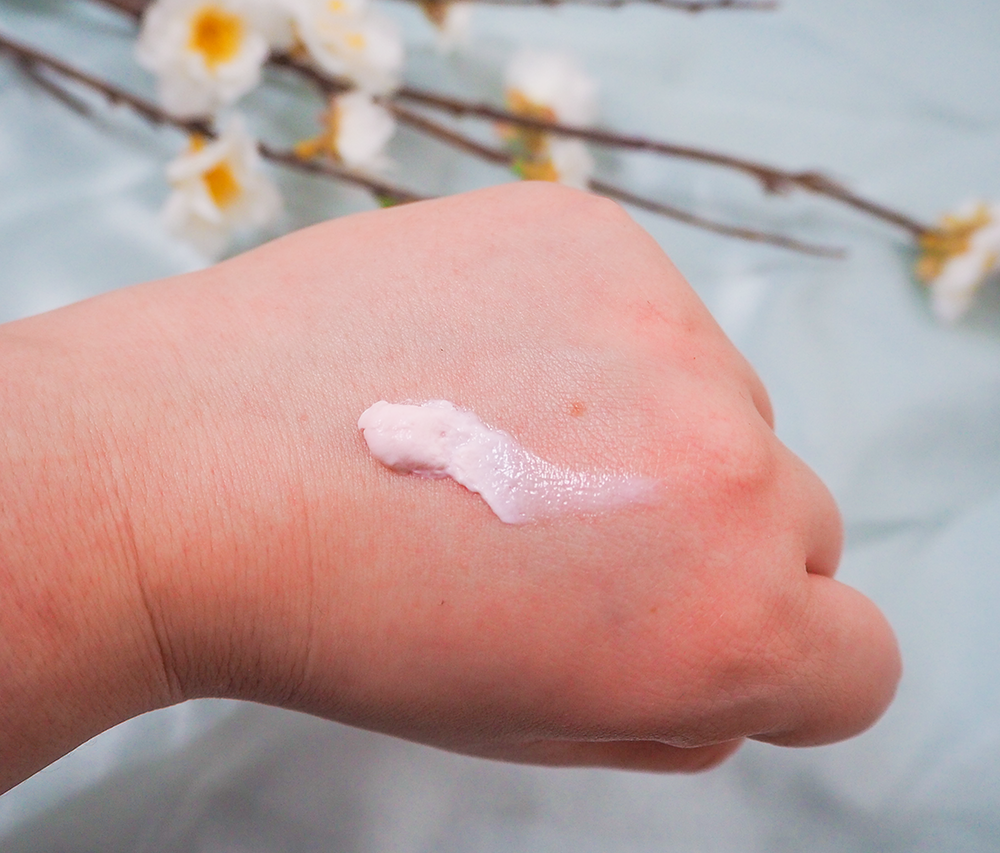 This cleanser has a divine scent too. I'm not sure what it is, but it's fresh and sweet. However, if you're not a fragrance fan, good news! The scent disappears immediately after you wash the product off.
As for the results, I've been blown away by the Daily Facial Harmony Cleanser.
After working this cleanser into a creamy lather, I gently apply it onto my skin, and it literally just melts in. Some cleansers have a tingly feeling or no feeling at all, but this one feels rich and nourishing. Despite the thick texture, it's not sticky or heavy, so my normal-oily skin can still breathe. It's soft to the touch, and after I've rinsed the product away, I'm left with smooth, moisturised and healthy skin.
I think it makes my skin look radiant and feel protected. It never feels harsh, so I know I'm not damaging my skin's barrier when I use it.
The daily cleanser also does an excellent job of getting rid of any dirt, makeup or grease on my skin. Personally, I prefer using this as a morning cleansing or the second step in my double cleansing routine. I think your traditional cleansing balms, butters and oils are the best at breaking down makeup and sunscreen. But you could still use this luxurious product as a first cleanser.
Rating: 5 stars
This is one of the best cleansers I've ever used. I haven't got a bad word to say about it!
2. Lavié Labs Matinika Age Defying Cream
$49/£36.50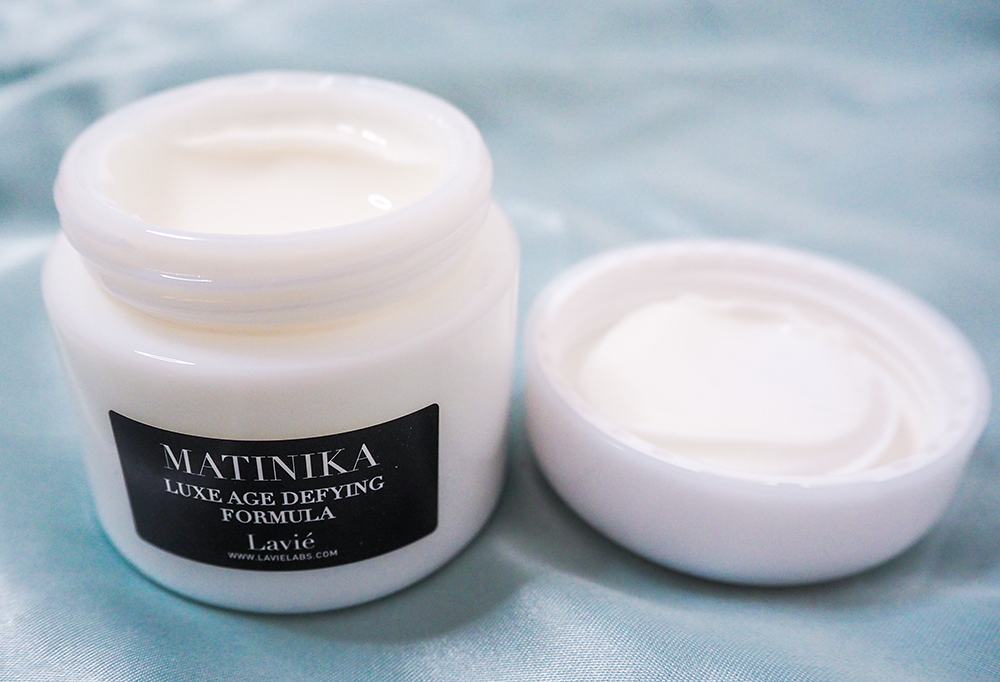 Product claims
The Lavié Labs Matinika Age Defying Cream claims to be a perfecting skin treatment for a significantly firmer appearance and renewed texture. It promises to help with fine lines and wrinkles, loose and sagging skin, and dull and dry complexions.
We know that younger-looking skin is key to confidence, which is why we developed our turbocharged age defying formula Matinika ™ . This is your skin's wake-up call, giving it the boost it needs to look young, taut and fresh! Allow yourself to be beautiful with radiant, glowing skin.

Lavié Labs
The brand says the moisturiser can be used day or night and is easily absorbent, so that it offers long-lasting moisture and hydration.
Key ingredients
Excluding water, the top 5 ingredients in the cream are:
Isopropyl myristate: an emollient (softens and smoothes the skin) and texture enhancer
Ricinus communis (castor) seed oil: an emollient that keeps the skin hydrated
Squalane: has hydrating properties
Cyclopentasiloxane: enhances the silky-smooth spreadabilty and sensorial feel of a product. It helps improve the dispersion and delivery of other ingredients in products
Dimethicone: an emollient with skin protecting properties. It offers hydration with a non-greasy feel
See the full INCI list below:
WATER, ISOPROPYL MYRISTATE, RICINUS COMMUNIS (CASTOR) SEED OIL, SQUALANE, CYCLOPENTASILOXANE, DIMETHICONE, CAPRYLIC/CAPRIC TRIGLYCERIDE, GLYCERIN,TOCOPHERYL ACETATE, SODIUM ACRYLATE / SODIUM ACRYLOYLDIMETHYL TAURATE COPOLYMER,PHENOXYETHANOL ,PANTHENOL, RETINYL PALMITATE, ISOHEXADECANE, POLYSORBATE 20, TITANIUM DIOXIDE, MATRICARIA CHAMOMILLA (GERMAN CHAMOMILE) FLOWER WATER, SODIUM BENZOATE,CALENDULA OFFICINALIS (CALENDULA) FLOWER WATER, POLYSORBATE 80, PERSEA GRATISSIMA (AVOCADO) OIL,TRITICUM VULGARE (WHEAT) GERM OIL, FRAGRANCE, SORBITAN OLEATE,MALUS DOMESTICA (APPLE) FRUIT CELL CULTURE EXTRACT, ALCOHOL, PRUNUS DULCIS (SWEET ALMOND) OIL,ETHYLHEXYLGLYCERIN, BORAGO OFFICINALIS (BORAGE) SEED OIL, SODIUM HYALURONATE,LECITHIN, XANTHAN GUM, BENZYL ALCOHOL, CITRIC ACID, ASCORBYL PALMITATE, POTASSIUM SORBATE,LINALOOL, CITRONELLOL, GERANIOL, LIMONENE
Review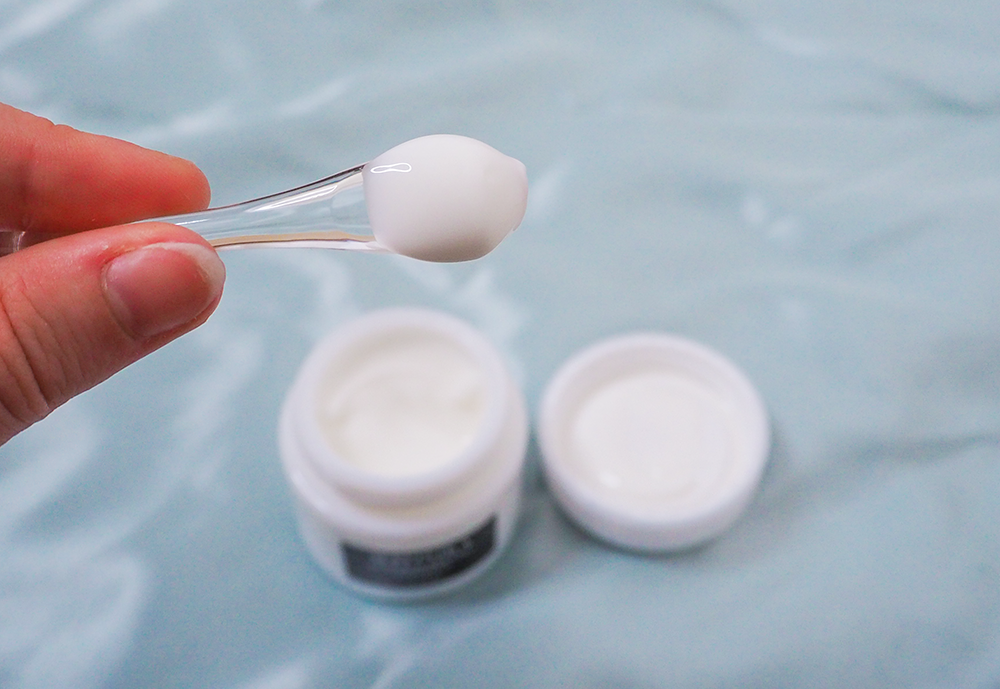 Although 26 might seem quite young to be using anti-ageing products, your skin's collagen production actually begins to slow down at approximately 25, so using anti-ageing products around this age onwards is a good idea for preventing and slowing down the appearance of wrinkles. I use a retinol twice a week.
But the anti-ageing properties aren't what drew me to the Lavié Labs Matinika Age Defying Cream; it's the nourishing properties that I wanted to test. And I can confirm that this moisturiser is absolutely incredible.
The moisturiser is super rich and thick, but it never feels heavy, greasy or sticky. Although my skin is on the oily side, my skin loves this moisturiser. It offers incredible protection and hydration, without my skin looking oily or breaking out.
As this cream is quite rich, I tend to use this as a night cream for a more intensive overnight treatment. But I do use it during the day too, particularly if I want my skin to look glowy or it's on the dry side due to the central heating.
This moisturiser doesn't really have a scent, but it comes with a sturdy spatula. I love using a spatula, so this is a nice addition for those of you who don't like dipping into your moisturisers or other skincare products with your hands.
I don't really have wrinkles or fine lines as such, so I can't comment on how this product works for anti-ageing. However, it definitely meets all of its claims, and I'm confident this would be an excellent cream for reducing the appearance of wrinkles due to the luxe texture.
Rating: 5 stars
I'm obsessed with this moisturiser. It's such a joy to use.
Overall thoughts on Lavié Labs skincare products
Lavié Labs is a fantastic skincare brand, offering luxurious and effective formulae in sleek and sophisticated packaging. I think both of the products I was gifted would suit a wide range of skincare types and ages.
The Matinika Age Defying Cream is not just a great option for more mature skin, but I genuinely think it's an excellent product for younger skin too. The Daily Facial Harmony Cleanser is just a fantastic all-rounder. It's so much more than just a basic drugstore cleanser. Both products meet all of their claims and have really added to my skincare routine. As they're both moisturising, they couldn't have come at a better time; it's become so cold recently, so my skin needs some extra TLC.
However, I do appreciate the Lavié Labs products are at a much higher pricer point than brands like CeraVe and Cetaphil, so it's all about your budget and/or how you like to spend your money. But, if you can or want to spend money on higher-end skincare brands, I can't give Lavié Labs a more glowing recommendation. The results and product experience speak for themselves.
Favourite Lavié Labs product?
I'd have to say the Daily Facial Harmony Cleanser, as this has been one of the best cleansers I've tried in a long time.
---
Which product would you most like to try from Lavié Labs? I'd love to hear from you in the comments below