Last Updated on 18th October 2023 by Sarah Sarsby
If you've got in a rut with your breakfast routine, then these 6 quick, delicious and healthy breakfast recipe ideas will get you on the right track.
While I pretty much always share beauty content on A Woman's Confidence, I thought I'd mix my content up a bit and share a post about one of my other passions – food.
I'm a breakfast person. Always have been. In fact, breakfast might be my favourite meal of the day. I love oats, smoothies, granola, muesli and all of that good stuff. Over the past year or so, I've been trying out various breakfast recipes for new ideas and inspiration.
The 6 healthy recipes I've listed in this post are some of my all-time favourites and best of all, they're incredibly quick and easy to make too. I've also added some notes for each recipe for different variations you could play around with to keep breakfast interesting. I hope you love the recipes just as much as I do!
** This post contains some affiliate links. This means at no extra cost to you, I earn some commission if you purchase a product through my link. All thoughts are my own, though, as always. If you want to find out more, visit my affiliate disclosure page **
1. JRNY Nutty Winter Smoothie Bowl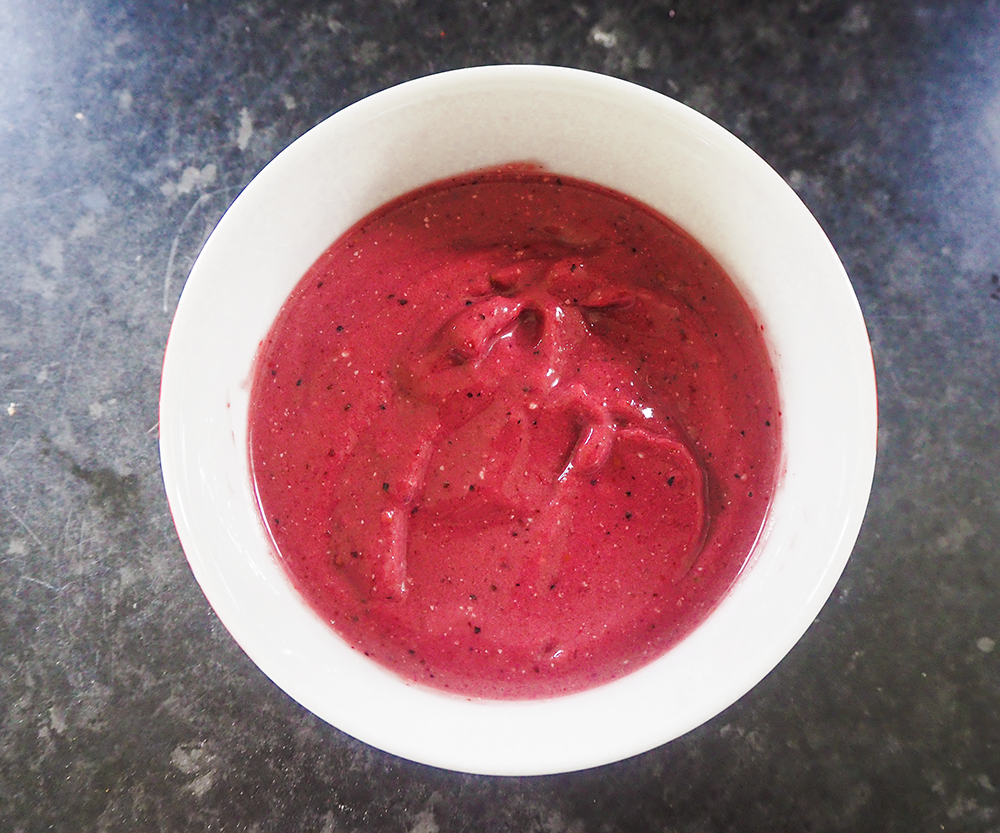 What is it?
A delicious nutty berry smoothie bowl. It's comforting and sweet. While JRNY says this bowl is perfect for winter, I actually think this works all-year-round as it's super refreshing.
You get your protein and fats from the nuts in this smoothie bowl, so it'll keep you full throughout the morning. This recipe can also be made vegan easily by using vegan-friendly sweeteners and dark chocolate. Personally, I leave the chocolate part out as I find the sweetener does a great job but you do you!
The vegan protein powders from JRNY are unreal. They taste delicious, are filling, and are great for you too.
Ingredients for 1 serving
1 frozen banana
1 30g sachet of JRNY Vegan Pea & White Hemp Madagascan Vanilla
200g strawberries
100g blueberries
100g raspberries
1 tbsp maple syrup or alternative sweetener
A few pieces of dark chocolate
1 handful of blueberries, for garnish
Half a handful of crushed cashew nuts
3-4 macadamia nuts
Method
Blend fruit, JRNY powder and sweetener until smooth. If you need to add a little bit of water to get everything blended, do so but be careful as you can quickly make the texture too liquid-y for a smoothie bowl
Scoop mixture into a bowl
Garnish with blueberries, cashews, dark chocolate and macadamia nuts
You could also try…
Blending the nuts into the smoothie rather than using them as garnish. This is what I did and my healthy smoothie bowl turned out amazing. You could also experiment with your favourite nuts.
2. Porridge with peanut butter and chia seeds
What is it?
A classic with a twist. Porridge is great for you but the peanut butter and chia seeds make this simple breakfast idea a bit more interesting and filling. I add golden syrup to mine for added sweetness but you could add whatever sweetener you like – or none at all!
Ingredients for 1 serving
1 sachet Quaker Original Microwaveable Oats
Drizzle of golden syrup
1 tbsp peanut butter
1 tsp chia seeds
Method
Pop the oats in the microwave as per packet instructions (I do mine with unsweetened oat milk)
Stir in golden syrup, peanut butter and chia seeds
You could also try…
Adding blueberries or fruit jam. I don't buy jam really, so I never have it to hand. However, I've added jam to this porridge recipe before and it was amazing. You could also try adding dates, walnuts, apples, cinnamon or whatever other toppings you fancy.
3, Cinnamon vanilla coffee smoothie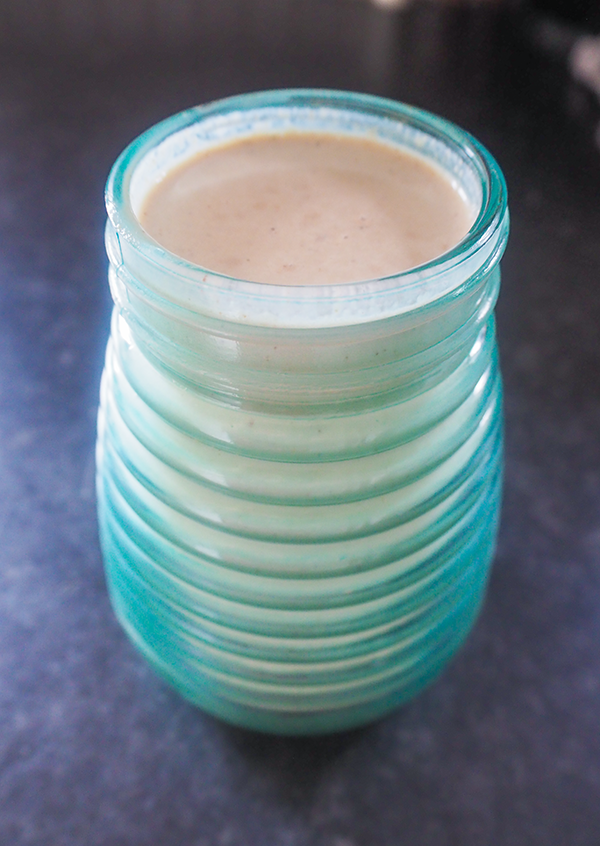 What is it?
My favourite recipe from this healthy breakfast ideas blog post is this cinnamon vanilla coffee smoothie. It's one for my cinnamon and coffee lovers because it's energising, lightly spiced, sweet and absolutely delicious. I'm so happy I found this recipe from Autumn Elle Nutrition. You get your good fats from the Greek yoghurt and nut butter as well as protein from the chia seeds for a mouth-watering and filling breakfast smoothie.
Ingredients for 1 serving
150ml unsweetened nut milk
150ml brewed coffee, cooled
1/2 frozen banana
245g full fat Greek yoghurt
1 tbsp chia seeds
1-2 tbsp peanut butter
1 tsp cinnamon
1 tsp vanilla extract
Pinch of sea salt
Method
Combine all ingredients in a blender and blend until smooth
You could also try…
Adding a vanilla protein powder sachet from BOXD for a deliciously silky and sweet taste. I do this frequently and it really takes the smoothie to the next level. I also add about 1 tbsp of honey to sweeten the smoothie. You could also play around with different nut butter flavours – cashew and almond work well.
4. PB&J Overnight Oats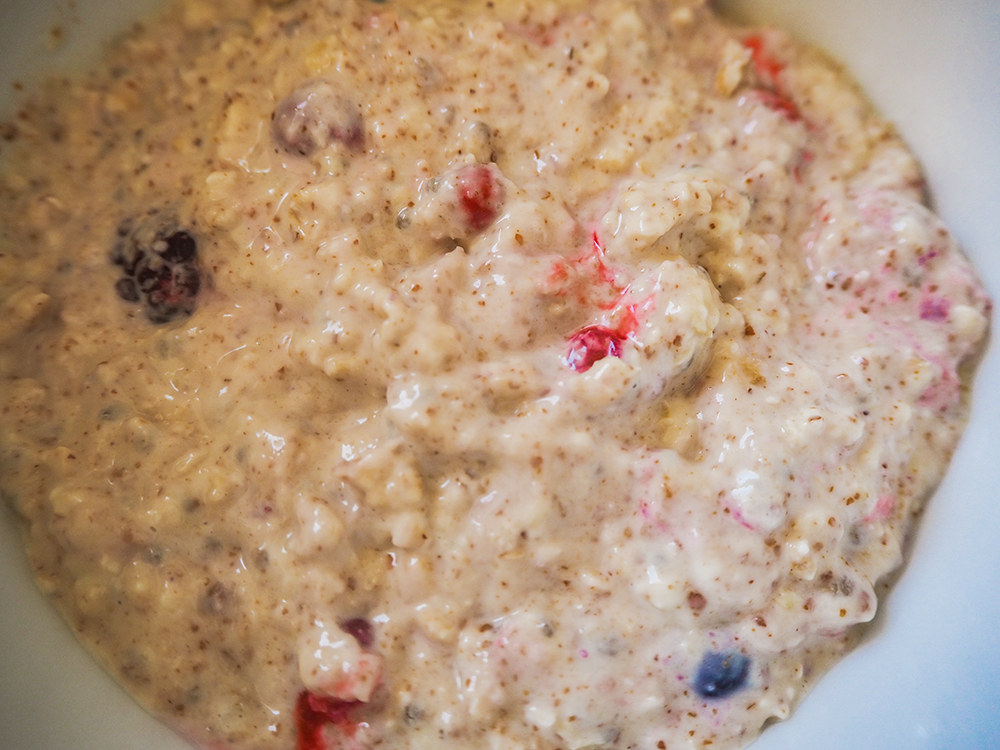 What is it?
Overnight PB&J oats with berry goodness and a delicious vanilla flavour. Although vanilla yoghurt can be high in artificial sugars, which isn't as healthy, you could opt for this every once in a while and it will still be beneficial for you. Alternatively, you could use plain yoghurt to avoid the extra sugar content.
Ingredients for 2 servings
65g rolled oats
160ml milk of your choice (I used almond)
120g vanilla yoghurt
1 tbsp strawberry jam
3 tbsp nut butter
1/2 tsp vanilla extract
1 tsp chia seeds
Strawberry, quartered, to serve
Method
In a mason jar or sealable container, add the oats, milk, yoghurt, jam, nut butter, vanilla extract, chia seeds and strawberries, and stir together
Seal and place in the refrigerator overnight for up to five days
Top with additional strawberries, if desired
You could also try…
Using sunflower or flax seeds instead of chia seeds. You could also try out different jams to change the flavour profile, such as apricot, cherry or plum. If you're not into nut butter or seeds, then you could leave them out and increase the amount of oats and yoghurt and it will still taste amazing and keep you full.
5. Fats-me-up smoothie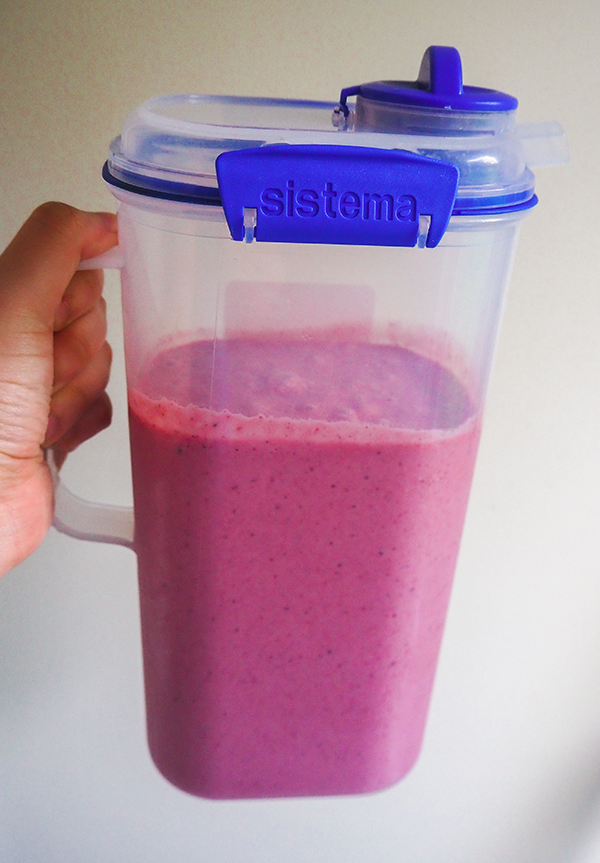 What is it?
An avocado-based smoothie from Joe Wicks' popular Lean in 15 book. Avocado is a great healthy fat that keeps you full. It's also good for your heart, so it's a win-win. The Lean in 15 series of books are brilliant and I'd thoroughly recommend them if you want to learn more about nutrition and get some fast and delicious recipes too.
Ingredients for 1 serving
Juice of 2 limes
200ml almond milk
Handful of blackberries
Handful of blueberries
½ avocado, roughly chopped
3 tbsp Greek yoghurt
1 tbsp honey
Handful of ice
Method
Blitz all ingredients in a blender until smooth
You could also try
Switching out the berries in this healthy breakfast recipe for tropical fruits like pineapple, coconut or mango for a different flavour. Avocado gives the smoothie a really nice and creamy consistency but if you dislike it, try substituting avocado with banana to get a similar silky texture. If you do this, you might want to add 1 tbsp of seeds or nut butter to get the healthy fat content back up to ensure the smoothie keeps you full.
6. Carrot cake overnight oats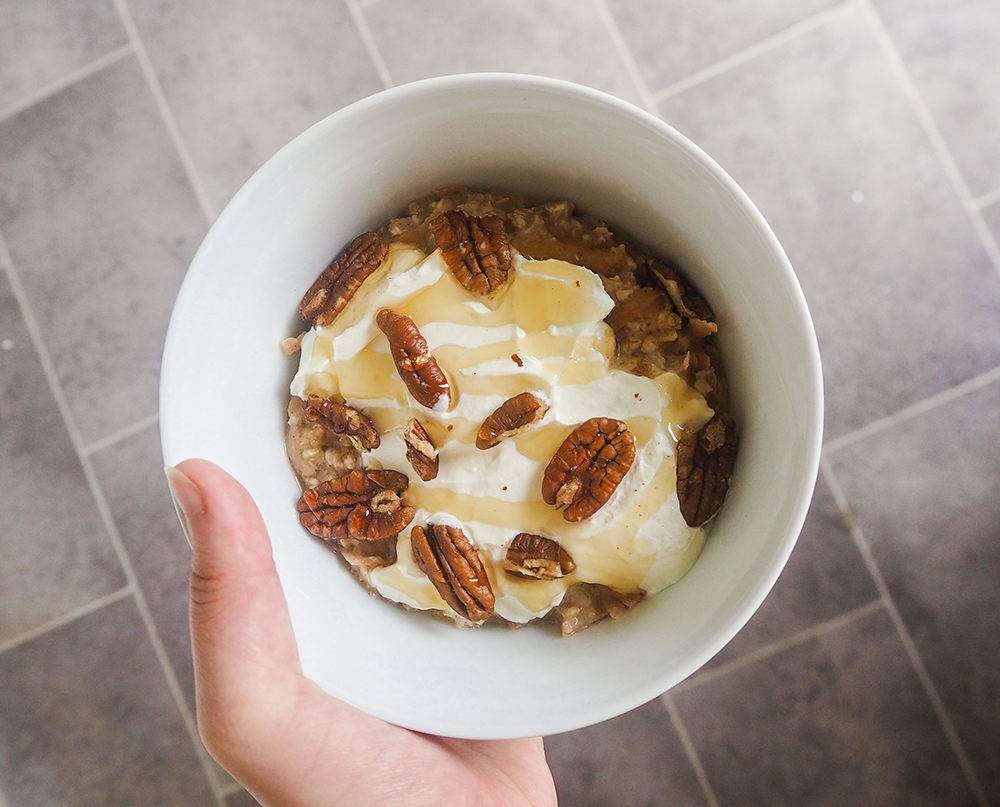 What is it?
An unusual-sounding but genuinely scrumptious overnight oats recipe from Joe Wicks' Veggie Lean in 15 book. If carrots aren't your thing, you shoulg give this one a miss. However, if you're not sure whether you'll like this recipe but like carrots, honestly, give it a try as it just tastes like an oaty version of carrot cake. The mixture of carrots with vanilla protein powder and spices makes this hearty, comforting and sweet yet still healthy.
Ingredients for 1 serving
75g rolled oats
1 carrot (peeled and grated)
1/4 tsp mixed spice
1 scoop (30g) vanilla protein powder
200ml almond milk
20g pecans
2 tbsp Greek yoghurt
Drizzle of honey
Method
Tip all the ingredients apart from the pecans, yoghurt and honey into a bowl and stir well. Pour the mixture into a sealable container and leave to soak in the fridge overnight
When you're ready to eat, toast the pecans in a dry frying pan over a medium heat until smelling nutty, then allow to cool and roughly chop
Remove the lid from your overnight oats, top with the yoghurt, sprinkle over the toasted pecans and drizzle with honey
You could also try…
Not toasting the pecan nuts. I never do with mine and the carrot cake overnight oats are still yummy. Walnuts would also work well with this recipe instead of the pecans. You can also easily make this recipe vegan by getting a vegan yoghurt, opting for maple syrup instead of honey and using a BOXD Vegan Pea & White Hemp Madagascan Vanilla protein sachet.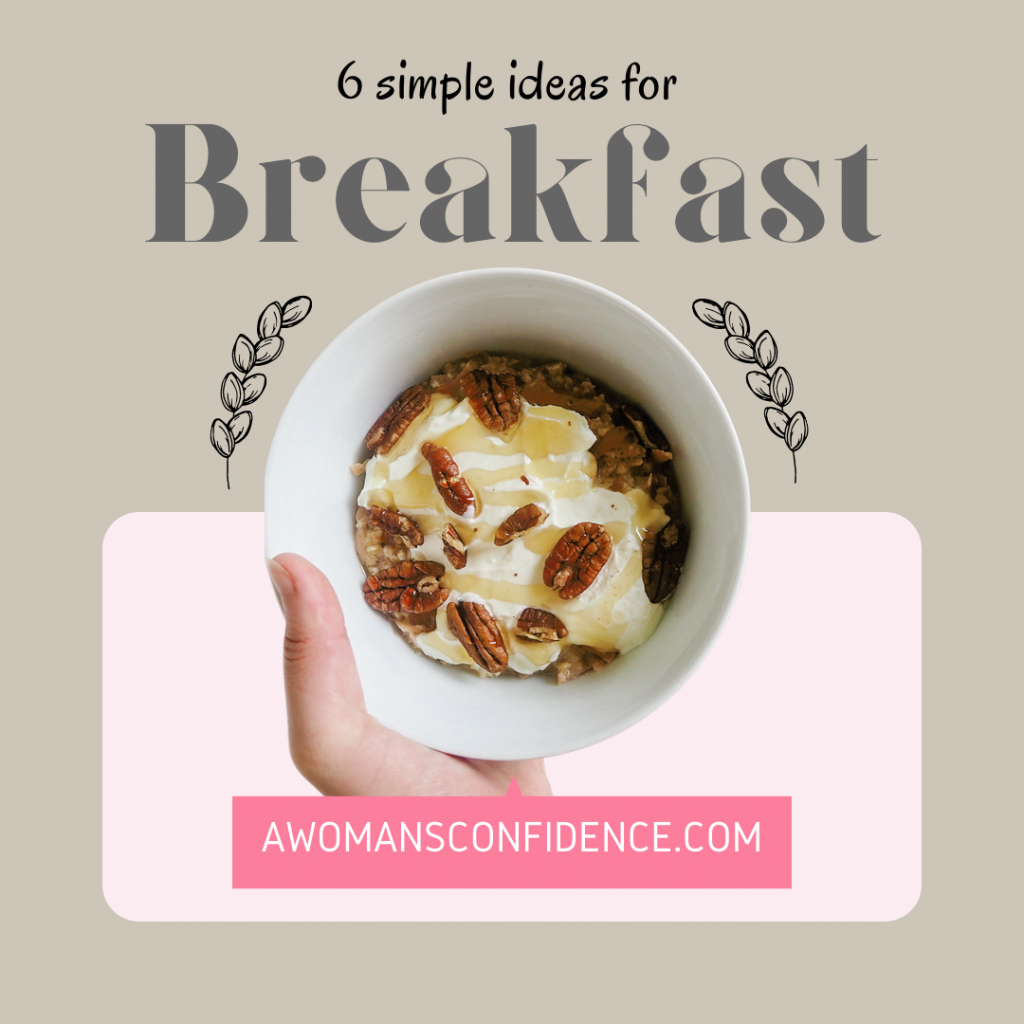 ---
Do you like this sort of content from me or would you rather me stick to beauty content? I'd really appreciate some honest feedback so I can continue creating blog posts that you love reading