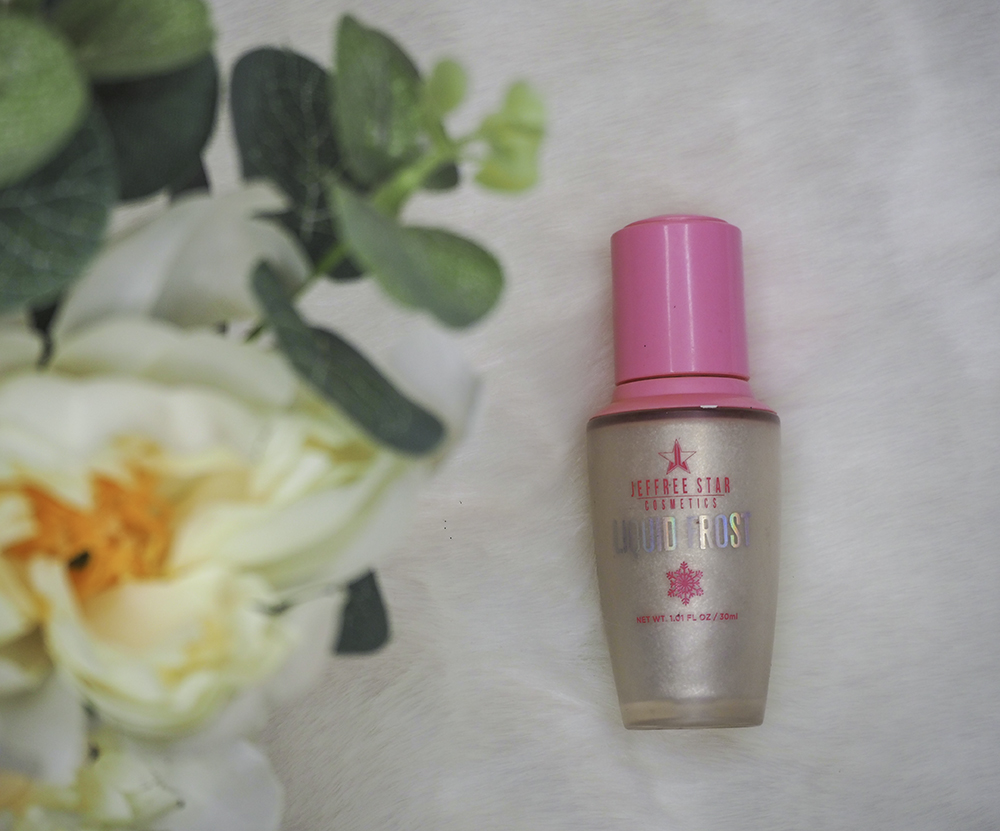 Dubbed as the better version of Fenty Beauty's Body Lava, Jeffree Star Cosmetic's Liquid Frost highlighter blew up on the internet and with good reason. Jeffree Star kills it with his makeup products because they're incredible and everyone is always so excited for his new launches.
Just like every other girl, highlighter is one of my favourite makeup products. So, when I saw he was launching his Liquid Frost highlighter, I couldn't wait. I also didn't have any liquid highlighters in my collection, so this would make a perfect addition.
First impressions
I decided on the shade Frostbite out of Jeffree's range. I'd normally go for Canary Bling because I like gold highlighters, but a) it was out of stock and b) I thought I should try something different out.
Frostbite is an icy white, almost silvery, shade, which intrigued me because I'd never really seen a shade like it and thought it would go with a lot of makeup looks.
When it arrived, I was so happy with the look of the highlighter. The bottle has a slight frosted effect which neatly links in with the name of the highlighter and it has the staple Jeffree Star pink lid, which I really like. I also expected the bottle to be smaller, so I was pleasantly surprised by its size.
Then I decided to try it out.
I'll admit, the applicator is a bit weird as you have to sort of twist the lid once, then press the pump at the top to draw the product up the syringe, then completely unscrew it and press the pump to get the product out. It took me a while to figure out.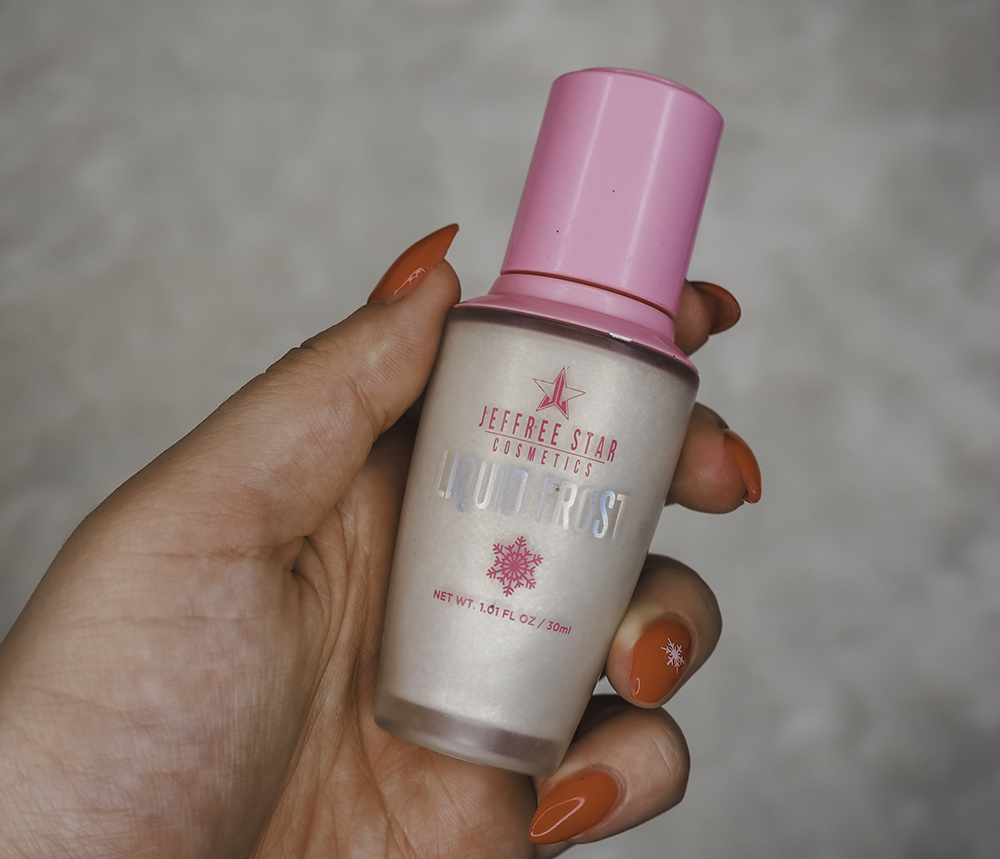 However, when I'd finally worked it out, I pumped far too much out by accident. This was a bad idea because the product is so pigmented (as I was soon to find out) and you hardly need any for it to give a great highlight.
I first applied Liquid Frost onto my cheekbones with my fingers and it was BLINDING. Damn, there was so much product and so much glitter.
I'd put far too much on, though, so when I blended it out with my fingers, it ended up looking glittery rather than like a highlighter because I was frantically trying to rub the product out. By doing this, it also meant I'd rubbed some of my foundation off, which was annoying.
But the main thing to take away here is that you only need the smallest of drops to get a dazzling effect.
A few uses later
YESSSS, this highlighter is incredible.
The pigment is unlike anything I've ever seen and the smallest little drop (smaller than a pea) will cover all of your cheekbone easily, which means the product will last forever. I can't see this ever running out, literally.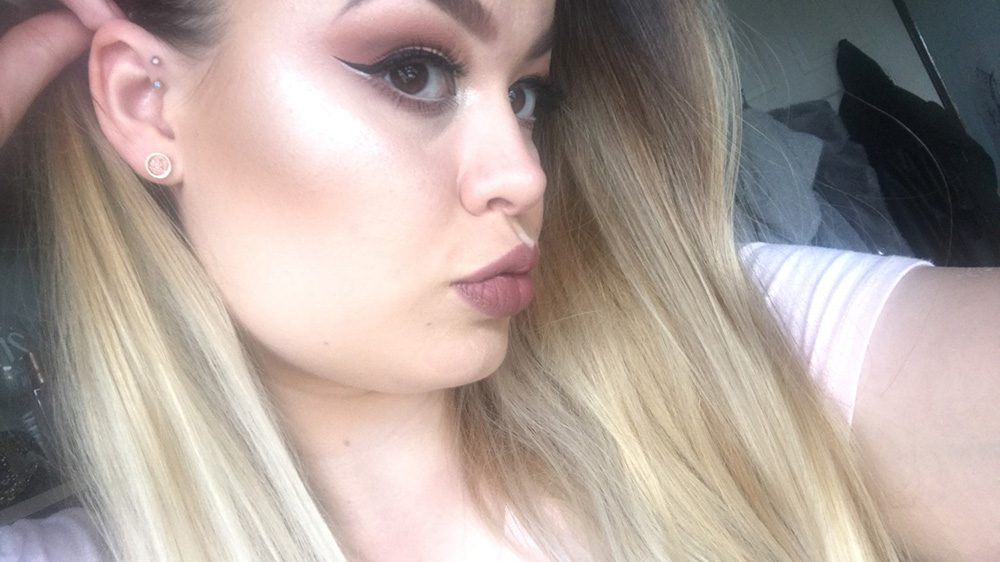 It's definitely best to put a small drop on the back of your hand, then get the tip of a beauty blender to pick up a little bit of the product and gently apply to the areas that you want to highlight. Using a beauty blender will soften it out, make it look less like a block of glitter and will make it look more evenly spread.
One thing I'll say about the Liquid Frost, which is both a negative and a positive, is that this highlighter is extremely glittery and intense. So, for evenings/parties/nights out, this is honestly the most perfect highlighter ever and will look great in photos because it's so reflective.
However, I don't think you can build this product up really because the intensity starts at 100 and there's no in between. Whereas some products you can build up and create a more dramatic effect, Liquid Frost is incredibly pigmented, so, I don't think this is a suitable daytime highlighter. But that's fine because it means you have the excuse of investing in a daytime one too (yay more products!)
This definitely works as an eyeshadow topper or as the inner corner highlight for eyeshadow looks because it's sparkly and will add some drama and glamour to makeup looks. I can also see this being a stellar body highlighter, which I'll definitely try out in the near future.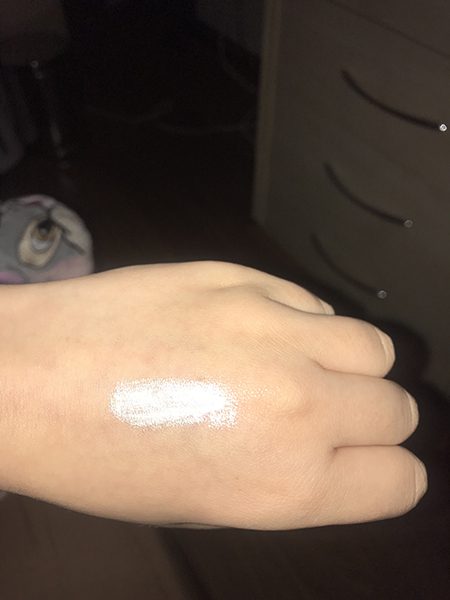 Where to buy
This retails for £23 on both Jeffree Star Cosmetics and Beauty Bay. I've personally never ordered from Jeffree Star Cosmetics because it's based in America which means there'll be a shipping time (and probably a cost too), so I just stick to the trusty Beauty Bay because they're always super quick.
Final thoughts
I genuinely am really impressed with this highlighter. I've never used a liquid one before and this one has definitely convinced me to try more (Iconic Prep-Set-Glow I'm looking at you!).
The pigment is incredible and the product will last forever because of that.
There are also 8 different shades to choose from, which I think is great for a highlighter range, and there are some really nice and interesting colours – Frozen Peach is calling my name.
Rating: 4 stars
I do wish that this was buildable so it could be worn in the daytime because then I could plug the shit out of it, but that's my only criticism. Other than that, this is an extraordinary highlighter that will look amazing in the evening.
What's your favourite highlighter? Let me know down below in the comments!