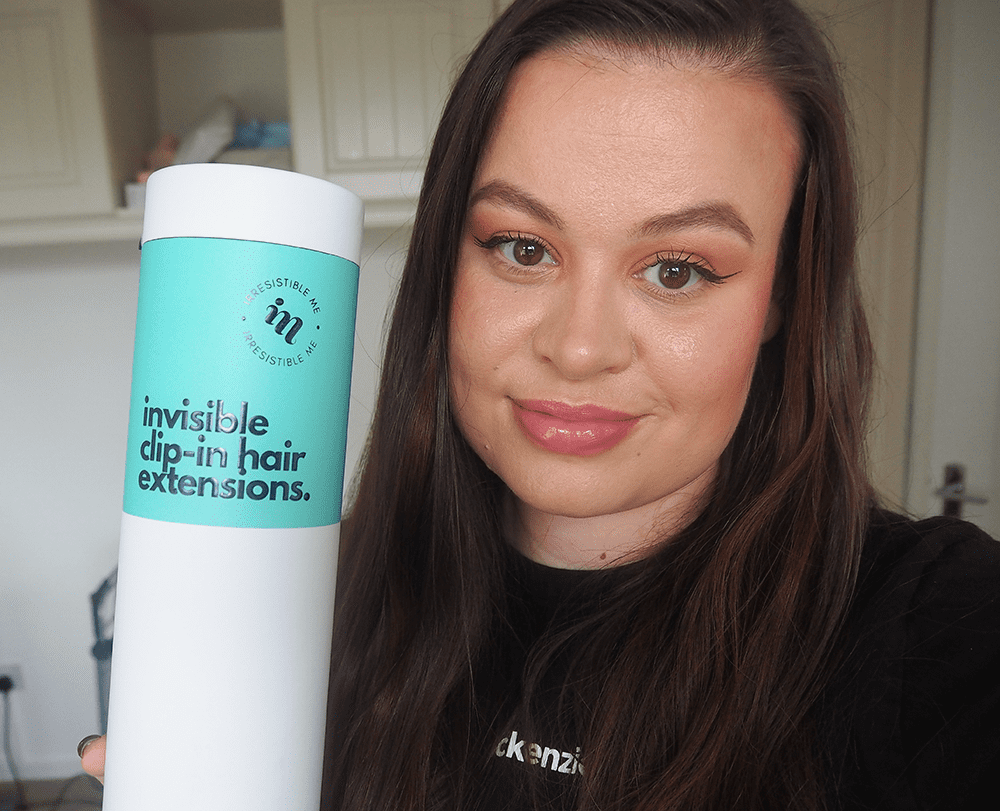 If you're looking for a low-maintenance, quick, and simple way for longer, thicker, and more voluminous hair, Irresistible Me needs to be on your radar.
These clip-in extensions are made from 100% real human hair and are undetectable once applied. It will look just like your own hair but fuller and longer. And it takes under 10 minutes to apply them.
This honest review shares my experience with the Irresistible Me invisible clip-in hair extensions with some before and after photos. Find out whether these hair extensions are a must-try.
Get 10% off Irresistible Me with my exclusive code SARAHS10. Shop today!
** This post contains some affiliate links. This means at no extra cost to you, I earn some commission if you purchase a product through my link. All thoughts are my own, though, as always. If you want to find out more, visit my affiliate disclosure page **
What is Irresistible Me?
Irresistible Me is a hair extensions brand offering 100% human hair products. There is a wide range of products to choose from, including invisible clip-in extensions, curly tape-in extensions, wigs, ponytails, buns, and hair accessories. Each hair extension comes in a wide range of lengths, textures, and colours.
We launched in 2012, in New York to sell hair extensions, as we saw a big opportunity to simplify hair products. We make playful, easy to use (and to shop) quality hair products for everybody.

Irresistible Me
About the Irresistible Me invisible clip-in hair extensions
The Irresistible Me invisible clip-in hair extensions are made from 100% human hair. Compared to the classic clip-in hair extensions, the invisible line has a 50% thinner silicone base and is designed for fine, thin hair.
There are 26 different shades available in 5 different lengths: 14″, 16″, 20″, 24″, and 28″. You can get either 'classic' or 'extra volume'. 'Extra volume' adds 40g of hair for length 14″ and 28″ and 60g for 16″, 20″, and 24″.
14″ comes with 9 pieces of hair, 16″ and 20″ come with 10 pieces of hair, and 24″ and 28″ come with 11 pieces of hair.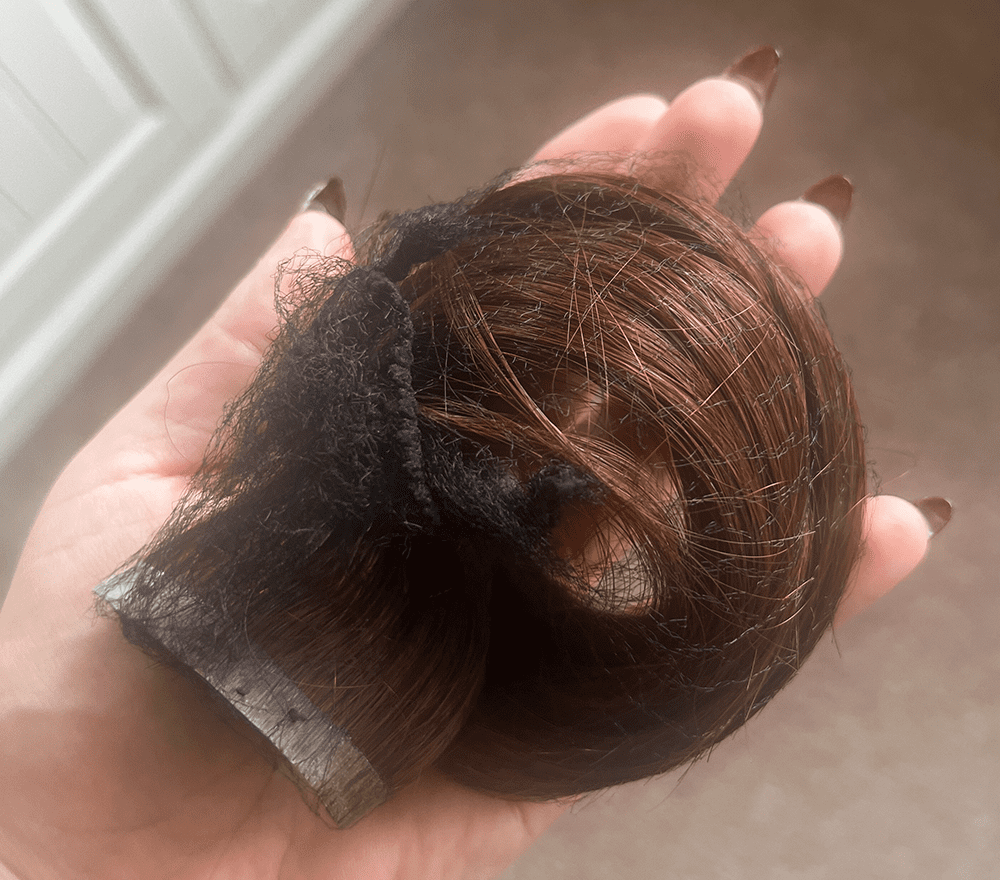 The invisible clip-in hair extensions are supposed to be comfortable, undetectable, and high-quality. They can be dyed and styled with hot tools, as they're made from human hair. Every set comes with 1 tester piece to ensure a perfect colour match alongside extra clips in case any of the clips on the bands break.
The extensions are heat resistant up to 160 degress and can be cut, dyed, and heat-styled however you want. Irresistible Me advises against bleaching the extensions, as this can compromise the integrity of the hair.
You should always wash and use a heat protectant prior to styling. Wash the extensions using a gentle sulphate-free shampoo, when needed, and let them air dry. If the extensions become dry, you can condition the ends with hair oil.
Irresistible Me advises brushing before and after each use, starting at the end and moving up in sections towards the base.
How to use the hair extensions
Installing the Irresistible Me extensions is straigthtforward. Follow the simple steps below:
Start at the nape of your neck and work upwards.
Section your hair and tease the roots before clipping in each weft. (The clips have a push function for both opening and closing).
Use a 3-clip weft on the nape of your neck.
Add a 4-clip weft at ear level.
Use 1- and 2-clip wefts on the sides of your head.
Use as many wefts as you need according to the size of your head and the desired effect.
After installing the wefts, brush the extensions gently with your own hair for a perfect blend.
Curl, straighten, or style as you want with all the hair together for seamless integration.
You can see the hair extensions being installed in the short video below:
Before and after
To show you the difference the Irresistible Me invisible clip-in hair extensions made to my hair, I took some before and after photos. After unboxing the extensions and detangling them, applying them only took me around 10 minutes.
I got the classic 28″ hair extensions in the shade #4 medium brown.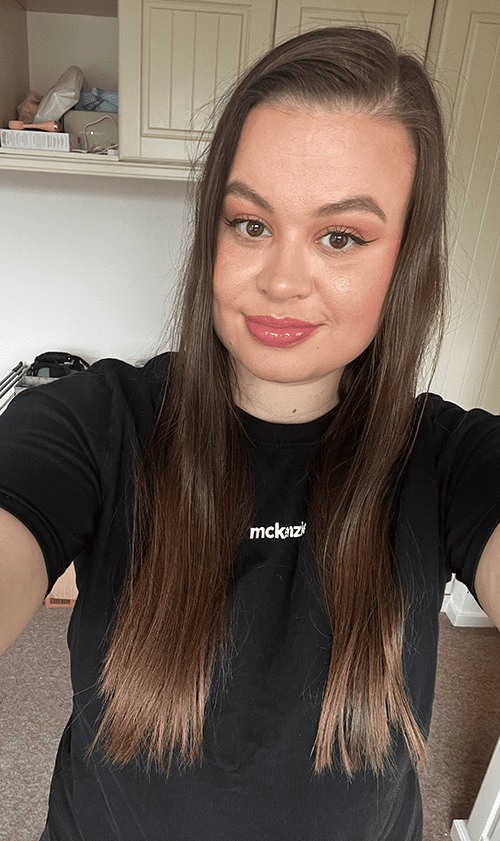 My hair is pretty long anyway, but, as you can see, the extensions added even more length, fullness, and volume to my hair.
Below, I'm going to discuss my honest experience with the extensions, from the colour matching and quality to the ease of installation and comfort factor.
Get 10% off Irresistible Me with my exclusive code SARAHS10. Shop today!
Honest Irresistible Me hair extensions review
The last time I wore hair exentsions was when I was 16. They were decent but weren't particularly high-quality and the band was way more visible. But the Irresistible Me extensions are totally invisible when installed correctly.
Let's start with the colour matching process. I sent in a couple of photos to Irresistible Me of my hair in natural light. I picked images that represented my natural hair colour the most accurately. The brand selected shade #4 medium brown, which is a near identical match.
Irresistible Me accidentally sent a blonde shade initially, but returning the extensions was easy and hassle-free. The communication was quick and effortless, and I experienced no issues with customer service. My correct replacement came within about 2 weeks from the time I initiated the exchange.
The extensions come in a cylinder tube. As they're compactly packaged, the extensions were fairly tangled once I unboxed them. However, they detangled quickly with brushing with very little hair loss from the band.
The invisible clip-in hair extensions come with a slight wave. My hair is completely straight and sleek, but I found the extensions looked very natural without needing straightening or styling when I applied them.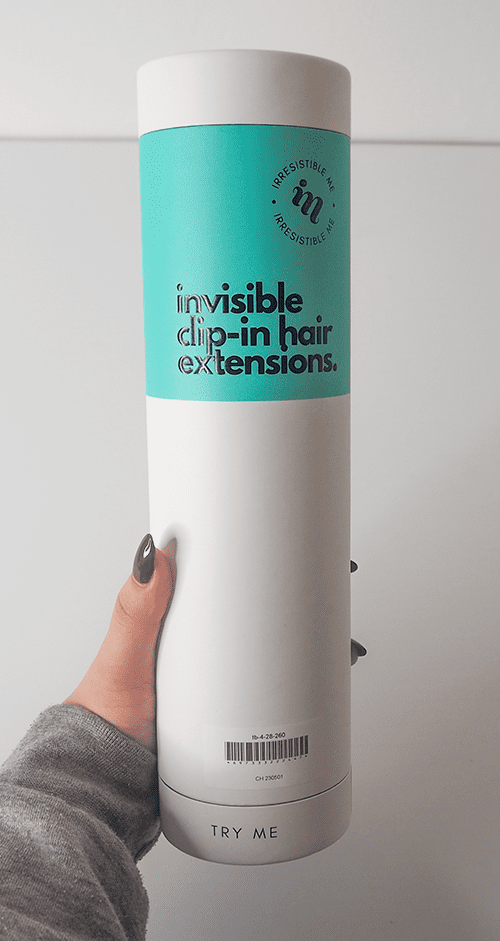 Applying the extensons was very easy. And I'm pretty shoddy when it comes to anything hair related! I sectioned my hair in layers to apply each weft and followed Irresistible Me's instructions. The clips are sturdy and felt secure once applied. They didn't slide down my hair or become loose. I used every weft except for 1 piece.
I love the way the extensions look. They made my hair thicker, fuller, longer, and more voluminous, but they still look natural. You can't tell that I'm even wearing them! And, of course, because the extensions are made from human hair, there's no big difference in quality or texture – they don't look fake or feel like straw!
As expected, applying that much extra hair did add weight to my head, but it didn't feel super heavy or uncomfortable. But you'll always be able to feel that you're wearing extensions, regardless of the quality, as extra hair adds extra weight.
Overall, I'm very impressed with the Irresistible Me extensions. They're high-quality, are easy to apply, feel comfortable, look incredible, and are a fantastic colour match.
Where to buy
You can buy the invisible clip-in hair extensions from Irresistible Me. Prices vary, depending on the length and volume. Expect anywhere between £76 to £422. Don't forget to use my exclusive discount code SARAHS10 for an extra 10% off!
I think this is a pretty good price range for real human hair extensions that feel comfortable and look undetectable. Of course, it's an investment, but these are extensions that you can use time and time again, especially if you look after them properly.
Do I recommend the Irresistible Me clip-in hair extensions?
I absolutely recommend the Irresistible Me invisible clip-in hair extensions. They deliver on all their claims to deliver fuller, more voluminous, thicker, and longer hair without being able to tell you're wearing them. They're easy to apply, high-quality, and feel comfortable.
Rating: 5 stars
If you're looking to try 100% human hair extensions, give Irresisitble Me a go!