Last Updated on 5th October 2023 by Sarah Sarsby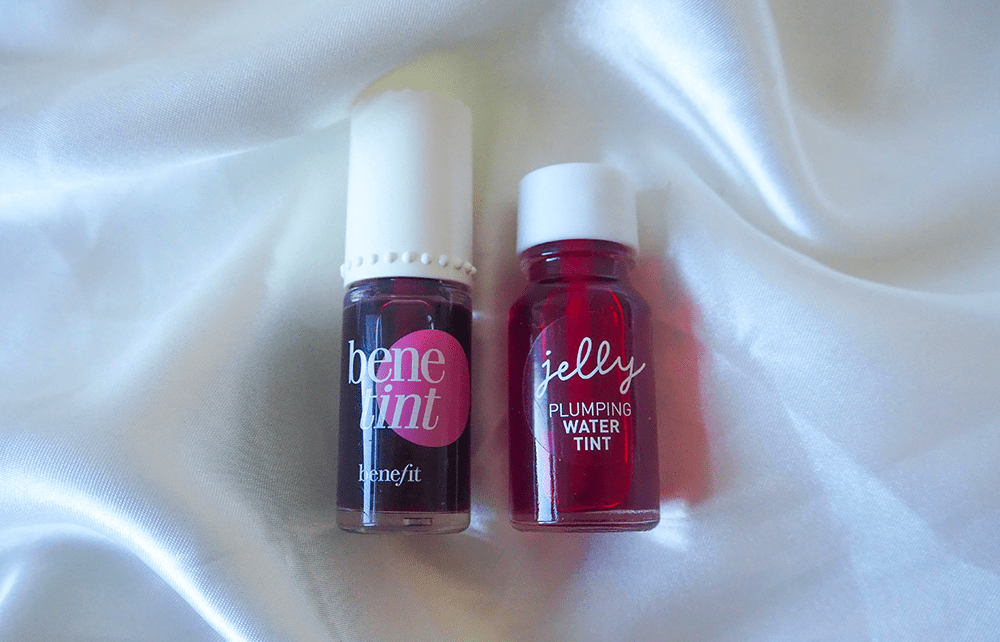 Have you been seeing the Benefit Benetint Rose-Tinted Lip & Cheek Stain everywhere? Yep, me too. This lip and cheek tint has become a social media sensation, with people using it to add a natural flush of colour to their complexion. It's a subtle product that makes a big impact.
But can we find a dupe that's just as good as Benetint for a fraction of the price?
The MACQUEEN Jelly Plumping Water Tint only costs £6.64, instead of Benefit's starting price of £17.50, and is supposed to be a dupe for the high-end version.
In this honest review, I do a side-by-side comparison of these 2 lip tints' textures, lasting power, pigmentation, ingredients, and swatches, as well as what they look like on the lips. Find out whether MACCQUEEN Jelly Plumping Water Tint is truly an identical dupe for Benefit Benetint.
Use my code CONFIDENCE10 for up to 5% off YesStyle. For new customers, use the code YESSTYLE for 10% off with a minimum £28.70 ($35 USD) purchase. Buy your £6.64 Benefit Benetint dupe here.
** This post contains some affiliate links. This means at no extra cost to you, I earn some commission if you purchase a product through my link. All thoughts are my own, though, as always. If you want to find out more, visit my affiliate disclosure page **
About the Benefit Benetint Rose-Tinted Lip & Cheek Stain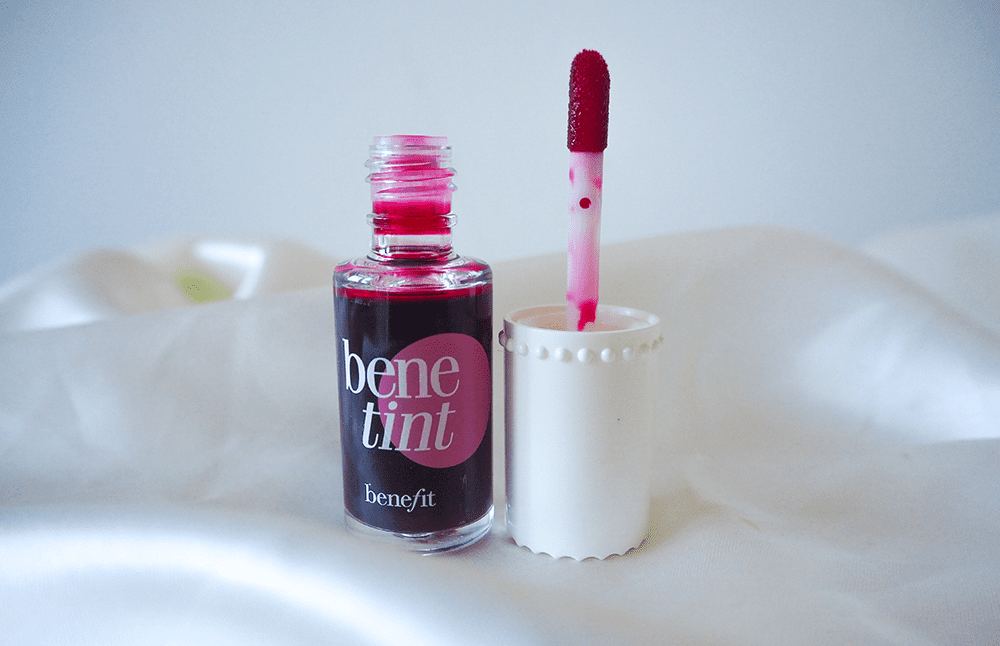 The Benefit Benetint is a watery tint that provides a natural rosy flush of colour to the lip or cheeks. It's subtle, non-sticky, lightweight, long-lasting, and smooth. The fast-absorbing tint enhances your complexion for a very minimal look.
About the MACQUEEN Jelly Plumping Water Tint in #03 Red Orange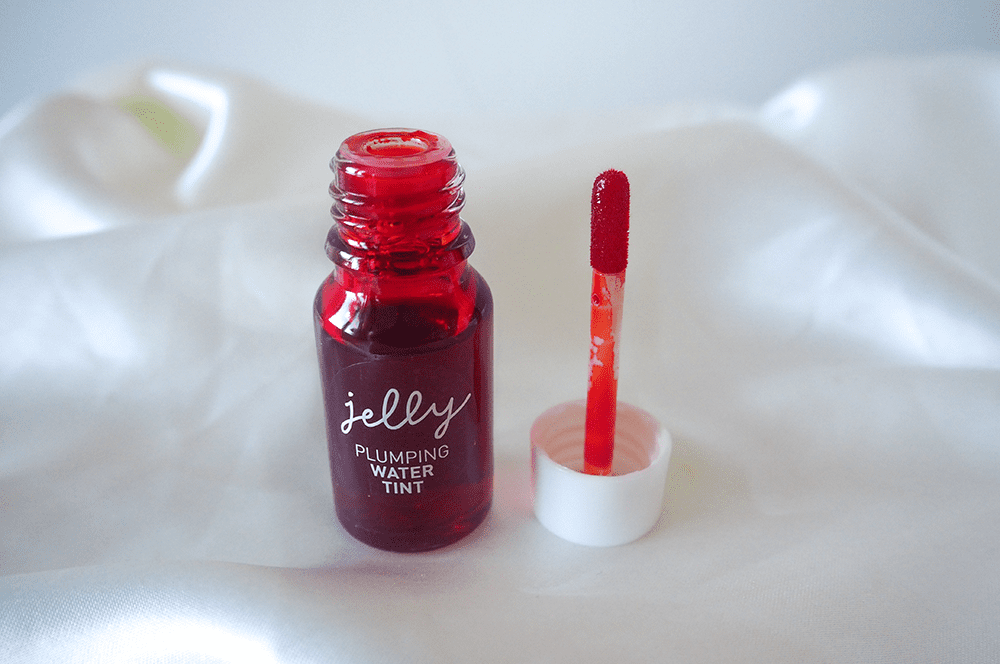 The MACQUEEN Jelly Plumping Water Tint in #03 Red Orange is a pigmented red orange for your lips. It's bold and vibrant with a watery gel texture. The formula is lightweight, hydrating, soothing, and quick drying. This tint stains your lips, which means it'll stay put even after eating and drinking!
The comparison
Price
Of course, MACQUEEN wins on price. It costs £6.64 for 9.5g, while Benefit Benetint costs either £17.50 for 6ml or £25.50 for 20ml.
While it's difficult to directly compare grams and millilitres, as they measure different things, the 9.5g MACQUEEN tint is a bit bigger than the 6ml Benetint. This means MACQUEEN is nearly one-third of the price of Benefit for more product. It's way better value for money.
Packaging
These tints have very similar packaging. Both come in dainty pots with a small doe-foot applicator. They're lightweight, have a transparent pot so you can see the colour of the tint inside, and have white lids.
Ingredients
MACQUEEN has a longer INCI list. Other than preservatives and cleansing agents, these tints don't share any notable ingredients.
Benefit features skin-softening maltodextrin and the antioxidant BHT. It's comprised of multiple fragrant and potential skin-sensitising ingredients, like perfume, geraniol, linalool, hexyl cinnamal, and citronellol. But it doesn't really have any standout skin-loving ingredients.
MACQUEEN is enriched with multiple skin-loving ingredients like hydrating glycerin, the humectant butylene glycol, and moisture-binding 1, 2-Hexanediol. This lip tint also features perfume but far fewer fragrant ingredients than Benefit, meaning fewer chances to irritate the skin. MACQUEEN wins on the INCI list.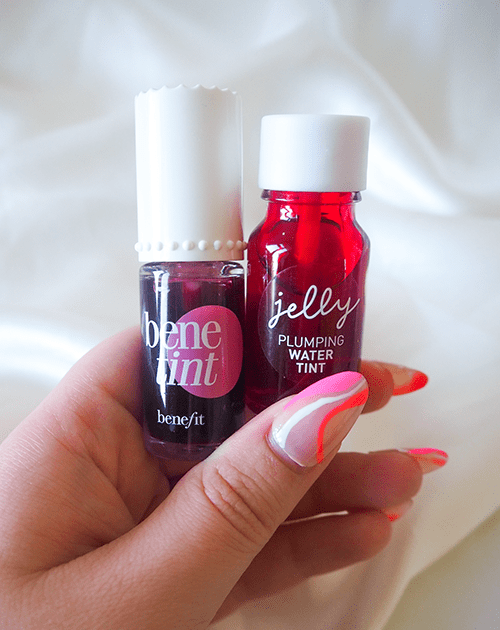 Texture
These tints have surprisingly different consistencies.
Benefit is runnier and thinner. It's very watery and will drip if you're not careful. It's best to wipe excess product off the applicator back into the pot to avoid making a mess. Otherwise, you'll end up with the tint streaking down your face. And it will stain. You've been warned.
MACQUEEN is still quite a watery formula but isn't particularly runny and feels thicker. You've got more leeway with this tint, as it won't drip. It's a little bit stickier than Benetint and sits somewhere in between a water and a gel.
Pigmentation
MACQUEEN is way more pigmented than Benefit. It doesn't matter how many times you layer Benetint, it will never have the saturated colour payoff that MACQUEEN does. The dupe is more vibrant, while the luxury tint is subtler. Both tints can be layered for more intensity.
Shade range
MACQUEEN has 5 shades available, which include reds, oranges, corals, and pinks.
Benefit has 6 shades available, including the original Benetint. The other 5 are the Playtint Pink-Lemonade, mango ChaCha Tint, bright cherry GoGo Tint, fiery red Love Tint, and desert rose FloraTint.
Swatches
To show you how these lipsticks compare to one another, I swatched them. These were done on my bare arm, without primer. I did 2 swatches.
The first swatch, below, shows you what these tints look like directly on the arm.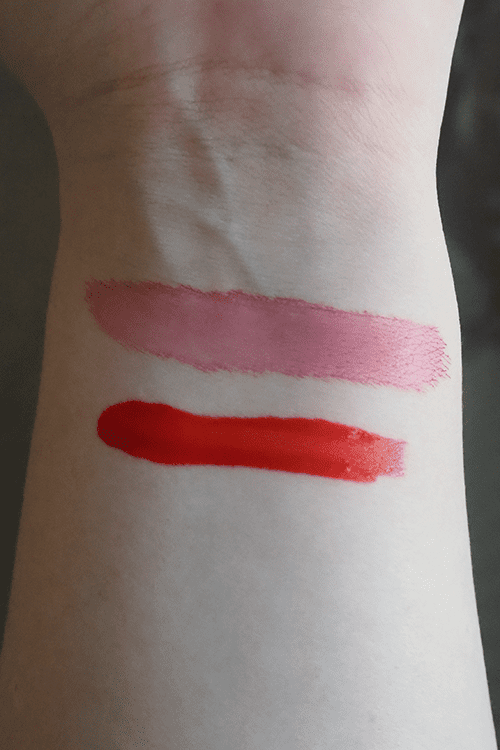 MACQUEEN, on the bottom, only took 2 layers to achieve this level of pigmentation. I did 4 layers of Benefit, on top, and the colour is nowhere near as saturated.
As you can see, the colour and texture of these 2 tints aren't the same. MACQUEEN is much more of a red orange and has a thicker water-gel consistency. Benefit is more of a rosy pink and has a very light watery texture.
The second swatch, below, was taken after I tried removing the tints with an oil-based cleansing balm. I wanted to show you how much these tints stain and what the colours look like when they've worn off a bit.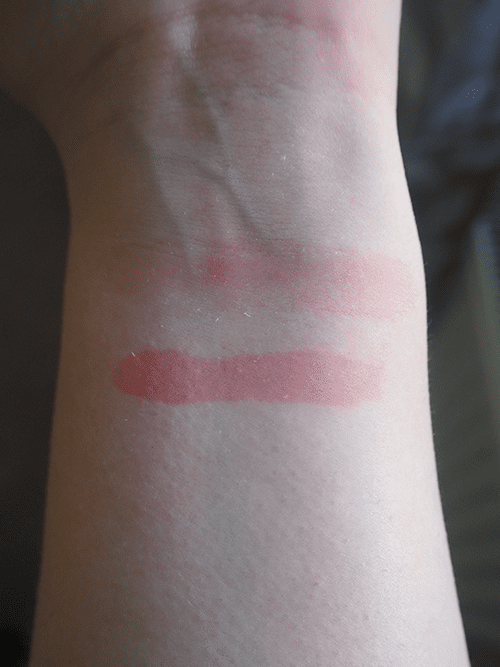 Both noticeably stained my arm, but their intensity decreased dramatically. The 2 colours look more alike if you wipe off excess product. But you can still tell that these are different shades.
On the lips
And now for the real test: how does MACQUEEN Jelly Plumping Water Tint in #03 Red Orange compare to the Benefit Benetint Rose-Tinted Lip & Cheek Stain on the lips? In the picture below, Benefit is on the right-hand side of my lips, and MACQUEEN is on the left.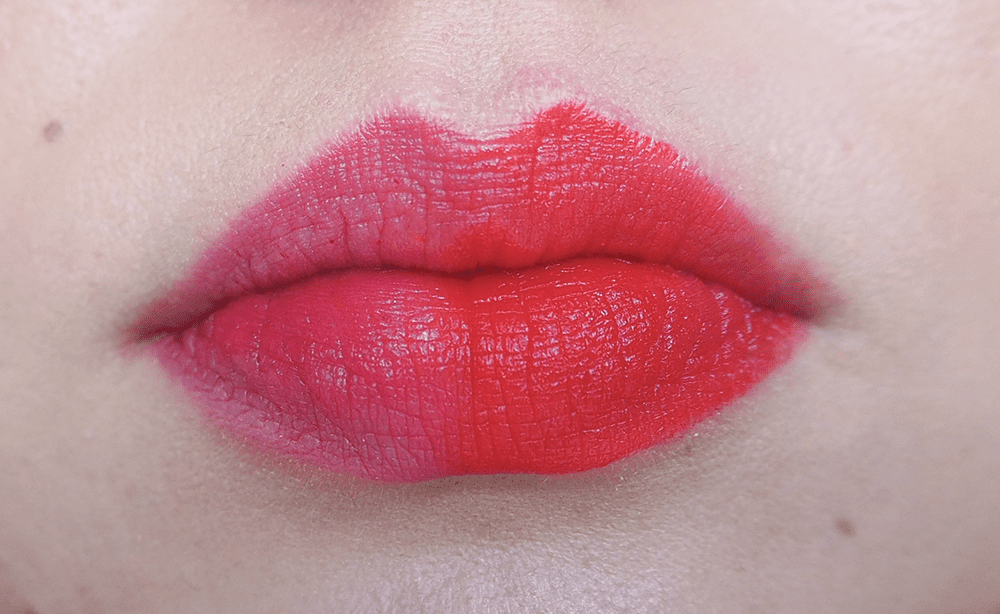 It was difficult to get an exact straight-down-the-middle comparison shot, as the tints have a watery consistency and naturally spread a bit on application. But they're different shades.
MACQUEEN is way more vivid with a bold red orange tone. I achieved this in just 1 coat. Benefit is way more subtle and looks closer to the natural tone of my lips. It's a rosy pink with purple undertones and is not as pigmented as the dupe, even with 2 layers.
Honestly, I think I slightly prefer Benefit. Because it's more of a 'my lips but better' shade, it's more versatile and wearable. I could pair this rosy tint with a simple eye in 20 minutes and be out the door. The rose tone is super flattering. It was also very comfortable.
But I still love the boldness of MACQUEEN. If I wanted a more impactful lip, this is the tint I'd opt for. I love the shade and also think the formula is very flattering. It doesn't emphasise dryness and feels more hydrating than Benefit.
Longevity
While both lip tints have exceptional lasting power, MACQUEEN wins. Hands down. Benefit faded more throughout the day after 8 hours of wear but still left a rosy tint. Although MACQUEEN did fade a bit, the red orange tone was still vivid and noticeable at the end of the day.
In fact, I found it challenging to fully remove the MACQUEEN tint. My oil-based cleansing balm normally quickly dissolves all traces of makeup, but MACQUEEN is powerful. All I can say is good luck removing it in a single go! You'll need to use an oil-based cleanser multiple times to fully remove it.
Honest thoughts on the Benefit Benetint dupe
MACQUEEN Jelly Plumping Water Tint in #03 Red Orange shares some similarities with Benefit Benetint Rose-Tinted Lip & Cheek Stain, but these are ultimately different products.
Benefit Benetint is softer, has a rosy tone, and looks more natural. The consistency is runnier and thinner. It will work with just about any makeup look because it simply enhances your complexion with a subtle tint of colour. I love how wearable it is and that it can be used on the lips and cheeks.
MACQUEEN is way better value for money, super pigmented, and offers vibrant colour. I prefer working with the MACQUEEN lip tint, because it's not as runny – meaning it's less likely to drip down your face – and feels more hydrating. It also has a better INCI list with fewer potentially sensitising ingredients. I actually think #05 Coral Pink would be a closer match to the rosy tone of Benetint.
The final verdict: MACQUEEN is not a perfect dupe for Benefit Benetint but is much more budget-friendly, has incredible lasting power, and still offers a hydrating juicy tint. It's a beautiful product.
Use my code CONFIDENCE10 for up to 5% off YesStyle. For new customers, use the code YESSTYLE for 10% off with a minimum £28.70 ($35 USD) purchase. Buy your £6.64 Benefit Benetint dupe here.