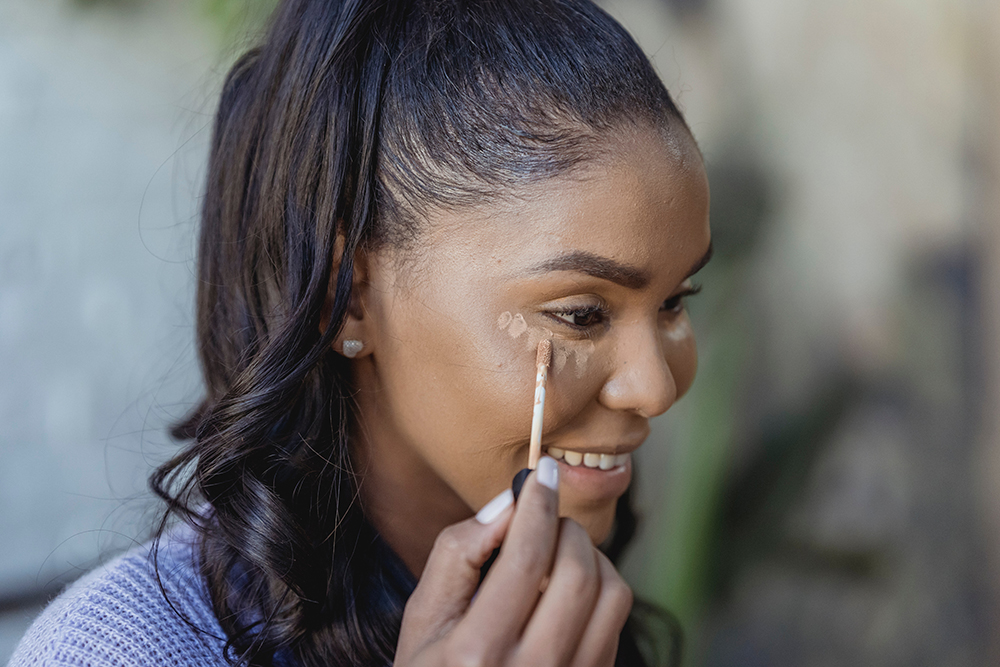 Concealers are fantastic makeup products. I use them every time I do my makeup without fail. They help brighten your under-eyes, conceal blemishes and dark spots, remove the appearance of dark circles and redness, and overall contribute to an even complexion.
But concealer creasing under your eyes is really annoying. It emphasises any texture or fine lines you have under your eyes, and once the concealer has set into place, there's no fixing the creasing. It happens to the best of us. And concealer creasing can happen very quickly.
I've been playing around with different tips and tricks to find out how to prevent concealer from creasing. This is from a combination of online hacks and trial and error. After trying numerous tips, the 4 simple steps in this post are absolute musts to stop concealer from creasing under your eyes.
* This post contains some affiliate links. This means at no extra cost to you, I earn some commission if you purchase a product through my link. All thoughts are my own, though, as always. If you want to find out more, visit my affiliate disclosure page **
1. Skin prep
Hydrating the skin under the eyes is a must for a smooth, even canvas. Applying a moisturising eye cream will help ensure the skin is plump, which makes for seamless concealer application. It's a particular must for drier skin, as it will prevent the concealer from clinging to any dryness, which can result in patchy, uneven application. I notice a difference in the smoothness of my concealer when I wear eye cream.
Sunday Riley Autocorrect is my fave eye cream. Not only is it hydrating, but it's also the only eye cream I've ever tried that genuinely brightens my under eyes and reduces the appearance of dark circles. It means your concealer doesn't need to work quite as hard!
2. Choose the right concealer
This is easier said than done. Ultimately, finding the right concealer is going to involve a bit of trial and error, as what works for one person might not work for another.
Choosing a concealer that is lightweight, flexible, and buildable is the best place to start. A lightweight concealer isn't going to become cakey under your eyes. Flexibility is important for getting control over the application. What I mean by flexibility is a concealer that can be manipulated easily for desired coverage. A buildable concealer is also vital, as you don't want to end up with a patchy concealer that doesn't layer well. This will only propel the creasing process.
I love the Kosas Revealer Concealer. It offers medium coverage that layers well, is flexible, and feels lightweight. Compared to a lot of other concealers I've used, this one is pretty crease-proof too.
3. Build the concealer in layers
Building up the concealer in small, light layers is essential to preventing under-eye creasing. If you apply too much product all in one go, it'll be difficult to blend. This can result in creasing, as the product will gather into fine lines and cling to texture.
Start by applying a small amount of concealer and building up the product gradually until you get your desired coverage. Concealers by their nature are usually quite thick, so a little bit goes a long way. I normally apply a little dot on the back of my hand, dip a concealer brush into the product, and use a light hand to gently tap the product into place. If I want to apply more product, I can, but I've got control.
I prefer using a brush to a beauty blender or sponge. I find it gives me more precision. But choose whatever method works best for you.
4. Set the product with powder
Now you've got the concealer applied, it's time to set it in place with a setting powder. Whether you choose a translucent or coloured setting powder is up to you.
Make sure that there are no creases in your concealer before you set the product with powder. If you spot some small creases, simply blend them away gently with a brush or sponge. Otherwise, you'll set the creases in place, which is the last thing you want to do.
Huda Beauty Easy Bake Loose Powder is my number 1 under-eye setting powder. The powder doesn't feel dry or heavy on the skin and keeps makeup in place all day. As long as I've taken all of the necessary steps in this post, my concealer won't crease when I use this setting powder.
---
What's your fave concealer? Let me know in the comments below.