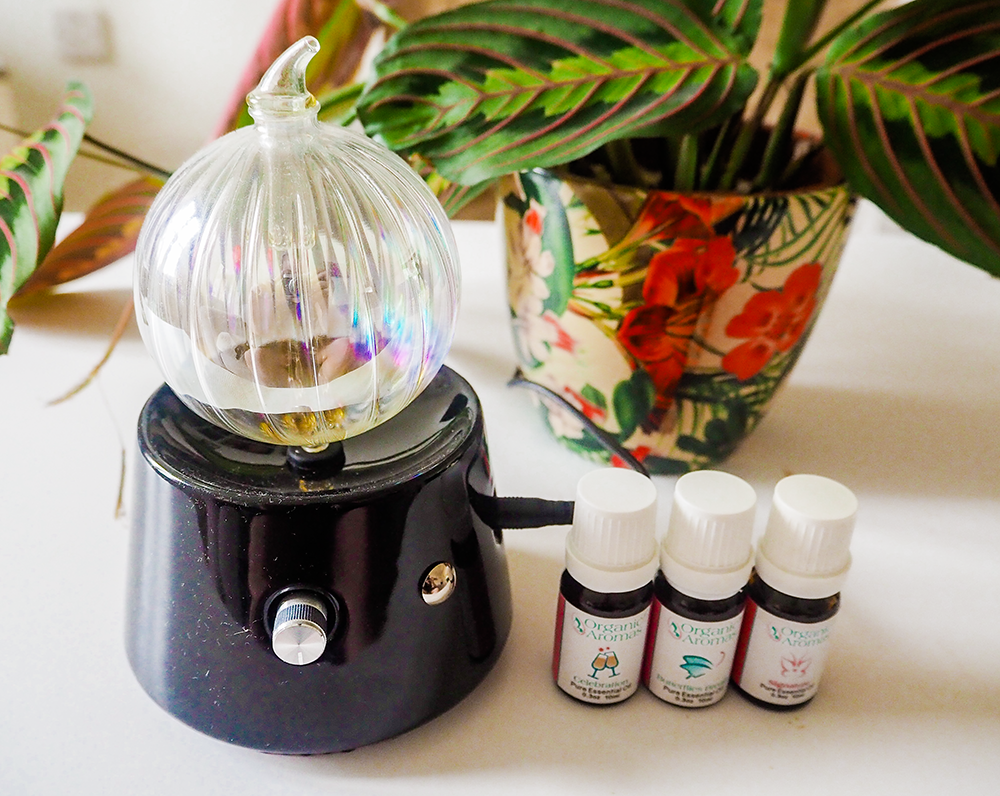 I've got a very exciting review for you today, as I'm going to discuss how to make your home smell amazing with the best essential oil diffuser from Organic Aromas.
Aromatherapy is a great way to lift your mood, soothe your mind, and boost well-being. If I ever want a calming environment, I switch on my essential oil diffuser to immediately make both my home smell great and me feel warm and cosy.
I recently had the opportunity to try a nebulising diffuser and 3 essential oils from Organic Aromas. Super exciting! I'd only ever used scented candles and wax melts previously, so I couldn't wait to see how an oil diffuser would compare.
In this need-to-read review, find out everything you need to know about Organic Aromas, aromatherapy, oil diffusers, and essential oils.
What is Organic Aromas?
The company is dedicated to developing effective, safe and beautiful instruments for disseminating and enjoying the fabulous aromas of pure essential oils.
Organic Aromas was established by a group of passionate, experienced engineers, artists and business professionals with the primary goal of creating the world's best method for diffusing pure, organic essential oil.

Organic Aromas
The company sells a wide range of diffusers, as well as pure essential oils for the diffusers and roll-on essential oils for use on the body.
What products did I get from Organic Aromas?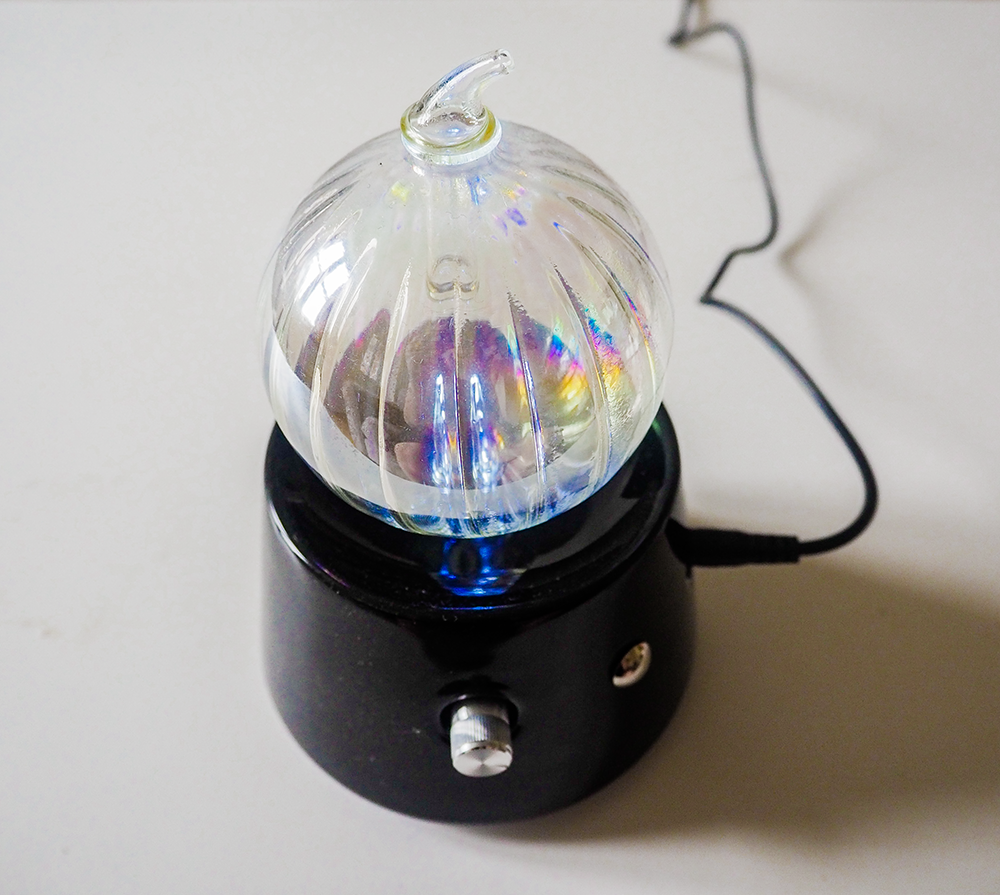 I picked 3 essential oils and a diffuser of my choice from Organic Aromas. After a very difficult decision, I chose the following 4 products:
Want to know more about how nebulising diffusers work and my honest experience with the diffuser and essential oils? Of course you do! More deets below.
How do nebulising diffusers work?
The Organic Aromas Nebulizing Diffuser works without the need to heat up the oils and without the need to add water to the diffuser. In addition, because the diffuser uses glass the essential oil never comes into contact with plastic. The particles of essential oil reach you in their natural state and provide you with all of their original therapeutic benefits, according to Organic Aromas.
Learn more about nebulising diffusers in the video below:
Organic Aromas Aurora Nebulizing Diffuser claims
The Organic Aromas Aurora Nebulizing Diffuser promises to be made with vibrant ribbed glass, a sturdy ceramic base and is available in both black and white. This diffuser claims to create spectacular light illusions from various angles, emitting wonderful rainbow colours.
As an ornament, the Aurora is specifically crafted for that ultimate visual appeal. The beautifully textured glass and the smooth ceramic curves make Aurora a statement piece for your living room, kitchen, bedroom, office, guest room, spa and more. 

Organic Aromas
A flexible touch sensor light control changes the brightness from 100% to 50% to 30% and then off. The essential oil diffuser has a usage cycle of 2 mins on and 2 mins off for a duration of 2 hours, at which time the diffuser automatically shuts off.
Honest Organic Aromas review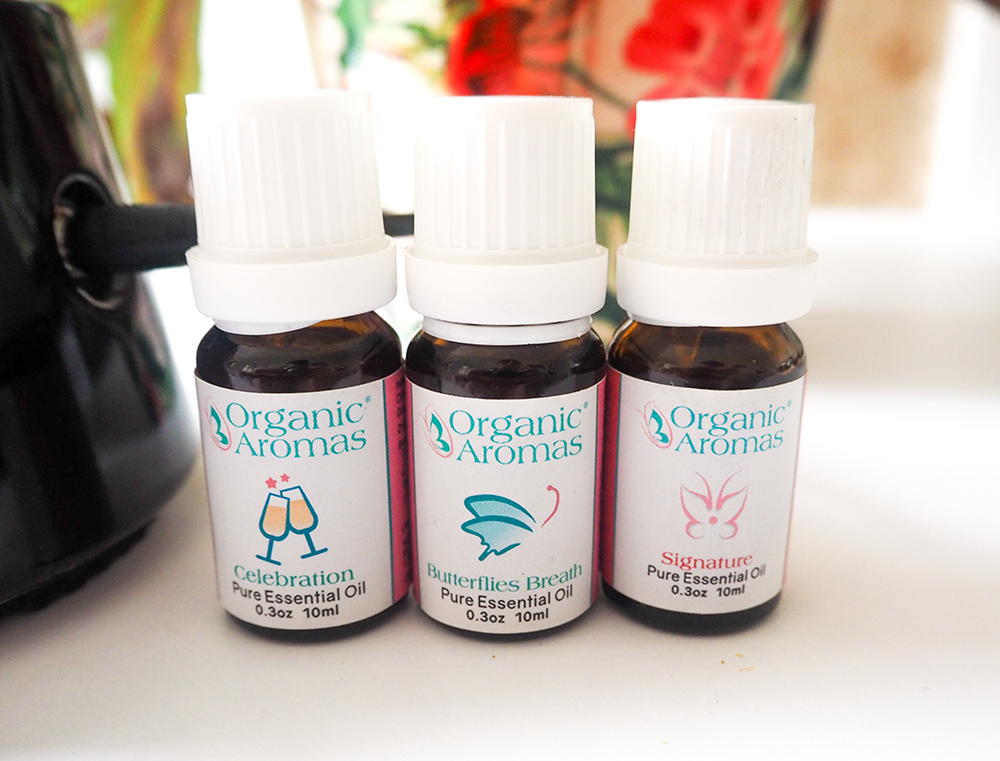 Firstly, I absolutely love the design of the Aurora Nebulizing Diffuser. It's sleek, elegant, modern and would fit in with many interiors. I'm personally not a fan of the wooden diffusers. I think they'd take more styling in terms of fitting them in around your home. However, the black base and glass diffuser would fit in with so many styles.
I'm obsessed with the rainbow colours on the glass. It's so pretty when the bright light is on and just adds to the whole soothing ambiance. I love turning it on in the evening when I'm doing some blog work as it's just a total vibe.
You simply drop some of the essential oil into the glass diffuser, put the cap on, and voila, you're done. You can also mix your essential oils to create a custom scent. It's awesome. This is what I do.
Out of the 3 scents I got, the Signature Blend is hands down my favourite. It's quite sweet, musky and still complex. You can't pinpoint the blend of fragrances coming through either, so it's very unique.
The Celebration Blend is my second favourite scent. It's not as sweet as I thought it would be and has a more herbal and aromatic scent. I like mixing the Celebration Blend with the Signature Blend for a sweet and slightly spiced, earthy home fragrance.
Butterflies Breath Blend is my least favourite scent. It's more bitter than what I'd usually opt for, and I don't find it as relaxing or uplifting as the other 2 scents. I tend to mix this with the Signature Blend for a sweeter blend.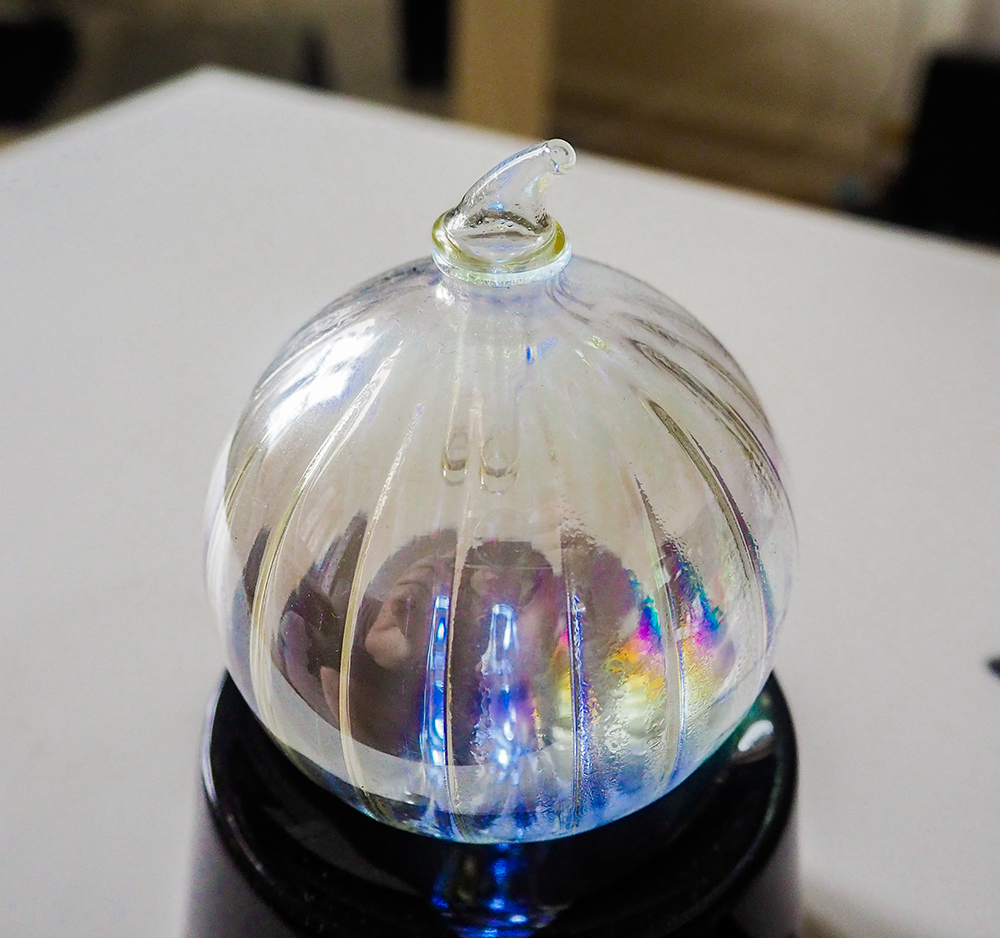 The Organic Aromas Aurora Nebulizing Diffuser is fantastic. It works so fast. As soon as you switch on the diffuser, a powerful fragrance almost instantly fills the room. It's so much quicker than using a scented candle or wax warmer.
A very fine mist is diffused. It's not heavy, and the diffuser isn't loud. In fact, it performs better than I thought it would.
Overall, I'm impressed with my Organic Aromas experience. The nebulising diffuser is well crafted and looks absolutely stunning. Like a gorgeous ornament. There's a good mix of essential oils to choose from too, whether single blends or intriguing mixed blends.
On a personal level, I wish there were some more sweet essential oils. And I mean sweet – without some sort of herbal note.
Where to buy
You can purchase the Aurora Nebulizing Diffuser for $105/£85.61 from Organic Aromas. The essential oil blends range from $15-$70/£12.23-£57.07, depending on which oil and size you purchase.
I think this is a reasonable price. The nebulising diffuser is very well crafted, and the scents last for a while. Plus, your home is going to look and smell amazing, and your mood is going to be lifted. What more could you want?
Do I recommend Organic Aromas?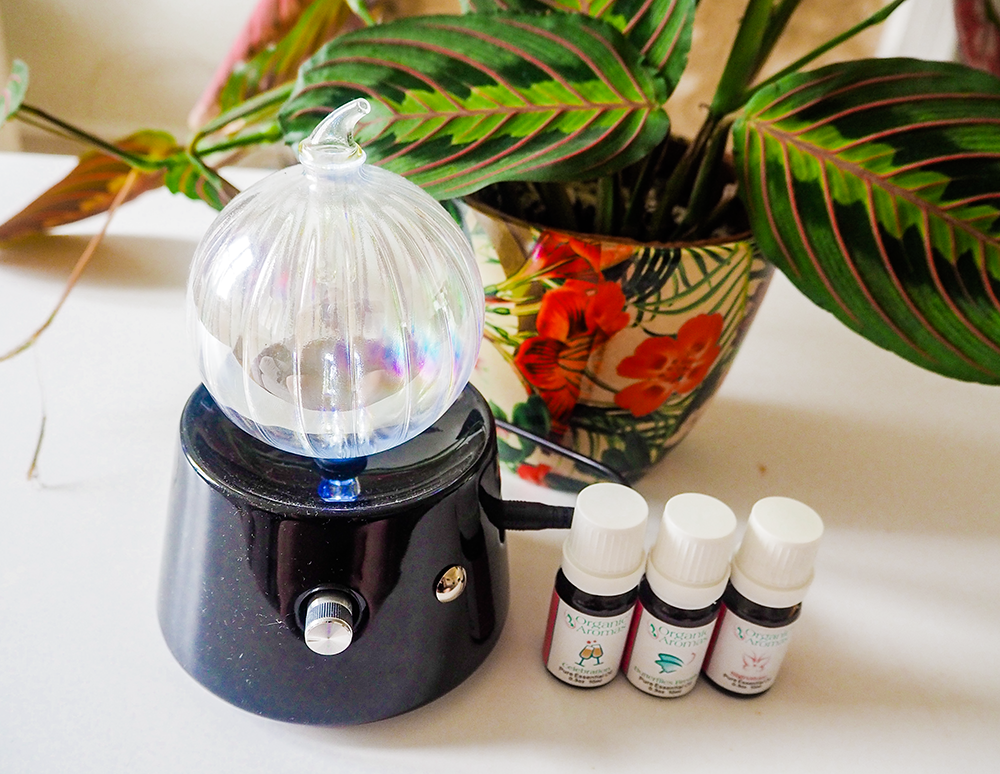 I definitely recommend Organic Aromas. It's a great brand with a diverse range of products.
Rating: 4 stars
If you like aromatherapy, essential oils, stunning ornamental pieces, and great scents around the home, you'll love Organic Aromas.
---
Do you like essential oils and home fragrances? I'd love to hear from you in the comments!