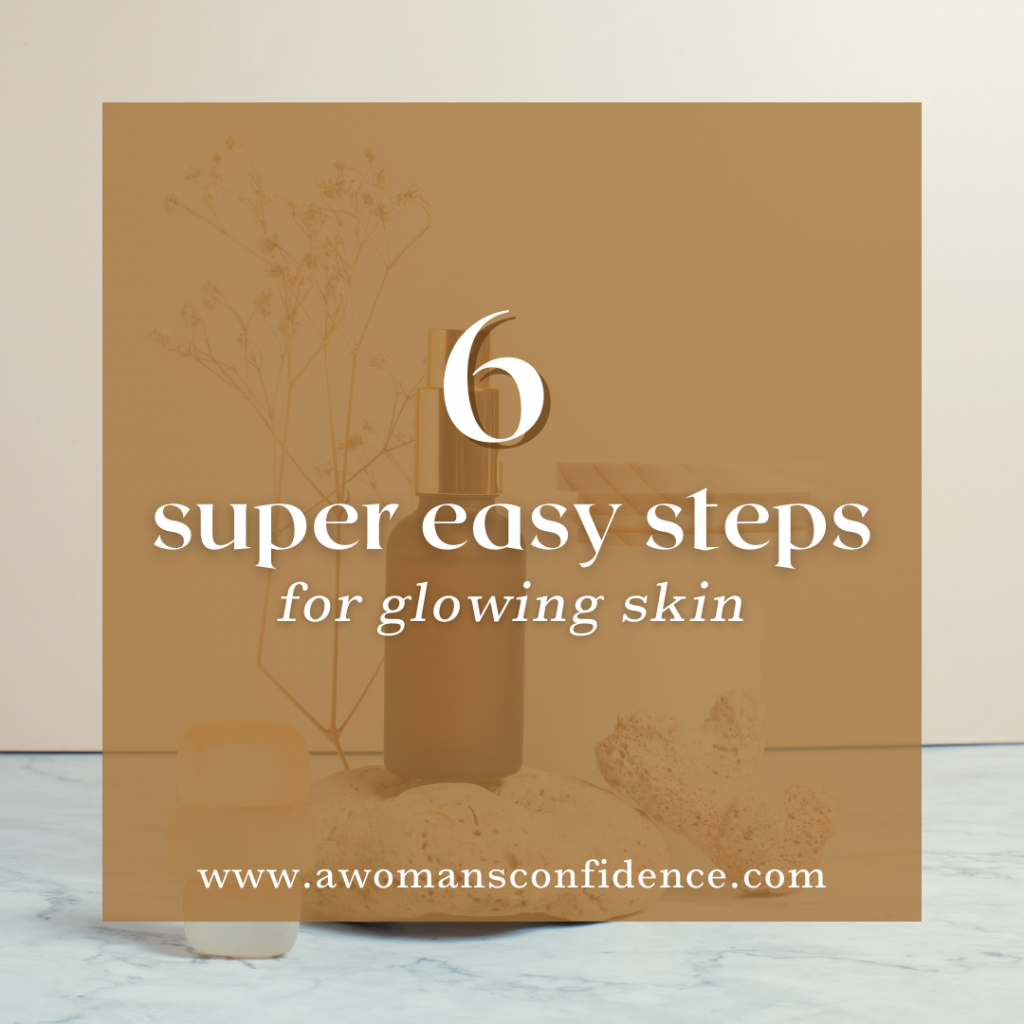 In this blog post, I'm going to share 6 super easy steps for glowing skin, including my top skincare product recommendations.
2 of these steps are completely free and will be part of your everyday routine anyway. It's just about capitalising on these simple habits to ensure you have healthy, radiant skin.
And the good news? Getting glowing skin doesn't need to be expensive either. While beauty salon treatments are fantastic at giving your skin a lovely boost, treatments can be expensive and time-consuming. So don't worry, I've got some great alternatives that you can do at home without any hassle.
Keep reading to find how to get glowing skin quickly and easily in 6 foolproof steps. There are also some tasty discount codes throughout this post, so keep your eyes peeled.
** This post contains some affiliate links. This means at no extra cost to you, I earn some commission if you purchase a product through my link. All thoughts are my own, though, as always. If you want to find out more, visit my affiliate disclosure page **
1. Drink plenty of water
The number one step to clear, healthy and radiant skin is drinking plenty of water. Your skin will never be at its best if you're not drinking enough water. It will look dull and lacklustre. I mean, drinking plenty of water is crucial for good physical and mental health outside of the skin benefits, but if you're into skincare, drinking lots of water is another welcome bonus.
So yeah, drink your water for great skin heath and overall health in general. Keep your skin hydrated!
2. Get a good night's sleep
Getting around 8 hours' sleep, like water, is essential for so many reasons. But one particularly compelling reason is that if you don't get enough sleep, it'll show on your skin. And it particularly shows around your under-eye area. Dark circles anyone? Dull-looking skin? That's probably because you're not getting enough sleep.
If I don't get a decent amount of sleep, the first place it shows is under my eyes. It's not a vibe. It's super annoying, especially when you have a hectic schedule, but having enough sleep will contribute to healthy, glowing skin.
3. Apply hyaluronic acid daily
Hyaluronic acid is a hydrating hero that helps stop the skin from becoming dehydrated, making it plumper, and contributing to healthy radiant skin. Usually found in serums or creams, this active ingredient is best applied to damp skin for maximum benefits, as it helps lock in hydration.
This gentle ingredient works for almost everyone. It's seriously a phenomenal ingredient. Paula's Choice has an excellent article that more closely examines this popular ingredient for further reading.
My top dedicated hyaluronic acid skincare picks are:
4. Try chemical exfoliants
Depending on your skin's tolerance and sensitivity, you could try using an exfoliant once or twice a week. Of course, if you've built up a tolerance, you could use an exfoliant more frequently, and if your skin is sensitive, you could use a gentler exfoliant or use an exfoliant less frequently.
Exfoliants are great at getting rid of dead skin to reveal newer layers of skin that are brighter and more radiant. They also help to even out your complexion and reduce any bumpiness.
There are 3 main classes of exfoliating acids to look out for:
Alpha-hydroxyacids (AHAs): your main group of acids that exfoliate the skin and stimulate collagen. AHAs include glycolic acid, lactic acid, citric acid and more
Beta-hydroxyacid (BHA): there's only one BHA, and that's salicylic acid. This BHA is particularly good for oily skin as it has the ability to deeply penetrate and exfoliate pores and target breakouts
Poly-hydroxyacids (PHAs): the next-gen AHAs that allow for gentler and gradual penetration. PHAs are great for those with sensitive skin, as they are the least irritating of the exfoliating acids. Examples of PHAs are gluconolactone, lactobionic, and maltobionic
For further information about exfoliating acids, and how to pick ones that will best suit your skin's needs, check out this fantastic guide from Caroline Hirons.
My fave exfoliants (I have normal/oily skin) are:
5. Use vitamin C
Vitamin C is the ultimate brightening and glow-boosting ingredient. Incorporating a good vitamin C product into your routine – whether it's in a toner, serum, face oil, or moisturiser – will really give your skin added luminosity. As well as brightening and radiant properties, vitamin C is great for fading blemishes, hyperpigmentation, and evening out your complexion.
There are many forms of vitamin C available, such as ascorbic acid, sodium ascorbic phosphate, and ascorbic palmitate. Read this must-know Paula's Choice guide for a more in-depth look at the various forms of vitamin C.
My top vitamin C picks are:
6. Mix a liquid highlighter with your moisturiser or foundation
This one is more of a hack than anything, but this is a very fast and effective way of getting glowing skin. Mixing in a liquid highlighter with your moisturiser or foundation will ensure a luminous base. 1-2 drops are usually enough, depending on the pigmentation of the highlighter and how glowy you want to look.
I use this trick all of the time for effortlessly radiant skin!
My top 3 fave highlighter products to mix with skincare or makeup for a dewy base are: