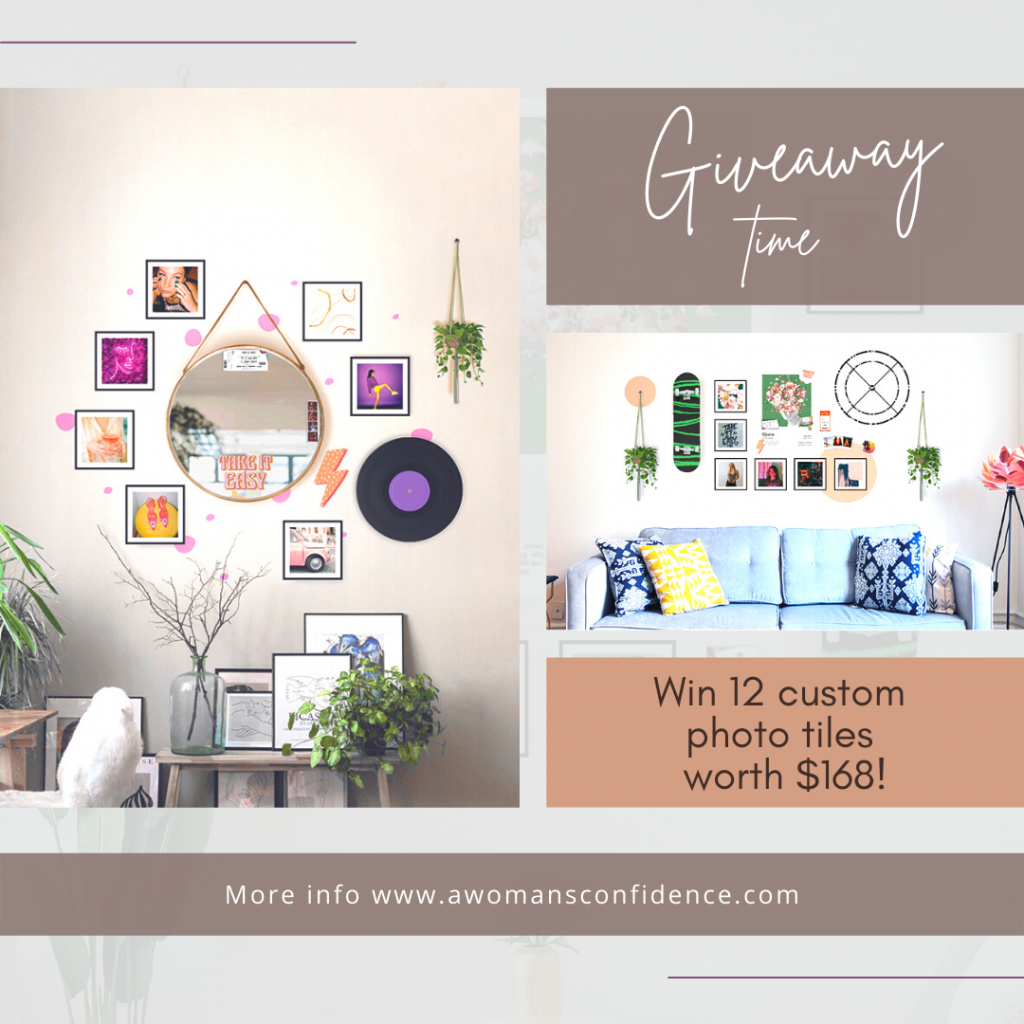 ** THIS GIVEAWAY IS NOW CLOSED**
You may have seen my recent TilePix review. TilePix is a whole vibe! I'm excited to announce this very cool brand of unique custom magnetic photo tiles has offered to sponsor a giveaway for A Woman's Confidence this month. One lucky participant will win 12 FREE TilePix custom photo tiles, to create their very own photo gallery wall worth $168.00!
Participating is easy. Just read on and follow the super easy steps to enter below.
What are TilePix?
TilePix are the world's first magnetic, 8×8 photo tiles that you customize online, and hang in just seconds with no nails, holes or damage to walls once they arrive at your door (with free shipping and in just a few days!).
Use TilePix to create that Insta-perfect décor backdrop, in any space, be it your bedroom, living room, front foyer, dorm room, study space or office. All custom-ordered online in under 10 minutes!
With Mother's Day coming up fast, this set of 12 photo tiles could make a fantastic gift for Mom, but you just may find yourself tempted to keep it for yourself. Who could blame you? These photo tiles are so fun to customize and do wonders to bring a trendy yet professional-looking ambiance to any space. Enter now (details below) for your chance to win this incredible personalized home décor prize from TilePix.com.
The prize
TilePix ultra-modern photo tiles take your walls from bland to brilliant in an instant, giving you a stunning gallery of all your favorite memories – a 'memory wall', if you will. With an innovative magnetic mounting system, these photo tiles simply click into place. No screws, no weird tape, no holes in walls, no wall damage, no stress!
One lucky winner will get their hands on 12 of these adjustable and customizable tiles from TilePix.com.
How to enter the giveaway
Enter to win 12 incredible, personalized photo tiles from TilePix for a fuss-free, modern gallery wall that's sure to impress. Keep them for yourself or gift them to somebody special – they'd make a wonderful Mother's Day gift!
Here's how to enter:
Submit your answers via this giveaway form.
Want to increase your chances of winning? For 5 extra entries, screenshot this blog post and share it on your Insta story. Be sure to tag me at @awcblogsarah so I see your share and can count your extra entries.
It's as simple as that! Giveaway T&Cs can be found at the bottom of this post.
How does TilePix work?

For those who missed my TilePix review, a TilePix gallery wall of custom photo tiles is like having your Insta feed in real life!
How are TilePix photo tiles packaged for shipping?
Your framed photo tiles arrive in secure, protective packaging, fully ready to hang without nails, screws or holes, which is perfect if your landlord, parents or significant other has made you promise not to put holes in the walls. The box is pretty clever actually and acts almost like a flipbook for your photos when you open it. Pretty sweet!
How to build a TilePix gallery wall
Everything about TilePix is super convenient. From the super-smart, easy-to-use spacer tool (included at no cost!) that exists solely to ensure your photo frame placements are perfectly spaced apart from one another (without having to tear your hair out, I might add), right down to the magnetic mounting pads that allow you to just snap and slide your photo frames into place, TilePix makes creating the photo gallery wall of your dreams a reality, without any of the stress that building a beautiful gallery wall would typically require.
How to use TilePix photo tiles to refresh the look of any room or space
Swap your photo tiles around anytime you want with no extra planning or measuring required. It's amazing what a switched layout can do to refresh the look and feel of your home décor. You can even swap TilePix out with seasonal or holiday trends! Whether it's winter, summer, spring or fall, a quick shuffle of your TilePix can breathe festive new life into any space. Did somebody say Pinterest aesthetic? Yes, please!
How to customize décor with TilePix photo tiles
Customization is where TilePix shines. Select the number of tiles you want, the frame color, photo color options, and photo border options in just a few minutes. If you're not ready to go all out, order a few today and a few more next month, or whenever the mood strikes. There's actually a membership option for that if you plan to continue to grow your wall of memories as life happens.
Create unique, modern-looking image splits
If you want to get really creative (this one's for you artsy people!), the image split tool is sort of epic. Spread your favorite photo out across multiple tiles for an enviable, modern and chic vibe that takes your room décor to the next level.
TilePix makes a unique, custom photo gift for any occasion. Give the gift of TilePix gift cards!
Looking for a gift for someone who loves family, photography or decorating and custom products? TilePix make a perfect gift for any occasion, and they sell gift cards if you prefer to gift the complete TilePix experience over the product alone. Mother's Day, birthdays, anniversaries, wedding gifts, the ultimate housewarming gift, Father's Day, Easter, Christmas, Hanukkah, Ramadan, Kwanzaa, Diwali, Festivus… You name it, TilePix works.
How much do TilePix cost?
The best part? TilePix are super affordable too. Starting as low as $9 (with my discount code below), these photo tiles won't break the bank, and will spruce up any space, anywhere in your home. Even if you're renting or living in a student residence or dorm, these damage-free photo tiles will work their magic without even so much as one hole in the wall.
How easy is that?
Just stick and slide them into place and voila – instant pro decor vibes. Make your TikTok followers so jelly they'll be looking for peanut butter (and TilePix) when your new photo tiles collection makes a feature debut in your next TikTok challenge video!
How does TilePix shipping work?
TilePix will ship your package free of charge (US only for now, sorry everyone else). Same-day pick up is also available at any Walgreens nationwide for packages of 6 or less, but I recommend collections of 9 or more for maximum "wow" factor. Free shipping to home is convenient and fast (for the ship-to-home option, your TilePix should usually arrive in 3-5 business days).
Unique Mother's Day gifts to touch her heart
With Mother's Day less than a few weeks away, don't worry if you haven't figured out what to get Mom yet! TilePix has got your back with gift cards that can be ordered right up to the day for immediate receipt. Perfect for last-minute shoppers and those who want to hand the personalization over to their mom for a photo gallery wall (and a fun custom-ordering experience) that brings a smile to her face. Every time.
Save on TilePix today!
New customers take 35% off your first TilePix order until July 31, 2022 with my exclusive discount code CONFIDENCE. Shop TilePix now to save!
My honest TilePix review
Want to see what my very own photo gallery wall looks like (spoiler alert: it looks amazing!)? Check out my blog post about my own TilePix.com shopping experience. From the ordering process and customization options, right down to my experience hanging the photo tiles and the finished result, my review covers everything you need to know about how to DIY your gallery wall.
Giveaway T&Cs
This contest is open to US residents only. All entrants must be 18 or over.
By entering this giveaway, you consent to receiving emails from awomansconfidence.com and TilePix.com.
This contest will close on May 1, 2022, at 12pm PST. One lucky winner will be picked at random and will be announced on May 2, 2022, at 1pm PST.
The winner will be contacted via email from TilePix to receive their photo tiles and will have 48 hours to respond. If there is no response within this timeframe, another winner will be selected.
Good luck everyone!
---
** This post contains some affiliate links. This means at no extra cost to you, I earn some commission if you purchase a product through my link. All thoughts are my own, though, as always. If you want to find out more, visit my affiliate disclosure page **