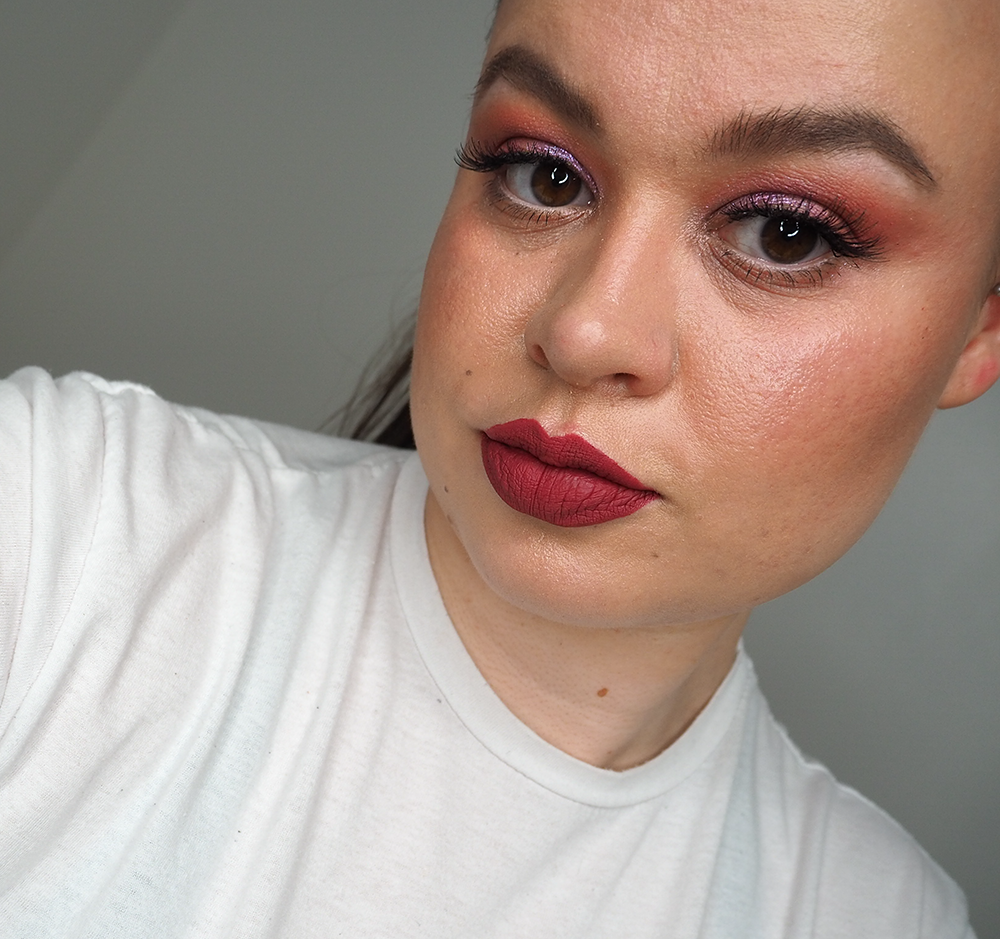 In this review, I'm going to tell you everything about Sebeiti Cosmetics, and why you need these makeup products in your life.
I absolutely love makeup. From trying new brands, experimenting with different formulae, recreating viral makeup looks, and playing with innovative products, I enjoy getting creative. But since embarking on a makeup no-buy/low-buy this year, I've not had the joy of trying many new products.
So when Sebeiti Cosmetics asked if I'd like to review some products, naturally, I was super excited! After looking at the website, I selected 3 products that looked absolutely unreal. A lilac shimmer shadow, a buttery peach blush, and a luxe mauve lipstick. I thought they'd complement one another to create a glam makeup look.
Keep reading for my honest thoughts on each product, high-quality swatches, the makeup look I created using these products, and my overall Sebeiti Cosmetics review.
** This post contains some affiliate links. This means at no extra cost to you, I earn some commission if you purchase a product through my link. All thoughts are my own, though, as always. If you want to find out more, visit my affiliate disclosure page **
What is Sebeiti Cosmetics?
Sebeiti Cosmetics is an affordable makeup brand that aims to offer high-quality products. It promises to offer colourful, cruelty-free and high-performance products. Some of the brand's best-selling products are the Alluring Velvet Lipstick 01 Small Talk, Infinite Charm Pressed Pigment Palette, and Quick-wear Glue-free False Eyelashes 5 pairs.
What products did I receive from Sebeiti Cosmetics?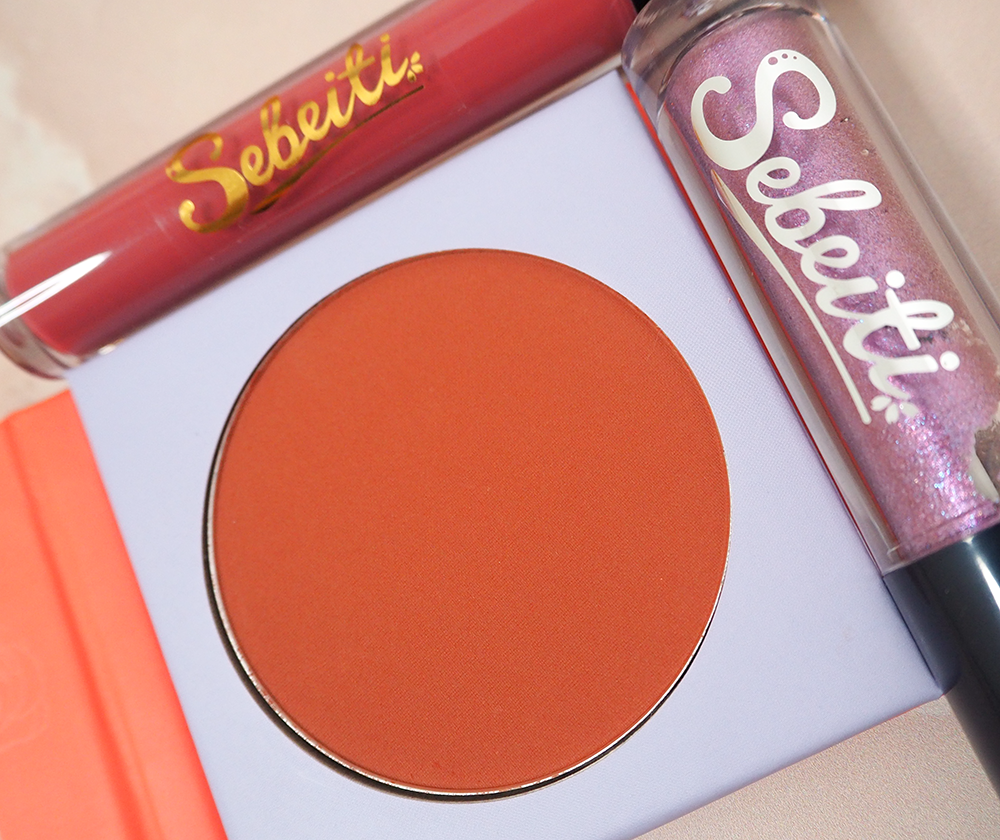 I received the following Sebeiti Cosmetics products to review for you today:
Although I liked the look of all of the products, I was most excited to try the Shimmer Liquid Eyeshadow 05. I have a soft spot for shimmery eyeshadows, especially purple and pink shades, so this one was especially calling my name.
Product swatches
To give you an indication of how each product looks and performs, I took some swatches on my arm. These swatches were done on my bare arm, with no primer. As always, swatches should never be the sole decider on whether you purchase a product, but they can give you a solid indication of the shade, formula, and performance of the product.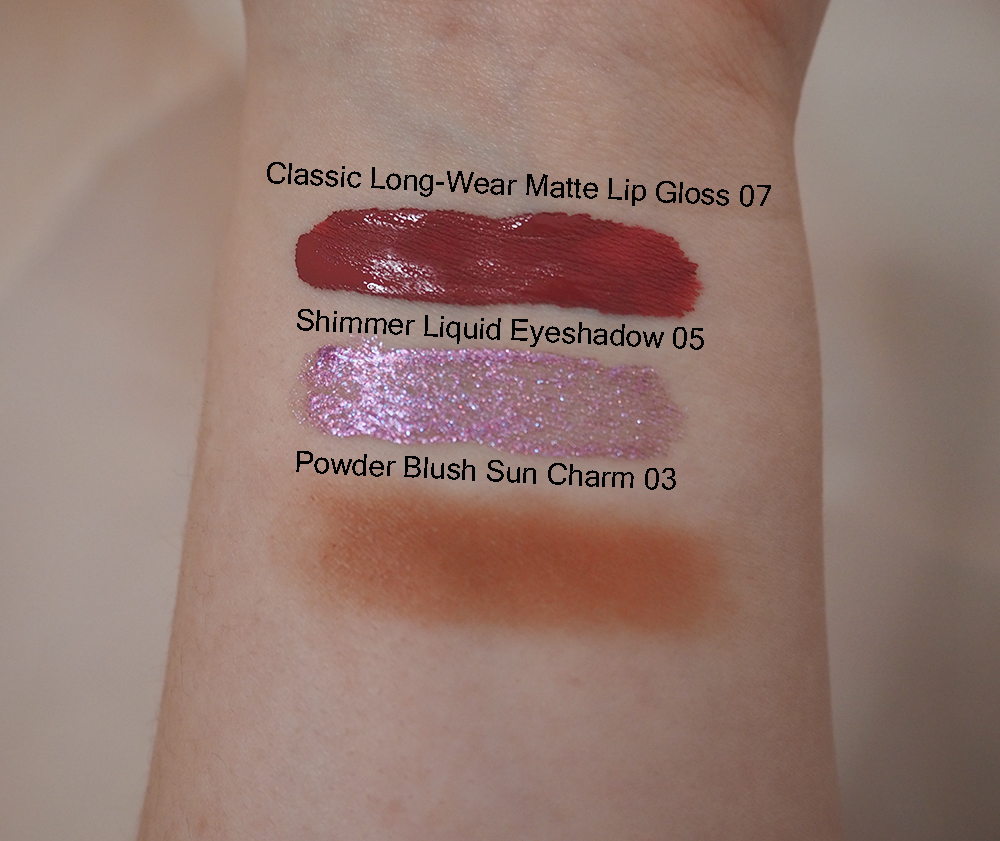 Don't all of the swatches look fantastic? I think the shimmer shadow looks the best. The way that gorgeous lilac shift catches the light is simply *chef's kiss*.
From the swatches alone, I had very high hopes for all of the products. They were pigmented and smooth, with gorgeous shade profiles.
1. Sebeiti Cosmetics Shimmer Liquid Eyeshadow 05
£12.15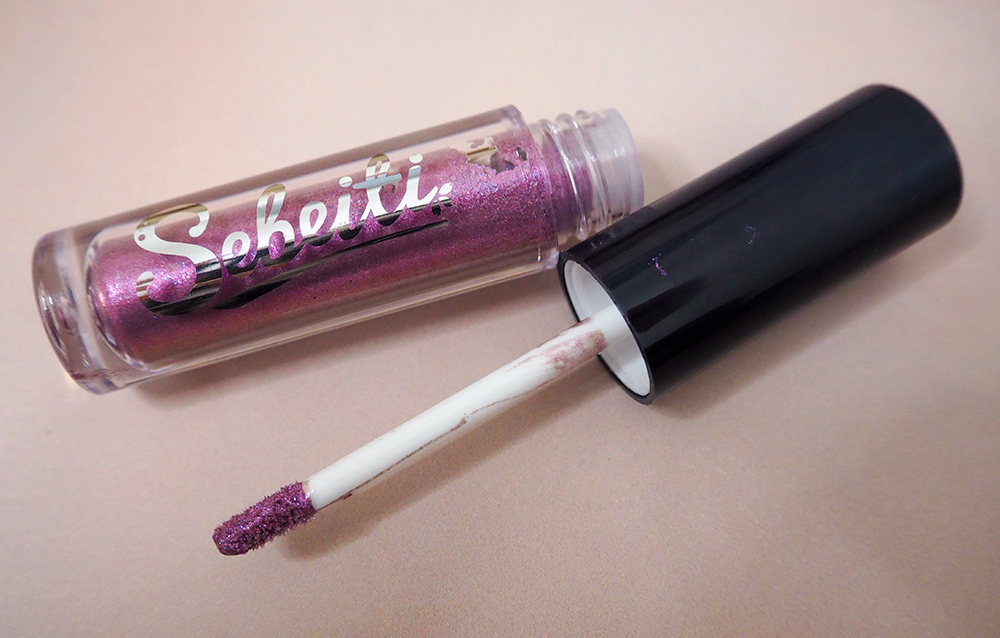 Product claims
The Shimmer Liquid Eyeshadow 05 promises to be long-wearing and highly shimmery with intense colour payoff. The medium-coverage shimmer shadows are designed to be worn for any occasion, whether you want a bold, sexy glam look or a pop of shimmer in the daytime.
How to use
Apply the Shimmer Liquid Eyeshadow to your lids and blend using your fingers or a brush. The shadows can be worn on their own or on top of other eyeshadows.
Review
I totally love the Shimmer Liquid Eyeshadow 05.
Firstly, the doe-foot applicator is great. It's big enough that you can easily swipe product across your lids but not too big where you can't get the eyeshadow into your inner corners.
And the colour is just unreal. The lilac shimmer catches the light in the most beautiful way with some pretty blue, pink and purple shimmer sparkles for multidimensional shine. It's so reflective, without being chunky, which makes for a smooth, glam eyeshadow.
I personally think this liquid shadow works best as a topper. The actual base is transparent, so without an eyeshadow underneath, the liquid shadow can look patchy. However, if you pair it with purple eyeshadow, the lilac tones are brought to life and shimmer in the most iridescent way.
The Shimmer Liquid Eyeshadow 05 has medium coverage and is easy to blend and build. I applied a couple of layers for a more impactful finish, and the product never went patchy, crumbly or dry. Instead, I had the most gorgeous glimmering lilac eyelids.
It lasted on my eyes all day, only starting to fade a little after about 7 hours.
Rating: 4.5 stars
I love the Sebeiti Cosmetics shimmer liquid shadow. It's such a gorgeous shade and formula. I will be wearing it a lot.
2. Sebeiti Cosmetics Powder Blush Sun Charm 03
£17.51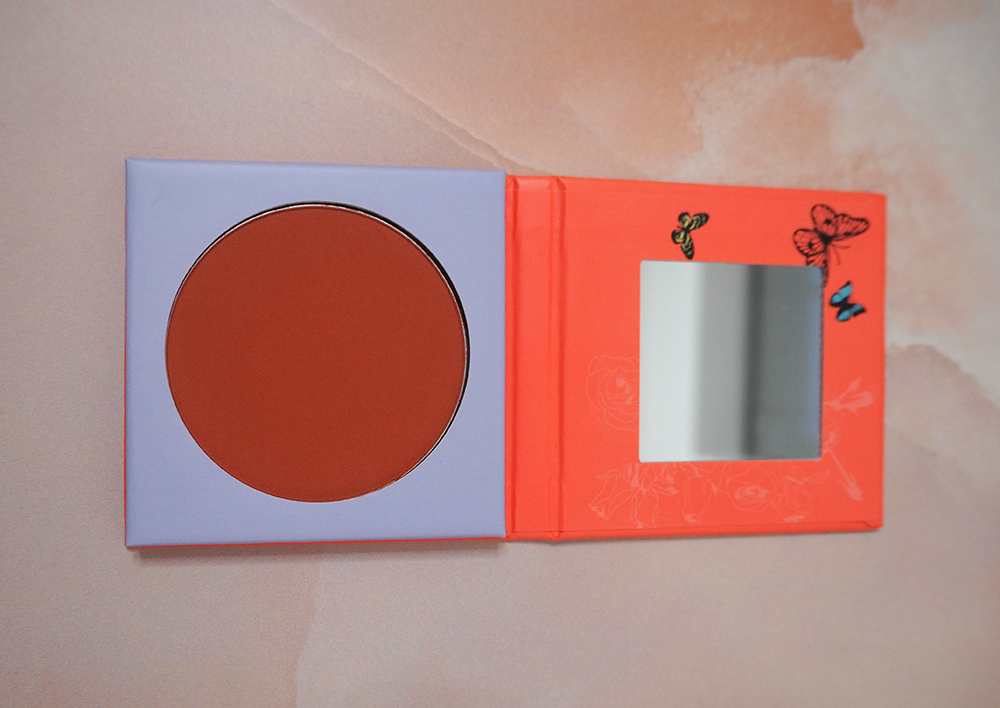 Product claims
The Powder Blush Sun Charm 03 promises to be a superfine powder that applies like silk with a lightweight texture. Sebeiti Cosmetics says the blusher is pigmented and will last for 10 hours. Sun Charm 03 has a matte finish, according to the brand. These powder blushers claim to work for different skins and occasions.
How to use
Use a brush to apply the blusher to the apples of your cheeks for a healthy flush of colour. For a more contoured and sculpted look, sweep the Powder Blush under the cheekbones and chin and across the temples.
Review
Out of all of the products I received from Sebeiti Cosmetics, the Powder Blush Sun Charm 03 is my favourite.
This product is everything I want in a blusher. Super soft. Buttery. Easy to apply. Blendable. Pigmented. Gorgeous shade. Natural finish.
Firstly, I absolutely love the shade. It's this gorgeous warm peachy brown. After applying it, my skin immediately looks healthier with a sun-kissed flush of colour. It's a very natural-looking shade, and I think it works really well with my complexion. I actually think the shade Sun Charm 03 would flatter a wide range of complexions.
This shade is so pigmented too. Just a very light tap into the blusher with a fluffy brush picks up a lot of product, and this smooths out easily across the skin. It never looks patchy or too intense, so you can easily manipulate the exact placement of the blusher.
Once applied, you can't even tell you're wearing it! It's super lightweight and comfortable. I experience no horrible dryness as you can get with other powder cheek products. I also love that it never looks cakey either, which some powder products are prone to do.
Rating: 5 stars
I'm so impressed with this blusher. It's quickly become one of my favourite powder blushers ever.
3. Sebeiti Cosmetics Classic Long-Wear Matte Lip Gloss 07 Serenity
£15.21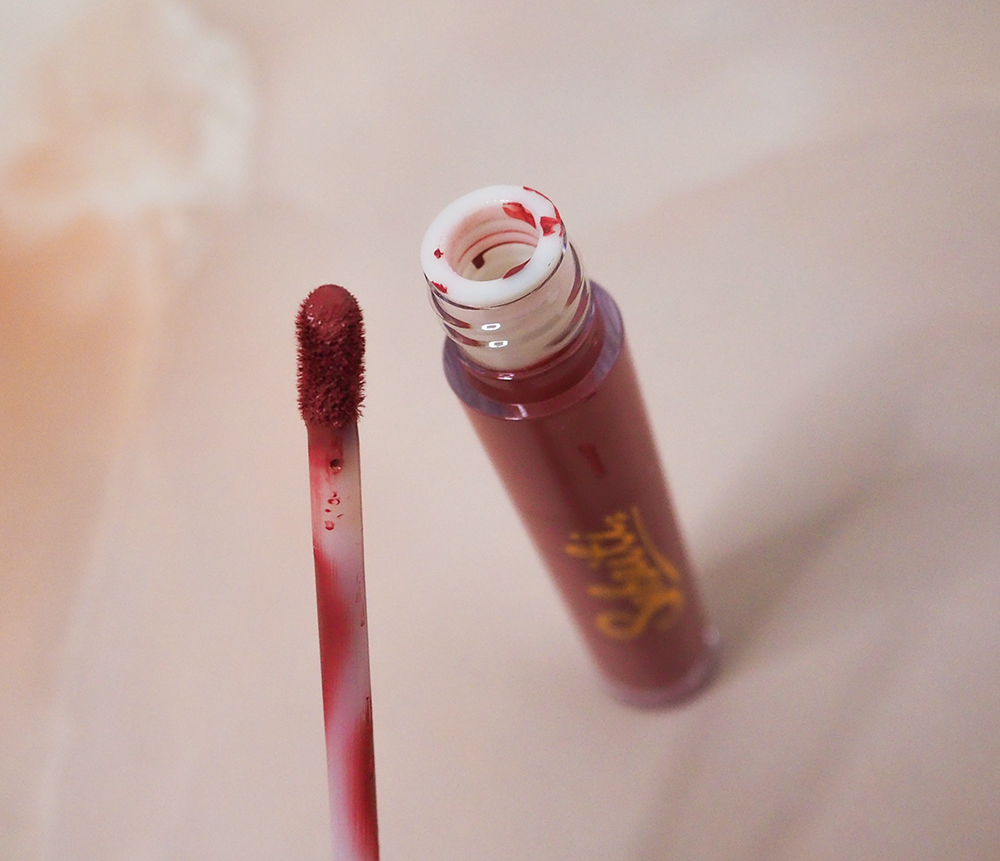 Product claims
The Classic Long-Wear Matte Lip Gloss 07 Serenity promises to be long-wearing and highly pigmented with a smooth finish. With a matte finish, this lipstick offers rich and full colour, without feeling dry on the lips, according to Sebeiti Cosmetics. It claims to be smudge-proof, even for mask wearers, with lasting power even after eating and drinking. The brand says the product is also waterproof and has full coverage.
How to use
Simply use the doe-foot applicator to swipe colour across your lips for intense colour payoff.
Review
I really like the Sebeiti Cosmetics Classic Long-Wear Matte Lip Gloss 07 Serenity.
Ultimately, this is a matte liquid lipstick and not a lip gloss. The naming is confusing. By their very nature, lip glosses are well… glossy. This is your typical matte liquid lipstick, but without the horrible dry or crumbly feeling.
Firstly, I love the doe-foot applicator. The dome shape is small enough to get precise application around the edges of your lips but large enough to easily cover your lips in 1-2 dips, so you don't need to keep dipping back into the product.
I love the formula. Although it's matte, this lipstick is surprisingly smooth and doesn't leave my lips feeling thirsty after I've applied it. The formula never sinks into any fine lines in your lips either, so you're not left with that awful crumbly texture that some liquid lipsticks have. I wouldn't describe the Classic Long-Wear Matte Lip Gloss as hydrating, but it's comfortable and lightweight.
But my absolute favourite thing about this lipstick is the shade.
07 Serenity is a sublime rosey mauve shade. It leans warm, which is nice, as a lot of mauve lipsticks tend to be more neutral- or cool-toned. Even though it's pigmented, it doesn't look too bold. I tend to not like vampy lipsticks on myself, but this colour is vibrant and a stunning middle shade. I think it works particularly well with purple eyeshadow looks.
Rating: 4.5 stars
I'm really pleased with the Classic Long-Wear Matte Lip Gloss 07 Serenity.
Sebeiti Cosmetics purple-toned glam makeup look
Using all of the Sebeiti Cosmetics mentioned in this review, I created a makeup look below: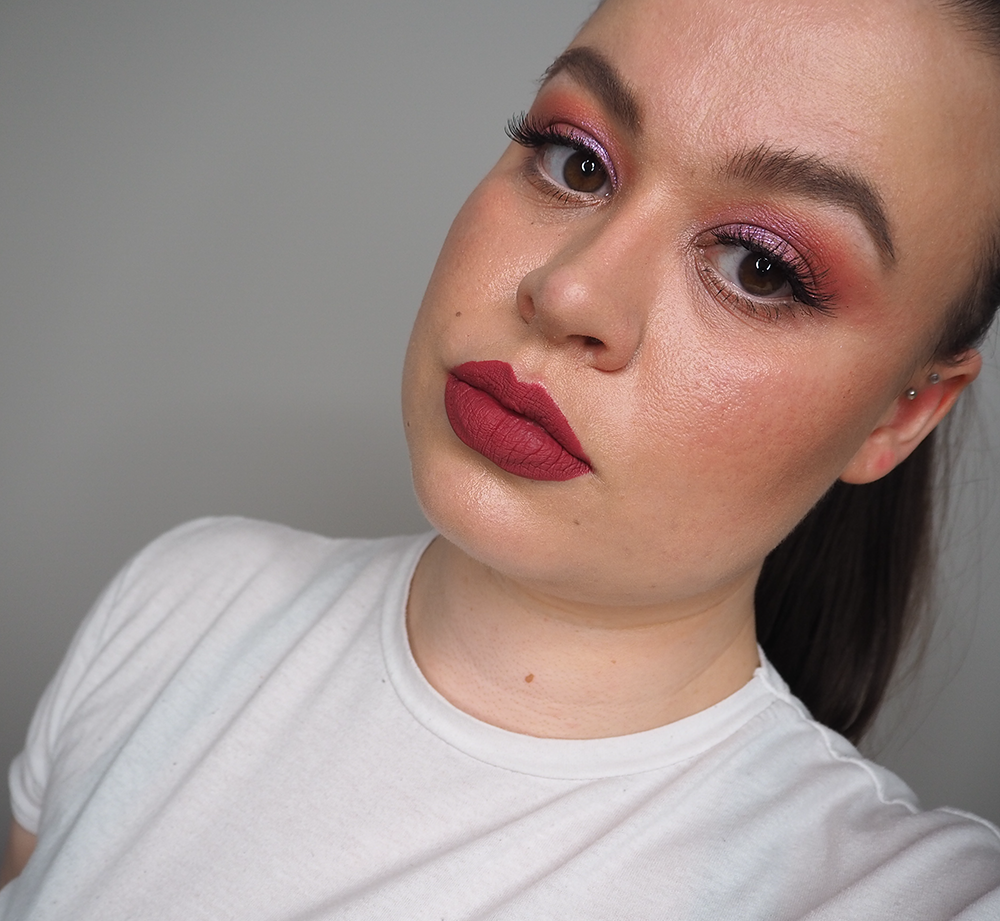 I'm a sucker for purple or pink makeup looks, so I loved creating this. I think the balance of a bold mauve lipstick and shimmery glam eyes with a more subtle natural cheek work well. This was a technique I learned from a Natasha Denona YouTube video. She said out of your eyes, lips and cheeks, only 2 of them should be strong. For example, you could have a vibrant cheek and lip combo with and natural eye look.
I took a similar approach with this makeup look; I ensured my cheeks weren't too strong and kept them more natural. The result is great, so I'll definitely be using this technique going forward.
All of the products performed really well, but I especially love the blusher. It's so silky and easy to work with, and the shade is just perfect.
Overall Sebeiti Cosmetics review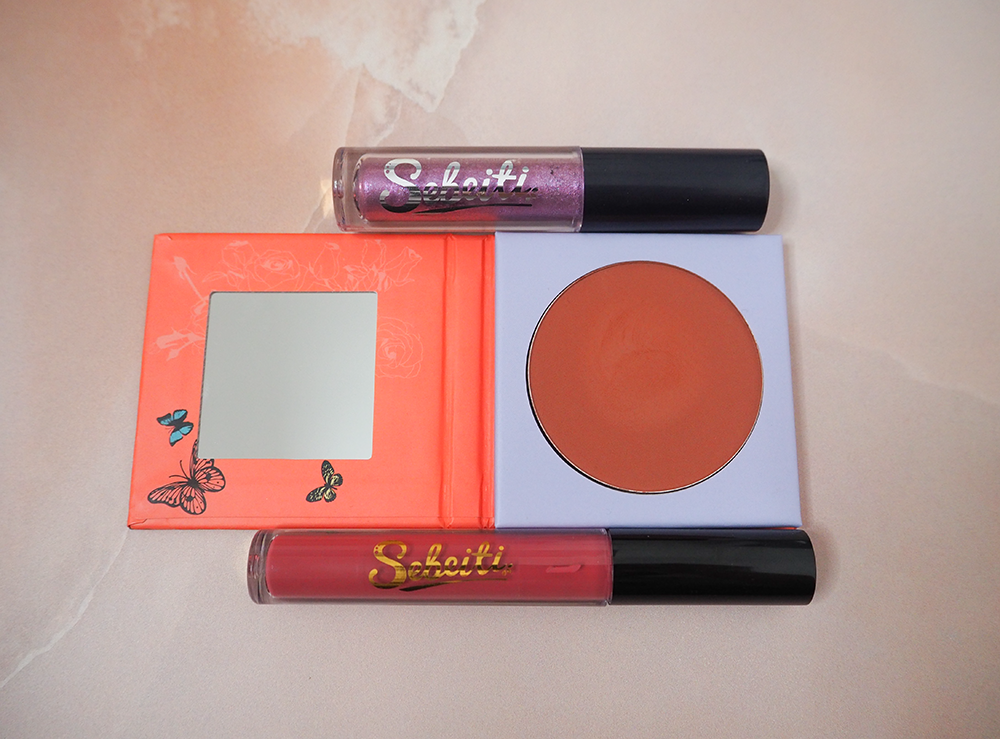 I'm super impressed with my Sebeiti Cosmetics makeup products. They all exceeded my expectations.
All of the products cost less than £18, so I think these are pretty affordable on the whole. Of course, "affordable" is relative. But it's not a luxury brand like Chanel where you'd spend £30 on lipstick alone.
Every single product is pigmented too, which makes them great to play around with. You're not having to consistently dip into the product to get colour payoff. This means the products will last for longer too.
I'd definitely be happy to purchase some makeup products with my own money. The liquid highlighters look amazing!
Favourite product?
Powder Blush Sun Charm 03 has my heart. I'm obsessed with it.
---
Which Sebeiti Cosmetics from this review most appeals to you? I'd love to hear from you, so drop a comment below